Italy is one of those countries that we just can't quit–and we think that after following this 2 weeks in Italy itinerary, you'll agree!
After spending more than a combined 6 months exploring the country in-depth over the last few years, our desire to return to Italy just keeps growing: there will always be more villages to explore, natural beauty to marvel at, and, of course, pasta and wine to enjoy.
We've made our way to 11 of Italy's 20 regions, from the imposing Dolomites of South Tyrol to the beaches of Sicily. We've "lived" for a month each in 3 different Italian cities (Florence, Bologna, and Rome), taken food tours and cooking classes, explored on foot, marveled at architecture, art, and ruins alike, discovered offbeat neighborhoods, and hit up all the most famous sights (sometimes more than once).
We've traveled as a couple, with extended family, and with friends.
Suffice it to say that after all the time we've spent in Italy, we have some opinions about how to make your first trip to Italy truly unforgettable… and this Italy itinerary is what we suggest.
For first time visitors, 2 weeks in Italy is the perfect amount of time to hit the country's most famous and classic spots, see which ones you love, and (if you're anything like us) fall head-over-heels in love with the country to the point that you'll leave planning your next trip back.
This is the 2 week Italy itinerary we recommend to first-time visitors, including our friends and family, and we won't be straying off the beaten path much here. These first 14 days in Italy will be all about the classics–follow this trip and you'll be spending a lot of time watching postcards come to life!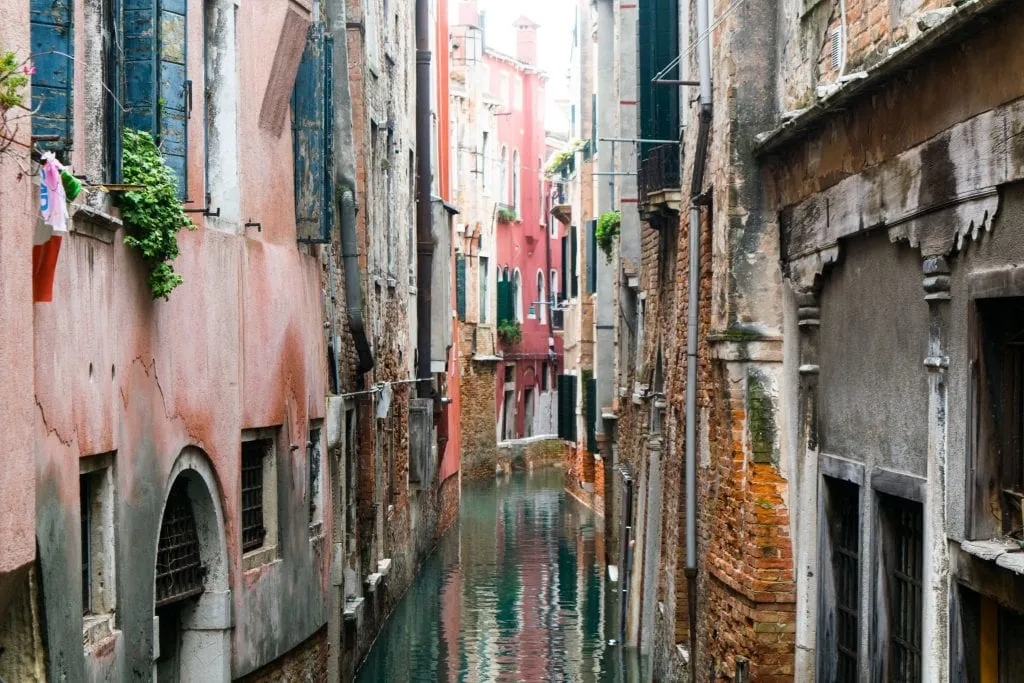 Rome: 2 Days
Rome's highlights rank among the most famous sights in the world: who hasn't dreamed of seeing the Colosseum in person, of walking across St. Peter's Square, and of admiring the masterpiece that is the Sistine Chapel?
Two days in Rome will give you plenty of time to see the best of what Rome has to offer, while also leaving plenty of time in your 2 weeks in Italy itinerary for all of the other destinations along the way.
If you happen to be lucky enough to have an extra couple of days in Italy, though–say 15 or 16 days, or perhaps less jetlag to contend with than some visitors–we highly recommend extending your time in Rome before adding time to any other destination on this 2 week Italy itinerary. It's simply impossible to run out of incredible things to do in Rome!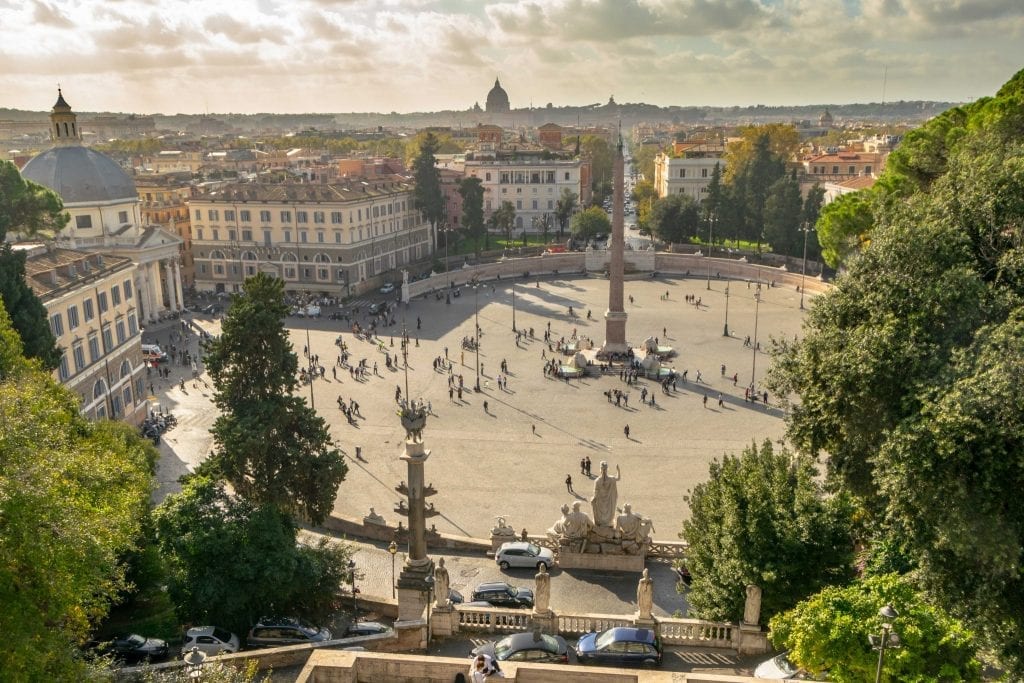 Top Things to Do in Rome
Tour the Colosseum + Palatine Hill.
Strolling through the center of Ancient Rome for the first time is an unforgettable experience! Definitely don't miss it during your first trip to Italy: you can buy skip-the-line tickets here (highly recommend for people visiting during summer/high season), or book the tour we enjoyed here.
Visit Vatican City.
The magnificent Sistine Chapel, the iconic St. Peter's Basilica, the lovely St. Peter's Square: for being such a tiny country, visiting Vatican City has a lot to offer! We recommend using skip-the-line passes here as well, you can purchase them here.
Stroll through Centro Storico.
The Trevi Fountain, the Pantheon, the Spanish Steps: what do all of these famous things to do in Italy have in common with each other? They're all within walking distance of each other, and all free to visit.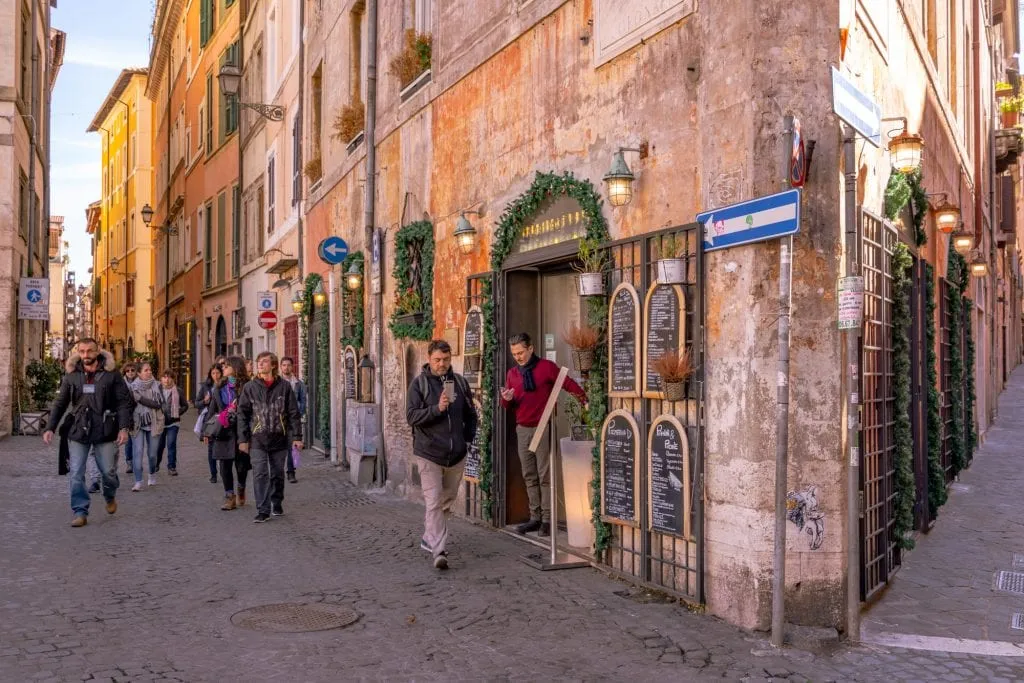 Things to Consider in Rome
Rome has two major downsides as a tourist: crowds and heat.
You can beat the bulk of both by traveling in the shoulder season (we personally think that October is the perfect month to visit Italy, and we found Rome to be remarkably uncrowded in December), and/or waking up extra early to enjoy the city before everyone else gets out of bed. For example, some of the best photos of the Trevi Fountain, Colosseum, and Spanish Steps that we've taken were snapped around dawn!
That being said–there are a million ways to get off the beaten path in Rome no matter when you visit, and while touristic hotspots like the Colosseum and Spanish Steps are nearly always crowded, fascinating places like the Capuchin Crypt, the Palazzo Doria Pamphilj, the Basilica of St. Paul Outside the Walls, plus the neighborhoods of Testaccio, Ostiense, and Monti in general, are just a few of the many great places to enjoy Rome without dense crowds.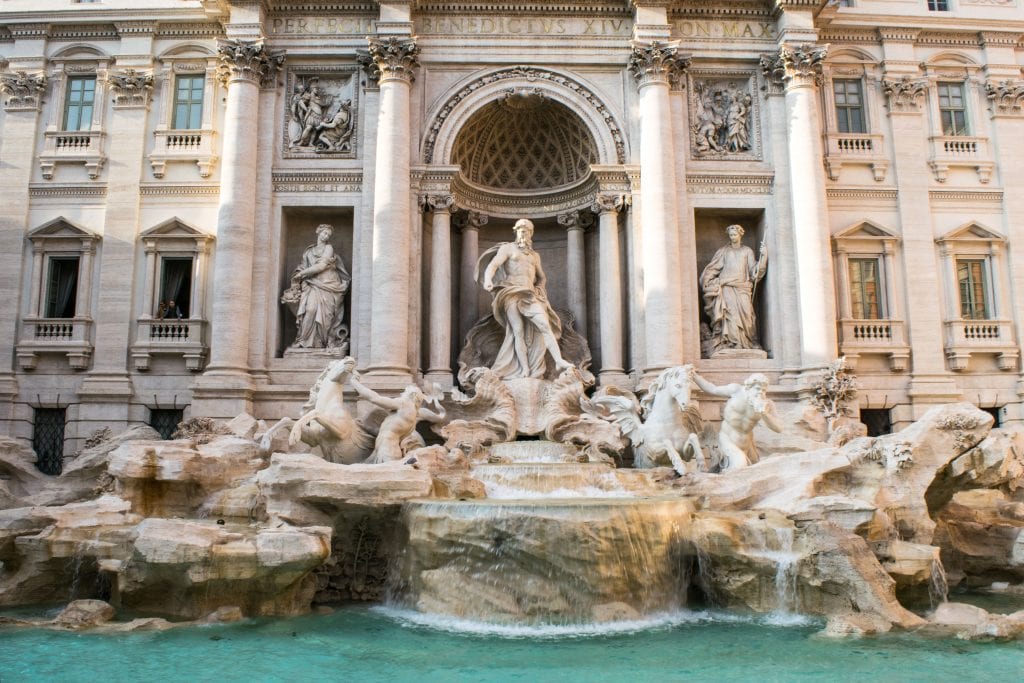 Where to Stay in Rome
Budget
La Cornice Guesthouse — We loved this little guesthouse! It was extremely clean and comfortable, and VERY affordable for Rome.
La Cornice is set slightly outside the main tourist areas, but an easy 5-minute walk to the metro and a 20-minute ride got us to the Colosseum and other major sights.
Our favorite part of La Cornice? Eating a nearby Joseph Ristorante for lunch, which we ate at several times on recommendation from the clerk at La Cornice. Just a 5 minute walk away, their lunch special offered a choice of about 10 main courses plus bread, wine, and one of several desserts for 8 Euros/person–it's hard to beat that!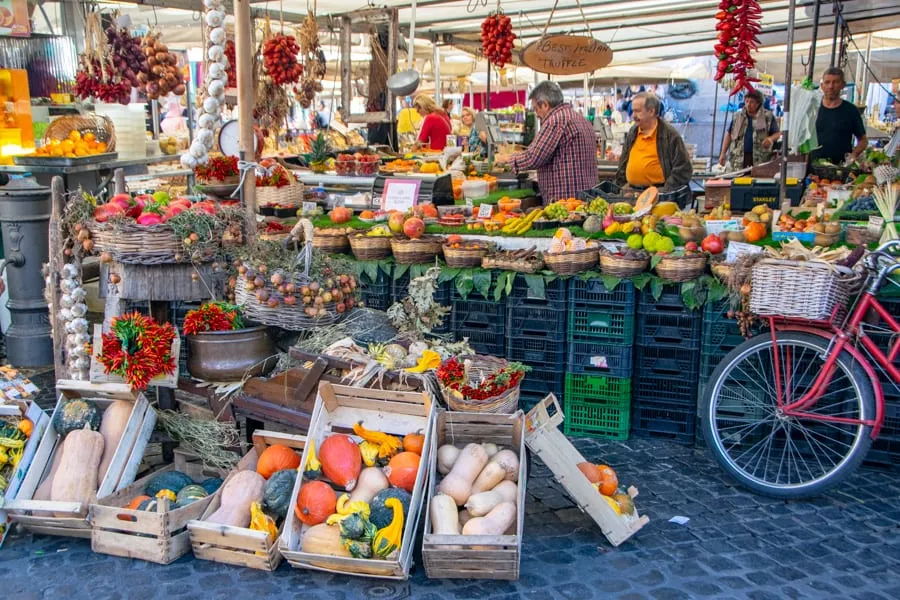 Mid-range
Hotel Condotti — Located just around the corner from the Spanish Steps (and consequently the Piazza di Spagna metro station), you couldn't ask for a better location in Rome!
Well-reviewed and boasting exceptionally clean rooms, Hotel Condotti is the perfect choice for a traveler with a midrange budget (or even a luxury traveler–this hotel also holds some impressive looking suites!) who would like to be within walking distance to the best that Centro Storico has to offer.
Luxury
Pantheon Inn — If you're looking for a building with classic Italian charm in the heart of Rome, this is it.
Located right behind the Pantheon and within reach, the Pantheon Inn offers a quiet, peaceful escape in the middle of bustling Rome.
You will need to walk a bit to the metro stop–but since the walk will take you through the heart of the beautiful Centro Storico, we doubt you'll mind.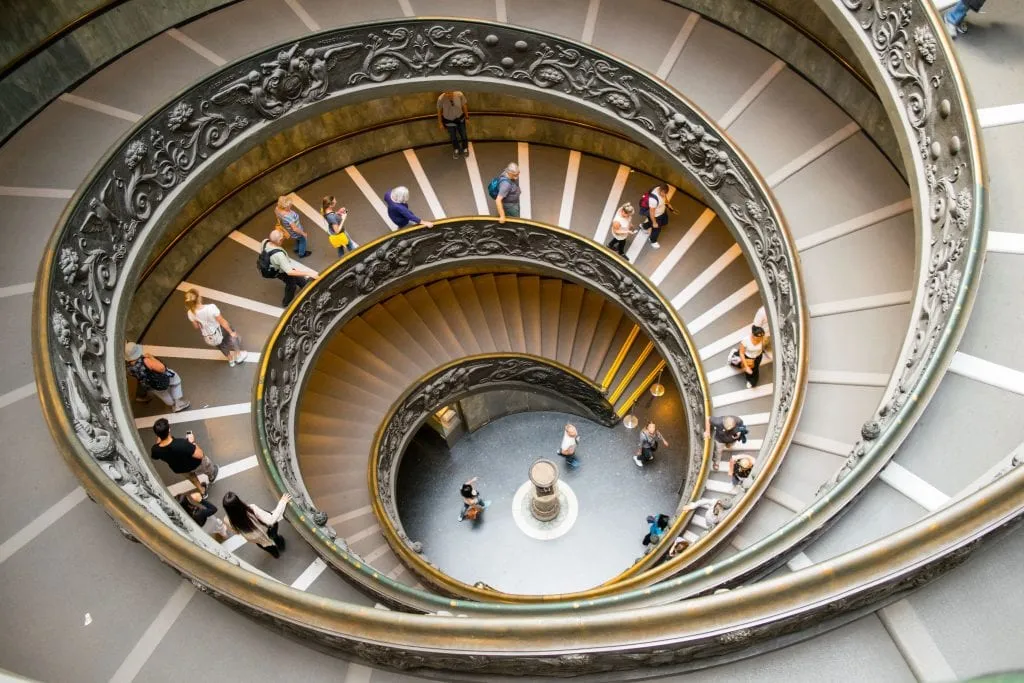 Cinque Terre: 2 Days
No first trip to Italy would be complete without a visit to this beautiful coastline!
After leaving Rome, head north to Cinque Terre for coastal views, hiking, adorable fishing villages, and plenty of fresh seafood.
Since five of the Cinque Terre villages are easily connected by train (or ferry during the summer!), feel free to stay in whichever one appeals the most, or even in nearby Levanto to save a tiny bit of cash.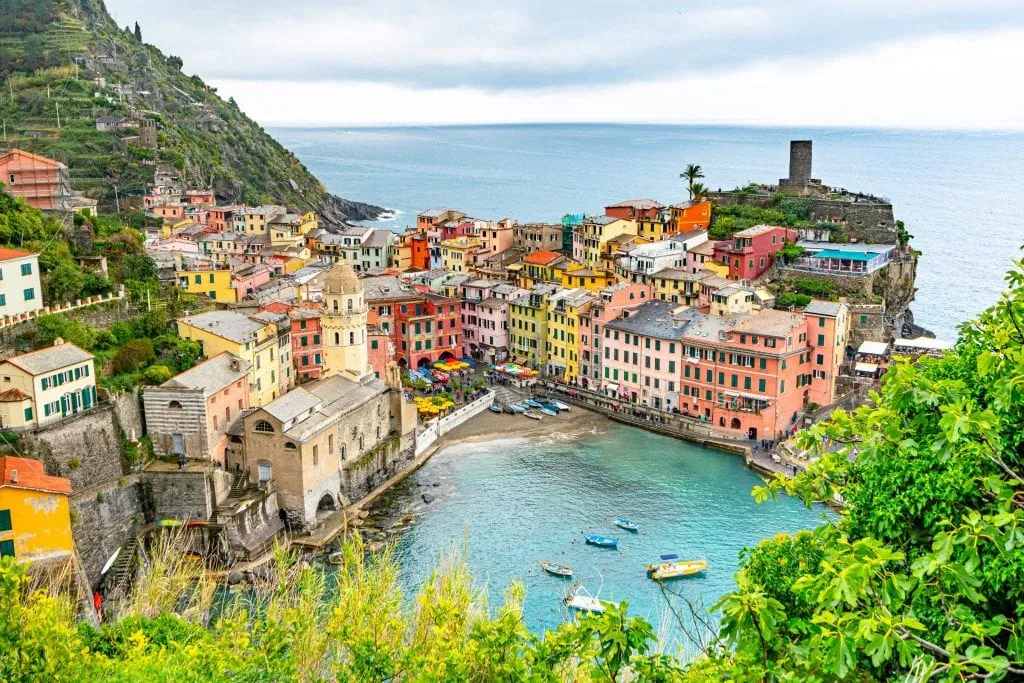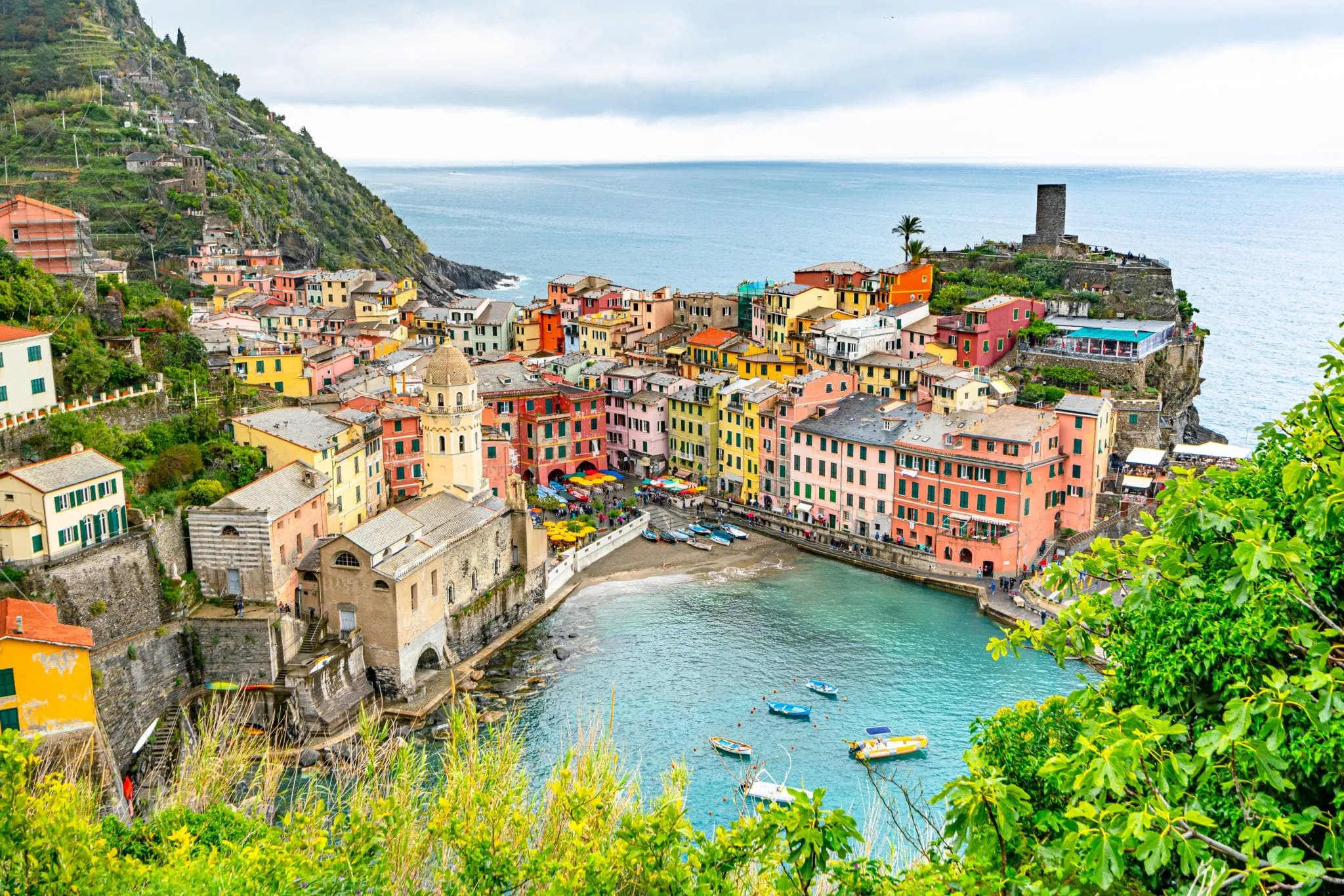 Top Things to Do in Cinque Terre
Hike between the villages.
Sadly, many of the hikes at Cinque Terre have been closed for landslides–but the magnificent Blue Path trail between Monterosso al Mare and Vernazza (which is highly recommended!) and between Vernazza and Corniglia are open and ready for visitors!
Watch the sunset from Manarola.
Arguably the most famous of Cinque Terre's villages due to its postcard-worthy view, Manarola is the perfect place to watch the sun sink behind the sea (preferably with a glass of local wine in hand).
Eat all the pesto and seafood.
Pesto is local to the Ligurian coast, and that makes Cinque Terre one of the best places to indulge in it in all of Italy! Pesto happens to be one of my favorite foods, so I may be slightly biased, but in my opinion, it's an unforgettable part of visiting Cinque Terre.
As the villages of Cinque Terre are fishing villages at their heart, the seafood here is also absolutely delicious.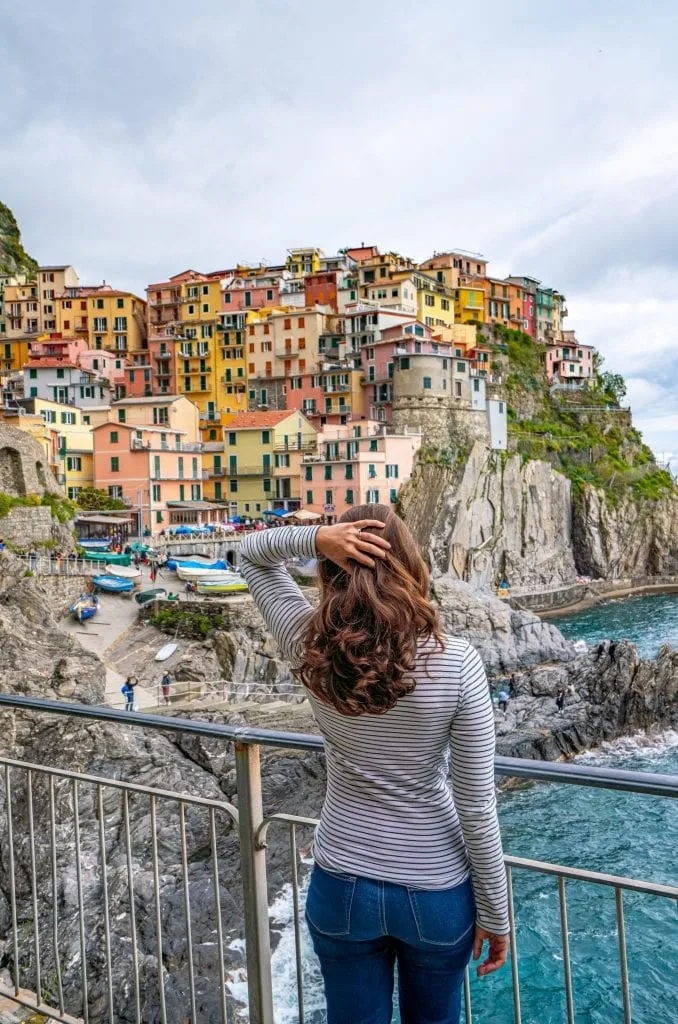 Things to Consider in Cinque Terre
While it would be tempting to bring a car to Cinque Terre to have access to your own transportation and a more direct way to get to Cinque Terre from Rome and to Florence after your visit, the roads do not make for an easy drive.
Parking can also be a challenge around the villages–if possible, we'd recommend relying on the train or the's famous trail to get around in Cinque Terre.
Keep an eye on closures to both the trains and the trails between the villages, however.
Strikes can happen that will shut down the train (which happened to us way back in May 2016!), and the trails can sometimes be washed out and therefore closed.
The trails also often close during the offseason, so if you're planning a winter trip to Italy, don't count on being able to hike between all the villages.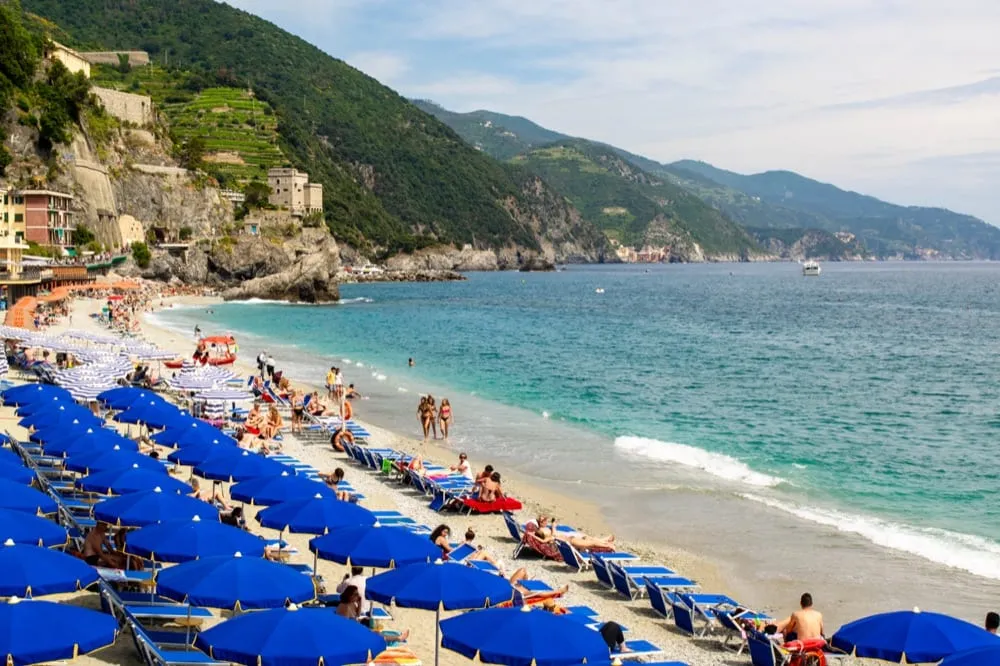 Why Cinque Terre instead of the Amalfi Coast?
Italy's Amalfi Coast is truly a marvel, but it makes less geographic sense for this itinerary than Cinque Terre. Visiting the Amalfi Coast would require traveling south from Rome when the bulk of this 2 weeks in Italy itinerary focuses on the northern half of the country.
If you have your heart set on visiting the Amalfi Coast, you can certainly swap it out for Cinque Terre, but bear in mind that the travel times involved would likely only give you one day to explore the coast if you don't want to cut days from the rest of the destinations on your Italy itinerary.
Cinque Terre also has the benefit of being smaller than the Amalfi Coast, making it easy to explore most or all of the villages over a short amount of time.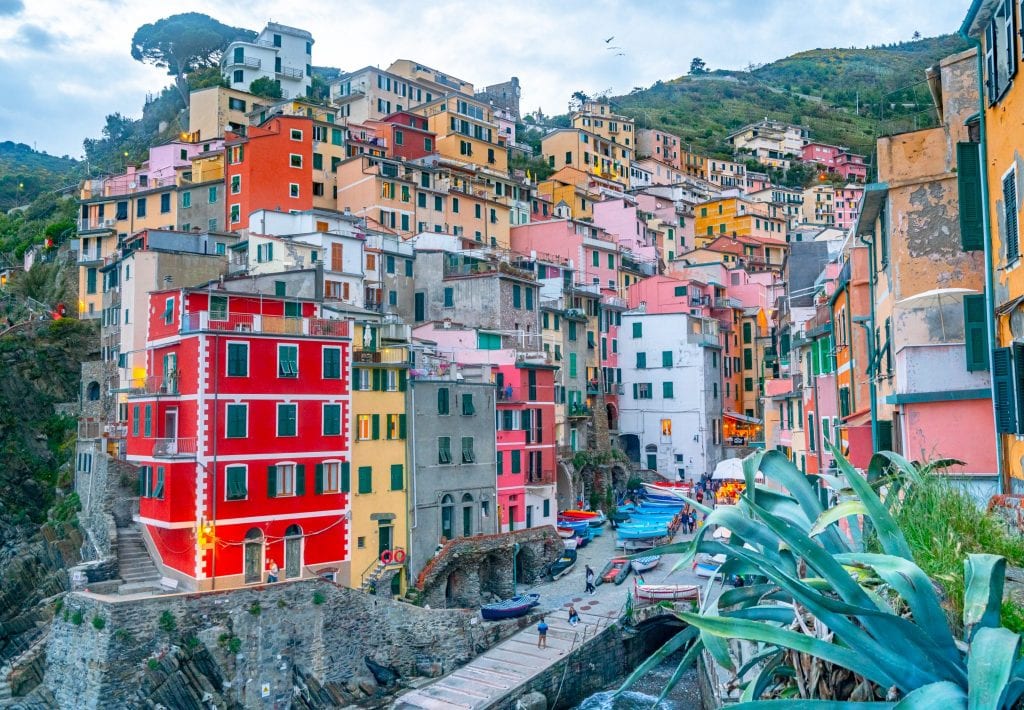 Where to Stay in Cinque Terre
Of the five villages, the only one we would recommend not staying in is Corniglia, as it's the most difficult to get in and out of. Other than that, all the villages have their perks–Monterosso al Mare has the biggest beach, Manarola has the most Instagram-famous viewpoint, and Vernazza and Riomaggiore are simply drop-dead gorgeous.
Bear in mind that many properties in Cinque Terre can involve a climb to reach them, so if mobility is a concern, be sure to double-check the location. Most properties will offer porters to carry your luggage for you for a small fee, so if clamoring through town with your luggage doesn't sound like fun, be sure to ask your hotel about their services!
Here are a few very well-reviewed properties to consider during your time in Cinque Terre:
Luciano Guesthouse (Riomaggiore) — This is where we stayed during our most recent visit to Cinque Terre, and we can't recommend it enough! The property was clean and lovely, and the customer service offered by Francesco and his wife during our stay was absolutely top-notch. We would be thrilled to stay again!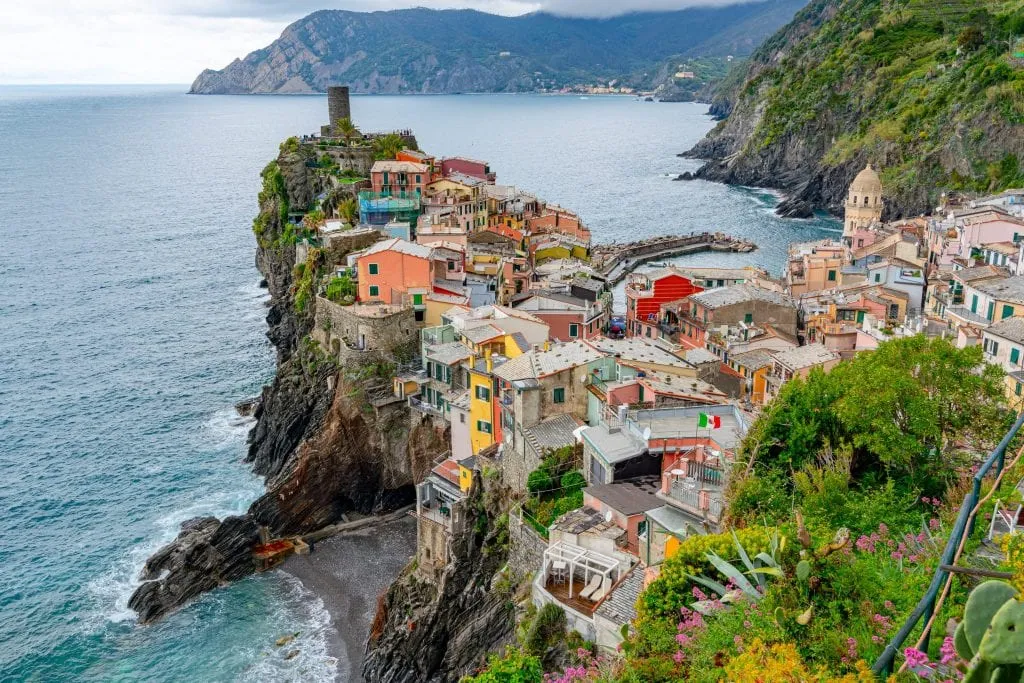 Scorci di Mare (Riomaggiore) — Want to stay a 3-minute walk from the beach and see the sea from your window? Scorci di Mare is the perfect spot for you. Riomaggiore is the smallest village in Cinque Terre, making it the perfect reprieve from busy days (and all the other villages are a short train ride away).
Da Baranin (Manarola) — Cinque Terre is expensive, there's no getting around it. For a budget option, consider Da Baranin–you'll need to climb up and down a steep hill as a trade-off, but you'll get to stay in Manarola for a very affordable price tag!
Ca de Lelio (Manarola) — With cozy, modern rooms and a great location in Manarola, Ca de Lelio will have you perfectly situated to explore the villages.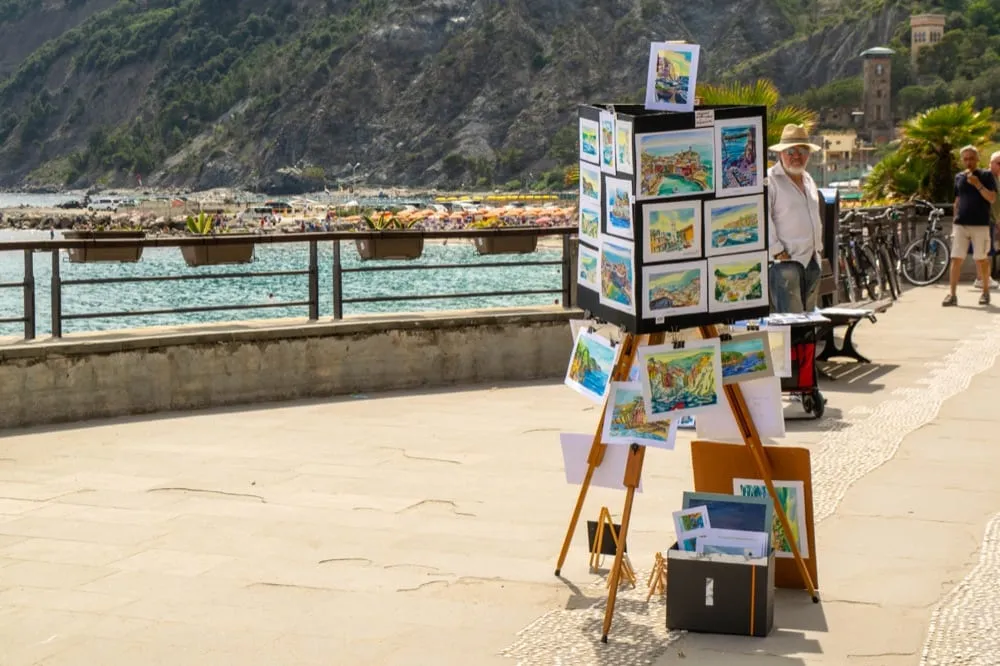 Florence/Tuscany: 3 Days
Tuscany is one of our favorite regions in Italy–and not just because we could spend a lifetime eating and drinking there (though we could). The towns are beautiful and distinct, Florence is a dream of a city, the history is interesting, and the golden tinge to the light that you see in pictures of Tuscany isn't photoshop–it just really looks like that.
While there's no such thing as too much time in Tuscany, 3 days in Tuscany will give you a chance to explore the best of Florence in about 1.5-2 days, and also give you time to visit at least one other Tuscan city.
Pisa is a popular choice that is close to Florence, but unless you're truly dying to see the leaning tower, we'd recommend using Siena, Lucca, or Montepulciano as a base instead. If you're looking for day trips, San Gimignano, Volterra, Arezzo, and Cortona are all stunning, and though it is in Umbria rather than Tuscany, we adored our visit to the village of Orvieto as well.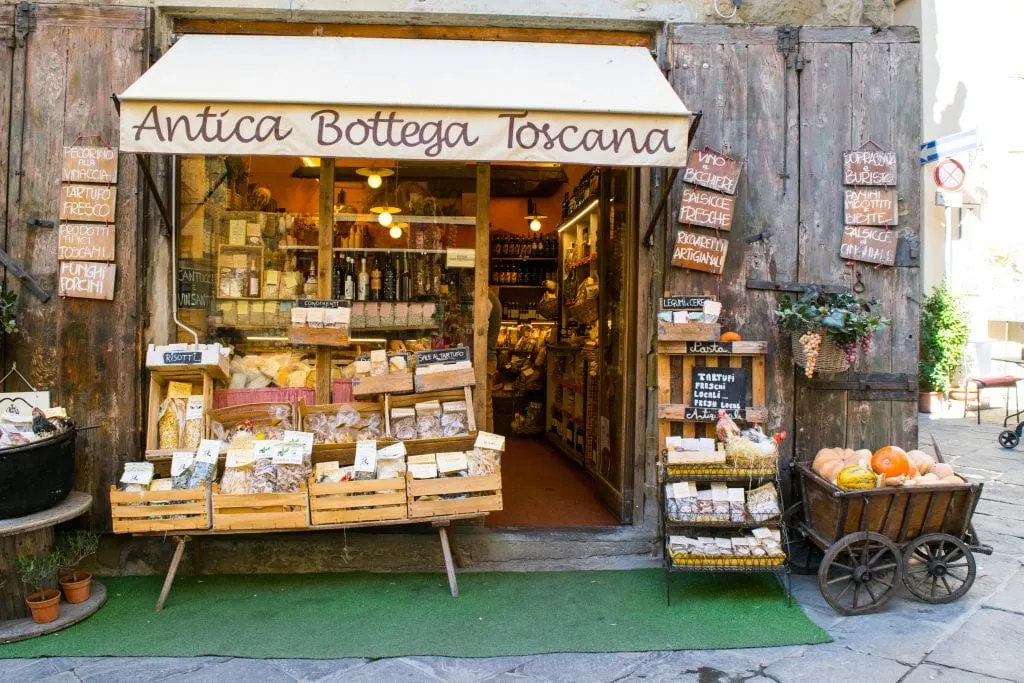 Top Things to Do in Florence
Visit some of the best Renaissance art on the planet.
The Uffizi Gallery (home of the Birth of Venus) and the Galleria dell'Accademia (home of Michelangelo's David) are both home to undisputed world treasures that deserve to be admired during your 2 weeks in Italy.
We definitely recommend booking skip-the-line tickets to both galleries to avoid waiting in their very long lines (we once showed up to the Uffizi without pre-booked tickets and ended up giving up on visiting after nearly an hour of waiting). You can purchase skip-the-line tickets to the Galleria dell' Accademia here and to the Uffizi here.
Try your hand at a cooking class.
We may be a bit biased, given how much we adore Tuscan food, but if you want to take a cooking class during your 14 days in Italy, we recommend doing it here! We adored our day taking this cooking class and still talk about it being one of our favorite days spent in Tuscany–from the views of the countryside to the beautiful farmhouse the class is hosted in to the sublime food, it is truly an experience to remember.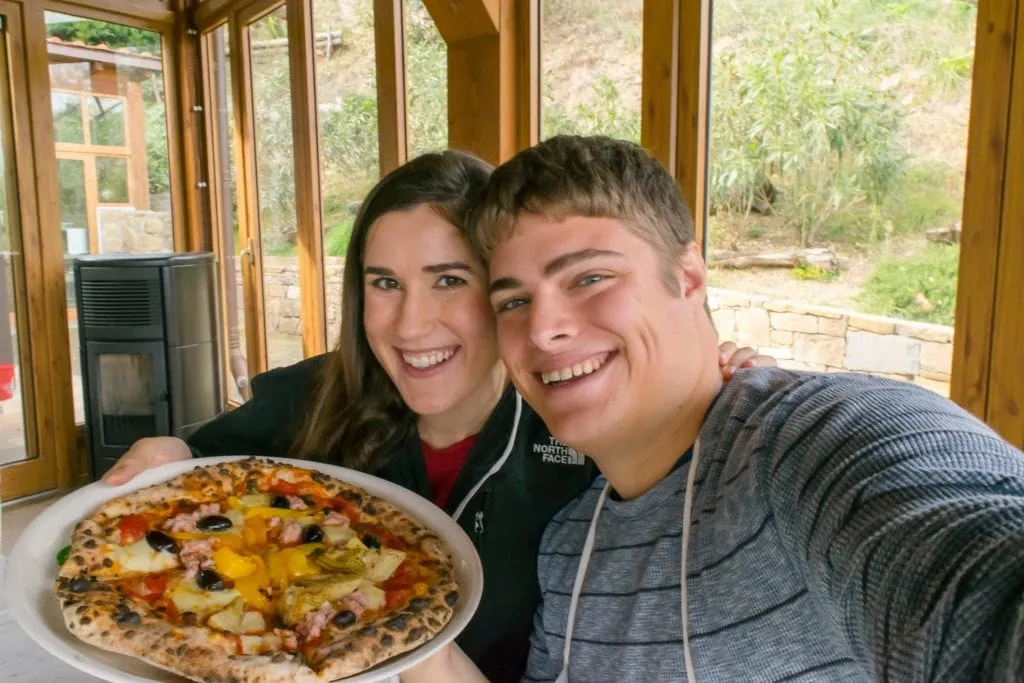 Seek out the best views of the city.
From the ever-popular viewpoints of Piazzale Michelangelo and the cupola of the Duomo to lesser-known spots like the Rose Garden and Palazzo Vecchio, there's no doubt that Florence is a city that deserves to be admired from all angles.
Take a day trip to the Tuscan countryside.
Wine + incredible Tuscan food + rolling countryside + stunning villages–a day trip to some of Tuscany's remarkable villages and wineries is bound to be a day that you'll never forget. This incredibly popular day trip is a fabulous option!
Things to Consider in Tuscany
Three days in Tuscany gives you a couple of options as far as lodging: you can either stay in Florence the whole time and take day trips out, you can stay in a smaller city the whole time and simply take a day trip to Florence, or you can split it up–two nights in one city, and one in another.
Personally, we'd recommend sticking with one place to stay–this itinerary is already fast-paced, there's no reason to take up extra time moving hotels.
We've visited Tuscany both ways: by staying in Florence and commuting out, and by staying near Lucca and commuting into Florence for a day trip. You truly can't go wrong with either option–I'd stay in Florence if you're more of a city person, and in a surrounding Tuscan town if you're more interested in the countryside.
If you stay in the countryside, you will definitely want to rent a car for this portion of your Italy itinerary.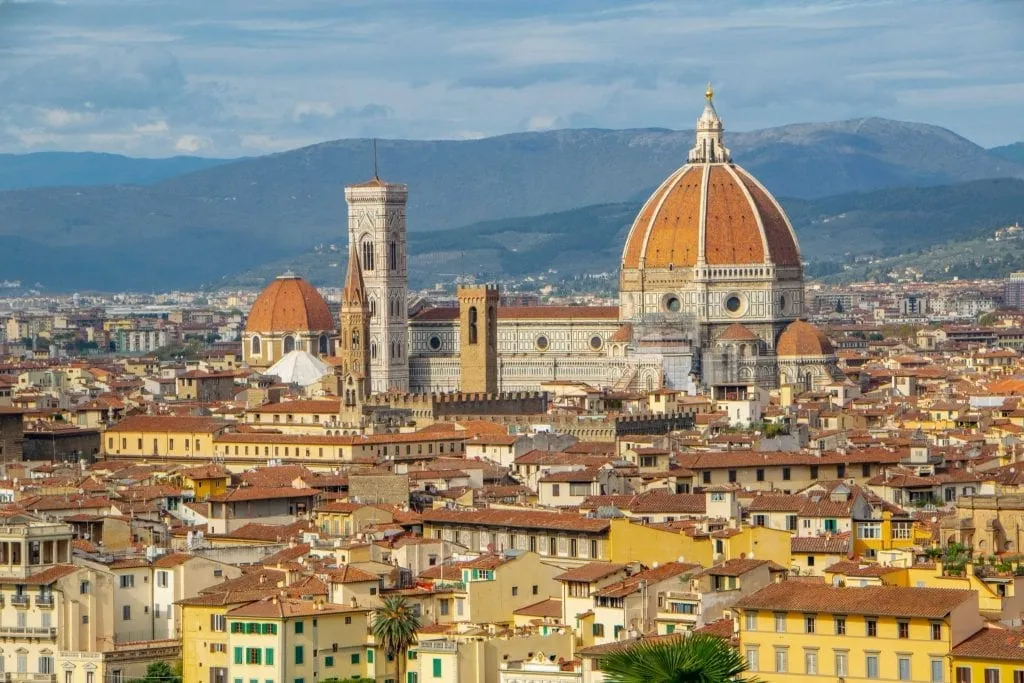 Where to Stay in Florence
Budget
B&B Le Stanze del Duomo — Though Florence hotels can be a bit pricey and stretch the definition of "budget", B&B Le Stanze's beautiful rooms and impeccable location in Florence will be sure to have you swooning!
Mid-range
Bargello Guest House — Located in the heart of Florence, this property is only a short (read: less than 5-minute) walk away from some of Florence's highlights like the Palazzo Vecchio. Staying here, you'll be within easy walking distance of the best of what Florence has to offer.
Luxury
Hotel Lungarno — Nestled right against the Arno River and home to one of the best views of the Ponte Vecchio in Florence (not to mention some of the best views of the rest of Florence from their top deck), Hotel Lungarno is our personal "if we ever really want to splurge" hotel in Florence. You can't go wrong using Hotel Lungarno as your base for one day in Florence!
Venice: 2 Days
Canals, canals, and more canals: Venice is simply a ridiculously beautiful place, and despite its somewhat controversial reputation, we absolutely adore it.
Definitely make sure that you climb St. Mark's Campanile for an amazing view of the city, check out Libreria Acqua Alta (one of our favorite bookstores in the world!), walk across the Rialto Bridge, and spend ridiculous amounts of time wandering aimlessly around the small streets and lesser-known canals–that is truly Venice at its best.
If you have good weather while in Venice, also consider a day trip out to Murano or Burano for another view on Venetian life!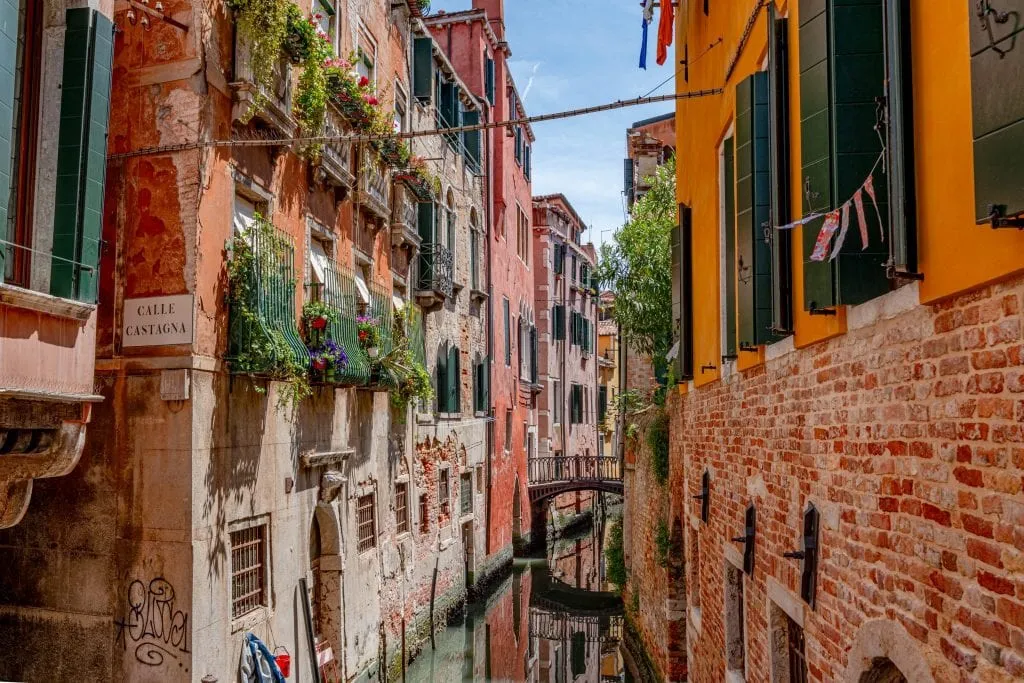 Top Things to Do in Venice
Tour the Doge's Palace + St. Mark's Basilica.
Venice has a truly fascinating history–for a city that is now known mostly for its beauty, flooding, and risks of sinking, it can be hard to recall that once upon a time, there was a true and powerful Venetian Empire.
Learning about the history of Venice's government (it included many councils) and how it acquired its wealth is a fabulous way to get to know the city on a deeper level–and the buildings themselves are incredibly impressive, too.
We recommend taking a tour here if at all possible–it truly adds so much context. This tour of the Doge's Palace + St. Mark's Basilica is very popular and a great option!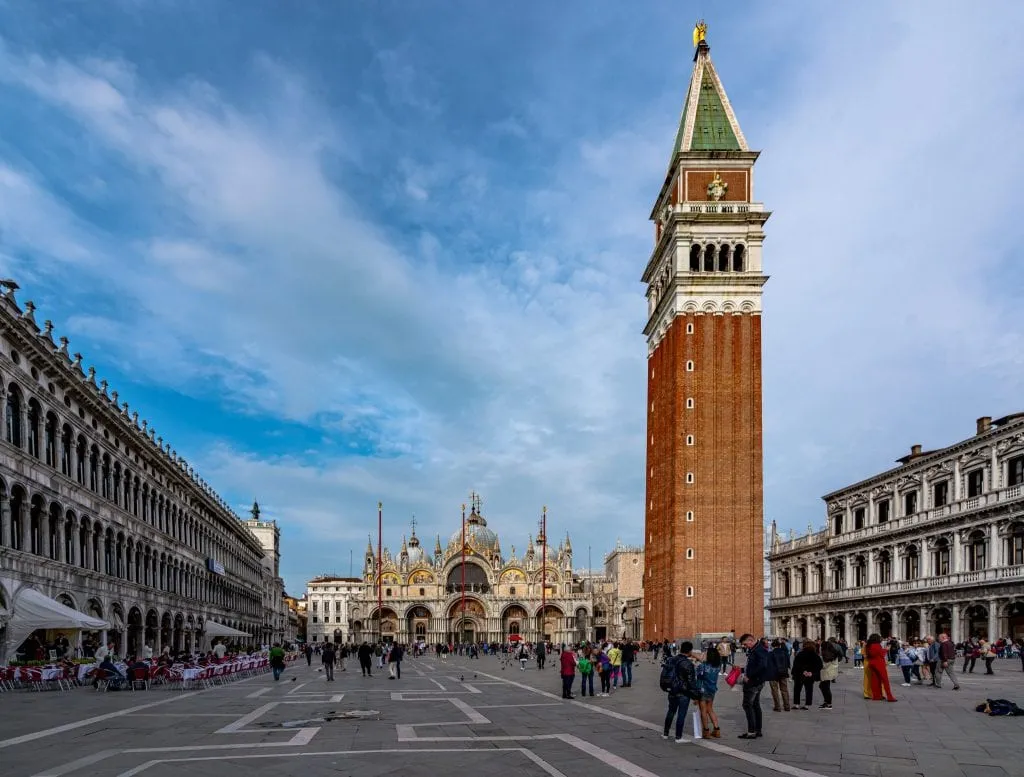 Stroll through Venice's beautiful sestieri.
Venice is divided into six districts, or sestieri, and each sestiere has its own distinct flavor and beauty.
San Marco and San Polo are the most popular (read: crowded), and while they are absolutely gorgeous, we recommend making time for a walk through some of the others as well. Castello, Cannaregio, Dorsoduro, and San Croce all have a lot of beauty, canals, and quiet streets to offer.
Hit the water and enjoy Venice's canals.
We go into more detail about this in our 2 day Venice itinerary, but there are indeed ways to experience Venice's canals on any budget. Whether you want to splurge on a private gondola ride, opt for the mid-range shared gondola option, or stick to a budget and tour the Grand Canal via vaporetto, there's a canal option open to you.
Things to Consider in Venice
Especially if you're visiting during the summer, Venice will be both crowded and expensive. It's still absolutely worth it to go, but like in Rome, consider early wake up calls to get the most out of your experience. Some of our best memories of Venice are of walking through the city before the shops even start opening–and we've often found that we get our best photos of Venice then, too.
Keep in mind that if you want to take an iconic gondola ride, you'll be paying a pretty penny–about $100 USD/gondola worth. We opted to skip the gondola ride and simply ride a waterbus through the Grand Canal for about $8 USD/person, which was more than enough time on the water for us.
If you have your heart set on a gondola ride, though, be sure to budget for it!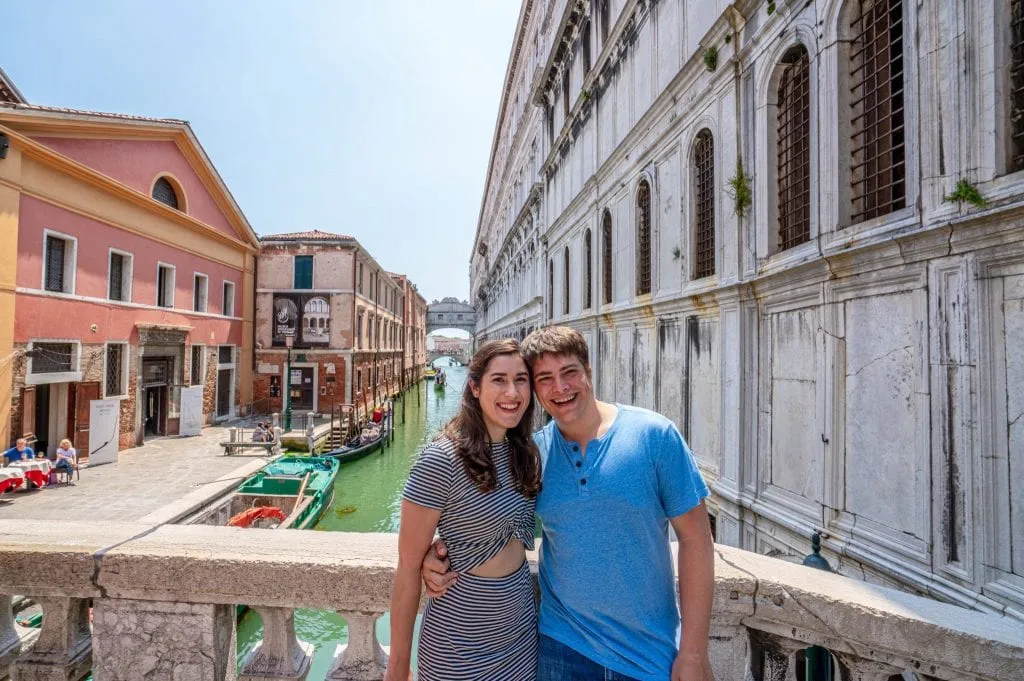 Where to Stay in Venice
Budget
Hotel Casa Boccassini — This cute hotel easily met our needs during our first trip to Venice! The room was simple but clean, and the shared bathroom a fair trade in exchange for their competitive prices in a great location in Cannaregio. The bathroom was clean and we had a sink in our room, both of which always make shared bathroom situations much easier. The courtyard of the hotel was beautiful!
The hotel was a simple and beautiful 10-minute walk from the Rialto Bridge and just a 5-minute walk to the vaporetto to the airport.
Mid-range
Hotel Lisbona — We decided to check into Hotel Lisbona for one reason: we wanted to stay on a canal!
If you're looking to stay right on a canal in Venice without paying luxury prices, we can heartily recommend Hotel Lisbona: the building is beautiful and definitely has that oh-wow-I'm-in-Venice effect (especially when you look out the windows), the customer service great, and the included breakfast tasty.
The central location (it's around a 5-minute walk to Piazza San Marco) couldn't be better.
The downside? The room we stayed in was tiny–but to be staying right on a Venetian canal in such an amazing location, we definitely considered the trade-off worth it.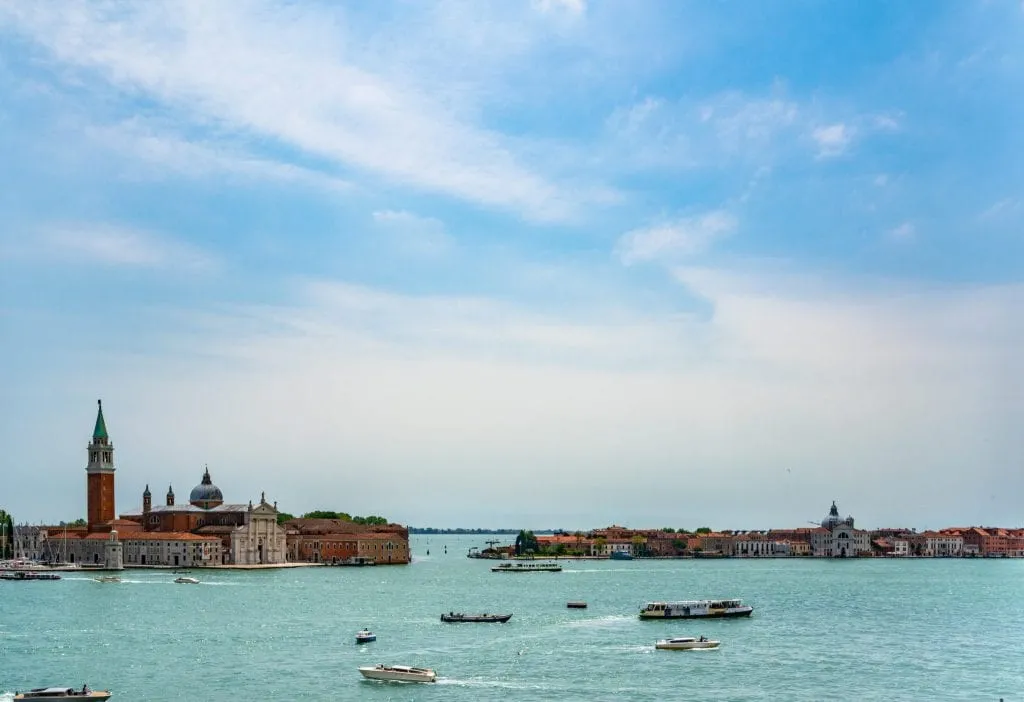 Luxury
Hotel Danieli — If you're looking for a true luxury experience for your 2 days in Venice–the kind of hotel stay that you'll remember for the rest of your life–look no further than the iconic Hotel Danieli, located inside 3 former palazzos along the Riva degli Schiavoni.
Every detail has been looked after here, and everything from the furniture to the breakfast to the location (mere steps from the Bridge of Sighs) to the truly stunning lobby will ensure you have an absolutely unforgettable trip to Venice.
2 Week Italy Itinerary Map
Take This Map With You! Click each highlight to pull up the name of the destination. To save this map to "Your Places" on Google Maps, click the star to the right of the title. You'll then be able to find it under the Maps tab of your Google Maps account! To open the map in a new window, click the button on the top right of the map.
More (Or Less) Time in Italy?
Italy has an endless amount of places to see, and no 2 weeks in Italy itinerary could dream of covering the whole country.
If you find yourself with more time in Italy, consider heading to the South Tyrol region to experience the Dolomites (also known as the Italian Alps). You could also head to Lake Como and stop off at Milan along the way, or stay further east after leaving Venice and hit up the stunning Verona.
Bologna, which is known as one of Italy's great foodie cities, is another wonderful choice, and also includes the option of a day trip to the microstate of San Marino.
South of Rome, you could head to the incredible Amalfi Coast or the stunning island of Capri, and stop off for a day along the way to eat pizza in Naples.
Even with all that, you're still barely scratching the surface of Italy (and of course every single one of the destinations included in this 2 week Italy itinerary could easily take up more time as well)–but that's ultimately a good thing. There is always a reason to come back.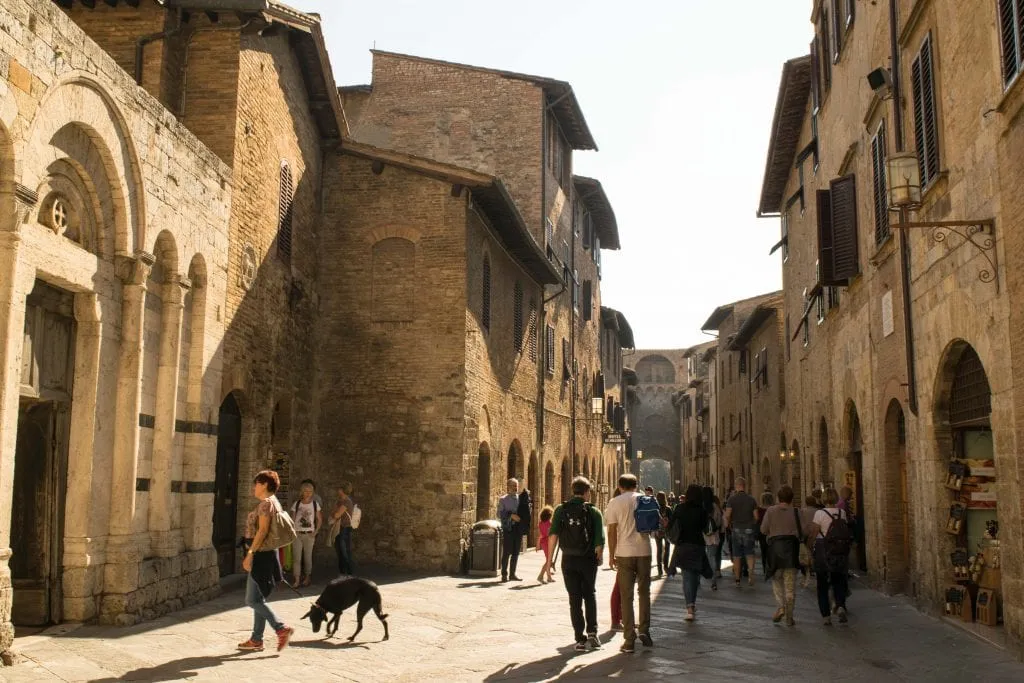 With One Week in Italy
If you only have roughly one week to spend in Italy, we–heartbreaking though it is–recommend cutting at least one of the destinations suggested on this 2 week Italy itinerary.
Personally, we'd first cut Cinque Terre (especially if you're visiting outside the summer season), leaving the trifecta of Rome-Florence-Venice intact.
If you need to cut a second destination, let geography be your guide, and trim off whichever destination will take the most time to reach based on your travel plans.
I know it's incredibly hard to cut destinations, but rushing to a new place almost every day will eat up way too much time that should be spent experiencing Italy–and any given two, or even one, of the destinations covered in this Italy itinerary, could make for a magnificent trip.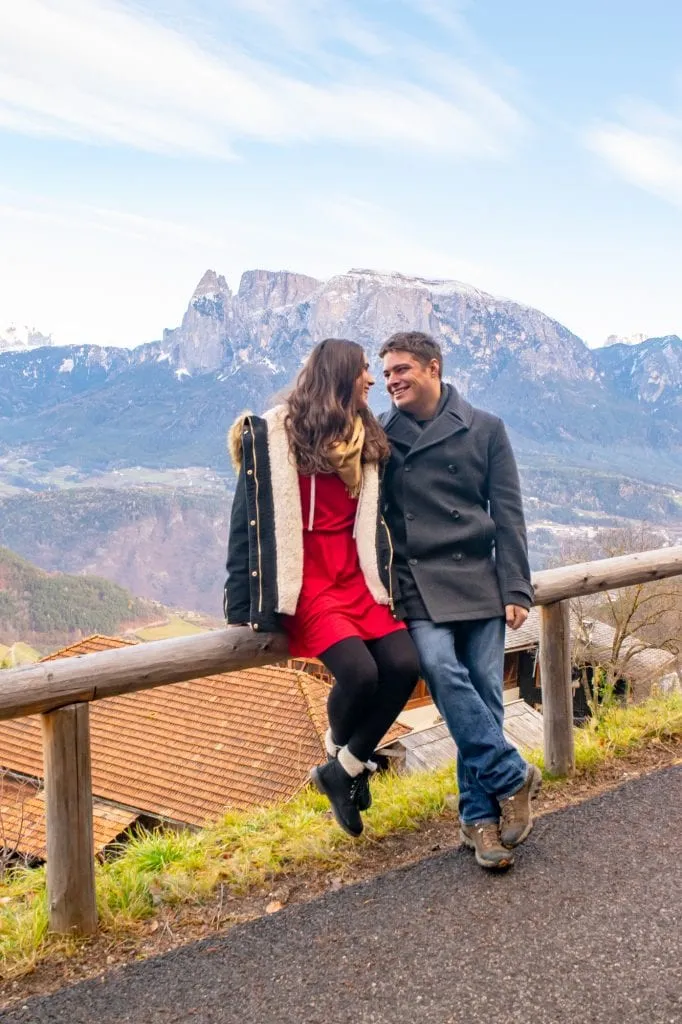 With 3 Weeks in Italy
If you have an extra week to tack onto this 2 week Italy itinerary, lucky you! You're in for a real treat with a whole 3 weeks in Italy.
Our personal recommendation would be to use that extra week to add on Naples, Pompeii, and the Amalfi Coast–with that, you'll cover the vast majority of the country's best-known sights on your trip to Italy!
Alternatively, if you're more of a slow, immersive traveler, use the extra week to really dig into one of the regions already included on this Italy itinerary–Tuscany or Rome would be our pick (and you can technically take a very long day trip to Pompeii or Naples from Rome if you want to try to get the best of both worlds).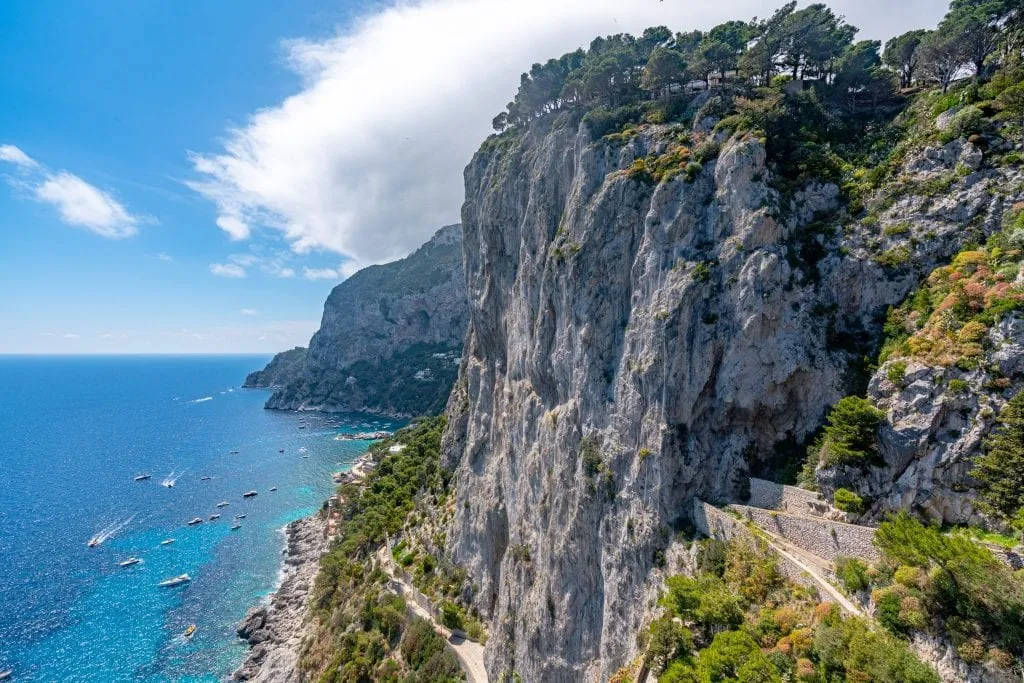 Getting Around Italy
Within each of the destinations outlined in this 2 weeks in Italy itinerary, walking will likely be your most common method of getting around and also half the fun of traveling within Italy! You'll probably want to mix in some public transportation as well, particularly in Rome, but strolling through destinations like Venice and Florence is by far the best way to explore them.
Getting between destinations, however, is a different story–here's a quick outline of transportation within Italy.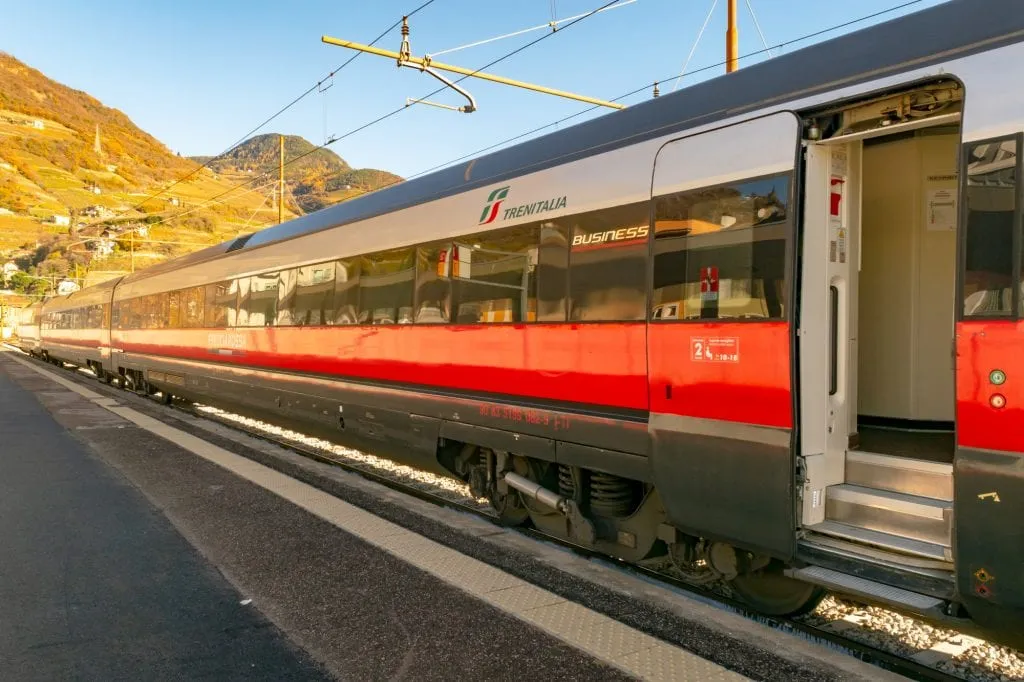 Trains
Trains rule on-the-ground travel in Italy: if you're not going to rent a car, it's likely you'll be getting around Italy by train.
Every train we have taken in Italy has been comfortable and pleasant, but keep in mind that strikes can sometimes interfere with travel.
We definitely recommend booking your train tickets in advance if you're traveling on Italy's high-speed trains, as these tickets can increase in price as the dates get closer. If you're traveling on the regional train, you don't need to worry about booking ahead, as the prices are fixed.
We typically book our train tickets through Trenitalia, Italy's national company, but other companies like Italo are also excellent options on some routes (we recently took an Italo train from Turin to Venice and it was incredibly comfortable).
You can check prices and compare rates, schedules, and more on Omio to ensure you're getting the best deal on train (or bus) travel in Italy.
Keep in mind that most train tickets must be validated before boarding the train in Italy, and failing to do so could result in a hefty fine, being thrown off the train at the next stop, and an enormous headache. When in doubt, ask before boarding!
Shop train tickets in Italy now!
Cars
Renting a car to drive through Italy is a popular option, especially in places like Tuscany, but there are a few things you'll want to consider before you do.
Keep in mind that cars are restricted from driving into the historical centers of most cities, including Florence and Venice, and failure to adhere to these rules (even accidentally) can result in strict fines that you sometimes find out about through the mail months after the fact (my dad and a good friend have both been fined for driving in Italy via a summons after returning home). For that reason, as well as issues with extremely limited parking in cities, we recommend limiting car rental when possible to time spent in smaller villages and towns.
An international driver's permit is required for renting a car in Italy and must be obtained in your home country before arriving. Sometimes car rental companies ask for it, sometimes they don't (same with the police), but in our opinion, it's not worth taking the risk–add this to your list of things to take care of being starting your 2 week Italy trip if you plan on renting a car.
Also, keep insurance in mind! Thanks to Italy's (somewhat deserved) reputation for less-than-cautious drivers, some travel insurance companies will not cover you while driving in Italy, or charge an extra fee to do so. Be sure to double-check before you book.
If renting a car is the right choice for you, we recommend checking out Discover Car Hire. They'll search both local and international brands that have available cars for your dates, and allow you to compare prices, reviews, and inclusions side-by-side.
Price out rental cars with Discover Car Hire today!
Buses
Bus travel in Italy is much less common than in some other European countries, mostly because of their well-developed train system.
You can find some buses available, however, especially among smaller cities and villages (we've used local buses in South Tyrol several times), so be sure to check for these services as well if you're having trouble deciding how to get around a certain destination.
Flights
When traveling long distances in Italy–say, from Rome to Venice–we strongly recommend looking into flights. Trains are a lovely and romantic way to travel, but they can also take a long time!
Budget flights within Italy can help keep costs down–for inexpensive tickets and airlines, look for flights to and from Rome, Pisa, Bologna, Milan, and Venice.
When to Visit Italy
There's no such thing as a bad time to spend 2 weeks in Italy–but some seasons are definitely more convenient to travel in than others.
Summer is the most popular season and will bring warm weather, lots of sunshine, and lots of tourists. Prices will be at their highest, but the beaches will be at their best–if you're hoping to swim at Cinque Terre, you'll want to plan a summer trip.
Winter is the offseason and will bring colder temperatures, rain, and gray skies. Prices will be at their lowest, and crowds will be as small as they ever get. The Christmas season can bring some increased crowds, but also the benefit of experiencing Christmas decor and markets (though fair warning–these have nothing on the Christmas markets in Austria and Germany! Check out Bolzano for something close.).
Personally, our favorite times to travel to Italy are the spring and the fall: the crowds are less than in the summer, spring brings beautiful blooms, and fall brings the olive harvest (after tasting fresh olive oil in Tuscany, I don't know how we ever lived without it).
The weather is a bit riskier during the spring and fall than during the summer, but we have never had much of an issue with it–the occasional rainy or cool day is worth it to us for the tradeoff of not being hot and crowded, and October is our personal favorite month to visit Italy.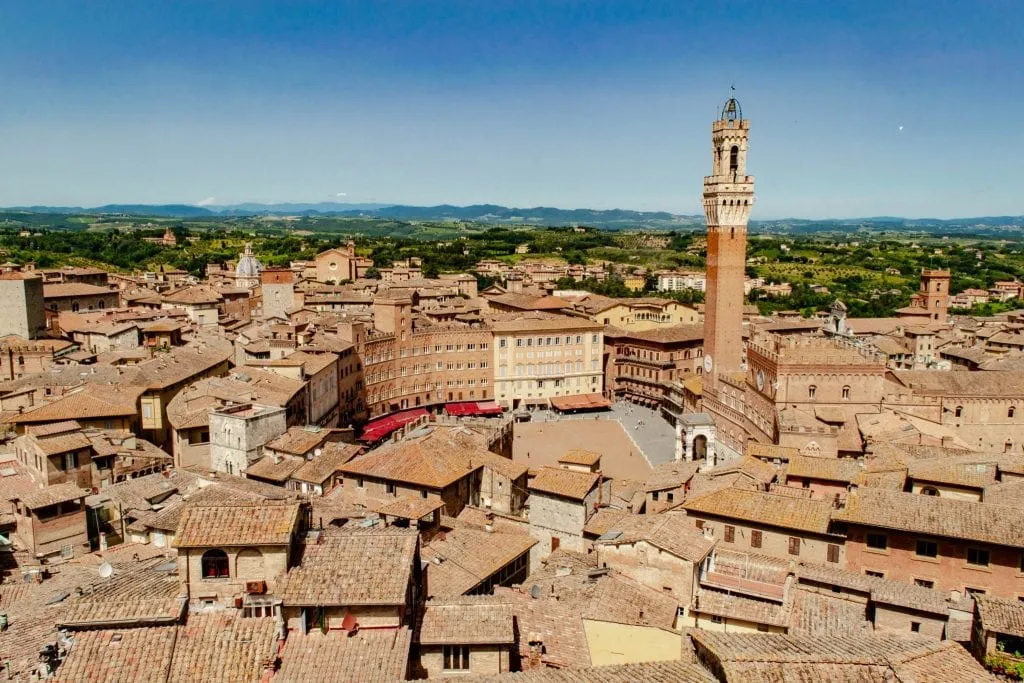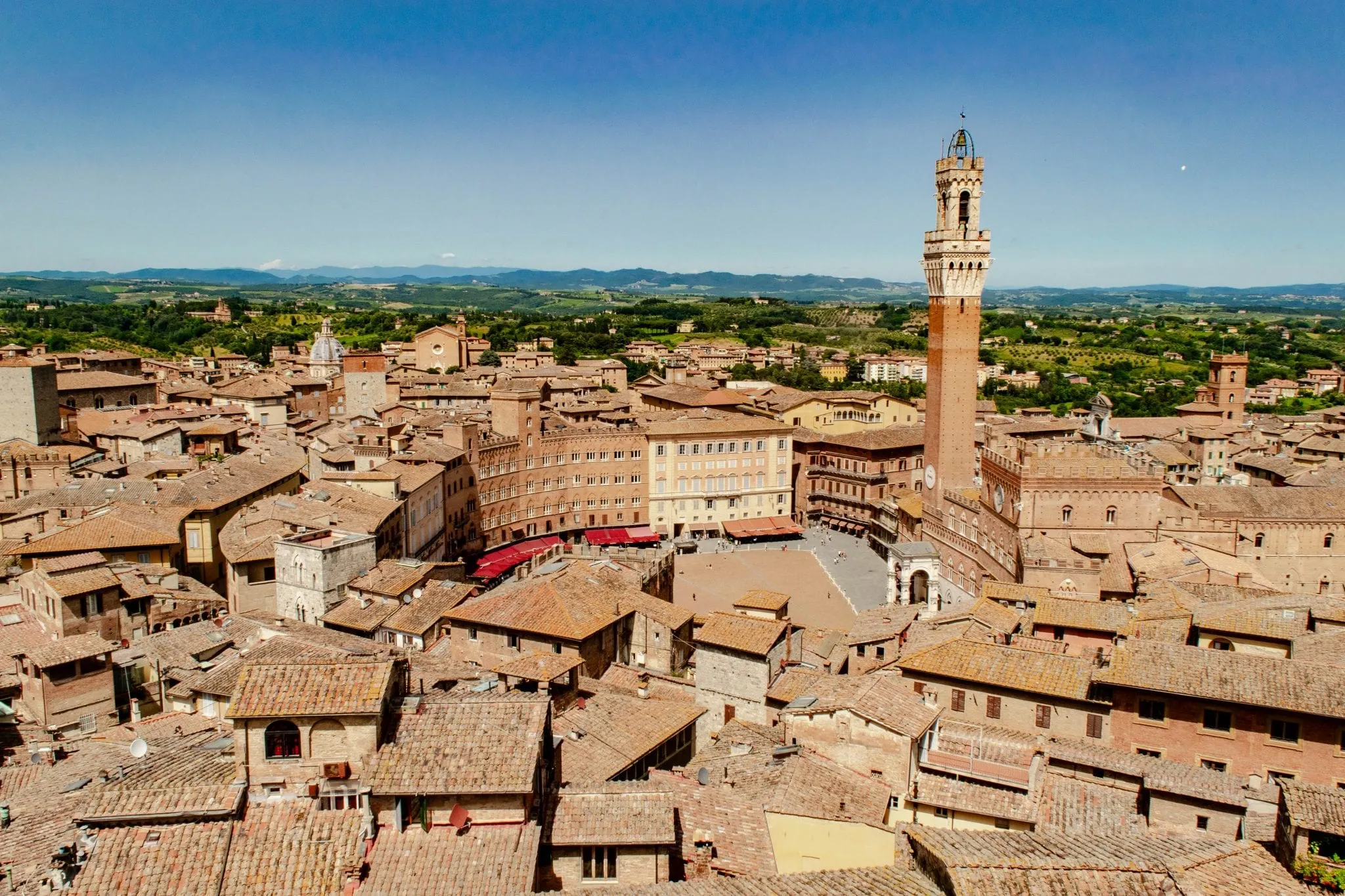 What to Pack for Italy
Planning a packing list for 2 weeks in Italy can be a challenge of its own–here are a few things to be sure to bring!
Travel Adaptors for Italy
— If you're coming from outside of Europe, you'll definitely need adaptors for your electronics.
Pacsafe
— We can't recommend our Pacsafe
enough: this travel safe is affordable, sturdy, easy to pack, and will help keep your valuables safe in your hotel room (not that you should need to worry much about theft in Italy, but it's better to be safe than sorry!).
Money Belt — This is up to you: we no longer use a money belt, but if you're more comfortable having your passports on your person in Italy, you can consider bringing one. We used to use this one
and had no complaints. These days, we prefer just to leave valuables in our Pacsafe during the day.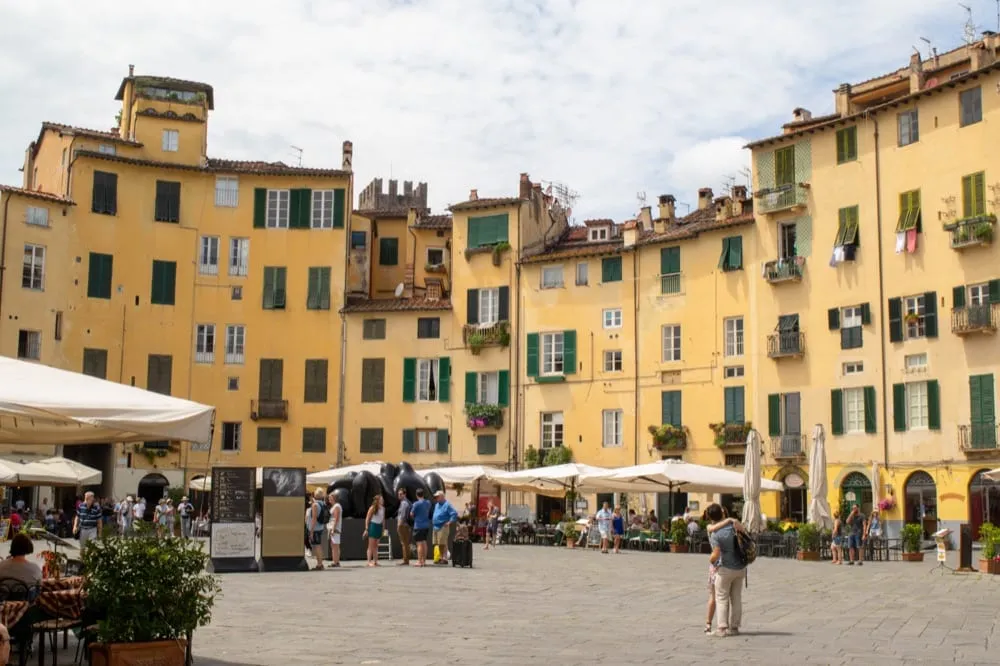 Umbrella
— Option A: Plan on buying an umbrella when it starts pouring down rain. Option B: Plan ahead and buy a (probably much sturdier) umbrella before leaving. Option C: Hope you get lucky with the weather (but fair warning, we've never been avoided rain entirely during a trip to Italy!).
Small Pack of Tissues
— Most bathrooms in Italy will have toilet paper, but not all of them (especially in smaller train stations). Bring a small pack of tissues, toss them in your day bag, and you won't have to worry about it.
Purell Hand Sanitizer
— We've never been sorry to have this floating around in our day bag.
Travel Journal
— If you want to keep a travel journal, but can't commit to a huge amount of writing each night, I recommend the One Line a Day Journal
–I've been using it for more than a year now and adore it!
Sea Bands
& Non-Drowsy Dramamine
— If you're prone to motion sickness like me, I strongly recommend adding Sea Bands to your Italy packing list. I use them on all boats and the occasional bus, and if things get really bad, take some Non-Drowsy Dramamine as well.
Before heading off for your 2 weeks in Italy, be sure to read through our complete Italy packing list!