Venice is one of those places that you simply have to see to believe. The city is truly one of the most unique places on Earth–but spending one day in Venice is definitely also an exercise in organization.
If you're hoping to see Venice in a day (and also hoping to see the major sights without being overwhelmed by the city's notorious crowds) knowing your travel preferences and where to go is key to having a delightful day in Venice.
Wondering what to do with one day in Venice?
We love the city dearly–here's how we suggest exploring Venice in a day.
Consider Your Personality: Are the Classic Venice Sights Right for You?
Before planning one day in Venice, ask yourself this: are you the type of person to be frustrated by large crowds?
If this is you, and especially if you're also visiting in the high season, we recommend reconsidering this suggested one-day Venice itinerary.
These suggestions for spending a day in Venice are designed for a traveler who hopes to see the city's most iconic sights quickly.
That being said, if you're not much for famous locations if they also come with a crowd, consider spending your day steering clear of Piazza San Marco and the Rialto Bridge after, say, 8:00 AM, and spending your day literally anywhere else.
Venice is full of beautiful and empty nooks and crannies, and if all you want from your visit is some canals and quiet time, Cannaregio, Dorsoduro, and Castello are the neighborhoods for you.
We go into more detail about these neighborhoods on our 2 day Venice itinerary, which we recommend scanning through if that sounds more interesting to you than the Bridge of Sighs or St. Mark's Basilica!
That being said, this suggested itinerary for seeing Venice in a day doesn't spend all its time in the cities most crowded corners, either–but you definitely won't be alone for most of the day with this Venice itinerary.
The Perfect One Day Venice Itinerary
Start with an early morning stroll to the Rialto Bridge.
The earlier you can get started exploring on your one day in Venice, the better: not only will you have more time to spend in the beautiful city of canals, you'll have more time without the heavy crowds that descend as the morning wears on.
Kick off your day in Venice as early as you can–perhaps even by 7:00 AM if you can swing it–and your stroll to and along the Rialto Bridge will be remarkably peaceful.
Of the four bridges that cross Venice's Grand Canal, the Rialto Bridge is both the oldest and the loveliest, with shops lining both sides of the stone bridge.
Once upon a time, the Rialto Bridge was the only way to cross the Grand Canal without boarding a boat!
While crossing the bridge, be sure to take the time to admire the Grand Canal views from both directions, and once you're finished on the bridge itself, be sure to spend a little time browsing the nearby Rialto Market.
Head to Piazza San Marco by 9:00 AM.
Piazza San Marco is Venice's (enormous) best-known piazza.
Set right up against the lagoon and home to several of Venice's most famous sights, Piazza San Marco is busy and bustling, and generally quite crowded with vendors and tourists alike.
Take a few minutes once you arrive to stroll through the piazza–it really is lovely–and if you're so inclined, take an iconic photo with Venice's pigeons (not our thing, but it's a popular thing to do!) or sip a (very expensive) coffee at one of the famous cafes that line the piazza (Caffe Florian is the best-known).
Once you finish up exploring the piazza, it's time to pay a visit to St. Mark's Basilica: the basilica opens at 9:30 AM, but people tend to start lining up to visit well before that!
The potential long lines at St. Mark's Basilica are the main reason we suggest reaching Piazza San Marco by 9:00 AM–jumping in line before 9:30 AM there will help cut down on the amount of time during your one day in Venice that you spend in line.
Head inside St. Mark's Basilica.
Dripping in Byzantine-style detail and utterly opulent, St. Mark's Basilica is an icon of Venice and absolutely worth a visit.
Touring the church is free, though if you happen to get a late start to your day in Venice and the lines are too long, skip-the-line tickets are available for 3 Euros.
Alternately, you can visit as part of a guided tour of both St. Mark's Basilica and the Doge's Palace (more on that below).
Tour the Doge's Palace OR climb San Marco Campanile.
When trying to see Venice in a day, it's inevitable that you'll have to make some sacrifices.
Sadly, unless you want to spend your entire day in Venice in its most congested areas, visiting both San Marco Campanile and the Doge's Palace probably isn't a good idea–we recommend choosing one.
Benefits of touring the Doge's Palace: this was the Venetian Empire's seat of government, and the interior is both gorgeous and interesting.
If you're interested in Venice's history, or in seeing the "real" view of the Bridge of Sighs (it was originally famous for the view looking out, not the view of the bridge itself), this is a great option.
Benefits of choosing to visit San Marco Campanile: the views over Venice are magnificent, including views of the city, the lagoon, St. Mark's Basilica, and some outlying islands. It also takes less time to visit than the Doge's Palace and is cheaper.
Of course, this is your one day in Venice we're talking about–if you dream of seeing both these locations, absolutely visit them both! But if you hope to see more of Venice's quieter areas, definitely choose one or the other.
If you visit the Doge's Palace, we absolutely recommend booking a guided tour to skip the line, better structure your day, and get some incredible context to your visit (also, history buffs, consider reading City of Fortune: How Venice Ruled the Seas before coming!).
Book your tour of the Doge's Palace + St. Mark's Basilica today!

Not into tours?

You can still skip the line at the Doge's Palace by purchasing a priority ticket in advance.
Stroll along the Riva degli Schiavoni.
If you walk between San Marco Campanile and the Doge's Palace toward the water, you'll very quickly find yourself on the lagoon's waterfront–the Riva degli Schiavoni.
From here, you'll have beautiful views of gondolas bobbing in the water, San Giorgio Maggiore across the water, and–if you turn left and keep walking–the Bridge of Sighs.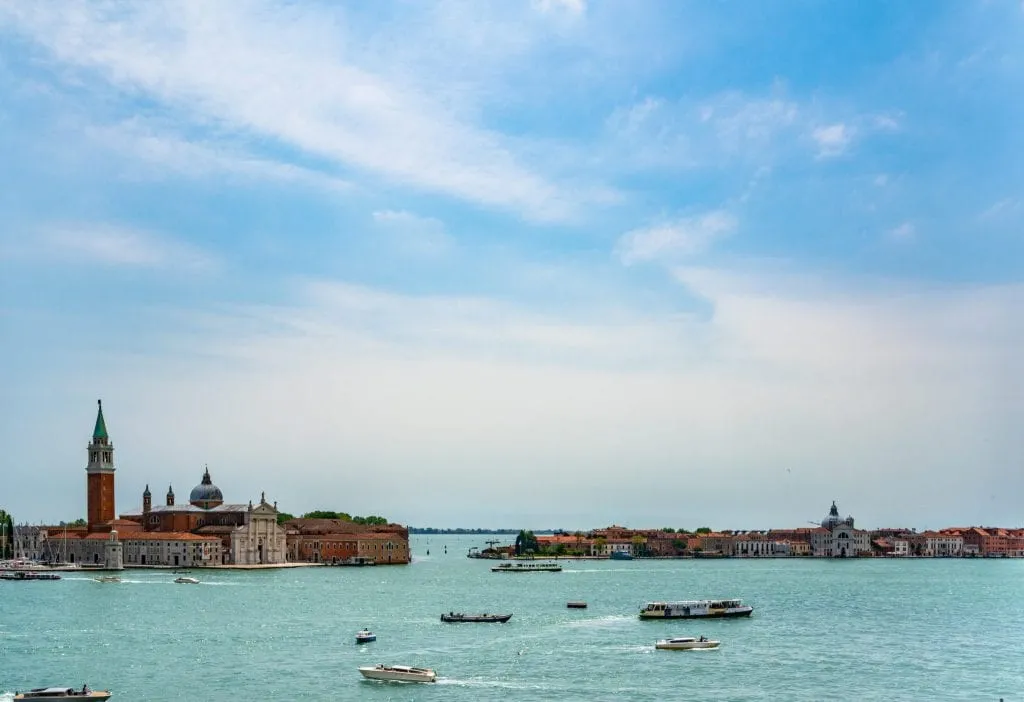 Check out the Bridge of Sighs.
Though the view that the Bridge of Sighs is famous for comes from inside it, it's the exterior view that the Bridge of Sighs is better known for now.
The Riva degli Schiavoni is the perfect viewpoint, so be sure to pause for a moment to appreciate the beauty of the architecture and the view of the many gondolas and other boats that travel underneath the bridge.
Head to the Ponte dell'Accademia.
At this point during your one day in Venice, it's time for a walk!
While the sights concentrated around the Piazza San Marco are important and worth seeing, there's so much more to Venice that this busy piazza.
The eventual goal of your walk? To head all the way to the Ponte dell'Accademia, where you'll be greeted with an iconic view of the Grand Canal.
Don't hurry, though: while you can complete the walk in a little under 15 minutes, there are plenty of beautiful canals, buildings, boats, shops, and footbridges to admire along the way, and they are worth appreciating.
A few things to keep an eye out for: the Merchant of Venice flagship perfume store, the Teatro La Fenice, the Gallerie dell'Accademia that is situated right over the Ponte dell'Accademia in Dorsoduro, and the Scala Contarini del Bovolo, which I'll discuss a bit more below.
Optional: climb Scala Contarini del Bovolo on the way.
If you visited the Doge's Palace instead of St. Mark's Campanile earlier during your one day in Venice and still want to get a glimpse of Venice from above, consider hitting up the Scala Contarini del Bovolo instead!
The view is not nearly as good as from San Marco Campanile, but it has a fraction of the crowds and the tower itself is gorgeous.
The odds of randomly stumbling across this tower during your time exploring Venice in a day are slim to none, so if you'd like to make the climb, we recommend plugging it into your GPS and heading that way!
Hit the water for another perspective on Venice.
When trying to see Venice in 24 hours or less, there's one view you definitely can't miss: the one from the water!
Whether you're looking to splurge or hope to stay on a budget, there's a way to admire Venice's canals up close.
We go into more detail about each of these options on our 2 day Venice itinerary, so head there for more detail, but here are the three basic options.
Splurge: Private Gondola Ride
This will run you around 80 Euros for a 30-minute ride during the day, and 100 at night.
These prices are officially set, but depending on what time of year you visit and if you book directly or online/through your hotel, they may vary a bit.
Mid-range: Shared Gondola Ride or Grand Canal Cruise
Those rates mentioned above?
They're set per boat, and each gondola holds up to six people–so if you're willing to share the view, you can definitely lower the cost of a gondola ride per person!
Alternatively, a one-hour Grand Canal Cruise will get you more time on the water than a standard shared gondola ride.
Budget: Vaporetto
Trying to spend one day in Venice on a strict budget but don't want to give up experiencing Grand Canal views?
The vaporetto, or water bus that runs up and down the Grand Canal will offer up the same views as above for 7.5 Euros/ride.
Sure, it won't be as relaxing of an environment–but the views are still fabulous!
Try some cicchetti in Dorsoduro or Cannaregio.
There's no better way to close out your one day in Venice than with cicchetti–aka Venetian tapas.
These delightful little snacks are served up in bars all over Venice, so when aperitivo rolls around between 5-7pm, sit down with a drink (maybe a Bellini? They were invented in Venice after all!) and a few pieces of cicchetti.
You can do this anywhere in Venice, of course, but Dorsoduro and Cannaregio are both quieter (and cheaper!) neighborhoods than San Marco and San Polo.
Either neighborhood will offer a more relaxed ending to your trip to Venice than busier spots and will be a nice change of pace from the hectic nature of Piazza San Marco earlier in the day.
These neighborhoods aren't deserted by tourists, of course–you'll see plenty of them–but they're far, far less crowded.
Where to Stay for One Day in Venice
Since Venice is such a walkable city, and exploring it by foot is such a joy, you can stay just about anywhere in or near the center of Venice and easily work your way through this Venice itinerary.
With only one day in Venice, we don't recommend staying in Mestre (the mainland) or Giudecca (a separate island that requires a ferry to visit the major highlights of Venice).
You can often find better deals there, but unless you are on an incredibly low budget, your trip to Venice will be greatly enhanced by staying in a hotel or Venice apartment rental within walking distance (even if it's a long one) of Piazza San Marco.
We've stayed in 3 different sestieri in Venice (Cannaregio, San Marco, and Castello), and enjoyed our stays in all of them.
Budget
Hotel Casa Boccassini — This cute hotel easily met our needs during our first trip to Venice!
The room was simple but clean, and the shared bathroom a fair trade in exchange for their competitive prices in a great location in Cannaregio.
The bathroom was clean and we had a sink in our room, both of which always make shared bathroom situations much easier. The courtyard of the hotel was beautiful!
The hotel was a simple and beautiful 10-minute walk from the Rialto Bridge, and just a 5-minute walk to the vaporetto to the airport.
Mid-range
Hotel Lisbona — We decided to check into Hotel Lisbona for one reason: we wanted to stay on a canal!
If you're looking to stay right on a canal in Venice without paying luxury prices, we can heartily recommend Hotel Lisbona.
The building is beautiful and definitely has that oh-wow-I'm-in-Venice effect (especially when you look out the windows), the customer service great, and the included breakfast tasty.
The central location (it's around a 5-minute walk to Piazza San Marco) couldn't be better.
The downside? The room we stayed in was tiny–but to be staying right on a Venetian canal in such an amazing location, we definitely considered the trade-off worth it.
Luxury
Hotel Danieli — If you're looking for a true luxury experience for your 2 days in Venice–the kind of hotel stay that you'll remember for the rest of your life–look no further than the iconic Hotel Danieli, located inside 3 former palazzos along the Riva degli Schiavoni.
Every detail has been looked after here, and everything from the furniture to the breakfast to the to the location (mere steps from the Bridge of Sighs) to the truly stunning lobby will ensure you have an absolutely unforgettable trip to Venice.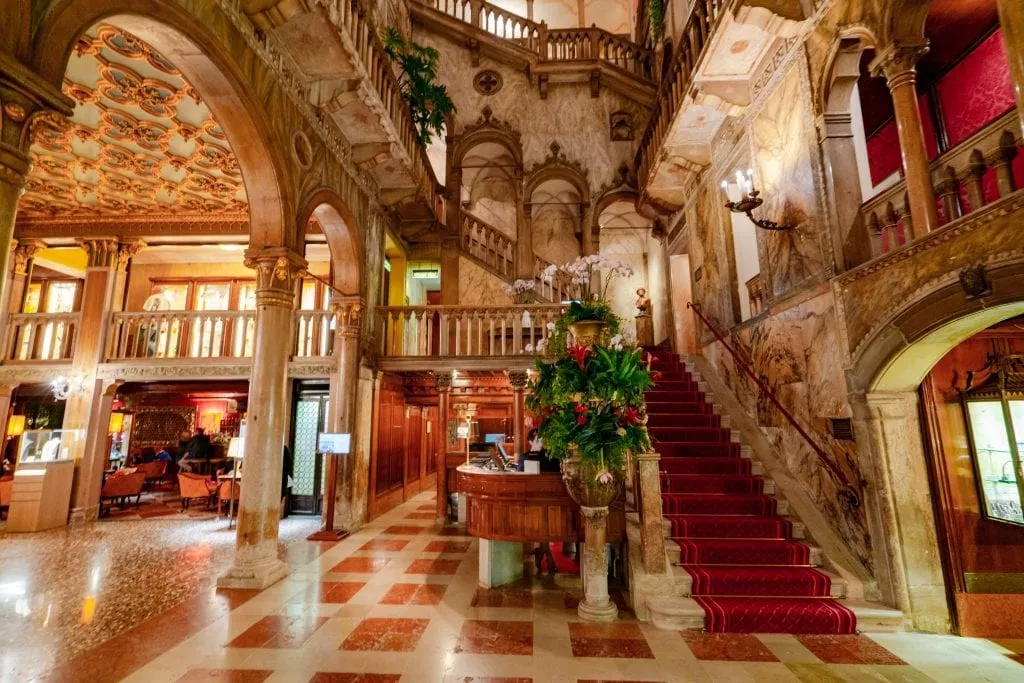 Map for Spending One Day a Venice
Take This Map With You! Click each highlight to pull up the name of the destination. To save this map to "Your Places" on Google Maps, click the star to the right of the title. You'll then be able to find it under the Maps tab of your Google Maps account! To open the map in a new window, click the button on the top right of the map.