Just a short ferry away from the popular Cliffs of Moher sits what is possibly one of the most interesting places in Ireland: the island of Inisheer (or Inis Oírr in Irish).
There may not be tons of things to do on Inisheer, but there are certainly plenty of reasons to visit the smallest of Ireland's three Aran Islands.
This is a place where the permanent population numbers under 300 (not a typo), where Irish is still the main spoken language, where the checklist-worthy things to do are few but the views are limitless.
Some links in this post may be affiliate links. If you make a purchase through one of these links, we may earn a small commission at no extra cost to you. Please see our

disclosure policy

for more detail.
It's an island where you can't help but halfway believe in fairytales, and would only be mildly shocked to find a Tolkien character stepping out of the castle.
Inisheer is an island that has captivated us twice now: when we eventually returned to the area a few years after our first visit, we found that we couldn't help but visit Inisheer again.
Considering taking a day trip out to Inisheer Island, Ireland? Here's what you need to know.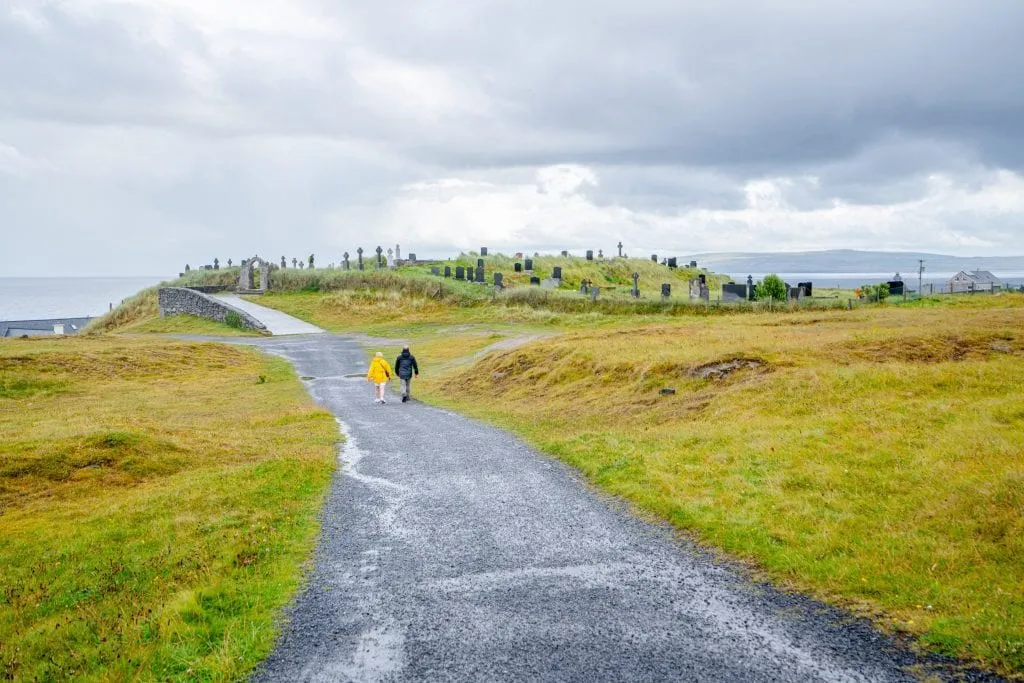 The Best Things to Do on Inisheer
Head up to O'Brien's Castle.
Built in the 16th century by the O'Brien family, the ruins of this castle are perched at the top of Inisheer, and will likely be one of the first things you notice as your ferry approaches the island!
The views from the castle are extraordinary, with Galway Bay visible to one side and the beautiful island to the other.
Visit the Plassey Shipwreck.
On a dark night in 1960, the Plassey ran aground on Inisheer, prompting an intense rescue effort by the local population… and the ship has not moved since.
Today, you can still visit the remains of the Plassey–now quite rusty and home to more than a few rats–on a day trip to Inisheer, and while we wouldn't recommend getting too close, it is quite a fascinating sight.
Climb into the sunken church (St. Caomhán's Church).
Nestled inside Inisheer's small graveyard, this 9th-century church lacks a roof and is now located underground, having sunk into the island.
It's a unique, beautiful, and downright peaceful place–be sure not to miss it when deciding what to do on Inisheer!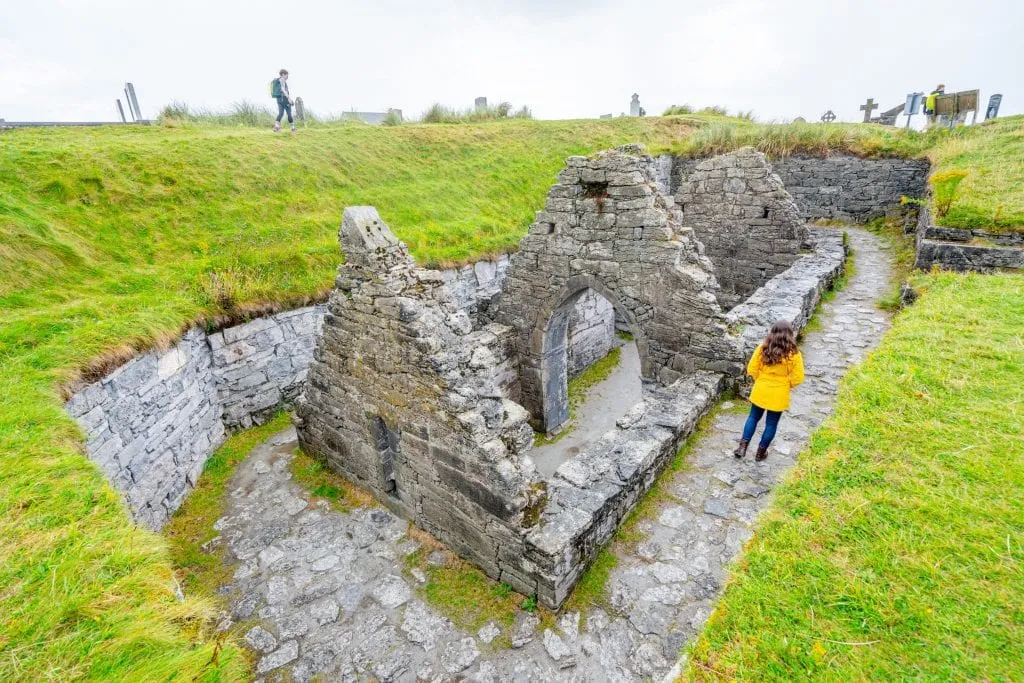 Check out Cnoc Raithní.
This Bronze Age burial mound dates to 1500 BCE, making it the earliest sign of settlement on the island.
Admire the Inisheer Lighthouse.
Visible from as far away as the Cliffs of Moher on a clear day, the Inisheer Lighthouse was completed in 1857 and is still in use today!
Cozy up with a cup of tea.
If your day trip to Inisheer includes a downpour or two (this is Ireland, after all) consider escaping into a cafe for a cup of tea and a scone–the perfect way to wait out a rainstorm in Ireland.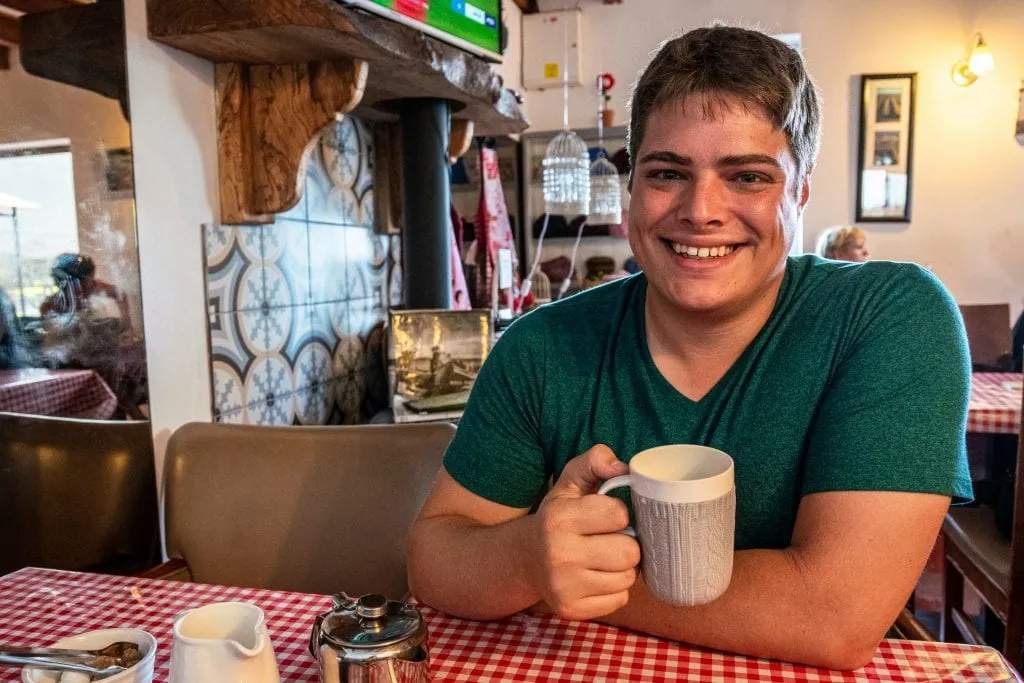 Kick back during pony + trap ride.
Pony and trap rides are one of the most popular things to do on Inisheer, especially because they're the easiest way to get out to highlights like the Plassey Shipwreck if you're short on time to spend on the island.
Just make sure you get along with your guide–some are more valuable than others. We'll never forget our first pony and trap driver on Inisheer, who was a lifelong local to the island and an absolute wealth of information and stories (including a firsthand account of the Plassey Shipwreck).
Rent a bike & go for a ride.
Not much for carriage rides and would rather rent a bike?
Bike rentals are a fun and easy way to get around Inisheer–but as this is Ireland and the weather is, of course, unpredictable, but sure you're willing to risk getting wet before setting off for the day!
Enjoy the beach.
Inisheer is home to some beautiful beaches that sparkle in the sun so beautifully that you'll almost imagine you're in the Caribbean, and they're absolutely lovely to visit!
During both of our day trips to Inisheer we saw people swimming in the sea, and while it was far, far too cold for us to ever consider such a thing, if you're used to taking a dip in chilly water, you might enjoy it!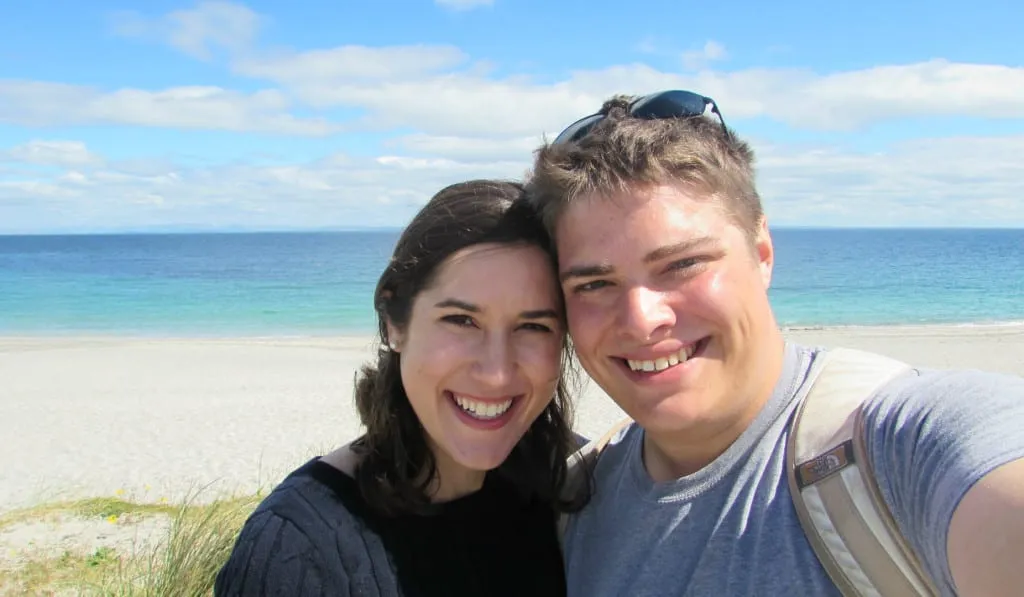 How to Take a Day Trip to Inisheer
The ferry to Inisheer takes about 45 minutes each way, though there are some fast boats you can book to complete the trip faster if you like. The ride is quite lovely, so kick back and enjoy!
If you are traveling from Doolin, you'll head to the Doolin Pier to catch your boat. You'll have your choice of simply booking the roundtrip ferry to Inisheer, or adding on a Cliffs of Moher cruise on the way back.
If you haven't taken a Cliffs of Moher cruise yet, we recommend adding it! The additional fee is small and the cliffs are gorgeous when seen from above.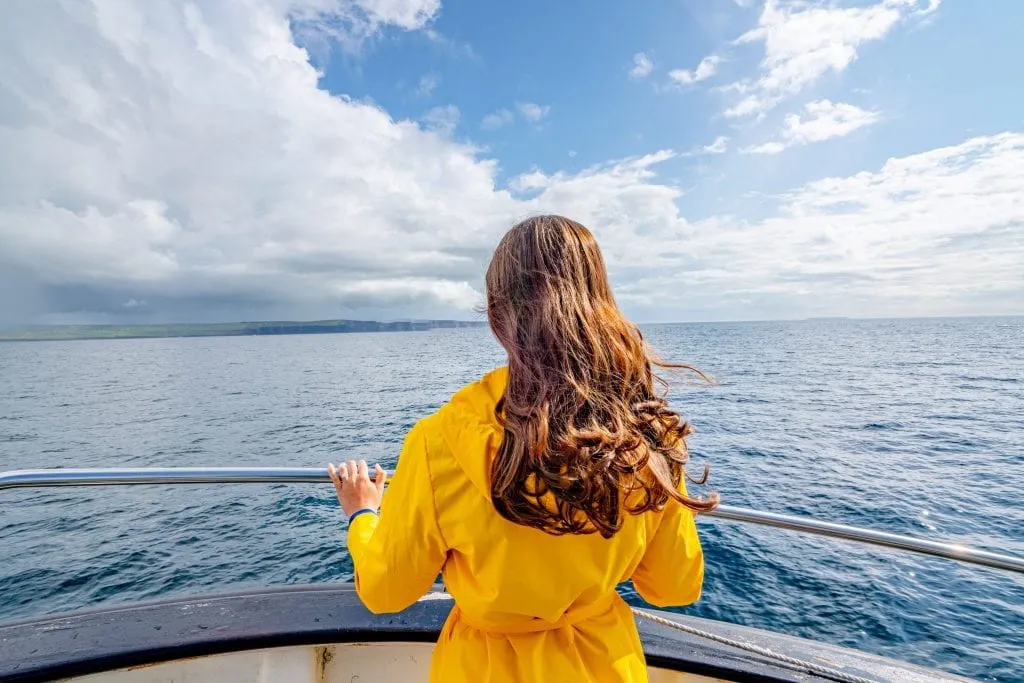 Plus, it only takes about an extra half hour, so you'll save time as compared to booking a Cliffs of Moher cruise separately. This boat trip is an excellent option that includes both roundtrip transport to Inisheer and a Cliffs of Moher cruise.
Especially if you're visiting Inisheer during the summer high season, be sure book ahead to ensure you get on the ferry you want to (plus, it's generally a bit cheaper to book online). The earlier of a start you get to your day trip to Inisheer, the more relaxed your trip will be.
Book your ferry to Inisheer + Cliffs of Moher cruise today!

Coming from Galway? This day trip is an excellent choice if you want to visit both Inisheer Island and the Cliffs of Moher in one day!