November 15, 2018
Inisheer Island, Ireland: 6 Favorite Moments on the Smallest Aran Island
Ireland
Visiting Inisheer Island (Inis Oírr) is like taking a step back in time. It's a place that you can't help but believe in fairy tales, and you half expect a Tolkien character to slip out of the trees.
This tiny island, the smallest of the three Aran Islands, boasts a population of fewer than 300 people. It is located a short ferry off the west coast of Ireland (near Doolin and the Cliffs of Moher, and a surprisingly short journey away from charming Dublin). We took a half day trip there, and it wasn't nearly enough–we would love to go back for longer, and consider the Aran Islands a great addition to any Ireland itinerary.
Our 6 Favorite Moments on Inisheer Island:
1. Hearing our pony-and-trap driver wax poetic about his fascination with the Amish people in the US, and tell wonderful stories.
This gentleman was roughly in his mid-sixties, and told us the following: he vividly remembers the day of the Plassey Shipwreck, he lives in the house he built on the island (which is next door to the one he and his son built for the son's family–he drove us by to show them to us), and all about how he had lived most of his life without reliable electricity.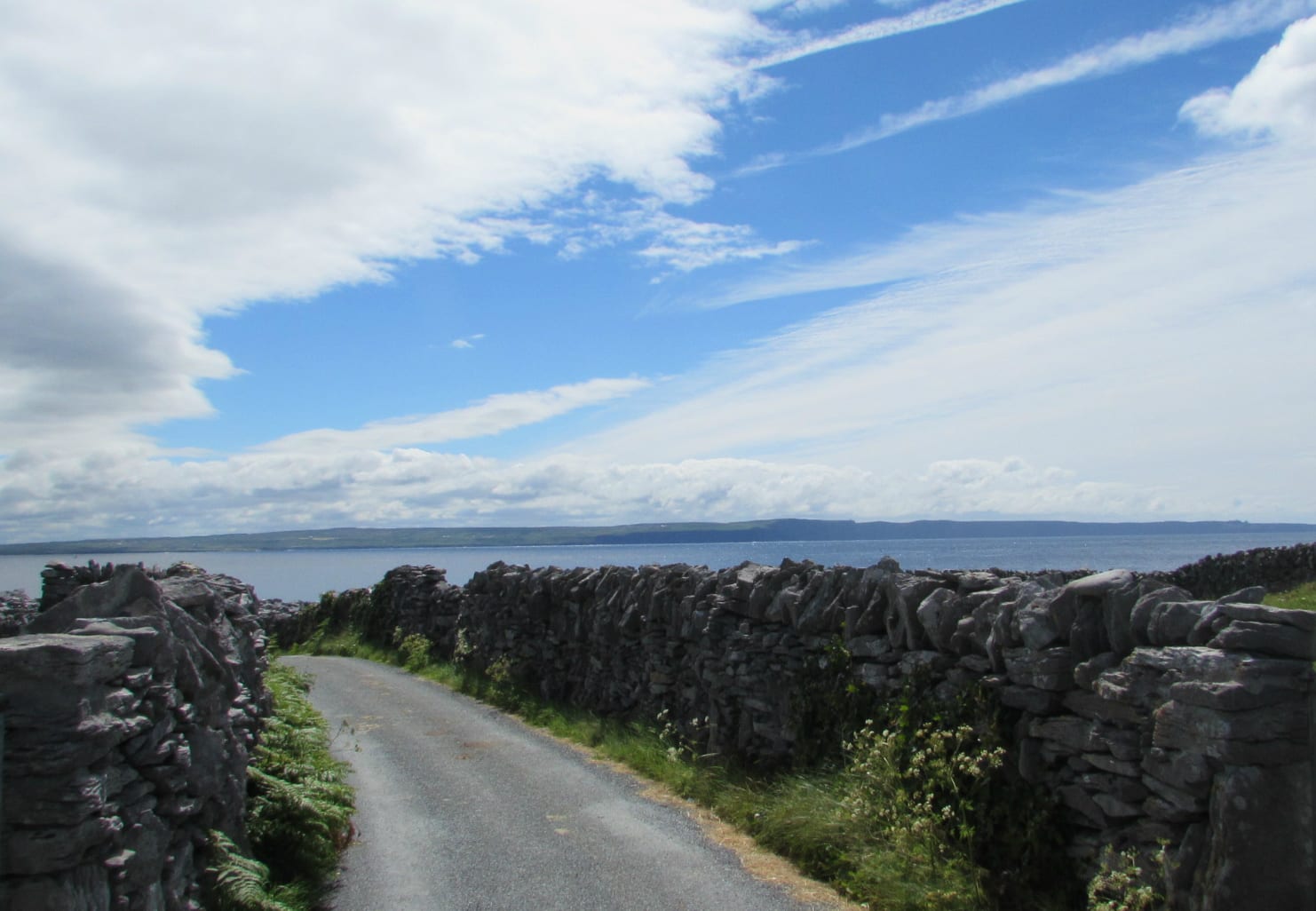 He also wanted to hear all about the Grand Canyon (he was wearing a baseball cap his wife had brought back from her trip several years ago). Oh, and he constantly apologized for his "not very good" (actually, excellent) English.
His first language was Irish (what we call Celtic in the USA), along with most of the older people on the island–he told us that Irish schoolchildren come to Inisheer for weeks at a time to study the language. I think we spent about 20 Euros for a roughly 1.5-hour tour: it would have been worth it for the stories alone. I wish I remembered his name.
2. Eating lunch at a "restaurant" at the recommendation of our pony-and-trap driver.
The owners were "nice young kids", who made great food. Well, the panini was indeed great, and the picnic table dining was gorgeous–but the "young kids" had to be in their upper 30's or early 40's, which I guess means our driver thought Jeremy and I were infants. The restaurant was run out of this couple's house, which was steps away from O'Brien's Castle–when I asked to use the restroom, she directed me to the powder room that was clearly half part of their house/half part of their business. I would go back in a second.
3. Seeing the beach of Inisheer. Seriously, look at it: this is not the water I was expecting to see in the Emerald Isle.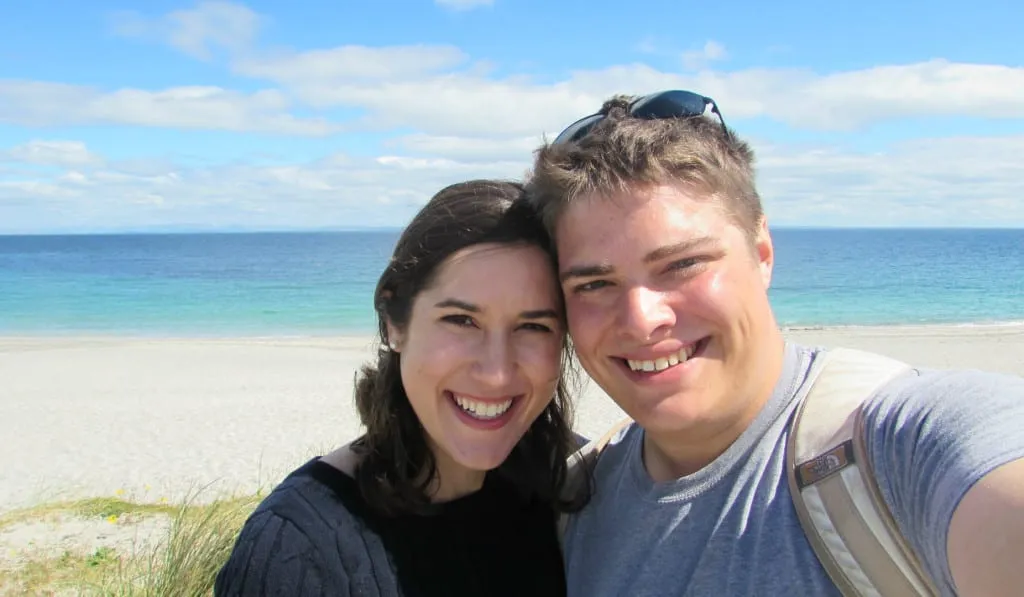 4. Climbing (yes, literally) the ruins of 14th century O'Brien's castle.
The views are extraordinary: Galway Bay to one side, bright green grazing land to the other, and gigantic, open skies above.
5. Wandering around the Plassey shipwreck on Inisheer.
Wrecked in 1960, this rusted out ship is a sight to behold. The local residents assisted in the rescue, and everyone made it off safely. The ship is not guarded or fenced in any way, but be careful about getting too close (especially if you're not up to date on your tetanus shots): pieces of rust are literally falling from the ship, and there are more than a couple of rats scurrying around inside.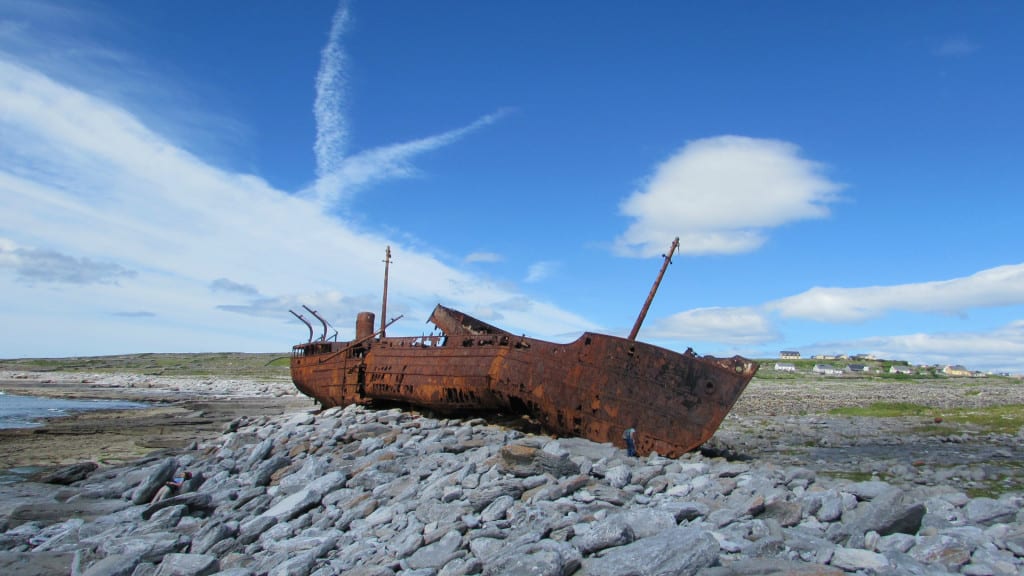 6. Exploring the Sunken Church (Teampall Chaomháin).
This 9th century church has sunk into the ground, but is still open to climb into, surrounded by a beautiful little cemetery. To be honest, we almost missed this gem: we spotted it climbing down from O'Brien's Castle, and I'm so glad we made the walk.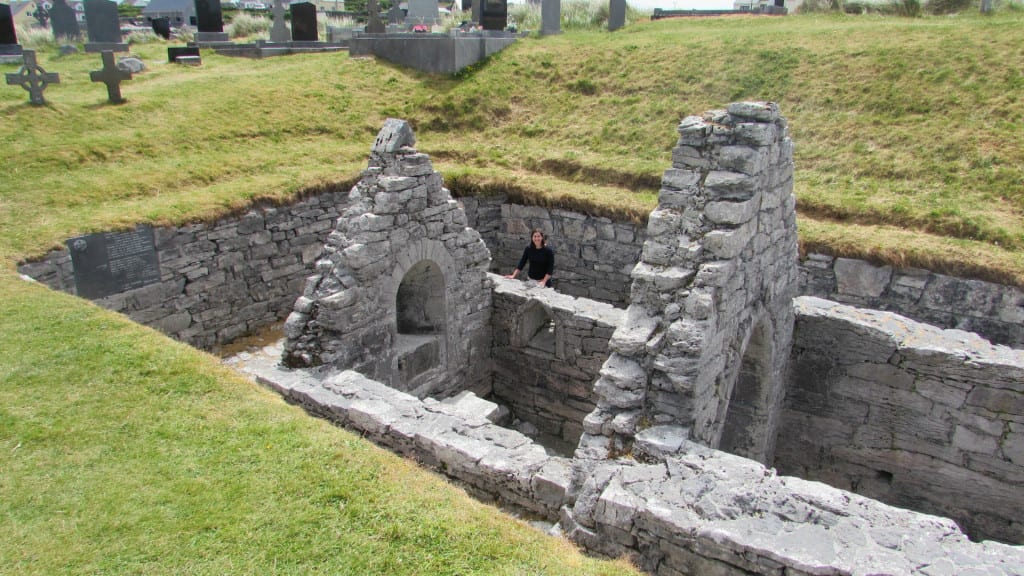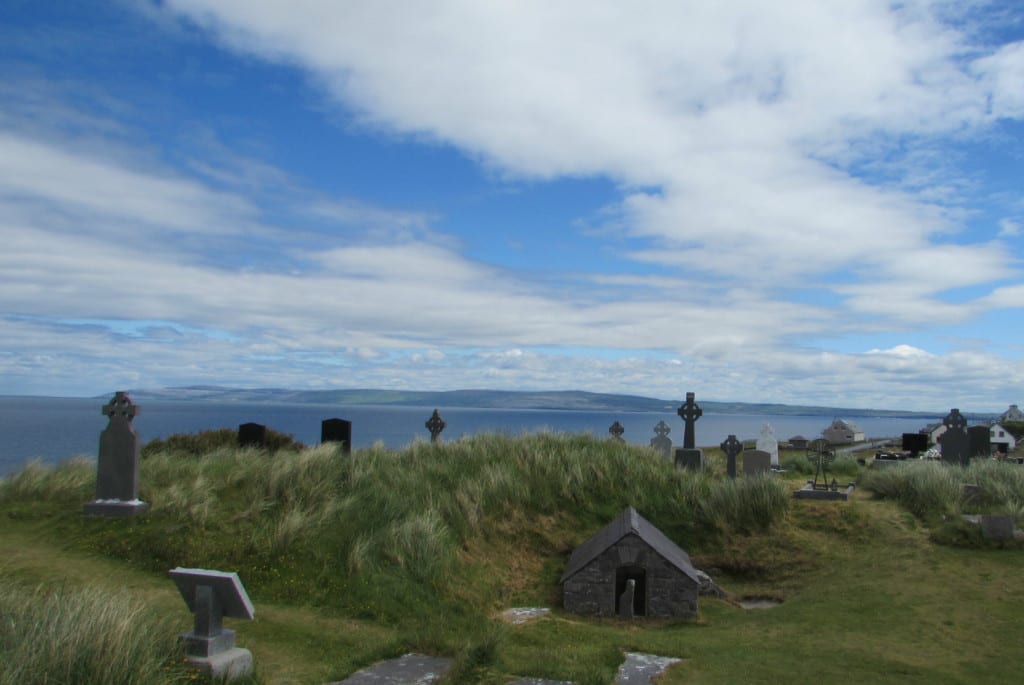 We accessed Inisheer Island as a day trip from the small village of Doolin, near the Cliffs of Moher. We stayed at:
The Killilagh House — We loved this B&B! The tiny village of Doolin is perfect for accessing the Cliffs of Moher, the Aran Islands, and Burren Way, and the Killiagh House made us feel right at home there. The inn itself was clean and full of charm, the breakfast was delicious, and it was walking distance to Doolin's pubs and restaurants. The owner was incredibly kind, and quick with helpful recommendations. We would love to go back here for a week or more.
Some links in this post about Inisheer Island, Ireland are affiliate links. If you click through one of these links, we may earn a small commission at no extra cost to you. We are committed to only ever recommending products and services that we personally use and like.