An Ireland honeymoon is the perfect romantic escape for couples looking for a cozy and beautiful getaway full of quiet corners, beautiful, secluded spots, and some of the world's best inns and (castle) hotels.
In our opinion, Ireland is one of the most delightful countries to travel in as a couple: it's adventurous without being too stressful, beautiful without demanding too much planning, and laid back enough that it's easy to mix sightseeing with lazy days lounging in the countryside without feeling like you're missing out.
And it's not just us–our wedding photographer, who clearly hears all about the best honeymoon destinations around, chose an Ireland honeymoon several years ago and adored it!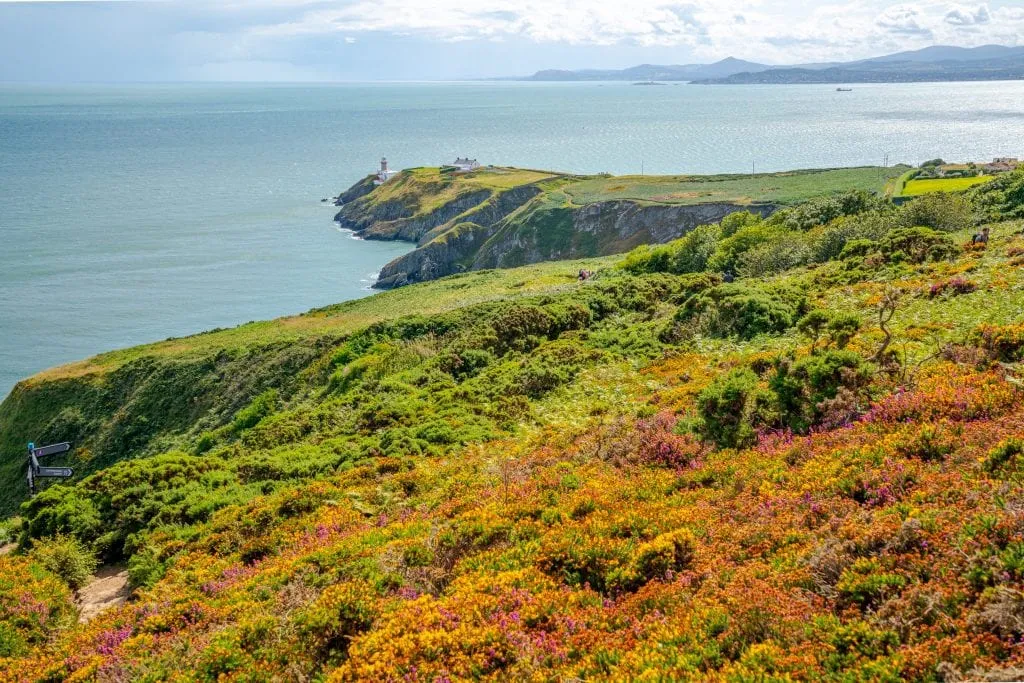 Some links in this post may be affiliate links. If you make a purchase through one of these links, we may earn a small commission at no extra cost to you. Please see our

disclosure policy

for more detail.
Whether you dream of devouring a full Irish breakfast at a small country bed & breakfast or dining on award-winning cuisine at an opulent castle, and whether you're the type of couple hoping to hike through the beautiful countryside or the type to desire nothing but an endless stream of colorful villages to peruse, an Ireland honeymoon has something to offer.
Hoping to plan the perfect Ireland honeymoon?
Here's what to know before you go.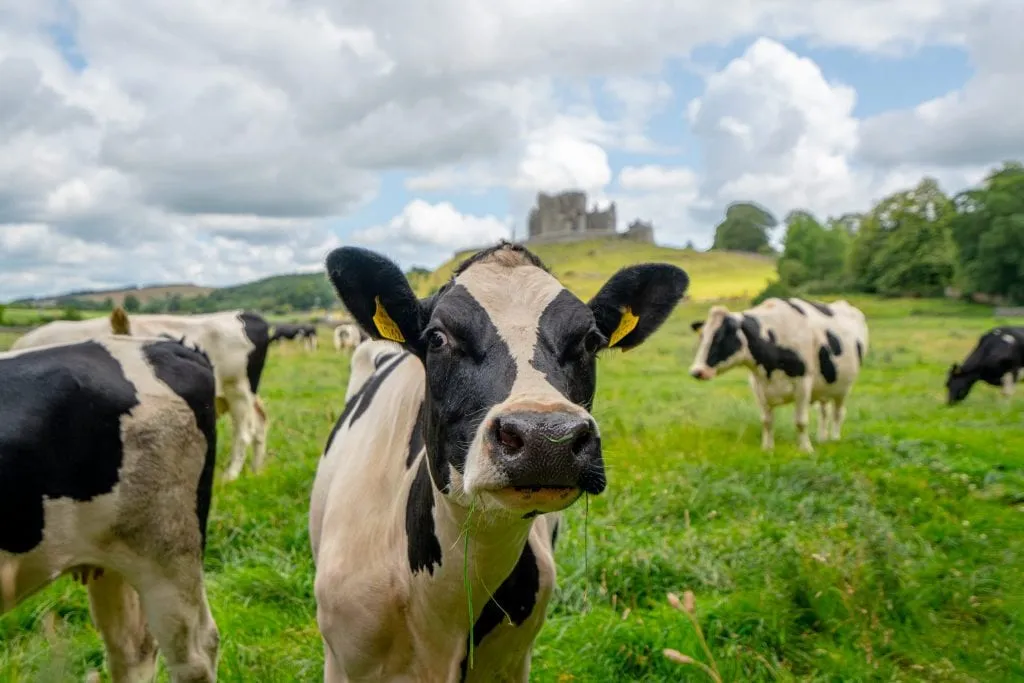 Romantic Things to Do on Your Ireland Honeymoon
Walk along the Cliffs of Moher.
Of course, any couple planning a honeymoon in Ireland immediately plans to visit the Cliffs of Moher: Ireland's most famous tourist attraction is incredibly romantic–especially if you walk far enough past the visitor's center that the crowds fade away and you can enjoy a peaceful moment alone in nature together.
Visit an Irish castle (or six).
Ireland is famous for its many castles, from abandoned ruins that have not been restored to those that have been converted into opulent luxury hotels, with plenty of options in between.
Be sure to check out at least a couple of castles during your romantic trip to Ireland–and ideally, spend at least one night in one!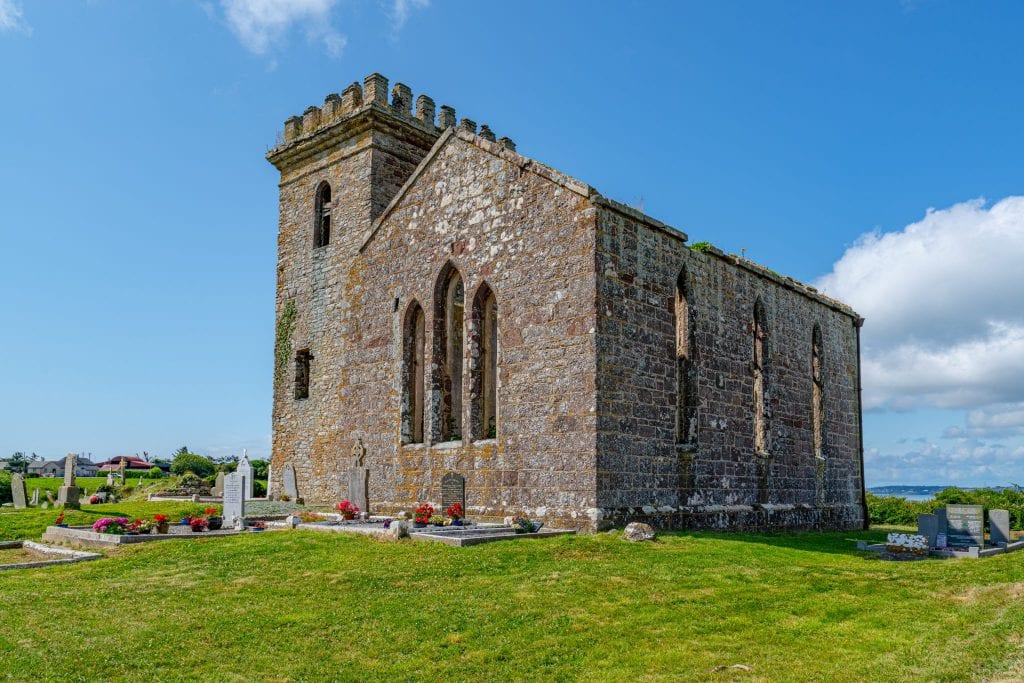 Enjoy dinner & live music in a cozy pub.
Ireland is known for its many pubs where you can grab a pint of Guinness, a tasty meal, and listen to some live Irish music from a cozy booth in the corner–and any honeymoon in Ireland should definitely include plenty of evenings like that!
Release your inner child at a farm together.
Ireland is full of small farms that allow you to snap adorable photos with the animals–and yeah, it's a bit childlike, but isn't feeding a sheep way too much fun to miss out on?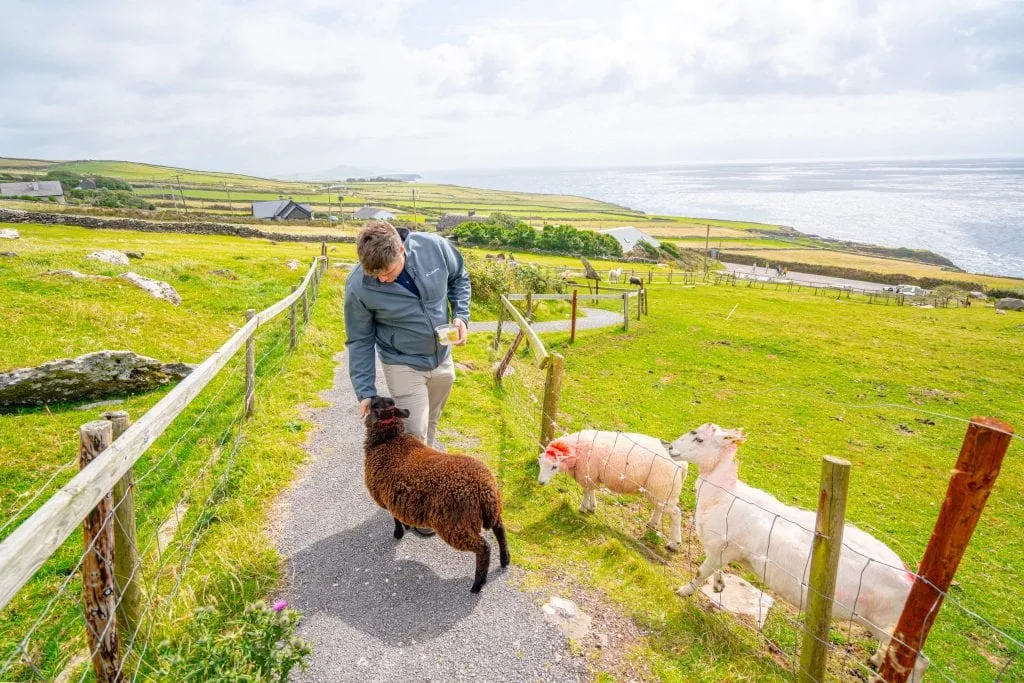 Savor all the delicious food in Ireland.
Irish food is, hands down, some of the best comfort food around.
From hearty Irish stew and full Irish breakfasts to tasty baked goods like scones and brown bread (coated in copious amounts of Irish butter, of course), to potatoes in more forms you can imagine, exploring the food in Ireland is a fabulous way to enjoy your honeymoon with your beloved.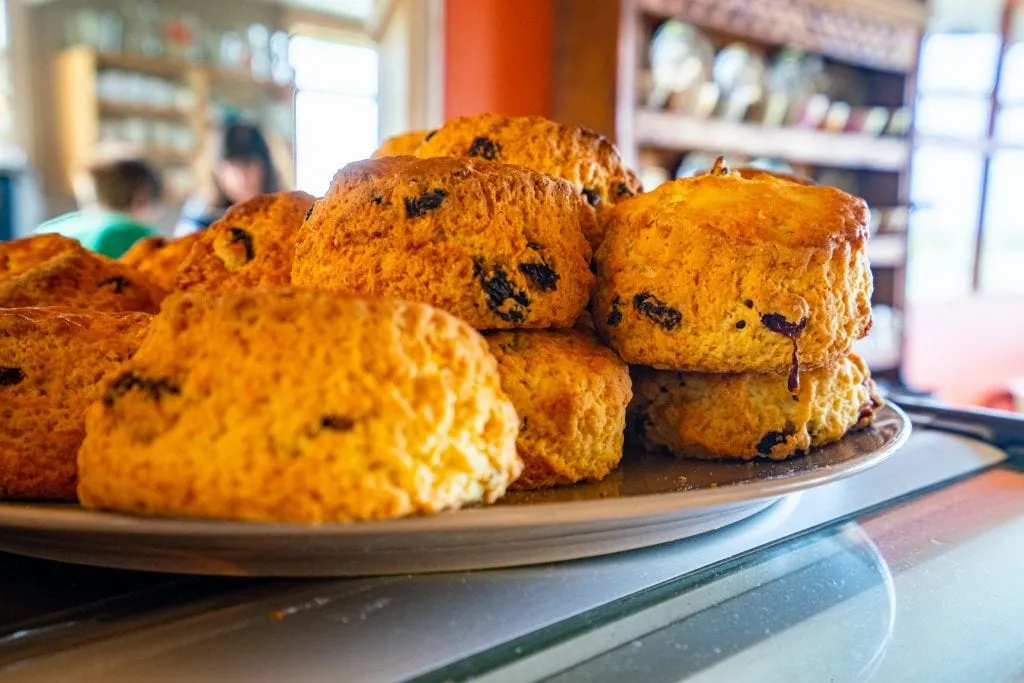 Go horseback riding in Ireland.
It's hard to imagine a more romantic place for a horseback ride with your new spouse than Ireland: the Emerald Isle is home to some superb natural beauty, and traveling by horse will allow you to enjoy some quiet corners not easily accessed by car.
Our horseback ride in Ireland is easily one of the most romantic things we have done together in the country!
Wander an abandoned abbey.
Whether it's an abbey that's free to enter like Hore Abbey or a more official tourism attraction like Muckross Abbey in Killarney National Park, Ireland is full of absolutely beautiful, well-preserved abbeys that are no longer in use.
Most are uncrowded and have had their roofs removed, making a stunning indoor/outdoor space that is perfect for enjoying a quiet moment together (and an excellent place to snap some honeymoon photos, too!).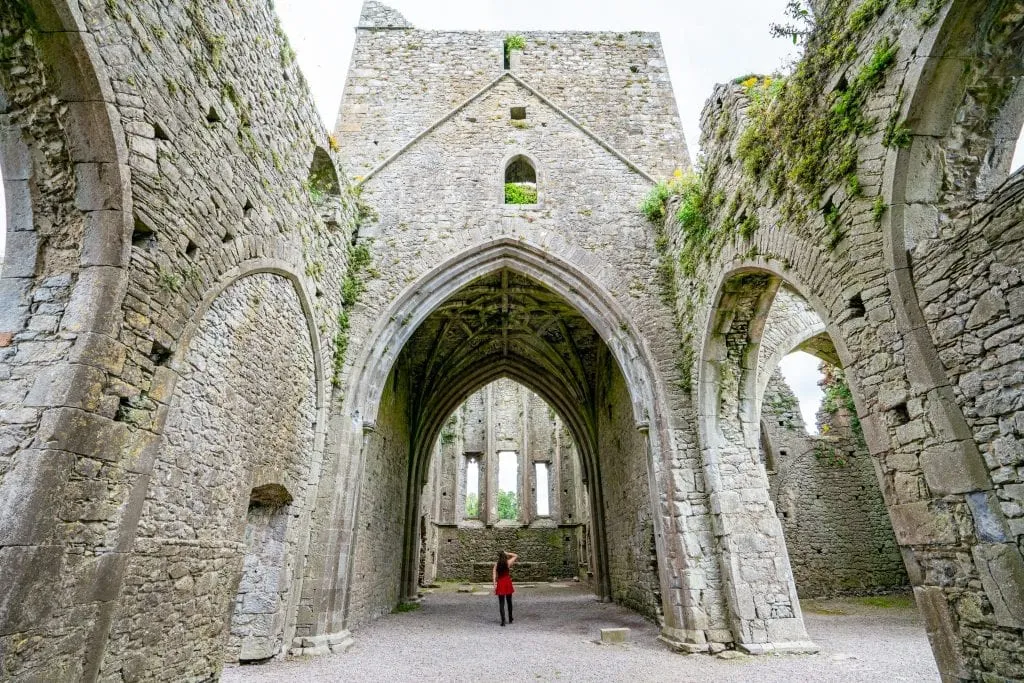 Drive one of Ireland's ring roads.
Ireland is a phenomenal place for a romantic road trip, and any of its ring roads are perfect short road trip routes.
From the famous Ring of Kerry to the offbeat Ring of Beara to our personal favorite, the fantastic Slea Head Drive, there's a ring road for every couple's taste in Ireland.
Watch the sunset over the sea together.
Ireland has some beautiful sunsets, and there's nothing more romantic than cuddling up with your beloved to watch one together.
Because of Ireland's mostly rural environment, it's incredibly easy to find a coastal spot free of crowds to watch the sunset together–we've even enjoyed one at the Cliffs of Moher with only a few other people around by staying far away from the crowds of the visitor's center.
Visit several colorful small towns in Ireland.
Exploring small, colorful Irish villages is easily one of the most fun aspects of taking an Ireland honeymoon, and there's absolutely no shortage of options!
Kilkenney, Dingle, Kenmare, Cobh, and Doolin are some of our personal favorites, but there are literally hundreds of villages to discover, from highly touristed to incredibly offbeat.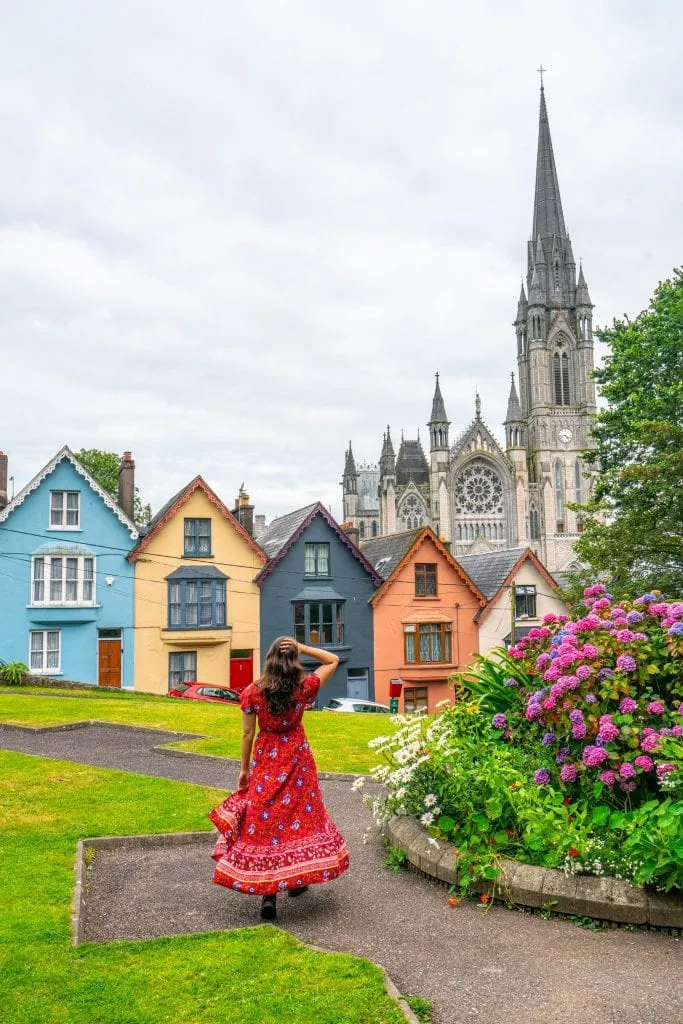 Take a day trip to a quiet Irish island.
Whether it's stunningly beautiful Skellig Michael, the Irish-speaking Aran Islands, the gorgeous Achill Island that is home to the tallest cliffs in Ireland, or somewhere else entirely, be sure to spend at least a small portion of your Ireland honeymoon on a small island offshore.
Stroll along the beautiful beaches.
Ireland's beaches may be chilly, but they're stunningly beautiful and the perfect place to enjoy a long walk hand-in-hand with your new spouse.
Be sure to stop off at several during your honeymoon in Ireland–Inch Beach, located on the Dingle Peninsula along the Wild Atlantic Way, is probably our favorite of the large ones we've seen.
If you're visiting Ireland during the summer and happen to be willing to brave far colder temperatures than we are, you can even go swimming with the locals in some spots!
Where to Stay (+ Gorgeous Ireland Honeymoon Hotels)
Ireland's hotels, castles, manor houses, bed & breakfasts, and cottages may just be the most romantic collection of any list of places to stay on a honeymoon anywhere.
Choosing where to stay on your Ireland honeymoon is more a matter of taste and preference than quality, as there is no shortage of romantic options.
We recommend staying in at least a couple of different places throughout your honeymoon in Ireland, including at least one bed & breakfast in the countryside (we can highly recommend Find Us Farmhouse), and at least one castle (we can highly recommend Belleek Castle for a fabulous and fairly budget-friendly option–rates start at under 200 Euro/night!).
Here are a few more details, as well as a curated selection of a few other extremely well-reviewed and romantic properties in Ireland.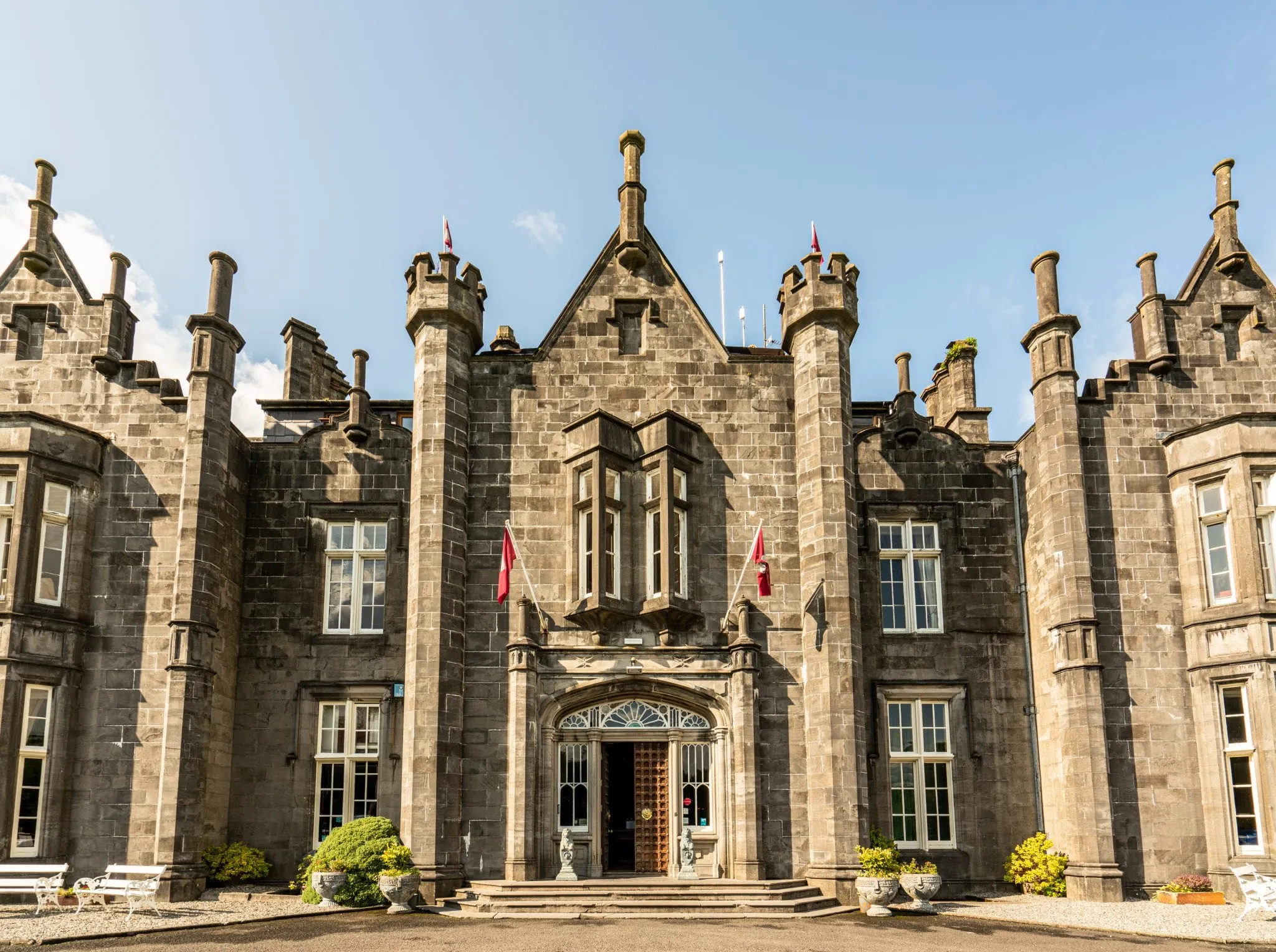 Adorable Bed & Breakfasts Perfect for Your Ireland Honeymoon
Find Us Farmhouse (Macroom) — Located in the countryside and nestled between a few farms, the Find Us Farmhouse is the most peaceful place we have stayed in Ireland and a perfect cozy getaway for your Ireland honeymoon!
In addition to the comfortable rooms and wonderful hospitality, the breakfast–and the beautiful breakfast room–were enormous highlights.
We loved staring out our bedroom window and watching the cows graze just a few feet from us, and it was definitely an experience worth having while in Ireland.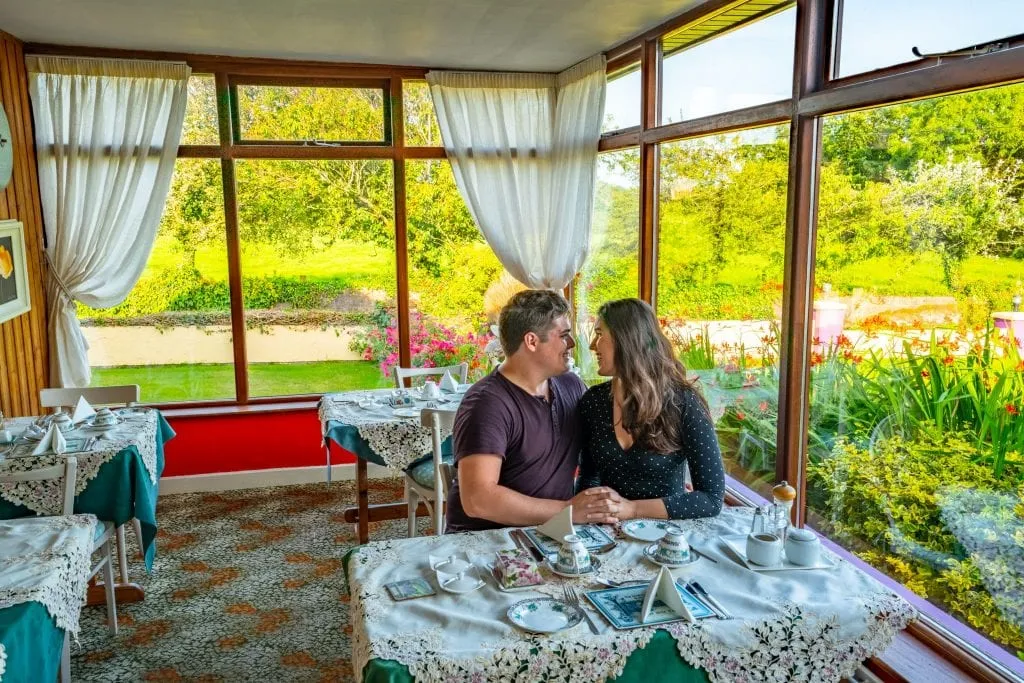 Inishross House (New Ross) — If I had to sum up Inishross House in a word, it would be hospitable. This is exactly the kind of B&B you come to Ireland for: everything from the colorful breakfast room to the comfortable room to the helpful and attentive couple who ran the B&B was an absolute delight.
The included breakfast was phenomenal and kept us full for most of the day!
County Wexford, where Inishross House is located, is a bit under the radar as compared to some of the more popular places to add to an itinerary when planning an Ireland honeymoon–but it ended up being one of our favorite parts of our most recent trip and we would love to go back to explore it again.
If you visit, be sure to head to Waterford to tour the Waterford Crystal Factory and pick up an absolutely stunning souvenir!
Killilagh Accommodation — If you're looking for a comfortable bed and breakfast with easy access to the Cliffs of Moher for your Ireland honeymoon, look no further than Killilagh Accommodation.
The location is truly perfect (right across the street from Doolin Cafe and less than a 5-minute walk from Doolin's two most popular pubs), and the building and rooms cozy and lovely. We'd be thrilled to stay again!
Romantic Irish Castles to Stay in During Your Honeymoon in Ireland
Kilkea Castle — Boasting phenomenal reviews and a perfect location between Dublin and Kilkenny, Kilkea Castle is the perfect destination for honeymooning couples looking for the classic Ireland castle hotel experience, complete with beautifully decorated rooms, stunning architecture inside and out, and an on-site spa and restaurant.
Kilkea Castles gets rave reviews for both its hospitality, its amenities, and its grounds, making this a worthy stop on any Ireland honeymoon.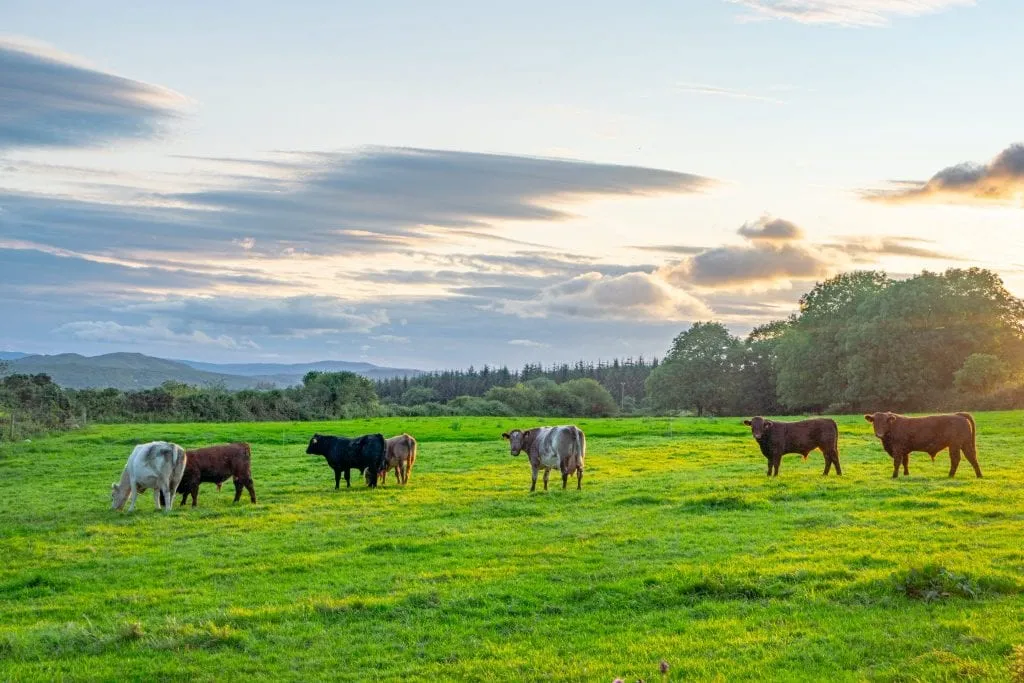 Belleek Castle — We knew we wanted to book at least one night in a castle hotel while in Ireland–and we're so glad we chose Belleek!
The castle itself was stunning, the rooms beautiful, the afternoon tea a complete delight, and the tour of the castle a complete surprise–we definitely didn't expect to personally handle several-centuries-old weapons on the tour, that's for sure!
In fact, we loved Belleek Castle so much we wrote an entire post about it–suffice it to say we doubt you'd be disappointed by spending part of your honeymoon in Ireland there.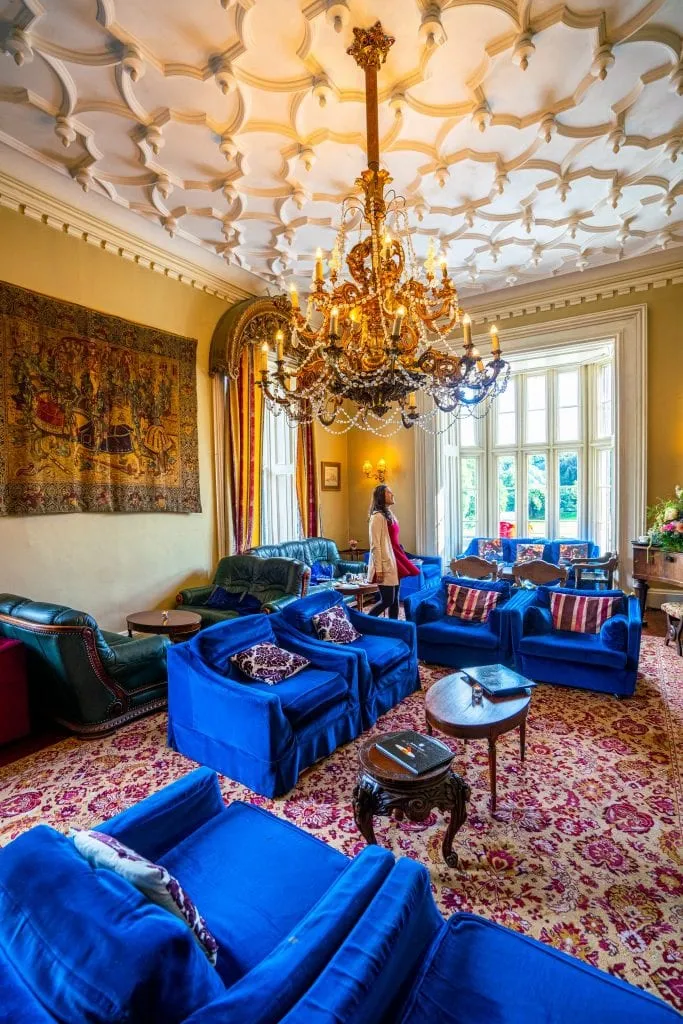 Markree Castle — If you're looking for a picture-perfect Irish castle hotel, complete with a tower, gorgeous rooms, and impressive grounds, look no further than the amazingly well-reviewed Markree Castle in County Sligo!
Perfect for couples looking to get away from it all in a quiet (and not too touristy) corner of the Irish countryside, Markree Castle includes an on-site restaurant and a phenomenal included breakfast.
How to Choose an Ireland Honeymoon Itinerary
One of the hardest parts of planning an Ireland honeymoon is choosing your itinerary–because the bottom line is that there's no way to visit everywhere in Ireland on one trip (or even five).
We have a detailed Ireland road trip itinerary that we absolutely recommend for general trips, but depending on your honeymoon style, you may want to slow down a bit.
If you want a particularly relaxing and laid-back honeymoon, we recommend basing yourself in fewer places than on our suggested itinerary, but still suggest staying in 2-3 places during your trip (for a simple breakdown, one city hotel, one castle, and one countryside bed & breakfast would give you a good overview of the different types of travel Ireland has to offer).
Whatever you decide, we absolutely, 100% recommend not spending all of your nights in Dublin. While Ireland has some lovely cities, they simply don't compare to the small villages and countryside–especially for romance.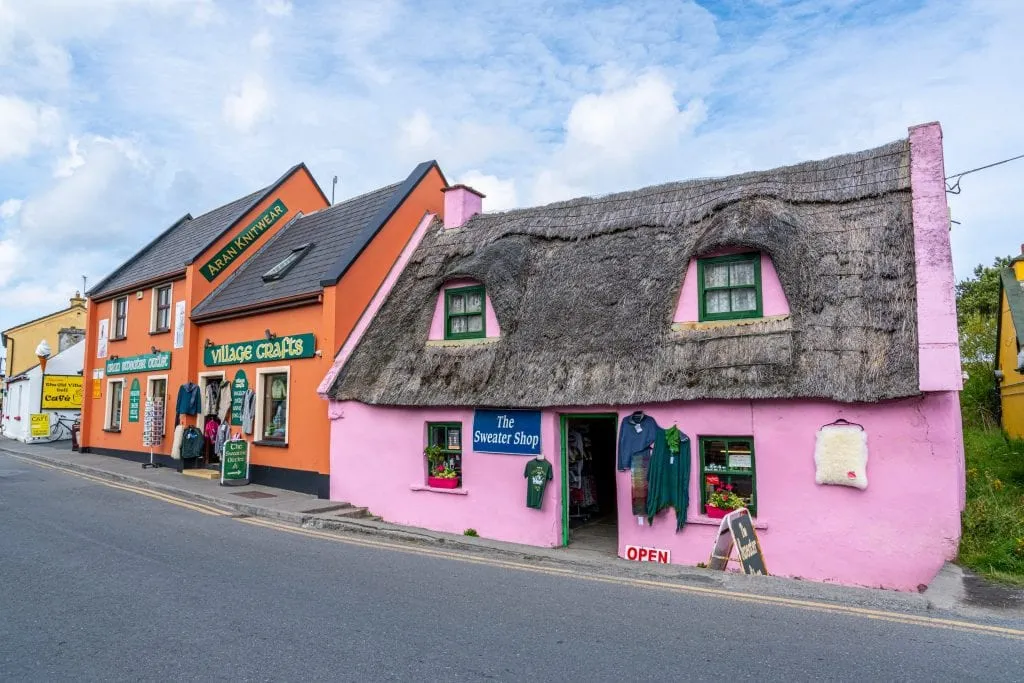 When to Honeymoon in Ireland
While Ireland's (short) summer is the undisputed high season for tourism in the country, if you're willing to adjust your idea of what an Ireland honeymoon will look like, you'll find you can have an incredibly romantic trip to Ireland during any season!
Spring
While you'll definitely need to prepare for plenty of Ireland's infamous rain showers for a spring honeymoon in Ireland, you'll also be rewarded with some of the most beautifully green landscapes you can imagine, beautiful flowers, and far fewer crowds than during the summer.
Summer
Summer is the most popular time to visit Ireland, and for good reason: you'll have the warmest weather and the highest chance at experiencing sunny days.
If you have your heart set on experiencing some of the most popular things to do in Ireland like visiting Blarney Castle, driving the Ring of Kerry, and touring the Guinness Factory, you'll likely have to deal with far more crowds than you'd prefer–but even during the summer, it's easy enough to escape the crowds in Ireland by going different places.
Of course, there's also price to consider: unsurprisingly, summer is the most expensive time of year to visit Ireland!
Fall
As the weather cools, the rain returns, and the tourists start to leave, prices in Ireland tend to start dropping… and yet, stunning fall foliage and plenty of local festivals give some absolutely compelling reasons for planning a fall honeymoon in Ireland.
Winter
Winter may be the least common time to plan an Ireland honeymoon, but if you're willing to brave damp, gray weather, the comparatively low prices and a distinct lack of crowds can make for an incredibly romantic Ireland honeymoon.
After all, what could be more romantic than curling with a cup of tea in front of an antique fireplace with your new spouse?
Ireland doesn't experience severely cold temperatures in the winter, and on average gets very little snow outside of the mountains, making a winter honeymoon in Ireland very doable and absolutely lovely in its own way.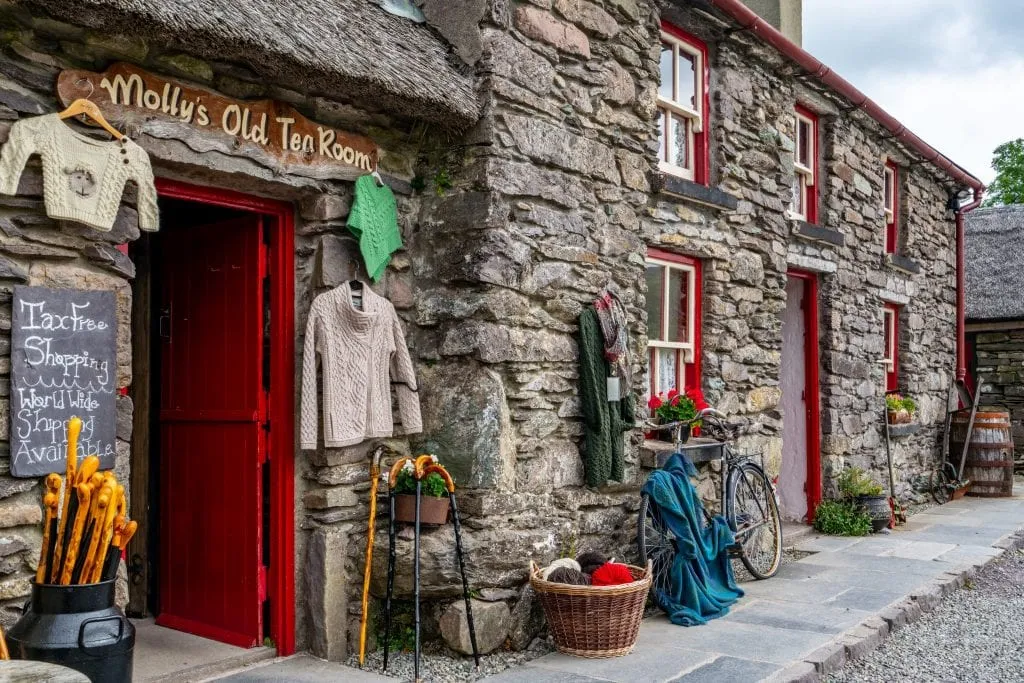 Getting Around During Your Honeymoon in Ireland
The absolute best way to get around the country during your honeymoon in Ireland is by car: not only will it give you and your beloved the privacy and freedom to enjoy all the romantic highlights of Ireland at your own pace, it will allow you to see more of the countryside than you would by basing yourself primarily in cities and traveling by bus or tour.
The Irish countryside is by far the most romantic part of the country (in our opinion, anyway), and holds all of the colorful villages, cozy pubs, and rolling green hills that couples tend to dream about when planning a honeymoon in Ireland.
We recommend booking a rental car through Discover Cars, which will search multiple companies to find the one with the best prices and rental terms for your dates.
Check rental car prices for your trip to Ireland with Discover Cars today!
What to Pack for Your Ireland Honeymoon
Travel Insurance — We don't ever suggest traveling without travel insurance–anything can happen, and the last thing you want is your honeymoon in Ireland to be interrupted by worrying about a crisis. We use and recommend Safety Wing for trips to Ireland.
Travel Adaptors for Ireland — Ireland uses the same plugs that the UK does–and note that these are different from the bulk of mainland Europe. Double-check you add the right ones to your Ireland packing list! We use these and have never had any issues.
Warm, Beautiful Clothes — There may be no other vacation you take where you are photographed more on than your honeymoon–and you definitely want to look your best for those memories! Since this is Ireland, though, of course you'll also want warm clothes and rain-friendly gear–we have a lot of specific suggestions in our what to pack for Ireland guide.
Extra Luggage Space — An Ireland honeymoon is the perfect time to shop for souvenirs–for the rest of your lives, you'll be able to say, "we picked this up on our honeymoon!". We recommend picking up one thing to eat, one (probably wool) thing to wear, and one thing to decorate your shared home together.
Travel Journal
 — Take it from someone who desperately wishes she had kept a journal on her honeymoon and had those memories preserved in real-time: it's worth taking at least a few notes during your honeymoon in Santorini. For something with a low level of commitment, I can't recommend the One Line a Day Journal
 enough–I've been using it for more than a year now and adore it!
Blanket for the Car — A bit of an eccentric suggestion, perhaps, and not one that's right for every couple, but there were many times during our trips to Ireland we wished for a cozy fleece blanket to wrap ourselves in to watch a sunset together!
Umbrella
 — Given its notoriously rainy reputation, it's safe to say that a travel umbrella belongs at the top of any packing list for Ireland. 
That's not the only rain gear you'll want to have, though–definitely be sure to bring a raincoat and waterproof boots along as well (check out our Ireland packing list for more suggestions on that).
Camera — We completely adore our Sony a7R III, but whatever camera you're comfortable with works–just make sure you have something with you to preserve your memories! 
Comfortable Day Bag — We currently use Pacsafe's sleek anti-theft backpack and love it, but if you don't want to shell out the cash for this trip, that's totally understandable. Just aim for something comfortable to wear, not flashy, and medium-sized–we used a Northface Jester backpack for years and loved it as well.
---