On the (very) long list of reasons to love traveling in Ireland, sampling all the best food in Ireland definitely deserves to be near the top.
From hearty comfort food served in a dark, cozy pub to famous full Irish breakfasts to potatoes cooked in more forms than you might have thought possible, there's no shortage of delicious options when deciding what to eat in Ireland.
We've rounded up the best traditional Irish foods here, plus some exciting foodie experiences worth enjoying during your trip.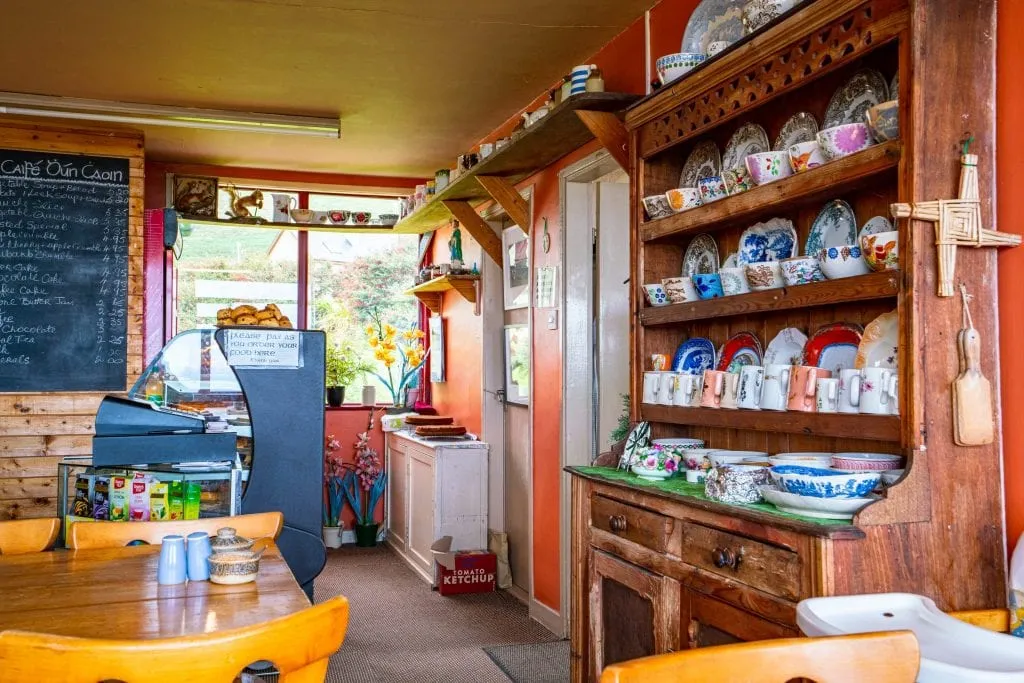 Some links in this post may be affiliate links. If you make a purchase through one of these links, we may earn a small commission at no extra cost to you. Please see our

disclosure policy

for more detail.
How to Try a Wide Variety of Irish Foods At Once
Want to sample several of the best foods in Ireland in one fell swoop, or simply want to be able to try small bites of each so you don't accidentally order something you don't like?
Consider signing up for an Ireland food tour!
We've enjoyed many food tours over the years, and walk away every time feeling a bit more knowledgeable about both the local cuisine and the city as a whole.
Food tours allow you to sample far more dishes in one evening than you could try in a few days worth of "normal" eating!
If you would like to enjoy a food tour in Ireland, consider signing up for it as early in your trip as possible: that way, you'll have plenty of new favorite dishes to order in restaurants throughout the rest of your trip.
Book your Ireland food tour today!
What to Eat in Ireland
Full Irish Breakfast
They take breakfast seriously in the Emerald Isle, and if there's one meal you simply have to add to your list when deciding what to eat in Ireland, it's a full Irish breakfast.
Traditionally. A full Irish breakfast is made up of fried eggs, rashers, sausage, black and white pudding, a fried tomato, and toast.
You might also see full Irish breakfasts served with brown bread, baked beans, and potatoes of some kind, and while the potatoes are less traditional, you'll never catch us complaining about hash browns at breakfast.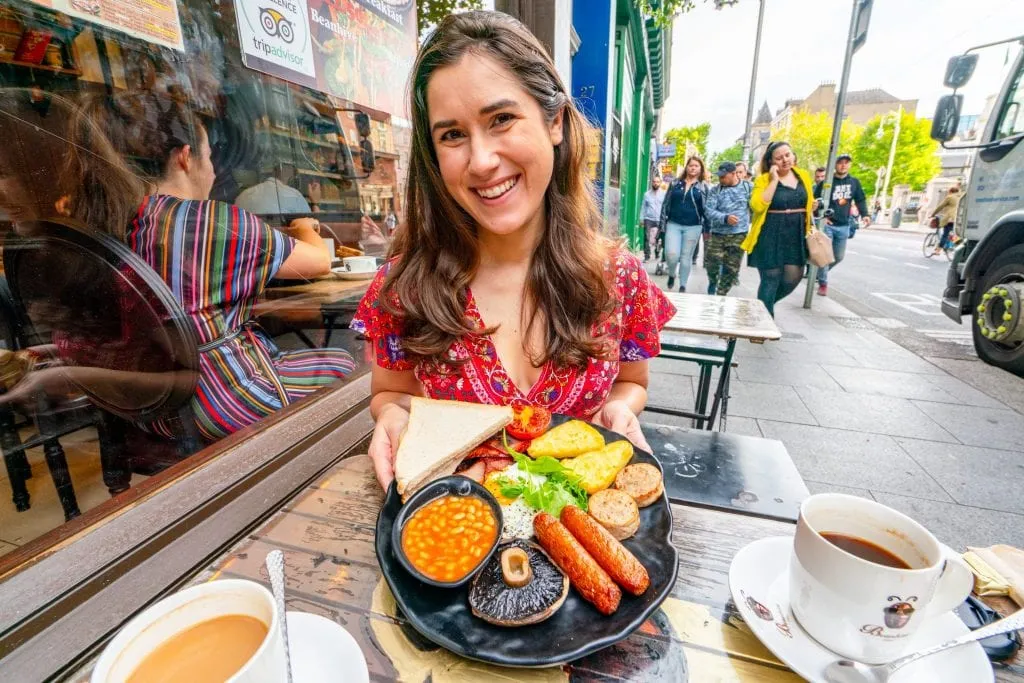 Brown Bread (Soda Bread)
This simple bread is dense and sweet, best served fresh and with a giant heaping of Irish butter.
You'll see brown bread absolutely everywhere in Ireland, and not all are created equal. If you happen to try a dry or slightly stale slice first, persevere: a fresh, warm slice of well-prepared brown bread is possibly one of the tastiest breads on Earth.
Irish Stew
Irish stew is most commonly made with lamb or mutton, potatoes (of course), onion, and parsley, though you'll find other meats and vegetables thrown in on occasion.
Hearty and savory, this is the perfect food in Ireland to eat on a traditionally cold and blustery day.
Boxty
I will never, ever forget eating homemade boxty for the first time: these Irish potato pancakes are typically served at breakfast, but can be paired with a wide variety of foods and seasonings (sweet, or savory, for instance).
Colcannon
Colcannon, aka Irish mashed potatoes, are a delightful indulgence that I'm tempted to swap out for our American version at future Thanksgivings.
Made of mashed potatoes, cabbage, and onions, colcannon is traditionally served with a melted pat of butter in the middle, which you can then dip your fork into between bites.
Open-Faced Sandwiches
All over Ireland, you'll see open-faced sandwiches on lunch menus, and you should definitely order one at least once.
Typically including meat (I usually chose baked ham), a large pile of vegetables, cheese, and often an egg salad, it's simple, delicious, and incredibly filling.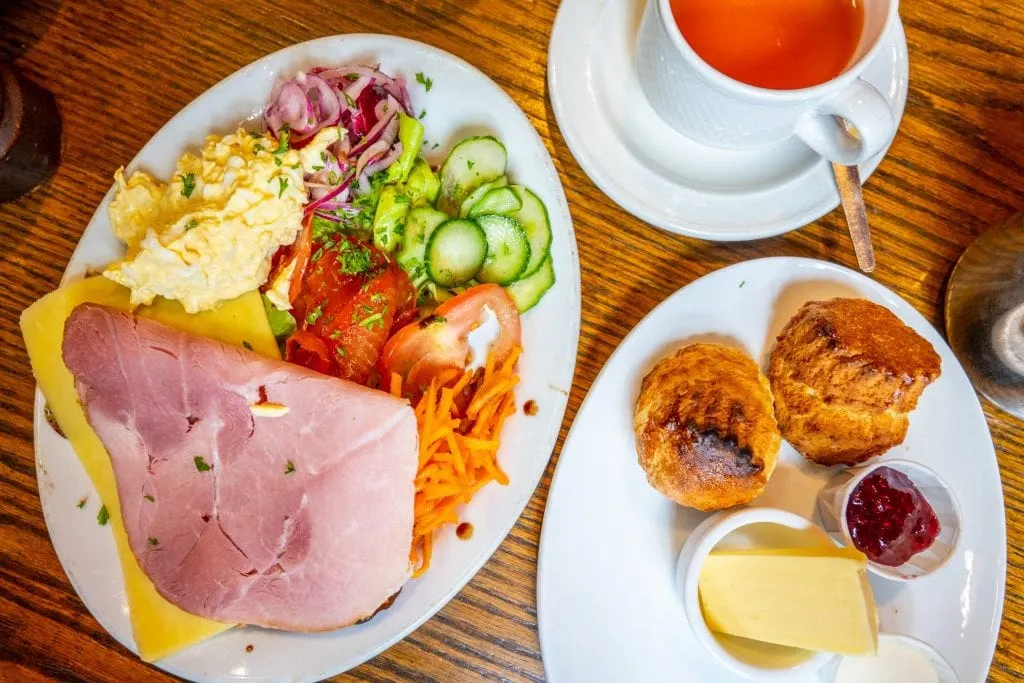 Bacon & Cabbage
If you associate corned beef & cabbage with the best food in Ireland, here's the deal: bacon & cabbage is the authentic version, and it's fantastic.
According to one of our waitresses who very well might have just been flattering me when I ordered one, it's not the type of dish a tourist from across the pond often orders–but you should, because it's delicious.
Scones
Buttery and flaky, it's not an exaggeration to say that we did not eat a single bad Irish scone when exploring all the best food in Ireland (and, uh–we ate a lot of scones).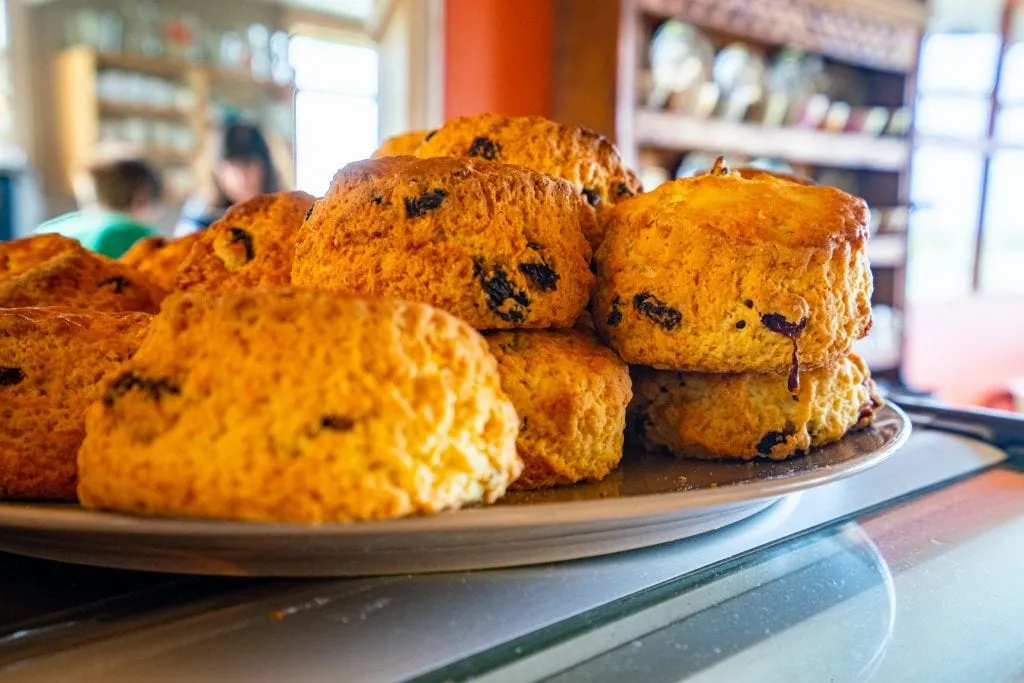 Irish Butter
Dairy in Ireland, generally speaking, is phenomenal, but Irish butter is perhaps the absolute best in its category.
With a higher fat content and a brighter color than more typical butters, Irish butter is incredibly delicious–especially when smeared across a piece of brown bread.
Cocks & Mussels
Best remembered by the song of sweet Molly Malone and her wheelbarrow of cocks & mussels, this traditional Irish food can be found across the country in coastal fishing villages and towns.
Black Pudding
Perhaps the most intimidating of all the traditional Irish foods listed here, you may have heard black pudding mentioned by its more literal name before–blood pudding.
Essentially a sausage, black pudding is traditionally made of pork fat, a cereal (often oats or barley of some kind), and pig's blood.
Making it even harder to stomach, it's traditionally served with breakfast.
But–it's delicious. If you can get past the mental block, it's truly a tasty food, and even if it's not your thing, it's worth trying at least a couple of bites as a travel experience.
White Pudding
Essentially black pudding minus the blood, white pudding is black pudding's arguably more palatable cousin.
It's also tasty, but it does have a different flavor–we recommend trying both puddings while exploring the food in Ireland and seeing which you prefer!
Baked Ham
In a country with as much pork on the menu as Ireland, it's no surprise that baked ham–eat for lunch, for dinner, in a sandwich, whenever–belongs on any list of what to eat in Ireland.
Fish & Chips
Classic fried fish & chips is a comfort classic in the British Isles, and that definitely includes Ireland.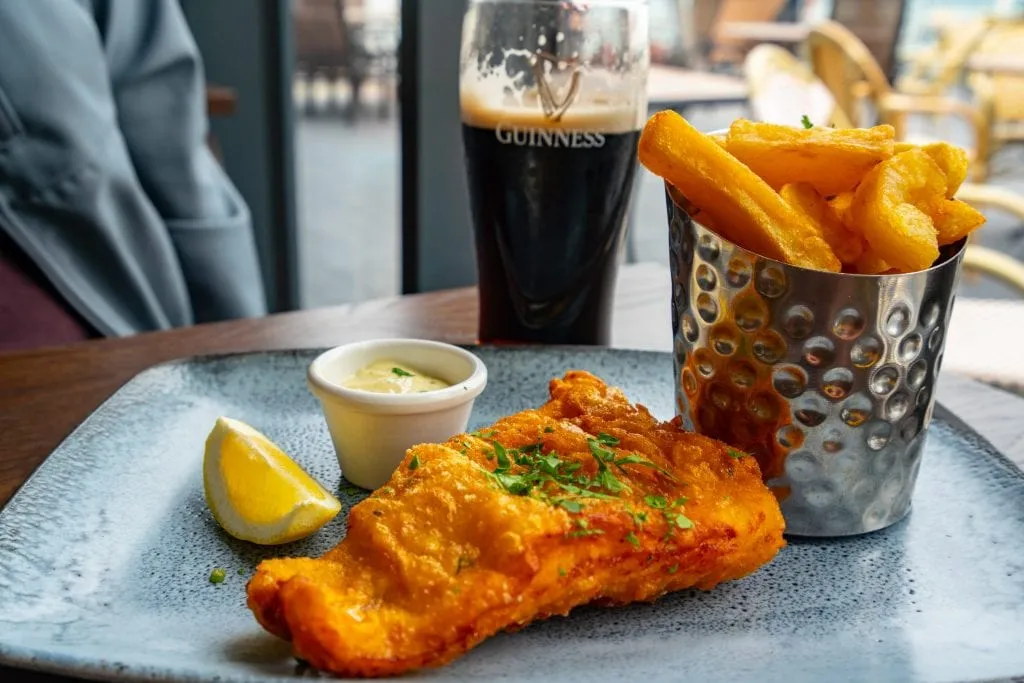 Dublin Coddle
Traditionally, a Dublin coddle is made up of leftovers, so this is one traditional Irish food that doesn't have a specific recipe.
However, it's most commonly made with rashers, onions, sausages, spices, and–what else–potatoes.
Soup
Virtually every pub and restaurant in the Emerald Isle will have a daily soup of its menu, so when deciding what to eat in Ireland, soup is always a safe bet.
As for what kind of soup, well, that changes all the time–but from what we saw, vegetable soup is by far the most common.
Barmbrack
This sweet bread is baked with raisins, and traditionally associated with Halloween in Ireland–but there's no doubt that it's tasty when served with a cup of tea year-round.
Potatoes
Potatoes make up at least one ingredient of several dishes on this list, but this is Ireland, after all–the glorious Irish potato deserves to be called out independently when discussing what to eat in Ireland.
Walk into any grocery store in the country, and you'll immediately notice that there are many, many possible kinds of potatoes to choose from!
What to Drink in Ireland
Beer
What list of things to drink in Ireland could possibly start with anything other than beer?
The #1 beer in Ireland is, of course, Guinness–and you'll find it on tap in virtually every single pub and restaurant in the country.
The Guinness storehouse is in Dublin and worth visiting and enjoying the samples!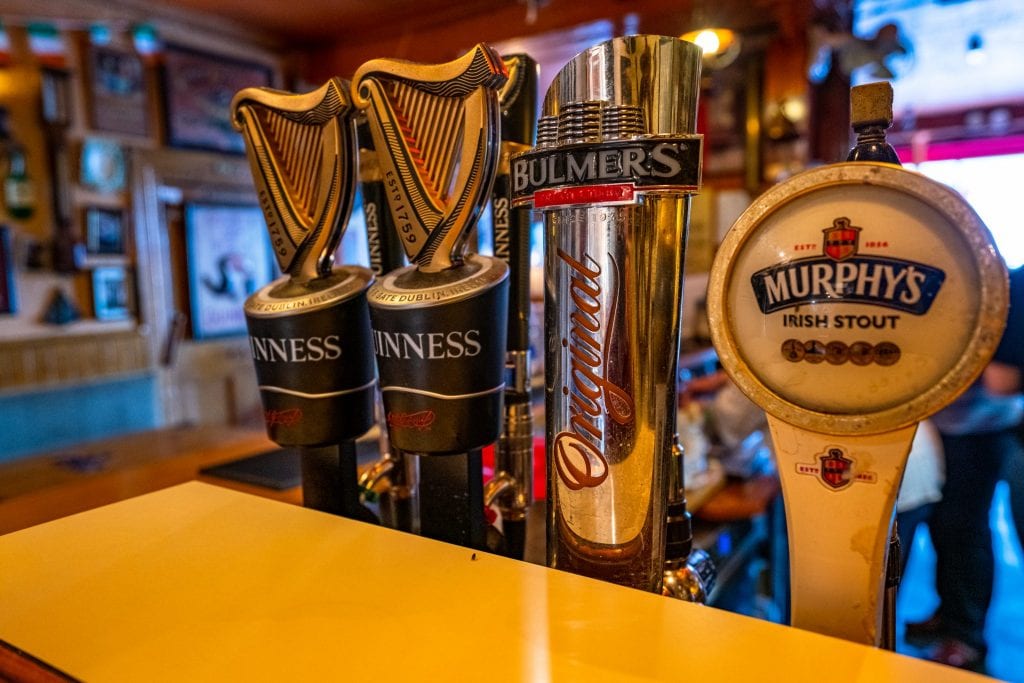 Whiskey
Irish whiskey is incredibly popular both in the country and around the world, with popular Jameson leading the pack.
You can tour whiskey distilleries in Ireland to discover the process and origins of Irish whiskey before enjoying samples! This one in Dublin tours the Teeling distillery, for the Jameson tour you must visit Cork.
Coffee
Though Irish coffee as we think of it today–as in, served spiked and topped with cream–was only invented in the mid-20th century, coffee of all kinds is popular in Ireland today.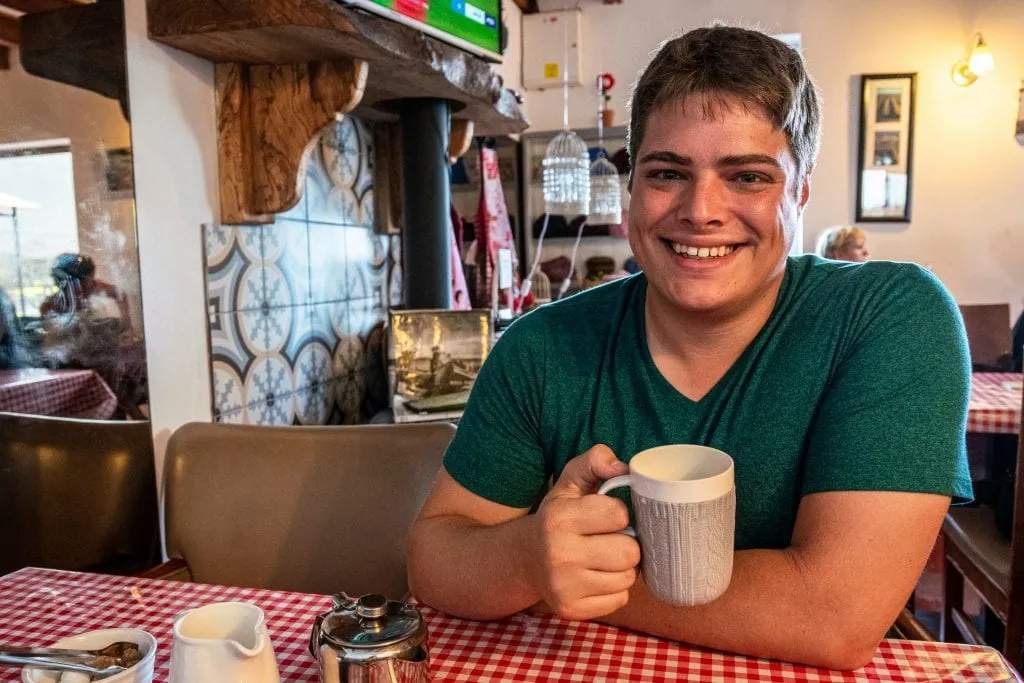 Tea
When in Ireland, do as the Irish do–and that means drinking tea like it's water.
Nothing cuts through a damp, cold Irish day quite like a hot cup of tea and a scone, and ordering a pot of tea in a particularly cute cafe is one of the delights of exploring the best food in Ireland.
Fun Experiences With Food in Ireland
Have a pint at a pub with live music.
Wherever you are in Ireland, you're never far from a pub with good food, cold beer, and live music in the evenings–at least once during your trip to Ireland, be sure to pull up a table and enjoy!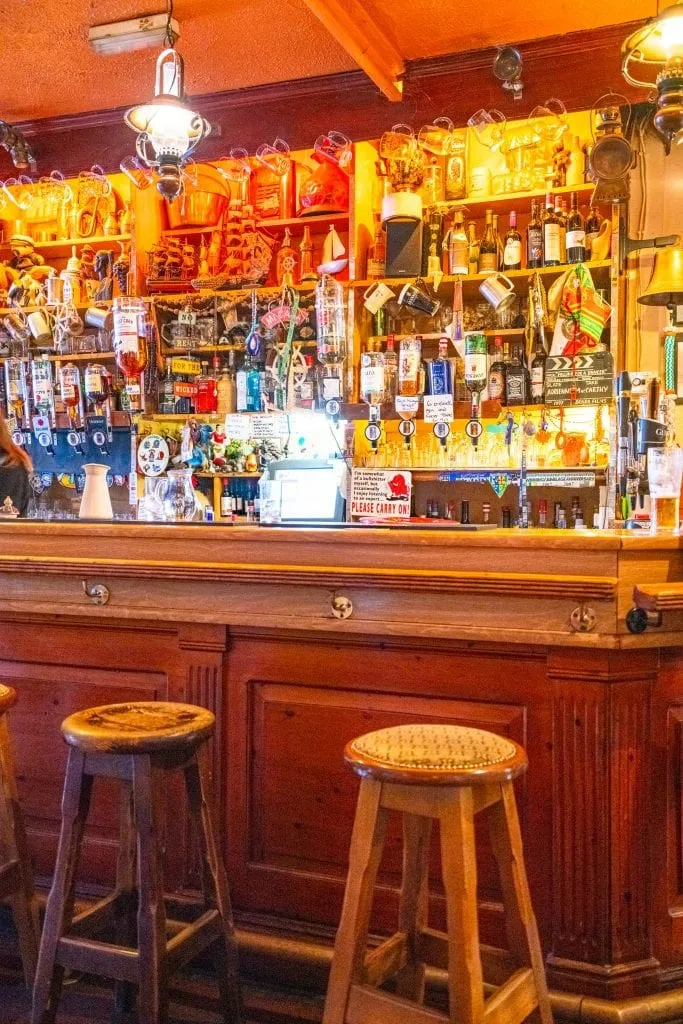 Experience the Guinness Factory.
The most popular tourist attraction in all of Ireland is the Guinness Factory in Dublin, complete with a walk-through history of Guinness, a room where you can learn to pull your own Guinness, and an included pint that you can drink while soaking in one of the best views of Dublin available.
If you're exploring all the food in Ireland, a visit here is a must-do!

Book your visit to the Guinness Factory today!
… and the Jameson Distillery.
Less crowded and over-the-top than the Guinness Factory, whiskey lovers will be thrilled to know that they can tour not one, but two distilleries in Ireland–one in Dublin, and one in Cork.
Shop visits to a Jameson Distillery now!
Take a food tour.
Not sure exactly what to eat in Ireland and want to taste a bit of everything before committing to a full plate?
Consider hopping on an Irish food tour to sample a wide variety of food in Ireland.
For best results, we recommend taking a food tour toward the beginning of your trip so that you can use your newfound knowledge to enhance your experience for the rest of your visit.
This food tour in Dublin includes a full 8 stops and gets rave reviews.
Book your Dublin food tour today!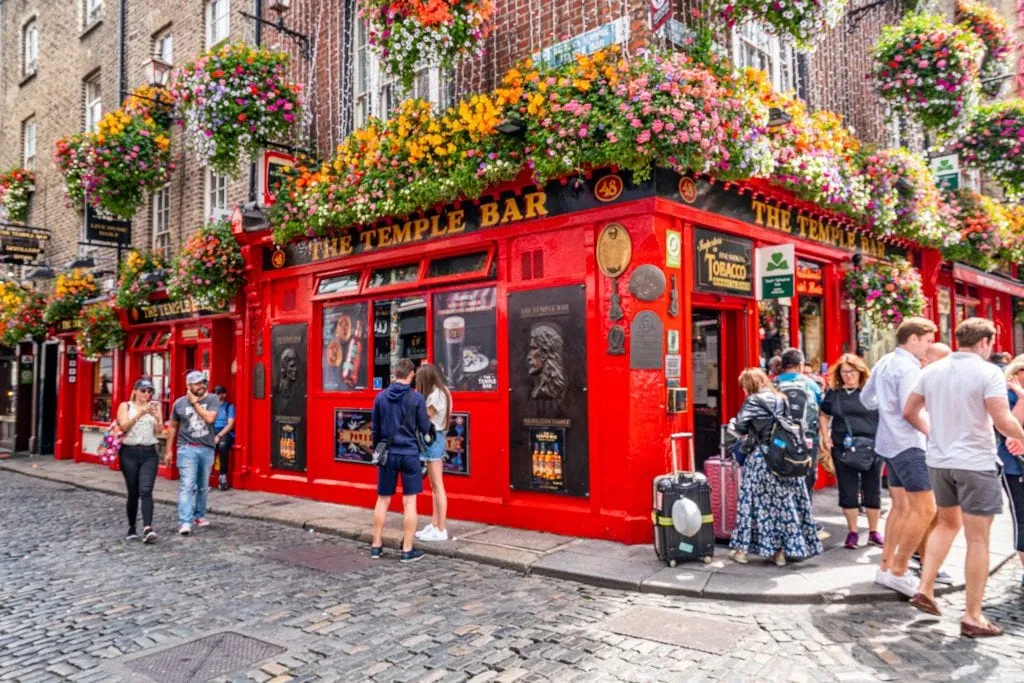 Indulge in a whimsical Game of Thrones banquet.
For Game of Thrones fans like us, a themed banquet is an incredibly fun way to experience food in Ireland–we got together with some friends for a Winterfell-themed banquet at the Cuan, and it was exactly as whimsical and over-the-top as we had hoped (and yes, there were definitely Stark cloaks and (pretend) swords involved).
Northern Ireland in particular is packed with Game of Thrones filming locations and experiences, and is absolutely worth exploring!
Have a cup of tea in a cozy tearoom.
Simple but delightful, pulling up to a small tearoom and ordering a pot of tea and a sweet treat is one of our favorite ways to slow down and savor our experiences in Ireland–be sure to include a few stops at particularly adorable locations during your time exploring what to eat in Ireland!
---