The village may be tiny, and there may only be so many things to do in Doolin–but the moment we set foot in this gorgeous village along the Wild Atlantic Way for the first time, we were enchanted with it.
If you're planning to visit Doolin, be sure to make time to explore the village (and County Clare as a whole) beyond the famous Cliffs of Moher! It may be small, but this tiny village is home to far more fascinating sights than you might notice at first blush.
Here are some of the best things to do in Doolin and the stunning surrounding area.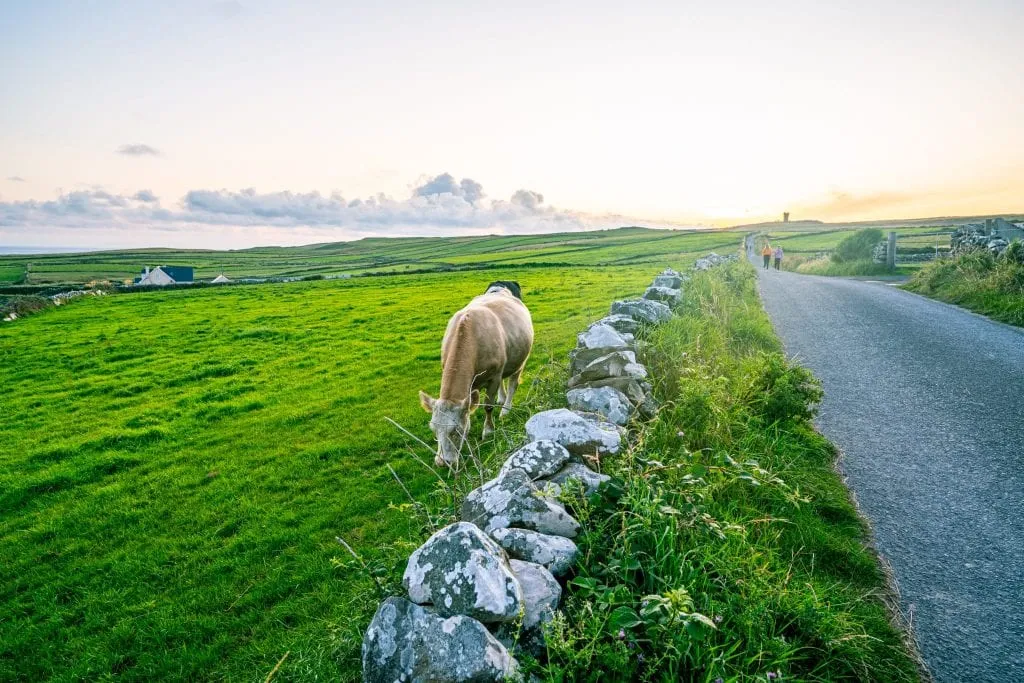 Some links in this post may be affiliate links. If you make a purchase through one of these links, we may earn a small commission at no extra cost to you. Please see our

disclosure policy

for more detail.
Fun Things to Do in Doolin, Ireland
Marvel at the Cliffs of Moher.
Of course, how could the Cliffs of Moher not be at the top of any list of the best things to do in Doolin?
World-famous and stunningly beautiful, the Cliffs of Moher are one of the most famous and beloved sights in all of Ireland, so be sure to allow plenty of time in your schedule for exploring them.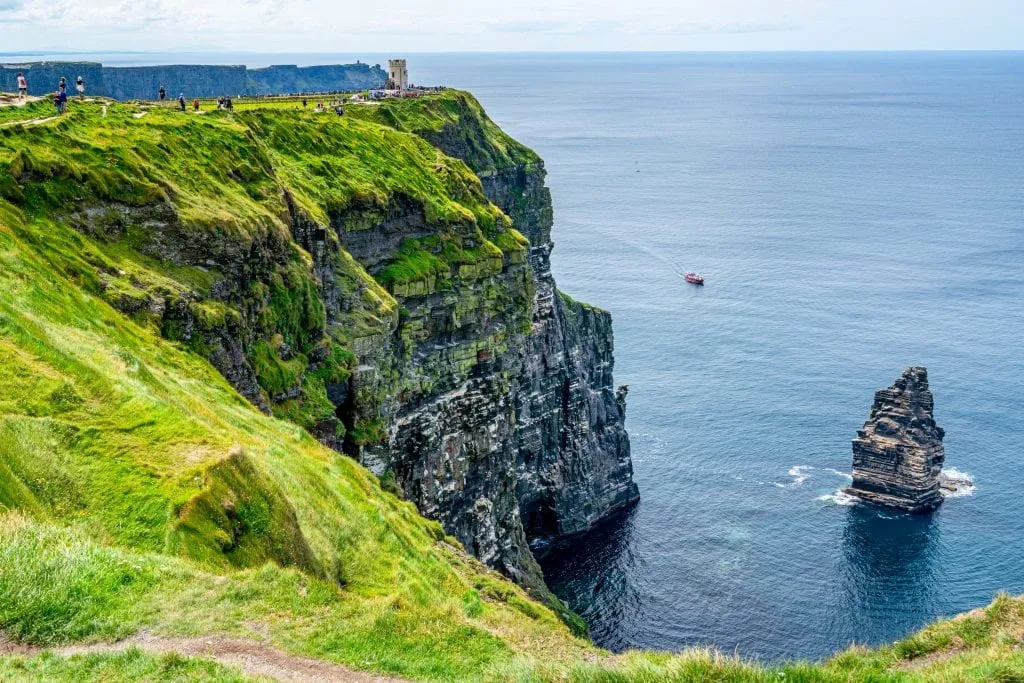 Take a (long) walk.
A trip to the area surrounding the Cliffs of Moher visitor's center not enough for you?
The Cliffs of Moher Coastal Walk runs 18km from Doolin to Liscannor–but if you're staying in Doolin and want to enjoy a hike without completing the entire trail, you can simply hike from Doolin to the Cliffs of Moher.
The hike between the Cliffs of Moher and Doolin takes about 2 hours in each direction.
Alternatively, hiking from the Cliffs of Moher visitor's center to Hag's Head and back is a doable, non-strenuous way to enjoy the cliffs while leaving the bulk of the crowds behind.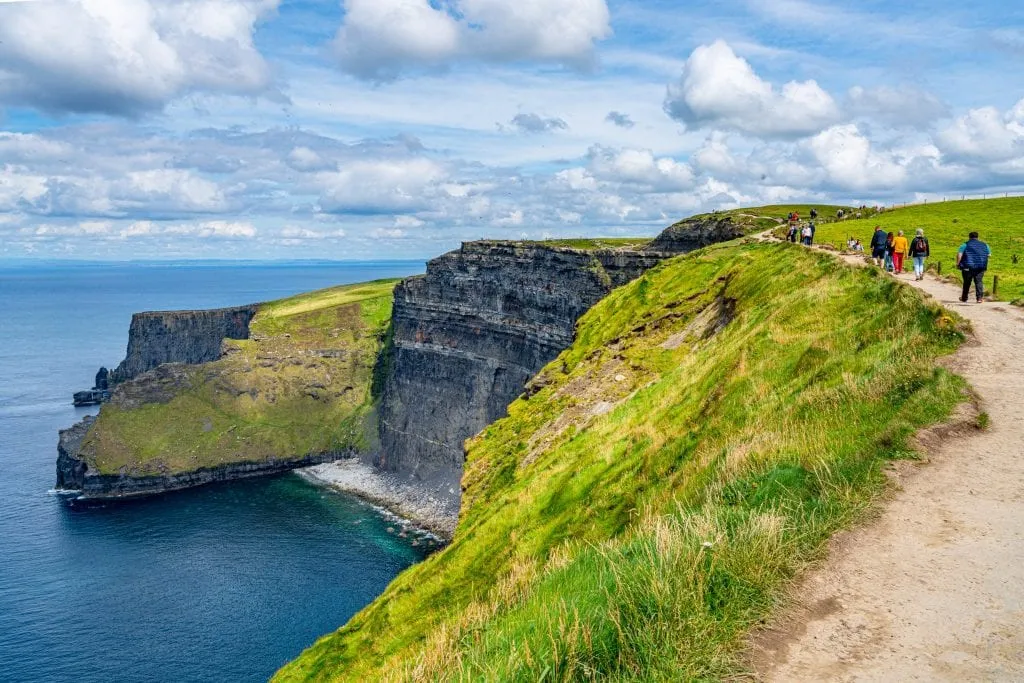 Pay a visit to the Burren.
Drive into the Burren, and you'll suddenly feel like you've left Ireland behind entirely: this rocky, otherworldly environment certainly doesn't look like the Emerald Isle of tourism brochures!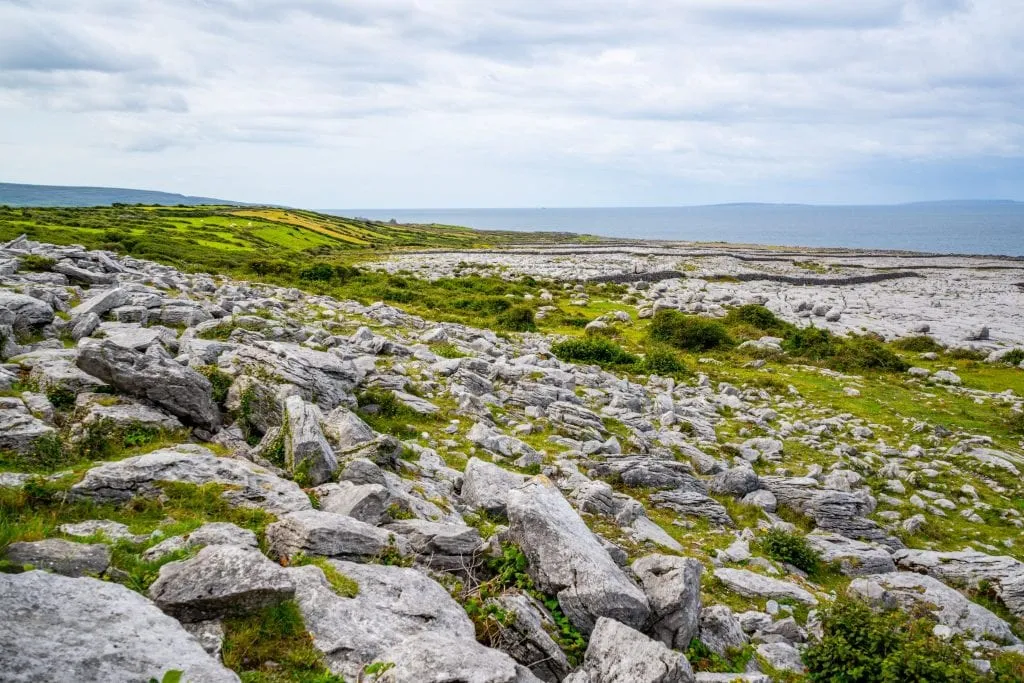 Chill out in a traditional Irish pub.
A dark, cozy pub, a pint of Guinness, a congenial crowd, and plenty of traditional Irish music: you can't leave Doolin without experiencing such an evening at least once!
There are only a few pubs in Doolin–really, it's impressive that there is even a selection to choose from in a village so small–but McDermott's, McGann's, or Gus O'Connor's would all be happy to have you for an evening.
Personally, we started going to McDermott's by happenstance on our first trip to Doolin, and have just kept returning instead of mixing it up–the food is good and the atmosphere cozy!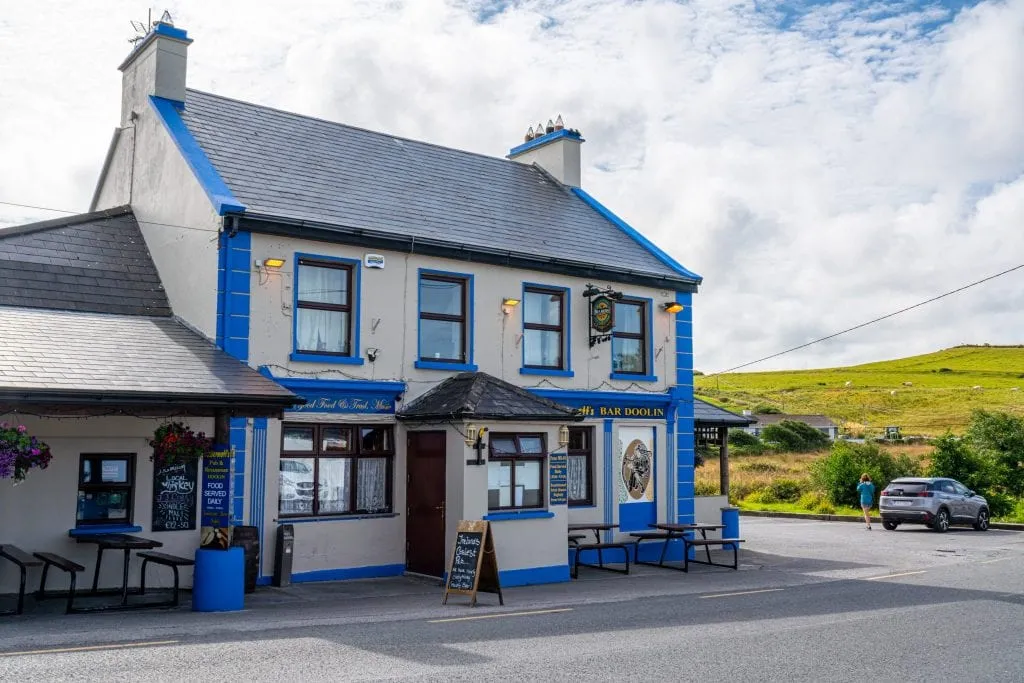 Enjoy a day on the Aran Islands.
Located an easy ferry ride off the coast of Doolin, the Aran Islands are a downright interesting place to visit.
Take the smallest (and closest) of the three, for example: Inisheer is home to less than 250 full-time residents, Irish is the main spoken language on the island, and highlights include a castle, a ship that was wrecked on the island 50+ years ago and is still sitting on the beach, and a 9th-century church that sunk into the ground.
If you're looking for a great day trip from Doolin, any one of the Aran Islands (or even a combination of two if you feel like really pushing yourself) is a fantastic option.
Plus, the trip there and back can be lovely as well: on our recent trip to Inisheer, we were lucky enough to see both a full rainbow and several dolphins from the boat on our way back to Doolin!
Book your ferry to Inisheer + Cliffs of Moher cruise today!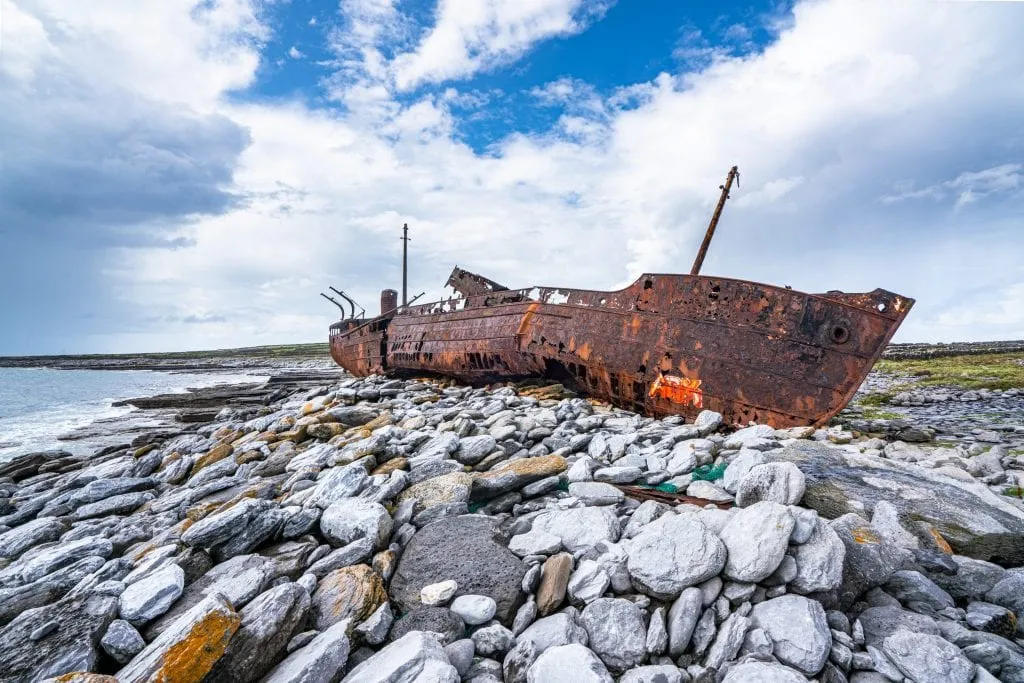 Take a cruise.
Loved hiking along the top of the Cliffs of Moher, but want to experience them from below as well?
One of the most popular things to do in Doolin is to take a boat cruise along the cliffs–the cliffs are extremely majestic when admired from below, and the bird-watching is lovely from down there too!
We loved our Cliffs of Moher cruise and highly recommend it.
Book your Cliffs of Moher cruise now!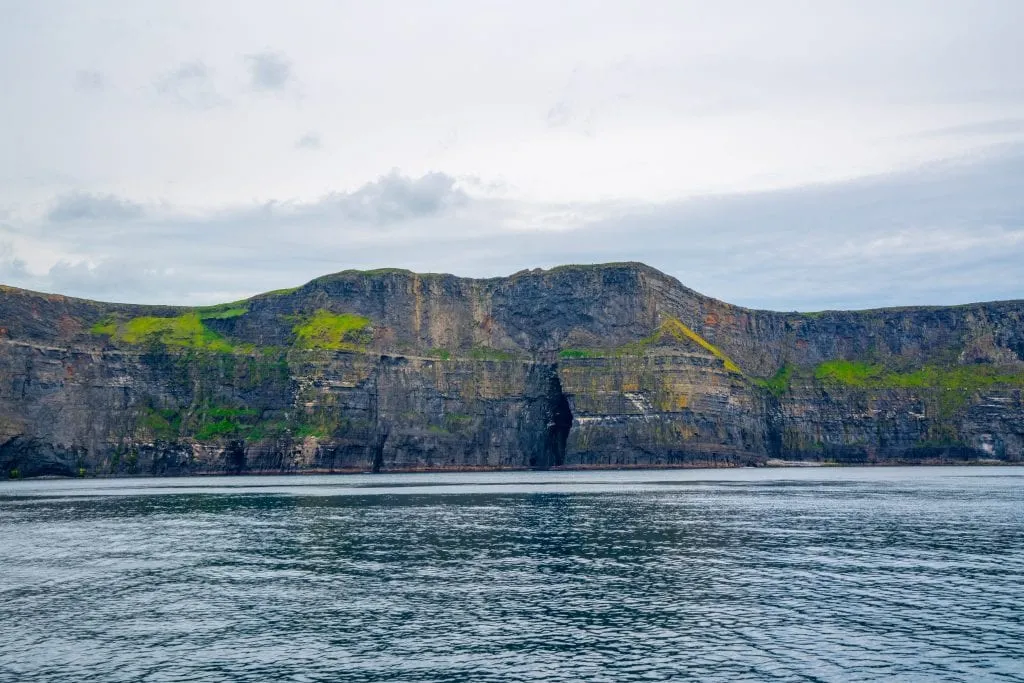 Enjoy some truly delicious food.
Doolin and the surrounding area are home to some incredibly tasty food, and there's no doubt you can eat very well there.
We can recommend the Stonecutter's Kitchen for truly top-notch Irish food (their Banoffee dessert is truly one of our favorite desserts that we have ever eaten) and a great family-friendly atmosphere.
Doolin Cafe is perfect for breakfast, lunch, and dessert, either to eat in or take away.
And if you're looking for a quick coffee and/or scone (because why say no to a scone in Ireland?) when visiting the Cliffs of Moher, Moher Cottage is an excellent choice.
Go horseback riding.
Our horseback ride through the Irish countryside near Doolin remains one of our favorite travel memories of all time–there's truly no better way to appreciate the landscape.
Whether you're an experienced rider or a novice who's simply curious, there's a horseback ride near Doolin that's right for you.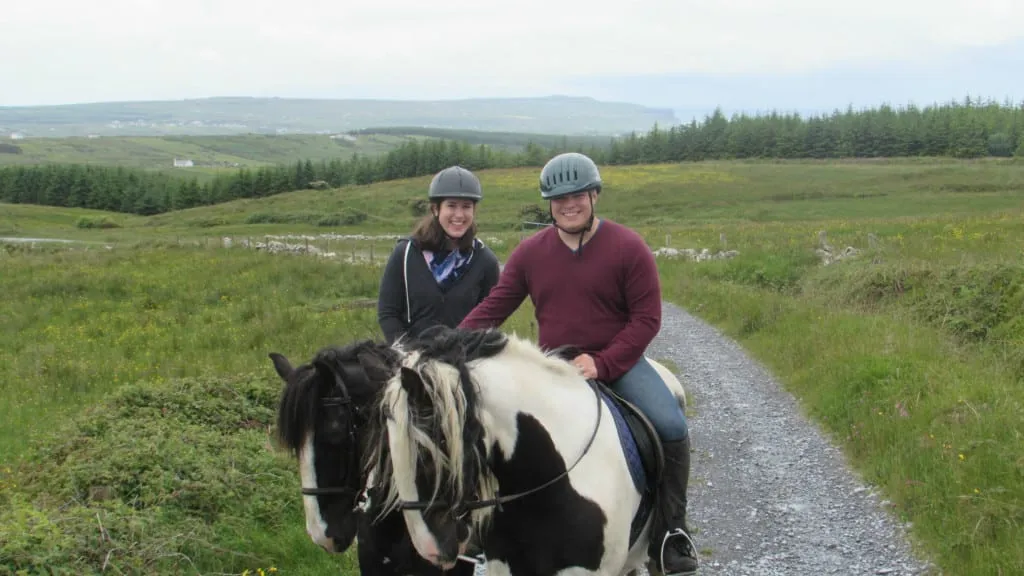 Check out Doonagore Castle.
Sadly, you can't tour the interior of Doonagore Castle (it's a private building these days), but there's no doubt that it's worth stopping by for the views at least once when you're traveling between Doolin and the Cliffs of Moher.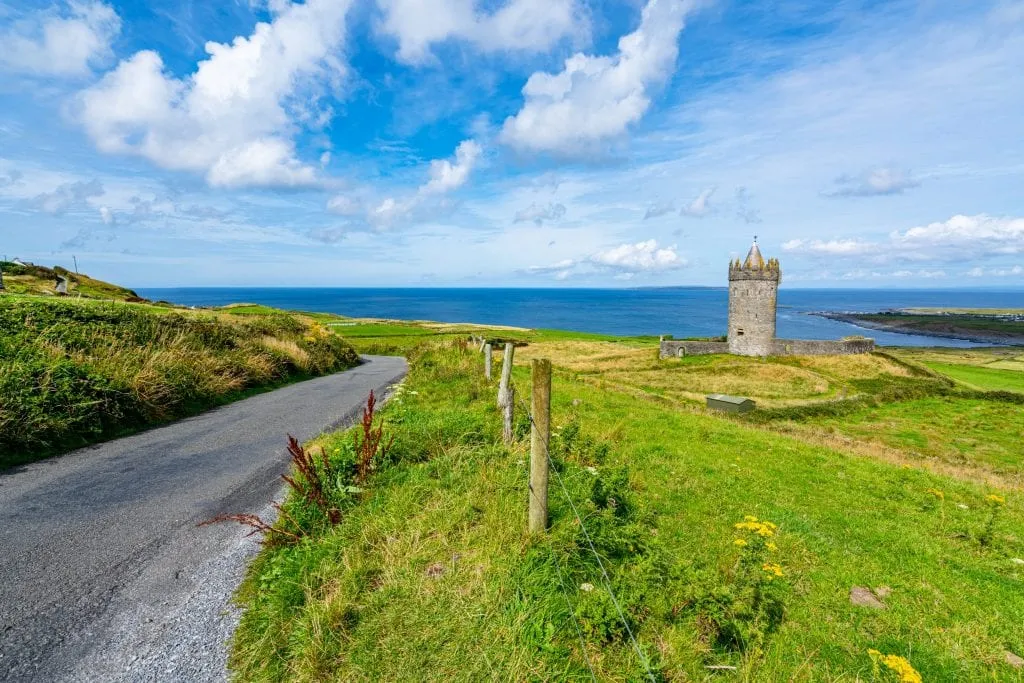 Step inside Doolin Cave.
Home to one of the largest free-hanging stalactites on the planet, a visit to Doolin Cave is absolutely one of the best things to do in Doolin.
It also makes a great rainy day option in the area, so if the weather looks less-than-stellar during your trip to Doolin, be sure to make a note of it.
Try your hand at surfing.
Ireland probably isn't the first place that comes to mind when picturing epic surf destinations around the world–but head down to the area near Doolin Pier in the summer, and you'll find plenty of enthusiastic surfers enjoying the waves (while wearing wetsuits, of course).
Not experienced, but want to try your hand at surfing? There are a few surf schools in the area that would be happy to teach you!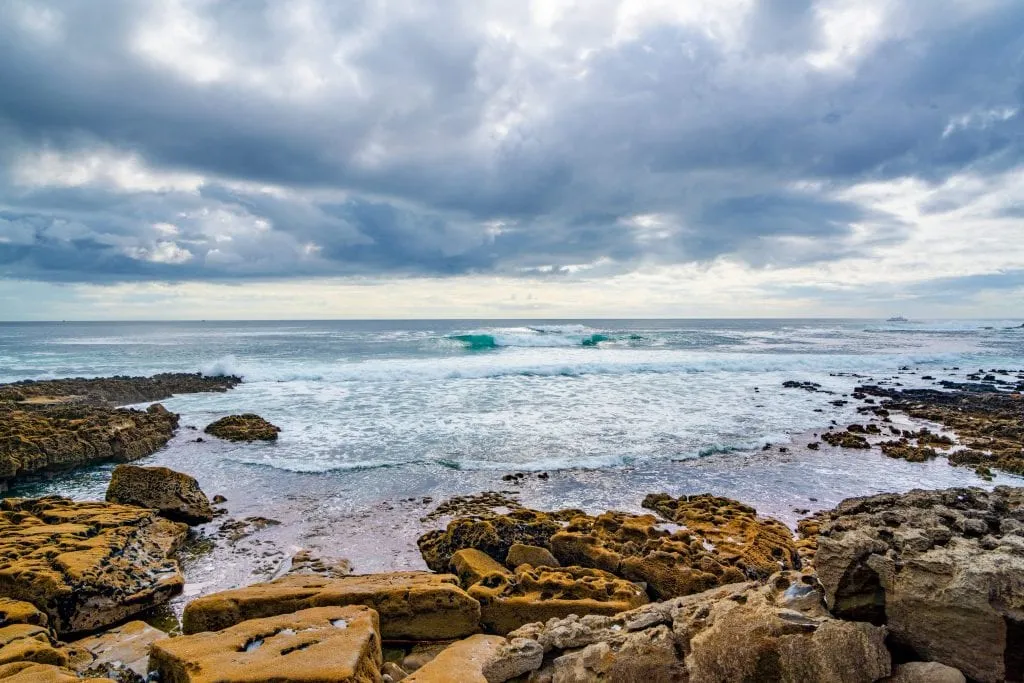 Where to Stay in Doolin
Budget
Aille River Hostel — This popular hostel in Doolin is located right next to the city center–and is housed in a 300-year-old cottage!
If you're looking to visit Co. Clare on a budget, you can't go wrong with the tried-and-true Aille River Hostel!
Mid-range
Killilagh Accommodation — Though the name has changed slightly since then, this is the property we fell in love with in Doolin during our first visit!
The location is truly perfect (right across the street from Doolin Cafe and less than a 5-minute walk from Doolin's two most popular pubs), and the building and rooms cozy and lovely. We'd be thrilled to stay again!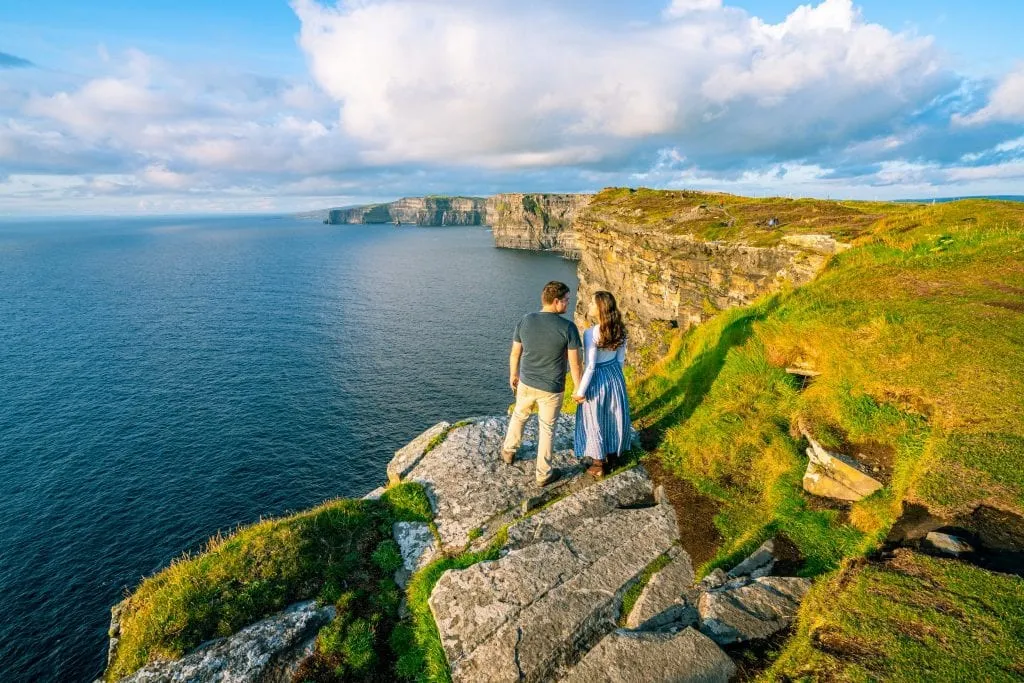 Luxury
Ballinalacken Castle Country House Hotel — This 19th-century castle has been expanded over the years to turn into a roomy hotel just outside of Doolin and gets rave reviews!
If you're looking for a soft place to land at the end of the day during your stay near Doolin–not to mention an extremely popular included breakfast to start your day with–this is the hotel for you.
Getting Around Doolin
Doolin is small bordering on minuscule, and if you stay within the town itself, you'll likely be able to walk to the pub and cafes around town.
However, you'll definitely want to have a car with you to explore the greater area.
Sights like the Doolin Cave and the Burren are not within walking distance of Doolin–and while the Cliffs of Moher technically are, that's not the kind of hike you want to use as a regular source of transportation!
How Long to Stay in Doolin
On both our trips to County Clare, we based ourselves in Doolin for several days, and we don't regret it for a second!

If your trip to Ireland only allows enough time to drop by the Cliffs of Moher and maybe briefly stop by another couple of attractions in the area, even one evening in Doolin is worth the effort to get there.
However, while the village is tiny, there are plenty of fun things to do in Doolin to keep you busy for days, so don't worry about staying too long!