I'll be perfectly honest: one of the major reasons we wanted to visit Cobh was to see the view captured in the photo at the top of this post: the view of St. Colman's Cathedral erupting over the colorful Deck of Cards houses is an image I've wanted to see in person for years, and on our most recent trip to Ireland, I was determined to make it happen. It was definitely worth the trip… but stunning views aside, there are still lots of interesting things to do in Cobh!
While I was entranced by Cobh's unique views, the city (once known as Queenstown, and whose name is pronounced "Cove" not "Cobe") is best known for being the last port of call for the Titanic before tragedy struck and the ship sank in 1912.
If you're headed to Cobh for a day (or more!) and are wondering what to do, we've rounded up the best things to do in Cobh here.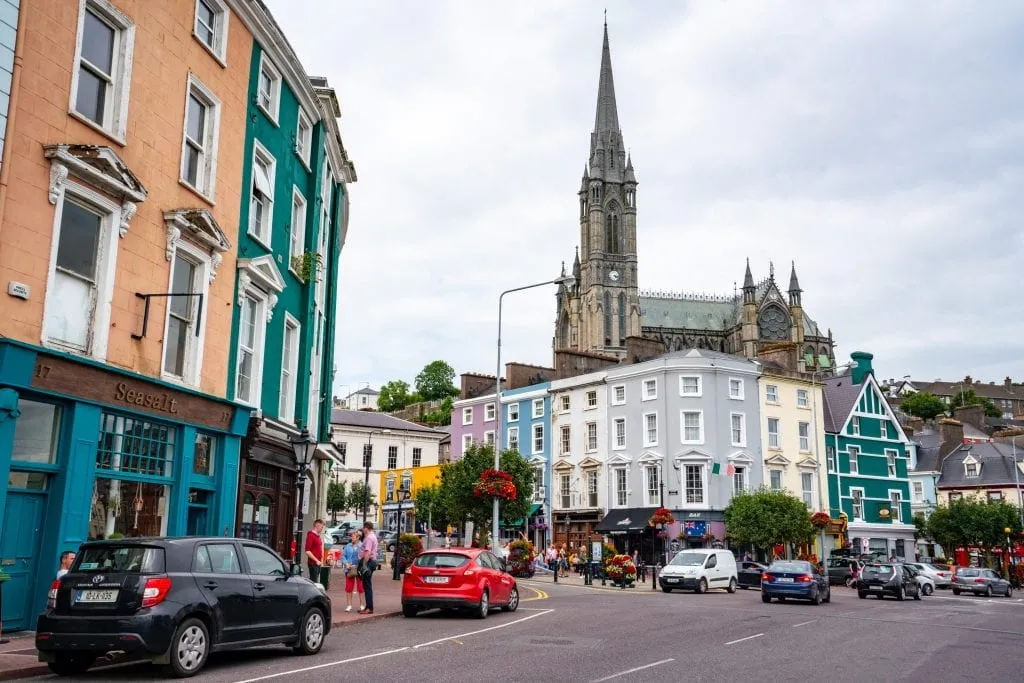 Some links in this post may be affiliate links. If you make a purchase through one of these links, we may earn a small commission at no extra cost to you. Please see our

disclosure policy

for more detail.
Best Things to Do in Cobh, Ireland
Visit the Cobh Heritage Centre.
While the Titanic was certainly the most famous ship to pull out of Cobh with Irish passengers, it was far from the only one: Cobh was an enormous port of Irish emigration over the centuries.
Passengers varied enormously, from traditional emigrants seeking fortune in the New World to kidnapped indentured servants to criminals bound for penal colonies like Australia to those fleeing the tragic Irish potato famine.
All of these people leaving Ireland via Cobh are memorialized at the Cobh Heritage Centre, which is an extremely moving and informative stop that definitely deserves to be on your list of things to do in Cobh!
We were impressed with the breadth and depth of the museum and ended up spending even longer there than we intended.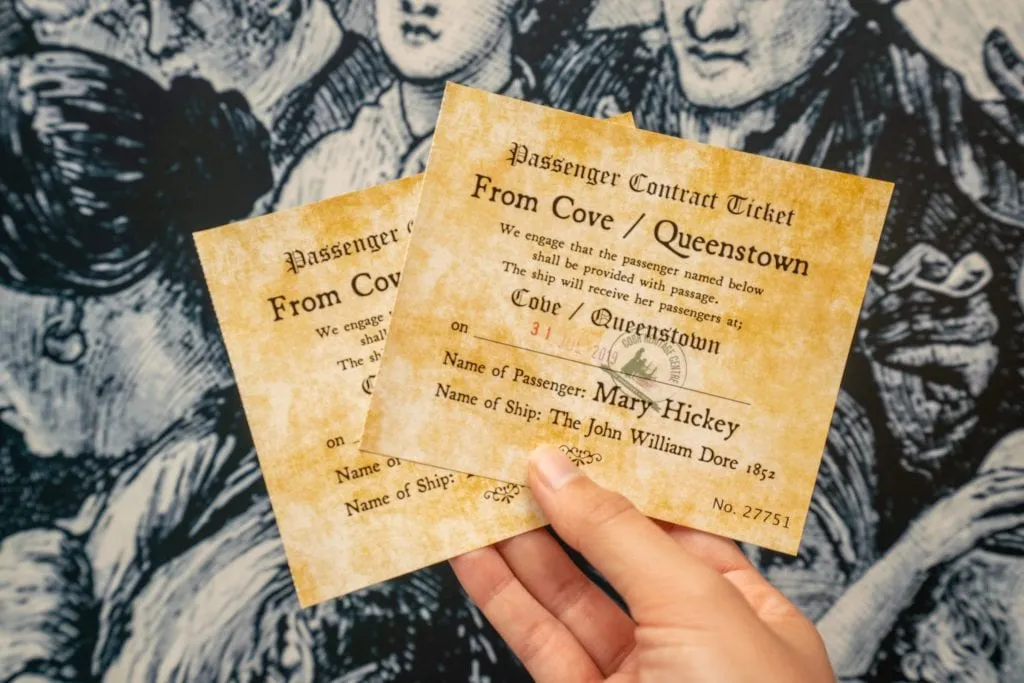 Check out Spike Island.
Many centuries ago, a monastery existed on Spike Island–but its more recent history is a bit less pleasant.
A military fort, and later a prison, existed on this island in the Cobh Harbour, most famously as a holding cell of sorts of convicts leaving Ireland with a punishment of "transportation"–in other words, being shipped off to Australia or the like.
Today, you can easily add a visit to Spike Island to your list of things to do in Cobh and learn all about the island's many diverse uses over the centuries, while also enjoying some lovely views.
Photograph the Deck of Cards.
Built in 1850 and technically called West View, the row of colorful houses stretching up a steep street in Cobh are known as the Deck of Cards–and they're one of the most recognizable features of the city!
The most popular view (as seen at the top of the post) can be experienced from a small park across the street from the houses–but I love the view of the back of the houses as pictured below as well.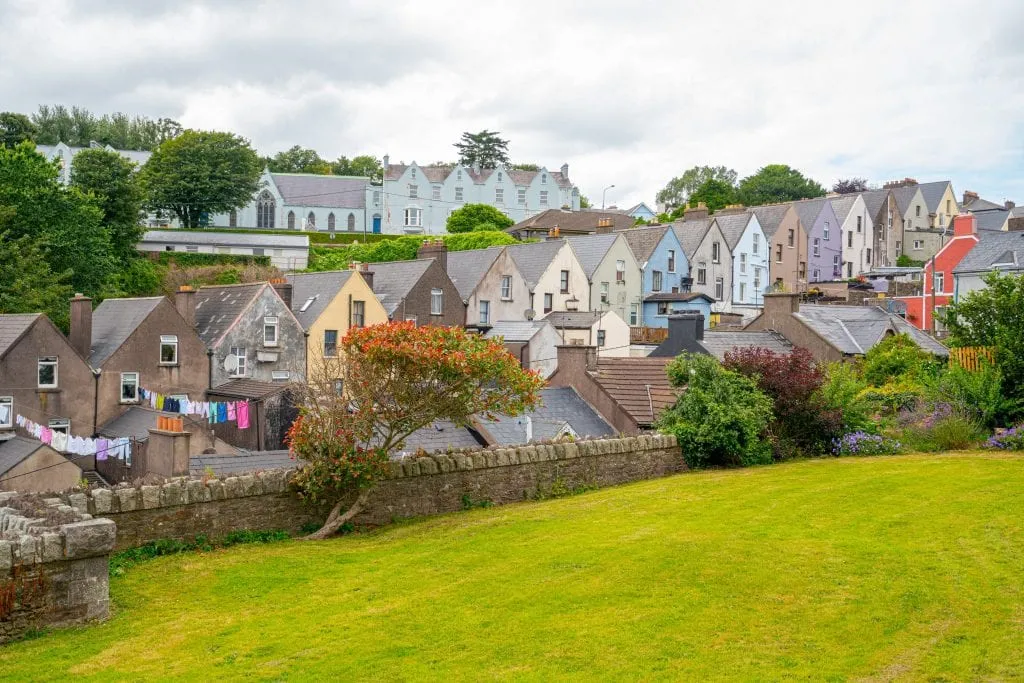 Learn all about the Titanic at the Titanic Experience.
As the last port of call for the Titanic before tragedy struck, Cobh is home to plenty of history surrounding the ship: in fact, the museum itself is housed in the former ticket office for White Star Line, who owned the Titanic.
When entering the museum, you'll be given the name of one of the 123 passengers who boarded the Titanic in Cobh–and after a moving experience of learning about the ship and its demise, you'll learn one final piece of information: whether the person whose name you were given survived.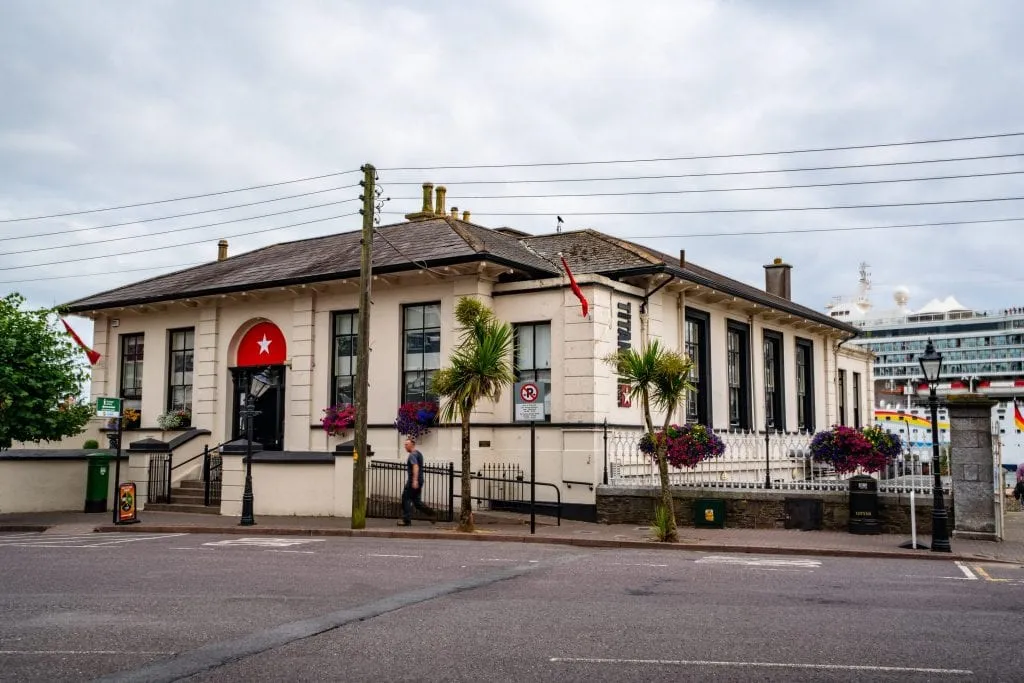 Walk the Titanic Trail.
Want to learn more about the Titanic after wrapping up the Titanic Experience?
Consider taking a tour of the Titanic Trail, which will walk you step-by-step through the journey of those who arrived in Cobh to depart Ireland on the Titanic, including paying a visit to the pier that the ship left from.
Book your Titanic Trail tour today!
Marvel at St. Colman's Cathedral.
Unlike many cathedrals in Ireland, St. Colman's Cathedral is, quite frankly, not very old–it was only completed in 1919!
However, the cathedral is absolutely stunning, and standing high on the hill above most of the city, completely dominates the skyline.
Don't miss your chance to visit–after all, you have to climb the hill to visit the Deck of Cards anyway!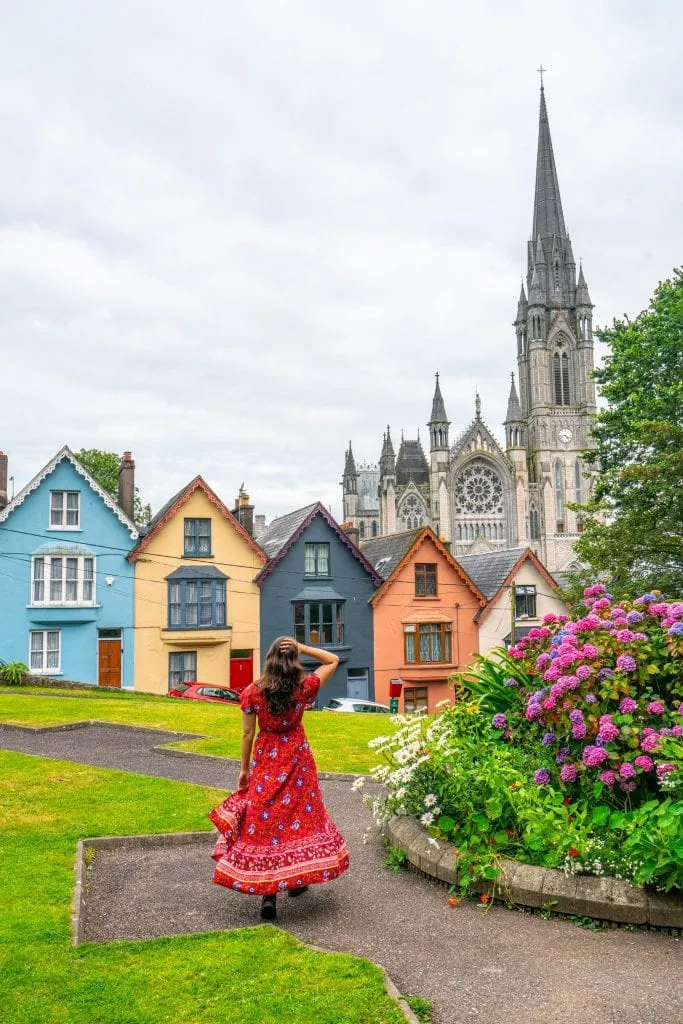 Enjoy views of the Cork Harbour.
Stare out at the water from one of the restaurants, piers, or parks along Cobh's waterfront, and you'll be admiring the Cork Harbour: it's a lovely sight, especially on a pretty day (and even lovelier over lunch).
Say hello to Annie Moore.
The very first person to be welcomed to the USA at Ellis Island was a 15-year-old Irish girl named Annie Moore–and near the Cobh Heritage Center, you can check out the statue dedicated to her.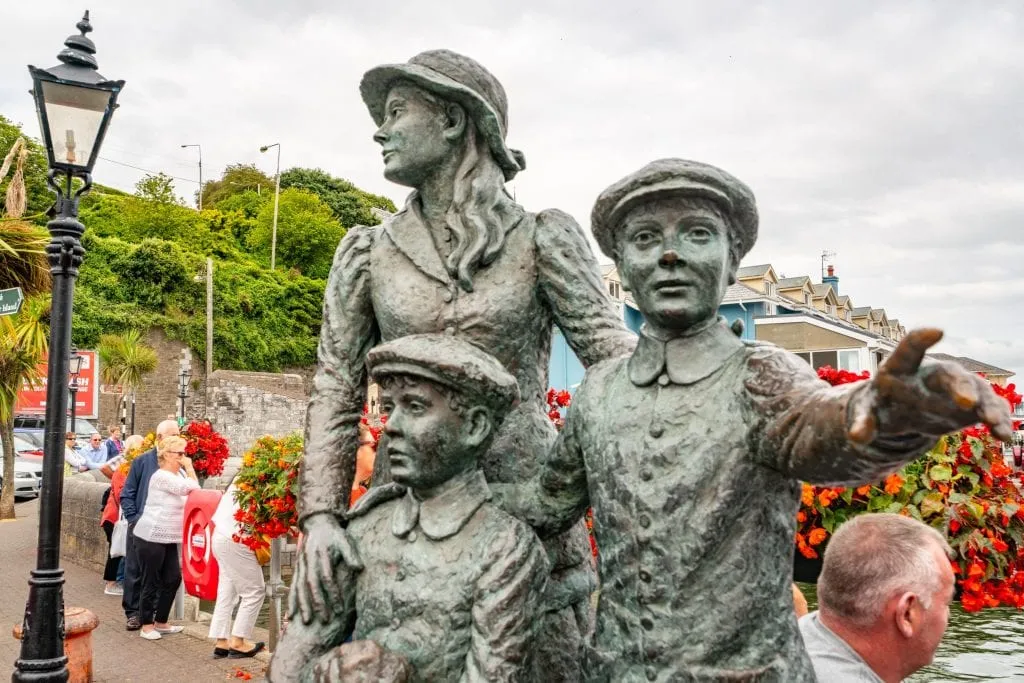 Stop by the Cobh Museum.
Are you one of the millions of people living outside the Emerald Isle who has Irish ancestry?
If so, you may want to stop by the Cobh Museum: the small museum includes a reference library where you can do independent family research–if you suspect one or more of your ancestors may have left Ireland from Cobh, take advantage of the opportunity to take a peek into history!
Since Cobh was such a huge port for Irish emigration over the centuries, a surprising number of Irish people said goodbye to their homeland from this small city.
Grab a drink and watch the world go by.
Plenty of the pubs and cafes in central Cobh have outdoor seating–and on a beautiful day, why not enjoy a Guinness or a cup of tea while overlooking Cobh's colorful buildings?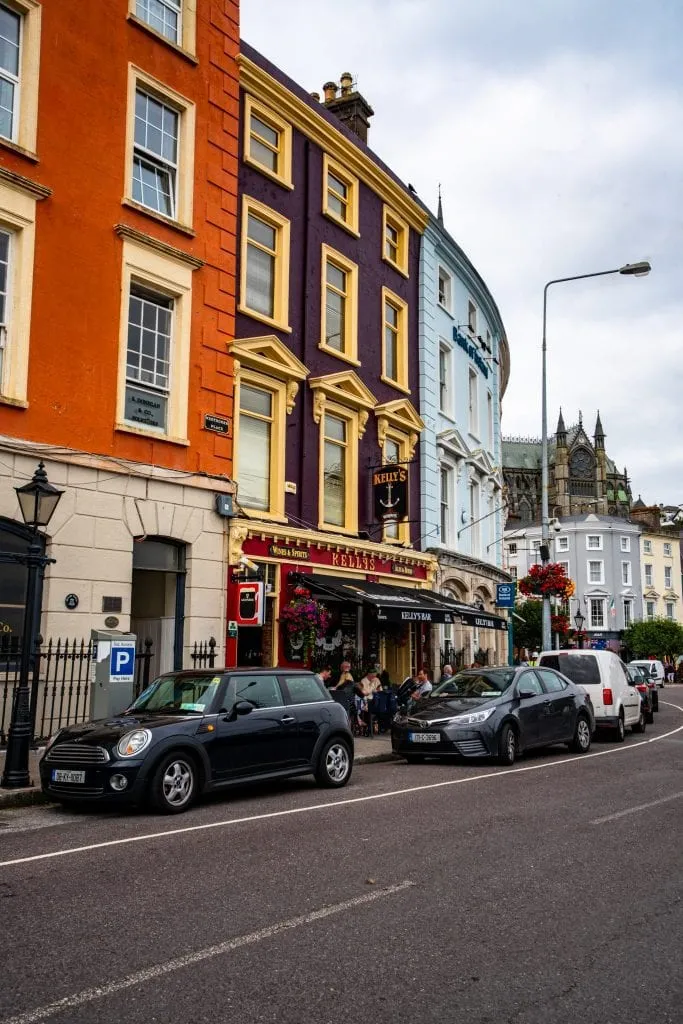 Getting to Cobh
Cobh is located about 30 minutes east of Cork, under 2 hours south of Waterford, or 3 hours south of Dublin by car (without traffic, of course).
Unless you happen to be staying in Cork, car is probably the easiest way to reach Cobh.
If you are staying in Cork, you could also consider taking the train to Cobh if you don't want to drive!
We chose to park in the (free) lot right next door to St. Colman's Cathedral when visiting Cobh, and can recommend it as an easy and affordable parking option (however, since you'll be at the top of the hill, be prepared to head down a steep hill to reach the city center and also to get back to your car!).
Getting Around Cobh
Central Cobh is very small and easy to get around on foot, so you likely won't need any other transportation during your stay (with the exception of a boat to get to Spike Island).
However, fair warning: Cobh has incredibly steep hills! Wear comfortable shoes and be prepared to climb when visiting Cobh.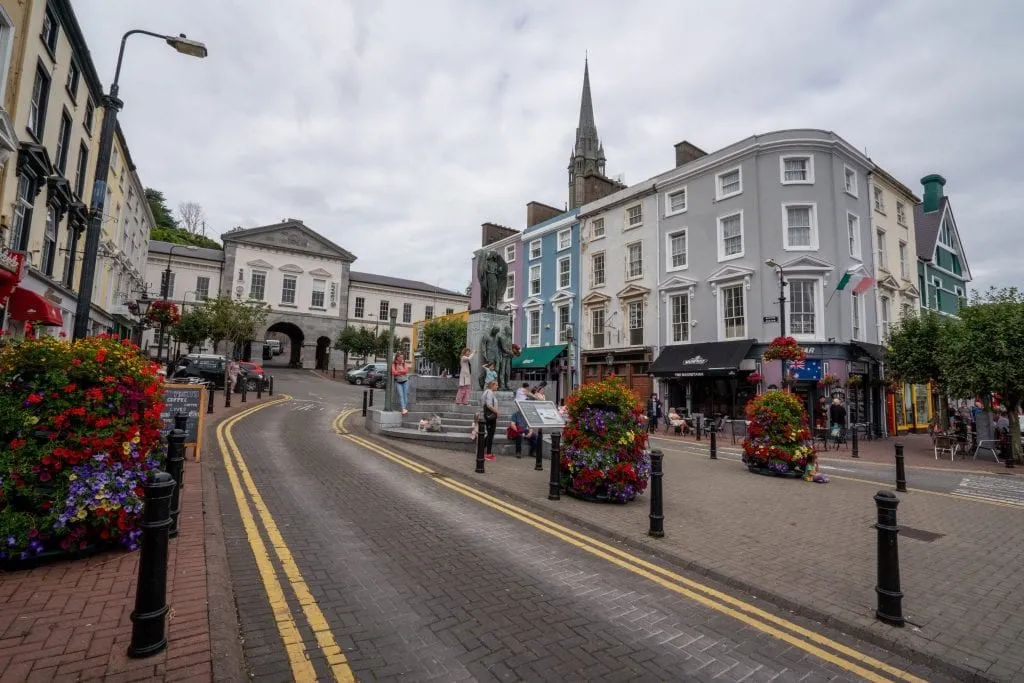 How Long to Stay in Cobh
If you simply want to enjoy the town and check out a few of the select top things to do in Cobh, one day in this lovely Irish village is plenty to get a great taste of Cobh.
However, if you want to see most or all of the best things to do in Cobh, and want to take your time seeing all there is to see on Spike Island, you may want to consider spending a couple of days here.
Can you take a day trip to Cobh from Dublin?
You could almost certainly find a tour company willing to drive you (like this one, for example), but we wouldn't recommend it unless you're extremely short on time and really have your heart set on visiting Cobh while in Ireland.
At a 3-hour driving distance each way, Cobh is really too far from Dublin to make an ideal day trip. If you're looking for a day trip from Dublin, consider choosing a closer option instead–Ireland is full of beautiful seaside villages!
Want to consider taking a day trip to Cobh from Dublin?

This tour gets great reviews and also stops at Blarney Castle!