Rocky cliffs, beautiful sea views, adorable villages, and small, winding roads: these are just a few things you'll find when driving Dingle Peninsula's Slea Head Drive, which is arguably home to some of the best scenery in all of Ireland.
While the Ring of Kerry is crowded and the Ring of Beara can feel quite remote, Slea Head Drive is the Irish ring road that feels Just Right.
We loved exploring Slea Head Drive so much that we drove it two days in a row, taking our time to not only savor every view we could find, but also to conduct plenty of research to make sure we could put together an incredibly thorough Slea Head Drive guide when we were done.
Heading to the Dingle Peninsula and want to make sure you don't miss a thing along Slea Head Drive? Here's everything you need to know to pull off the perfect Slea Head Drive road trip.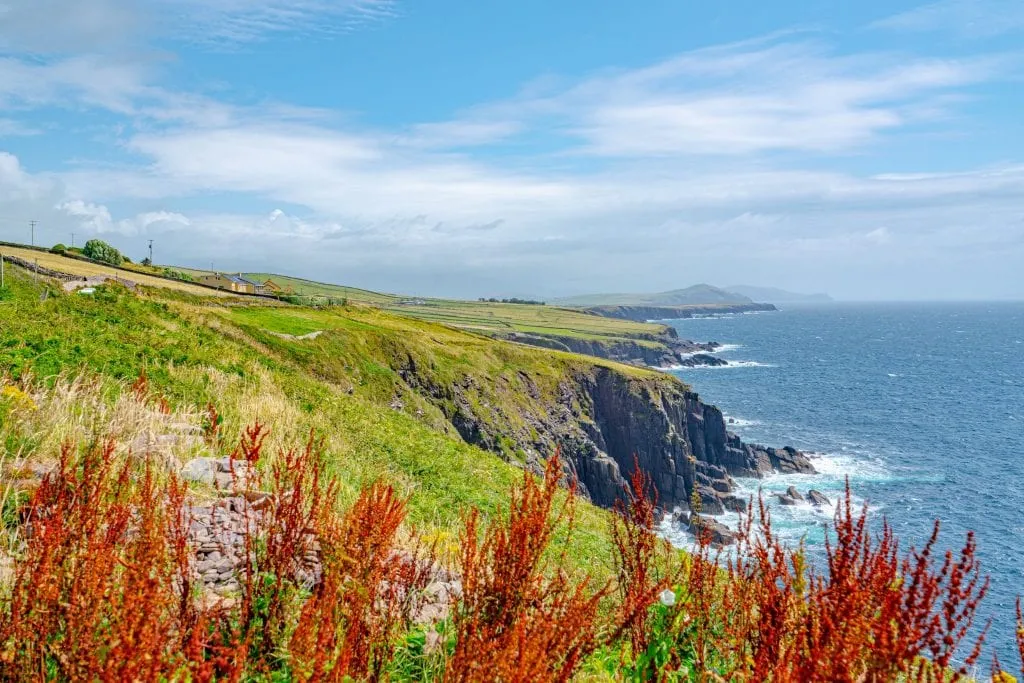 Some links in this post may be affiliate links. If you make a purchase through one of these links, we may earn a small commission at no extra cost to you. Please see our

disclosure policy

for more detail.
How Long is Slea Head Drive?
Slea Head Drive is roughly 47km, or 30 miles, long, and is a loop drive that begins and ends in the village of Dingle.
If you drive it straight through with minimal stops, it only takes about 3 hours to complete–but to make the most of a trip to Slea Head Drive, you'll definitely want to spend longer here than that!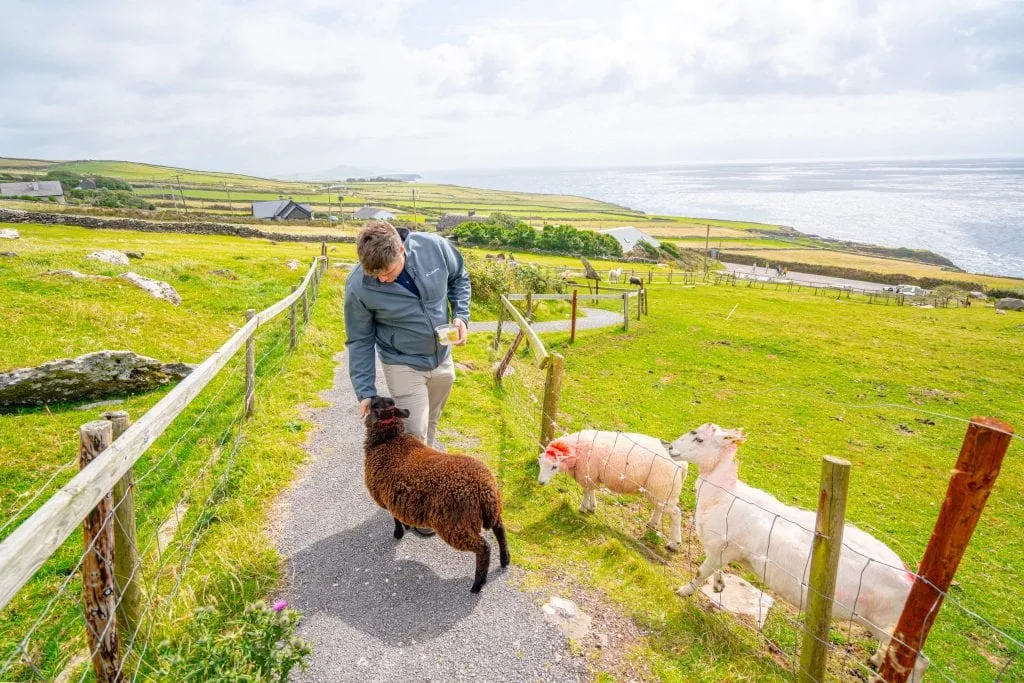 What to See Along Slea Head Drive
Dingle
Colorful Dingle, the namesake of the Dingle Peninsula, is an adorable, bustling port town that keeps itself busy with tourists and locals alike.
You'll find the largest population and biggest concentration of restaurants, shopping, and tourism along Slea Head Drive in Dingle, and if you're looking for an easy base to explore the peninsula, you can't go wrong with Dingle.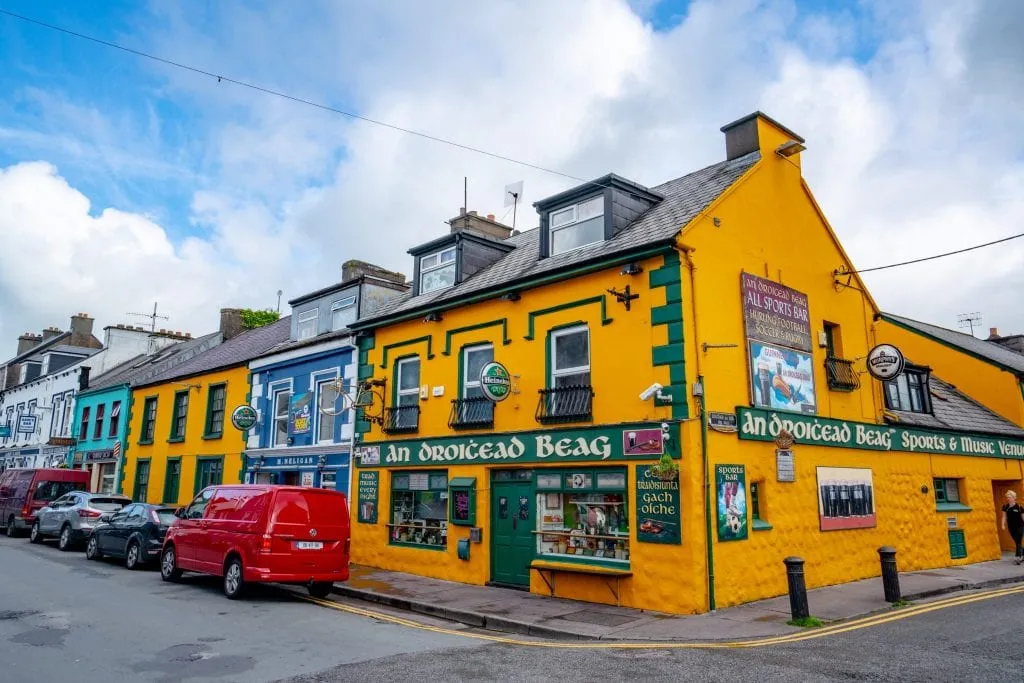 Cashel Murphy
Comprised of five stone huts dating to an ancient Celtic settlement, Cashel Murphy is an easy and interesting stop (there's a 4000-year-old sphinx carved in one place!) along Slea Head Drive.
Slea Head Beach
Also known as Coumeenoole Beach, this beautiful spot is absolutely worth pausing to visit while touring Slea Head Drive!
Beehive Huts
Hundreds of round beehive huts–or in Irish, clochán–dot Slea Head Drive, hinting at the long history of civilization on the peninsula.
While dating the huts is notoriously difficult, some may date to the 12th century.
You can visit beehive huts in several places along Slea Head Drive, but Fahan is among the best-preserved and most popular spots to see them.
Dunbeg Fort
The exact age of Dunbeg Fort, like many structures along Slea Head Drive, remains a mystery–but this stone fort has likely been looking out over the sea since the Iron Age!
While much of the fort has been lost to time, it's still a fascinating experience to visit what's left.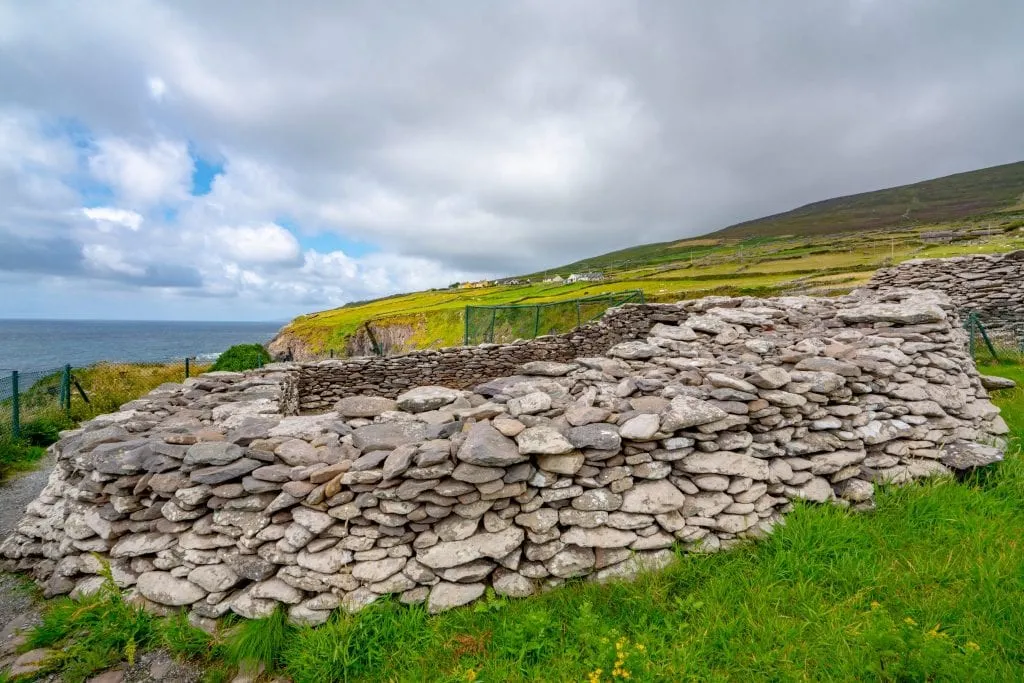 Blasket Islands
Look off the coast when you're near Slea Head Beach or Slea Head itself, and you'll see the Blasket Islands.
Though uninhabited now, the Blasket Islands were populated until the 1950s, when population decline and harsh living conditions forced the community onto the mainland.
Up until then, though, the Blasket Islands were home to a longstanding, Irish-speaking community that passed its traditions down for centuries–and anthropologists remain captivated by the small islands.
Slea Head (Itself)
The rocky cape that makes up Slea Head itself is marked with a large white crucifix and is home to some incredible views–be sure to pull over here (but be cautious of the traffic jam, we found this spot to be one of the most congested along Slea Head Drive).
Dunmore Head
Are you a Star Wars fan? If so, be sure not to miss Dunmore Head when driving Slea Head Drive–a few scenes in The Last Jedi were filmed here!
Sleeping Giant + Three Sisters
Near Dunmore Head, you can spot three beautiful sloping mountains–aka the three sisters–and if you look out to sea, an island in the shape of a giant sleeping on its back.
Even if you don't manage to spot the formations, though, the area is magnificent and well worth a stop.
Ballyferriter Village
This tiny village is the perfect place to stop for lunch along Slea Head Drive, as the road passes right through it.
It's blink-and-you'll-miss-it levels of tiny, but absolutely adorable!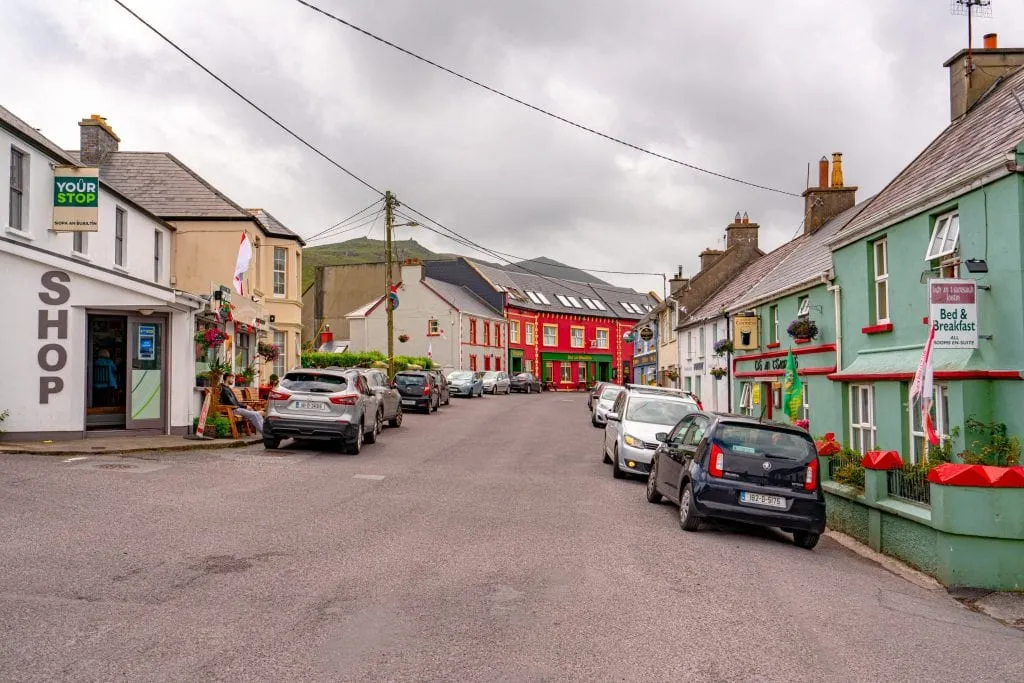 Gallarus Oratory
Not much is known about the history of Gallarus Oratory. Major details like who lived there, what their lives were like, and when it was built either elude or are disagreed on by scholars–but there's no doubt that this small chapel is both hundreds of years old (perhaps even more than a thousand) and quite unique.
Despite its impressive age and the fact that the small chapel is built entirely of stone, it is still almost completely impermeable to water–an impressive feat of engineering.
Dunquin Pier
This pier, which winds dramatically down the cliff as it reaches toward the sea, is one of the most famous sights along Slea Head Drive–and with good reason. Just look at that view!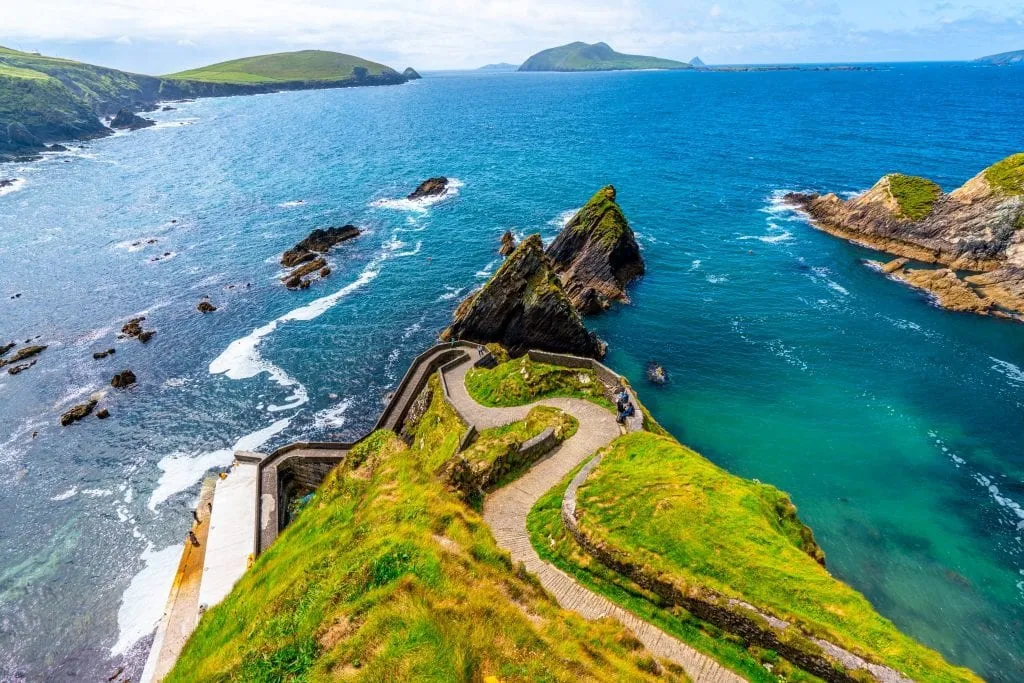 More Fun Things to Do Along Slea Head Drive
Watch a sheepdog demonstration.
Watching adorable sheepdogs get down to work and show off their herding skills was one of the highlights of our Slea Head Drive tour–and the views from the farm we stopped at were phenomenal, too!
And don't worry–the dogs are muzzled and no sheep are hurt in the process.
Cuddle some lambs.
Ever wanted to hold a lamb? On Slea Head Drive, you can–there's even an aptly-named business called Hold a Baby Lamb (though there are other farms you can stop at as well).
Grab a cup of coffee and browse in pottery shops.
Slea Head Drive is littered with adorable pottery shops that make their own wares with local materials–and most of them act as coffee shops as well, serving up tasty baked goods and cups of joe.
We're particularly partial to Penny's Pottery near Ventry, but there are plenty of shops to choose from.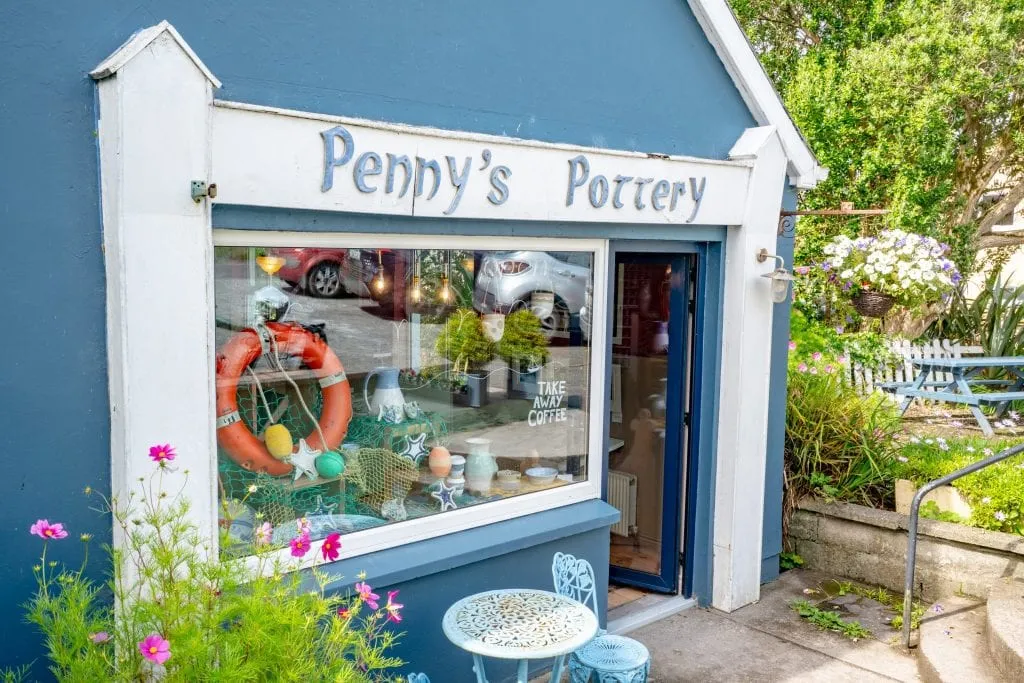 Go horseback riding.
The perfect trip to Ireland definitely involves at least one horseback ride in our opinion–and you can't ask for better scenery on your ride than what you'll find along Slea Head Drive.
Map of Slea Head Drive Highlights
Take This Map With You! Click each highlight to pull up the name of the destination. To save this map to "Your Places" on Google Maps, click the star to the right of the title. You'll then be able to find it under the Maps tab of your Google Maps account! To open the map in a new window, click the button on the top right of the map.
Other Things to See on the Dingle Peninsula
While touring Slea Head Drive is an absolutely unforgettable experience, there are also several sights on other parts of the Dingle Peninsula worthy of your attention–here are a few of them.
Conor Pass
Connecting the town of Dingle to towns along the northern part of the Dingle Peninsula is Conor Pass.
As one of the highest mountain passes in Ireland, Conor Pass can be a bit nerve-wracking to drive–think tiny roads and very careful maneuvering required in order to pass other vehicles–but the views are absolutely fantastic.
Inch Beach
Gorgeous Inch Beach stretches around 4 miles down the coast of the Dingle Peninsula and is quite a sight to behold.
Located in Daingean Bay, it's impossible not to appreciate the power and rugged beauty of the Atlantic Ocean here.
If you're the athletic sort and cold water doesn't bother you, Inch Beach is also a popular place to surf along the Dingle Peninsula in Ireland!
Minard Castle
Built in the mid-16th century and later destroyed by Cromwell's army, the ruins of Minard Castle may not look much different than many other castle ruins in Ireland at first glance–but their beautiful location along a small bay, complete with an eye-catching boulder beach, makes them absolutely worth a visit.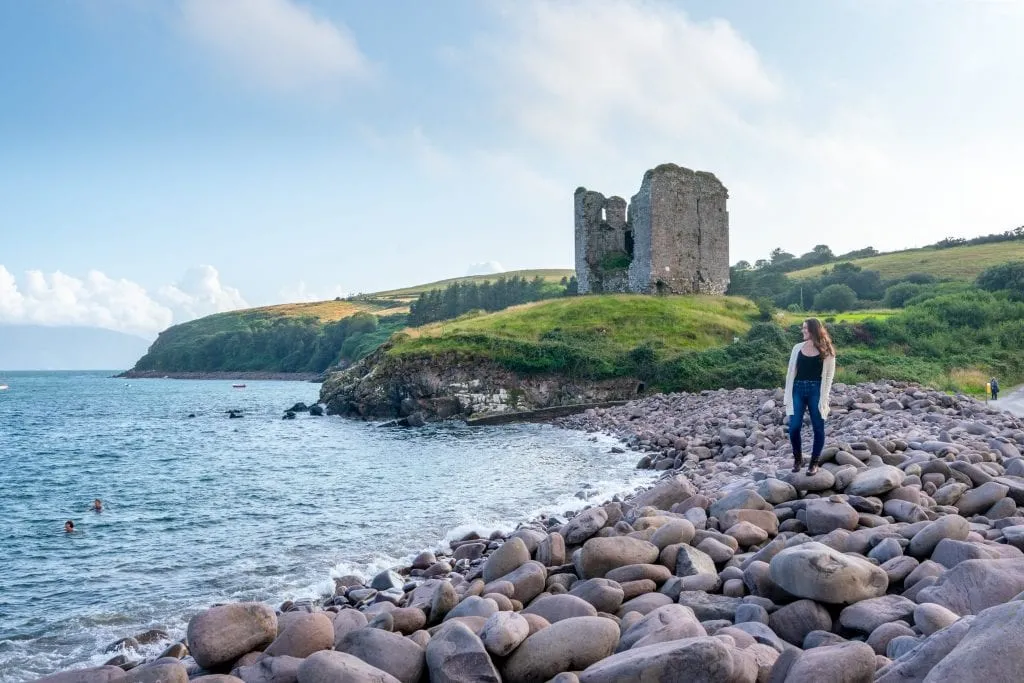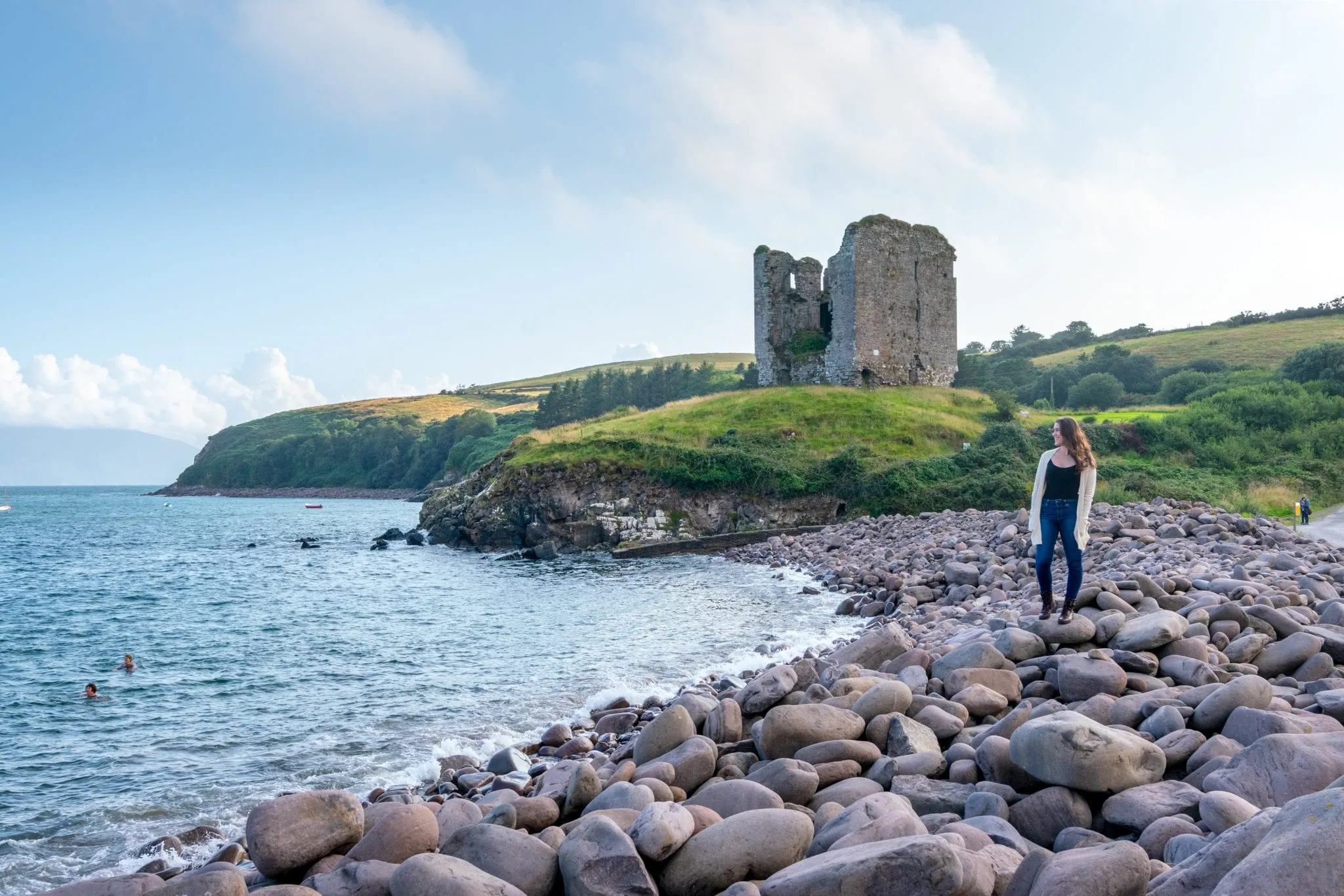 Plus, Minard Castle is located only a short drive from Inch Beach, making it an easy additional stop when completing a Dingle Peninsula drive.
Where to Stay When Visiting Slea Head Drive
The most important thing to keep in mind when deciding where to stay to explore Slea Head Drive is whether you want a more rural experience along the drive itself, or you'd rather stay in a town with access to plenty of restaurants, shops, and tours.
For the latter, staying in Dingle is an excellent choice.
For the first, the sky is the limit–country inns and bed and breakfasts dot the small villages along and near Slea Head Drive.
We stayed in Meelin View Bed & Breakfast, just a bit to the east of Dingle, and found it cozy, welcoming, and incredibly clean. We'd be happy to stay again!
Exploring Slea Head Drive: Booking a Tour vs. Self-Drive
Absolutely, without a doubt, the best way to explore Slea Head Drive is to drive it independently.
This is Ireland road-tripping at its finest: world-class scenery, endless points of interest to pull over for, quaint villages, and open roads.
We recommend hiring a car via Discover Cars and making the trip yourself… with some exceptions.
If you aren't comfortable driving on the left side of the road, aren't comfortable navigating narrow roads, or don't want the stress of driving, then a Slea Head Drive tour is the right choice for you.
A well-reviewed tour like this will take you to the biggest highlights that Slea Head Drive has to offer, while also taking on all the hassle of planning and executing the road trip–you can simply kick back and enjoy the views!
Book your rental car or Slea Head Drive tour today!
How Long to Spend Along Slea Head Drive
While you can easily drive Slea Head Drive in half a day, or explore it fairly thoroughly over a full day, if you have the time to spare on your Ireland itinerary, consider staying in the area a bit longer!
If you'd like to spend part of your time along Slea Head Drive on a longer activity, like a horseback riding trek or a trip to the Blasket Islands, that will dramatically eat into your time.
Plus, this is Ireland: if you want to give yourself the best chance to see Slea Head Drive without rain, giving yourself a couple of days allows for more flexibility (though no guarantees, of course).
We personally stayed in the area for almost five days during our latest trip to Ireland, and while that's definitely overkill if you're trying to see as much of the island as possible on a time crunch, we certainly didn't get bored, either.
Tips for Getting Around Slea Head Drive
Slea Head Drive is officially called R559.
If you're looking at a map, or occasionally at some of the signs along the road, this is what you'll see Slea Head Drive marked as.
When in doubt, trust the road signs.
There were definitely a few spots along Slea Head Drive where our GPS wanted to go one way and the actual, physical road signs suggested another–and following the road signs never let us down.
Remember this phrase: An Daingean.
An Daingean is the Irish word for Dingle (aka both the start and end point of your Slea Head Drive road trip), and while most signs along the route are in both English and Irish, we did notice a couple toward the end that were only in Irish.
Be extra cautious when driving.
The driving along Slea Head Drive was honestly the easiest of all the ring roads we drove in Ireland, but it still required very attentive driving.
The roads are quite narrow, and in many places, there are parking spots on one side of the road and an attraction on the other, so pedestrians may be crossing in front of you.
However, the number of tour buses is dramatically smaller than on the Ring of Kerry (as are the buses themselves), which made our entire Dingle Peninsula driving experience far less stressful!
---