Like so many travelers before and after us, we were determined to spend a night in a castle on our most recent trip to Ireland–and after checking into Belleek Castle in County Mayo, we're convinced that a castle stay will be part of all of our trips to Ireland going forward.
From the moment we set foot in Belleek Castle, we were enchanted: with the enormous fireplace, the beautiful chandelier, the magnificent main staircase, and the winding, mysterious vibe that always leaves you with a notion that there's another delightful discovery or whimsical detail lurking just out of sight.
Historically fascinating and absolutely beautiful, Belleek Castle was a delight from start to finish.
Here's why you should consider a stay at Belleek Castle–and what to do when you get there.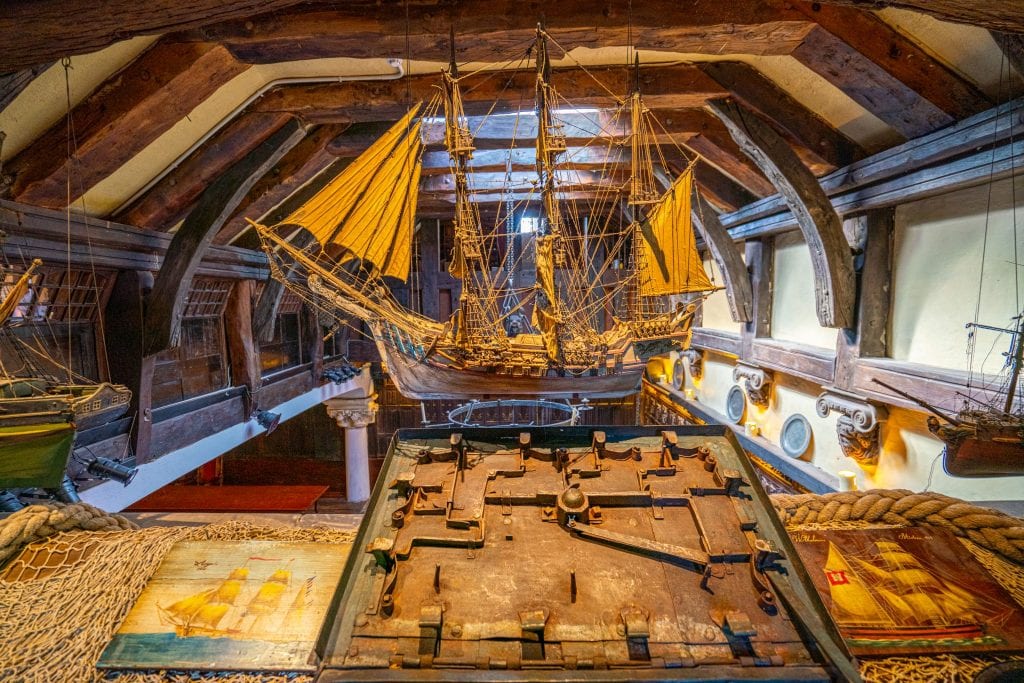 Some links in this post may be affiliate links. If you make a purchase through one of these links, we may earn a small commission at no extra cost to you. Please see our

disclosure policy

for more detail.
A Brief History of Belleek Castle
Though Belleek Castle is said to be built on the site of a 13th-century structure, today, the building that makes up Belleek Castle dates to the 19th century.
The castle was a private family property until the 1950s when it was acquired by the Mayo City Council. It was briefly used as military barracks and as a hospital, but eventually abandoned.
The man responsible for turning Belleek Castle into the gorgeous hotel we know today, Marshall Doran, bought the property in 1961.
Marshall Doran was an avid collector and former navy officer–and as you'll see, both his love of collecting and love of the sea have made their way into Belleek Castle.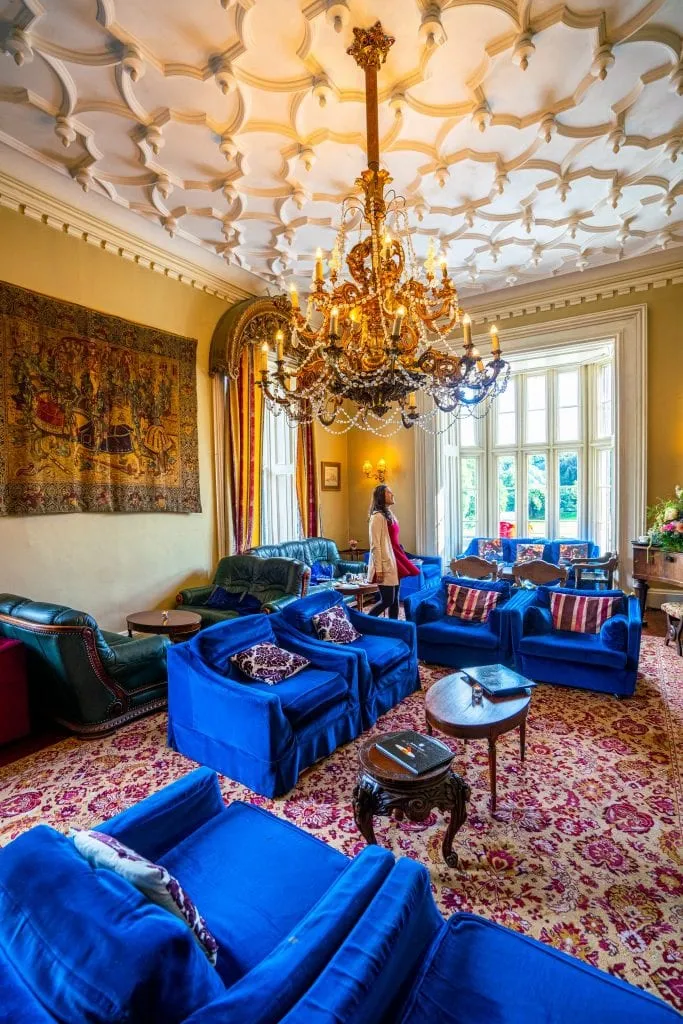 What's it like to stay at Belleek Castle?
Incredibly comfortable!
The customer service at Belleek Castle was flawless from start to finish, the room was spacious and beautiful, and we loved getting to feel like we were exploring a semi-hidden (read: uncrowded) corner of Ireland during our entire stay, even when simply relaxing and enjoying the views.
As is typical for us, we paid for our own stay–no sponsored campaigns or anything of the like–and we found Belleek to be a fantastic value for the quality of stay.
With rooms starting well under 200 Euro/night, we consider our time at Belleek Castle to be an absolute bargain for a stay in a gorgeous Irish castle.
Our deluxe room was set on the front of the castle, with a gorgeous sitting area under the bay window, all antique furniture (including a stunning four-poster bed) and a comfortable en-suite bathroom.
The castle has won a slew of hospitality awards over the years, and from our perspective, it's pretty clear as to why.
Check availability & book your stay at Belleek Castle today!
Things to Do at Belleek Castle in Ireland
Take a guided castle tour.
If there's one thing you do at Belleek Castle, make sure it's the castle tour.
When we booked this tour, we expected a standard overview of the castle, grounds, and history, but what we got was so much more: Marshall Doran was an avid collector, and the castle tour includes a chance to look at and even handle some of his treasures.
From Grace O'Malley's bed to fossils that are tens of thousands of years old to a truly impressive collection of antique weapons that you can even hold (!!!), it's an incredibly interesting and entertaining tour.
You'll also get to learn a bit about how certain rooms in the castle–like the bar for instance–were built (hint: there were Spanish ships involved), a bit about the history of the castle and its restoration, and get to explore Belleek Castle beyond the more standard rooms.
The castle tour is given four times a day and available to the public, so even if you're not spending the night at Belleek Castle, it's still worth coming by for this.
Dine in the castle's magnificent restaurant.
The award-winning Library Restaurant serves up incredible food for both lunch and dinner at Belleek Castle–so once you arrive for the day, there's no need to leave.
Have a traditional afternoon tea.
Served in the library between 2:30 PM and 4:30 PM daily (24 hours advance notice required), having a traditional afternoon tea at Belleek Castle was one of our favorite experiences of our most recent trip to Ireland.
It was such a relaxing experience to eat delicious food, sip tea, and admire the stunning room around us with absolutely no rush.
The portions were enormous, too–easily enough to count as a full meal.
Explore the grounds.
Belleek Castle is surrounded by the Belleek Woods, one of the largest urban forests in Europe and the perfect place to enjoy a long, leisurely walk after eating a fabulous meal at the castle!
The location in the middle of the woods helps give Belleek Castle its incredibly isolated vibe–while it's truly only located a short drive from the town of Ballina, when you're in the castle, it's easy to believe that the property is completely secluded.
Getting to Belleek Castle + Map
The best way to get to Belleek Castle is to self-drive as part of an Ireland road trip.
Located about 3 hours north of the Cliffs of Moher, 3.5 hours northwest of Dublin, and 2 hours north of Galway, Belleek Castle is an easy addition to a trip to Ireland–as is the lovely nearby town of Ballina.
Ready to stay in an Irish castle?