When we first spent 3 days in Budapest in 2015, we immediately knew that we would be back–and after many trips to Budapest over the years, it's safe to say we were right!
Budapest grabbed us hard right from the start, and we quickly fell for the city's beautiful architecture, amazing river views, and unique repertoire of things to do (the lower-than-usual prices for exploring an epic European capital city helped, too!).
At this point, we've cumulatively spent several weeks visiting Budapest during most seasons of the year, getting to know the city a bit deeper on each visit–and each time we say goodbye, we find that we've fallen in love with it even more.
Planning a trip to the capital of Hungary for the first time?
This 3 days in Budapest itinerary is designed to make the most of your first trip!
The Perfect 3 Days in Budapest Itinerary
Day One in Budapest Itinerary: Parliament, the Danube, Fisherman's Bastion + Beyond
Visit the epic Hungarian Parliament.
Nestled right up against the Danube, Hungary's incredible Parliament building is known as one of the most beautiful in the world for good reason!
If you'd like to take a tour inside the building, you'll need to book a tour at least a few days in advance.
When updating this post in 2023, I was surprised to see how far in advance tickets are booked out–so the further ahead you can plan this visit, the better!
(If tickets are sold out for your dates and you want to be sure to visit, another option is booking a third-party guided tour like this that includes a visit to Parliament.
If you'd rather not fork over the forint, admiring the building up close from the outside is definitely still worth stopping by.
We make a point to walk by several times during all of our trips to Budapest!
Stop by the Shoes on the Danube monument.
If you leave the Parliament Building and walk along the edge of the Danube River toward the Chain Bridge, you'll soon notice dozens of bronze shoes on the ground, facing the water.
These represent a memorial to people (many of them Jews) who were murdered along the banks of the Danube in Budapest between 1944 and 1945.
Before being shot and having their bodies fall into the Danube to be swept away, victims were forced to remove their (valuable) shoes, so as not to waste them.
It's a very moving tribute and a must-see spot when visiting Budapest.
Stroll across the Chain Bridge.
After reflecting at the Shoes on the Danube Memorial, it's just a short walk to the Chain Bridge.
Complete with its iconic lion statues, the Chain Bridge is one of Budapest's most famous landmarks, and no visit to Budapest could be considered complete without walking across it.
The views of the river and the Parliament are beautiful–be sure to stop for plenty of pictures!
Enjoy the views from Fisherman's Bastion.
Justifiably Instagram-famous, beautiful Fisherman's Bastion is home to some of the best views in Budapest (though not the very best in our totally biased opinion).
We love climbing all over the towers and through all of the viewpoints–in many ways, Fisherman's Bastion is a bit of a grown-up's castle jungle gym!
If you're hoping to snap photos… well, you'll be sharing the view with a few hundred friends.
If dreamy Fisherman's Bastion photos with no crowds are on your Budapest wish list, consider shuffling this Budapest itinerary around and arriving around dawn.
To get to Fisherman's Bastion from the base of the Chain Bridge, you can either catch a local bus, ride the funicular up Castle Hill, or make your way up via a long and steep walk!
Step inside Matthias Church.
Directly behind Fisherman's Bastion sits one of the best places to visit in Budapest: the colorful and striking Matthias Church.
With its brightly colored tiled roof, detailed painted interior, and architectural splendor, it's no surprise to learn that this building has quite a history.
Dating back to the 13th century (with significant changes and rebuilds at several points dating into the 19th), Matthias Church has, among other highlights, played host to royal weddings, the coronations of two Hapsburg Kings, and spent 150 years as a mosque.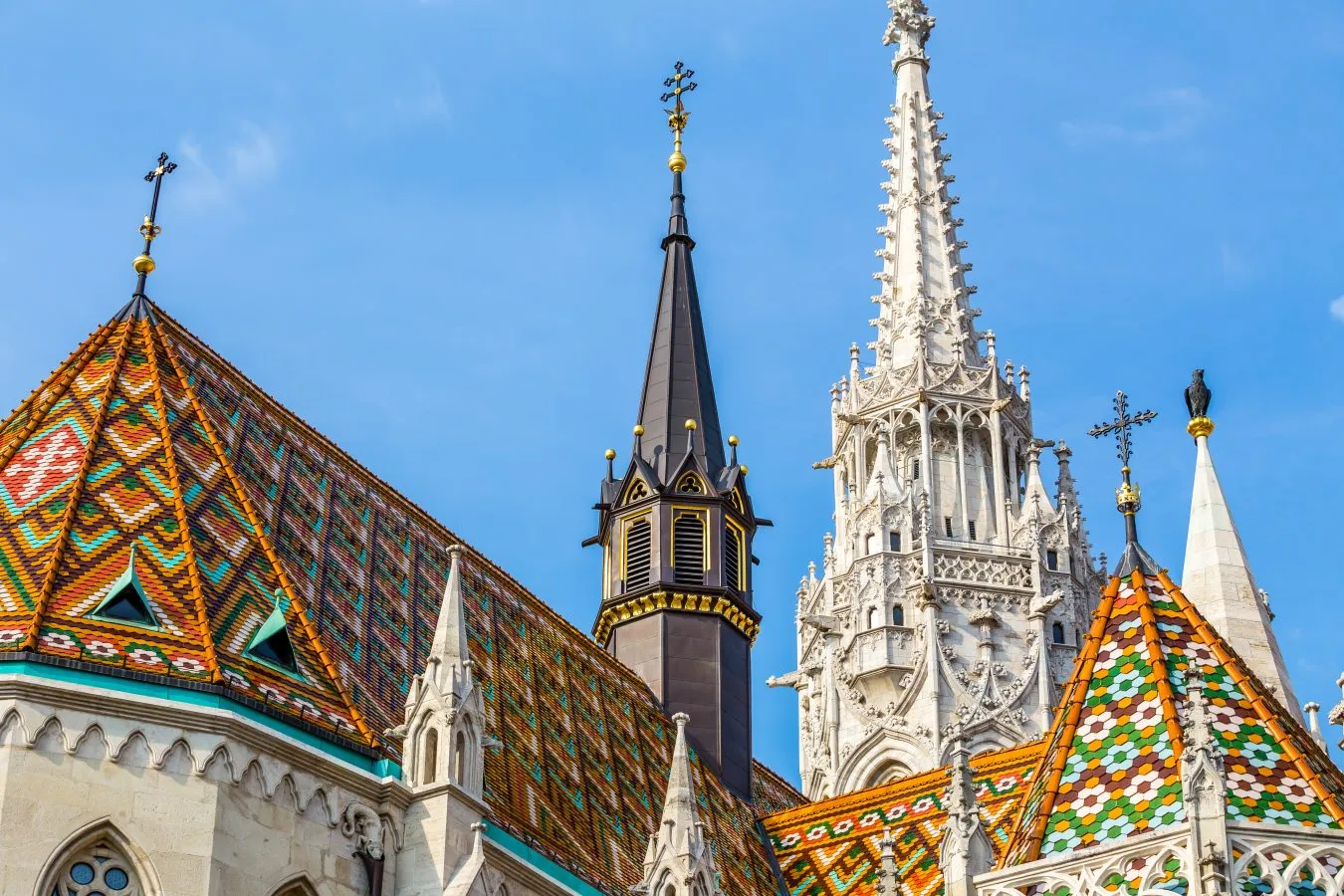 Walk to Buda Castle.
Buda Castle is an iconic landmark in the city and features gorgeous views of the Danube and the city from the free-to-access terraces in front of the castle.
Whether you want to visit just for some of the beautiful views from the grounds and to enjoy the exterior of the building or you feel like ducking inside the Hungarian National Gallery or Budapest History Museum, Buda Castle is a must-see item on any Budapest itinerary.
We visited the National Gallery during our first trip to Budapest and greatly enjoyed it–eventually, we'll make it to the Budapest History Museum, too!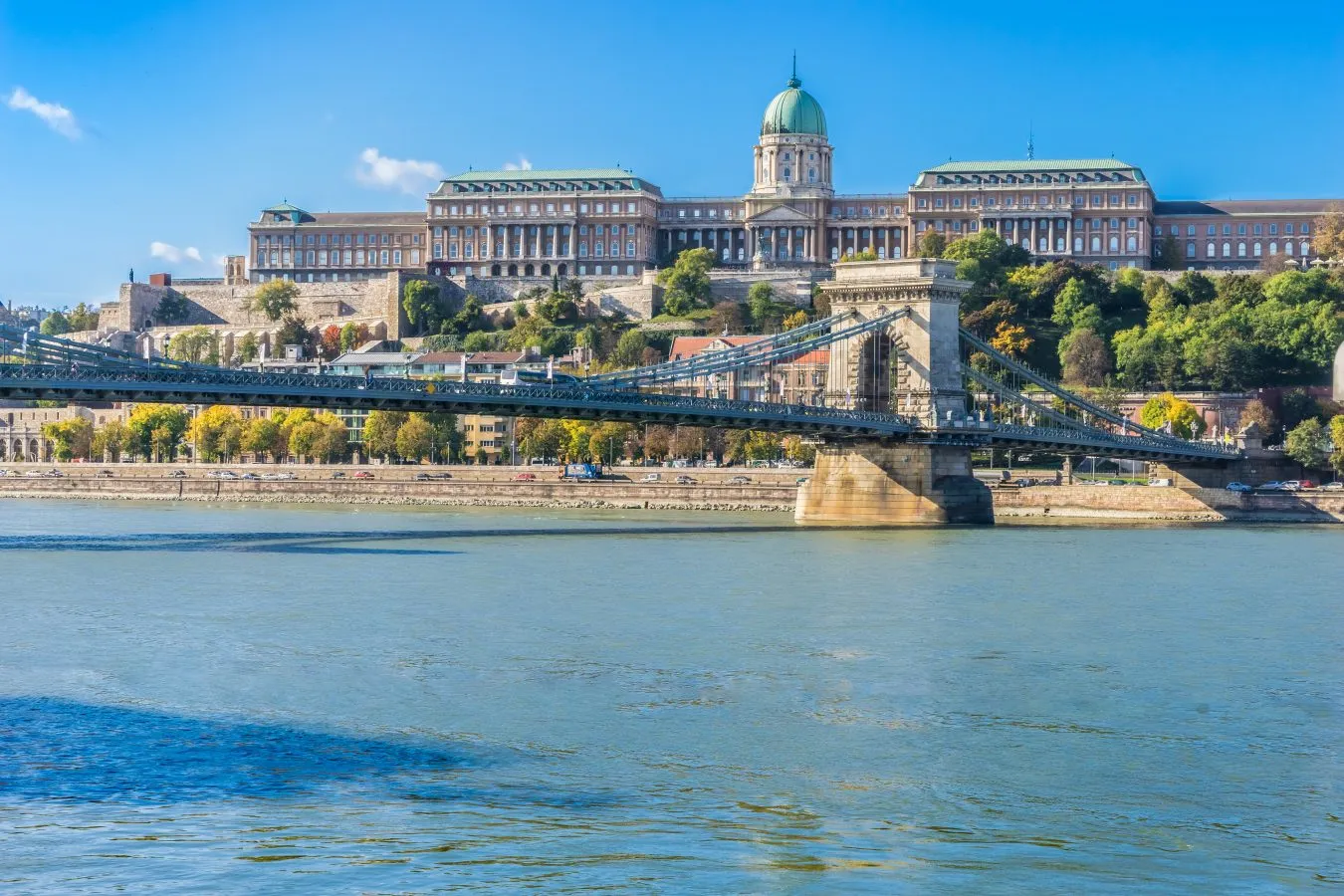 Take a cruise on the Danube River.
… And for best results, take one at sunset.
On our first trip to Budapest, we watched the sun go down and the city lights come on from the water, and it was one of those magical travel moments that ended up sticking with us for years.
Whether you opt for an extremely affordable sightseeing cruise or a dinner cruise featuring Hungarian food and folk dancing, it's definitely worth the splurge to hit the water while in Budapest.
Day Two in Budapest Itinerary: Central Market Hall + Thermal Baths
Begin at Central Market Hall.
No 3 days in Budapest itinerary would be complete without a stop at Central Market Hall–honestly, this is one of our favorite spots in Budapest!
We love markets of all kinds, and this one is particularly large and beautiful.
The ground floor is made up of groceries and is a great place to pick up some Hungarian paprika (and yes, you should definitely get some) to take back home.
The second floor (or first floor for Europeans) is home to souvenirs, and, more importantly, the prepared foods section.
Be sure to try a Hungarian langos while you're there!
They serve them in just about any way imaginable these days, but for your first taste, go traditional: fried bread, sour cream, and cheese.
Sounds a little strange (at least it did to us), but it is amazing.
Make your way across Liberty Bridge.
After filling up at Central Market Hall, take a quick walk across the Liberty Bridge!
Also known as Freedom Bridge, this is one of the best-known bridges in Budapest after the iconic Chain Bridge.
The views are pretty and the walk is likely necessary after binging on langos, but the real purpose of this walk is to make it to the other side of the Danube, where the rest of the day awaits.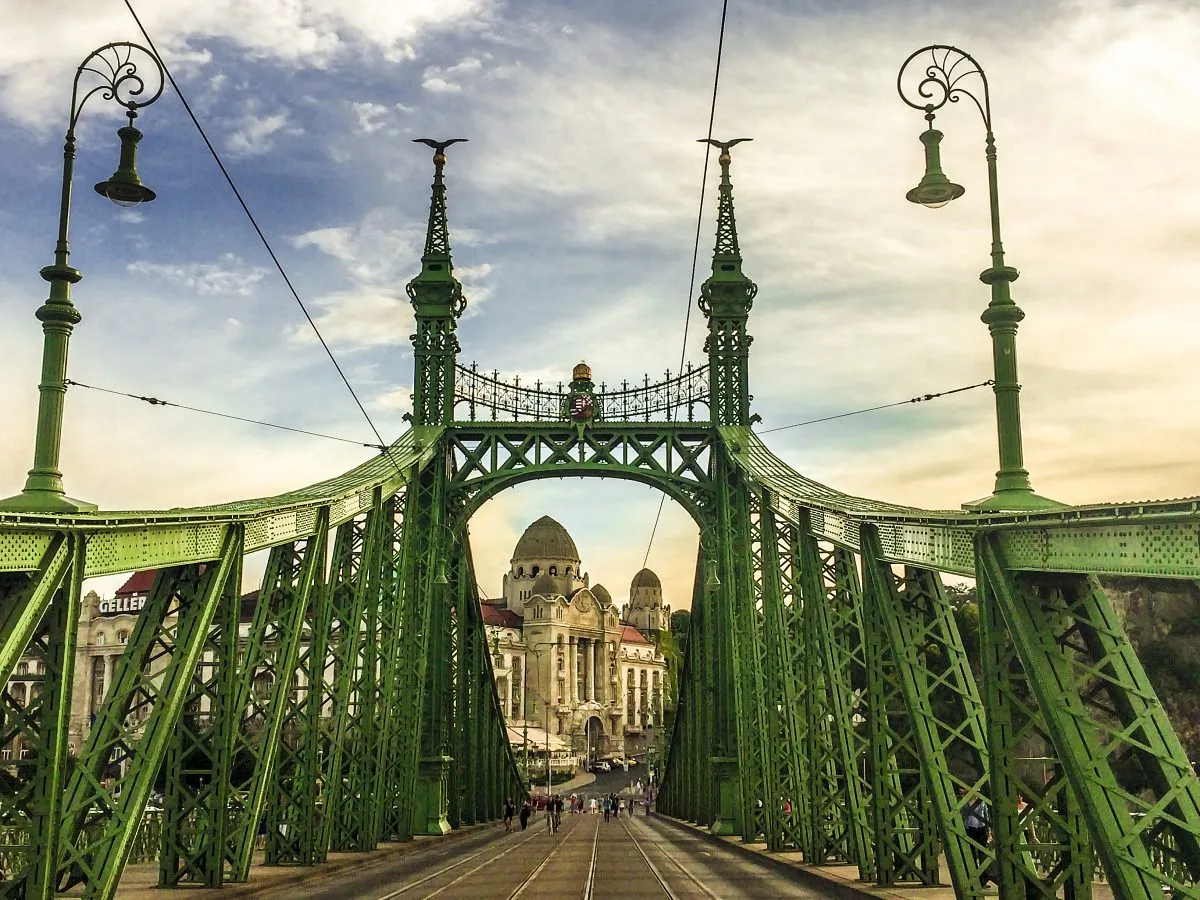 Visit the Cave Church.
Almost directly across the street from the Liberty Bridge sits Cave Church, which is literally exactly what it sounds like: a church in a cave.
Set literally inside Gellert Hill, the church is (clearly) remarkable in appearance and makes for a very interesting stop in any Budapest itinerary.
There's also plenty of history here, including surrounding WW2 and the Communist Era in Hungary.
Relax the afternoon away at the Gellert Baths (or the Szechenyi Baths).
Luxurious thermal baths in a building that makes you feel like Jay Gatsby and Daisy Buchanan are about to wander through the door at any moment–what could be better than that?
We love the architecture inside the Gellert Baths, and can easily spend hours there.
… And that's without even splurging on a massage, which we've promised each other we will do next time!
The baths also have an outdoor section that is more like a community pool than anything, but we prefer to stick to the indoors most of the time.
If you'd rather make the Szechenyi Baths part of your 3 days in Budapest (those would be the ones with the yellow building in the background that you see all the time on Instagram), they are all the way across town on the Pest side of the river.
For that reason, if you're headed there, you may want to consider shuffling this Budapest itinerary around and starting your morning there before going to Central Market Hall.
Whichever bath you choose, one thing is certain: spending an afternoon relaxing in thermal baths is one of the absolute best things to do in Budapest!
Grab tickets for the Gellert Baths or Szechenyi Baths today!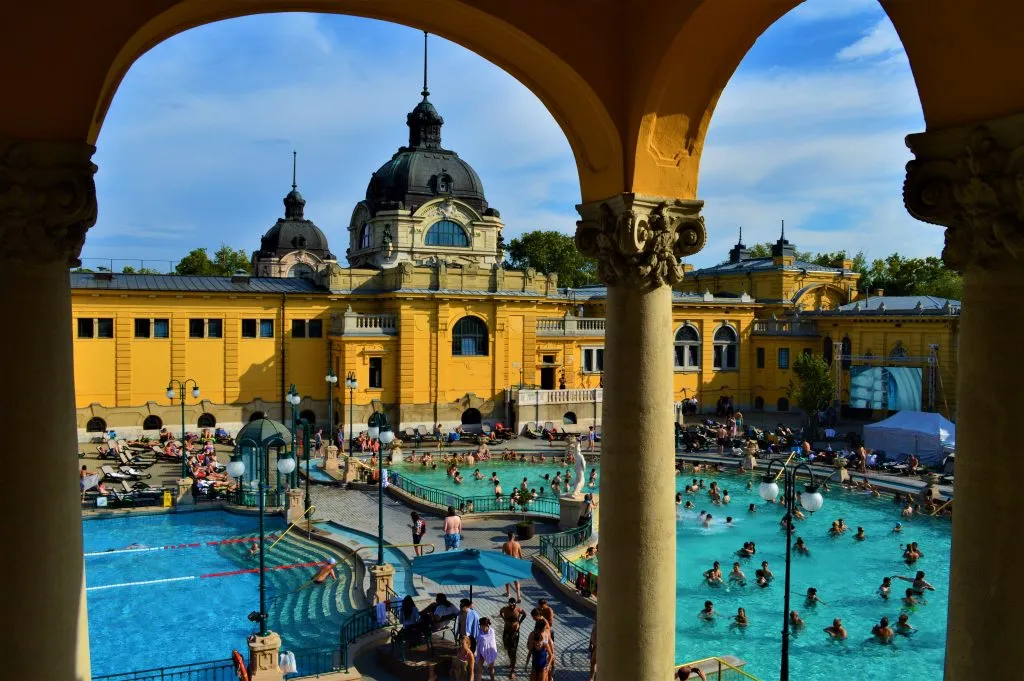 Enjoy sunset at the Citadel.
Remember how I mentioned that the view from Fisherman's Bastion wasn't our favorite view in Budapest?
Well, this one is–especially at sunset.
The Citadel is set at the top of Gellert Hill, and watching the sun go down over the Danube from that vantage point is a remarkable experience.
Be sure to stick around long enough to watch the lights come on over the city!
There's nothing like seeing Parliament, Buda Castle, the bridges, and more lit up and glowing in the night sky.
Alternative: enjoy a Hungarian wine-tasting class.
One of the most memorable wine tastings we have ever done (and we've done more than our fair share!) is this evening wine tasting in Budapest.
Put on by Taste Hungary, everything from the wines to the charcuterie to the atmosphere was perfect–and I will never, ever forget the flavor combination of blue cheese and Tokaj wine.
Throughout the tasting, we sat with one other couple as our sommelier, Gergely walked us through details of not only the sparkling wine but also one other white and two reds.
Gergely was an expert, and he used a map of Hungary laid out in front of each of us to show us the regions that each wine came from (he was also the one who taught us that Hungary has 22 distinct wine regions!) and taught us different facts about the taste and history of each wine.
For most of the year, taking this class would mean missing sunset at the Citadel–but for foodies and wine fans (no expertise required), it's an incredible experience.
Day Three in Budapest Itinerary: Caving, Viewpoints + Ruin Pubs
Spend the morning adventuring through Budapest's cave system.
It may not be the most traditional sightseeing activity, but climbing and crawling our way through some of the caves under Budapest is, hands down, one of our favorite things we have done in the city.
Adventurous travelers will love, love, love the opportunity to explore these caves!
We seriously can't recommend this experience enough, and even with only 3 days in Budapest, it deserves to be on the itinerary.
If you are interested in experiencing the caves but don't think that an intense adventure tour is for you, there are walking tours available in more accessible parts of the cave system as well.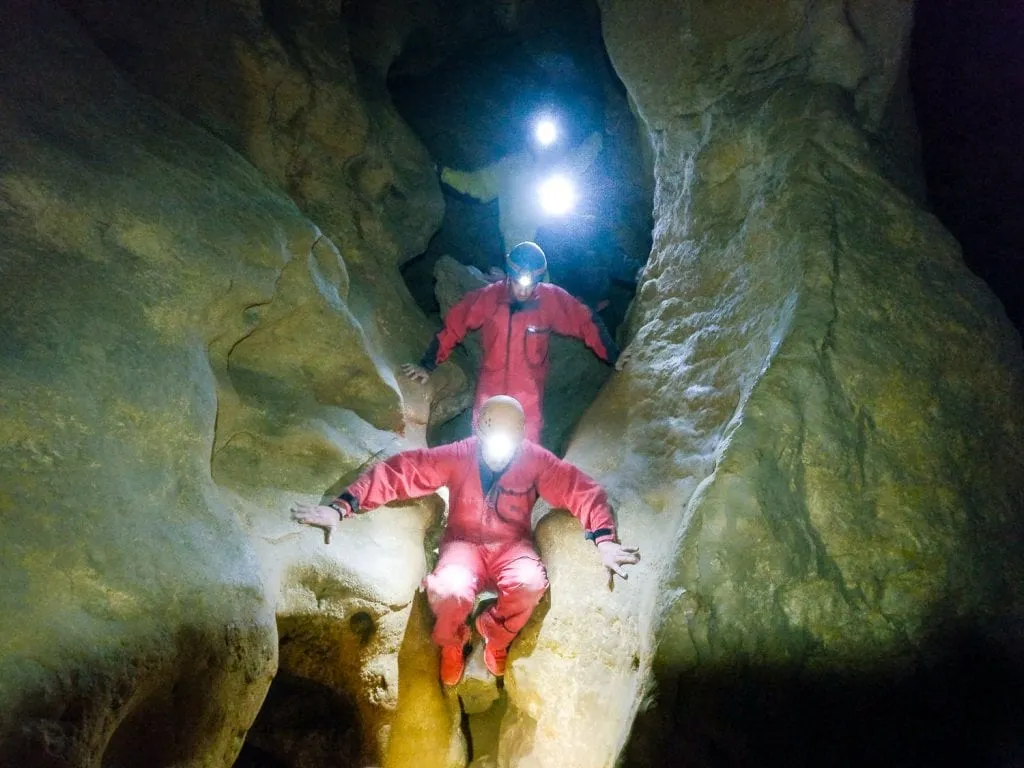 Head to the Szabo Ervin Library.
I'll be honest: this library is a tiny bit out of the way from the rest of the stops lined up for the afternoon, but if you're a book lover, it is so worth it.
Nestled on the fourth floor of the Szabo Ervin Library sit several absolutely beautiful rooms that had me just about squealing.
If you grew up dreaming of having thousands of books or of replicating Belle's Beauty and the Beast library for yourself, well… it's in Budapest, and the ticket to get in is just a handful of forint.
Stop by the gorgeous Central Cafe.
Budapest is famous for its glitzy, glamorous cafe scene–most famous, of course, is the New York Cafe.
Beautiful 19th-century cafes can be found all over Budapest, however, and we're partial to the lovely (and much less crowded) Central Grand Cafe.
Their Esterhazy cake is one of my favorite cakes in the world (the traditional Dobos cake, pictured below, is fantastic too).
We stop here at least once on every trip to Budapest!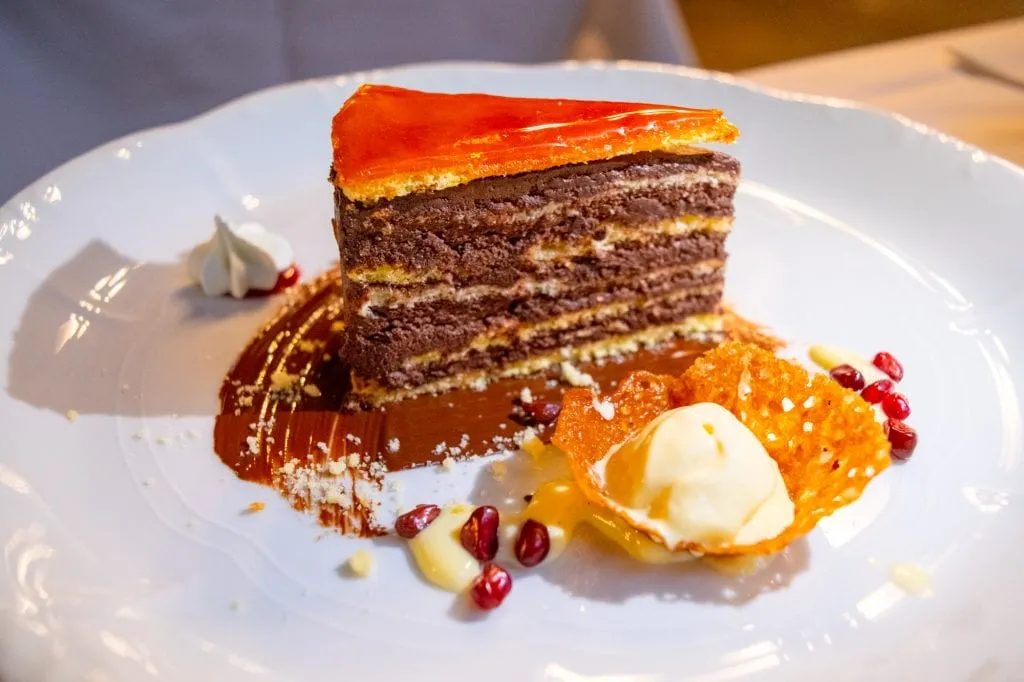 Tour the Hungarian State Opera House.
Majestic and beautiful, the Hungarian State Opera House is well worth a visit.
Guided tours run 3 times per day in the afternoons, or you can check for shows running during your visit if you'd like to spend an evening at the opera!
Visit St. Stephen's Basilica.
One of the two tallest buildings in Budapest (it's tied with the Parliament building), St. Stephen's Basilica is remarkably beautiful and ornate, both inside and out.
If you'd like to add a gorgeous view to your list of things to see in and around St. Stephen's Basilica, be sure to climb the tower!
Take a ride on the Budapest Eye.
Had enough incredible views of Budapest yet (seriously, it's an amazing city to look at)?
Hopefully not, because just a short walk away from St. Stephen's Basilica sits the Budapest Eye.
Far less famous than the London Eye (though with what I imagine are much shorter lines), the Budapest Eye is a great way to get a bird's eye view of the city.
I have a deep-seated and highly irrational fear of Ferris Wheels, but even with that, I can confidently say that riding the Budapest Eye was worth it (once).
Stop by a ruin pub.
The ruin pubs are one of Budapest's unique features and are a must-stop on any 3 days in Budapest itinerary.
The pubs are set up in what used to be abandoned buildings in Budapest's old Jewish Quarter (technically called District VII).
The ruined buildings, mismatched furniture, funky art, and, of course, the bars themselves all make the atmosphere wonderful and a spot you can't afford to miss in Budapest.
The oldest and largest of these ruin pubs is Szimpla Kert, which makes a great first stop on any ruin pub crawl.
If you'd like to make your way through several ruin pubs and prefer a group experience, a ruin pub crawl can be a fun way to wrap up your visit to Budapest!
Where to Stay When Visiting Budapest
Trying to decide where to stay in Budapest?
Be sure to first decide whether or not to stay in Buda or Pest! We break down that decision here.
Luckily, there are plenty of options for any budget on either side of the river!
Here are a few well-reviewed picks for where to stay in Budapest.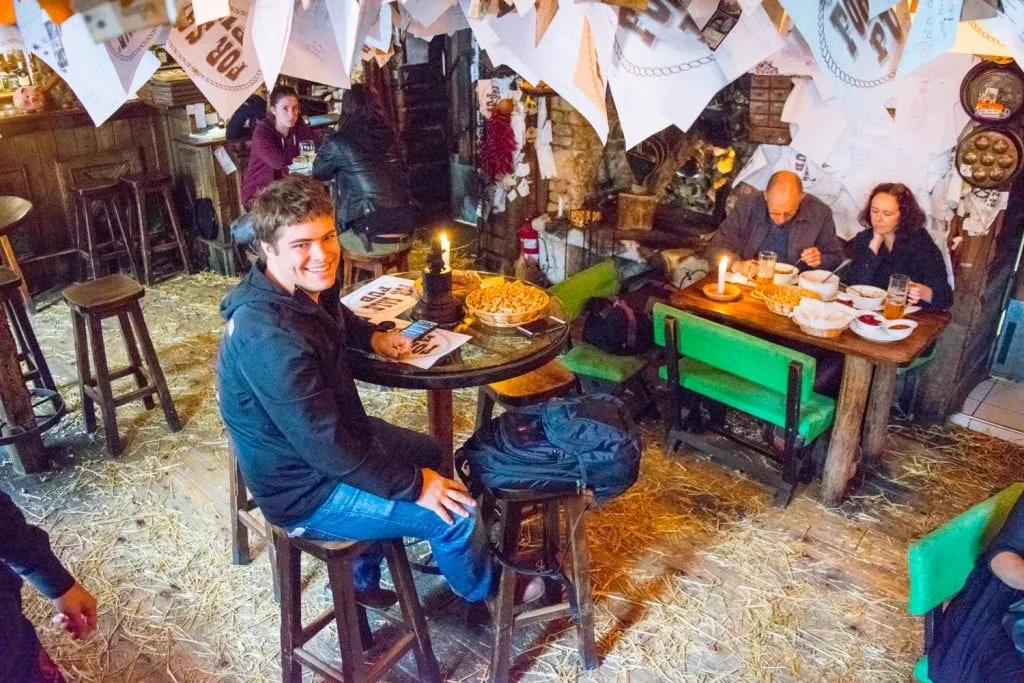 Budget
Jackquaters — Located right next to Vaci Utca and only 100 meters from the Danube, Jackquaters is the perfect location for anyone visiting Budapest.
Budapest highlights like the Chain Bridge and Great Market Hall are within easy walking distance.
Mid-range
Hotel Erzsébet — With Central Market Hall and Vaci Utca at your fingertips, you definitely won't go hungry while staying at the beautiful Hotel Erzsébet!
With modern interiors, easy access to the metro, and a central location, this well-reviewed property is a reliable and cozy place to stay.
Luxury
Hotel Mika Superior — Not only does Hotel Mika Superior offer beautiful rooms, fabulous service, and a delicious included breakfast, but it's also located in the old Jewish Quarter of the city, near the Dohany Street Synagogue and Hungarian Opera House.
This is one of our personal favorite neighborhoods to stay in while visiting Budapest!
Getting Around During 3 Days in Budapest
Budapest has a great public transportation network comprised of trams, a metro, and buses.
You can buy single tickets, a group of 10 tickets, a 24-hour pass, a 72-hour pass, or a 7-day pass to the transportation system.
Personally, we always buy the passes.
It tends to work out to be cheaper and is also more convenient–we don't want to worry about forgetting to validate a ticket and end up with a hefty fine.
They do watch tickets very carefully in Budapest–we had ours checked several times.
How Many Days in Budapest?
As many days as you have in Budapest, that's how many you can spend in the city (here are our suggestions if you only have one day in Budapest).
In our minds, Budapest is perfect for longer stays, which is why in an ideal world we like to stay for a week or more.
There is enough to do that you can't get bored, and so many things that are wonderful about the city (looking at you, thermal baths) can be enjoyed over and over again.
However, if you're trying to work Budapest into a greater European itinerary, 3 days in Budapest is the perfect amount of time for a first overview of the city.
You'll see the bulk of the major sights and attractions, get a taste of the nightlife, and have enough time to fall just enough in love with the city that you leave planning your next trip back.
More than 3 days in Budapest?
If you have more than 3 days in Budapest, you'll find that there's plenty more to see!
Consider taking a trip out to Margaret Island to enjoy a bit of green space, visiting the Hospital in the Rock, dropping by the Pinball Museum (high on our list for our next visit), or visiting the House of Terror.
Don't confuse the House of Terror with the cheesy medieval museums that pop up across Europe: this is an in-depth look at the pain and fear spread by the back-to-back fascist and communist regimes in the 20th century.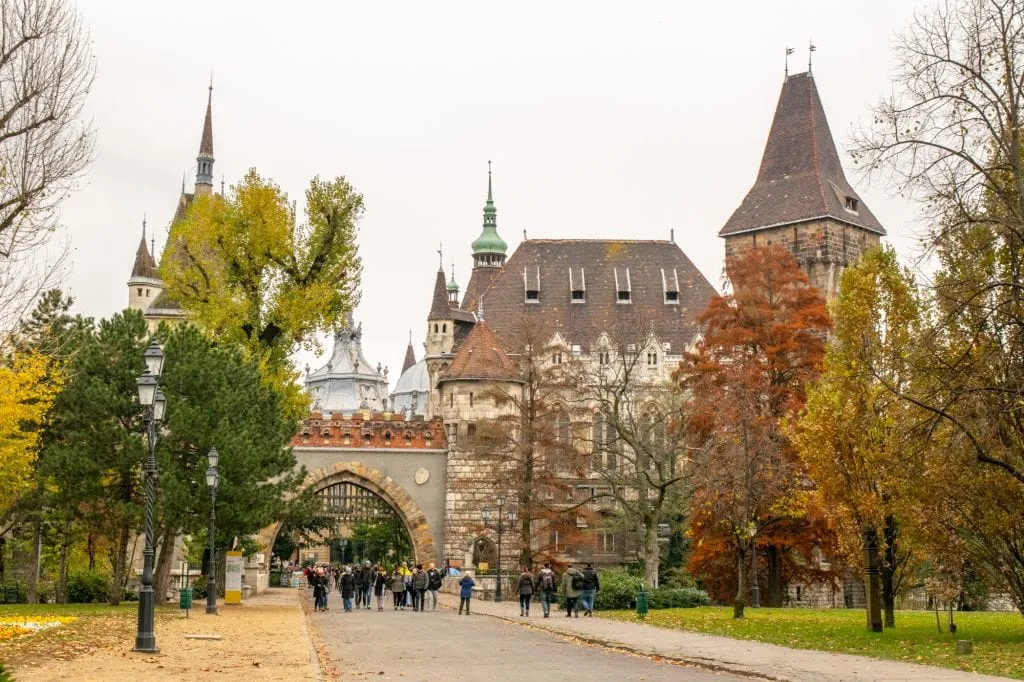 Other options include visiting Heroes Square and Vajdahunyad Castle, touring the Dohany Street Synagogue, and relaxing in one of the many other thermal baths in the city.
Looking for day trip ideas?
Consider heading out to the beautiful town of Szentendre!
For even more ideas for how to enjoy more than a few days in Budapest, check out our guide to 50+ fun things to do in Budapest.
Read More About Visiting Budapest (and Beyond)
Ready to keep planning your trip to Central Europe?
We'd love to help!
You can browse all of our Hungary blog posts here, or check out these guides:
---