Planning a trip to Hungary soon and trying to decide exactly what to do in Budapest?
Budapest is our undisputed favorite city in Central Europe: both majestic and accessible, beautiful and bohemian, regal and down-to-earth, it's one of those cities that has something for everyone… and in our case, there are enough things to do in Budapest that we can't seem to stop going back.
Whether you're hoping to see the popular highlights, to get (sometimes literally) underground, or a bit of both, we have you covered here!
More than 50 attractions is a lot for one trip, but with so many best things to do in Budapest, we have a feeling that, like us, you'll leave ready to book your next trip back.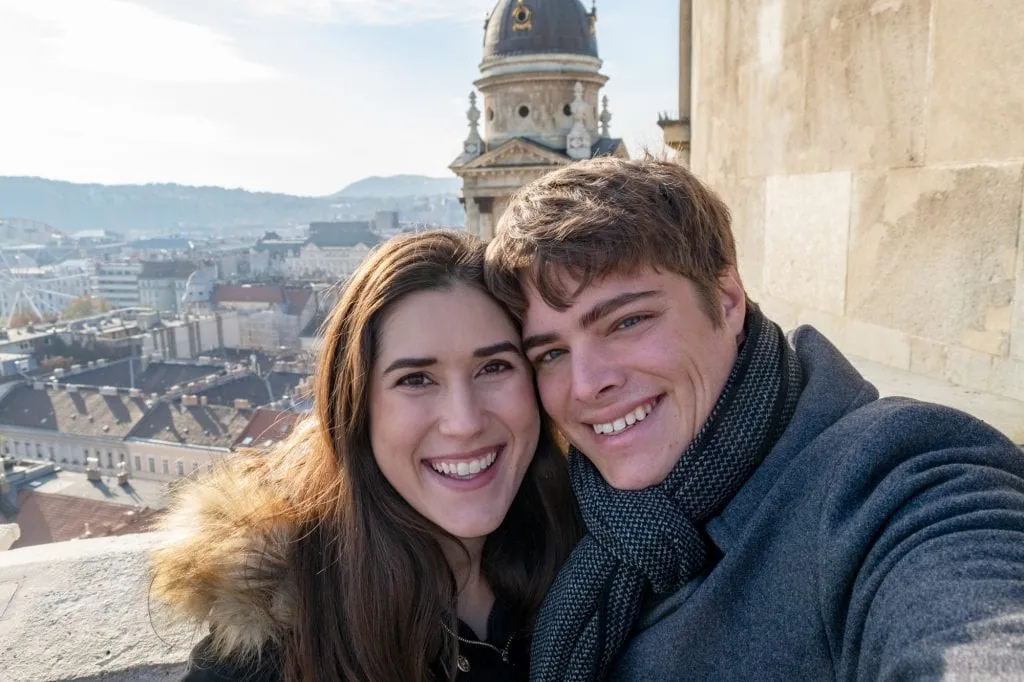 Overwhelmed by 55 Things to Do in Budapest?
If so, we completely understand!
As much fun as it can be to do a deep-dive into a city, if you're headed out on your first trip to Budapest and only have a few days, you probably want to know what you simply have to see in Budapest.
Here's the short version: make sure to see at least the outside of the Hungarian Parliament building, walk across the Chain Bridge, visit Central Market Hall (and buy paprika if you like it), check out St. Stephen's Basilica, head to Fisherman's Bastion, try out a thermal bath, and visit at least the exterior of Buda Castle.
We've outlined our suggestions for 3 days in Budapest here, and our suggestions for spending one perfect day in Budapest here, so if you're on a tight timeframe, be sure to take a look!
Fantastic Viewpoints to Sample in Budapest
Soak up the views at Fisherman's Bastion.
Fisherman's Bastion may look like a medieval castle overlooking the stunning Danube River and Hungarian Parliament below… but it was actually built in 1902!
Despite its (relatively) young age as compared to many spots in Budapest, it is absolutely worth visiting.
The views are truly spectacular, and its setting (right next to Matthias Church and a short walk away from Buda Castle) means that you'll almost certainly pass by anyway while working through the best things to do in Budapest.
Be warned: Fisherman's Bastion's lovely views have turned it into a bit of an Instagram playground, so if you're hoping for a peaceful moment there by yourself… I hope you like waking up at dawn.
Watch the sunset on Gellert Hill.
Gellert Hill stands high over Budapest, and sitting on top of it (perhaps with a mulled wine on a cold night) while watching the sun slip away and the lights come on over Budapest–Parliament, Buda Castle, Budapest Eye, boats on the river and all–is quite the treat.
Be sure to show up a bit before sunset in order to check out the Liberty Statu,e which commemorates those who fought for Hungary's independence, and the 19th-century citadel.
… And also from Liberty Bridge.
Located right next to Great Market Hall, Liberty Bridge is a popular sunset spot in Budapest.
If you head out on a warm night around sunset, you'll see plenty of Hungarians and tourists alike lined up along the bridge, hanging out and enjoying the vie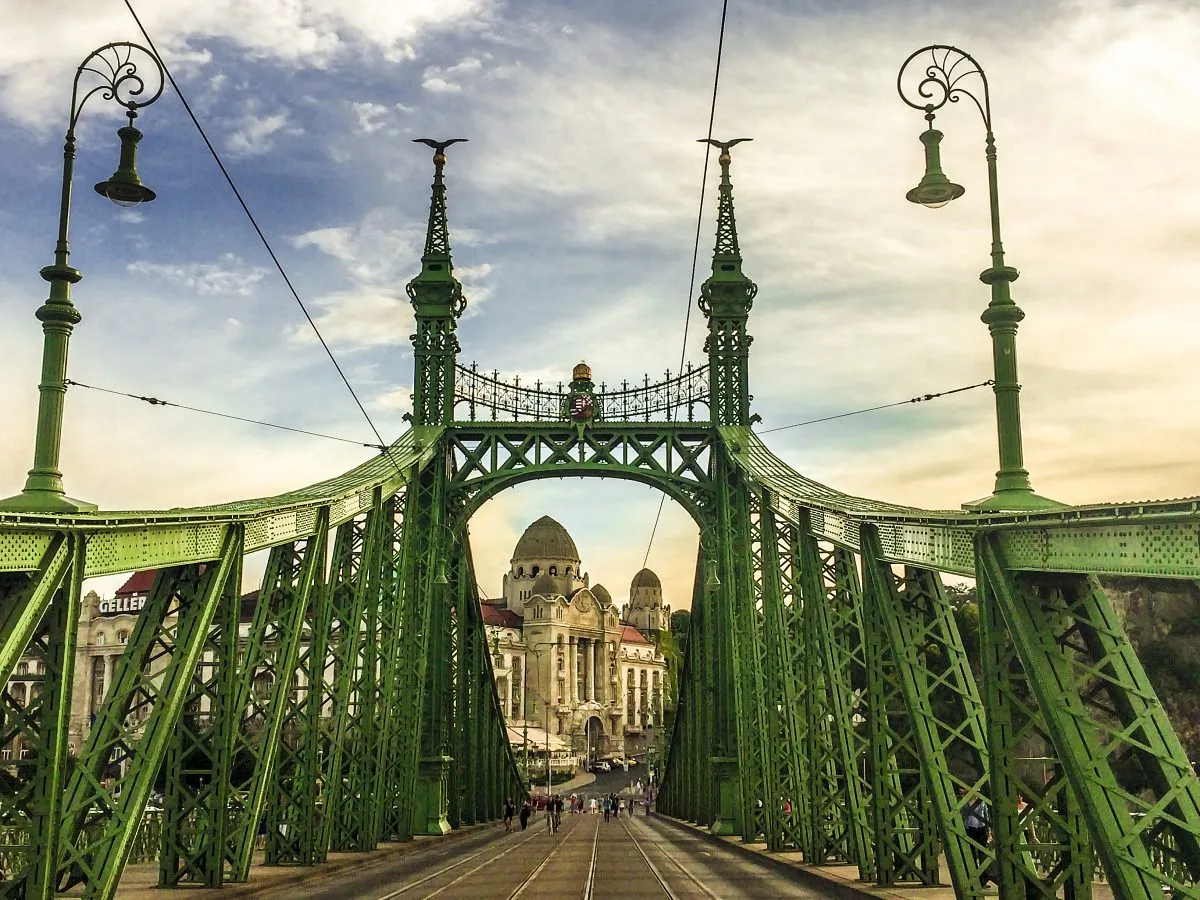 Climb to the top of St. Stephen's Basilica.
Don't miss the climb up St. Stephen's Basilica when you're making your list of the best things to do in Budapest!
Modestly priced and absolutely beautiful, it's hard to say what's better about the view from St. Stephen's–the city of Budapest stretching out before you, or the close-ups of St. Stephen's intricate towers.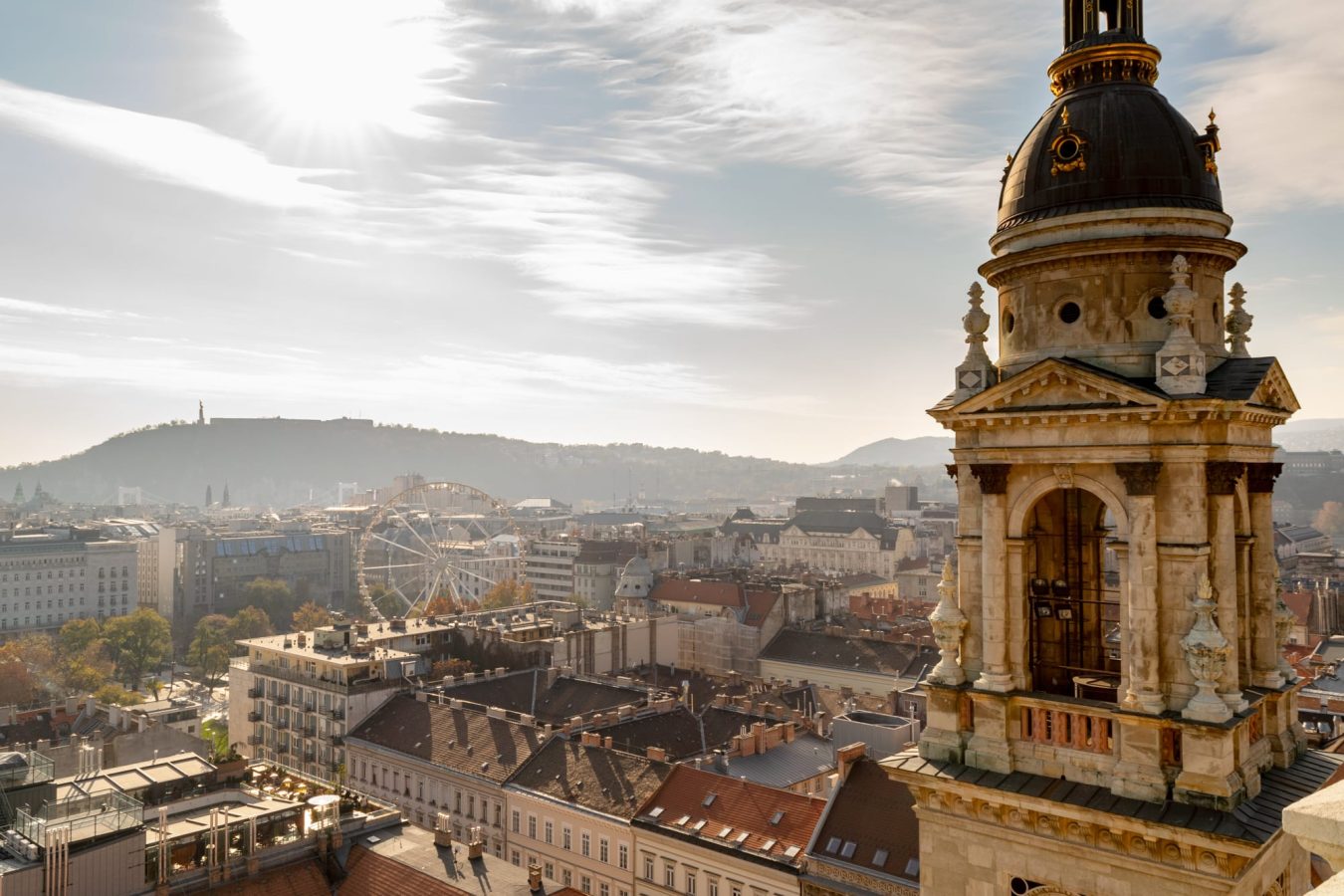 Take a cruise on the Danube.
… And for best results, take one at sunset.
On our own first trip to Budapest, we watched the sun go down and the city lights come on from the water, and it was one of those magical travel moments that ended up sticking with us for years.
Whether you opt for an extremely affordable sightseeing cruise or a dinner cruise featuring Hungarian food and folk dancing, it's definitely worth the splurge to hit the water while in Budapest.
Ride the Budapest Eye.
While not nearly as well-known as its namesake in London, the Budapest Eye gives you absolutely amazing views of the city.
Landmarks like Gellert Hill, St. Stephen's Basilica, Parliament, and the Danube are all clearly visible, and it's a fabulous way to get a bird's eye view of Budapest.
At 3000 HUF (just over $8 USD/person at the time of updating this post) it's not the cheapest thing to do in Budapest, but the long ride and the views are definitely worth it.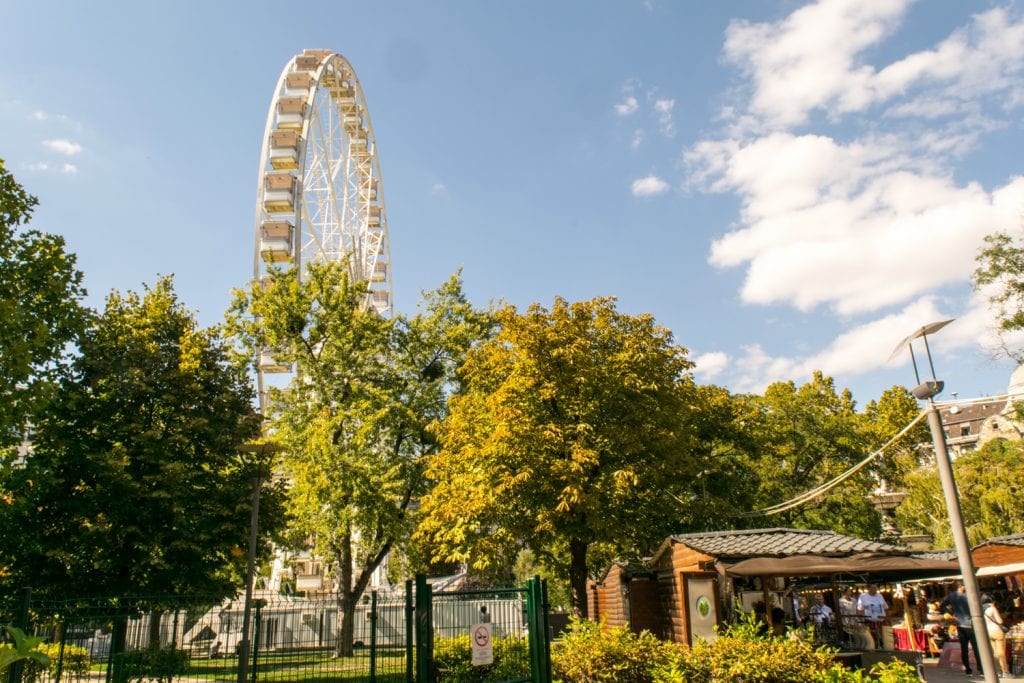 Hop on the Castle Hill funicular.
Perched on top of Castle Hill sit some of Budapest's best-loved spots: Fisherman's Bastion, Matthias Church, several quirky museums, and of course Buda Castle itself… but climbing up to see them is not fun!
You can hop on a bus to get to the top of the hill, but a far more entertaining (and less motion-sickness-inducing, for those of us who worry about such things) way to get up the hill is to ride the Castle Hill funicular.
The funicular also comes with the bonus of fabulous views of the Chain Bridge and Danube!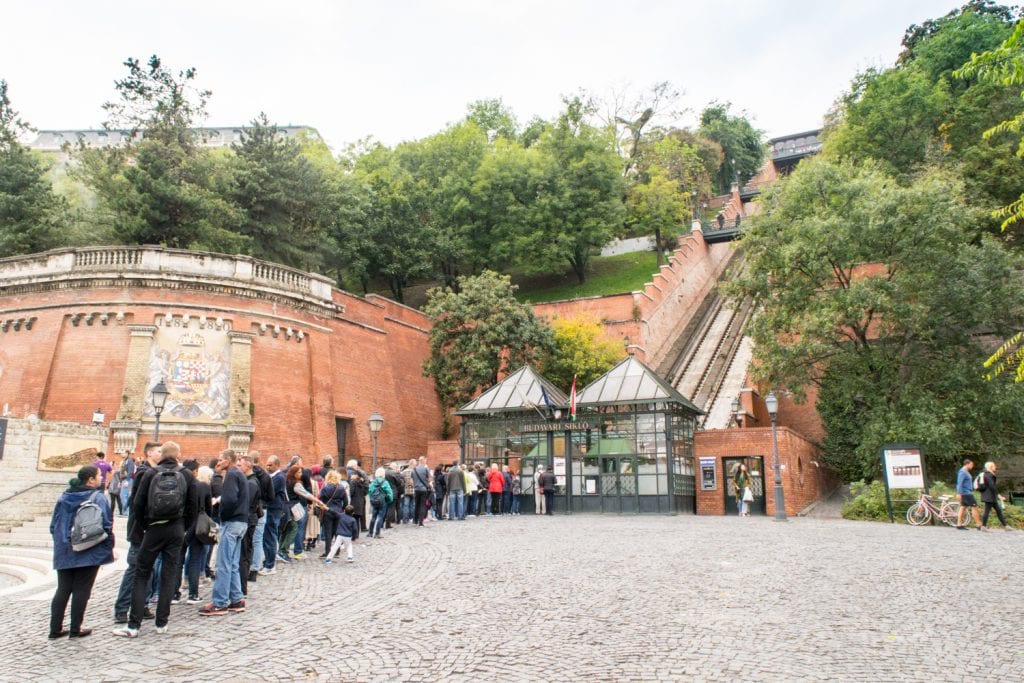 Stroll across the Chain Bridge.
No visit to Budapest would be complete without a stroll across the iconic Chain Bridge!
Pedestrian walkways make this bridge very simple to cross, and the views of Castle Hill, the Danube, and Parliament are wonderful.
Ride Budapest's Tram #2.
Both useful as transportation and delightful as a nostalgic tourist attraction, Budapest's cheery yellow tram #2 spends its days traveling along the Danube, earning its status as one of the most scenic tram rides in the world (at least according to National Geographic, who tend to know their stuff).
This isn't so much an "oh-wow-we-need-to-take-photos-here" view, it's more of a "wow-this-city-is-so-cool view", and it is well worth the (very modest) price tag.
You can buy tickets onboard, but they're slightly cheaper if you pick them up at the station ahead of time (or simply use your Budapest Card).
Must-See Museums in Budapest, Hungary
Visit the Hungarian Parliament.
Nestled right up against the Danube, Hungary's incredible Parliament building is known as one of the most beautiful in the world for good reason!
If you'd like to take a tour inside the building, you'll need to book a tour at least a few days in advance.
When updating this post in 2023, I was surprised to see how far in advance tickets are booked out–so the further ahead you can plan this visit, the better!
(If tickets are sold out for your dates and you want to be sure to visit, another option is booking a third-party guided tour like this that includes a visit to Parliament.
If you'd rather not fork over the forint, admiring the building up close from the outside is definitely still worth stopping by.
We make a point to walk by several times during all of our trips to Budapest!
Check out the House of Houdini.
If you have an interest in magic tricks, be sure to visit this quirky museum dedicated to all things Harry Houdini!
Complete with original artifacts and plenty of fascinating stories, the House of Houdini is a fun, offbeat Budapest attraction for magic lovers.
Tour the Hungarian State Opera House.
Whether it's to see a show or simply to tour the stunning space, don't miss taking a peek inside the beautiful Hungarian State Opera House while in Budapest.
Step inside Buda Castle.
Buda Castle may no longer be a royal residence, but it's still a busy place!
Home to several museums, just about anyone trying to decide what to do in Budapest will find something that piques their interest inside.
The most famous of the museums housed inside are the lovely Hungarian National Gallery and the Budapest History Museum, both of which are worth a visit.
Don't want to step inside a museum?
The terraces in front of Buda Castle are free to visit and offer amazing views of the city, so don't cross it completely off your Budapest bucket list!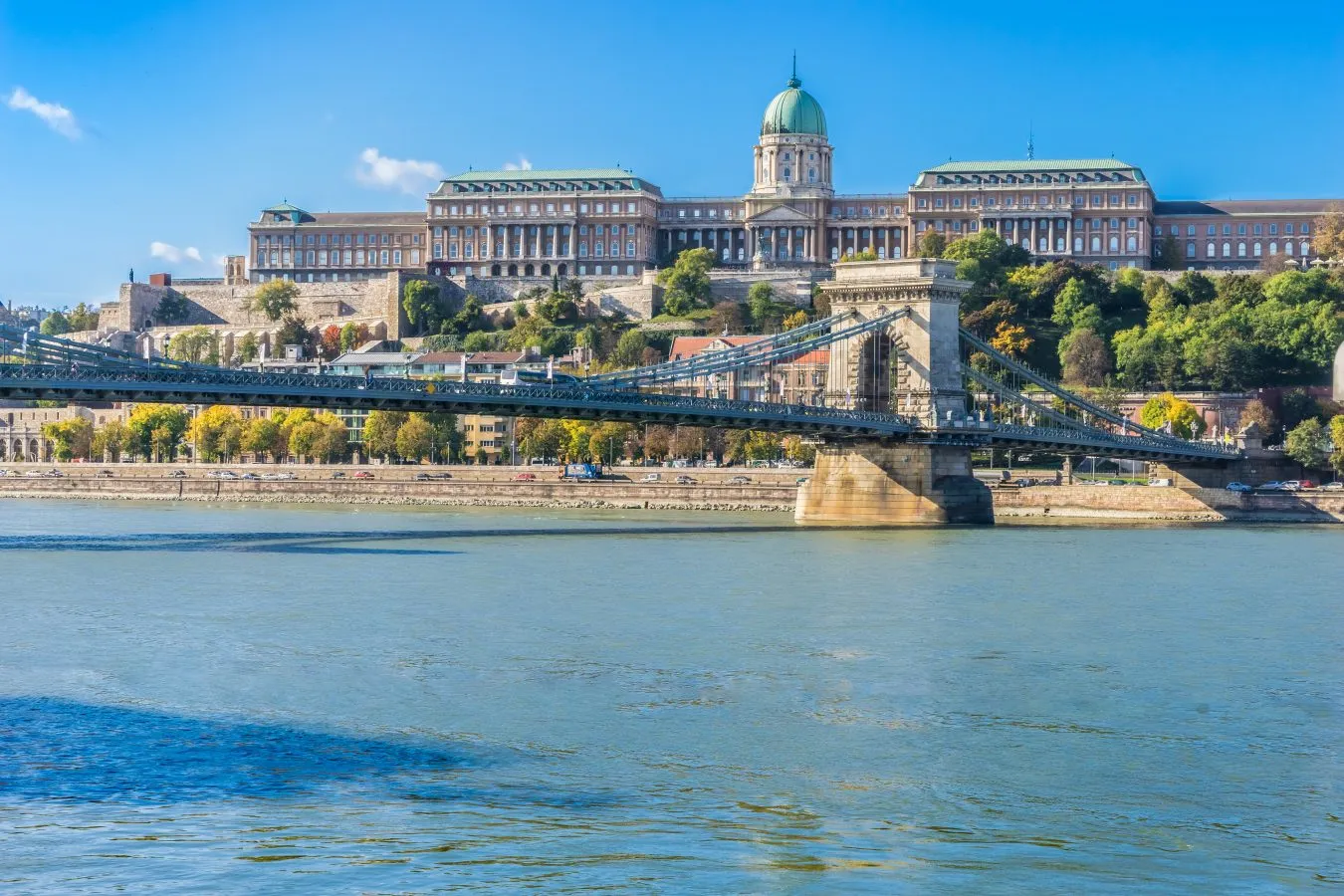 Pay a somber visit to the House of Terror.
I'll admit that it took me a couple of visits to Budapest to slow down and appreciate the House of Terror.
So many towns have museums with similar names that are dedicated to medieval torture techniques (seriously: why does the world need SO MANY of those), and I wrongly assumed that the House of Terror was just another museum in the same vein.
It's not.
The House of Terror is absolutely one of the best things to do in Budapest if you're interested in learning about Hungary's 20th-century history.
Housed in the former headquarters of Hungary's Secret Police, the museum serves as both an educational tool for those unfamiliar with Hungary's time under two separate brutal regimes, and as a memorial to the victims who died on the premises.
Learn something interesting at the Golden Eagle Pharmacy Museum.
Interesting in chemistry and alchemy of the Middle Ages?
Then be sure to add the Golden Eagle Pharmacy Museum to your list of things to do in Budapest!
The eclectic displays include everything from herbs to historical books on medicine to tiny, dried bats once used in healing.
Check out the Pinball Museum.
Home to around 130 pinball machines dating from the 19th century all the way to the present day, the Pinball Museum is interactive–meaning that you can play on many of the machines!
For a completely unique museum experience, break out your inner kid and play some vintage and not-so-vintage pinball games… all under the guise of an educational museum experience.
Explore the Hospital in the Rock.
There are tons of interesting things lurking under the surface of Buda Castle, and the Hospital in the Rock is one of them.
In preparation for WWII bombings, this emergency hospital was built directly into the caverns under Buda Castle from 1939 to 1944, and was used throughout the war–especially during the Siege of Budapest–to handle the injured and dead.
Though the Hospital in the Rock was used a few more times in history, primarily during Hungary's 1956 uprising against Soviet Rule and in preparation for possible nuclear attacks, today it has been turned into a museum focusing on its WWII-era mission.
… And the Labyrinth under Buda Castle.
Yet another piece of the caverns under Buda Castle's long and storied history occurred here in the 15th century.
Vlad the Impaler, also known as Count Dracula, was held in this prison underneath the castle for a whopping 10 years!
Though parts of the exhibition are a bit cheesy, it's extremely interesting to dive into this labyrinth and get to know another piece of Budapest's story.
Go see the Semmelweis Medical Museum.
If you've poked around the internet long enough, you've probably heard of Dr. Semmelweiss… even if you didn't realize it.
In the mid-1800s, he pioneered the (now utterly common sense) idea that by having doctors wash their hands before attending to women in childbirth, the number of women who died of infection after giving birth could be lowered.
His findings were considered unfathomable–how could a gentleman's hands cause disease?–but later developments in germ theory eventually proved Semmelweiss correct.
Sadly, Semmelweiss died before his findings were proven accurate, but this museum in his native Budapest preserves his memory, his findings, and several other items of historical medical interest, such as an early X-ray machine.
Epic Churches and Monuments to Visit in Budapest
Step inside St. Stephen's Basilica.
In addition to the stunning views from the roof that I mentioned above, the opulent St. Stephen's Basilica is worth visiting for its interior alone.
In addition to the impressive architecture and decor, the basilica also claims to contain the mummified right hand of St. Stephen himself.
Admire the incredible Dohany Street Synagogue.
As the largest synagogue in Europe and one of the largest in the world, a visit to the Dohany Street Synagogue presents an opportunity to not only admire the gorgeous building but also to learn about the long and often perilous history of Jews in Budapest, as the city's Jewish Museum is located in the same complex.
Visit the Cave Church.
The Cave Church is exactly what it sounds like: a church built into a cave.
It is quite an impressive site, and walking through the entrance to see the exposed rock walls towering over the gift shop definitely sets the stage for a memorable visit!
The tour is provided by an audio guide and walks you through the fascinating history of this church–including when it was sealed off with a concrete wall for decades during the Soviet era.
Tour the beautiful Matthias Church.
The interior of Matthias Church is absolutely stunning, with intricately detailed walls and a long, storied history.
This church played host to the weddings of kings (including that of Charles IV, the final Habsburg king), was used as a mosque during the Ottoman period, and in its original form (which is no longer standing) dates back over 1000 years!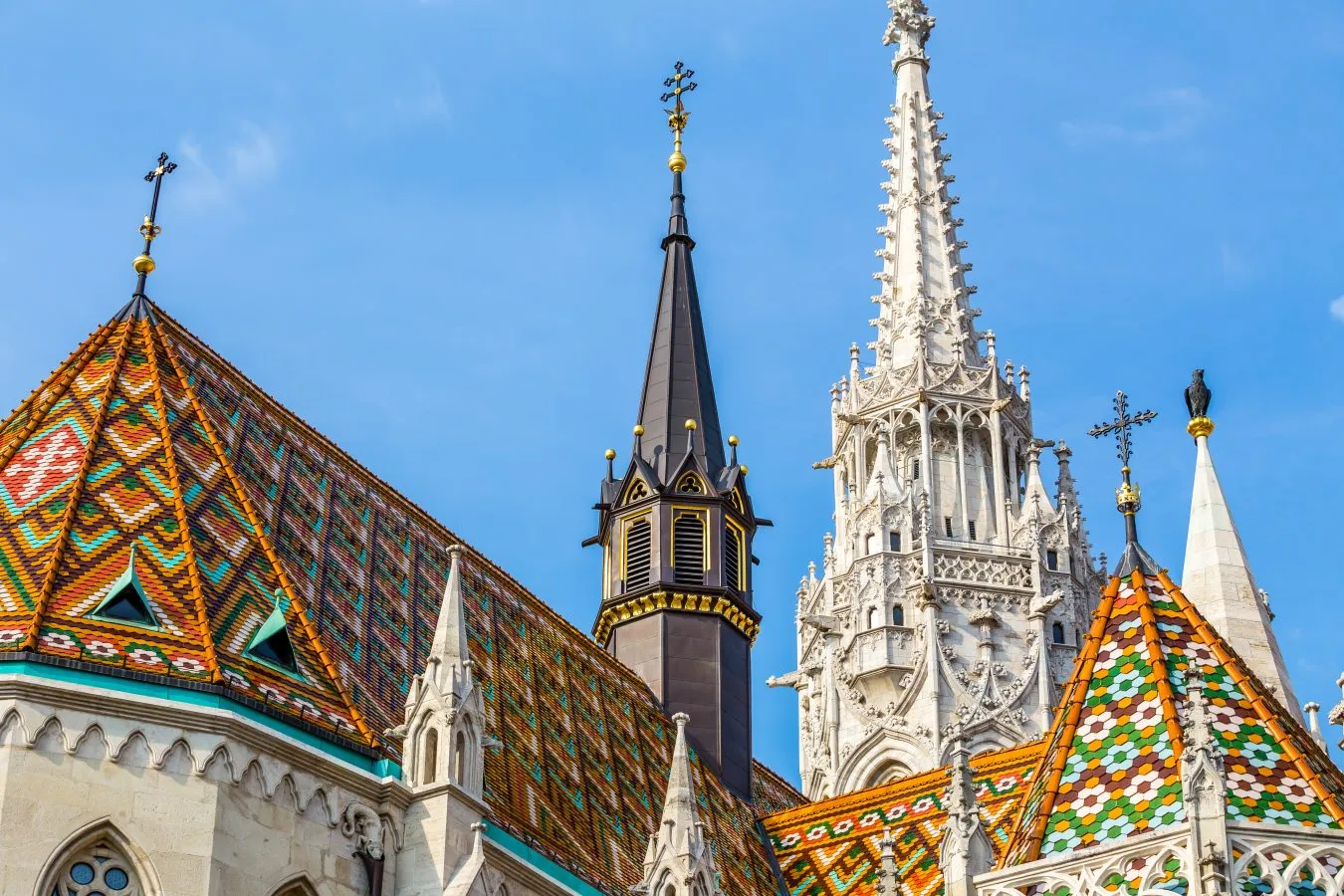 Pay a visit to Heroes Square.
Home to impressive statues and monuments dedicated to several of Hungary's most important national leaders, Heroes Square is an important part of Hungary's history, and for that reason, is a popular site for political events to this day.
Located right next to City Park, be sure not to miss this important spot while visiting Budapest.
Best Food Experiences in Budapest
Step inside Central Market Hall.
Whether you're looking for groceries like fresh fruits and vegetables, foodie souvenirs like paprika and palinka, or a quick and tasty meal of langos, stuffed cabbage, or goulash, Budapest's Central Market Hall has you covered.
The ground floor is made up of groceries and is a great place to pick up some Hungarian paprika (and yes, you should definitely get some) to take back home.
The second floor (or first floor for Europeans) is home to souvenirs, including everything from Christmas ornaments to Hungarian lace, and, more importantly, the prepared foods section.
Taste some goulash.
This warm meat stew is the quintessential Hungarian meal, and no trip to Budapest could be considered complete without at least one serving!
… and langos.
Langos is fried bread, traditionally topped with sour cream and shredded cheese.
If you think that sounds strange, it's just because you haven't tried it yet!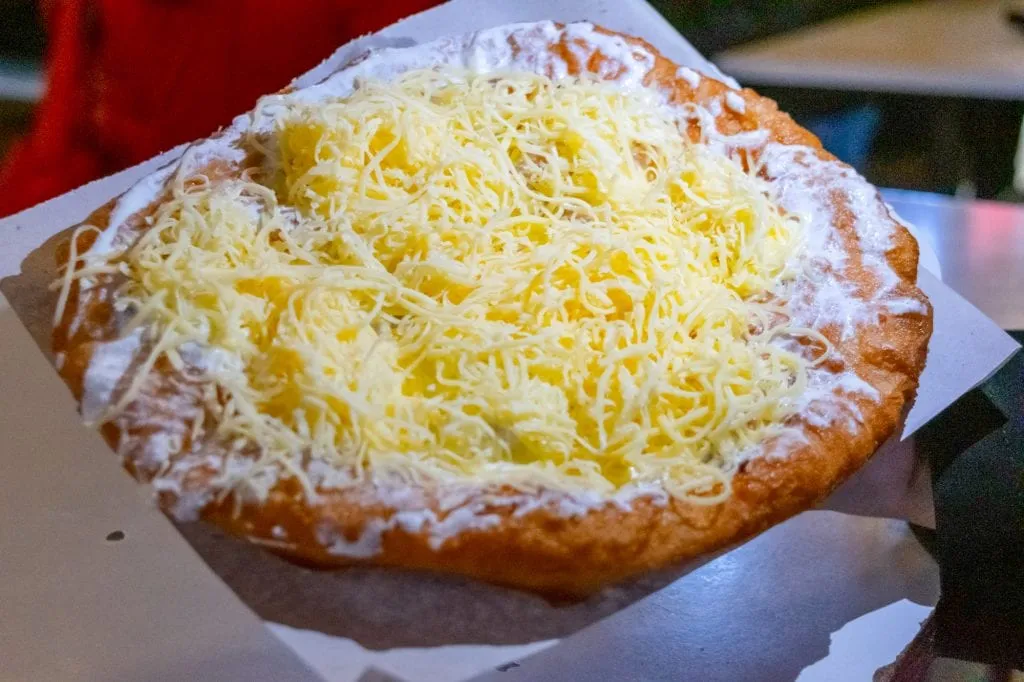 And lots, and lots, and lots of other delicious Hungarian food.
Chicken paprikash. Solet. Jokai soup. Esterhazy cake. Sausage. Lecso. Sour cherry soup. Strudel. Palacsinta.
Hungarian food is many-layered, generally hard to pronounce for us English speakers, and uniformly delicious.
Since the names are often unfamiliar to those of us who don't hail from that corner of the world, we recommend doing some research on Hungarian food while you're picking out the best things to do in Budapest, or even signing up for a Budapest food tour to get acquainted with the cuisine.
Your time in the city will be greatly enhanced by it!
Book your Budapest food tour today!
Taste Hungarian wines.
Hungary may not have enormous wine regions, but it still manages to turn out some delicious wines!
We personally can't stop raving about the tasting we did with Taste Hungary in Budapest!
It's easily one of our favorite wine tastings to date and the perfect itinerary addition to consider when you're deciding what to do in Budapest.
We adored this wine and food tasting class, and still occasionally crave our favorite blue-cheese-and-Tokaj-wine pairing!
… Or even set off on a day trip to wine country.
It may be hard to fathom when standing in amongst the beautiful architecture of the historic center of the city, Budapest's wine country is easy to visit as a day trip from the capital.
This popular day trip to the Etyek wine region is a fantastic way to explore another corner of Hungary during your trip to Budapest!
Munch on a chimney cake.
Known as "kürtőskalács" in Hungarian, these hollow pull-apart cakes are the perfect quick dessert to try while on the go in Budapest.
They're popular across Central Europe these days, especially at Christmas markets–but to enjoy the original version, be sure to snack on some while visiting Budapest!
Indulge in Budapest's cafe scene.
Budapest is known for its glitzy, glamorous cafes, complete with stunning decor, delicious coffee, and–of course–plenty of cake.
New York Cafe is the best-known and arguably most beautiful cafe in Budapest… but the prices and crowds definitely make you pay for the privilege of visiting.
We personally prefer Central Cafe, which is almost as beautiful, far more affordable (though still pricey by Budapest standards, of course), and much less crowded.
Try one of my favorite cakes in the world: Esterhazy Cake.
Spiced buttercream layered with a walnut dough and topped with icing–what could possibly be better than that?
Esterhazy cake is sweet, rich, smooth, and delicious, and grabbing (at least) one slice is always on my list of things to do in Budapest.
Buy some paprika.
Hungary is known for its paprika, and buying a bag or two makes the perfect souvenir from Budapest!
Hungarian paprika is affordable, easy to pack, and much more delicious than the paprika sold in other parts of the world.
Go on a bar crawl through the ruin bars (or just stop by for a drink).
Nearly 20 years ago, ruin bars came to Budapest… and their popularity has only continued to explode ever since.
Known for cheap drinks and eclectic decor, Budapest's ruin bars are housed in once-derelict buildings that have found second lives as lively pubs.
The oldest, biggest, and most famous ruin bar is Szimpla Kert, and it's the perfect place to introduce yourself to Budapest's ruin bars.
For nightlife lovers, signing up for a pub crawl like this can be a great way to get to know this special side of Budapest while meeting fellow travelers!
Budapest is often touted as one of the best cities for nightlife in Europe, and its incredible ruin bars are a big part of the reason why.
Check out the For Sale Pub.
Though it is not as well known as the ever-popular ruin bars, I've wanted to visit this place ever since seeing a picture of it years ago!
The For Sale Pub is decorated by guests' artwork, receipts, pictures, and just about any other form of paper you can think of hanging from the ceiling.
Add in a brick fireplace, worn wood floors with straw on them, and dark lighting, and you have the makings of a cozy spot to grab a drink or a bite to eat.
While the prices aren't the cheapest you'll find in Budapest (this is a bit of a tourist attraction, after all, and located right across from the famous Central Market Hall), we found them to be completely reasonable–and the portions so enormous that they actually warn people on their menu about them!
More Fun Things to Do in Budapest
Pay a visit to (at least) one of Budapest's thermal baths.
Budapest is known for its beautiful thermal baths, from the Instagram-famous Szechenyi Baths to the glamorous Gellert Baths to the offbeat Rudas Baths, and paying a visit to at least one of them is absolutely one of the best things to do in Budapest.
Don't leave the city without experiencing at least one soak!
We recommend setting aside at least a couple of hours to enjoy each spa you want to try, though true relaxation lovers could easily spend a full day in places like the Gellert Baths (especially if you want to add on extras like a massage).
Book tickets to visit some of Budapest's best thermal baths today!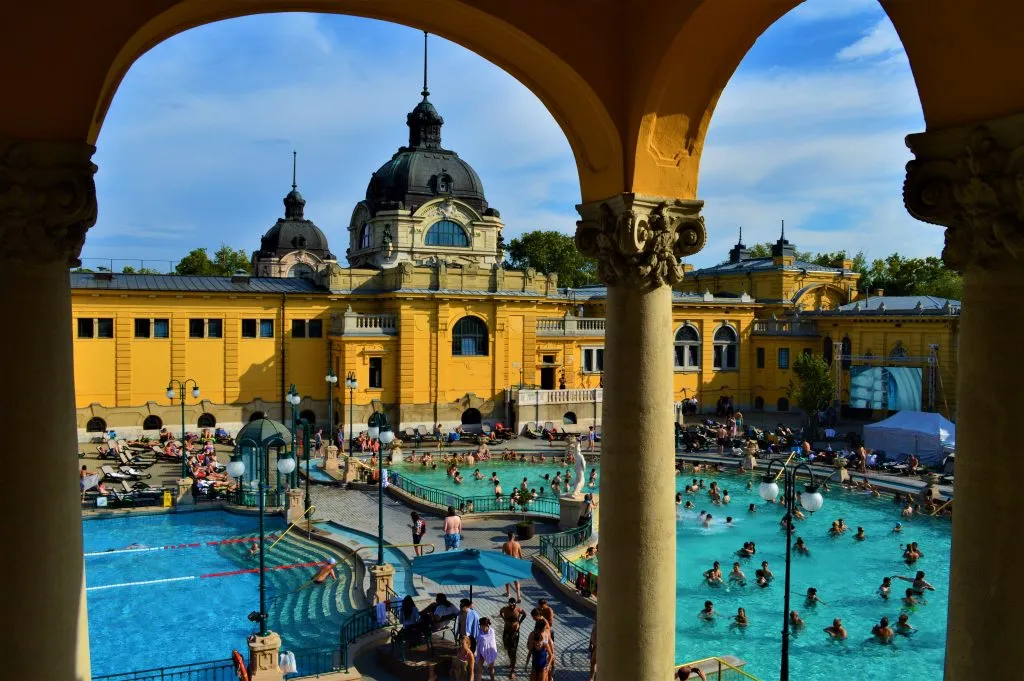 Get underground and go on a caving adventure.
Budapest is built over a couple of incredible cave systems, and the best part is that some of them are open for tours!
You could opt for a standard walking tour around a beautiful cave with stalagmites and stalactites… or you could go the adventurous route.
Our adventure caving tour with Caving Under Budapest took us into the cave through the entrance of what was once used as a war-time bomb shelter.
From there we descended underground and spent the next several hours squeezing through tiny crevices, climbing walls, and enjoying an incredible, naturally formed "playground" as our guide Kazer christened it.
It was amazing, and we can't recommend the experience enough.
Swing by the statue of Imre Nagy.
Imre Nagy was a political leader in Hungary during two points in time–but most importantly, during the uprising of 1956.
In 1956, Hungarians rebelled against Soviet rule, and Imre Nagy played a key role in the movement.
However, the movement was eventually crushed by the Soviets, and Nagy was executed and buried in an unmarked grave a mere 2 years later.
Today, the statue commemorating Nagy looks over Parliament in honor of his memory.
In addition to the meaningfulness of the statue, the small square it is housed in and the beautiful view of Parliament available make this a spot definitely worth seeing in Budapest.
… And also the one of Ronald Reagan.
Ronald Reagan may seem like a surprising candidate for a statue at the edge of Budapest's Liberty Square, but there he is–and not very far away from Imre Nagy!
The statue was placed in honor of Reagan's efforts to end the Cold War and, by extension, Soviet influence over Hungary.
Watch the changing of the guard at Buda Castle.
Every hour on the hour, the guard outside of Buda Castle changes over in a formal, choreographed ceremony, and it is well worth taking a few minutes to stop and watch!
See a different side of Budapest on Margaret Island.
Margaret Island is completely different from the rest of Budapest!
Located in the middle of the Danube, this small island is full of green spaces, pedestrian walkways, and peaceful, nature-filled ways to escape the city.
Pay a visit to take a bike ride, enjoy river views, check out the Japanese gardens that call the island home, and even take a dip in Margaret Island's thermal baths.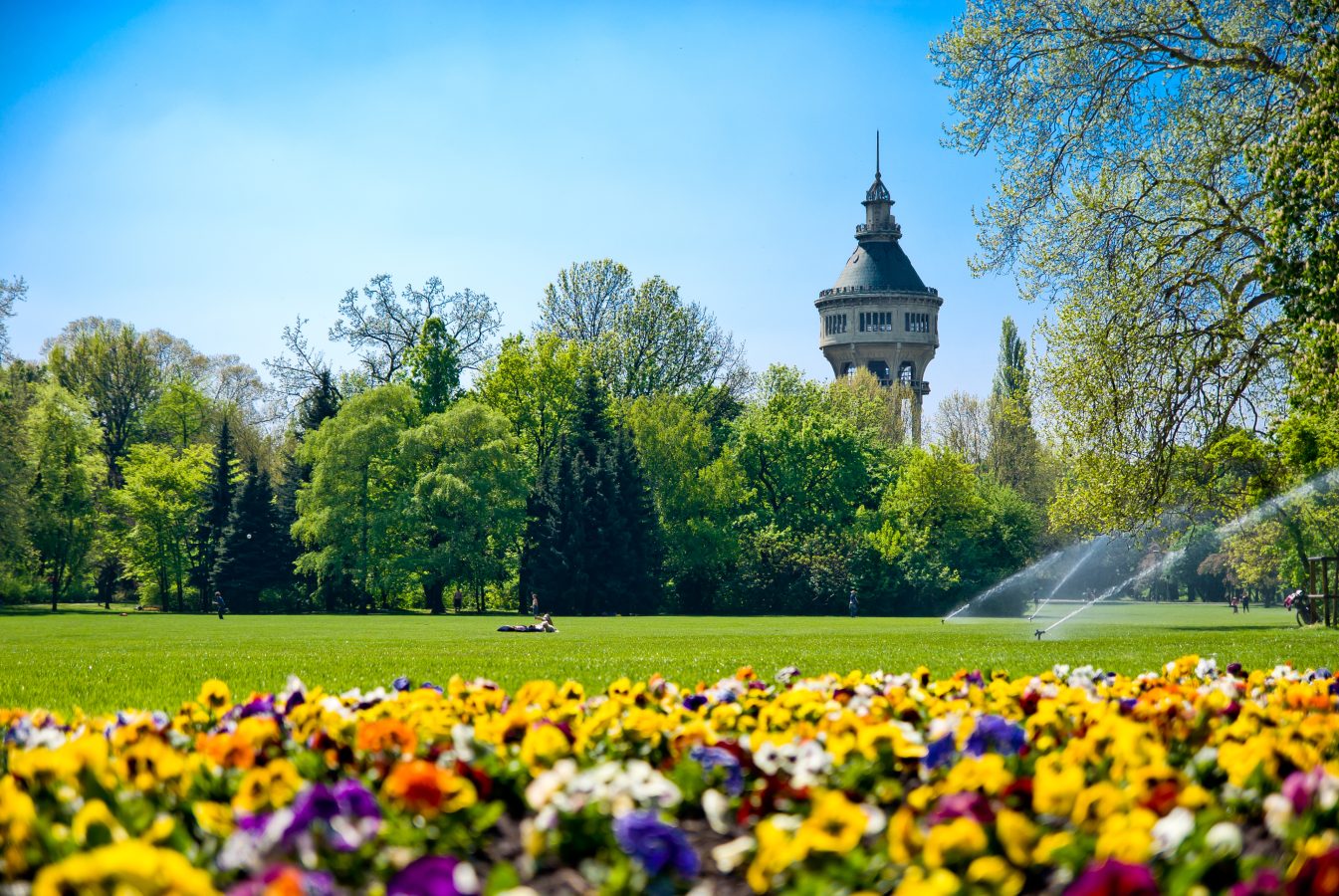 Visit Liberty Square.
Home to several historical monuments (including one honoring the Soviet Red Army and one honoring the victims of German occupation), plenty of green space, and the former home of the Budapest Stock Exchange, Liberty Square is a solid mix of history, modern life, and cultural touchstones.
On a completely unrelated note, it's a fantastic place for dog watching, which is one of our favorite aspects of the square!
Check out Memento Park.
Hungary existed under Communist rule for 40 years, from 1949 to 1989.
When it was over, Budapest suddenly had a lot of fairly irrelevant and often hated monuments to Communism and its leaders… and needed to find something to do with them.
Hence, Memento Park was born.
Home to dozens of statues of monuments dedicated to the likes of Marx, Lenin, and other Communist figures, Memento Park is an outdoor museum that exists to share a very specific piece of Budapest's history.
Release your inner Belle at the Szabo Ervin Library.
When we walked into the incredibly gorgeous art deco rooms of this library, I had two thoughts: 1) I cannot believe this place isn't more well known, and 2) this is everything I dreamed of as a child.
Picture some of the rooms of Versailles, add books and random students who are studying, and that's more or less the level of opulence in this place!
As a result, I spent about half our time there having major Beauty and the Beast flashbacks.
For a small fee, you can enter the library through the pretty-but-not-so-remarkable lobby and ascend to the fourth floor, where the most beautiful wing of a library that I have ever seen is waiting to be discovered and then savored.
If you're a book lover trying to decide what to do in Budapest, the Szabo Ervin Library should definitely be a priority!
Stroll through City Park.
This large, shady park in Budapest is the perfect place for a picnic, a quick rest away from the city, or even for some sightseeing!
Several of Budapest's major attractions, including the Szchenzyi Baths and Heroes Square, are located in or right by City Park.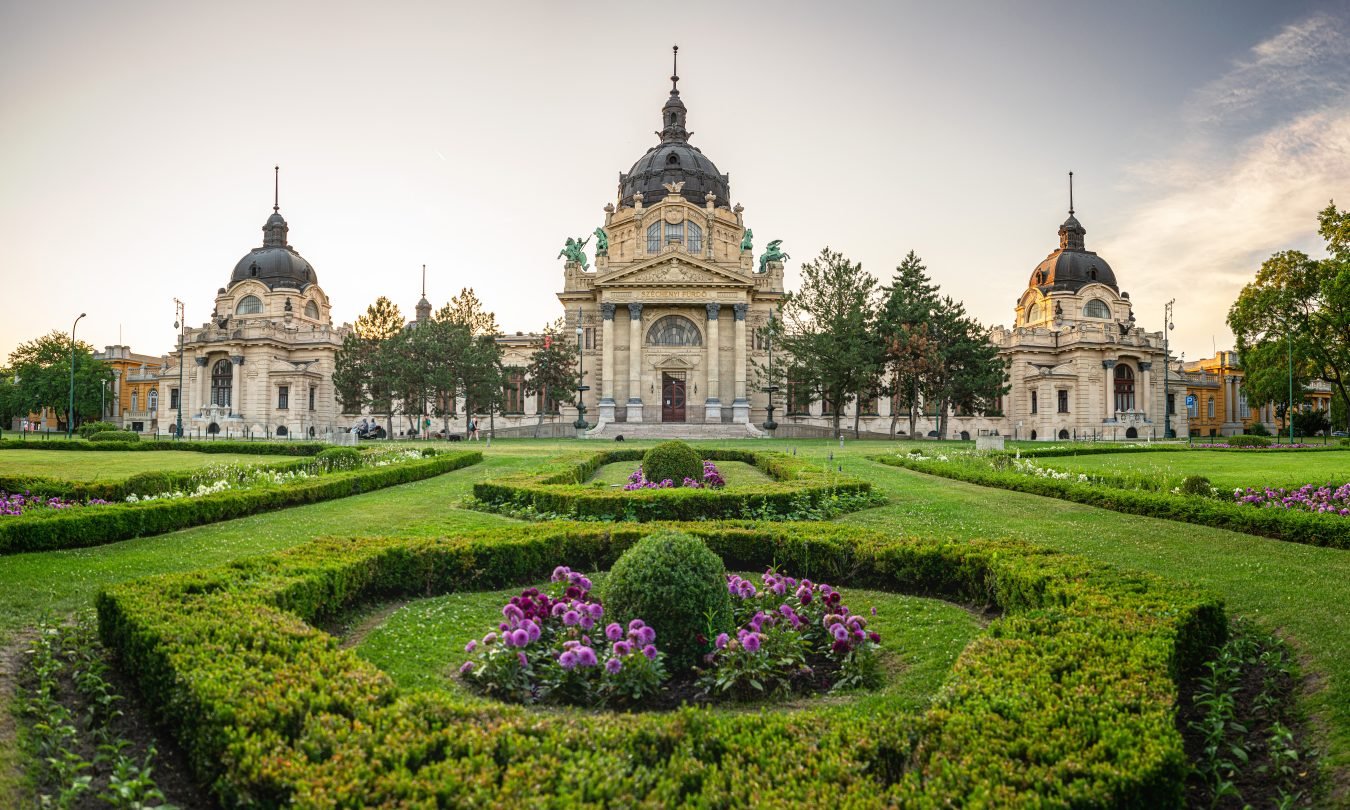 … And visit Vajdahunyad Castle.
Also located within City Park?
Vajdahunyad Castle, which is not exactly the traditional castle it may appear to be at first glance.
Built in 1896, Vajdahunyad Castle was built by combining several architectural styles popular in Hungary at different times, making the castle itself a bit of a hodge podge.
It was also originally made of cardboard and was intended to be a temporary attraction in the late nineteenth century.
Eventually, the castle's popularity demanded a more permanent solution, and it was rebuilt out of more durable materials.
Pay your respects at the Shoes on the Danube monument.
Placed in honor of the Jewish people who were murdered along the Danube in 1944 and 1945, the Shoes on the Danube monument is both important and deeply meaningful.
As WWII hurried toward its conclusion in the mid-1940s, many Jewish people in Budapest were shot by firing squad along the Danube–but not before first being forced to part with their shoes, as they were considered valuable.
This monument is a memorial to those murders and is a must-see in Budapest.
If you descend to the bank of the Danube at the Hungarian Parliament and walk toward the Chain Bridge, that is where you'll come across the Shoes on the Danube monument.
Visit the Cinkota Cemetery.
If you like visiting obscure places or cemeteries in general, Cinkota Cemetery is the place for you.
This cemetery has been forgotten by time, and today is overgrown, with nature steadily working to reclaim each of the gravestones.
It's eerie and unusual, but definitely an interesting place to visit for those looking to see an often overlooked piece of history.
Admire the street art in the Jewish Quarter.
Budapest's Jewish Quarter (which is also where you'll find many ruin pubs) is packed with impressive street art.
The murals tend toward the gigantic and include everything from political messages to peaceful nature scenes to an enormous mural of a Rubik's cube in honor of the Hungarian inventor of the puzzle.
You can, of course, hunt down the street art for yourself–but we found some of our favorite pieces by taking a street art tour.
If you're curious about discovering a different side of Budapest's art and culture, a street art tour like this is a fantastic sightseeing option!
Stroll down Andrassy Avenue.
Lined with beautiful mansions and leafy trees, Andrassy Avenue dates back to the 19th century and is often considered one of Budapest's most fashionable streets.
It begins roughly across the street from St. Stephen's Basilica and runs all the way to Heroes Square and City Park–and if you decide to walk the whole thing, you'll find plenty to see along the way!
Andrassy Avenue is home to the Hungarian State Opera House and the House of Terror Museum, so you'll likely be stopping by at least once when exploring the best things to do in Budapest.
Get into the holiday spirit at the Christmas Markets.
Budapest's Christmas markets–especially the one in front of St. Stephen's Basilica–are beautifully decorated and full of delicious foods, drinks, and souvenirs, usually for much less than you would expect to pay in nearby Austria.
Check out the Ecseri Flea Market.
If you're looking for something eclectic, unusual, or just plain strange to bring home, consider adding a visit to the Ecseri Flea Market to your list of things to do in Budapest.
This giant flea market in Budapest is at its best on weekends, and there is absolutely no telling what you'll find there–except several surprises.
Go see the Zero Kilometer Stone.
Interested in transportation like Jeremy is?
Then you'll want to see the Zero Kilometer Stone–this statue marks the exact spot from which all road distances to Budapest are measured in Hungary.
Head off to Szentendre for a day.
This small, artsy Hungarian town is colorful, beautiful, and a great way to get a small taste of Hungarian life outside of Budapest without having to travel far.
Located about 40 minutes away from Budapest by train or an hour by boat (yep, visiting Szentendre is a great excuse to take an impromptu Danube river cruise!), a day trip to Szentendre is the perfect addition to a longer Budapest trip.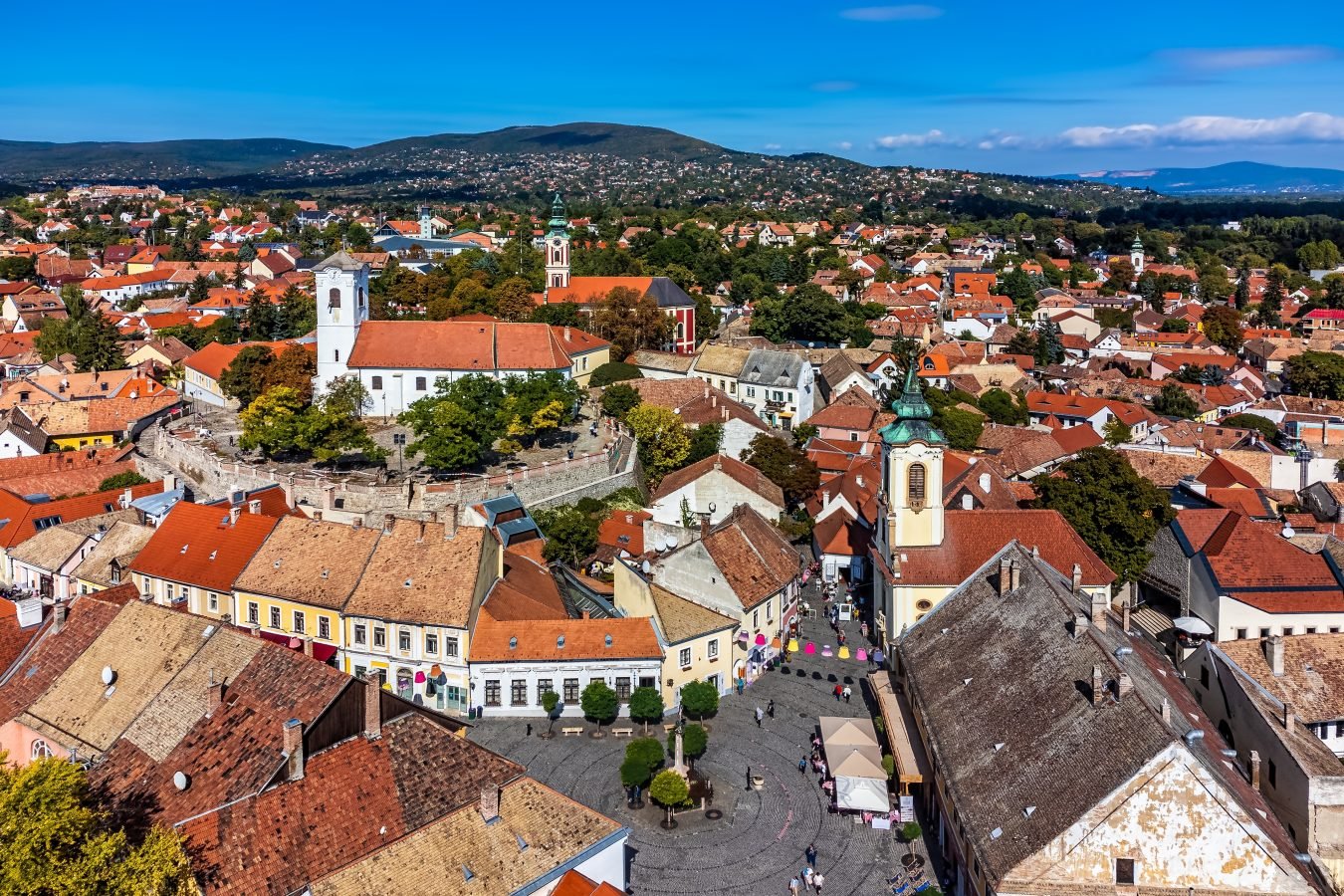 Where To Stay When Visiting Budapest
Wondering where to stay in Budapest?
Be sure to first decide whether or not to stay in Buda or Pest! We break down that decision here.
Luckily, there are plenty of options for any budget on either side of the river!
Here are a few well-reviewed picks for where to stay in Budapest.
Budget
Jackquaters — Located right next to Vaci Utca and only 100 meters from the Danube, Jackquaters is the perfect location for anyone visiting Budapest.
Budapest highlights like the Chain Bridge and Great Market Hall are within easy walking distance.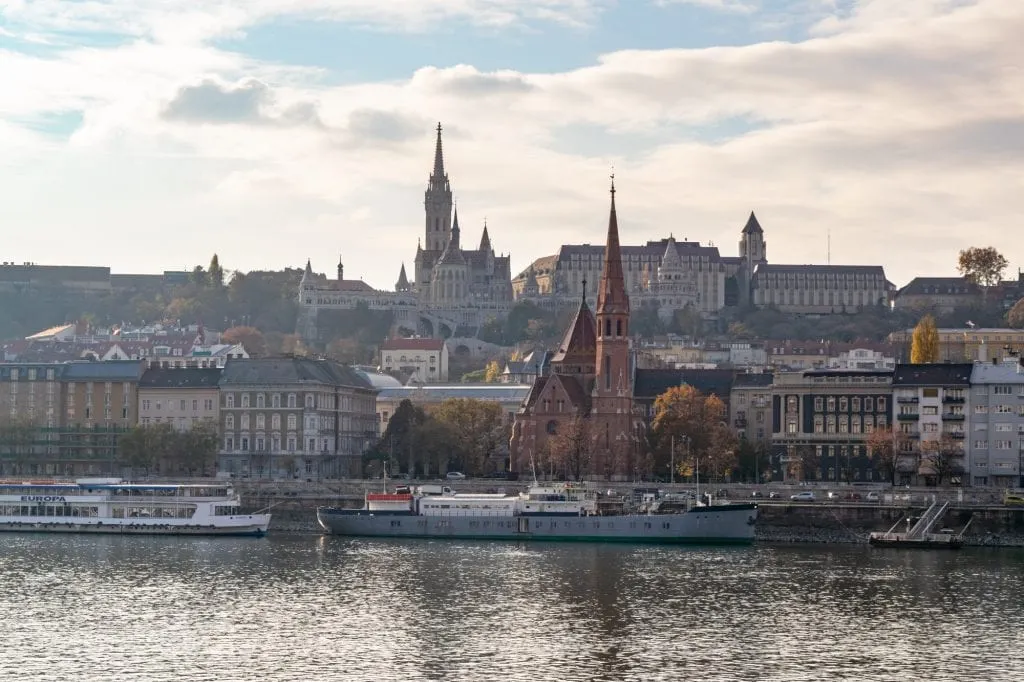 Mid-range
Hotel Erzsébet — With Central Market Hall and Vaci Utca at your fingertips, you definitely won't go hungry while staying at the beautiful Hotel Erzsébet!
With modern interiors, easy access to the metro, and a central location, this well-reviewed property is a reliable and cozy place to stay.
Luxury
Hotel Mika Superior — Not only does Hotel Mika Superior offer beautiful rooms, fabulous service, and a delicious included breakfast, but it's also located in the old Jewish Quarter of the city, near the Dohany Street Synagogue and Hungarian Opera House.
This is one of our personal favorite neighborhoods to stay in while visiting Budapest!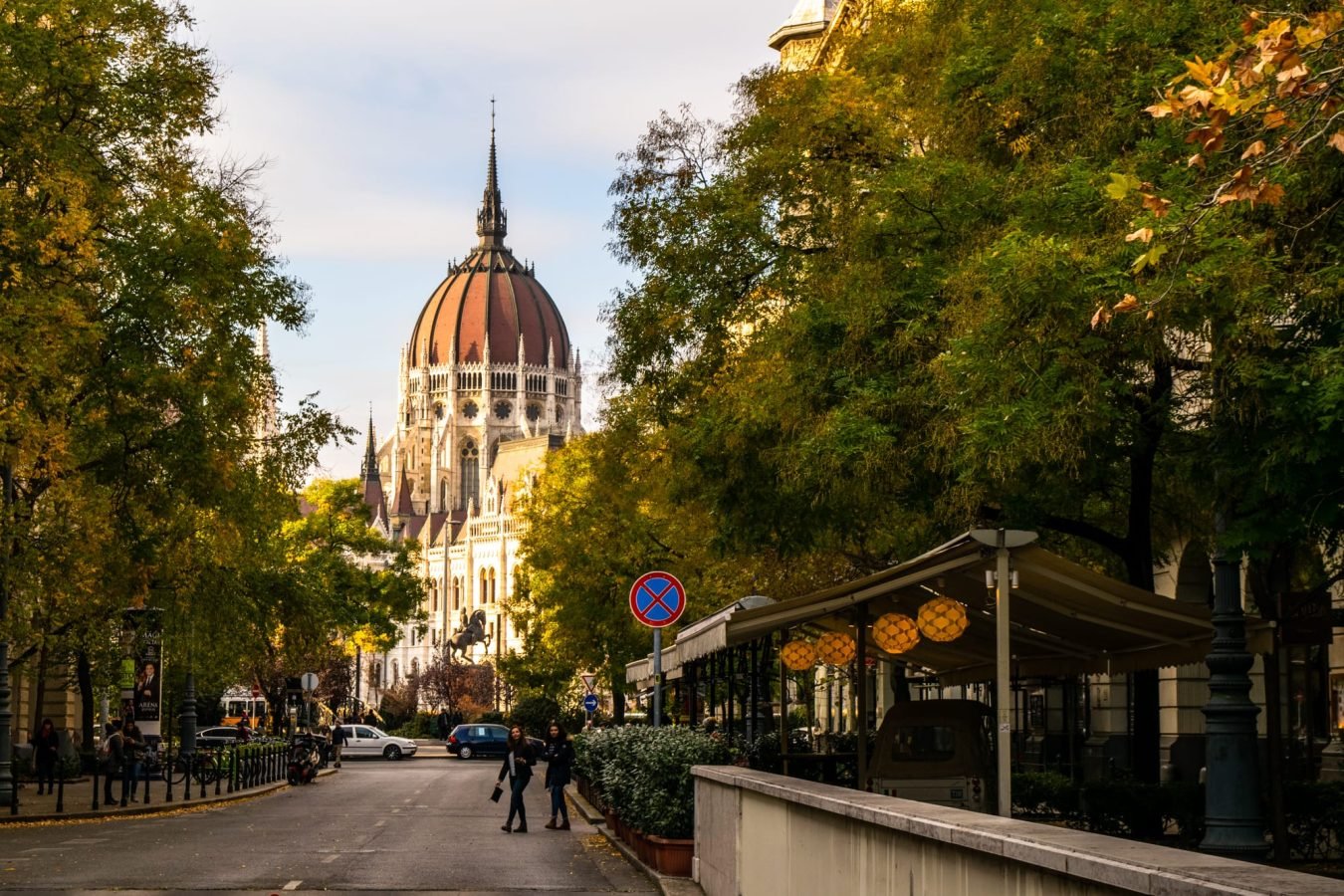 Tips for Traveling Budapest, Hungary
Consider grabbing a transportation pass or Budapest Card.
If you're planning on hitting several of the best things to do in Budapest, you'll likely find yourself hopping on trams, buses, and the metro on a fairly regular basis.
In most cases, it will work out better to buy a transportation card good for a certain number of days (available at metro ticket kiosks).
Alternatively, some travelers may want to buy a Budapest Card that includes public transportation as one of its benefits.
If you want to visit the Hungarian Parliament, book tickets in advance.
Tours of the Hungarian Parliament do need to be booked in advance and sell out days in advance, especially in the summer.
If you have your heart set on visiting, book your tickets ASAP!
Think carefully about which side of the river you want to stay on: Buda or Pest.
Both sides of the Danube have their advantages (Buda boasts prettier views and Pest better nightlife, for example), but they do have a different feel.
For more on this, check out our guide to choosing between Buda and Pest.
Hint: we personally prefer to stay in Pest.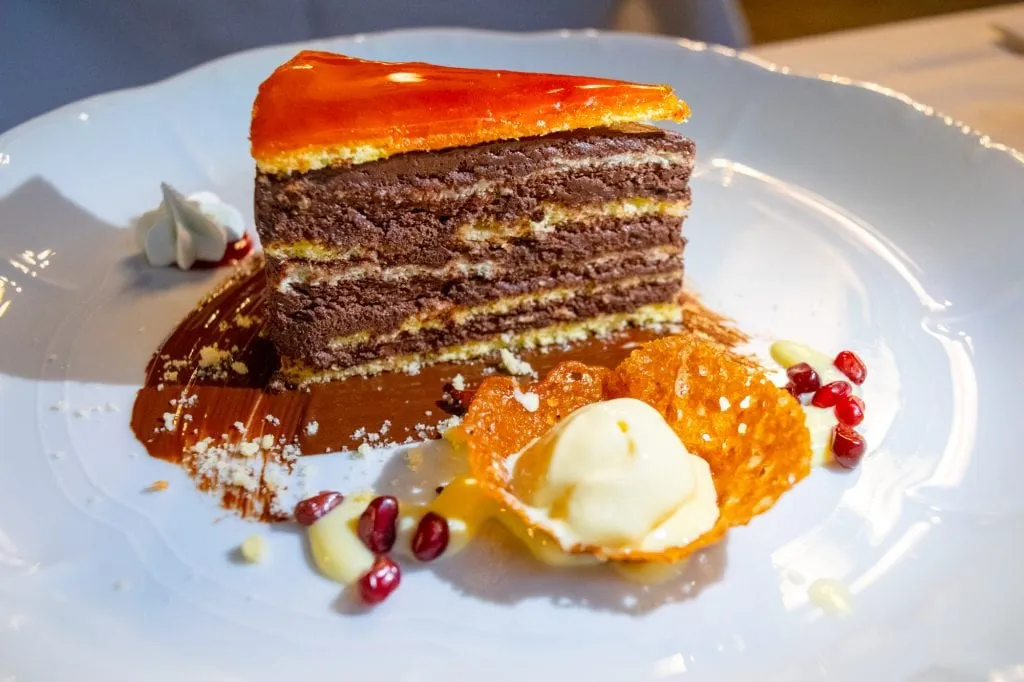 Hungary doesn't use the Euro, but Budapest is very card-friendly.
The Hungarian forint is the currency in Budapest, and Euros are not widely accepted (and in places where they are accepted, it's still better to use forint–the exchange rate is generally not favorable).
However, most restaurants and tourist attractions take credit cards, so you may not need as much forint as you would think when traveling in Budapest!
We tend to use very little cash while in the city.
Plan your itinerary based on geography.
Budapest's main attractions are spread all across the city–and while this is a bit of a challenge from a logistics perspective, it actually ends up working to Budapest's advantage!
Unlike other popular Central European cities like Prague or Salzburg, Budapest manages to be incredibly popular without feeling extremely crowded (minus certain spots like Fisherman's Bastion).
This does mean, however, that you'll want to plan your days based on the attractions concentrated in certain areas.
For instance, the Castle District, home to Buda Castle, Fisherman's Bastion, Matthias Church, and beyond makes a good focus for one day.
Another day could cover the Szechenyi Baths, City Park, Heroes Square, and Vajdahunyad Castle, which are all concentrated close together.
Don't worry about the language barrier.
English is widespread in Budapest, especially among those who work in the tourism and customer service industries.
While it is polite to learn a few Hungarian phrases and they are always appreciated when we break them out, Hungarians don't tend to expect visitors to know or learn their language.
Personally, we've never experienced any significant language barrier challenges while visiting Budapest.
Read More About Visiting Budapest (and Beyond)
Ready to keep planning your trip to Central Europe?
We'd love to help!
You can browse all of our Hungary blog posts here, or check out these guides:
---
Many thanks to Caving Under Budapest, Taste Hungary, and Absolute Walking Tours for hosting us on our adventures with them! All opinions are, as always, our own.