Some cities are just so relaxing, and so downright enjoyable, that visiting always puts a smile on your face–and after spending one day in Munich, we hope you'll agree that the capital of Bavaria is one of them!
Munich always brings to mind the word livable for us: while the sightseeing is excellent, it's the atmosphere that truly makes Munich stand out (something that it has in common with Madrid, at least for us).
Nicknamed the "Village of a Million People" (or Millionendorf), Munich manages to simultaneously live up to its status as stately (former) capital city while offering the relaxed pace of a much smaller one.
If your idea of spending 24 hours in Munich (or less!) involves a palace, a church or two, plenty of wandering, delicious food, beautiful parks, a few unexpected highlights, and–of course–some excellent beer, then we put together this one day Munich itinerary for you.
Here's how to fall in love with Munich in a day!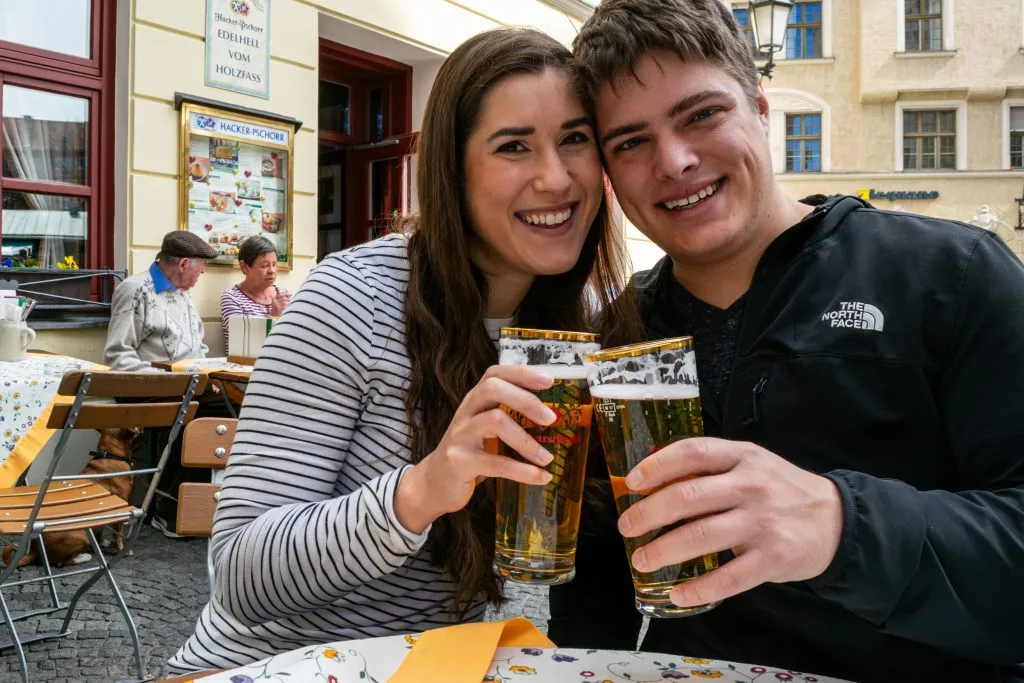 The Ultimate One Day in Munich Itinerary
Start your morning at Marienplatz.
Where better to begin your one day in Munich than in the very heart of the city?
Marienplatz has been Munich's central square for going on 1000 years, and it remains one of the best places to visit in Munich!
Notable buildings include the Altes Rathaus (Old Town Hall, which now houses a toy museum) and Neus Rathaus (New Town Hall), which are some of the most recognizable structures in the city.
Don't miss the gorgeous Glockenspiel on the side of the Neus Rathaus!
It dances daily at 11:00 AM and 12:00 PM, and between March and October, you'll have a third chance to catch it at 5:00 PM as well.
You'll likely be a bit too early to catch it right now, but don't worry–you'll have another chance in a bit.
Soak up views of Munich from above at the Neus Rathaus or Peterskirche.
Before leaving the Marienplatz area, take the time to get a birds-eye view of the famous square and of Munich as a whole!
You have two options to do so: head to the top of the Neus Rathaus, or to the top of Peterskirche, which is Munich's oldest church and worth visiting whether you climb the tower or not.
Opinions abound on which boasts the better view, but it's safe to say you won't be disappointed with either!
The two viewpoints more or less face each other, so decide whether you want to admire Marienplatz when looking to the south from the Neus Rathaus or to the north from Peterskirche (also affectionately known as Alter Peter, or "Old Peter").
One other very notable difference?
Heading to the top of the Neus Rathaus involves an elevator… while heading to the top of Alter Peter requires a 306-step climb.
Make your way over to Viktualienmarkt.
The bustling Viktualienmarkt, or Victuals Market, is a must-see when trying to sample Munich in a day!
Located a very short walk from Marienplatz, the Viktualienmarkt was once a farmer's market, but today caters more to foodies and souvenir shoppers–though if you're hankering from some produce, you'll still find that, too.
You'll also find Munich's very own Maypole here, as well as the city's most central beer garden.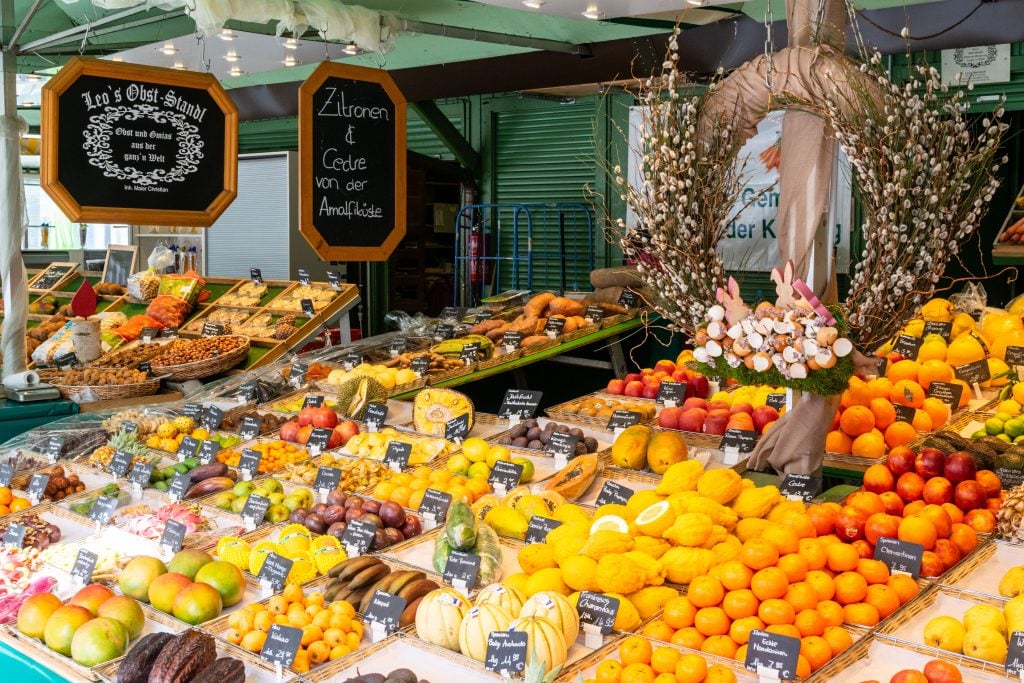 As the first of 2 beer gardens (potentially) included on this Munich itinerary, you may or may not want to stop for a drink–but it's a wonderful place to do so!
The Viktualienmarkt Beer Garden offers a rotating selection of beer from Munich's six major local breweries, so there's no telling exactly what you'll find on tap.
Bringing your own snacks is encouraged, so feel free to browse the market and then sit down to enjoy your purchases over a drink.
It's worth noting that the Viktualienmarkt Beer Garden is also open year-round, weather permitting, while most beer gardens are seasonal.
If you're hoping to enjoy this Bavarian tradition but are visiting Munich in winter, the Viktualienmarkt Beer Garden is your best bet for enjoying an outdoor brew.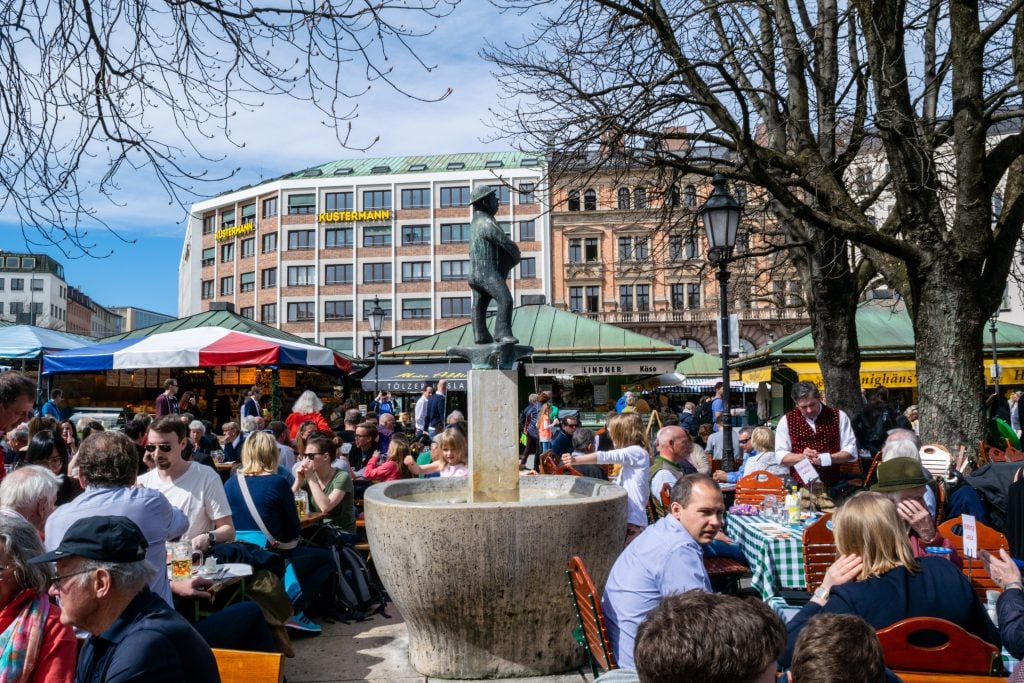 Check out the Devil's Footprint at Frauenkirche.
After enjoying the Viktualienmarkt, it's time to head to another one of Munich's most beautiful churches–but check the time, because you might want to pay a visit to the Glockenspiel in Marienplatz on the way!
From there, enjoy a very short walk over to Frauenkirche.
With its distinctive twin towers, Frauenkirche is one of Munich's most iconic buildings–but it's also known for a legendary visitor!
There are several versions of the story, but one way or the other, a very distinct footprint in Frauenkirche is attributed to the devil paying a visit to this Bavarian Cathedral.
Located just inside the entrance to the church, shortly before you enter the sanctuary, it's one of the most popular things to see at Frauenkirche, so keep an eye out!
Odds are that there will be several people standing around photographing the footprint (and/or comparing their own footprint to the devil's) when you walk in.
Fraunekirche is free to visit, with the exception of getting an audio guide or climbing one of the towers, which you most likely won't have time for when trying to see Munich in 24 hours or less.
Step into Odeonsplatz.
One of Munich's most important squares, Odeonplatz is dominated on one side by the bright yellow Theatinekirche, on another by the Munich Residenz (more on those two below), and on a third by the famous Feldherrnhalle.
If the Feldherrnhalle (Field Marshals' Hall) looks familiar, you might have been to Tuscany!
The Feldherrnhalle  was built in the 19th century as a replica of the Loggia dei Lanzi, which stands on the Piazza dell Signoria in Florence (right around the corner from the Uffizi Museum).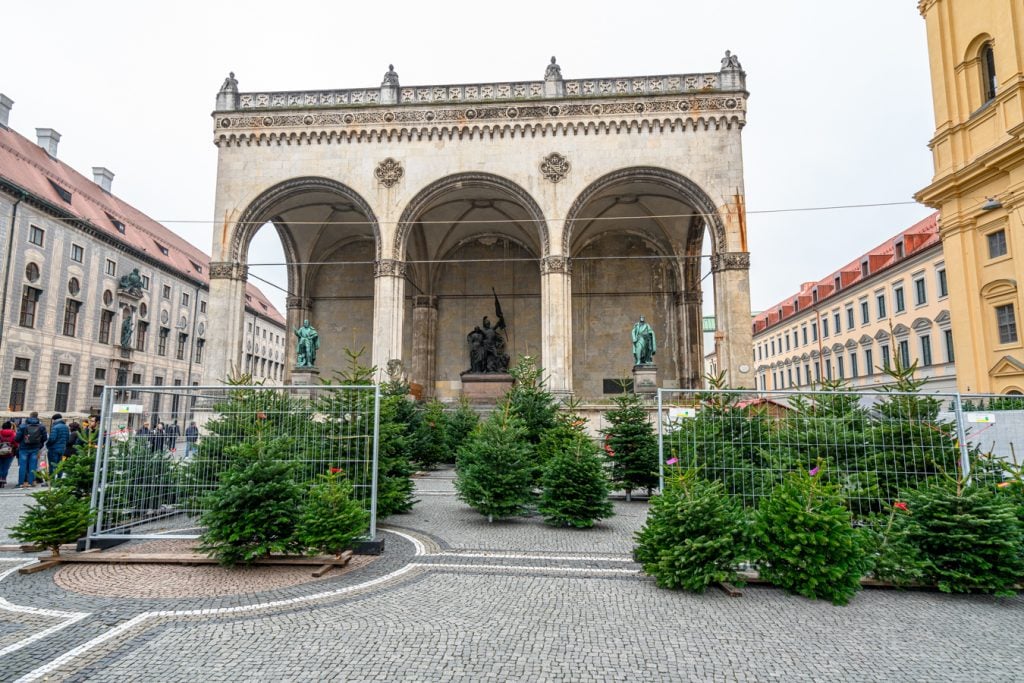 The Odeonplatz is also home to some dark history: it was the site of a deadly confrontation between German police officers and upcoming Nazis during the climax of the 1923 Beer Hall Putsch.
During the time of the Third Reich, a statue of Hitler stood here that passersby were expected to honor.
The statue was demolished in 1945.
If you're curious about this chapter in Munich's past, this well-reviewed Third Reich walking tour covers the rise and fall of, as well as the resistance to, the Nazis in Munich in far more detail.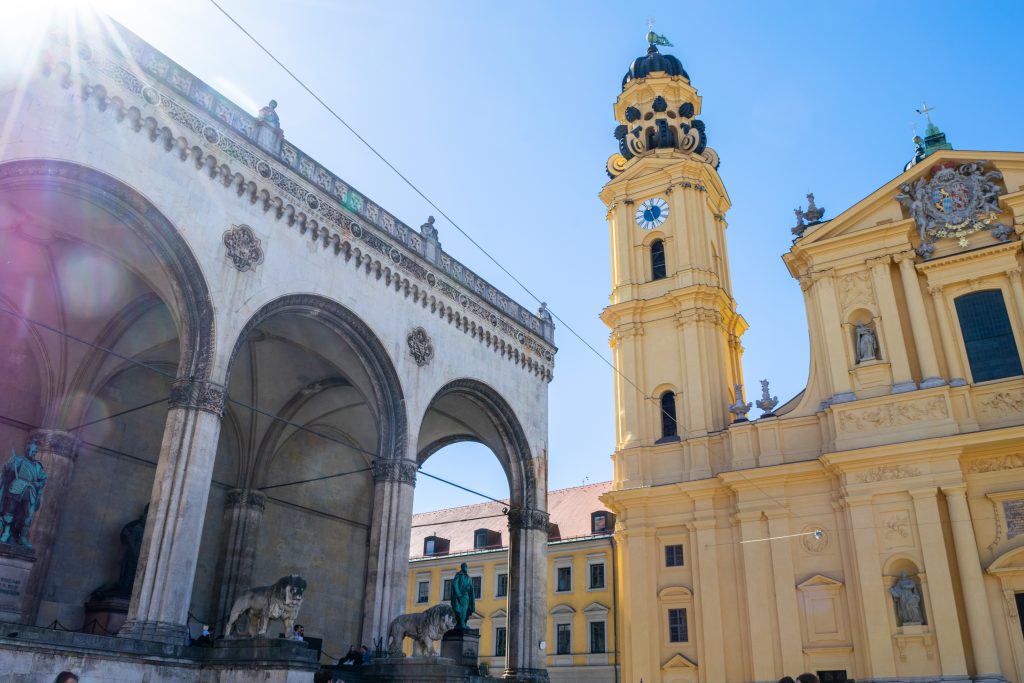 … and stop to form your own opinion of Theatinekirche.
Built between 1663 and 1688, the Theatinekirche (officially the Church of St. Kajetan) is a bit controversial among visitors: not everyone is a fan of the bright yellow facade!
Like its next-door neighbor, Feldherrnhalle, the Theatinekirche takes inspiration from Italian architecture and features an opulent Baroque interior that is light on color but heavy on details.
Theatinekirche is free, quick, and easy to see, so be sure to step inside as you pass by when visiting Munich!
Marvel at the Munich Residenz.
For more than 400 years, the Wittelsbach royal family ruled Bavaria from the Munich Residenz–and today, you can step inside and tour it for yourself!
What started in the 14th century as a modest medieval castle grew and changed enormously over the centuries until the opulent palace that we see today took shape.
Today, the Munich Residenz is the largest urban palace in Germany, and visiting is one of the absolute best things to do in Munich.
Thanks to its many centuries of growth, you'll see a wide variety of architectural styles on display, from Renaissance to Baroque to Rococo (so much Rococo!) and beyond.
Of all the roughly 120 rooms in the palace, the Antiquarium, which was housed to hold the monarchs' collection of antiques, is arguably the best-known (and it's quite the marvel in person):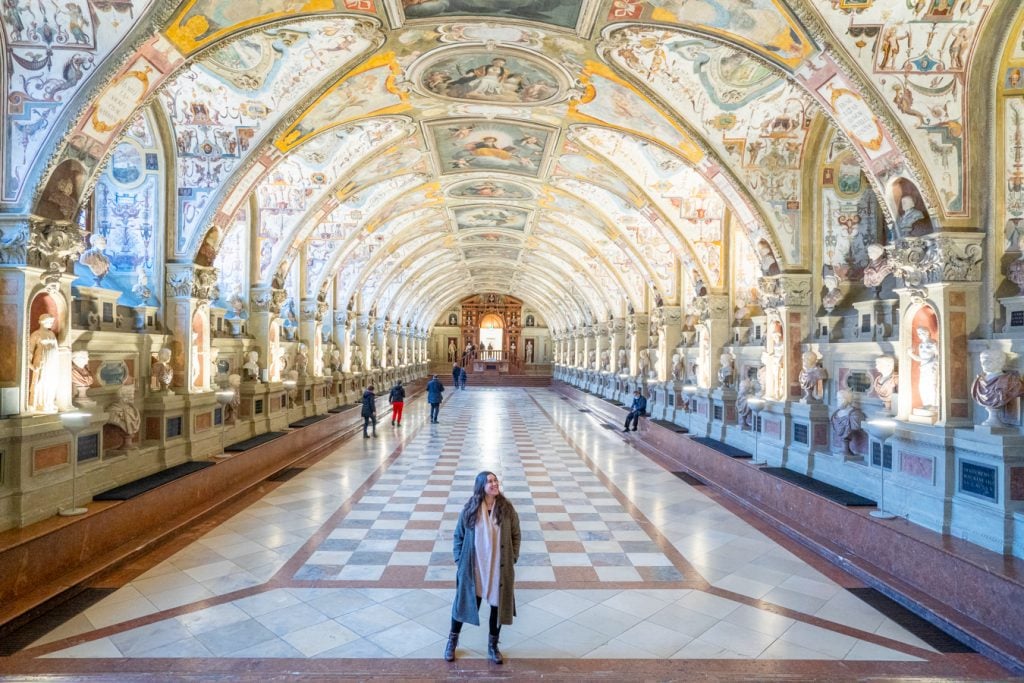 Want to see a different side of the Munich Residenz?
If your one day in Munich happens to be a Saturday, you can enjoy a concert in the Residenz's chapel!
(Other concerts are occasionally offered throughout the year, so if you're a classical music fan, check and see if there's anything available at the time of your trip.)
Whether you visit at night for a concert or not, though, touring the many rooms of the Munich Residenz should absolutely be a priority during your day in Munich.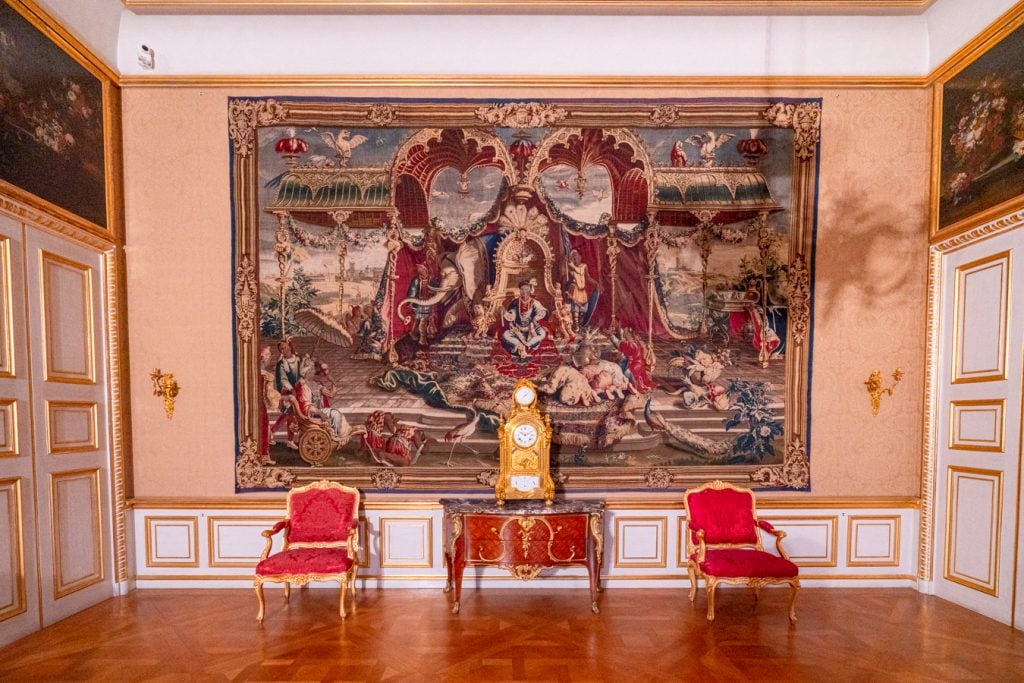 Meander through Hofgarten.
With only a day in Munich to work with, you won't need to spend long in the beautiful Hofgarten–but it's worth stopping by!
The Royal Garden dates to the 17th century and was once the exclusive strolling grounds of the aristocracy.
Don't miss the Diana Temple while you're there!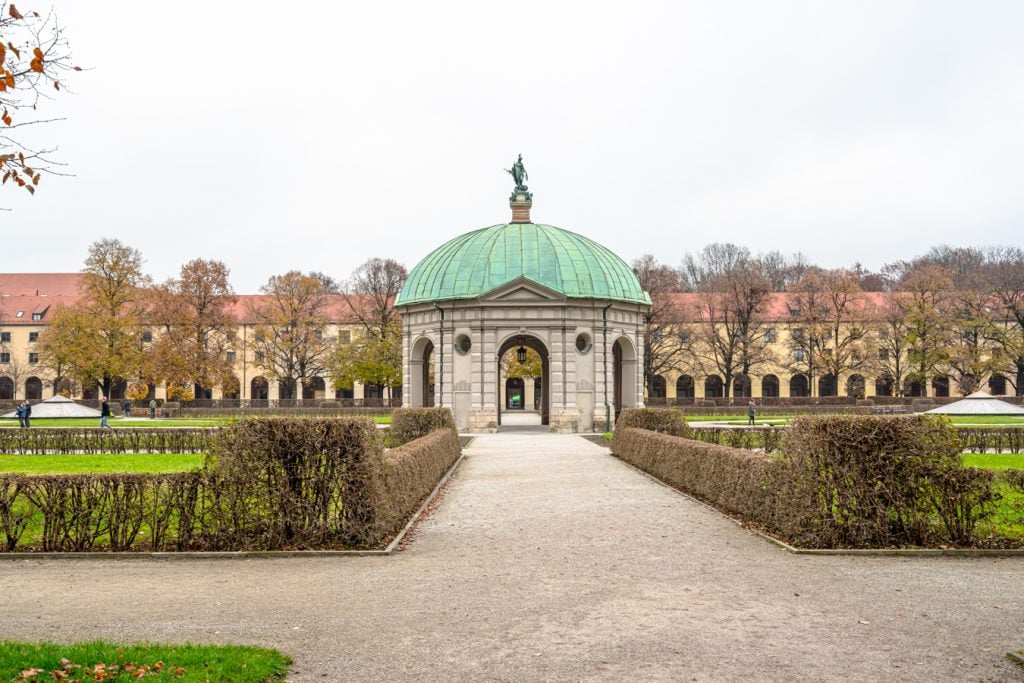 Make your way through the Englischer Garden to the Chinese Tower.
As you leave Hofgarten, it's time to make your way into another park: the Englischer Garden, which is one of the largest urban parks in the world (even beating out Central Park in New York City and Hyde Park in London).
The park is expansive enough that there's no way to see it all, but here are a few things to keep an eye out for.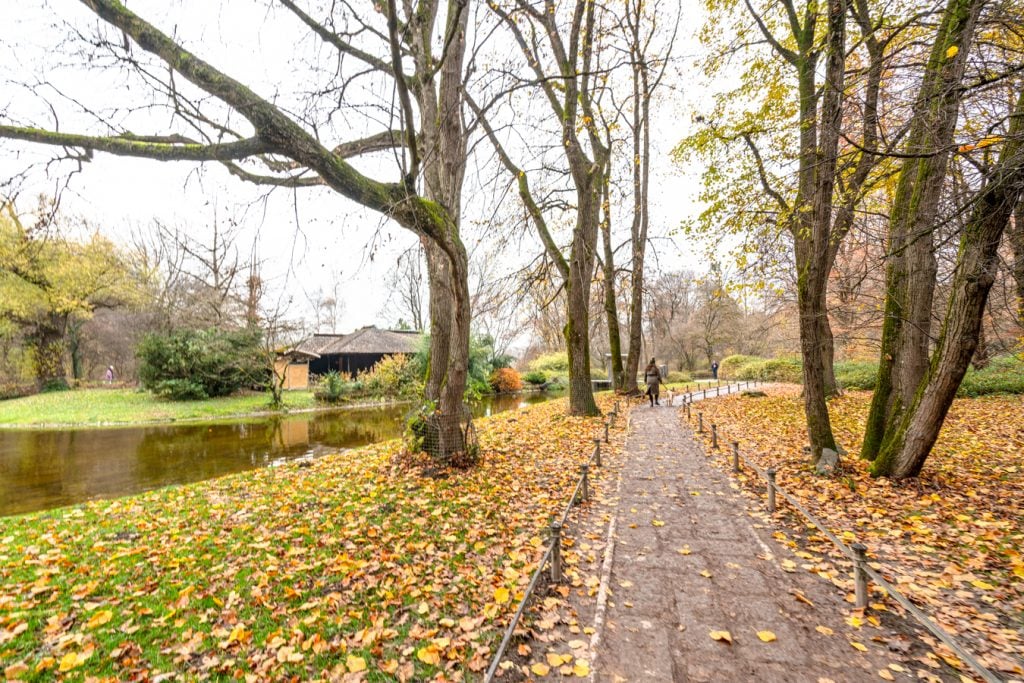 Haus der Knust
As you enter the park, you'll pass the formidable Haus der Knust.
Today, the building holds Munich's Museum of Contemporary Art, but the building itself is also known for being the first major example of Nazi architecture.
Monopoteros
Built in 1836, this beautiful round gazebo offers beautiful views of the Englischer Garden, as well as of the rooftops of the Altstadt in the distance.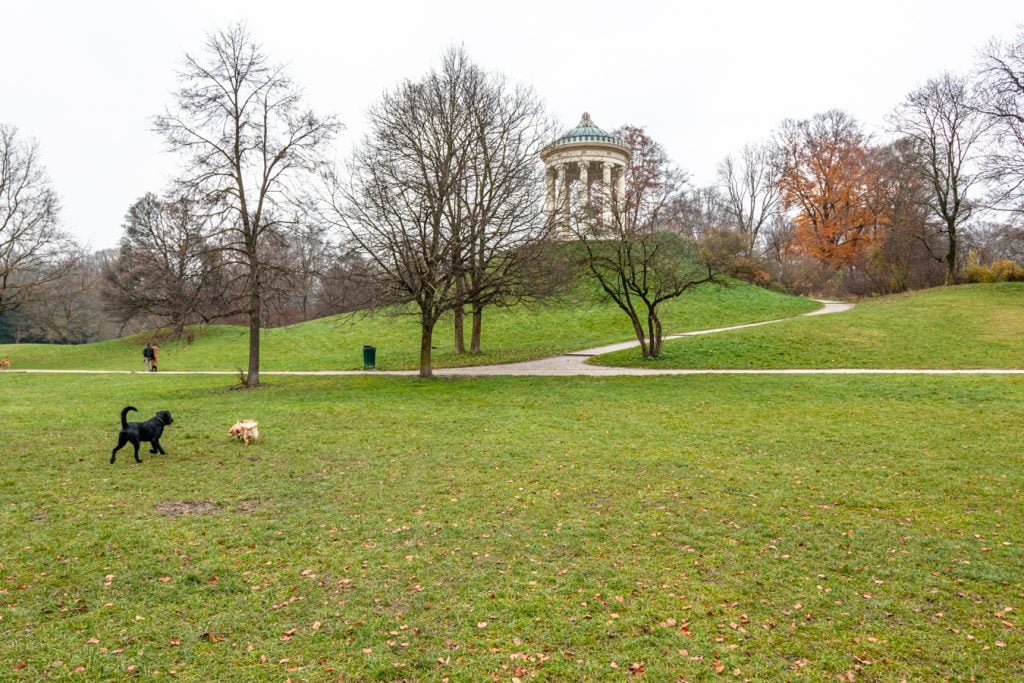 Chinesischer Turm
The Chinesischer Turm, or Chinese Tower, is a bit of a hike from the edge of the Englischer Garden–and in fact, walking here makes up a decent chunk of the actual distance covered in this Munich itinerary, so feel free to skip it if you're short on time!
However, if you're visiting Munich on a beautiful day, the Chinesischer Turm also offers one of the city's most popular and idyllic beer gardens, perfect for relaxing while enjoying any extra time you have this afternoon.
Just don't bother hiking over if the weather is too cold or wet: the beer garden's hours are weather-dependent.
The tower also hosts a Christmas market during the holiday season!
And, as you walk back to Munich's Altstadt, there's one more place at the edge of the Englischer Garden to see…
Diliff
,
CC BY-SA 3.0
, via Wikimedia Commons
Stop to admire Munich's dedicated river surfers on your way back into the center.
Munich is a city known for its quirks, its easy access to nature, and its melding of the old and new… and a very fun example of that energy can be found at Eisbachwelle, one of the most famous river surfing spots in the world.
Year-round, very experienced (and sometimes professional) surfers jump into the river one after the other to ride the famous man-made wave, usually with plenty of onlookers around to watch them!
Eisbachwelle is located on the southern edge of the Englischer Garden, and you could easily see it on your way into the park as well.
However, since you'll need to loop back into the center of town regardless, we placed them at the end of your park tour for the purposes of this itinerary for Munich.
You can find the right place by directing your GPS to Eisbachwelle or Eisbachbrücke (the name of the bridge where visitors watch the surfers).
Wrap up your one day in Munich with touristy fun and classic Bavarian food at Hofbräuhaus.
Dating to 1589, Munich's iconic Hofbräuhaus is touristy in all the best ways.
Yes, you'll be surrounded by many other visitors when eating and drinking there (plus some Munich residents shepherding their guests from out of town around), but you'll also almost certainly have a great time, and spend far less than you might think for such an iconic location!
Classic Bavarian food like pork knuckle, pretzels, potatoes, and Bavarian meatloaf are featured on the menu, along with the classic beer served by the liter (if you haven't ordered a full liter of beer yet in Munich, it's worth ordering one for the photo op alone).
Prefer to step (ever so slightly) off the beaten path?
Augustiner, another beloved Munich brewery and one of our favorites, has a restaurant location right in front of the Frauenkirche.
Want to taste several varieties of Bavarian food and beer while learning a bit about Munich's beer history?
If so, then this Bavarian beer and food culture tour might be right for you!
Where to Stay in Munich for a Day
On our most recent stay in Munich, we loved basing ourselves at Hotel Concorde!
The location, on a quiet street just a 7-minute walk from Marienplatz, was perfect, the room crisp and modern, the staff friendly, and the included breakfast great (we ate a lot of traditional sausages and pretzels for breakfast, among many other things).
For travelers on a budget, Hotel Kreis Residenz München gets great reviews, but note that you'll be compromising significantly on location, so be prepared for a decent U-Bahn ride into the city center before kicking off your sightseeing!
Looking to splurge?
If so, then the luxurious Mandarin Oriental Munich is an incredible place to stay.
More Than 24 Hours in Munich, Germany?
If you're lucky enough to have more than one day in Munich, it's time to start thinking a bit further afield–literally!
Attractions like the Nymphenburg Palace (the summer residence of the Kings of Bavaria), Olympic Park (grounds of the 1972 Summer Olympics), and the Alte Pinakothek (just one of several wonderful art museums in Munich) are all excellent options for extending your trip.
Autophiles will be drawn to the BMW Museum and BMW World (my stepmom is a big car fan and loved them), while those looking for a science and technology museum will love the Deutsches Museum, and football fans will want to tour the Allianz Arena.
If you're looking to splurge on some shopping (or even just enjoy some luxury window shopping), head to the famous Maximilianstrasse.
In addition to all the cool things to do in Munich itself, though, it's also hard to miss that the capital of Bavaria is one of the best-connected cities by train in Europe–meaning that the day trip possibilities are endless!
Just a handful of the best day trips from Munich include Neuschwanstein Castle, Nuremberg, Salzburg (only an hour away by train despite being across the border!), and Dachau (both the town and memorial site).
Looking to enjoy some time in nature?
Consider heading up to Zugspitze in the Bavarian Alps to enjoy views from the highest point in Germany (and–this being Bavaria–beers at the highest beer garden in Germany while you're at it).
Getting Around During One Day in Munich
We designed this one day Munich itinerary to be completely walkable, and travelers who love to meander on foot won't need any other transport to get around!
The route covers just under an hour and a half of walking, not including any time spent in each attraction (touring the Residenz, browsing the stalls at the Viktualienmarkt, etc.).
If you're staying far outside the Altstadt or are taking a day trip to Munich from another city, you'll want to take the U-Bahn (metro) or S-Bahn (commuter rail) to Marienplatz to kick off your day in Munich.
Hoping to avoid walking, or have some attractions well outside the Altstadt (like Olympic Park or Nymphenburg Palace) on your Munich bucket list?
If so, a hop-on/hop-off bus tour might be right for you.
Quick Tips for Visiting Munich in a Day
Consider booking a tour to dive deeper into the city.
When trying to get an overview of Munich in a day, it's hard to dive too deep into any one subject–but if you want to learn more about Munich's history, booking an organized tour with a knowledgeable guide is a great way to do so!
For example, this popular bike tour will allow you to cover a wider geography than we included here.
For history buffs, this well-reviewed Third Reich tour offers an introduction to Munich's Nazi-connected past.
And, for foodies whose love of Munich's history is closely tied to its most famous drink, this Bavarian beer and food culture tour offers a chance to learn about (read: taste) far more varieties of beer than you'll likely have time for on your own with only one day in Munich to work with!
Come prepared with cash!
While credit cards are more widely accepted every year, Germany is still a very cash-based society in many ways.
There's a good chance that you'll find yourself reaching for your Euros more often than you might think during your day in Munich!
To make sure you're not caught unaware, come prepared with cash, especially in places like beer gardens and when browsing the stalls at Viktualienmarkt.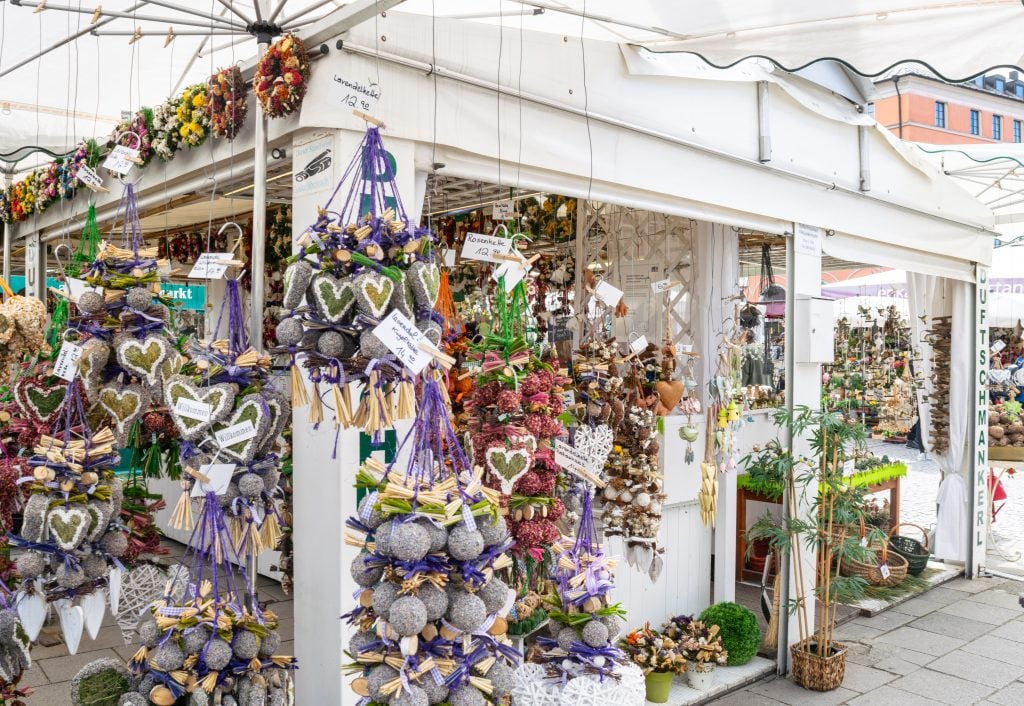 Prepare for crowds during seasonal events.
If you happen to be planning a trip to Munich for Oktoberfest or the Christmas markets, you're going to have a fantastic time.
However, some of the typical attractions that you'd like to see during a day in Munich might be impacted.
Crowded and pricey hotels (book ASAP if you're visiting for an event), seasonal closings (see: beer gardens), and weather can all impact your trip, so keep that in mind as you plan.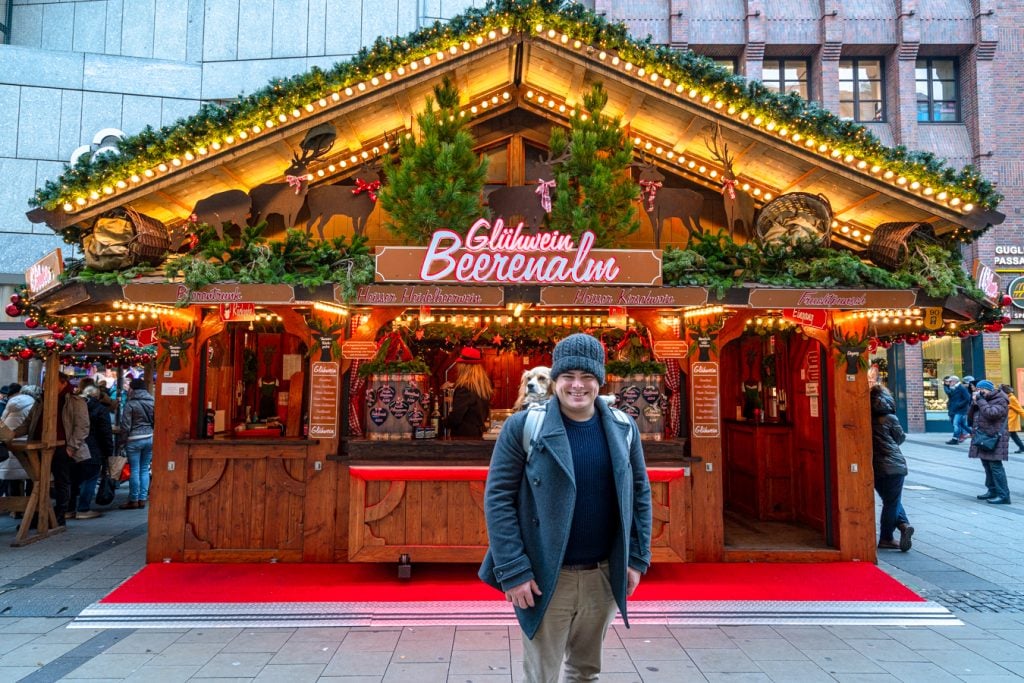 Don't plan to shop on Sundays.
Shops–including grocery stores–typically close on Sundays in Germany.
If you have any shopping planned, be sure to keep the day of the week in mind as you plan your 24 hours in Munich.
Tourist attractions and restaurants in central areas are generally less impacted by this, but it's good to plan ahead!
Read More About Visiting Germany (and Central Europe)
Planning a trip to Germany soon and eager to keep reading?
You can browse our Germany blog posts here, or check out these guides:
Your One Day Munich Itinerary Map
Take This Map With You! Click each highlight to pull up the name of the destination. To save this map to "Your Places" on Google Maps, click the star to the right of the title. You'll then be able to find it under the Maps tab of your Google Maps account! To open the map in a new window, click the button on the top right of the map.