When people consider traveling to Budapest, the food doesn't seem to come up on the list often as a reason to visit. For the epic parliament building? Yes. Ruin bars? Sure. Thermal baths? Of course. But forgetting about the delights of Hungarian cuisine is a shame–because there is so much delicious food in Budapest.
Sure, the names can get kind of long and difficult to pronounce for English speakers (kürtőskalács, anyone?), but Hungarian food itself is varied, often rich, and virtually always delicious.
If you don't want to go hungry in Hungary (forgive me, I couldn't just leave that there), here's all the best food in Budapest–good luck deciding what to eat!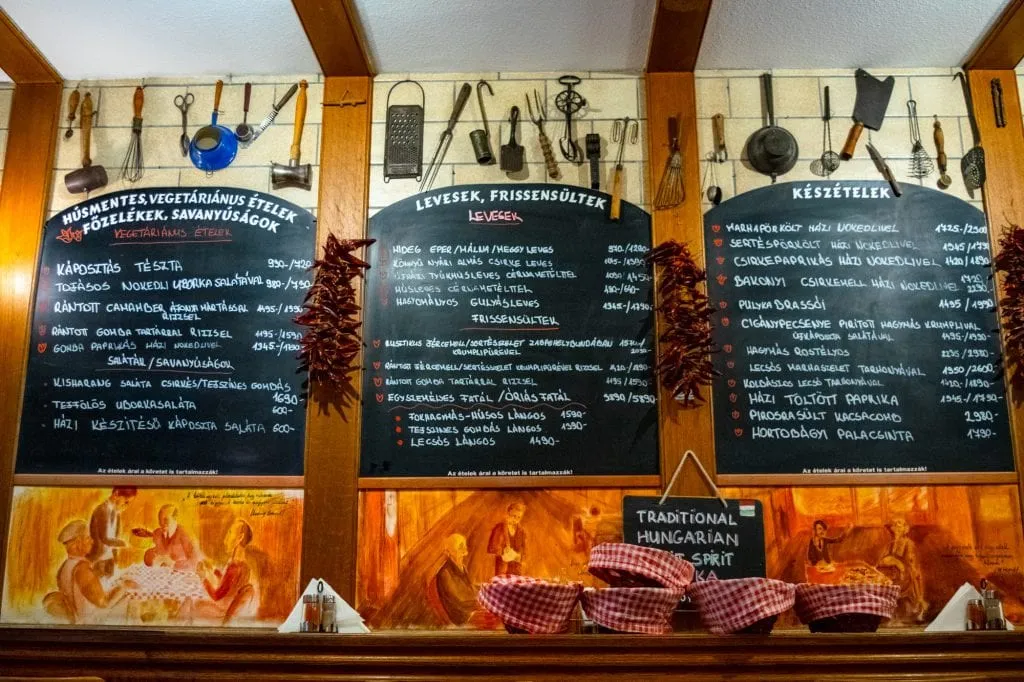 Some links in this post may be affiliate links. If you make a purchase through one of these links, we may earn a small commission at no extra cost to you. Please see our

disclosure policy

for more detail.
How to Try a Wide Variety of Hungarian Foods At Once
Want to sample several of the best foods in Budapest in one fell swoop, or simply want to be able to try small bites of each so you don't accidentally order something you don't like?
Consider signing up for a Budapest food tour!
We've enjoyed many food tours over the years, and walk away every time feeling a bit more knowledgeable about both the local cuisine and the city as a whole.
A food tour will allow you to sample far more dishes in one evening than you could try in a few days worth of "normal" eating!
If you would like to enjoy a food tour in Rome (or any other city), consider signing up for it as early in your trip as possible: that way, you'll have plenty of new favorite dishes to order in restaurants throughout the rest of your trip.
Book your Budapest food tour today!
The Best Food in Budapest: What to Eat
Goulash
I mean, how could we not start here? If you know one Hungarian dish, it's probably goulash.
Goulash is essentially a meat and spice stew, and can be served alone, as a soup, or even over noodles–you'll see all kinds of delicious presentations of the dish when exploring the best food in Budapest.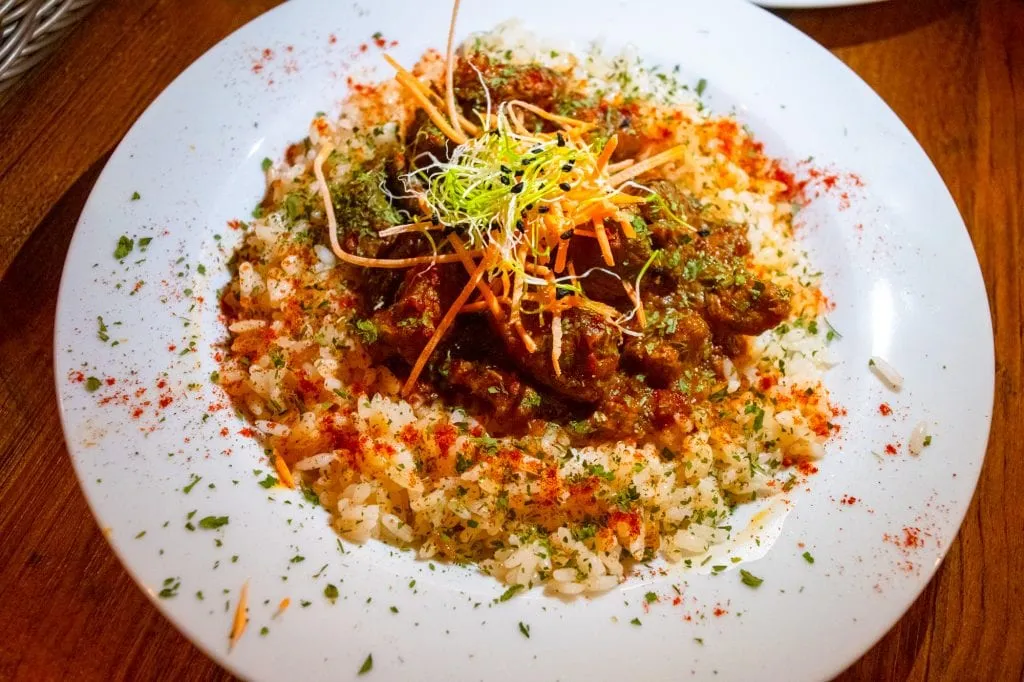 Chicken Paprikash
One of the most popular dishes in Budapest, chicken paprikash is essentially chicken coated in a sour cream sauce (heavy on the paprika, of course).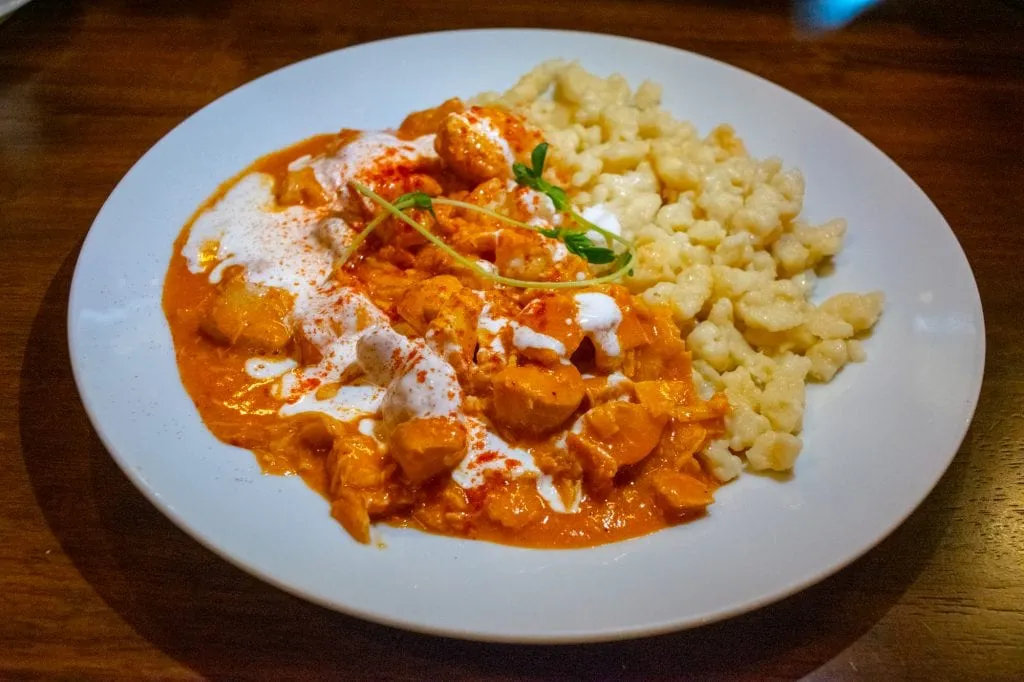 Jókai Bean Soup
This bean soup, made with vegetables, sausage, and topped with sour cream, is one of my personal favorite things to eat in Budapest, especially on a cold day.
Lecsó
This is the Hungarian version of vegetable soup, and it is a delight!
Túrós Csusza
Egg noodles, sour cream, cheese, and bacon–with a combination of ingredients like that, túrós csusza is an easy win.
Palacsinta
Hungarian pancakes (think thin, crepe-like pancakes, not fluffy American pancakes) are one of the only Hungarian dishes that has survived my family's immigration to the USA long enough that I actually learned how to make them as a teenager–and they're amazing!
Palacsinta can be served either sweet or savory, and they're delicious either way.
Rakott Krumpli
This casserole is the ultimate comfort food: made from layered potatoes, sour cream, sausage, and eggs, this is a stick-to-your-ribs comfort dish that is impossible not to love.
Kolbász
Hungarian sausage is practically an institution: there are endless varieties and options, and so far, they are all completely amazing.
Sauerkraut
Sauerkraut isn't unique to Hungary, of course, but it is very popular there–you'll see it in soups, served on the side of sausage, cooked into casseroles, and more.
Rántott Sajt
Deep-fried cheese croquettes–need I say more?
Lángos
This deep-fried dough is traditionally topped with sour cream and cheese (making it a great traditional dish for vegetarians in Budapest), though today you'll see it topped with just about anything imaginable.
We recommend trying it at least once prepared traditionally, though–you just may end up as hooked on it as we are.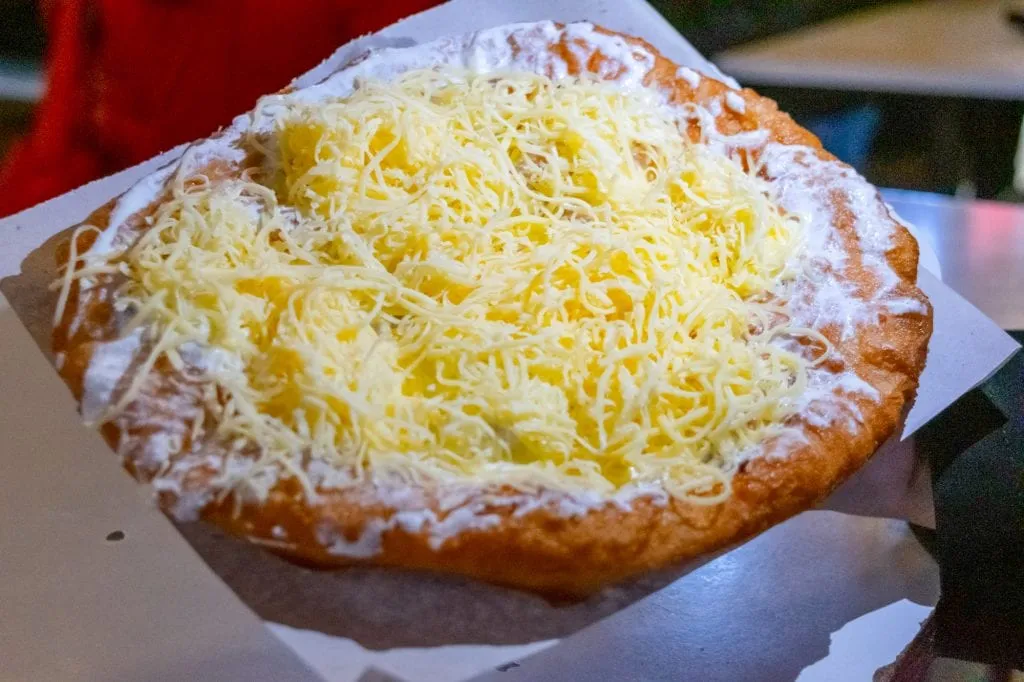 Libamáj
Fried goose liver–because why not?
Pörkölt
This slow-simmered beef and onion stew is wonderful–but don't confuse it with goulash, which is not quite the same thing, despite their similarities.
Töltött Paprika
In Hungary, this stuffed pepper dish is often served with meatballs.
Nokedli
These egg noodle dumplings are commonly served as part of Chicken Paprikash–but they're wonderful on their own, too!
Borscht
Borscht is not unique to Hungary, of course, but this beet soup-slash-stew is very popular there.
Kifli
AKA, Hungarian croissants.
Fisherman's Soup
Spicy and bright red in color, Fisherman's Soup is extremely popular in Budapest (you'll see it on more menus than you don't), and is made with river fish and a generous helping of paprika.
Töltött Káposzta
If stuffed cabbage rolls don't sound like your thing, still give them a chance once while exploring the food in Budapest–you just may be surprised at how tasty they can be!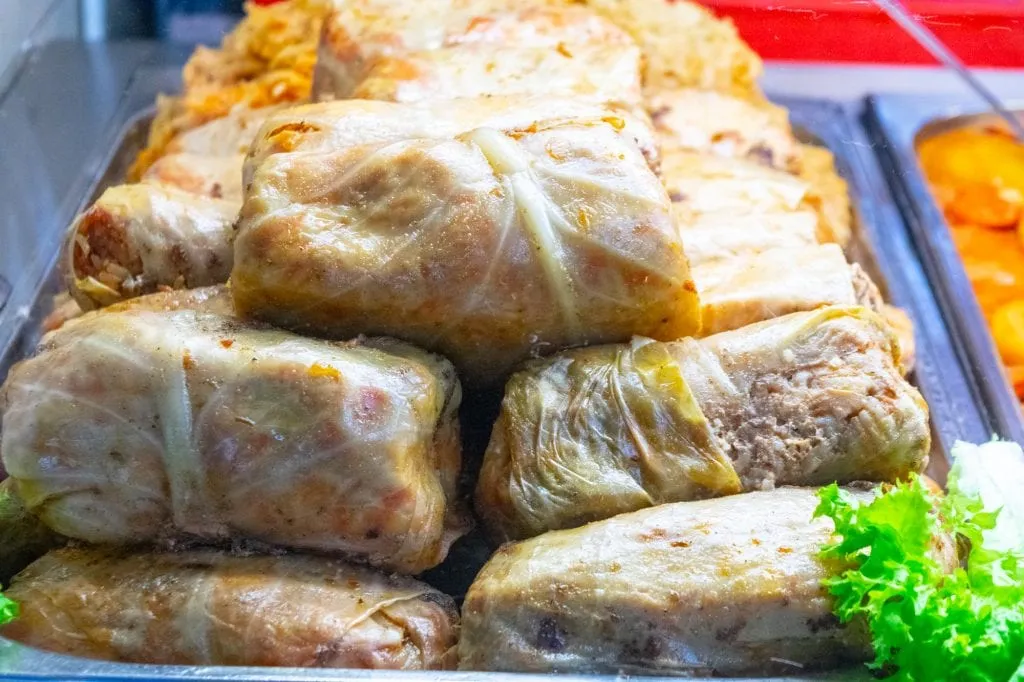 Sour Cherry Soup
This summer soup is served chilled, and is an absolute treat–don't pass it up if you're deciding what to eat in Budapest during the summer!
Solet
Originally made by the Jewish community, this stew prominently features kidney beans, onions, barley, meat, and–I know you're shocked–the ubiquitous paprika.
Once upon a time, solet was typically prepared on Fridays before Shabbat and then eaten on Saturdays lunch, but the tastiness of the dish has grown and it's now popular throughout Hungary.
Újházi Chicken Soup
Hungarian chicken soup is brothy, full of vegetables, and a fabulous comfort food.
What to Drink in Budapest
Hungarian Wine
Hungarian wine may not be as well-known as those from, say, France or Italy, but Hungary's wine regions sure know how to produce a delightful, inexpensive drink!
Hungary's best-known wine is from Tokaji and is a sweet white meant to be used as a dessert wine.
Be sure not to stop there, though–you'll find plenty of wines, both red and white, produced in the country that are delicious.
Fröccs
Fröccs, aka wine spritzers, are a mix of wine and soda water–and they are absolutely ubiquitous during summer in Budapest.
Pálinka
This fruit brandy is extremely strong–and you'll even hear some Hungarians calling it a medicine!
Book a Pálinka tasting with a Pálinka sommelier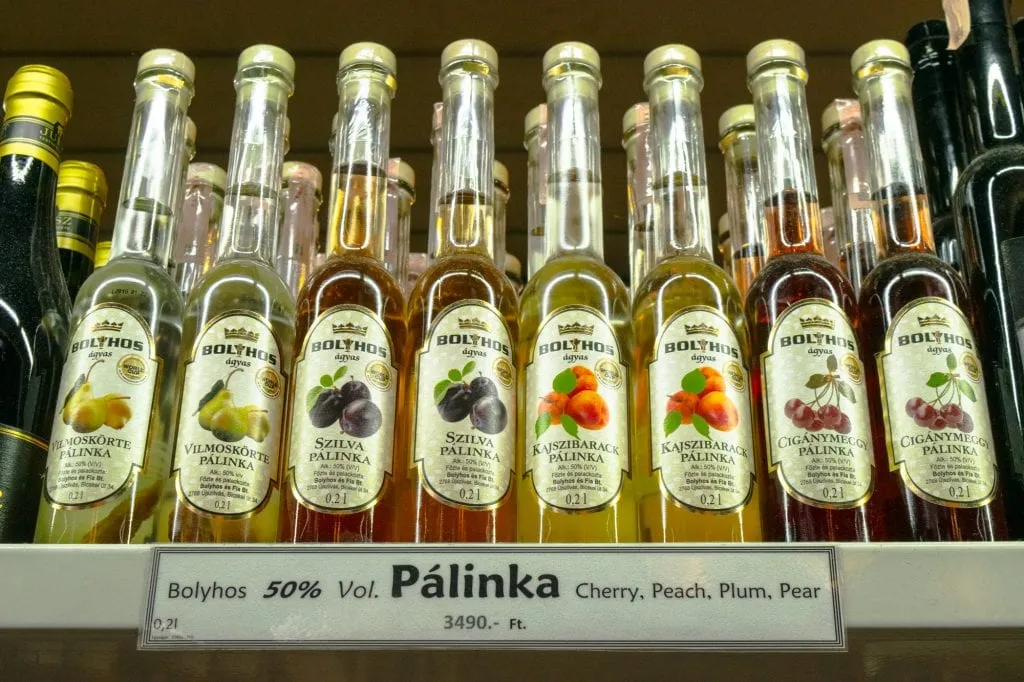 Unicum
Unicum is the national drink of Hungary. An herbal liqueur, it is usually drunk as a digestif and, like pálinka, is sometimes considered to be medicinal.
I've heard unicum described as "an acquired taste" more than once, so if you decide to try some, you've been warned!
Something Sweet to Eat
Kürtőskalács
These round, spiral cakes that are made by roasting on a spit are now all the rage across Central Europe–but they're original to Hungary, and definitely worth trying when you're looking for the best food in Budapest!
Esterházy torta
One of my favorite cakes in the world! Esterházy cake is made up of spiced buttercream layered with walnut meringue (in Austria, this cake is made with almonds instead of walnuts) and topped with glaze.
Rákóczi Túrós
Hungarian cheesecake is such a treat! You'll traditionally find this cake topped with apricot meringue.
Dobos torta
Sponge cake plus layers of chocolate buttercream, topped with caramel–the combination makes for an amazing cake!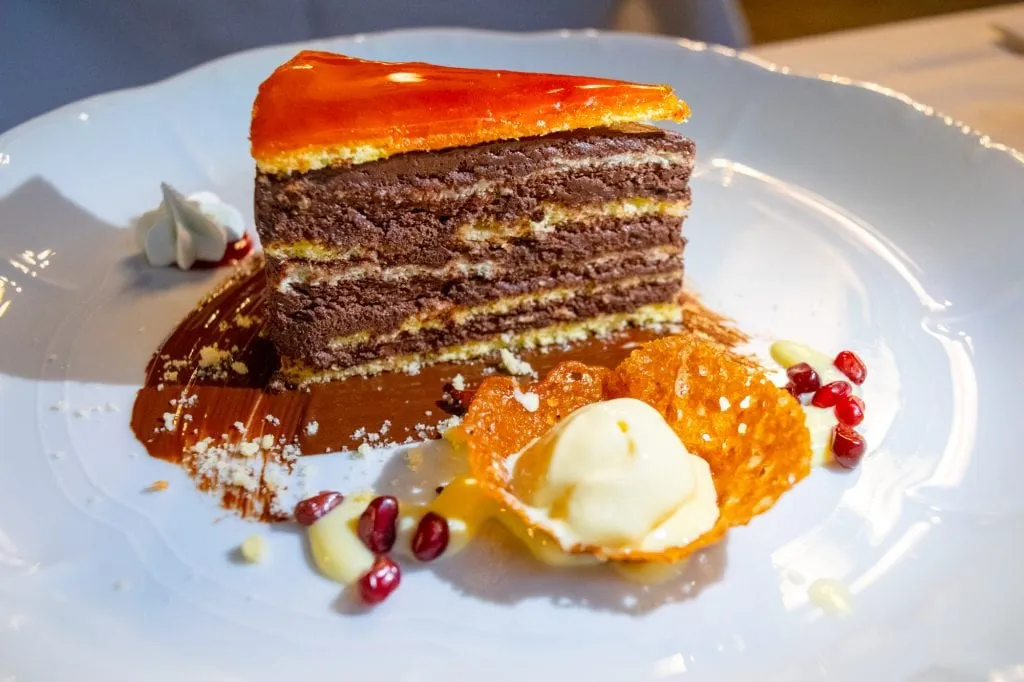 Gesztenyepüré
Delicious puréed chestnuts, sweetened and then topped with whipped cream, make up this unforgettable Hungarian dessert.
Túrógombóc
Cottage cheese dumplings covered in toasted breadcrumbs, and then served with powdered sugar and sour cream–sound like a bit of a strange dessert? I promise it's not–these are absolutely worth a try, especially if you're the type to find some desserts too sweet for your palate.
Rétes
Hungarian strudel is flaky, incredibly rich, and stuffed with a sweet filling. I'm partial to the cherry myself, though I'm yet to find a version that I don't like.
Food Experiences in Budapest You Can't Miss
Buy some paprika.
Paprika is the ultimate Hungarian souvenir! Whether classic or smoked, you can find paprika for sale all over Budapest, including (of course) in Central Market Hall.
It's very inexpensive, and arguably much better than any version of paprika you can buy outside the region, so be sure to stock up.
Go for a wine tasting.
We loved the wine tasting we did with Taste Hungary! Not only did we get to enjoy several glasses of Hungarian wine (seriously, don't plan on driving after this tour, though it's unlikely you would need to), the charcuterie board was phenomenal.
The Tokaji sweet wine paired with blue cheese that we had during this wine tasting goes down as one of the best bites of food I have had in my life. I promise that I'm not entirely overstating things–my friend Allison took the same tour a year after me and said the exact same thing!
We adored this tasting and would be happy to book it again!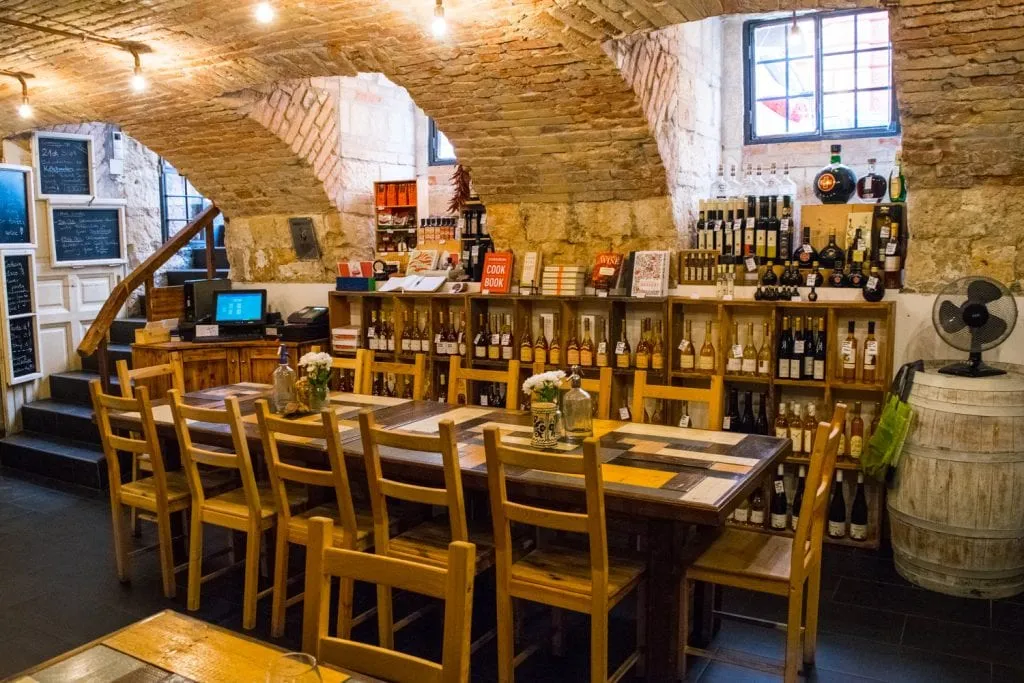 Stroll through Central Market Hall.
Also called Great Market Hall, Budapest's Central Market Hall is a delight for the taste buds.
Featuring grocery stalls on the ground floor (fruit, bottles of alcohol, sausage, spices, etc) and prepared food on top (you can find a version of most of the foods featured in this post here), Central Market Hall is one of those spots that you may find yourself passing through more than once while searching out the best food in Budapest.
For those looking for basic souvenirs, the top floor also has several souvenir stalls, and for those looking for more basic groceries, there's an Aldi in the basement!
Indulge in cake & coffee at a cafe.
Budapest has an incredible cafe culture. Gilded, 19th-century cafes serving elegant drinks and desserts are not uncommon, so be sure to stop by one at least once while you're working your way through the best food in Budapest!
The insanely gorgeous New York Cafe is the best-known, but there are plenty of other options available in the city as well (that tend to be more reasonably priced). We're partial to Central Cafe for those looking for a side of glitz and glamour with their cappuccino!
Take a Hungarian cooking class.
Want to take the best food in Budapest home with you? Consider taking a cooking class in the city and learn how to make some of Hungary's most popular meals for yourself!
Not only are cooking classes tons of fun and a great way to stretch your skills (and stomach–I haven't been to one yet where I didn't leave stuffed to the gills), they are fantastic opportunities to learn more about Hungary's food culture by engaging with the cuisine in a very hands-on way.
This one includes a market tour to gather your ingredients, followed by a private cooking class with local wine and beer.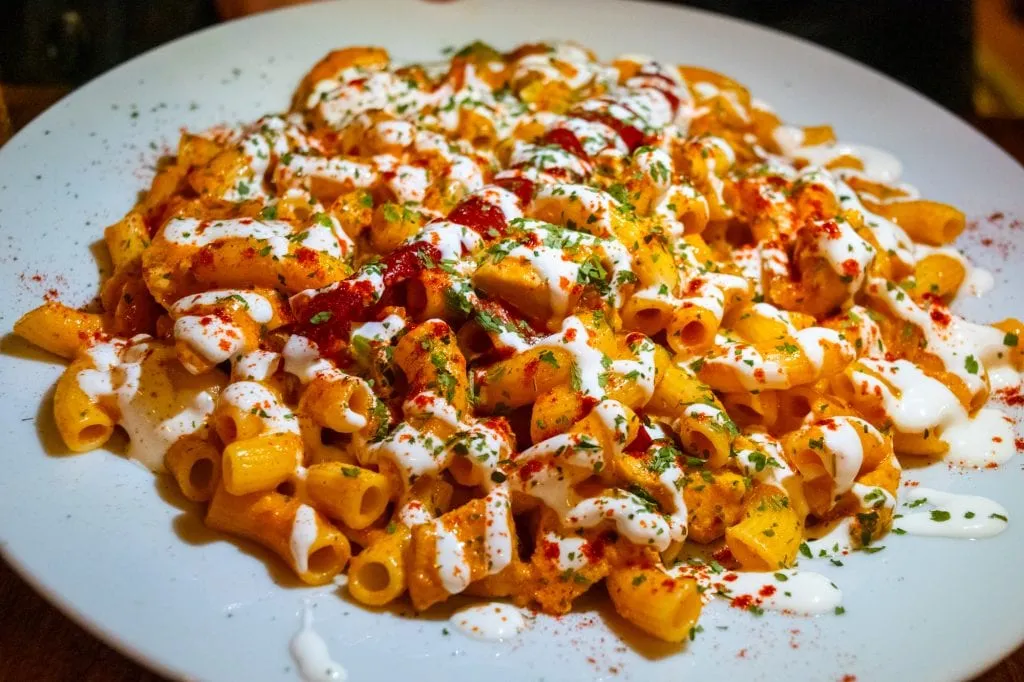 Grab a drink at one of the ruin pubs.
Nearly 20 years ago, ruin bars came to Budapest… and their popularity has only continued to explode ever since.
Known for their inexpensive drinks and eclectic decor, Budapest's ruin pubs are housed in once-derelict buildings that have found second lives as pubs.
The largest and most famous ruin bar is Szimpla Kert, and it's the perfect place to introduce yourself to this unique feature of Budapest.
Book yourself a night on the town with a ruin pub crawl in Budapest!
---
Many thanks to Taste Hungary for hosting us on our wine tasting with them! All opinions are, as always, our own.