Our week spent in the High Tatras in Slovakia was not quite the hiking extravaganza that we thought it was going to be for one simple reason: it rained. A lot.
And by "a lot", I mean that it rained 5 of the 6 days that we were in the area, some of those for the entire day.
When it wasn't raining, the weather spent most of its time creating a thick fog that obscured the mountain range so thoroughly, we often couldn't tell that there was a mountain right in front of us!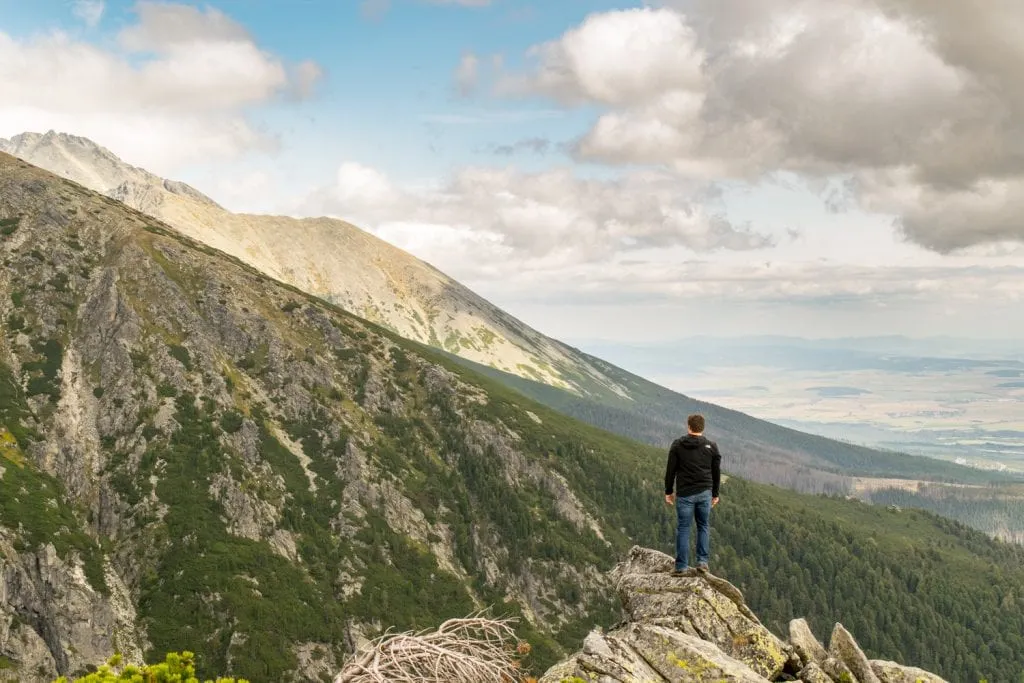 Some links in this post may be affiliate links. If you make a purchase through one of these links, we may earn a small commission at no extra cost to you. Please see our

disclosure policy

for more detail.
Basically, a pessimist could sum up our week hiking in the High Tatras as shoulder season travel doesn't always pay off (which in and of itself is a great travel tip for Europe), and perhaps we would have been better off checking out other great places in Slovakia instead or even sticking around Bratislava longer than the couple days we did (especially considering how inexpensive Bratislava is!).
We don't choose to look at it that way, though.
While we did get wetter than we planned, hike fewer miles than we planned, and walk away with fewer pictures than we planned–we still adored hiking in the High Tatras.
Here's why we loved Slovakia's High Tatras–and why we recommend mountain lovers visit the High Tatras (though not necessarily in the shoulder season like us!).
The High Tatras are incredibly gorgeous.
Forget foothills–the High Tatras rise up out of the ground suddenly, leaving acres of flat farmland abruptly interrupted by the insertion of beautiful mountains.
It makes for quite the sight when driving toward the High Tatras National Park ("Vysoke Tatry" in Slovakian), and the views inside the park continue to get better.
We hurried outside during every second of sunlight we received, eager to bask in the views of the mountains at their prettiest: sunlight reflecting off the mountain lakes, flowers lit up colorfully, and the mountains cleared of fog all the way to the top, leaving their peaks exposed and ready to be admired.
These are the kinds of mountain views that inspire hiking quotes and stories, and they're well worth visiting.
The wildflowers are stunning.
We spent so much time stopping while hiking in the High Tatras to take photos of these beautiful flowers!
With the mountains hanging out behind them, a field of these flowers easily resembles something out of a fairytale.
By the time we visited the High Tatras in September, the flowers were a bit past their peak–but there was still plenty of colorful beauty to go around.
Hiking in the Slovakian High Tatras is very affordable.
Both lodging and food are very affordable in the High Tatras of Slovakia.
We paid just $22/night for our amazing Airbnb (a cozy one-bedroom apartment that we had all to ourselves, located about a 15-minute drive from the park), and less than $75 in groceries to feed ourselves for just under a week.
Other than those two things, our only expenses in the High Tatras were parking (about $2.40 an hour in most places, with a max rate of $7-10/day), and one chairlift ride that we took to save time (about $15/person round trip).
We loved checking out the mountain lakes.
Crisp mountain air and beautiful lake views–it's hard to imagine a better combination!
The stunning mountain lakes in the High Tatras are an unforgettable sight, and one of the best reasons to visit the High Tatras outside of the ski season.
We visited both Popradske Pleso and Strbske Pleso while in the area, and caught sight of many smaller lakes while hiking in the High Tatras–we even saw one small pond that was still partially frozen over!
You won't have to fight the crowds.
Visiting in early September, we experienced the High Tatras without any crowds at all: while businesses were still open for the most part and there were people around on most trails, there was absolutely no congestion.
Even in the summer, though, visiting the High Tatras will be an extremely peaceful experience compared to hitting up more popular places to hike in Europe.
Outside of Hungarian, Slovakian, and Polish families, the High Tatras are still a relatively unknown travel destination that is fairly untouched by heavy tourism.
If you're looking for an off-the-beaten-path summer destination in Europe, be sure to check out the High Tatras of Slovakia.
If we walked away with such a wonderful impression after drawing the short straw with the weather, I feel pretty confident stating most other outdoor lovers will love hiking in the Slovakian High Tatras as well.
Where We Stayed in the High Tatras, Slovakia
Airbnb: Cozy Apartment Near Tatra Mountains — We loved this adorable one-bedroom flat!
It was clean, had gorgeous views of the mountains whenever the fog cleared, and was about a 15-minute drive from the High Tatras.
The hosts were generous, kind, and took excellent care of us even though we didn't share any languages. If we head back to the area, we'll definitely check to see if this apartment is available!
Curious about renting properties on Airbnb? Check out our guide to using Airbnb for guests!
---