July 7, 2019
Krakow, Poland: 7 Reasons You Have to Visit
Poland
Krakow is on the rise as a travel destination–more and more people are heading to this small Polish city for its amazing architecture and unbelievably fascinating history. Want to travel slightly off the beaten path? Go to Krakow.
Here's what you can't miss:
1. The Main Market Square is gorgeous.
Unlike Warsaw, Kraków's architecture was left almost untouched by WWII. The Main Market Square dates back to the 13th century, and is surrounded by beautiful, ornate buildings. The square is enormous, and now also includes many overpriced restaurants on the outskirts–but that's not a reason to stay away. It's a great place to people watch, see street performers, and just wander. You can find your way in and out via any one of a series of small streets, so it is the perfect place to start exploring.
2. Krakow is full of World War II History.
Even though Krakow wasn't physically destroyed during WWII, deep scars were left. Kazimierz, the Jewish quarter, held what was considered one of the most thriving Jewish cities in Europe until Hitler arrived.
During the war, the Jews were forced into a ghetto in Podgorze, across the river from Kazimierz. The ghetto was emptied by the Nazis before the end of the war, sadly, most of its residents became victims of Nazi concentration camps. Ghetto Heroes Square is now a beautiful memorial put up in honor of the victims. Schindler's Factory (of the Schindler's List movie) is also in Kraków, though we did not get to visit it.
Also nearby, and absolutely worth seeing, is the infamous Auschwitz-Birkenau concentration camp. I'll write in more detail about this in a later post, but suffice it to say that you will not have fun there, though it is a valuable experience. Our day trip there was by far the most haunting day of our travels so far, and we are very glad we went. Don't plan for much else on that day, though–between the day trip and the emotional upheaval, you're not going to want to do much of anything after seeing the camps.
3. The Church of St. Peter and St. Paul is remarkable.
I'll admit, I'm partially a fan of this church because we found it by accident: Jeremy and I were wandering around town, vaguely trying to find Wawel Castle, when we saw this beautiful looking church with statues of the 12 disciples in front. We decided to go inside and see what we could find, and boy, was that a good decision.
The church was open and free to visit, a nice woman handed us an audio guide when we entered. The interior of the church is done in an ornate Baroque style: lots of gold, lots of carvings, lots of statues (including terrifying dogs that I can only assume were supposed to be hounds of hell–there were definitely some "fire and brimstone" elements to the decor).
After wandering the sides, we approached the altar to find–stairs! Stairs leading down, that were open. After hesitating for a moment (was this actually part of the tour?), we started down (and eventually found the part of our audio guide leading us down there). Lo and behold, we were in a crypt. It was fascinating to walk around and read about whose remains we were among.
Obviously, this place was a hole in our research: it's not difficult to find information about it online. Our strategy of not over-preparing can pay off in moments like this, though–sometimes, it's wonderful to "discover" things organically, and it certainly has made for a wonderful memory.
4. Wawel Castle is unforgettable.
Wawel Castle is everything that your childhood of reading fairy tales says that a castle should be: imposing, beautiful, on a hill. It is gorgeous, with a rich history. The castle we see today is the second, as the initial Middle Ages one burned down. It was conquered several times before falling under Polish control again, when restorations began.
Restorations were a lengthy process (interrupted by WWII), but a visit to the castle is now one of the best things to do in Krakow. Unfortunately, each of the tours of the interior of the castle (Private Apartments, State Armory, etc.), requires a separate ticket. Due to time and budget, we didn't get around to taking any of the official tours. Walking tours of some areas were free, though (at least as far as we could tell), so we joined one of those to explore a royal crypt and the cathedral.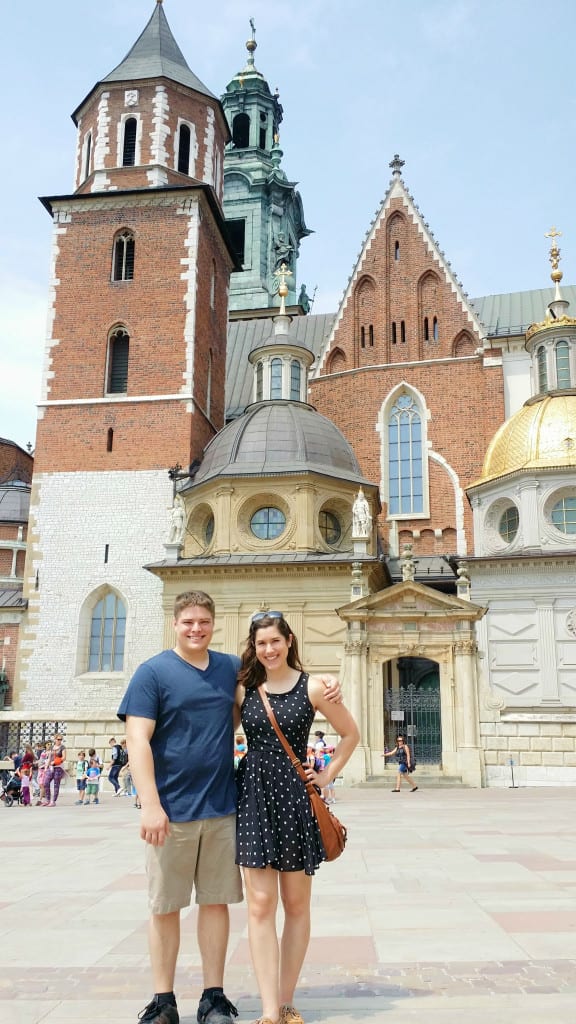 5. Krakow is easily walkable.
With a couple of exceptions for journeys outside the center of town, our only source of transportation during our time in Krakow was our own feet. This was not a problem, because Krakow is easy to get around, especially from where we were staying. It took us 10 minutes to get to Main Market Square, maybe 12-15 to get to Wawel Castle. Plus, the views along the way were gorgeous, regardless of where we wanted to go.
6. The Wieliczka Salt Mine is very accessible.
One of the exceptions to walking was our bus ride to the town of Wieliczka to visit the world famous Wieliczka Salt Mine. It. Was. Incredible. Hands down, it is one of the most fun things to do when visiting Krakow.
One does not generally go into a salt mine expecting to find detailed statues carved out of salt, a remarkable copy of Da Vinci's The Last Supper carved out of salt, dozens of chandeliers carved out of salt, multiple chapels and cathedrals carved out of salt… almost exclusively done by the miners themselves. It was amazing, seriously. As if all of that wasn't enough, our guide kept pointing out structures that rose 20-30 feet in the air and saying things like "and that was done with only hand tools!" The salt acts as a natural preservative, so the wood construction is still standing as well as it did hundreds of years ago.
The last horse came up from the salt mine in 2004–seems a sad life for a horse, but it's fascinating that so many generations of them lived down there at all. The mine produced salt for 900 years–and only stopped because it was no longer profitable. The salt is still literally coming off the walls.
This is a must-see when in Krakow. I will warn, however: watch the transportation carefully. We got off at the wrong stop, causing a long, lost walk until we ended up finding the mines. When we decided head back to our Airbnb? The bus stop we sat at patiently for an hour turned out to not be running buses that day. It was very frustrating, but sadly transportation hiccups are the plague of all travelers at some point.
7. Krakow is budget friendly.
Magic words, right? But really–while everyone has a different definition of the phrase "budget travel", a city break in Krakow is not going to break the bank. One Polish zloty is currently showing as .26 USD, or about a quarter for every zloty. Our day trip to Auschwitz-Birkenau was $55 for the two of us, including transportation there and back and a guided tour. A sit-down meal ran us about $12-18, or, slightly more than we would pay on a Taco Bell run in the states.
I will confess, our private Airbnb (click HERE for $35 off your first Airbnb rental!) apartment was $61/night after all taxes and fees–we could have easily spent less, but this was not a budget trip for us, and we weren't exactly pinching our pennies. If we were going today, we probably would have chosen a slightly less decked out place for about $30-35/night, but still stuck with the private apartment. Hostelworld is showing dorms from about $6/night and private rooms from about $13/night.
One day, we'd love to return to see more of Krakow–and more of Poland, including Warsaw!