Boasting medieval architecture, a fun, walkable center, an endless amount of (often very sad) history, and lots of pierogis, spending 2 days in Krakow is bound to be an unforgettable experience.
Krakow was the second-ever European city that we visited, and while it was a bit of an offbeat choice for us at the time, we quickly fell in love with the city and it has held a special place in our hearts ever since.
Like many travelers, we were initially drawn to visiting Krakow due to its proximity to Auschwitz-Birkenau and the Wieliczka Salt Mine, but it only took a couple of days in Krakow before we were also smitten with the city itself.
As one of the only cities in the region to survive WWII intact (much unlike Warsaw, for example), Krakow's center is packed with medieval architecture, winding cobblestone streets, and interesting museums and sights that make it one of the best cities to visit in Poland.
Planning to spend 2 days in Krakow, Poland soon?
We've combined the best things to do in Krakow's city center with the area's two most famous day trips to create this history-packed 2 day Krakow itinerary.
Here are the best things to do in Krakow, Poland!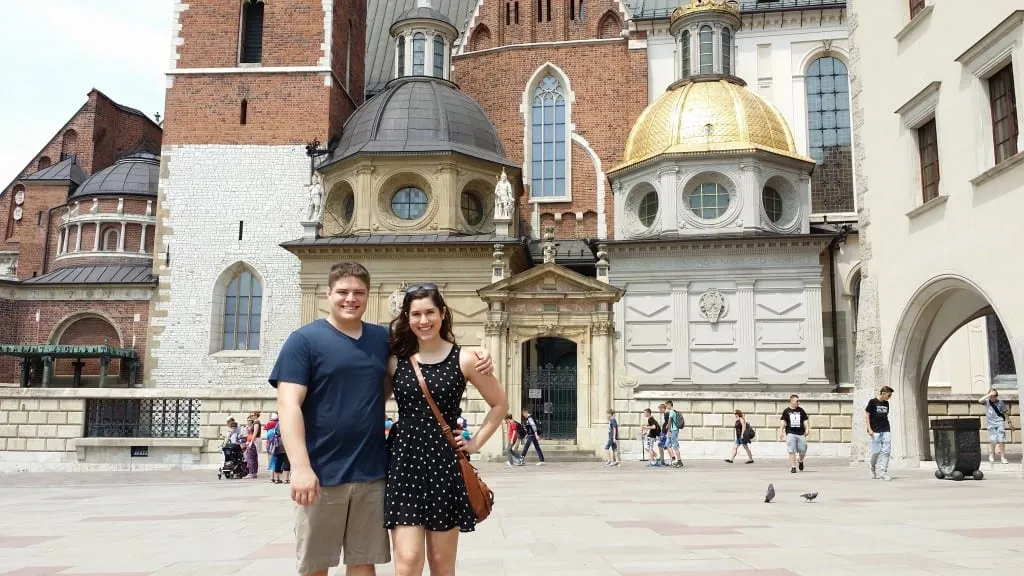 Day 1 in Krakow Itinerary: Old Town + Wieliczka Salt Mine
Kick off your 2 days in Krakow in Main Market Square (Rynek Główny).
There's no better place to start a couple of days in Krakow than in the magnificent Main Market Square, which is home to some of the city's most interesting sights, and best views, and boasts some phenomenal architecture.
It was standing right about here on our first morning in the city that we began to fall in love with Krakow.
Here are a few sights in Main Market Square to be sure not to miss.
St. Mary's Basilica
Dating to the 14th century, St. Mary's Basilica is built in a Gothic style, has a jaw-droppingly beautiful interior (that ceiling!), and is one of the most recognizable buildings in Krakow, and perhaps even in Poland as a whole.
If checking out the interior isn't quite enough for you, you can climb the tower for a fantastic view over the Main Market Square!

Cloth Hall
Once a major center of international trade, Cloth Hall was once a source of spices and other imports from the east into Krakow, and today still acts as a trading post of sorts–though now one that has tourists and souvenir shopping in mind.
Town Hall Tower
Built in the 13th century, Town Hall Tower is the only remaining portion of Krakow's original town hall, which was demolished in the 19th century.
Once upon a time, you could find a medieval prison in the depths of the tower, but today it is popular for the lovely views of Main Market Square you can see from the top.
Check out Florianska Street.
Stretching the (admittedly brief) distance between Main Market Square and St. Florian's Gate, Florianska Street has been an economic center of Krakow since the Middle Ages, and is packed with shops and restaurants to this day.
As one of the best-known streets in Poland (even compared to Warsaw), it's worth taking a few minutes of your couple days in Krakow to wander down it.
Stroll down Grodzka Street.
As you begin to make your way toward Wawel Castle, it only makes sense to head down Grodzka Street.
Not only is Grodzka Street one of the major streets in central Krakow, it's also part of the Royal Road, and Polish kings once used it to reach Wawel Castle.
As you make your way down the street, be sure to duck into Saints Peter and Paul Church (the crypt is amazing!) and St. Andrew's Church.
Experience Krakow in 15 Minutes.
For a brief, inexpensive, and fun introduction to the history of the city without eating up too much time during your 2 days in Krakow, head over to Krakow in 15 Minutes!
This small museum uses a 15-minute multimedia presentation to give people visiting Krakow for the first time a quick overview of the city's history.
Grab lunch at a milk bar.
Milk bars, aka staples of very simple, very delicious, and very inexpensive Polish food, are a tradition that dates back to Poland's Communist times when workers could enjoy a meal out at these state-run cafeterias of sorts.
Communism, of course, is now a memory, but Polish milk bars (or a "bar mleczny") live on and remain a fabulous and inexpensive way to enjoy a hearty lunch consisting of some of the best things to eat in Krakow.
Be sure to order plenty of Polish pierogi while you're there!
Explore Wawel Castle.
For centuries, Wawel Castle was the home of Polish kings, and perhaps because of that, Wawel Castle is exactly what you might expect a castle to be: beautiful, foreboding, defensible, and perched on a hill overlooking the Vistula River.
Depending on how long your morning stroll through Krakow's city center takes–and how early of a start you got–you may need to pick and choose exactly what you see at Wawel Castle to make room for everything in this 2 day Krakow itinerary.
That's okay, though–the castle is a delight no matter which area you choose to focus on.
We recommend starting in the courtyard.
From there, here are a few things you might find.
Wawel Cathedral
Almost 1000 years old, Wawel Cathedral is both incredibly beautiful and historically relevant.
Wawel Cathedral was traditionally the coronation site of Polish kings!
Wawel Grounds
Wawel Castle has beautiful grounds and gardens, including a lovely courtyard that is an excellent place to start your visit to the castle.
Be sure to also check out the views of the Vistula River as you walk along the castle walls!
Wawel Museum
Housing one of Poland's best museums, the interior of Wawel Castle is definitely worth visiting if you have time during your 2 days in Krakow!
However, each section is ticketed separately–the armory is separate from the staterooms which is separate from the royal apartments, for example.
If you'd like to tour the interior of the castle, this well-reviewed tour is a great way to learn about the castle's long history.
Book your tour of Wawel Castle today!
Wawel Dragon
One of the most interesting facts about Krakow is that a legend says that a dragon once lived in a cave at the base of Wawel Hill.
So of course, it only makes sense that a dragon statue would be erected in its honor, right? Every castle needs a dragon.
This dragon statue is well worth visiting during your trip to Krakow–it literally breathes fire!
Spend the afternoon exploring the Wieliczka Salt Mine.
Even after visiting nearly 50 countries, we still rank the Wieliczka Salt Mine as one of the most interesting places we've ever visited underground.
Featuring an entire cathedral carved entirely out of salt (chandeliers and all!), many impressive statues and other works of art made out of salt, a fascinating and sometimes sad history, and plenty of engineering marvels, the Wieliczka Salt Mine is one of those places you never forget visiting.
It's a bit of a slog to get out there, especially when you're trying to see Krakow in 2 days, but we truly believe visiting this incredible salt mine is well worth the time.
While you certainly can visit independently (grab your skip-the-line tickets here!), we really recommend taking a guided tour.
The context adds so much to the visit, and really brings the mine to life.
We loved our tour and would definitely take another one if we visit again!
This tour is incredibly popular, gets great reviews, and includes transportation from Krakow, which will greatly simplify your afternoon.
Book your tour of the Wieliczka Salt Mine today!

Prefer an independent visit? Grab your skip-the-line tickets here!
Day 2 in Krakow Itinerary: Auschwitz-Birkenau + Kazimierz
The second day of this Krakow itinerary focuses heavily on the Jewish history of the city and surrounding area, which is extremely important, extremely sad, and extremely emotionally draining.
We recommend going slow, pacing yourself, and stopping for breaks throughout the day.
If you're anything like us, this day will leave you exhausted, but it's very important to witness and well worth seeing in our opinion.
Spend the bulk of the day touring Auschwitz-Birkenau.
Many people–us included–initially consider visiting Krakow at least in part because of its proximity to Auschwitz-Birkenau, one of the most infamous Nazi concentration and extermination camps in Europe.
Our visit left a lasting impression on us, and years later, moments and stories from that visit are seared into our memory.
We studied WWII and the Holocaust thoroughly in school, of course, but visiting Auschwitz-Birkenau brought the horrible history to life in a very real way.
We have always maintained that we are very glad we went… and that we never want to go back. For something that heavy, once was enough.
In our opinion, it is important to tour the memorial with a guide.
The guides who work at Auschwitz-Birkenau are passionate about keeping the memory (and lessons) of the Holocaust alive and are very dedicated to what they do.
While you can tour the location independently, this is a place where a guided tour is well worth it.
Auschwitz-Birkenau is located more than an hour outside of Krakow, and it's very useful to have transportation handled for you between Auschwitz and Birkenau (which are set a bit apart from each other).
It's also very useful on the way home, when most visitors (if our tour group is anything to go by, anyway) tend to be deeply lost in their own thoughts.
Book your guided visit to Auschwitz-Birkenau here.
Take an afternoon break and rest.
By the time you make it back to Krakow, it'll be afternoon, and we recommend taking a bit of time to rest and decompress after the emotional trip to Auschwitz-Birkenau.
Perhaps grab a relaxed lunch, head back to your hotel, or take a stroll through one of Krakow's beautiful parks.
Planty Park is easy to access and absolutely lovely.
Head to Kazimierz for additional Jewish history in Krakow.
After resting up for a bit, close out your 2 days in Krakow by heading to Kazimierz.
The neighborhood of Kazimierz is home to the former Jewish ghetto in Krakow, as well as many historical sites connected with Jewish history in the city–including a very famous factory.
Here are a few things to see in Kazimierz.
Ghetto Heroes Square
Ghetto Heroes Square is hard to miss when exploring Kazimierz.
33 bronze chairs are located in the square, placed there to honor the Jews who lost their lives in the Nazi occupation during WWII.
Oskar Schindler's Factory
Many of us have heard of Oskar Schindler before visiting Krakow: he is credited with saving around 1200 Jews from Nazi concentration camps in WWII, and is the subject of the famous movie Schindler's List (and the book that the movie was inspired by).
Today, Schindler's factory in Krakow is a museum dedicated to covering the Nazi occupation of Krakow during WWII and is an excellent way to start exploring Kazimierz.
Depending on how early in the afternoon you arrive and whether you're up for another intense museum after visiting Auschwitz-Birkenau earlier in the day, you may or may not choose to go in with only 2 days in Krakow.
Regardless, it's definitely at least stopping by the location when you're in the neighborhood.
Old Jewish Cemetery (Remah Cemetery
Located next to Remah Synagogue, the Old Jewish Cemetery was used for burials in Krakow from the 16th through the 18th centuries.
It was virtually destroyed during WWII, though some gravestones survived, and others were reconstructed after the war.
Schindler's Passage
Much of the movie Schindler's List was filmed in Krakow, in the same neighborhood where the original events took place.
The famous passage from the movie can be visited while exploring Kazimierz, though it is not much to look at these days–its biggest significance is its links to the past.
Where to Stay in Krakow
When deciding where to stay in Krakow for 2 days, we recommend choosing somewhere within a comfortable walk of the Main Market Square and Wawel Castle.
That location will give you the flexibility you need to explore Krakow during your stay, and is also an easy place to arrange pickups for tours to sights outside the center of town.
Here are a few well-reviewed properties with excellent locations to consider.
Budget
Mundo Hostel — Featuring an around-the-world decor theme, excellent reviews, a popular included breakfast, and a prime location just a 5-minute walk from Wawel Castle, budget travelers will love Mundo Hostel–regardless of whether they're looking to stay in a dorm or private room.
Mid-range
Avanti Home — Combining the convenience of a hotel with the comfort of staying in a well-equipped apartment, the popular Avanti Home is perfect for mid-range travelers who want a bit more space and access to a kitchenette in their room without sacrificing the ease of staying in a hotel.
Luxury
Hotel Amber Design — Featuring an Art Nouveau decor style, spacious rooms, and fantastic reviews, this gorgeous four-star hotel in Krakow is perfect for travelers hoping for an incredibly comfortable and luxurious experience.
Be sure to check out the stunning historic staircase and included sauna access during your stay!
Check rates & book your stay at Hotel Amber Design!
Prefer to structure your 2 days in Krakow differently?
We have intentionally structured this 2 day Krakow itinerary to separate Wieliczka Salt Mine and Auschwitz-Birkenau into two different days, which has the benefits of breaking up the two longer tours from this itinerary into separate days and allows time to explore Kazimierz on the same day as your visit to Auschwitz-Birkenau.
This is our preference, however, many visitors take a different approach, and instead prefer to visit Auschwitz-Birkenau and the Wieliczka Salt Mine back-to-back, since they're both located outside the city, leaving one full day to concentrate on Krakow itself.
If the second option is more your style, an all-in-one tour like this is an excellent option and will make sure your (admittedly long, but efficiently run) day will go off without a hitch.
This incredibly popular tour gets rave reviews and will allow you to visit both Auschwitz-Birkenau and the Wieliczka Salt Mine in one day.
Getting Around During 2 Days in Krakow
Krakow is a small, compact city, and you'll be able to walk the bulk of this 2 day Krakow itinerary, with the obvious exceptions of visiting Auschwitz-Birkenau and the Wieliczka Salt Mine.
If you'd rather visit those sights independently rather than as part of a tour, the local bus service is the easiest way to get around outside the city center.
Just be sure to read the bus schedule carefully!
When we visited the Wieliczka Salt Mine, we made the novice mistake of waiting too long for a bus that wasn't scheduled that day!
If you would like to take advantage of public transportation during your time in the center of Krakow (it's about a half-hour walk from the Main Market Square to some of the locations mentioned in Kazimierz), Krakow's tram system is a fantastic option.
---