Visiting any new city for the first time is obviously going to spark questions about where to stay–but Budapest puts a different spin on this question altogether by asking what city you want to stay in during your visit: Buda or Pest.
Originally two different cities divided by the beautiful Danube River (or if you want to get technical, three cities), the west bank cities of Buda and Obuda united with the city of Pest on the east bank of the Danube in 1873, and Budapest as we know it was born.
Even today, you'll hear people referring to the "Buda" side of the river and the "Pest" side of the river, particularly when describing where tourist destinations are located.
So, where is the best place to stay in Budapest: Buda or Pest?
Well, that depends on what you're looking for!
Some links in this post may be affiliate links. If you make a purchase through one of these links, we may earn a small commission at no extra cost to you. Please see our

disclosure policy

for more detail.
Stay in Buda for…
… better views.
Buda is the hillier of the two cities and sits much higher than Pest on average.
It's home to some of the best views in Budapest (and therefore some of the best photo spots in Budapest), including from the Citadel at Gellert Hill and Fisherman's Bastion!
… the Castle District.
The Castle District, which holds Buda Castle, Matthias Church, and Fisherman's Bastion among many other attractions (we're partial to the Labyrinth under Buda Castle), is a favorite of tourists who come to Budapest.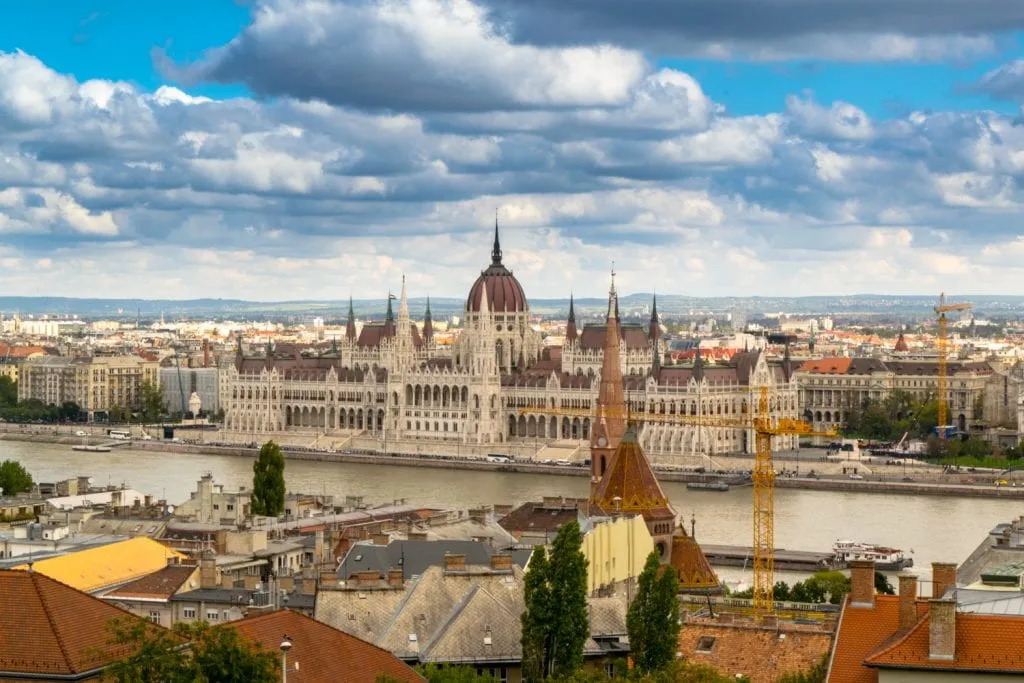 … a quieter side of the city.
Buda is considered to be the calmer side of the city–while it's not exactly dead, there tends to be much more going on, including nightlife, on the Pest side of the river. Buda tends to have a much more residential feel.
Highlights of Buda
Some of Budapest's most famous sights are located in Buda, including Fisherman's Bastion, Matthias Church, and Buda Castle.
The caves underneath Budapest are also accessed from the Buda side of the river, and you can find the Cave Church, Gellert Baths, and Citadel here as well.
Stay in Pest for…
… better nightlife.
Budapest's famous ruin pubs, located in what used to be the Jewish Quarter, are located on the Pest side of the river.
If you're coming to Budapest for nightlife, this is the place to be!
… a larger concentration of tourist sights.
While Buda holds some of Budapest's most famous attractions, Pest has more of them overall, including St. Stephen's Basilica, Central Market Hall, the Szechenyi Baths, and the Parliament Building, among many others.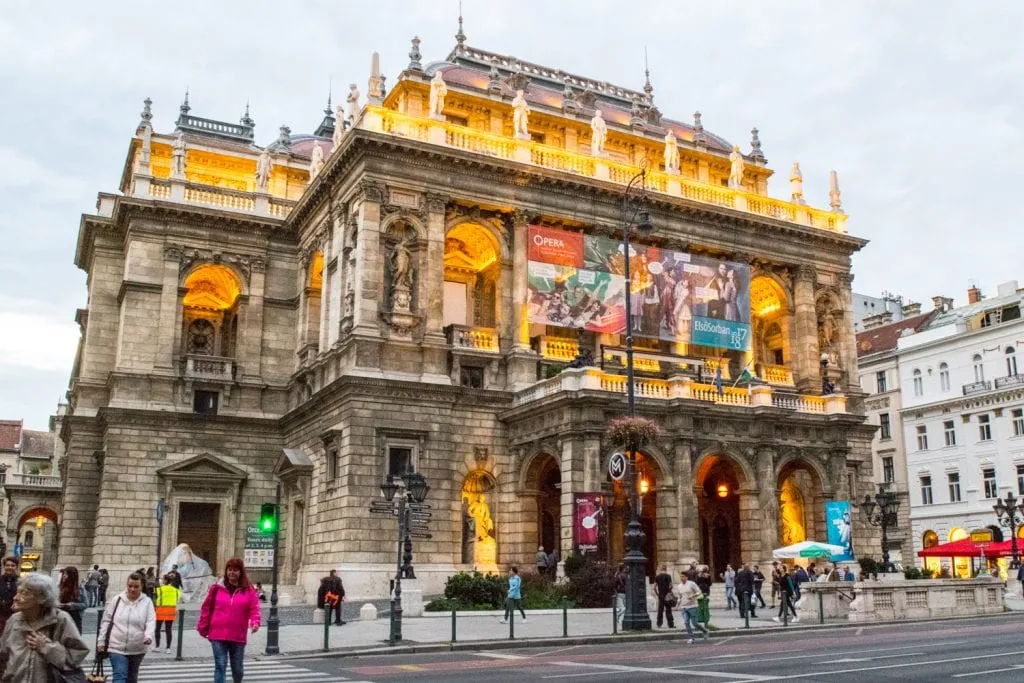 … plenty of restaurants and shopping.
Pest is larger, busier, and has much less of a residential feel than Buda, and that lends itself to having much more commerce in general.
You'll never have trouble finding one of Budapest's great restaurants on the Pest side of the river, but with so many options, you may have trouble deciding what to eat in Budapest!
Highlights of Pest
Pest's most well-known sights include Central Market Hall, the Parliament Building, the Shoes on the Danube Monument, Heroes Square, the Szechenyi Baths, St. Stephen's Basilica, the Hungarian Opera House, and more.
We're also partial to the Szabo Ervin Library on this side of the river!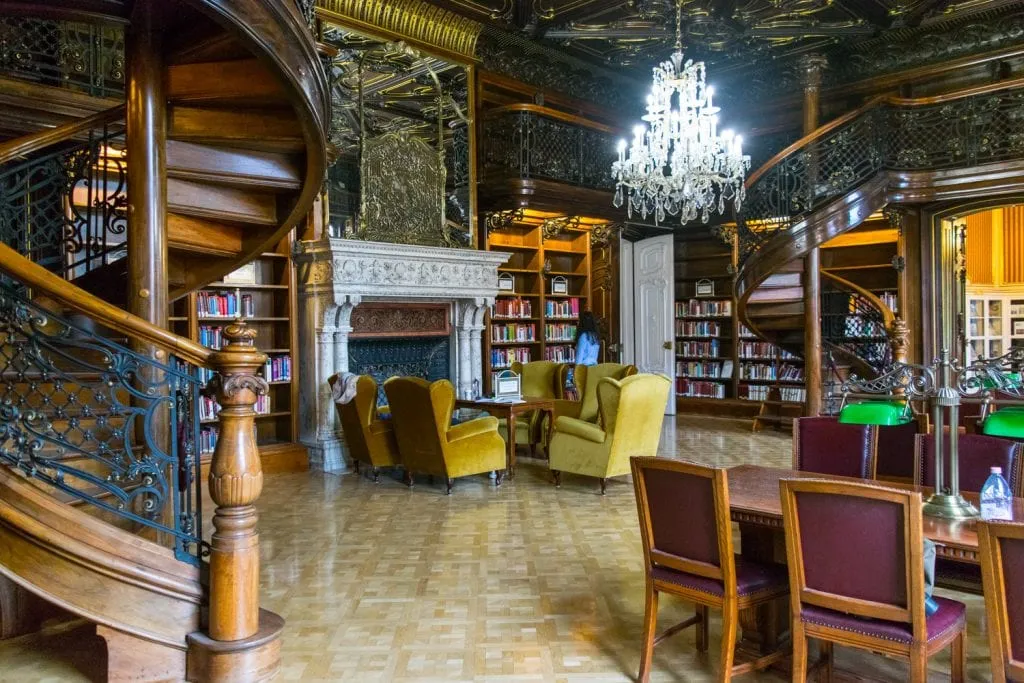 Do we stay in Buda or Pest?
On all of our visits to Budapest, we have chosen to stay in Pest and love it there–we'll continue to stay on the Pest side for future return visits as well.
While Buda has some incredible sights, they are mostly concentrated right up against the river–it's very easy to cross the Danube from Pest to visit them. Behind the initial highlights and away from the river, Buda has a much more residential feel that, while beautiful, is out of the way of most tourist highlights.
Pest's sights, on the other hand, are more spread out and generally set further back from the river, making them harder to access from the Buda side. They're also simply more numerous–we tend to spend far more time sightseeing on the Pest side of the river than the Buda side.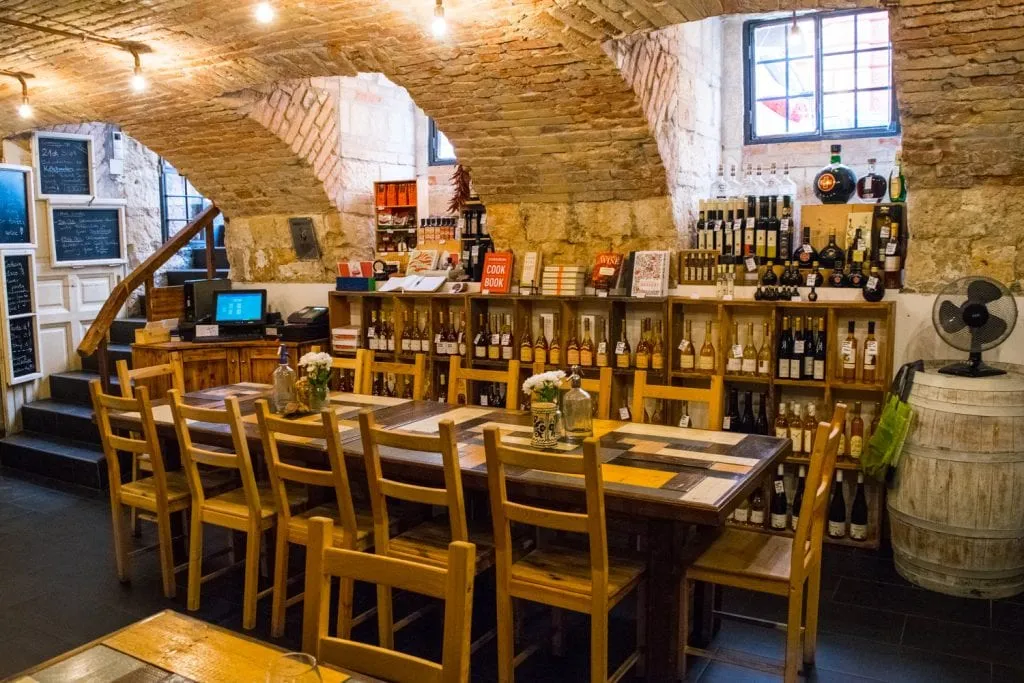 Ultimately, deciding whether to stay in Buda or Pest is a matter of preference–if you're on a quiet romantic getaway, for example, you may want to stay in Buda. For most people, though, the best place to stay in Budapest will be on the Pest side of the river.
Visit Buda, of course. Visit a lot. But stay in Pest.
Whether you decide to stay in Buda or Pest, make sure that you're staying reasonably close to a bus, tram or metro stop–regardless of whether you're spending just a weekend in Budapest or much longer, you'll want to be able to navigate your way to anywhere in Budapest that you'd like to go!
Hotel Options in Budapest
Though we have stayed in Airbnbs for our last couple trips to Budapest as they lasted 1-2 weeks each, for a shorter trip, we would likely stay in a property similar to these: both are midrange in price, with excellent locations and good wifi.
Jackquaters — Located right next to Vaci Utca and only 100 meters from the Danube, Jackquaters is the perfect location for anyone visiting Budapest. Budapest highlights like the Chain Bridge and Great Market Hall are within easy walking distance.
Feodorm Apartments — Perfect for the budget conscious traveler who wants to be close to the action, Feodorm is located a short walk from the Hungarian Parliament Building.
Want to try Airbnb instead? Sign up with our link to receive a discount on your first stay!
---