Before we started traveling full time, we didn't think it was possible to enjoy eating more than we already did–who doesn't like devouring tasty foods, right?
With every destination, though, it seems that we adore exploring food more and more–the sheer variety of different tastes in the world is incredible, and trying out delicious foods, particularly those specific to the region we're visiting, has brought us more joy with every new place that we visit.
Hungary is no different: we knew when we planned to return to Budapest for the second time that we wanted to make a point of enjoying some of the foods and wines that this area is known for, and that we wanted to get beyond goulash and paprika (both of which are delicious).
From munching on langos to enjoying all kinds of Hungarian soups to sipping froccs, we were successful–thanks in large part to Taste Hungary.
Taste Hungary offers small group food and drink tours centered around any number of subjects, from wine to dessert to dinner. They offer walking tours, and also tastings and dinners at their location near Budapest's National Museum, The Tasting Table.
Looking at their website, we immediately started getting hungry, and we were thrilled when Taste Hungary invited us to come and experience both their Wine, Cheese & Charcuterie Tasting and their Sweet & Coffeehouse Walk during our time in Budapest.
We left both tours completely stuffed–and in the case of the Wine, Cheese & Charcuterie Tasting, quite a bit tipsy.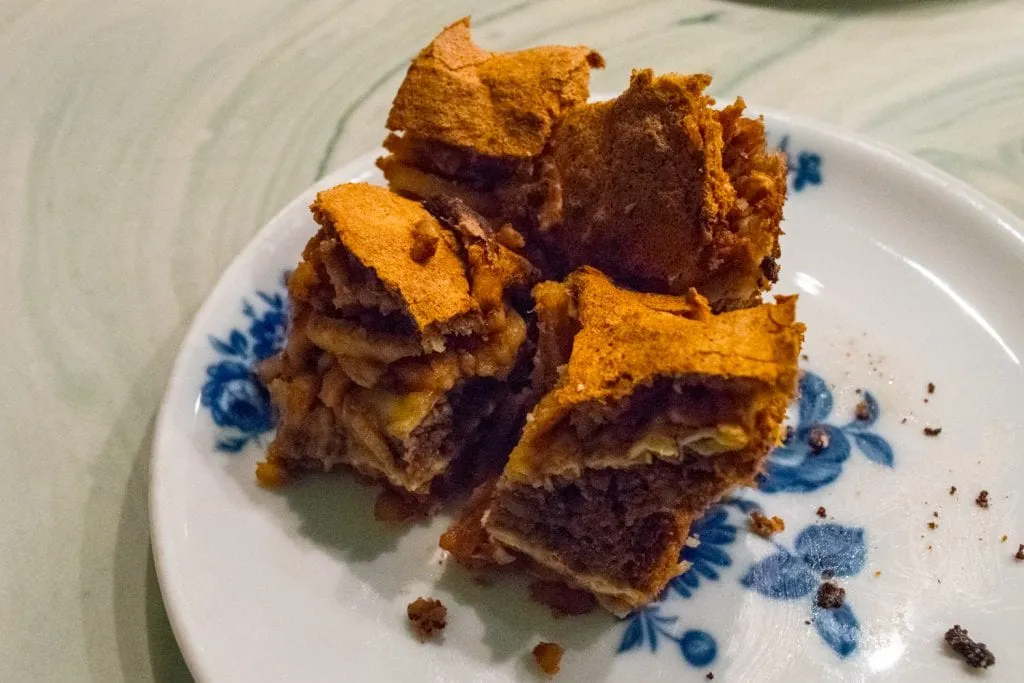 Here's what we got up to with Taste Hungary:
Wine, Cheese & Charcuterie Tasting
We arrived at The Tasting Table to find full glasses of delicious sparkling wine already laid out for us–a fantastic start.
We sat with one other couple as our sommelier, Gergely walked us through details of not only the sparkling wine but also one other white and two reds.
Gergely was an expert, and he used a map of Hungary laid out in front of each of us to show us the regions that each wine came from (he was also the one who taught us that Hungary has 22 distinct wine regions!), and taught us different facts about the taste and history of each wine.
While every wine in front of us was varying degrees of tasty, the best was yet to come: the charcuterie boards.
This is the part where I should confess that I'm a bit of a toddler at heart: deconstructed plates with bite sides pieces of delicious food are absolutely my jam, so when I get the chance to eat a board of upscale, amazing ingredients and pretend that it's acceptable adult cuisine, I am completely onboard. Charcuterie boards, in other words, are essentially my dream food.
These boards came arranged with four different types of cheese and four different types of meat, in addition to pickles, jam, fruit, nuts, and duck cracklings (duck fat fried until it's crispy as a potato chip–the only food in either tour that Jeremy and I didn't like).
They were beautiful, they were delicious, and they came with amazing advice about which wines to pair with which food, turning great wine and great food into phenomenal combined tastes. The boards also came with a strict instruction: leave one bite of the (amazing, creamy) blue cheese to eat with the dessert wine.
With that, Gergely set us loose, leaving each person to devour an entire board and four full glasses of wine.
Once we were all sufficiently tipsy and had eaten almost everything put in front of us, Gergely returned with a glass of Tokaj wine.
Of all the wines in Hungary, wine from the Tokaj region is best known: the region is known for its sweet, white wines, the youngest of which are drunk at 3 years old and the oldest of which date back to 1700!
For the first sip, it was like drinking honey: too thick, too sweet.
But then… the blue cheese.
Oh. My. God.
I could eat my bodyweight in blue cheese paired with sweet Tokaj wine.
Suffice it to say, we left the tasting an hour and a half after we started very full, very tipsy, and with a bottle of the (amazing) sparkling wine that we tasted tucked into our bag–a spontaneous purchase that was well worth the price.
Sweet & Coffeehouse Walk
Who could say no to an entire 3-hour walking tour filled with desserts?
Not us, that's for sure.
Our Sweet & Coffeehouse Walk with Taste Hungary was led by George, who was as passionate about sugar-filled desserts as one could hope for in a dessert tour guide–in other words, extremely.
We made five separate stops during our tour (not counting a glass of Tokaj wine at The Tasting Room before getting started, where we met up with George and the other couple joining the tour), starting with a stop at Fragola Gelato, where we each ordered a full scoop in a cone.
We devoured them, of course, and then quickly realized that we should have skipped breakfast as well as lunch to leave room for the onslaught of sweets about the hit our system.
During our tour, we ended up sampling not only gelato, but three types of sweet pastries, two types of chimney cake (similar to a funnel cake, but made in a round, hollow shape), a delicious specialty coffee, and six types of traditional Hungarian cakes.
Our favorite stop? Central Cafe, an absolutely gorgeous coffeehouse that was once the haunt of famous Hungarian writers and poets.
Not only was the coffee there amazing, the four cakes we tasted made up a timeline of traditional Hungarian desserts. We tried cakes that were most popular in the 18th, 19th, 20th, and 21st centuries, and while all were delicious, the 18th century Esterhazy cake ended up being my favorite–even though it was made with no flour!
Jeremy's favorite was the 20th-century style lemon cheesecake, topped with one of the best meringues we've ever tasted.
If you need proof of how much we loved this cafe, well, look no further than the fact that we returned two more times during our stay in Budapest–it was that tasty!
Overall thoughts on Touring Budapest with Taste Hungary
We had an amazing time during both of our experiences with Taste Hungary. The guides were knowledgeable and kind, the food and drinks were delicious, and the portions were enormous!
We expected to leave both tours contently full but still planning on eating our next meal–we definitely didn't plan on leaving completely stuffed both times!
Similarly, we expected the wine tasting to include small, partial glasses of wine: five full glasses served to each person was a welcome surprise!
We now know far more about Hungarian cuisine and its history than we did before, and we had a great time eating and drinking our way through the learning experience along the way!
Read Next: The Ideal 3 Days in Budapest Itinerary for First Time Visitors
Where We Stayed in Budapest:

AEG Apartman in Budapest — We adore this apartment! The location is perfect (about a five minute walk from St. Stephen's Basilica, the Opera House, and a metro stop), and the apartment itself is beautiful and airy. The host, Gergley, was very kind and easy to work with. The next time we go to Budapest, we will immediately check and see if this apartment is available before considering any other lodging!

Never used Airbnb before? Sign up with our link to receive a discount on your first stay!

Or, click here to find more on where to stay in Budapest.
Many thanks to Taste Hungary for hosting us on both of these tours. All opinions are, as always, our own.
Some links in this post are affiliate links. If you click through one of these links, we may earn a small commission at no extra cost to you. We are committed to only ever recommending products and services that we personally use and like.