Planning a European getaway for two and looking for the most romantic cities in Europe?
We've rounded up the most exciting options here!
For years now, we've been traveling Europe as a couple extensively, visiting most of the continent's countries and countless cities, towns, and regions along the way.
And, as a result, we've compiled quite the list of potential couples getaways in Europe!
To avoid turning this blog post into the size of a novel, we've opted to focus specifically on cities here–though there's no doubt that other romantic places in Europe like Santorini, the Irish countryside, and Provence are also incredibly captivating.
Whether you're looking for a legendary romantic city like Paris, a smaller city you can explore thoroughly over a weekend, or an offbeat Valentine's Day getaway, this guide to the most romantic cities in Europe is for you.
Larger-Than-Life Romantic Cities in Europe
Are you and your partner the kind of couple who crave trips to large, urban cities that are packed with more interesting things to do, eat, and see than you could cover in 10 vacations?
If so, these romantic getaways in Europe are for you!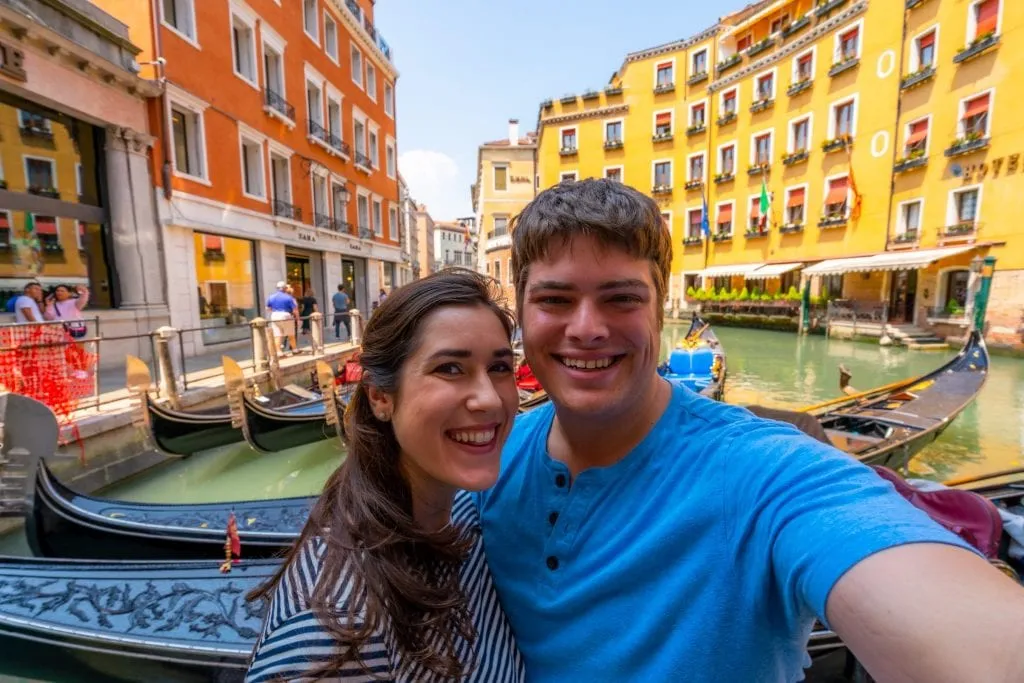 Rome
Of all the romantic places in Europe to visit, Rome definitely ranks among our personal favorites.
For couples who love food, history, architecture, wandering, or any combination of the above, the Eternal City offers a sublime romantic getaway that can't be beat.
Of course, no trip to Rome is complete without sampling highlights like visiting the Colosseum, exploring Vatican City, eating your way through Trastevere, and admiring some of the best views of Rome together.
To add a bit of extra romance to your trip, consider ditching the crowds by visiting during the offseason!
For example, Rome's mild weather and lack of crowds in February make it a great choice for a wonderful Valentine's Day trip.
And, regardless of which time of year you visit, splurging on a unique experience like visiting the Colosseum at night will be bound to make your couples' getaway even more memorable.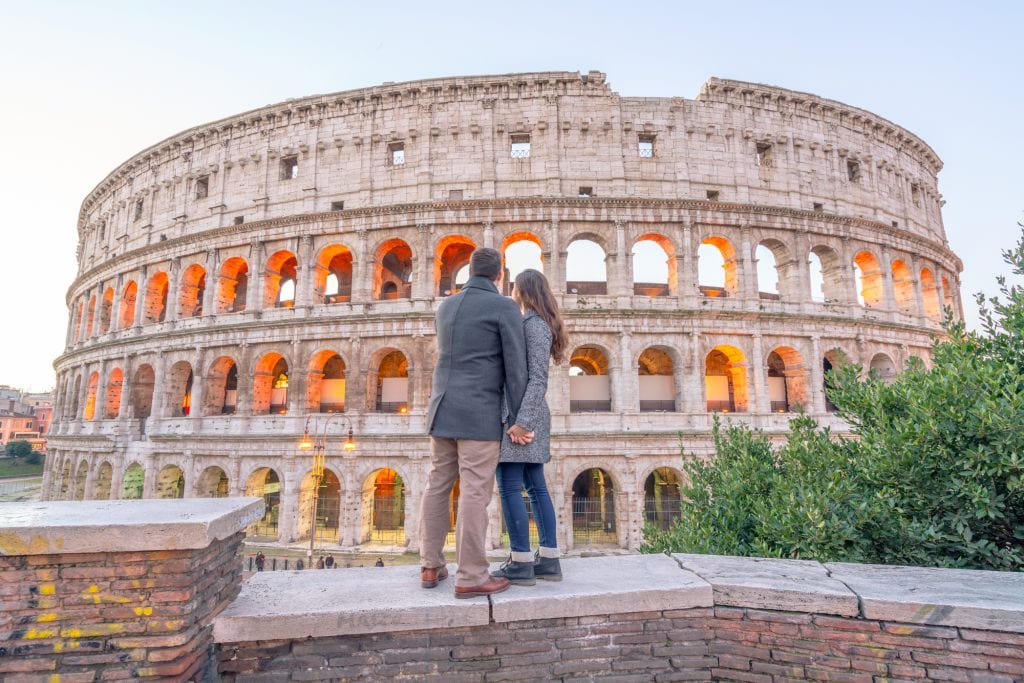 Vienna
Opulent, refined, and simultaneously modern and historic, Austria's capital city ranks easily among the most romantic cities in Europe.
As the former seat of the Habsburgs, Vienna is lousy with gorgeous palaces (and palatial gardens) to explore on a couples' getaway, including the rightfully famous Schönbrunn Palace and Hofburg Palace.
For a unique attraction, book tickets for two to watch the famous Lipizzaners perform at the Spanish Riding School.
And, once you've had your fill of exploring, head hand-in-hand to sample Viennese coffee and cake at one of the many glamorous cafes in the city (Café Schwarzenberg and Cafe Central are both excellent starting places).
At night, head out of the legendary Vienna Opera House for a date night like none other!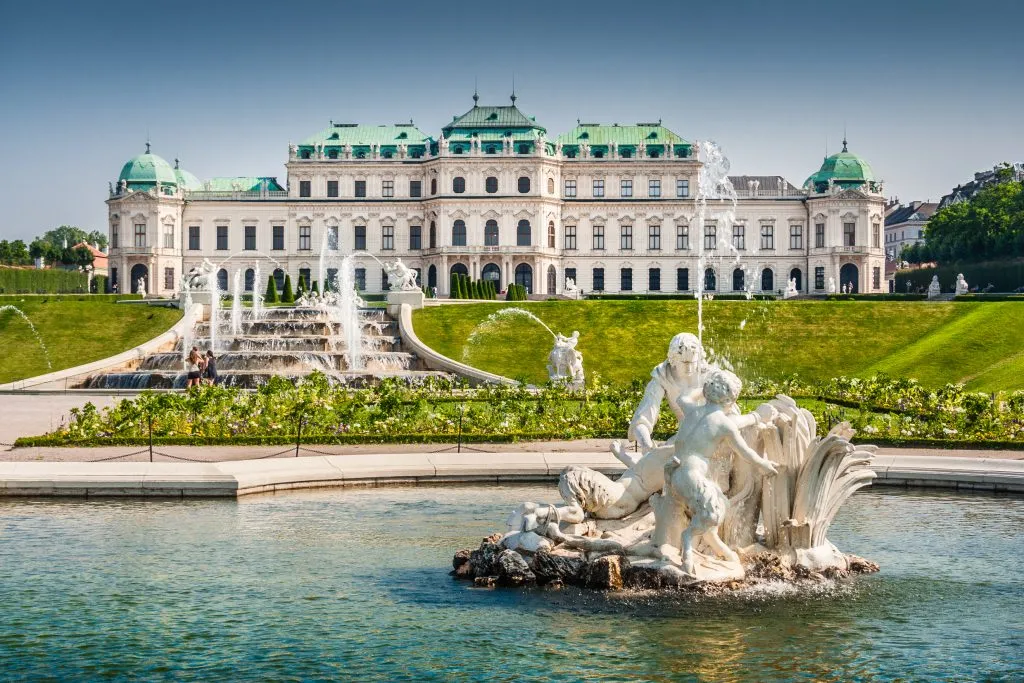 Budapest
Split in half by the Danube and featuring a fantastic mix of architecture, quirky, vibrant Budapest makes for a fantastic couples trip!
Top things to do in Budapest include taking a cruise along the Danube (the light at sunset is particularly amazing), admiring the views from Fisherman's Bastion, eating your way through Central Market Hall (don't skip the langos), and soaking up the elegance of Budapest's historic cafes.
Touring the city's iconic Parliament building and heading to the top of St. Stephen's Basilica should also be on your list!
Nightlife lovers will love grabbing their partner's hand and heading out to Budapest's famed ruin bars, too.
But, perhaps the absolute most romantic aspect of Budapest is its many thermal spas, perfect for soaking the day away with your beloved!
Széchenyi Thermal Bath and the Gellért Thermal Bath are among the most popular (Széchenyi is most iconic, and Gellért is more elegant).
Keep in mind that some of the lesser-known thermal baths, while also lovely, have separate bathing hours for men and women.
London
Vibrant, captivating London is one of the most iconic cities in the world–and one of the most romantic cities in Europe, too!
Nowhere blends old and new quite like London does, making this the perfect romantic getaway for a couple that enjoys a mix of historic attractions and modern sights, all perfectly arranged into one incredible city.
Iconic sights like Buckingham Palace, Trafalgar Square, and Tower Bridge should all feature on your trip, of course, as well as plenty of time spent wandering through picturesque neighborhoods like Notting Hill and idyllic green spaces like Hyde Park.
For museum lovers, consider meandering through spaces like the British Museum, the Natural History Museum, and the Victoria and Albert Museum–all of which are free to visit!
To round off your trip, consider booking an elegant (or whimsical, depending on your tastes) afternoon tea for a classic London date with your partner.
While summer gives you the best chance of enjoying sunshine in London, there's certainly plenty of romance to be found on a cozy winter trip as well–especially by visiting London at Christmas!
And, of course, don't forget to snap iconic couples selfies in front of Big Ben and with a classic red phone booth!
Venice
It's hard to imagine a more romantic city on the planet than Venice, with its endless canals, narrow alleys, and overwhelming beauty.
Venice is one of those cities that we return to again and again, and the absolute romance of simply existing there is a big part of why!
The key to experiencing Venice as one of the most romantic places in Europe (rather than one of the most overwhelming) is simple: grab the hand of your partner and head away from the crowds.
Foggy, early mornings and late nights are some of the loveliest times to wander through the beautiful streets of Venice, especially for couples–but even during the day, you can find quiet parts of the city.
While visiting Venice, be sure to marvel at the Grand Canal, seek out romantic views at the Scala Contarini del Bovolo or San Giorgio Maggiore, track down Venice's leaning towers, and enjoy a splash of color on the outlying island of Burano.
And, of course, no romantic getaway in Venice would be complete without a gondola ride!
Don't miss icons like Piazza San Marco, sure–but the real romance of this city lies in wandering down empty streets over narrow bridges until you stumble across some of the countless hidden gems in Venice.
Istanbul
Byzantium, Constantinople, New Rome: Istanbul has had many names throughout its more than 2500 years of history, and today it is celebrated as one of the most unique cities in the world.
With one of the longest and most complicated histories of any of the romantic places in Europe covered here, Istanbul is actually, technically, only half European.
Half of the city lies on the European continent, and the other half, located an easy ferry ride across the Bosphorus Strait, is located in Asia.
This complication doesn't stop Istanbul from ranking among the most romantic places in Europe, though!
From its bustling markets to its iconic breakfasts that will leave you enchanted from the moment you wake up, Istanbul is the perfect European city break for couples looking for an adventure.
In addition to being able to visit two continents in a single day, the top things to do in Istanbul include touring the phenomenal Hagia Sophia, shopping in the Grand Bazaar and Spice Market, admiring the Blue Mosque, and enjoying the views from the top of the Galata Tower.
Amsterdam
With its stunning architecture primarily dating to the 17th-century Dutch Golden Age and its many canals juxtaposed with its modern reputation for partying, visiting Amsterdam can often feel like visiting a city of extremes.
And, for that reason, Amsterdam can make the perfect romantic getaway in Europe for a wide variety of couples!
At the top of everyone's long list of reasons to love Amsterdam, though, is its beautiful canals: be sure to spend time wandering hand in hand with your partner over the city's many bridges, and take a canal cruise to enjoy the city from a different perspective.
Iconic museums like the Rijksmuseum and Van Gogh Museum make for a wonderful way to while away an afternoon.
If you're lucky enough to be visiting Amsterdam during tulip season (March to May), don't miss the opportunity to take a day trip to see them–nearby Keukenhof is the most popular spot.
That being said, when it comes to romance, the cold, foggy, and much less crowded winter months in Amsterdam also have their charms, and a Valentine's Day trip to Amsterdam would be a delight… as long as you're not expecting beautiful weather.
Prague
Featuring beautiful views along the Vltava River, a classic castle set high on a hill, and even some swans to admire as you meander hand-in-hand across the famous Charles Bridge, Prague makes for a picture-perfect romantic European escape.
While you're there, be sure to check out the stunning Astronomical Clock, explore the castle (and the beautiful St. Vitus Cathedral tucked inside it), admire the Old Town Square from above, and of course, sample plenty of hearty Czech food and beer.
If you and your partner want to add a bit of modern architecture to your time spent in the "City of a Hundred Spires", buildings like the Dancing House and Petrin Tower (not to mention the views from Petrin Tower) are an excellent addition to your trip.
Whether you're admiring Prague's spire-filled skyline from above or cozied up at a table for two sipping Czech beer, there's no doubt that Prague makes for a wonderful romantic getaway.
Paris
When it comes to the most romantic places in Europe–or, let's be real, the world–one city stands out above all others: Paris, the City of Love.
While real-life Paris isn't quite as polished as the fantasies portray, there's no doubt that it's an incredibly beautiful, vibrant, and invigorating place, and one that we will never be done booking couples vacations to.
Some of the absolute best things to do in Paris include admiring the Eiffel Tower from the Trocadero Gardens, taking a romantic cruise along the Seine, enjoying views of Paris from above (we're partial to the views from the Arc de Triomphe and Sacré Coeur), and watching the city go by from many Parisian cafes.
Plus, of course, no romantic trip to Paris is complete without strolling hand-in-hand through one of the best art museums in the world!
If you have time, consider whisking your partner away on one of the best day trips from Paris, such as Versailles, Champagne country, or Giverny.
Cozy, Small Cities in Europe for Romantic Getaways
For a quieter couples getaway that is still exciting, consider opting for one of these smaller romantic places in Europe instead.
Small cities, while vibrant (and often still very easy to get to), tend to be much more walkable than the cities profiled above.
On a quick couples' trip to most of these places, you can generally get around with little to no public transportation and explore the city centers on foot.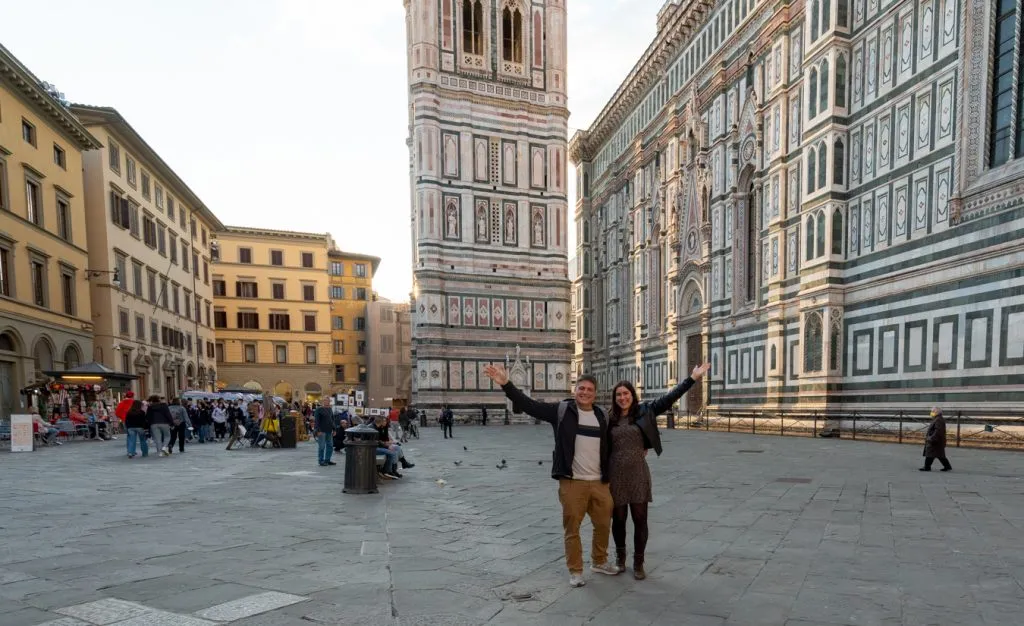 Porto
While visiting Lisbon is a blast (and we adored spending a year living there!), Portugal's more compact northern city of Porto is our pick for one of the most romantic cities in Europe to visit.
Set on the Douro River and known for its port wine, hearty cuisine, and magnificent architecture featuring plenty of azulejos, Porto offers plenty to see within a very small footprint (as long as you are willing to climb some hills, that is).
While visiting on a romantic getaway, be sure to enjoy a port tasting, visit the Porto Cathedral (don't miss the cloisters!), watch the sunset over the Luis I Bridge, ride the cable car for magnificent views, and stroll along the Douro in the Ribeira District.
If you don't mind paying increased prices in exchange for ambiance, a stop at Cafe Majestic is always a delight.
And, to grab beautiful couples photos in front of Portugal's famous azulejos, the Carmo Church, Chapel of All Souls, and Sao Bento Train Station are all wonderful places to visit.
If you have time during your trip, consider taking a day trip out to the Douro River Valley in order to appreciate port at its (very scenic) source.
Florence
With its legendary food, art, and wine, you might assume that Florence is a sprawling metropolis–but really, the capital of Tuscany is a cozy, walkable city!
And, it is easily one of the most romantic cities in Europe, as well as the world overall.
You and your partner can be mesmerized by the views from the top of Florence's Duomo, soak up the best of Renaissance art in the Uffizi Gallery, splurge on a piece of (pricey, but stunning) jewelry for each other on the Ponte Vecchio, and snuggle up to watch the sunset together at the Piazzale Michelangelo.
Be sure to share plenty of meals tucked away in romantic Tuscan trattorias, too!
To experience one of the best day trips from Florence, head to the countryside to enjoy wine tasting with a view of the vineyards, a chance to explore some of the small towns in Tuscany, or a combination of the two!
Bruges
Arguably the most beautiful city in Belgium, Bruges' gorgeous architecture, many canals, and fun collection of things to do all make it one of the most romantic cities in Europe!
Add in the fact that this small city can easily be explored on foot over the course of a weekend getaway, and it makes for an excellent escape for two lovebirds looking for a change of scenery.
Be sure to climb to the top of the Belfry for wonderful views of the city, take a canal cruise to appreciate Bruges' architecture from the water, and head to Minnewater Park to relax with a picnic by the water.
And, of course, no trip to Bruges is complete without plenty of beer, waffles, frites, and chocolate!
If you're hoping to plan a winter getaway, Bruges' Christmas markets are also a delight.
Edinburgh
Scotland's stunning capital city is easily one of the most romantic cities to visit in Europe, and also one that captures the adoration and imagination of most who visit it.
With hints of fairytale magic in the air (helped along, no doubt, by the city's ties to Harry Potter lore), Edinburgh is packed with fun things to do.
During your visit, be sure to stroll down Royal Mile, admire the views from Arthur's Seat and Calton Hill, and enjoy Edinburgh Castle.
Couples who love the arts may want to plan their visit for August when the Edinburgh Fringe Festival takes over the city.
Fair warning, though: prices in the city absolutely skyrocket during the festival!
Lucerne
Arguably the most beautiful city in Switzerland, it's hard to imagine a more idyllic and romantic city in Europe to escape to on a couples' trip.
Perfectly situated for exploring both the city itself and the surrounding area, Lucerne is set right next door to the beautiful Lake Lucerne.
During your getaway, be sure to stroll slowly across the iconic Chapel Bridge together (and don't miss the Spreuer Bridge, either).
Climb the towers along the Musegg Wall for the best views of the city, feel like kids again at the way-more-incredible-than-it-sounds Swiss Museum of Transport, and savor some time watching the city go by from the banks of the lake.
For a taste of the Swiss Alps, head to the top of Mount Pilatus along the steepest cog railway in the world!
And, at the end of the day, savor a cozy pot of fondue for two at a classic Swiss restaurant.
Dubrovnik
To experience one of the most romantic places in Europe, whisk your partner off to the incredibly beautiful (and now famous) city of Dubrovnik.
As picturesque as it is small, Croatia's most famous city has risen to international stardom in recent years, in large part thanks to its role as King's Landing on Game of Thrones.
However, this bite-sized seaside city is a magical place to visit even for those who have never seen a single episode of the show.
Dubrovnik's crown jewel is its intact town walls that still encircle the historic center, where you can walk fully around the city, with the terracotta rooftops of Dubrovnik glistening on one side and the shimmering Adriatic Sea on the other.
It's hard to imagine a more romantic view than the one from Dubrovnik's town walls… unless, of course, you consider the view of Dubrovnik from nearby Mount Srd.
During your romantic getaway, be sure to also check out the views from the Lovrijenac Fortress, and, if you're up for a bit of a physical challenge, a kayaking tour to Lokrum Island!
Salzburg
As the hometown of Mozart and as a city surrounded by hills that are alive with The Sound of Music, charming Salzburg, Austria is one of the best cities in Europe for couples trips.
Regardless of whether you choose a sunshine-and-blooming-flower-filled summer trip or a festive Christmas market trip, Salzburg is bound to charm!
Overlooked by the striking Hohensalzburg Fortress, Salzburg is a feast for the eyes.
It's also home to highlights like the beautiful Mirabell Palace (known, among other things, for its status as a filming location for The Sound of Music), the incredible Salzburg Cathedral, and both Mozart's Birthplace and later Residence.
Whether you're tucked away enjoying coffee and cake in an elegant cafe (check out Cafe Tomaselli for a traditional choice), admiring views from the fortress, or taking a day trip to the idyllic town of Hallstatt, Salzburg has plenty of romance to offer 2 lovebirds looking for a quick European getaway.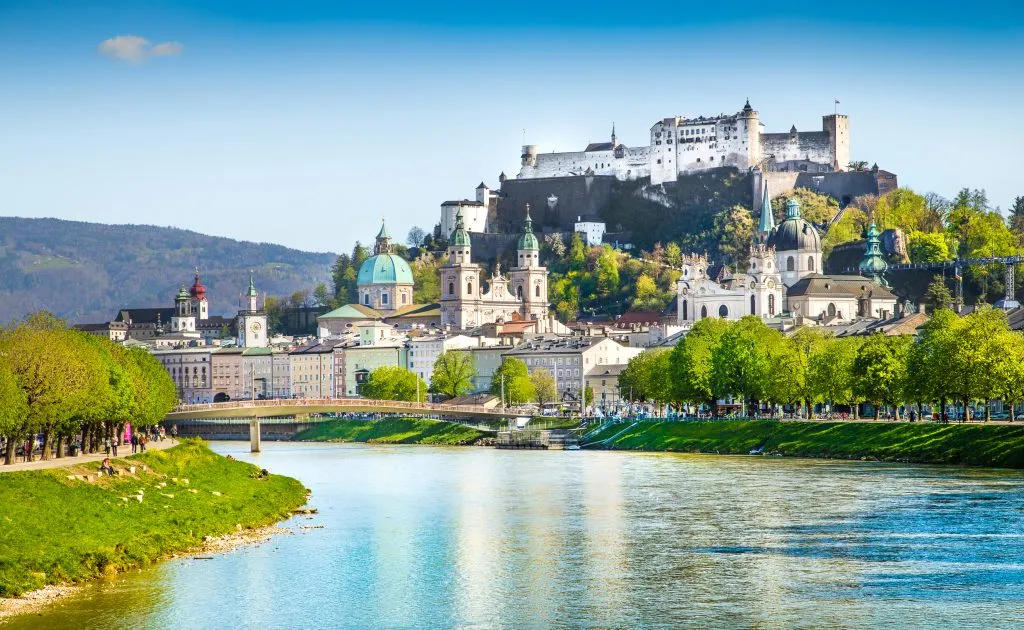 Bergen
If you and your partner are looking for a European city that is both incredibly romantic and offers excellent access to outdoor adventure, you can't beat booking a couples trip to Bergen, Norway's second-largest city.
Also known as the Heart of the Fjords, Bergen often isn't the first city that comes to mind for non-Europeans planning trips, but that's all the more reason it should be on your radar.
Featuring highlights like the traditional wooden houses of Bryggen, a bustling fish market, and sweeping views from Mount Fløyen (perfect for admiring with your beloved), Bergen makes for a fantastic introduction to Norway.
As the gateway to Norway's incredible fjord beauty and home to what is arguably one of the most picturesque harbors in Europe, stunningly beautiful Bergen definitely ranks among the most romantic cities in Europe!
Offbeat Getaway Ideas for Romantic Trips in Europe
While these beautiful cities aren't necessarily hidden gems in and of themselves, they're generally not the first places you think of when planning a romantic getaway in Europe!
While almost anywhere can be a romantic destination if you're with the right person, these cities in particular might surprise you with the level of romance they offer.
Madrid
Less popular with foreign tourists than colorful Barcelona, but no less captivating, Spain's capital city is simultaneously regal and relaxed, making it a fantastic option for romantic getaways in Europe!
Home to incredible sights like the Royal Palace, Prado Museum, and gorgeous Plaza Mayor, spending a few days in Madrid means having a chance to experience fantastic food, incredible art, and a hearty dose of Spanish culture.
Madrid's biggest park, El Retiro, is among our favorite urban parks in all of Europe, and definitely belongs on your list of things to do in Madrid!
Consider taking a tapas tour as a couple during your trip (and then using what you've learned to explore tapas bars independently the next night).
Flamenco shows are also an incredibly popular option for date nights in Madrid!
For late-night snacks, no couples trip to Madrid is complete without at least one serving of churros con chocolate served at a table just big enough for two.
Nice
When travelers consider planning a romantic trip to the South of France with their partner, most tend to focus on the small towns of Provence's Luberon Valley and small seaside resort towns like St. Tropez.
For an option that combines the beauty of the French Riviera with the bustle of a city break, though, consider heading right to Nice!
As the largest city (and airport hub) on the French Riviera, Nice is both busy and beautiful.
In other words, Nice is exactly what you would hope for from a coastal city that boasts one of the most iconic urban beaches in the world!
A visit to Nice practically requires spending some time on the beach and a taking stroll along the picturesque Promenade des Anglais, of course, but there are plenty of other fun things to do in Nice as well.
While you're there, be sure to climb Castle Hill, check out the Sun Fountain, and enjoy the colorful architecture of the historic center.
Nice is also perfectly placed to use as a base for incredible day trips, including to nearby Monaco, Eze, St. Paul de Vence, and Menton.
Waterford
If you're looking for a peaceful, offbeat option for a romantic European getaway that probably isn't on your radar, consider Waterford, Ireland.
Tucked away in Ireland's underrated Ancient East, laid-back Waterford is known as Ireland's oldest city.
If you're hoping to ditch the crowds (and prices) of Dublin while still seeking out somewhere a bit more lively than Ireland's adorable small towns, Waterford is a great fit.
Home to the legendary Waterford Crystal, touring the Waterford Crystal Factory is a must-do when visiting (and buying your beloved a crystal gift is an excellent addition to a romantic trip to Ireland–we personally bought a Christmas ornament during our tour).
Be sure to also enjoy the waterfront, visit the charming Bishop's Palace Museum, and of course, enjoy plenty of delicious Irish food!
Nearby highlights like the picturesque Hook Lighthouse, the beautiful Tintern Abbey, and the lovely JFK Arboretum are also worth a visit.
And, since no trip to Ireland is complete without a drive in the countryside, keep in mind that highlights like Kilkenny and the Rock of Cashel (don't miss the Hore Abbey while you're there!) are also within your grasp.
Verona
Far less touristed than cities like Venice, Milan, and Florence, and yet easily one of the most romantic places in Italy, the city of Verona makes for a wonderful couples trip destination!
Nestled along the banks of the Adige River in Veneto, Verona is most famous for being the legendary home of Romeo and Juliet.
While the facts of the legend don't necessarily hold up to scrutiny (and the play is hardly romantic to begin with), it's safe to say that the city known as the home of one of the world's most (in)famous love stories has made sure to have plenty of modern-day romance to offer today's couples.
Verona is particularly beautiful from above, so be sure to enjoy the views from the Castel San Pietro and the Torre dei Lamberti as part of your visit!
Juliet's Balcony, though far from authentic, is a beautiful corner and worth snapping a selfie at (especially if you arrive early to dodge the crowds).
The city's Roman amphitheater is also well worth a visit, and if you and your beloved would like to add a bit of adventure to your trip, consider taking a whitewater rafting trip down the Adige!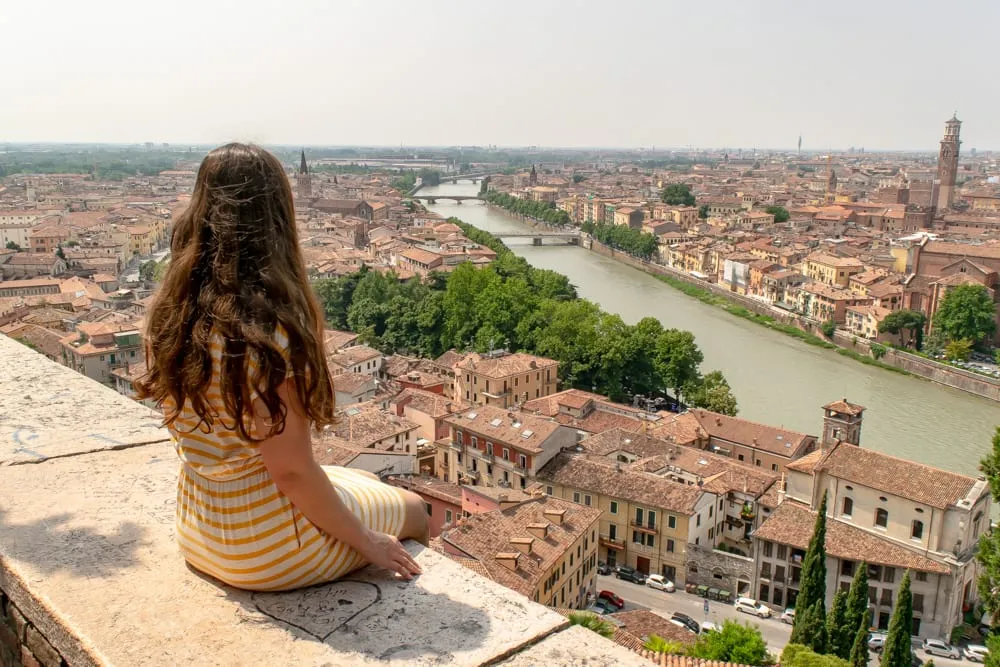 Seville
Tapas, flamenco, Spanish sun, and vibrant architecture: Seville, Spain makes for a fantastic romantic getaway in Europe!
Be sure to tour the gorgeous Royal Alcázar of Seville (and wander through its romantic gardens), snap couples photos in the picturesque Plaza de España, and admire views of Seville from above from the top of La Giralda (the cathedral's bell tower).
Taking a tapas crawl, followed by watching a traditional flamenco performance, makes for a delightful evening in Seville.
And, while Seville itself is an incredibly fun city, one of the best parts about visiting is the number of excellent day trips available nearby!
Consider exploring the city of Cordoba (and its historic Mosque-Cathedral), wandering through Ronda, and admiring the fantastic rock formations that are integrated into the town of Setenil de las Bodegas.
Alternatively, you can head all the way to Cadiz from Seville to add a quick seaside addition to your visit to one of the most romantic cities in Europe.