As Europe's smallest island nation, Malta doesn't traditionally get a lot of tourist attention from visitors outside of Europe–but that is changing, and this quick Malta travel guide will help you discover this unique Meditteranean country.
… and hopefully, convince you that planning a trip to Malta is a great idea!
Though it is regularly overshadowed by heavy hitters like popular Italy, Spain, Greece, and Croatia, there is no doubt that Malta has a charm all its own.
Boasting warm temperatures and sunshine well into autumn, Malta is one of the best fall destinations in Europe–which is why we chose to visit in September!
Regardless of what time of year you visit, though, you're bound to find something to love about Malta.
Thinking about planning a trip to Malta soon?
This quick Malta travel guide will get your plans started!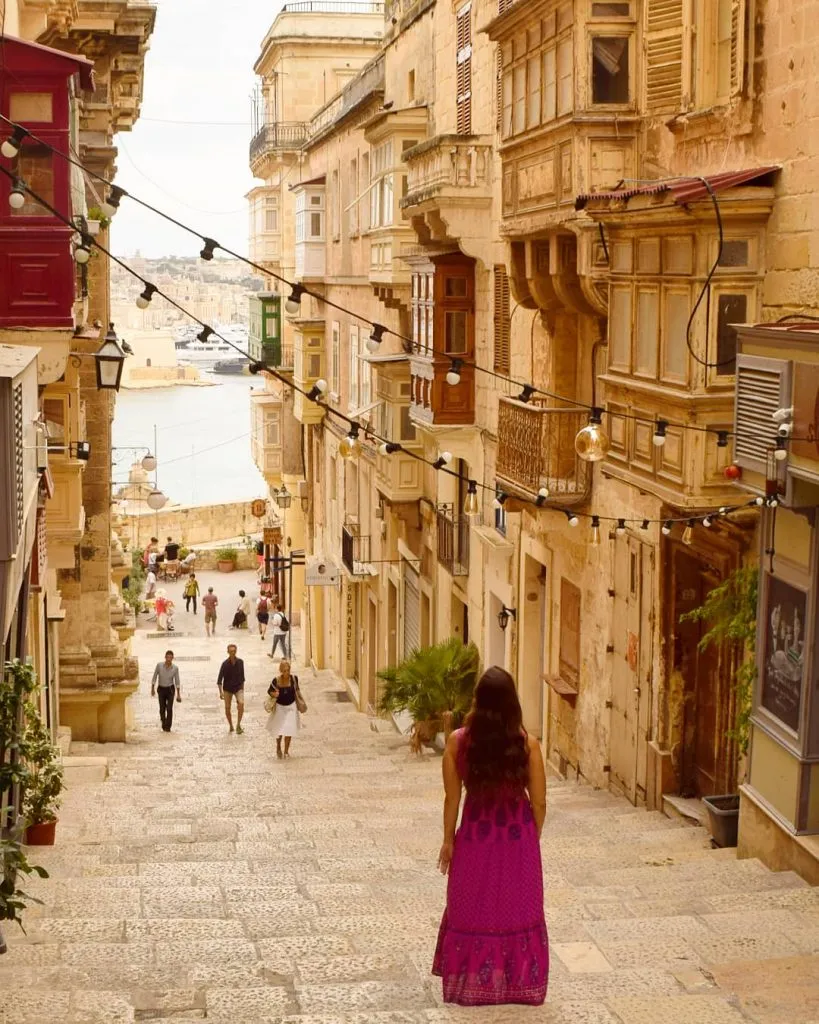 Some links in this post may be affiliate links. If you make a purchase through one of these links, we may earn a small commission at no extra cost to you. Please see our

disclosure policy

for more detail.
Essential Things to Know About Malta
Before you arrive, make sure you know a few things about Malta!
Malta uses the Euro.
We also found credit cards to be widely accepted, and ATMs were easy to locate.
You may not want to drink the water.
While online sources say that the water is technically safe to drink, we did not like the way it tasted (in fact, we'd say it's probably to worst tasting water we've come across in our travels).
We drank it anyway for the first couple of days, but after several locals emphatically told us not to drink it (they seemed a bit horrified that we were drinking it in the first place) and my stomach started to protest a bit, we switched to bottled.
In Malta, you drive on the left.
… And not only on the left, but they also drove in a way that felt quite reckless to us.
Malta has an enormous amount of traffic jams considering its size and watching the cars weave quickly in between lanes and the aggression of the drivers, we were glad we opted not to drive.
If you're planning to rent a car in Malta, be sure to come prepared for a driving experience that will require all of your concentration!
English is one of the official languages of Malta.
The other one is Maltese, though no one expects visitors to speak it.
Italian is also widely spoken, especially among the older generation.
Malta is a former British colony.
This is no surprise to Brits, of course, but Americans like us may be taken by surprise–if they haven't watched The Crown, anyway.
Malta gained independence in 1964 from the United Kingdom in 1964.
The British weren't Malta's first colonizers, though: as a small island conveniently located between northern Africa and southern Europe, Malta has been visited by (and ruled over) by just about everyone over the centuries, including the Romans and Byzantines.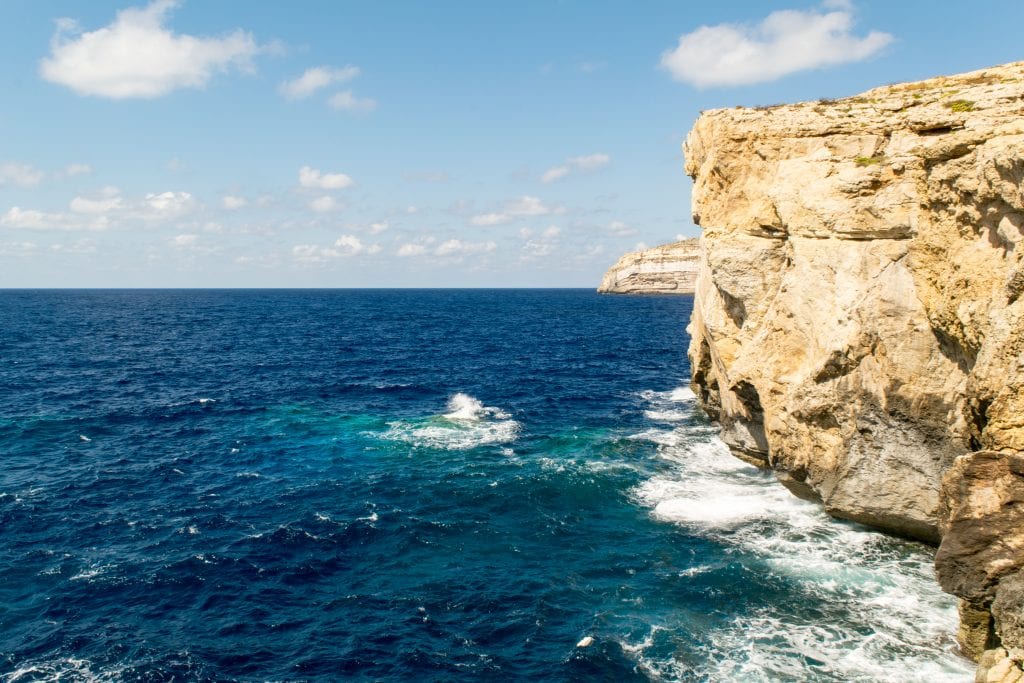 Malta is the name of both an island and a country.
Malta is both the name of the largest island in the country, as well as the country itself.
Malta the country, though, is actually an archipelago.
Gozo (home to some villages and sites, and once the famous Azure Window), and Comino (home to three people and the famous Blue Lagoon) are the other two islands that make up the country of Malta.
Comino is fairly small and the Blue Lagoon is essentially its only claim to fame, but there are lots of cool things to do on Gozo, starting with visiting the Citadel, admiring the Wied il-Mielah Sea Arch, stopping by the Marsalforn Salt Pans, and of course, relaxing on the gorgeous Ramla Beach.
We visited several of the best places to visit on Comino and Gozo (including the Blue Lagoon!) on this memorable day trip.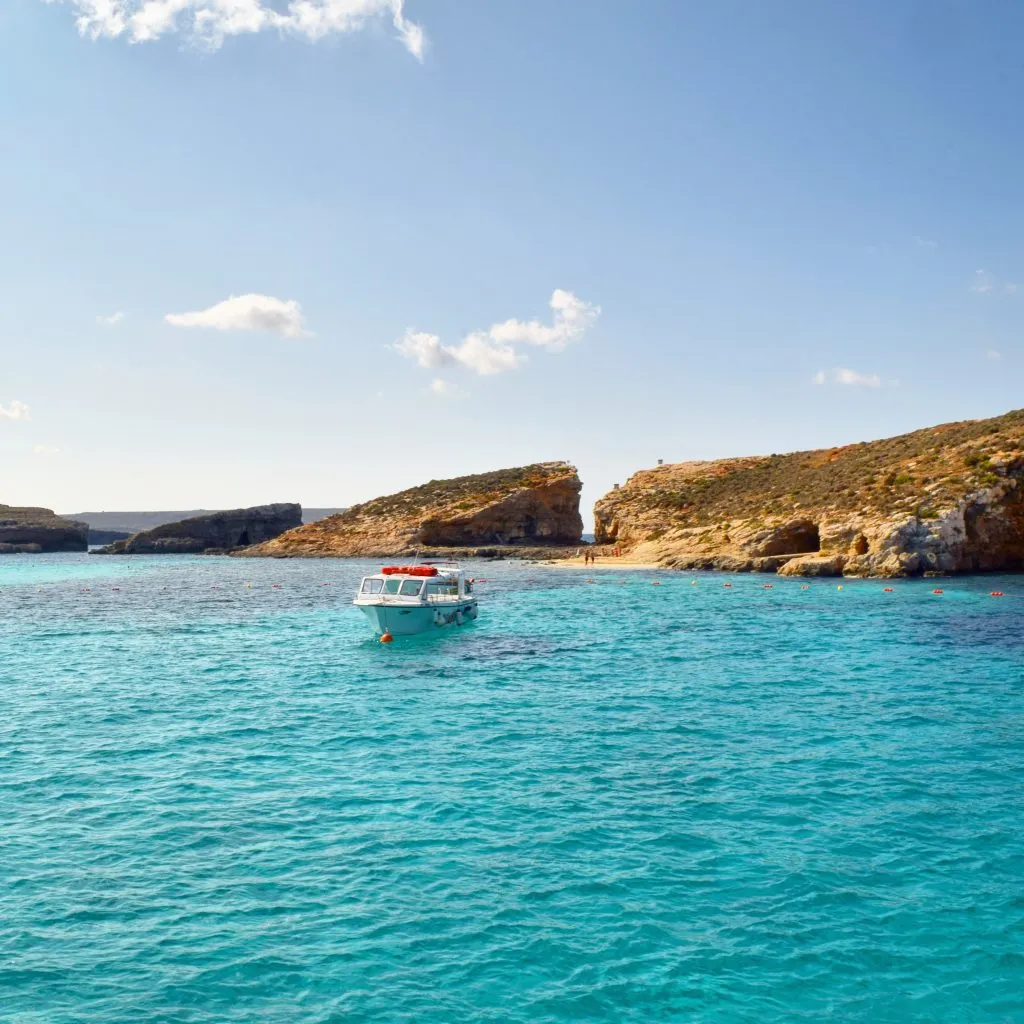 Fun Things to Do in Malta
If you're looking for ideas on what to do in Malta, consider scuba diving, sailing, swimming in the famous Blue Lagoon, visiting the Hagar Qim Temples that date back to 3600 — 3200 BCE, touring the nearby island of Gozo, visiting the beautiful Blue Grotto caves, strolling through the "silent city" of Mdina, and enjoying the beautiful beaches... just to start with!
No trip to Malta is complete without spending time in the capital city of Valletta, admiring the views from the Upper Barrakka Gardens, a cruise over to the Three Cities for views, and a visit to the colorful Marsaxlokk fishing village!
Even a full week in Malta won't cover everything there is to do, but it will be sure to give you an excellent taste of the country.
We've rounded up the best things to do in Malta here!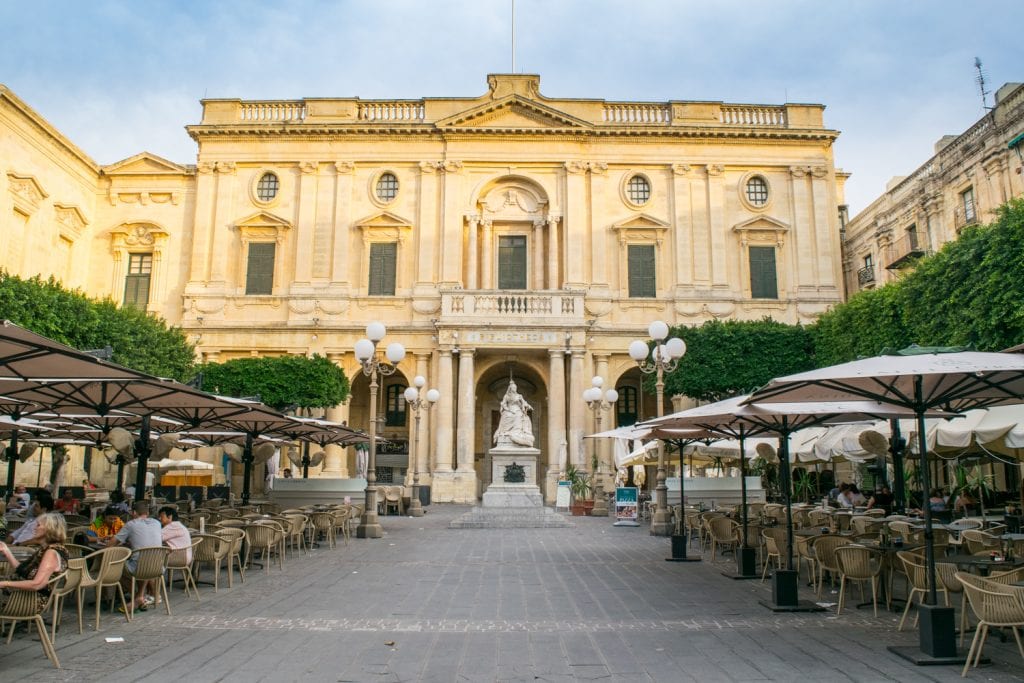 Where to Stay When Visiting Malta
While on Malta, we stayed at Central Suites in the town of Bugibba near St. Paul's Bay, which is semi-conveniently located for accessing Gozo and Comino (the island that the Blue Lagoon is next to), but not convenient for much else.
We enjoyed the neighborhood we were in, but wouldn't stay there again because it is so far out of the way!
If we return to Malta, we will stay in Valletta, which is not only the capital (and home to a central bus station that makes it simple to get everywhere you want to visit in Malta), but was also our favorite city that we saw in Malta–it was home to lovely sites, lots of restaurant options, and, in our totally biased opinion, it was the prettiest!
Checking into a property like the well-reviewed Melior Boutique Hotel or Hotel Pjazza Merkanti would be at the top of our list.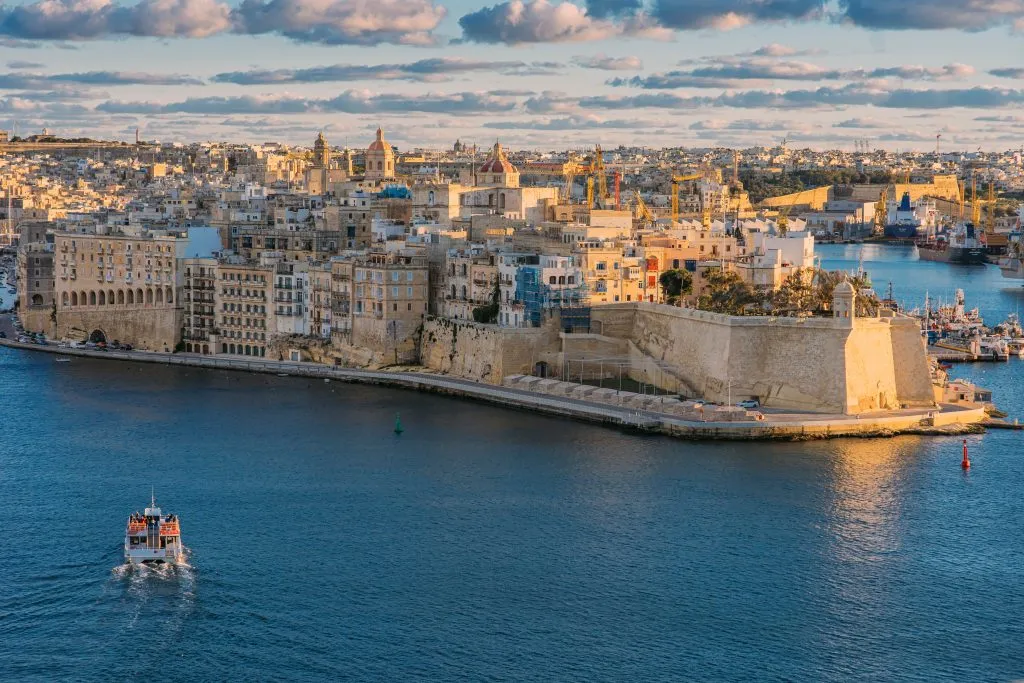 … Or, if we felt like a splurge, perhaps the gorgeous Embassy Valletta Hotel–those views are incredibly tempting!
Sliema is very close to Valletta (there's a short water taxi that goes between them) and is another option worth considering.
St. Julian's Bay is near Valletta and Sliema as well and is popular with travelers looking for nightlife.
We would not recommend staying in Marsaxlokk.
The fishing village is adorable and cute to visit for a day, but it is small and remotely placed from the rest of the island–you'll eat up way too much time in transportation by staying there!
If you'd like a different, quiet experience in Malta, consider staying on the island of Gozo or even Comino (there are only three full-time residents on Comino, and they run a hotel during the summer!).
Keep in mind that this plan isn't for people who want to easily access Malta's most famous attractions, but it can be great for travelers who are looking to step off the beaten path and/or spend lots of time on the water.
Getting Around Malta
Don't be fooled by Malta's small size!
No matter where you stay in Malta, you're going to be faced with some significant time on the road to get between major destinations–often more than an hour each way.
Though you can rent a car, if you're not a confident driver in heavy traffic and/or on the left side of the road, we would recommend using Malta's incredibly extensive bus system to save money, stress, and fossil fuels!
The bus will get you virtually anywhere you need to go on the island of Malta.
For 21 Euros, you can buy a seven-day unlimited travel pass for Malta's bus system.
Standalone, one-way tickets are 2 Euros in the summer, 1.50 Euros in the winter, and 3.00 Euros for night journeys and express buses.
You can check bus schedules and keep up with routes on Malta's free transportation app, the Tallinja App.
We used the app some but actually found Google Maps to be more useful for getting around Malta.
What to Pack for Malta
Sea Bands
: If you get seasick easily, I can't recommend these bands enough–they are the reason I was able to enjoy a boat excursion in Malta!
Type G Adaptors
: Unlike most of Europe, you'll need Type G adaptors (aka UK adaptors) for your electronics in Malta.
An EU SIM Card: Having access to Google Maps in real-time was a must when dealing with managing bus schedules across the island.
You can pick these up when you arrive in the country–we used the one we had picked up in Prague.
Sunscreen
: Like in any beach destination, you'll pay a premium for sunscreen here–better to come prepared when planning a trip to Malta.
Swim Goggles
: We love packing swim goggles for beach destinations: they're cheap, they're small and light to pack, and they make swimming (especially if you wear contacts like us) much more fun!
Malta may be a small country, but this Mediterranean island nation definitely doesn't deserve to be overlooked.
Plan a trip to Malta and you'll be rewarded with beautiful views, a chance to learn about some incredible history, and a great excuse for some fun in the sun!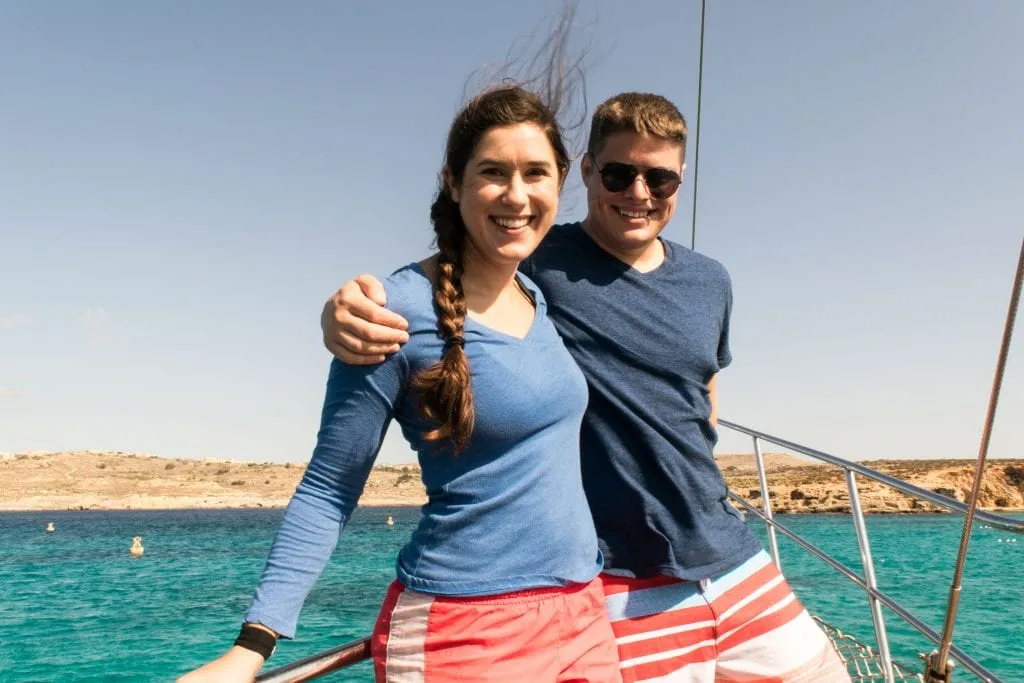 Read More About Visiting Malta + Southern Europe
Ready to plan a trip to Europe… and maybe several other sunny destinations?
If so, be sure to check out these guides, too!
---