White-washed villages, dramatic coastline, scrumptious wine, and awe-inspiring caldera views: the list of things that people dream of when deciding to spend 3 days in Santorini is as long as it is accurate.
This island dances in the dreams of so many visitors to Greece–us included–and we're happy to report that Santorini more than lives up to expectations.
We were blown away by this magnificent volcanic gem, which is so much more than its reputation as an #instagrammable backdrop (though it does live up to expectations there, too)–and after spending a few days in Santorini, we think you'll agree.
We've structured this 3 day Santorini itinerary to show you the best of the island in just a few days.
While Santorini may look small on the map, you may be surprised by just how much beauty and adventure is packed into this small speck in the Aegean Sea!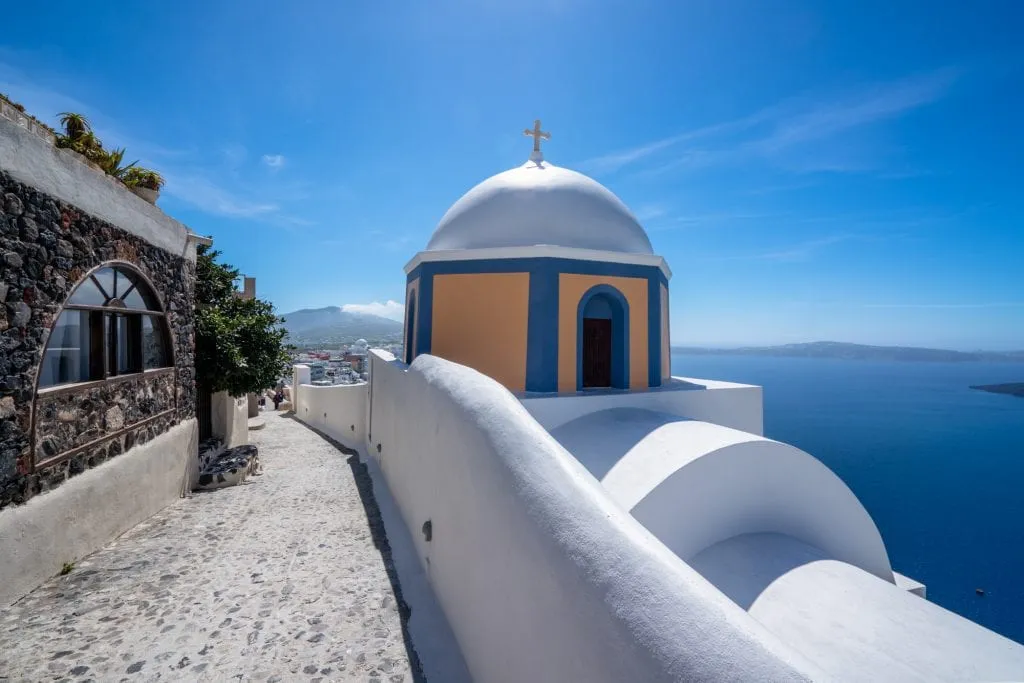 Some links in this post may be affiliate links. If you make a purchase through one of these links, we may earn a small commission at no extra cost to you. Please see our

disclosure policy

for more detail.
Day 1 in Santorini: Fira to Oia Hike & Sunset in Oia
Kick off your 3 days in Santorini with the most epic Santorini attraction: hiking from Fira to Oia.
If there's one thing that you absolutely have to do in Santorini, it's hiking from Fira to Oia.
The hike takes roughly 3 to 5 hours, depending on how fast you walk and exactly how many hundreds of photos you take (hint: it's probably going to be a lot).
The hike isn't particularly challenging, but you will be tired by the end! It's worth every step, though: hiking from Fira to Oia is one of the most gorgeous and memorable travel experiences we have ever had.
If you're traveling during the summer, be sure to start hiking as early as you can possibly pull yourself out of bed: there is essentially no shade on this hike and it can get extremely hot! Pack plenty of water, as well as cash to pick up snacks and drinks along the way.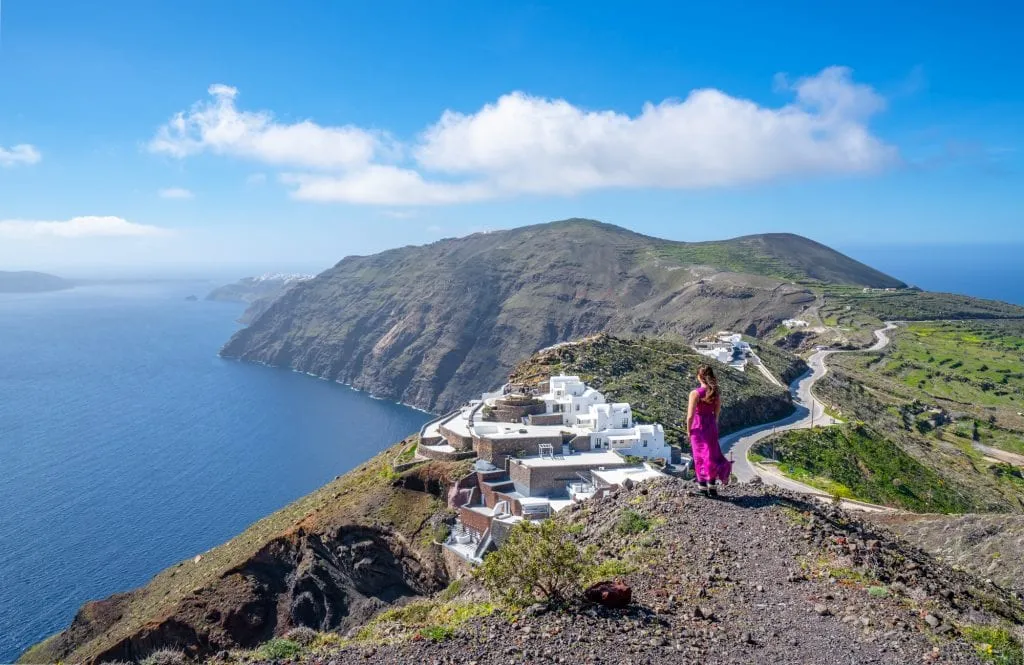 Explore Oia & watch one of the most famous sunsets in the world.
Dazzling Oia is the most luxurious spot on all of Santorini, home to countless luxury hotels, delicious restaurants, and spell-binding views–including some of the most famous ones on the island.
Spend the afternoon aimlessly wandering through Oia–be sure to appreciate the magnificent views from all angles, enjoy a leisurely lunch of Greek food, visit Amoudi Bay, and eventually watch one of the most famous sunsets in the world.
If you're a book-lover like us, be sure to also stop by Atlantis Books while you are there!
If you're not staying in Oia, you can catch a bus or taxi at the bus station to take you back to the village you are staying in after the sun sets.
However, if you're traveling during the summer, be aware that the taxis and buses can fill up around this time, so be prepared to deal with crowds.
Day 2 in Santorini: Exploring the Caldera Via Boat
Exploring the caldera via boat is an absolute must-do during your 3 days in Santorini–but deciding exactly what kind of boat trip you want to head out on will depend on what kind of travel you have in mind for your Santorini itinerary.
Are you a luxury seeker interested in stunning views and dinner on the water, or an adventure seeker looking for hot springs and a short hike?
Perhaps you're even interested in both–if so, there's nothing stopping you from taking an active tour during the day and then a romantic sunset cruise at night!

Here are a couple of popular boating options in Santorini–we personally chose the format of the first trip and had an incredibly memorable time.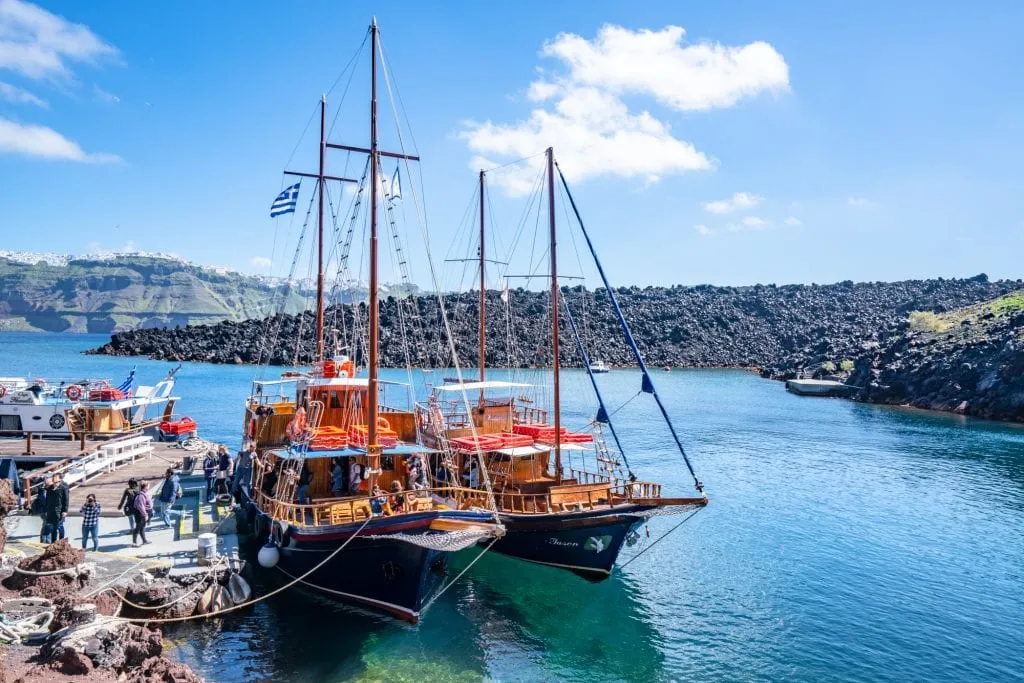 For Adventurers: Peer into a volcano crater & swim in hot springs.
Did you know that you can hike to the volcano crater that once erupted to create Santorini as we know it today? Or that you can swim in volcanic hot springs right next door?
Well, you can–and it's even better than it sounds!
Visiting Nea Kameni was one of our personal highlights from our trip, and we highly recommend adding it to your 3 day Santorini itinerary.
This fun tour will take you to Nea Kameni to see the crater, to the hot springs, and to Thirassia island, all in one day!
And, because this is Santorini, the boat ride to get to each of these places is almost as incredible as the locations themselves.
Book your boat tour to the volcano crater and hot springs today!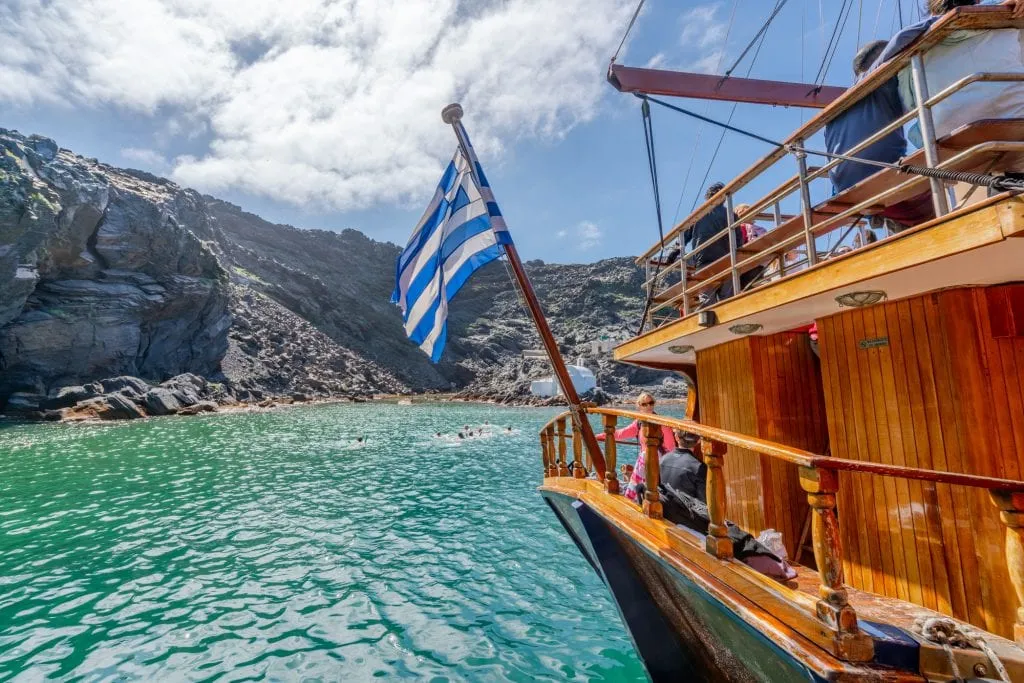 For Luxury Seekers: Watch the sunset, admire villages, and enjoy dinner, plus hot springs!
Are you picturing an all-day splurge for your day on the water in Santorini?
This incredibly popular and well-reviewed tour doesn't include a hike to the volcano crater like the one above, but it does include a meal served on the boat, a peek at several beaches (including the White Beach, which is only accessible by boat), and longer spent out exploring than the tour listed above.
You will get a chance to swim during this experience, including at the hot springs, but you'll also spend plenty of time admiring beautiful views with access to an open bar and a meal!
Choose the later start time to enjoy the sunset on the water, or an earlier start with lunch if you want to spend the brightest hours of the day on the water before returning to Santorini for a leisurely dinner on the island.
Book your sunset cruise in Santorini today!
Day 3 in Santorini: Exploring the Villages of Santorini + An Epic Wine Tour
A Note on Day 3 Transportation: Tour or Car Rental
For the morning portion of your third day on Santorini, you'll need transportation to explore.
You have a few options: first, you could rent a car (check Discover Cars for price + inclusion comparisons) or an ATV to travel around the island.
Or, if you'd rather not be responsible for taking care of a vehicle on Santorini, you can book a tour of Santorini's villages to hit up some memorable spots without having to worry about navigating the island.
However, we really recommend renting a car or ATV for the morning if you're open to it!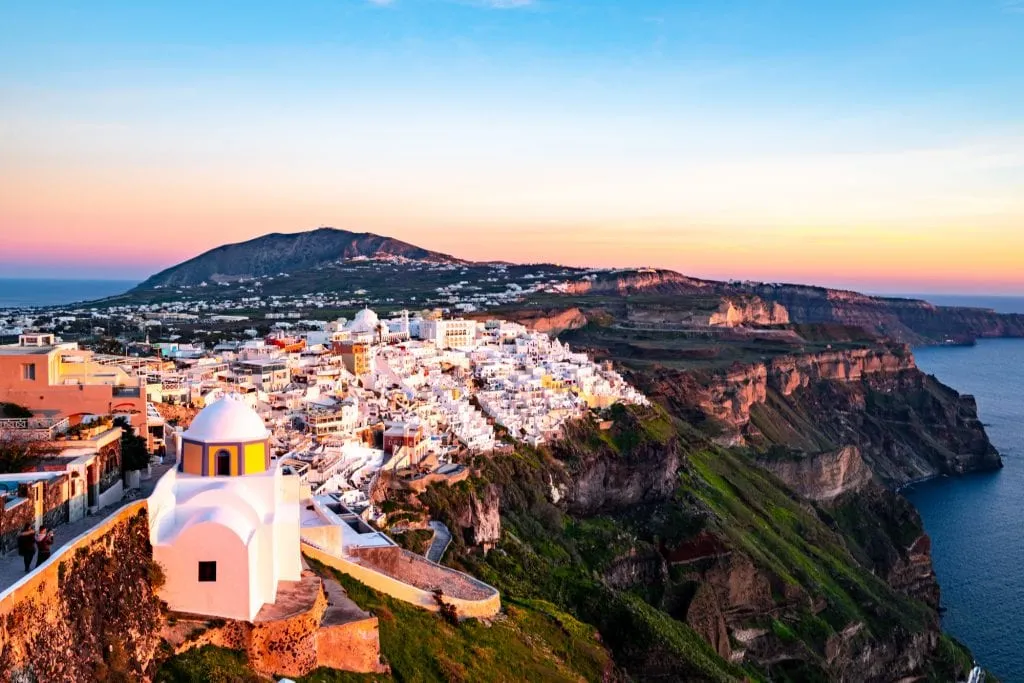 Start your morning with a visit to Red Beach.
If you didn't already visit Santorini's beautiful Red Beach as part of your boat tour (or if you just want a second look), it's the perfect place to start your third day on the island!
The beach is about a 7-15 minute walk from the parking lot, and requires a bit of a hike down a trail to get to–but it is gorgeous.
Even if you don't plan on swimming, the nearby views are worth a peek!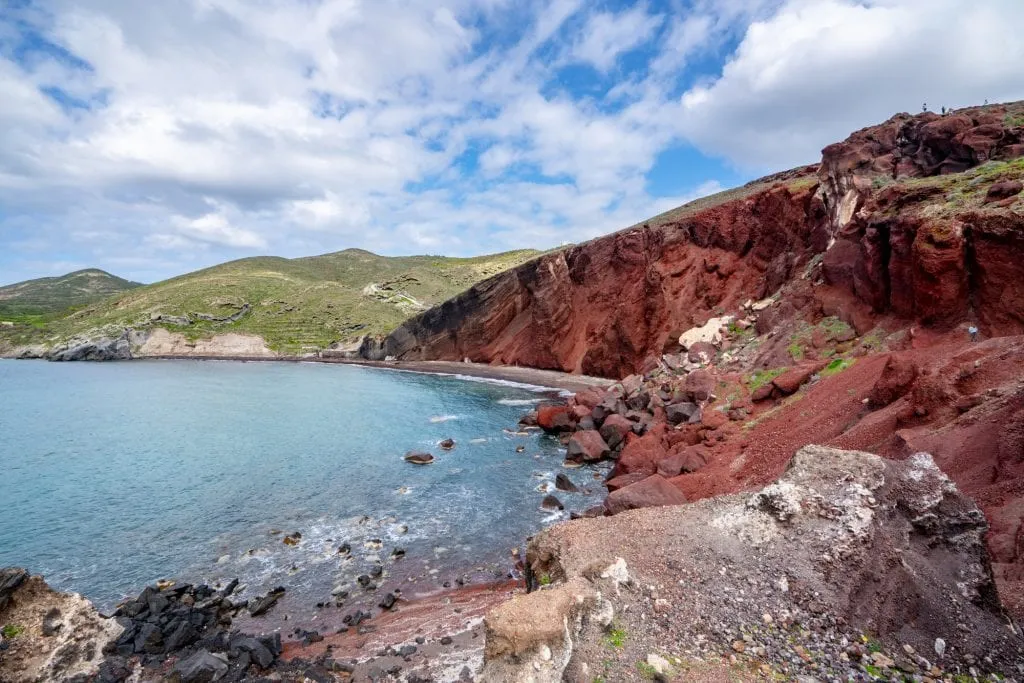 Visit the remains of a Bronze Age settlement at Akrotiri.
The impressive ruins of a Bronze Age city may not be what Santorini is best known for, but they're worth adding to your 3 day Santorini itinerary!
The Minoan civilization that once called Akrotiri home was related to Cretan civilization, and therefore unrelated to the Greek people who call the area home today.
The city is said to have been buried in a volcanic eruption in 16th century BCE, and is one of several locations that are theorized to possibly have been the origin of the legend of Atlantis.
The excavation of Akrotiri began in 1967, and today you can visit the remains of the city, including impressive frescoes and many artifacts found on site.
Explore more beautiful villages of Santorini.
For a small island, Santorini is home to a surprising number of distinct, beautiful villages.
Here are a few to consider visiting on your third day exploring the island!
Kamari
Want to step foot on a volcanic black sand beach during your 3 days in Santorini? Head to Kamari!
The beaches are easy to access, beautiful, and a great quick pit stop during your time exploring Santorini.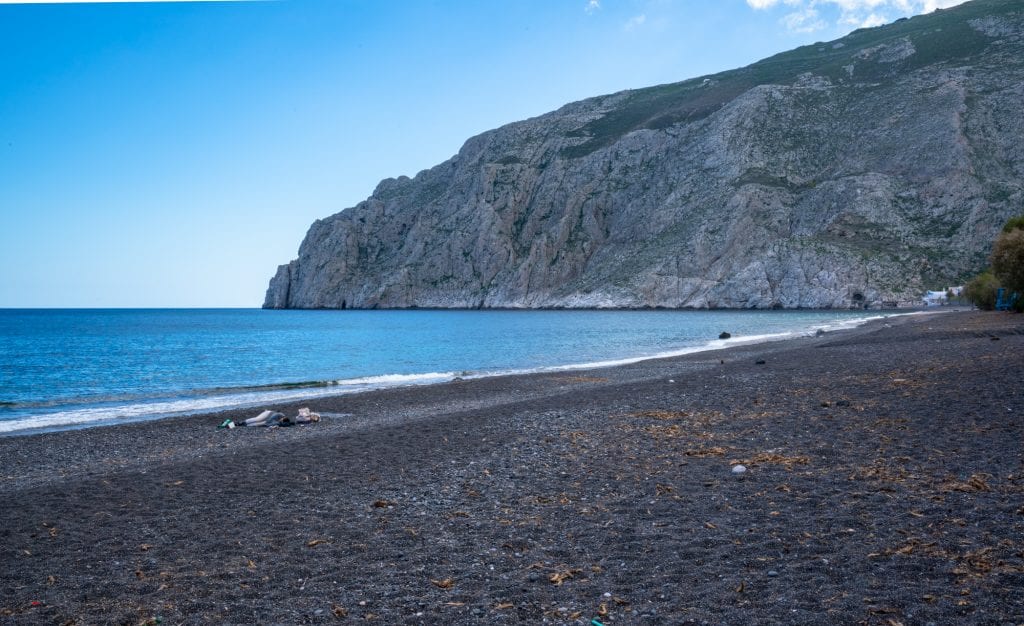 Pyrgos
Located at the highest point on the island, Pyrgos is home to some of the most beautiful views in Santorini–and the views while getting there isn't hard of the eyes, either.
Emporio
The oldest and often considered the most traditional village in Santorini, Emporio is the perfect place to get a peek at what was once traditional life on Santorini while also enjoying a gorgeous spot on the island.
Imerovigli
You'll pass through Imerovigli during your hike from Fira to Oia, but if you need another chance to admire the village's epic caldera views before saying goodbye to Santorini, there's no shame in heading back up!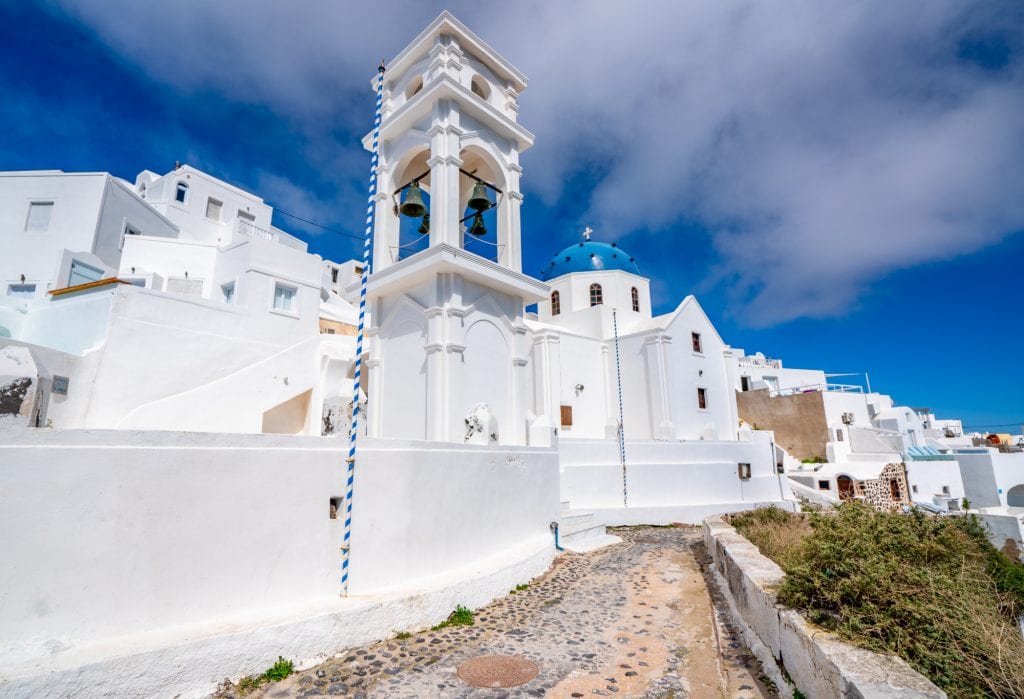 Close out your 3 days in Santorini with an incredible wine tour.
Santorini's wines are delightful.
Mount-wateringly delicious and fairly inexpensive, spending an afternoon exploring the many fabulous wines of the island is an unbeatable way to close out your 3 days in Santorini.
This popular tour is the perfect way to explore some of Santorini's most incredible wines–often with perfect views to match–without having to worry about being responsible for your own transportation of picking a designated driver.
Book your Santorini wine tour now!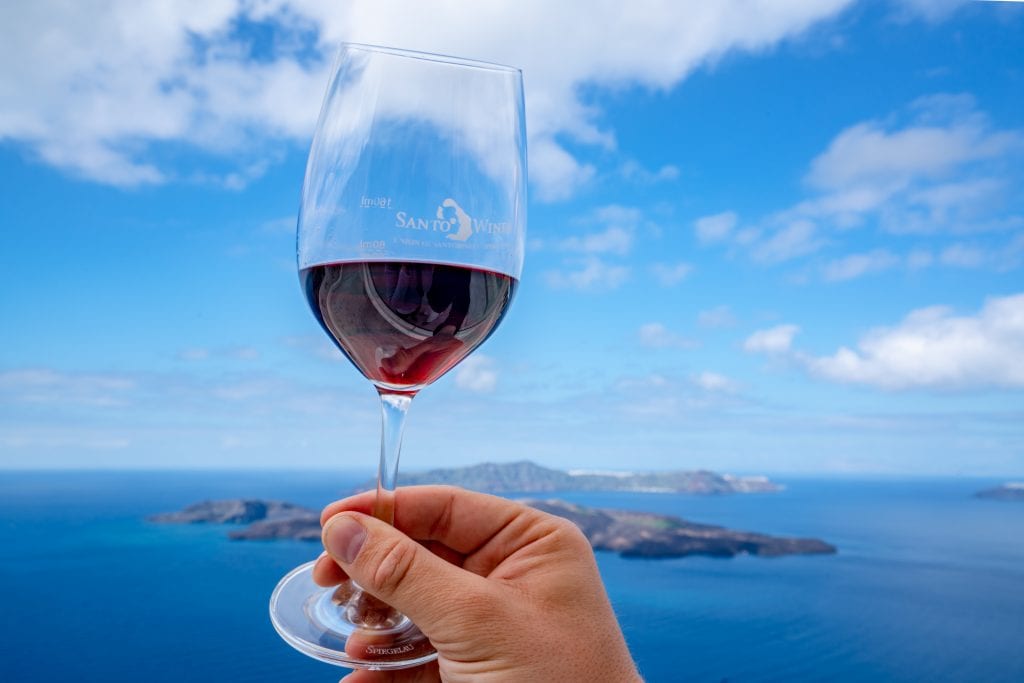 Where to Stay in Santorini
When choosing what village to stay in during your 3 days in Santorini, there are two main things to keep in mind: views and price.
Most people who decide to visit Santorini are dreaming of stunning caldera views and infinity pools–and while those definitely exist on the island, you'll pay a pretty penny for them!
If your goal is stunning views and an iconic Santorini experience at any cost, Oia is the place for you.
If you have the same goal as above but also want to prioritize a quiet environment and stay away from the hustle and bustle of Oia, look at staying in Imerovigli.
If you want to still be in the middle of the action and get that classic Santorini vibe while saving a bit of money, Fira or Firostefani might be the place for you.
If you want to stay in a (relatively, this is still Santorini) affordable location with access to some of Santorini's best beaches, look at places in Kamari or Perissa.
I've linked a few hotels below that will give you an idea of the price range and availability you're looking at in Santorini, all of which receive excellent reviews and are located in once of the villages I've mentioned here.
If you see a property you like and your travel dates are set, let me make a recommendation: book it!
While it often seems like new boutique properties are popping up on the island daily, Santorini is still a relatively small place, and locations come at a premium.
For that reason, I can't stress enough: if you have a specific Santorini experience in mind, whether that's an all-out luxury honeymoon in Oia or a chance to see the island on as low of a budget as possible, book as far in advance as you can.
This is especially true if you're traveling in high season, when properties regularly sell out 6-12 months ahead of time.
Since most properties are small and may only include a few rooms or villas, it doesn't take many people choosing to stay there to completely wipe a property off the market for your dates.
Budget
Makris Beach Hotel (Kamari) — Located right on the beach, Makris Beach Hotel gets excellent reviews and boasts both comfortable rooms and an included breakfast. While you won't have caldera views, you'll find that the location in Kamari does help bring down the price as compared to the cost of staying in other villages on Santorini!
Mid-range
Altemar Suites (Fira) — Boasting beautiful views and an outdoor hot tub to admire them from, you can't go wrong with the mid-range price, creature comforts, or excellent location near the center of Fira with a stay at Altemar Suites during your 3 days in Santorini.
Luxury
Cleo's Dream Villa (Oia) — This stunning villa is a perfect example of the kind of luxury properties that are tucked into the cliffs around Oia. Located directly below the iconic blue domes and offering both a perfect location and plenty of privacy, this gorgeous villa is home to a hot tub overlooking the caldera, once-in-a-lifetime views, a beautiful interior, and a spacious layout.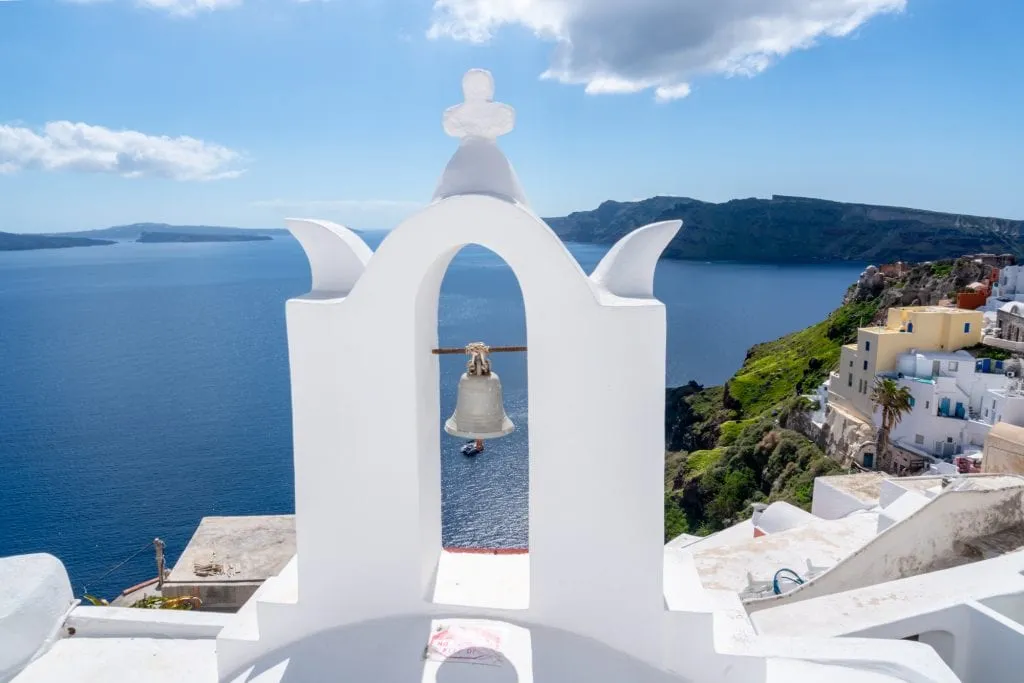 What to Pack for Santorini
Travel Insurance — We don't ever suggest traveling without travel insurance–anything can happen, and the last thing you want is your 3 days in Santorini to be interrupted by worrying about a crisis. We use and recommend Safety Wing for trips to Greece.
International Driving Permit — If you're coming from outside the EU and plan to rent a car during your 3 days in Santorini, you'll need to make sure to acquire an International Driving Permit in your home country, before coming to Greece.
It is required for all car rentals in Greece, and while the rental company may not ask for it, it's not worth the risk of being refused a car once you arrive in Santorini or getting a fine if you're pulled over to be without one.
Travel Adaptors for Greece — If you're coming from outside of Europe, you'll definitely need adaptors for your electronics.
Sunscreen
— Because sunburns are never a good look in vacation photos.
Swim Goggles
— If you're hitting the beach, definitely add swim goggles to your Santorini packing list–they're cheap, small, easy to pack, and make swimming so much more fun!
Dry Bag
— Any trip to Santorini that includes time on the water, whether that's hitting the Red Beach or sailing to the hot springs, can benefit from a dry bag to keep your camera and cell phone safe (without leaving them behind).
Sea Bands
& Non-Drowsy Dramamine
— If you're prone to motion sickness like me, I strongly recommend adding Sea Bands to your packing list for Santorini. I use them on all boats, and if things get really bad, take some Non-Drowsy Dramamine as well.
Camera — We absolutely adore our Sony a7R III, but bring whichever camera is right for you! If you're looking for a new camera but the Sony a7R III is too much of an investment right now, our Nikon D3300
was a fantastic starter DSLR and served us very well for years.
Pacsafe
— We can't recommend our Pacsafe
enough: this travel safe is affordable, sturdy, easy to pack, and will help keep your valuables safe in your hotel room (not that you should need to worry much about theft in Santorini, but it's better to be safe than sorry!).
Nalgene
— You're definitely going to want to carry water with you as you explore Santorini (especially during the hot summer). Cut down on plastic waste and bring a reusable water bottle instead!
Travel Journal
— If you want to keep a travel journal, but can't commit to a huge amount of writing each night, I can't recommend the One Line a Day Journal
enough–I've been using it for 4 years now and adore it!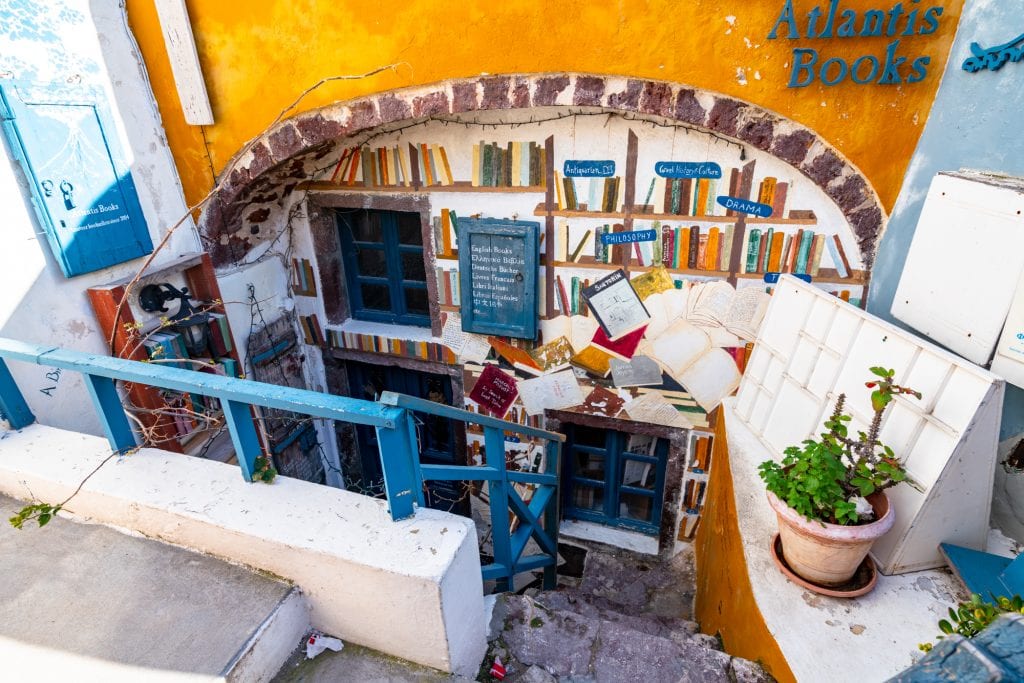 More Than 3 Days in Santorini?
Do you have more than 3 days in Santorini and want to expand your itinerary? It's certainly easy to do!
We spent more than 3 days on the island and still left feeling like we would love to stay longer, not so much because of a long list of must-see spots on the island that we didn't get a chance to see, but because it's just so ridiculously pleasant existing on Santorini that we didn't want to leave.
If you have more than 3 days in Santorini, consider walking down to Fira's Old Port and either taking the cable car or hiking back up, attending a movie at an open-air cinema on the island (Mamma Mia and My Big Fat Greek Wedding are popular choices), taking a kayaking tour to explore the caldera in a different way, going scuba diving, walking to Skaros Rock, visiting the lighthouse on the southern end of the island, or splurging in a major way on a helicopter tour around Santorini.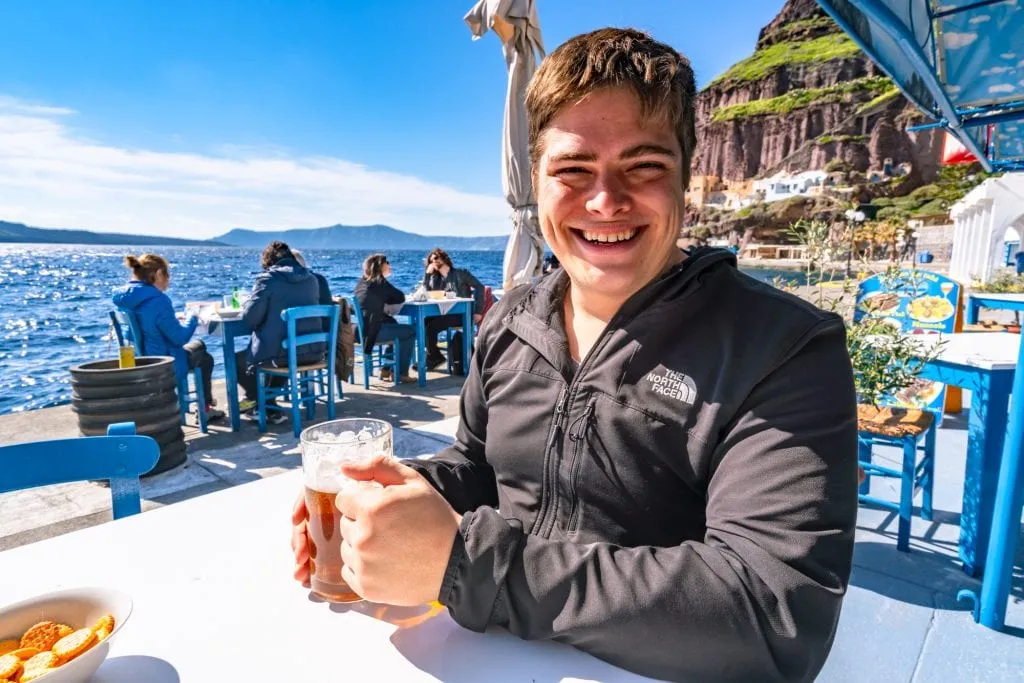 Getting Around Santorini
We've structured this 3 day Santorini itinerary so that you will really only need private transportation on the final day, as long as you are staying within one of the main villages along the caldera.
Many tours in Santorini provide pick-up and drop-off services, so if you book a tour, you should be able to get to just about anywhere you need to go.
If you prefer independent travel, Santorini's bus system is very useful and there are plenty of taxis on the island.
However, if you're traveling during the summer, be aware that these fill up quickly, especially along the Fira-to-Oia hike in the afternoon, when people are all trying to get home after a long day of hiking.
If you're staying further out in a more isolated property without a bus stop nearby, you may want to consider renting a car for the duration of your time on Santorini if you want to be able to get around yourself.
The Best Time to Visit Santorini
The overall best time to spend 3 days in Santorini is widely considered to be April – May and late September – October, when the crowds are lower than during the summer but you'll have better weather and more businesses operating on the island than in the true low season (November – February).
If you're looking for hot weather and don't mind the crowds, summer will be the perfect time for you to spend 3 days in Santorini, and even to visit as part of a larger Greek island hopping trip.
We personally visited Santorini in mid-March and adored it.
The water was too cold to swim (October would have a leg up on shoulder season travel for that), but we had absolutely no other complaints: the weather was sunny and beautiful, the crowds were low (we only ran into five other hikers between Fira and Oia!), and most restaurants and tour companies were up and running.
As a bonus, many businesses had high season prices being advertised as starting April 1, so we snuck in just under the wire and experienced perks like a cheaper car rental because of it.
Map of Places Mentioned in this 3 Day Santorini Itinerary
---