When we booked plane tickets to visit Malta in September, we knew exceptionally little about it.
We knew that it would be warm.
We knew that it had beautiful water.
We knew that the cities looked pretty in pictures.
We knew that it was a decent deal to get there from Budapest, and to Rome afterward.
… That was about it.
Some links in this post may be affiliate links. If you make a purchase through one of these links, we may earn a small commission at no extra cost to you. Please see our

disclosure policy

for more detail.
Traveling with limited knowledge of what exactly we're going to do somewhere is something that we have been having increasing amounts of fun with over the last couple of years, but it was definitely still an unusual feeling to book a plane ticket to a country we knew very little about.
As it turns out, there are plenty of excellent things to do in Malta in September for travelers seeking some sunshine and sea breeze. Sure, the water may have been a bit chilly for swimming for our taste, but that didn't stop us from enjoying all the country had to offer (including a bit of cold swimming!).
Here are some of our favorite things to do in Malta (and some that we wish we had gotten a chance to try!).
Marvelous Things to Do in Malta in September
Visit the Marsaxlokk Fishing Village.
Home to a harbor full of colorful wooden fishing boats, a lovely waterfront stuffed with restaurants serving fresh seafood, and a fish market on Sundays, this is the perfect place to spend a day in Malta.
Dive into St. Peter's Pool.
Located about a 35-minute walk (or shorter taxi ride, if you feel like negotiating with a driver in town), this naturally formed pool is incredibly beautiful and the perfect place for a swim.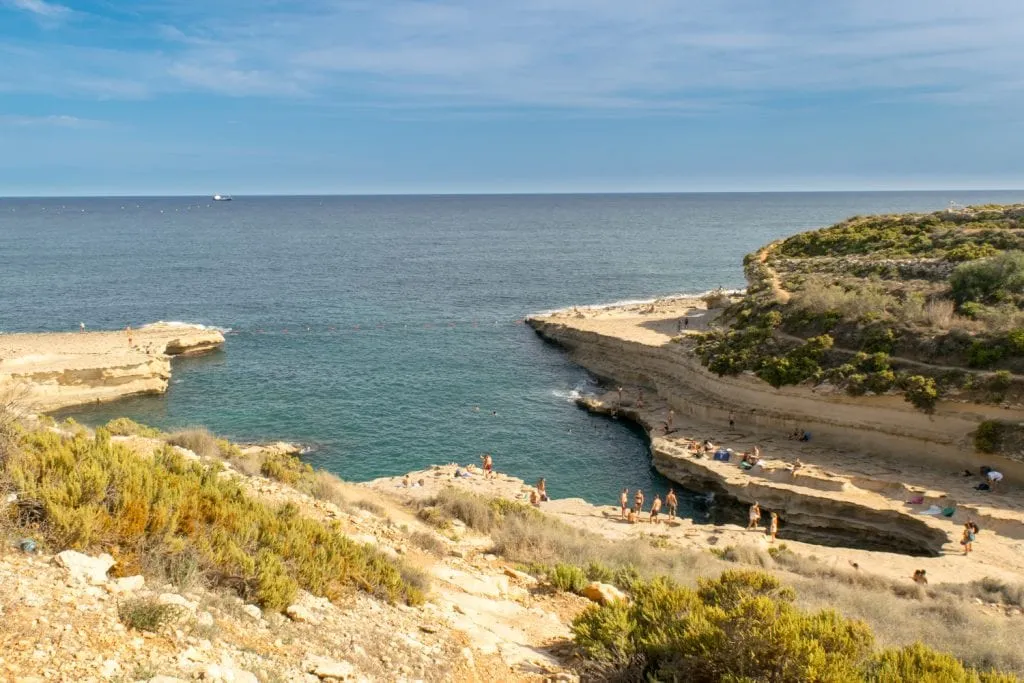 Visit the Hagar Qim temples.
Three thousand years before the Romans, more than 5000 years before us, the temples of Hagar Qim were built on Malta.
That amount of history boggles the mind–and it's all the more reason to stop by and stare in wide-eyed wonder at these remarkably well-preserved temples that date to 3600 – 3200 BCE.
Malta's history is impressive–for the history lover, Malta's megaliths and ancient temples will be a huge draw.
Wander the streets of Valletta.
The streets of Malta's capital city are absolutely gorgeous, and down every road you'll be able to see the enclosed balconies that Malta is known for, which give its cities its distinct look. It's no surprise that Valletta is regularly named among top places to see in Malta!
We had some amazing fresh pasta here at a restaurant called Pastaus near the center–if you a get a chance, go, and be sure to order whatever noodles the family running the shop tells you goes best with the sauce you pick.
Take the Three Cities Ferry.
Across the water from Valletta sit the Three Cities of Birgu Senglea, and Cospicua. Once fortified cities important to Malta's defense, these are now excellent neighborhoods for exploring–and the ferry across the water is the perfect way to get an amazing view of Valletta.
Check out great Three Cities Tours (some including wine tasting!) on Get Your Guide!
Take to the water.
Malta's most famous site (and absolutely unmissable among things to do in Malta), the Blue Lagoon near the island of Comino, is accessible from the main island only by boat.
If you don't want to miss a chance to swim in the turquoise water the lagoon is known for, you have a few choices–most popularly, enormous ferries run out to the lagoon a few times per day.
Or… you could take a smaller tour.
We were invited on a day trip with Barbarossa Excursions that included stops at both the Blue Lagoon and the lesser known (but equally gorgeous) Crystal Lagoon, a light lunch, and our afternoon tour of Gozo.
The swimming was incredible, we dealt with far fewer people on our boat, and the best part? We got to the Blue Lagoon well before any of the large ferries, and our group had the Blue Lagoon almost entirely to ourselves for an hour–considering the horror stories about how crowded it can get, we considered that quite the perk!

Plus, there was the afternoon to look forward to. Which leads me to…
Take a Jeep tour of Gozo.
One of our favorite things we did in Malta was to explore the nearby island of Gozo via a half-day Jeep tour: we were able to visit highlights of the island efficiently (including the former location of the Azure Window–so sad we missed it!), and our guide, Tony, kept us laughing the whole time.
The views around Gozo are amazing and well worth the trip over from the island of Malta. Some favorites? The beach near Calypso caves, all of the coastline where the Azure Window used to be, and the view back toward Comino and Malta–the Blue Lagoon is so bright, you can see it clearly even when perched high on a hill on Gozo!
Tour the "silent city" of Mdina.
More than just a season one Game of Thrones filming location, the walled city of Mdina is home to just 300 people and a very limited number of cars, giving the city a hushed quality that makes it easy to feel you have stepped back in time.
Settled more than 4,000 years ago, long before the current capital city of Valletta was built, Mdina is home to oodles of history and was potentially once the home of the Apostle St. Paul.
Though we visited during the day and had a great time, I would love to go back in the evening and watch the sunset over the city: at night, Mdina is lit by lamps, giving it an even more timeless feel.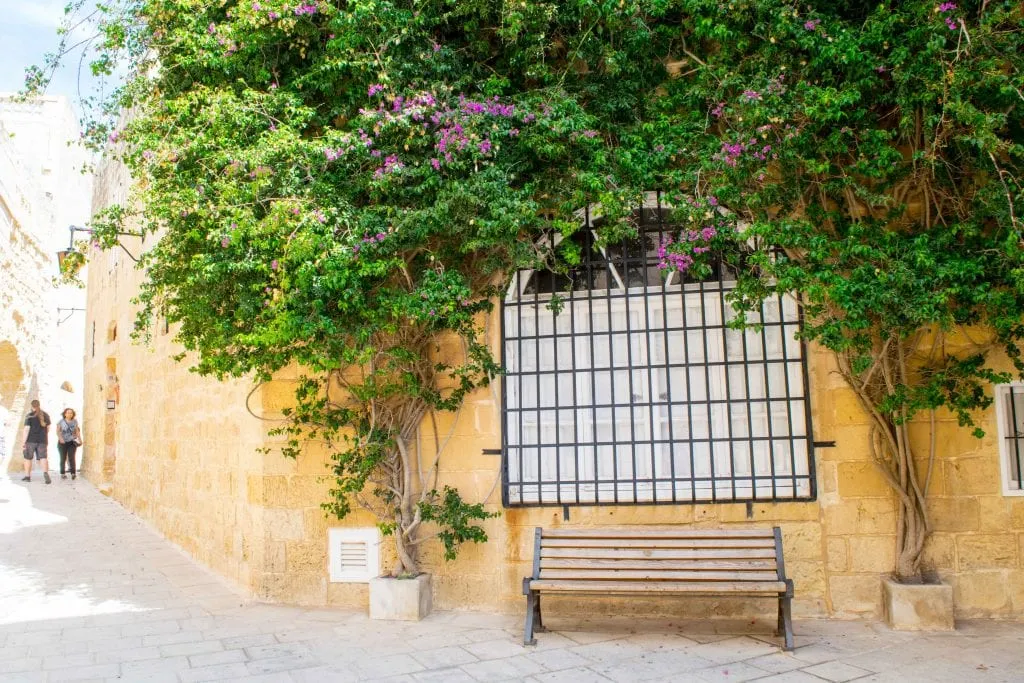 Don't head to Malta without travel insurance! We use and recommend World Nomads for their affordability, ease of purchasing & the clarity of their contract!
Go scuba diving.
We didn't have time to add scuba diving to our list of things to do in Malta on this trip, but felt an ache for it as we watched divers head into the water–particularly on our Gozo Jeep tour.
Malta is home to some incredible dive sites, including a fairly new one–the famous Azure Window is technically still able to be visited… you just have to go underwater to see it!
Though we didn't get a chance to go diving in Malta this time, we'd love to return and give it a try! We've heard that it's definitely an adventure worthy of any Europe bucket list.
Visit the Popeye Village.
Long before Game of Thrones descended onto Malta to shoot, Malta was home to another production: the 1980 movie "Popeye" was filmed here, in a "village" set built especially for the movie.
It has now been turned into a small family theme park and–more commonly–a photo op, as the village set against beautiful Anchor Bay is incredibly picturesque.
Go horseback riding along the cliffs.
Like much of the Mediterranean, Malta's beaches run more to rocky shores and beautiful cliffs than to smooth sand (though they do have their share of sand beaches, too!).
The cliffs are gorgeous, and what better way to see them than by horseback? Go for a ride to check out Malta's beauty from a whole new angle–oddly, we got some flashbacks to Texas along our ride until we reached the coastline: Malta has a somewhat surprising (to us, anyway) rocky desert feel in many areas!
What to Pack for Malta in September
Travel Adaptors for Malta — Malta uses the same plugs that the UK does–and note that these are different from the bulk of mainland Europe. Double-check you add the right ones to your Malta packing list! We use these.
Pacsafe
— We can't recommend our Pacsafe
enough: this travel safe is affordable, sturdy, easy to pack, and will help keep your valuables safe in your hotel room (not that you should need to worry much about theft from your hotel room in Malta, but it's better to be safe than sorry!).
RuMe Bag
— Incredibly light and easy to pack, a RuMe bag can serve as a grocery bag, beach bag, laundry bag, or just about anything else. They're incredibly handy and we recommend adding one to your packing list for Malta in September. We've been carrying ours for years and it never stops coming in handy!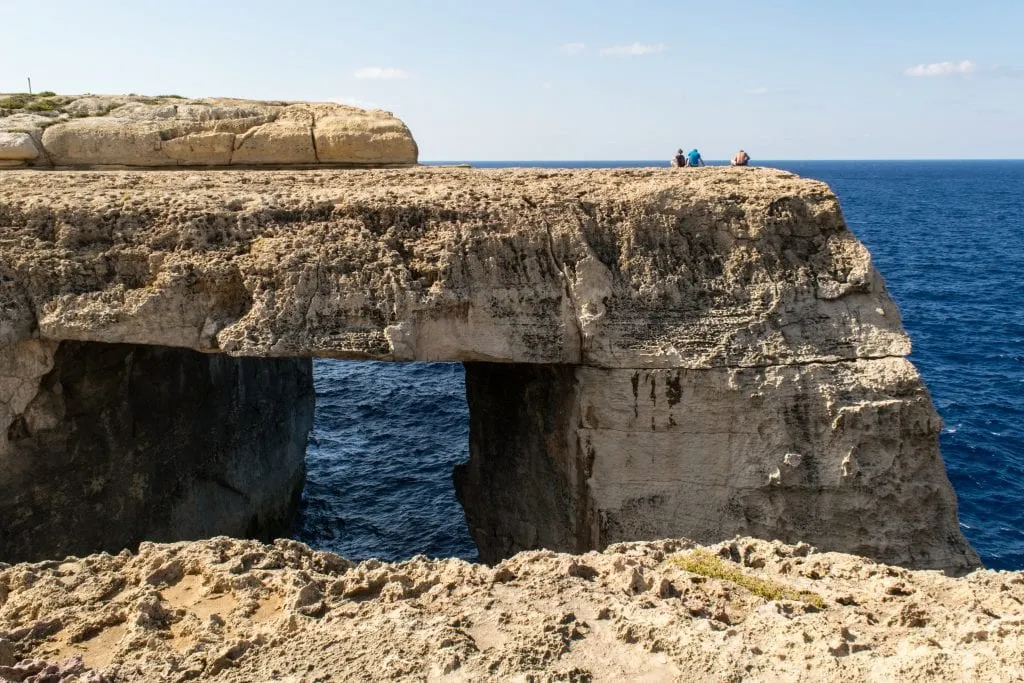 Sunscreen
— Because sunburns are never a good look in vacation photos… and like in many popular beach destinations, it's quite pricey in Malta!
Sea Bands
& Non-Drowsy Dramamine
— If you're prone to motion sickness like me, I strongly recommend adding Sea Bands to your Malta packing list this September.
I use them on all boats and the occasional bus, and if things get really bad, take some Non-Drowsy Dramamine as well.
Trust me–you don't want to miss out on the joys of boating around the Mediterranean due to seasickness!
We loved taking the opportunity to be surprised by this tiny country, and we definitely found plenty of marvelous things to do in Malta–though like in most destinations we take on with little planning, spontaneity has its tradeoffs: we probably would have gotten more checked off this list of things to do in Malta in September (like scuba diving!) had we done more research ahead of time!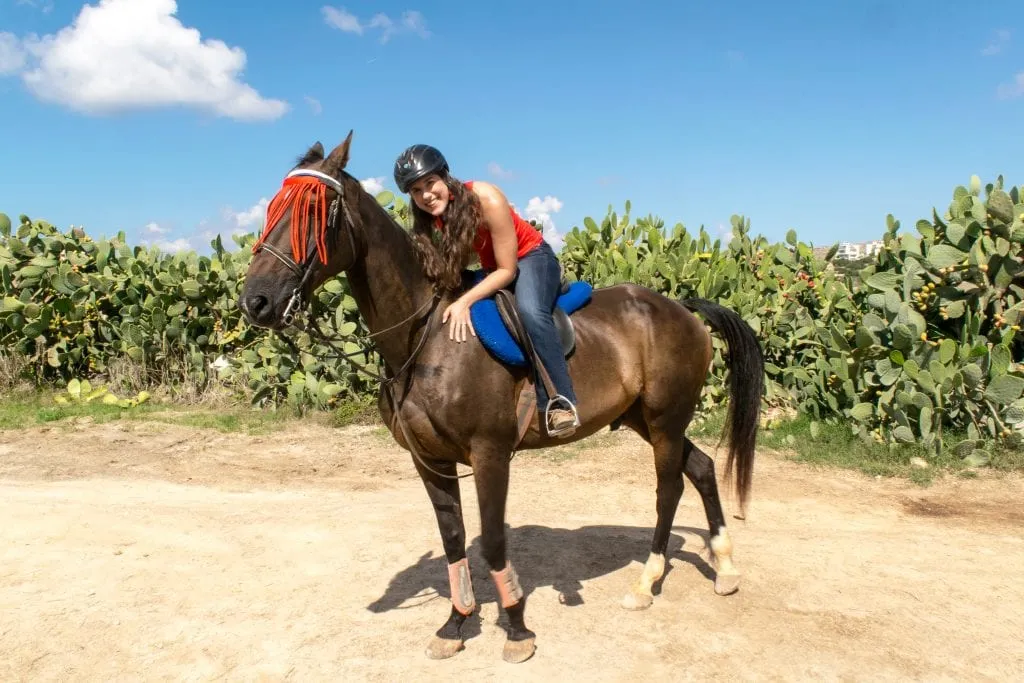 Where We Stayed in Malta
Central Suites — This apartment was perfectly comfortable, but we wouldn't stay here again: its location in Bugibba was too far out of the way, and we spent way too much time on buses back and forth to Valletta (about 45 minutes each way) during our time in Malta as a result.
If you're looking for a quiet, out-of-the-way location, Central Suites might be a good pick for you. If we go back to Malta, though, we'll definitely stay in Valletta.
Check out great places to stay in Valletta on Booking.com!
Like it? Pin it!
Many thanks to Barbarossa Excursions for hosting us on our full day tour of Comino and Gozo! All opinions are, as always, our own.