Prague is, quite simply, a feast for the eyes–and the best views in Prague were enough to make us stop in our tracks.
From the intricate architecture of the buildings to the gorgeous orange rooftops that dot the city, and from the charming views from the Charles Bridge to the magnificent St. Vitus Cathedral looming commandingly over the city, everywhere we turned the views in Prague had us tripping over ourselves in an attempt to slow down and stare.
From there, it wasn't hard to figure out what we wanted the focus of our time in Prague to be: we wanted to stare at it, a lot, from the best viewpoints to visit in Prague that we could find.
During our time in the city, we gallivanted around in a quest to find the best views to visit in Prague. There are a surprising number of them, but overall, we think we've put together an amazing list of the best viewpoints to visit in Prague!
Some links in this post may be affiliate links. If you make a purchase through one of these links, we may earn a small commission at no extra cost to you. Please see our

disclosure policy

for more detail.
The Absolute Best Views in Prague
The Grounds of Prague Castle
If you're new to Prague, odds are that one of the first places you'll want to head in the city is Prague Castle.
What most people assume is Prague Castle–that set of gorgeous gothic spires reaching into the sky–is actually St. Vitus Cathedral, which is inside the grounds.
For the best view of the city (and the best Prague photography angles) from the grounds themselves, head straight past the cathedral and walk until the castle walls open up into views of the city below.
The view of Prague is beautiful, and–even better–free.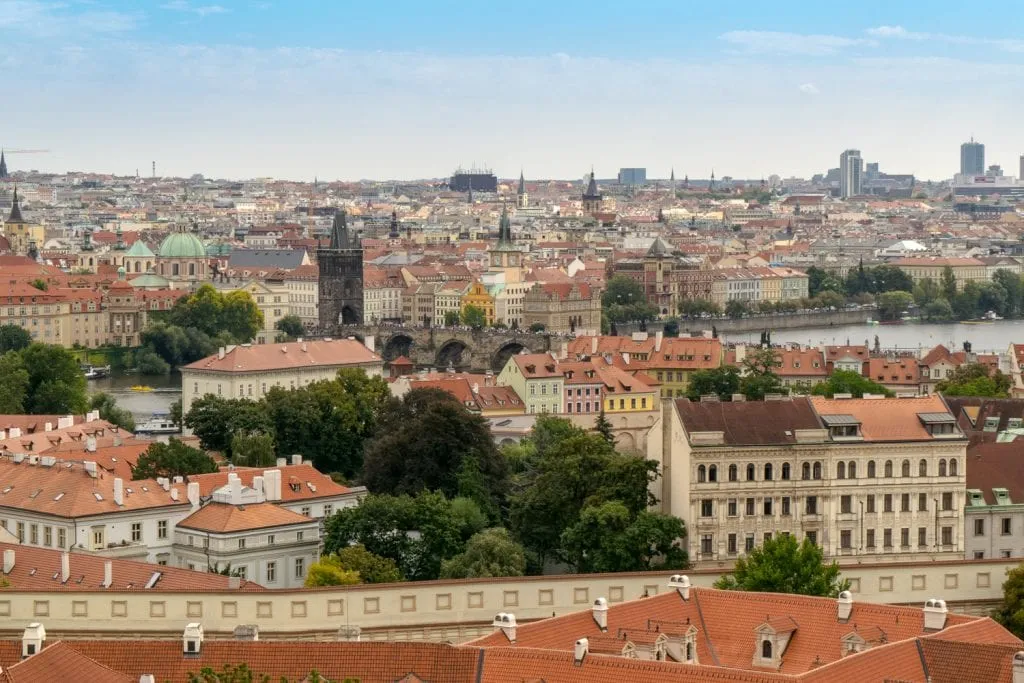 The Great South Tower of St. Vitus Cathedral
Want to get up a little higher?
Climbing the Great South Tower of St. Vitus Cathedral costs 150 CZK/person (a little under $7.00 USD at time of writing), requires almost 300 steps up in a tight spiral staircase, and is definitely worth it.
The views from the top of the tower make the truly beautiful views from the grounds look unremarkable–not an easy feat!
This was the first view in Prague that allowed us to see the city from a high vantage point, and it definitely stuck with us–it's a fabulous place to test out your Prague photography!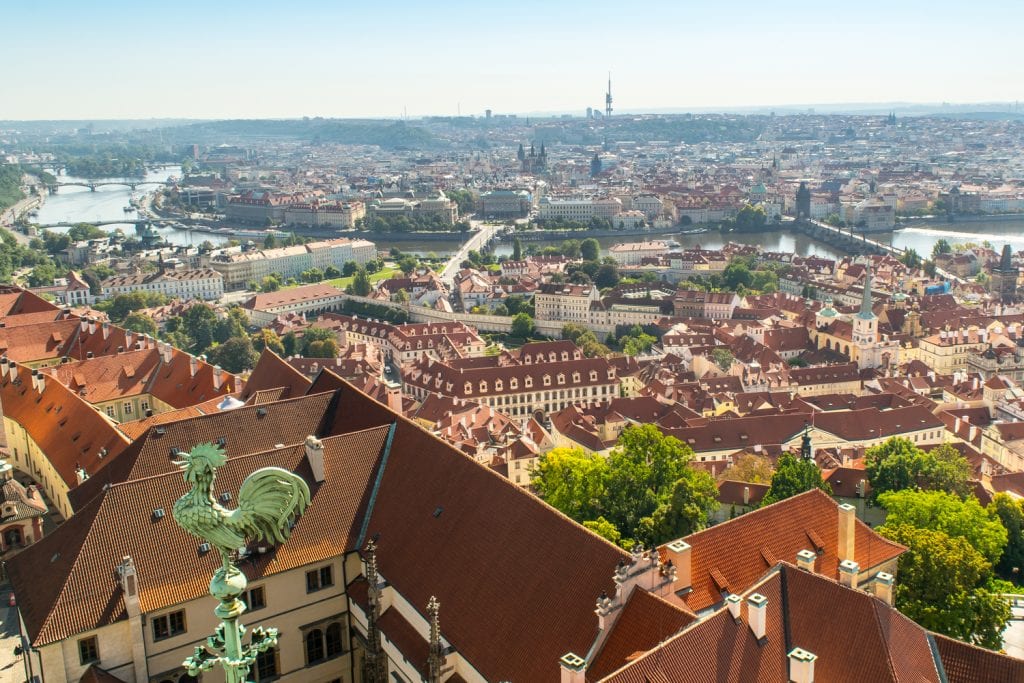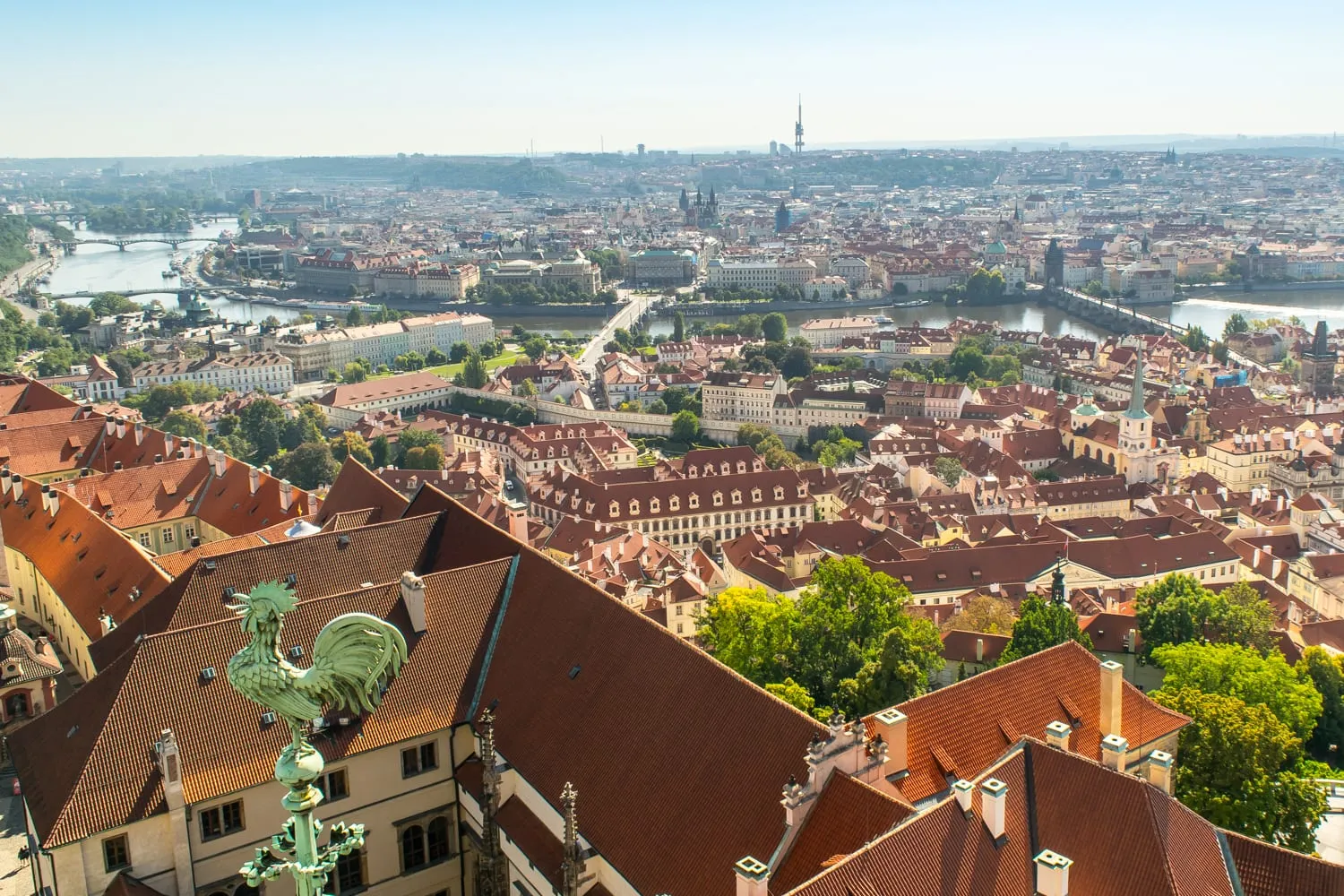 Petrin Lookout Tower
The highest view in Prague is easy to find: at the top of Petrin Hill (you can walk the hill or ride the funicular up for the cost of a metro ticket–just be sure to watch the time limit on your ticket when you head back down!) sits a structure that is ostensibly built to resemble the Eiffel Tower–and like so many other places to visit in Prague, you can climb to the top.
100 CZK (about $4.50 USD) and a few minutes of work will pay off with the highest view of Prague available in the city.
The 360-degree views are breathtaking, though the trade-off of having this be the most crowded view of Prague by far of those we sought out caused us to spend less time soaking in these views before heading back down than we did at some of Prague's other viewpoints.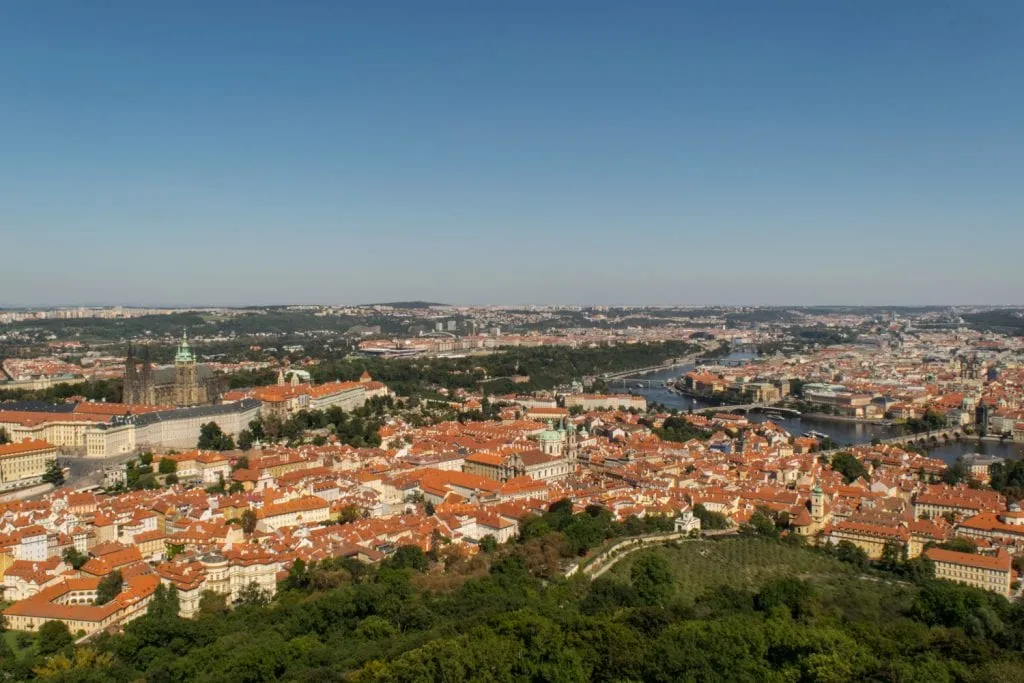 Starbucks near Prague Castle
Oh, Starbucks: you sure know how to get people to walk through your door.
The roof of this coffee shop has a terrace that makes up an epic view of Prague, complete with wide ledges that look practically designed for selfies–which is just about what everyone there was using them for.
We never even saw a line for this Starbucks, which was presumably down the spiral staircase that we didn't venture past–far from trying to lock down the terrace to anyone who wasn't a paying customer, Starbucks threw up welcome signs and encouraged everyone to tag their photos with #starbuckspraguecastle–talk about leaning into the inevitable, right?
I have no doubt that they have sold some extra coffee based on getting people onto that terrace!
Letna Beer Garden
A park, a cold Czech beer, and one of the best views in Prague: what more could you ask for?
The weather and the fact that we visited at 11:30 AM meant that this view of Prague was not as incredible as some of the others that we saw.
That being said, on a warm summer's night with a lively crowd and a beautiful sunset, not to mention while sipping a beer in Prague, I have no doubt that this view would be one to remember.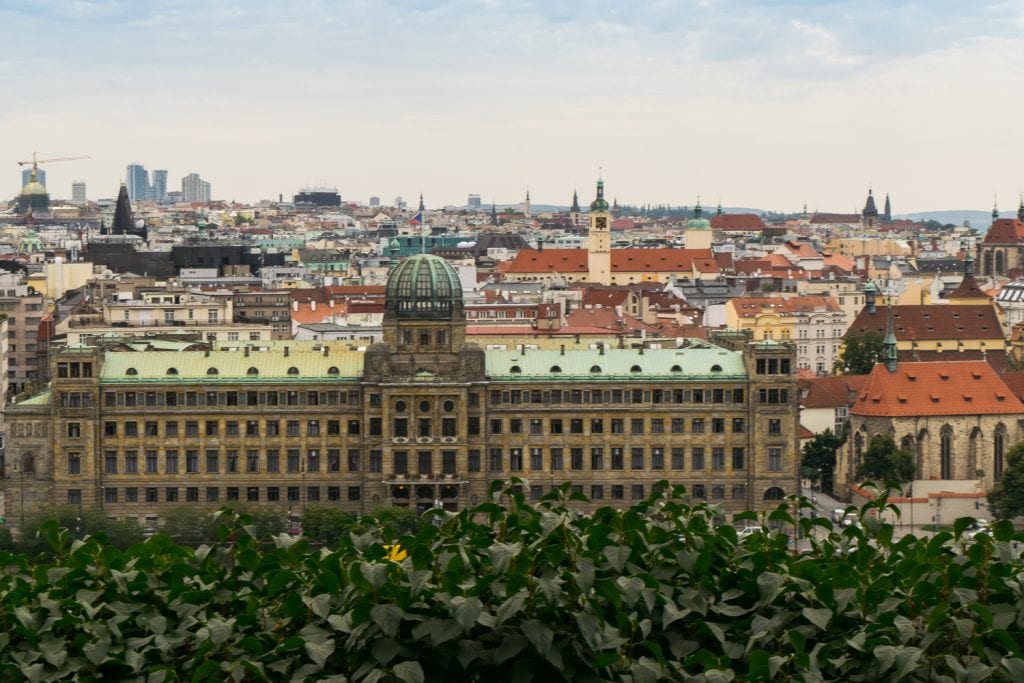 Old Town Bridge Tower
I saved my personal favorite for last: the Old Town Bridge Tower, while seen and likely admired by anyone who walks across the Charles Bridge (read: anyone who visits Prague), does not go out of its way to make it obvious that it can be climbed.
Underneath the tower, there is a small door with an equally unimposing sign stating that the tower can be entered, and if you head inside, a few flights of stairs will take you to the admission desk.
For 100 CZK (about $4.50 USD), you will be able to finish climbing the tower and take in some of the prettiest views in Prague that we saw during our time there.
Seeing the Charles Bridge from above was an incredible experience (just look at those crowds!), we loved watching the riverboats go by, and we loved walking 360 degrees around the tower and enjoying the fact that every angle treated us to gorgeous views of the city.
Even better, we loved that surprisingly few people joined us on the tower!
There were only a couple of other people in line when we bought our tickets, and only a handful of people at the top–after battling crowds at the Petrin Hill Lookout Tower, this was a great change of pace.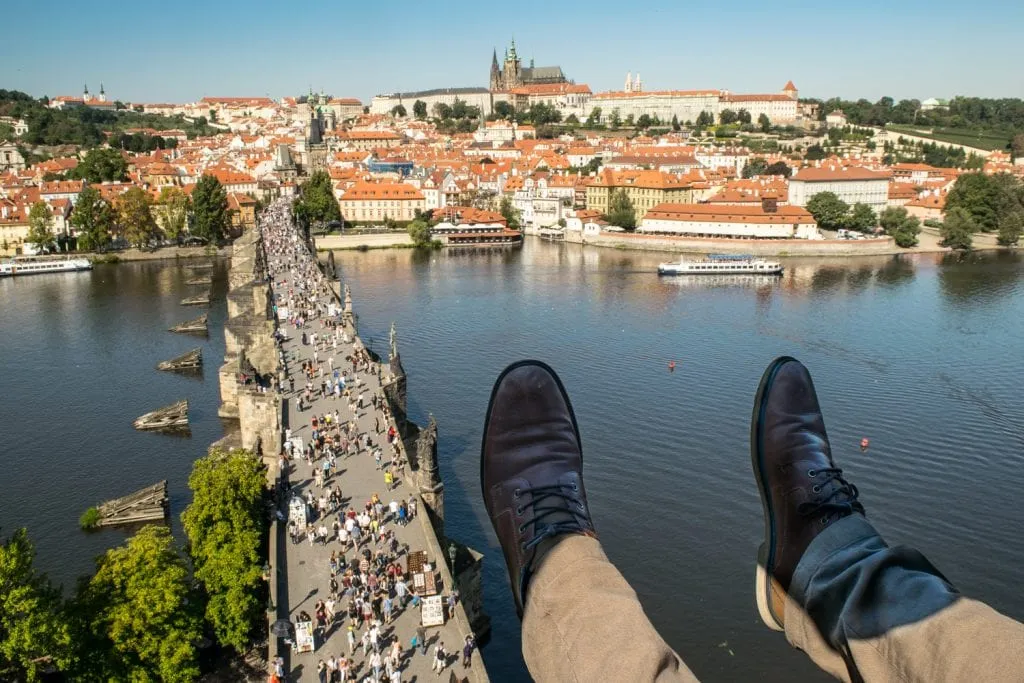 Our time in Prague was unforgettable, and the views in Prague that we sought out were definitely a large part of that.
Whether you're planning a traditional summer visit, hoping to see Prague in the winter, trying to cover all of Prague in 4 days, or anything in between, be sure to seek out some of the best views in Prague while you're there.
This is a city best admired from every angle, and there is no doubt that there are plenty of angles to choose from.
Where We Stayed in Prague
Airbnb Flat in Prague 2 — Karel's flat was in the perfect location for us: a quiet neighborhood with plenty of restaurants nearby, a 10-minute walk to the trams and metro to get into the city center, and available at a reasonable price.
The flat was comfortable and the wifi worked well: we wouldn't hesitate to stay there again!
---