Deciding whether to visit Greece or Croatia can be quite the challenge–especially if you love both countries as much as we do.
Croatia and Greece are both home to crystal-clear water, interesting cultural highlights, stunning scenery, and tasty cuisine–and they both happen to rank among our ten favorite countries on the planet to travel in.
We absolutely adore both and completely understand that choosing to visit Croatia or Greece is not an easy decision to make (especially if you're planning a once-in-a-lifetime trip like a honeymoon or babymoon).
Completely torn on whether to visit Croatia or Greece?
Here's what to know before you choose between the two.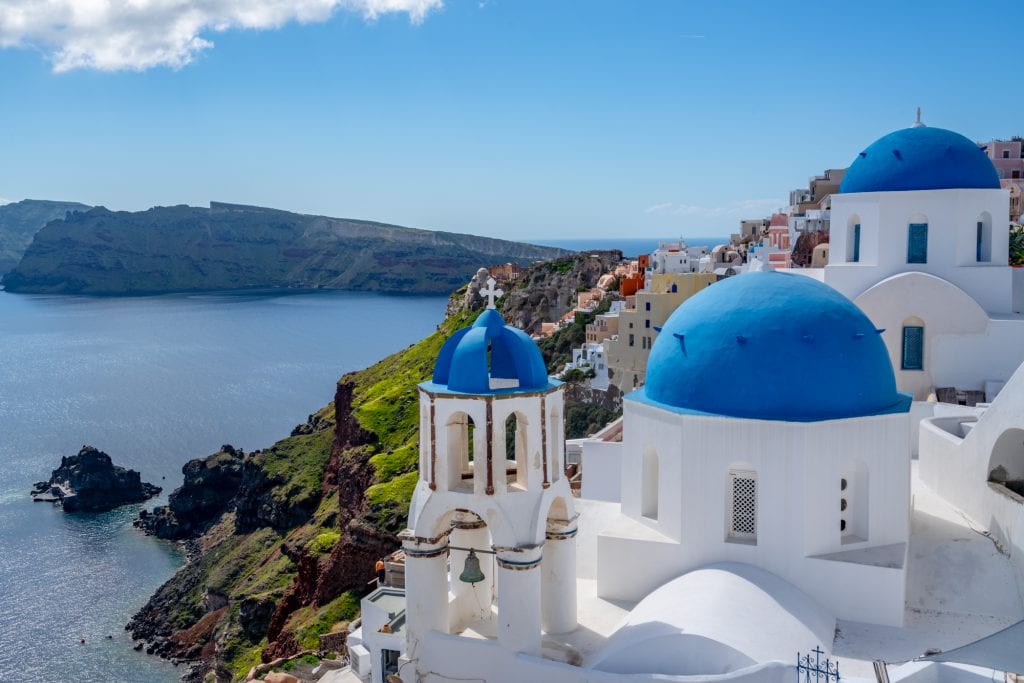 Some links in this post may be affiliate links. If you make a purchase through one of these links, we may earn a small commission at no extra cost to you. Please see our

disclosure policy

for more detail.
Visit Greece if…
… you're excited to visit Ancient Greek ruins.
The culture of Ancient Greece is one of the best-known ancient cultures in the world, and the monuments they left behind are enormously impressive.
If your dream trip includes staring in awe at the Parthenon or one of the many other temples left behind by the Ancient Greeks, planning an amazing Greece itinerary is absolutely your best bet.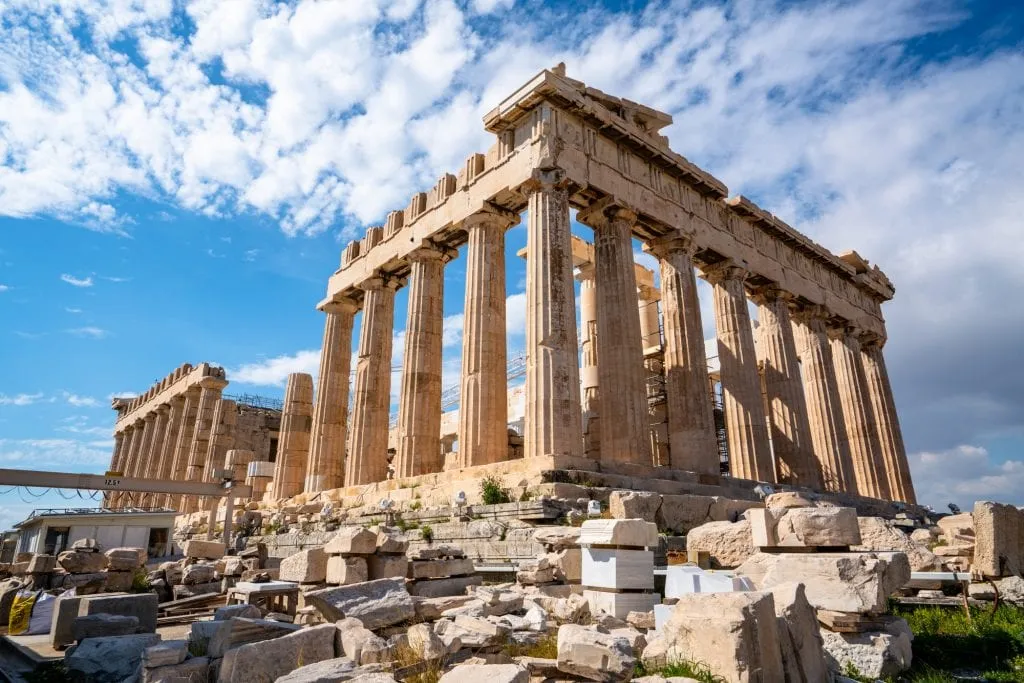 … food is a big priority for your trip.
Croatian food is tasty… but Greek food is phenomenal.
If you're looking to thoroughly indulge your foodie side when visiting Greece or Croatia, book your flight to Greece immediately!
Your taste buds will not be sorry (and please eat like eight Greek salads for me).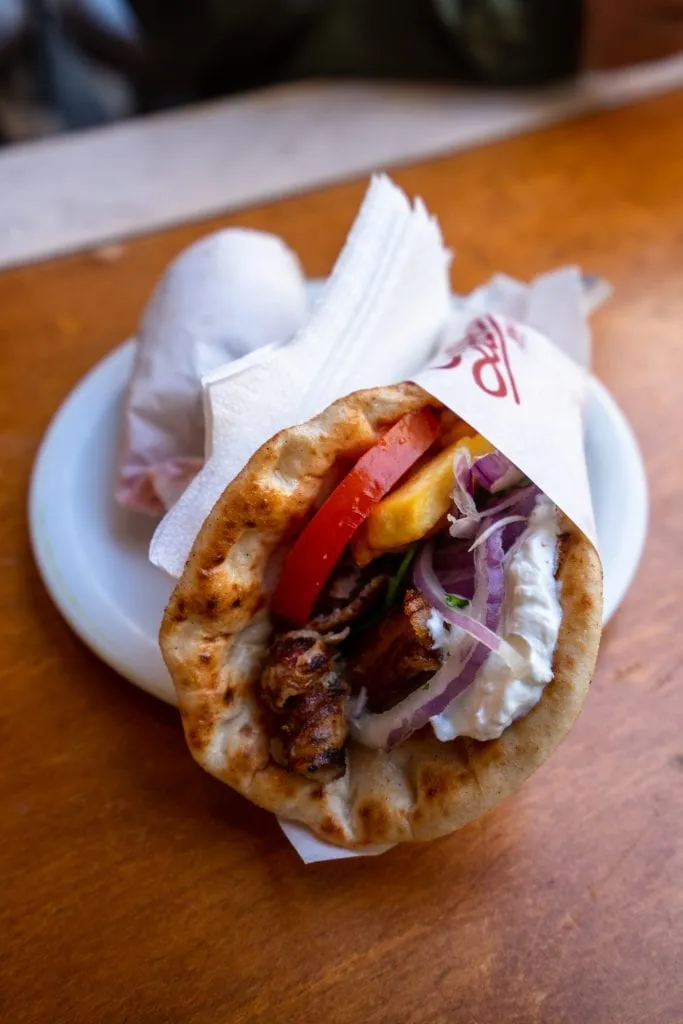 … you want to check out as many UNESCO World Heritage sites as possible.
Both Croatia and Greece have their fair share of UNESCO World Heritage sites, but Greece comes in at nearly twice the amount, with 18 UNESCO sites as compared to Croatia's 10.
You can visit several as part of a Greece road trip, which is a great way to explore the mainland.
… you're traveling in the deeper parts of shoulder season.
Greece's islands reach further south than Croatia's, which means that in any given year, you can stretch the season just a bit further in Greece vs Croatia.
This is especially true if you head all the way south in Greece to Crete.
Traveling during the shoulder season is also a great way to stretch your Greek islands travel budget, as seasonal prices tend to start to drop before the weather cools off significantly.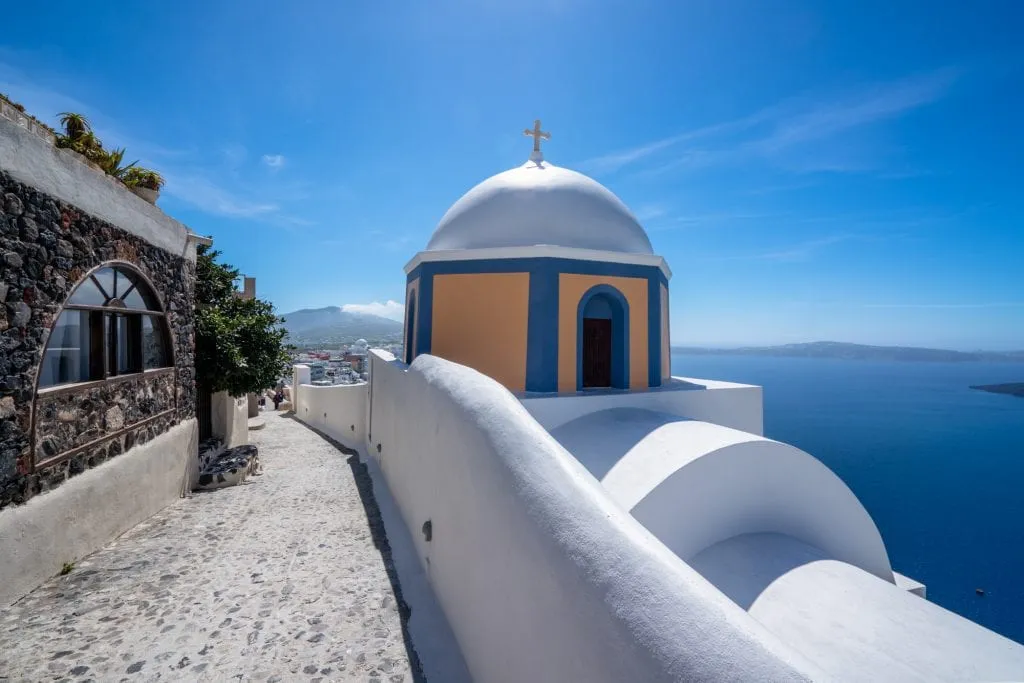 Visit Croatia if…
… you want to take an epic road trip.
Croatia's excellent roads hug the coast of the Adriatic all the way down the beautiful country, and you absolutely can't go wrong with a road trip in Croatia.
If your idea of the perfect trip when dreaming about visiting Greece or Croatia includes plenty of time on the open road where you can stop off at whatever adorable town or beautiful bay catches your eye, Croatia is absolutely the destination for you.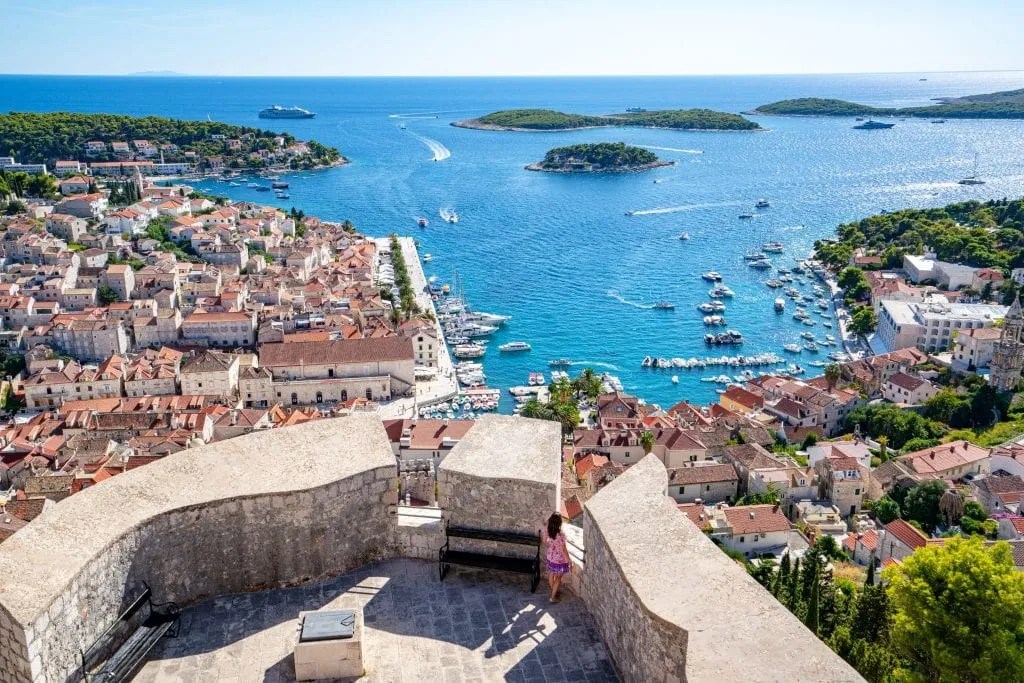 … chasing waterfalls is exactly what you're looking for.
Croatia is home to, hands down, the most beautiful waterfalls I have ever seen in my entire life.
Plitvice Lakes National Park heartily deserves its UNESCO World Heritage status, and it alone is worth visiting Croatia for–and it's not only the only place to chase waterfalls in the country!
Krka National Park also deserves a visit, and any waterfall-lover visiting Plitvice must also plan a pitstop in the delightful village of Rastoke, where waterfalls literally flow through the town.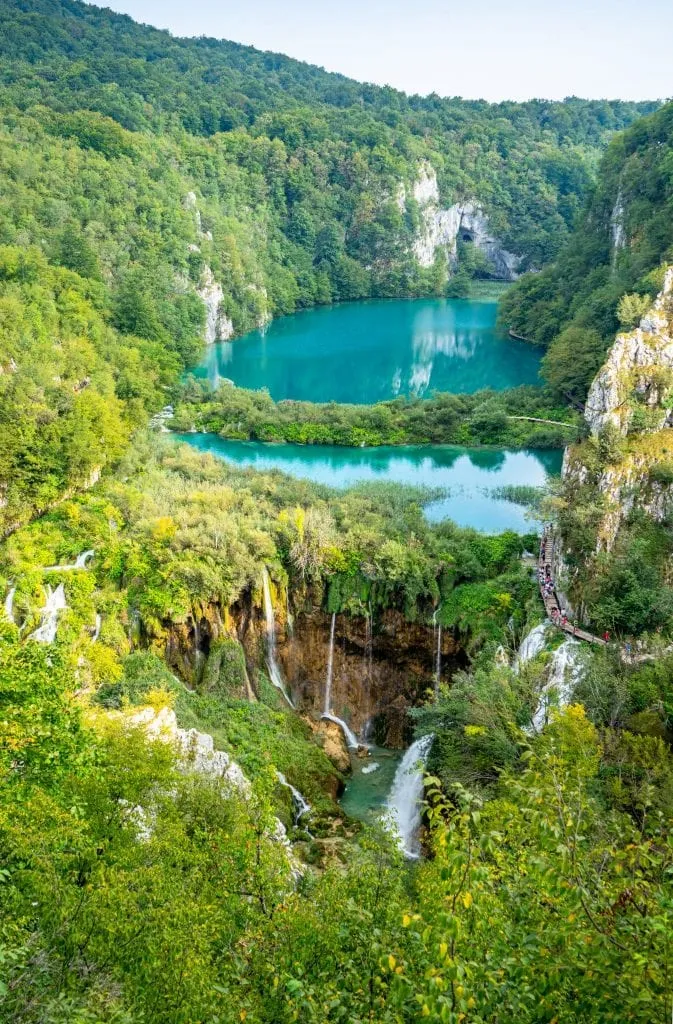 … you want to include pretty cities in your itinerary.
Large Greek cities like Athens and Thessaloniki can be called many things, but "pretty" is not a word that tends to come to mind.
For the Croatian capital of Zagreb, though, as well as coastal cities like Dubrovnik and Split, it's downright perfect!
… you'd like to day trip to a different country.
Depending on where you are in Croatia, it's fairly simple to take a day trip to Mostar, Bosnia and Herzegovina or Kotor, Montenegro.
Or, if you have enough time in Croatia, you can visit both!
If you'd like to add some Balkan variety to your trip, Croatia might be the place for you.
… you're a Game of Thrones fan.
Game of Thrones filming locations can be found all over Croatia, including the most famous location of them all: Dubrovnik, also known as King's Landing.
If hunting down the backgrounds of famous scenes is a priority for you on your trip to Croatia or Greece, head to Croatia.
Visit Croatia and Greece for…
… stunning islands and coastline.
Whether you're staring out of the Adriatic, Ionian, or Aegean Sea, you're bound to be looking and something absolutely stunning.
Greece and Croatia are home to some of the most beautiful coastlines on the planet (in our biased opinion, anyway), and you can't go wrong with either.
From cave hotels in Santorini to staring out over Dubrvonik's city walls or Hvar's Spanish Fortress, there is no shortage of incredible coastal views in either place.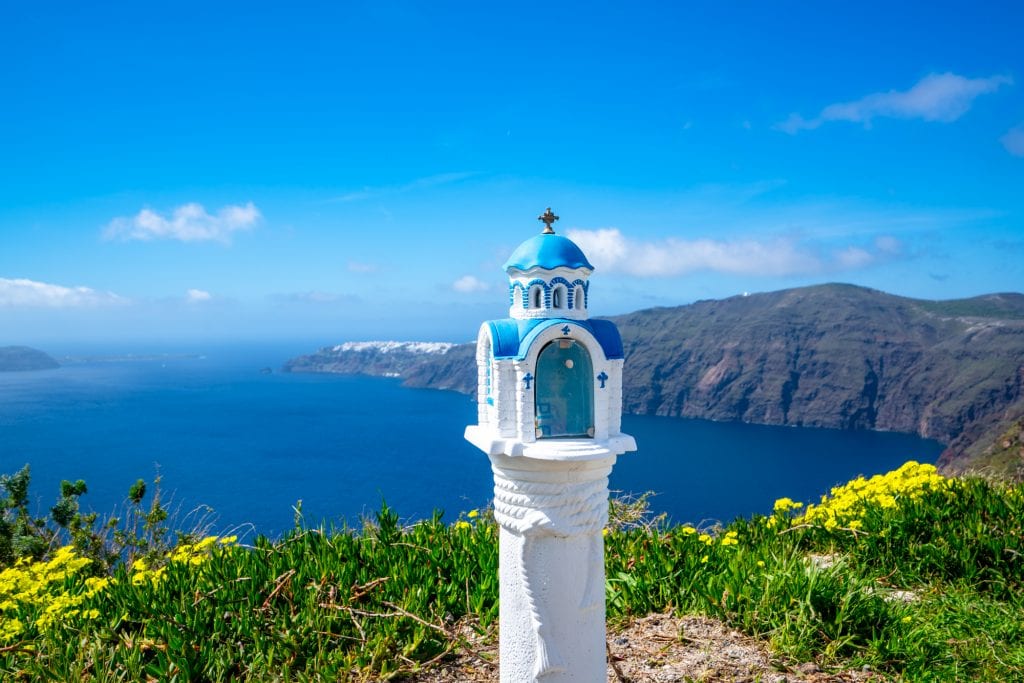 … incredible sailing opportunities.
While Greece has been a classic sailing destination for decades, Croatia is a bit newer on the block as a sailing darling–but both are excellent places to hit the water.
If you want to get off the beaten path and visit some quiet Greek islands or relaxing Croatian national parks, sailing is an excellent way to do so.
… beautiful sunsets.
Santorini sunsets may be the most famous, but we promise, the ones from Dubrovnik won't let you down.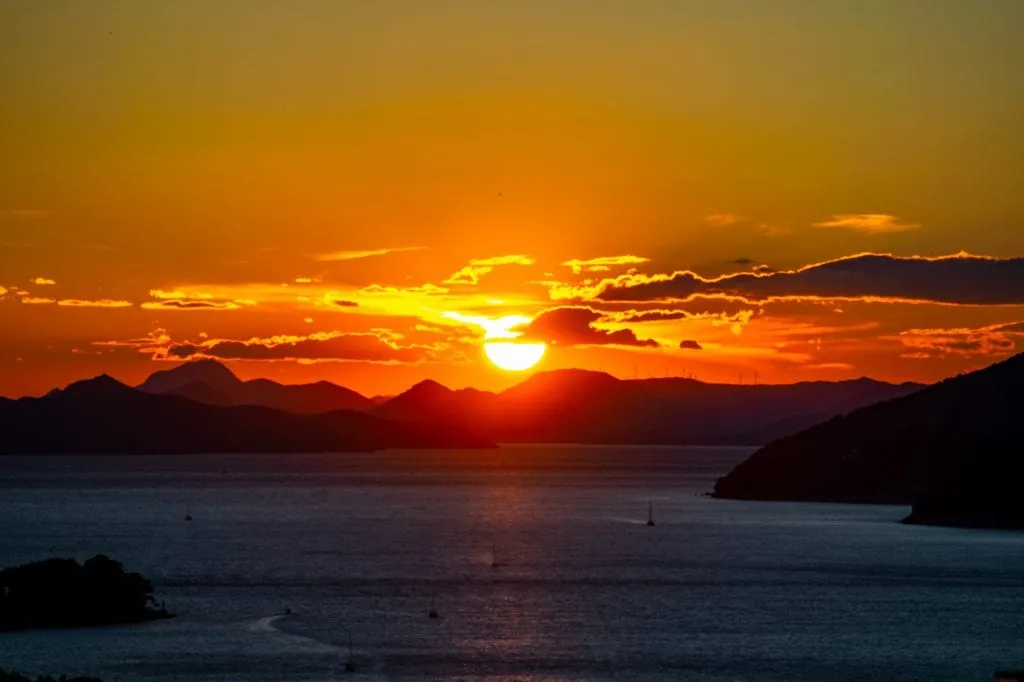 What about visiting both Croatia and Greece?
Over the course of a lifetime, we absolutely recommend visiting both Greece and Croatia–they're both phenomenal travel destinations that we intend to revisit over and over again for the rest of our lives.
That being said, they typically don't make the best single-trip combination in and of themselves.
If you'd like to pair either Greece or Croatia with another country (or two) during your trip, Croatia pairs best with Slovenia, Bosnia and Herzegovina, Montenegro, or even Italy, while Greece pairs best with Turkey.
Unless you're planning an exceptionally long getaway, we wouldn't recommend trying to visit both countries on the same trip.
Greece or Croatia: The Final Decision
Ultimately, you can't go wrong when deciding whether to visit Croatia or Greece!
The countries are very similar in what they offer tourists, and both are home to unforgettable highlights that are well worth the effort it takes to reach them.
If you're having an extraordinarily difficult time deciding whether to visit Greece or Croatia, we'd recommend letting flight prices and the logistical challenges of getting to your most sought-after destinations decide.
Odds are that if you list out the top five experiences you hope to have in both Croatia and Greece, and then price out the monetary and time cost of getting them all done in the window of time you have available to visit Greece or Croatia, one spot will emerge as the clear winner!