There are few places on this planet that are nearer and dearer to my heart than the charming coastal town of Beaufort, North Carolina–which means it's well past time to share some fun things to do in Beaufort, NC!
This tiny town on North Carolina's Crystal Coast, plus its neighbors such as Atlantic Beach, Morehead City, and Pine Knoll Shores, have been the stomping grounds of summer vacations in my family for generations, and I love them all dearly.
I grew up on Front Street in Beaufort and on the shores of Fort Macon State Park in Atlantic Beach, watching my brothers and myself grow taller and taller in our family photos between each summer of visiting what was known simply, to us, as "the beach".
I first brought Jeremy to the Crystal Coast in 2009, and we've visited many times together since, which is made even easier by the fact that my mom and grandmother both live in North Carolina (and my mom even spent a bit of time living in Beaufort itself).
This often-overlooked area of North Carolina's coast, which doesn't have quite the name recognition of some of the Outer Banks towns set further north, is an incredibly relaxing, beautiful, and interesting slice of small-town American life.
And, as a bonus, when it comes to vacationing in the USA, Beaufort comes at very affordable prices, too.
Considering a trip to Beaufort and the Crystal Coast and wondering what to do in Beaufort NC?
We've covered the best things to do in Beaufort here!
While I have aimed to keep this post as focused specifically on Beaufort attractions as possible, a few options from the surrounding Crystal Coast towns have slipped into our recommendations–but when towns are as compact as they are here, it'd be a shame to visit Beaufort and not drop by some of its neighbors, too!
The Best Things to Do in Beaufort, NC
Stroll along Front Street.
Beaufort's beautiful Front Street is not only incredibly picturesque, but it's also full of fun boutiques and tasty restaurants, providing ample opportunity to shop and eat in between snapping dozens of photos.
Be sure to walk along the dock for views of the water, beautiful sailboats, and–if you're lucky–a look at the wild ponies living on Carrot Island and Bird Shoal, both of which are located right across Taylor Creek.
Duck into the General Store for an ice cream cone and a look at the (extremely kitschy) souvenirs, browse plenty of boutiques for summer beach clothes, and pick out a tasty restaurant for lunch.
Check out the Old Burying Ground.
Dating to the early 18th century, Beaufort's Old Burying Ground is as beautiful as it is haunting.
During my many visits to the cemetery as I was growing up, I was constantly struck by the number of graves of children.
Whether you'd rather visit independently or schedule a tour in advance, it's definitely worth stepping inside the Old Burying Ground while in Beaufort.
Be sure to keep an eye out for the amply decorated gravesite of the girl in the rum keg, which you'll find near Craven Street toward the back of the cemetery.
Visit the North Carolina Maritime Museum.
The Crystal Coast's local history is, unsurprisingly, deeply tied to the ocean that it sits next to.
From lighthouses to fishing boats to pirates like Blackbeard, it's impossible to understand this area without understanding its connection to the ocean.
And, this history is exactly what you can learn about at the North Carolina Maritime Museum!
Check out the Harvey W. Smith Watercraft Center.
Located right across Front Street from the North Carolina Maritime Museum, the Harvey W. Smith Watercraft Center is dedicated to preserving the craft of traditional shipbuilding.
Curious about learning the art of shipbuilding?
The Harvey W. Smith Watercraft Center offers courses and demonstrations throughout the year.
Even if you're not interested in building a boat yourself, though, it's still worth taking a peek inside the building when you stop by (it's free and easy to visit).
You may even find volunteers hard at work building a ship!
Eat your heart out.
Southern food plus easy access to the ocean is a delicious combination, and Beaufort's food options will ensure that you definitely don't go hungry while in town!
I'm personally partial to Clawson's on Front Street since have been eating there my entire life, but within just a short walk you can also find The Spouter Inn, Beaufort Grocery, and Backstreet Pub, which are also popular, along with plenty of additional options like The Dock House and Mezcalito.
Moonrackers also serves up great food, and don't miss the chance to sit on the roof deck if you can (it offers what just may be the best view of Beaufort from above).
For a completely no-frills option, the Royal James Cafe touts itself as the best burger in Beaufort.
For a less picturesque but still delicious choice, No-Name Pizza is extremely popular with locals.
In nearby Morehead City, El's Drive-In has a huge following and the Cox Family Restaurant is a local, no-frills option.
Take a day trip to Cape Lookout.
Of all the things to do in Beaufort NC, this is one that you absolutely should not miss!
A day trip to nearby Cape Lookout National Seashore will introduce you to a completely different side of the Crystal Coast that you can't get by staying on the mainland.
During the summer, tours run daily from both Beaufort and nearby Harkers Island (which incidentally, while very small, is a deeply interesting place that is home to one of the only unique dialects of English in the United States).
Be sure to climb the lighthouse itself for absolutely magnificent views, enjoy the bright, shallow water on the beach that is more reminiscent of the Mediterranean Sea than most of the typical beaches on the Crystal Coast, and look for wild horses across the water on Shackleford Banks!
Since climbing the lighthouse is such a big part of a day trip to Cape Lookout, be sure to check the schedule to see when it is open, and hurry to grab your ticket and schedule your climbing time as soon as you arrive on the island!
Since only a certain number of people are allowed to climb Cape Lookout at a given time, you'll likely need to wait a bit to go up.
Note: Unfortunately, the Cape Lookout lighthouse is currently closed due to a need for structural repairs, with the latest estimates stating that it likely won't reopen until the summer of 2025.
However, the national seashore itself is still absolutely worth visiting, and the lighthouse is still gorgeous from the ground (and even better, from the water).
Explore the Beaufort Historic Site.
Founded in 1709, Beaufort is one of the oldest towns in North Carolina–and it definitely has plenty of stories to share.
Spread across 2 acres, the Beaufort Historic Site is designed to introduce visitors to what life was like in 18th and 19th-century Beaufort.
The Visitor's Center is a great starting point (and a great place to enjoy an a/c break).
Don't miss the nearby Apothecary while you're there!
Hit the water in a kayak.
What better way to enjoy the views surrounding Beaufort than by renting a kayak and exploring for yourself?
If you're an experienced kayaker with shoulders of steel, it's even possible to paddle all the way to Shackleford Banks!
For those less inclined for an all-day affair, though, reaching the affectionately named Carrot Island (part of the Rachel Carson Reserve) that is across Taylor Creek from Beaufort is a much more doable adventure.
We rented kayaks from Beaufort Paddle this summer and had a magnificent time enjoying the water, spotting ponies, and even heading over to Bird Shoals Shore for an incredibly memorable afternoon on the beach.
Explore Shackleford Banks.
The barrier island known as Shackleford Banks is an easy day trip from Beaufort, and visiting is undoubtedly one of the most unique things to do in Beaufort, as the island is home to wild horses!
It's not entirely clear how the horses arrived there, but a pack of wild horses that are distantly related to Colonial Spanish horses have made their home on this small barrier island (the most likely scenario for their arrival is via shipwrecks in the 1500s).
The horses are generally shy, and as with all ethical wildlife encounters, a close view isn't guaranteed.
… But in the many decades I've been visiting Beaufort and Shackleford Banks, I don't think I've ever left without spotting at least a couple of beautiful horses!
Enjoy the Rachel Carson Reserve.
A stretch of the lovely Rachel Carson Reserve is easily accessible by boat or kayak from downtown Beaufort–and given that kayaking the stretch of Taylor Creek that sits between them only takes 15-20 minutes, it's undoubtedly one of the most fun ways to visit the reserve!
Home to a wide variety of wildlife and an intricate ecosystem, a hike through the Rachel Carson Reserve to enjoy birdwatching, horse spotting, and the peaceful environment is definitely worth adding to your list of attractions in Beaufort NC to visit.
Learn all about Beaufort's legends on a ghost tour.
With a long history that includes both wars and plenty of pirates, Beaufort has plenty of ghost stories to share!
Depending on the group you have with you, you can find everything from family-friendly tours in the sunshine to spooky adults-only, late-night options available in Beaufort.
Pay a visit to Fort Macon.
Located in nearby Atlantic Beach, Fort Macon was originally built in the first half of the 19th century to protect the coast without a specific war in mind, but that mission quickly changed with the outbreak of the American Civil War in 1861.
The fort was held by both Union and Confederate troops at different points during the war and later functioned as a prison during the Reconstruction era.
The fort also played a small role in the Spanish-American War and in World War II, though it saw no action at that time.
Today, the fort and the surrounding area are a state park and make an interesting stop when visiting the Crystal Coast area.
Not only is the fort itself worth checking out, but Fort Macon State Park also has public beach access which was always my family's pick for beach days growing up.
Free parking, free access, lifeguards (during the summer), and bathrooms/changing facilities make Fort Macon State Park a great place to spend a day under the sun and in the waves.
Go horseback riding along the beach.
Enjoying all the horse spotting in Beaufort and want to ride one yourself?
Fulfill one of my childhood dreams for me and go horseback riding on the beach!
Bonus points for scheduling a sunset ride.
While there aren't any stables that offer horseback riding on the beach in Beaufort itself, Cedar Island does.
If you happen to be visiting in the off-season and are willing to make a drive, you can make your way down to Emerald Isle for it as well.
Discover a different side of the Crystal Coast by diving a shipwreck.
If you're an experienced scuba diver, you'll be spoiled for choice when looking for things to do in Beaufort!
With dozens of shipwrecks along the North Carolina coast (the nickname "Graveyard of the Atlantic" is hardly an exaggeration), there's no shortage of underwater exploring to do.
Hit the Olde Beaufort Farmers' Market.
Happen to be deciding what to do in Beaufort NC on a Saturday?
Consider a visit to the Olde Beaufort Farmers' Market!
The market takes place weekly on Saturday mornings in front of the courthouse and is a great place to find tasty snacks and all kinds of local products, from handcrafted soaps and pottery to jewelry and paintings.
If your visit doesn't happen to fall over a Saturday but you have a hankering for fresh produce, the local JW Merrell Farm has a produce stand with broader hours that is located only a short drive outside of town.
Watch the sunset from a boat.
There's no better place to watch the sunset in Beaufort than from a boat!
Whether you opt for a cheesy-yet-entertaining pirate cruise, a large ferry, or a more intimate sailboat experience, be sure to hit the water on a boat at least once during your trip to Beaufort.
Don't forget to keep an eye out for nearby dolphins, too!
Board a pirate ship.
If you're visiting Beaufort with kids, be sure to check out the Beaufort Pirate's Revenge, a replica pirate ship that offers a 90-minute cruise for treasure, complete with a water cannon battle!
Where to Stay in Beaufort, North Carolina
You won't find too much lodging within Beaufort itself–the town is truly very small–so if you're looking to save money or stay in a large chain hotel, consider staying in nearby Atlantic Beach or Morehead City instead.
However, if you're looking to splurge on a memorable experience within Beaufort, consider trying one of these well-reviewed and centrally located properties!
Local Bed and Breakfast
Pecan Tree Inn — Boasting a fantastic breakfast, an unbeatable location on Queen Street, and gorgeous rooms, you can't go wrong with a stay at the historic Pecan Tree Inn!
With a quiet location just around the corner from the action, the Pecan Tree Inn is within walking distance of most of the best attractions in Beaufort.
Inn With Water Views
Inlet Inn NC — Located at the corner of Front Street and Queen Street, you can't beat the Inlet Inn's location for exploring the best things to do in Beaufort on foot!
With great reviews, a continental breakfast, and some rooms which offer an idyllic view of the water, the Inlet Inn is a wonderful option for travelers looking to stay in the heart of Beaufort.
FAQ About Visiting Beaufort, NC
Is Beaufort part of the Outer Banks?
No, but this is a very frequently asked question among potential visitors who hail from further away!
Beaufort is not considered part of the Outer Banks but is instead part of the Crystal Coast.
Occasionally you'll see the Crystal Coast area market itself as the "Southern" Outer Banks, and the two areas definitely have a lot of similar appeal!
But, they are not the same.
How do you get to the Outer Banks from Beaufort?
The Outer Banks reach as far south as Ocracoke Island, which is reachable by ferry from Cedar Island (the island I mentioned going horseback riding on).
It takes 3-4 hours to get to the Outer Banks from Beaufort, which you can do either by heading to Cedar Island and taking the ferry to Ocracoke (and then taking another ferry from Ocracoke to Hatteras)–this is the shortest route geographically.
However, it's much simpler to drive back onto the mainland and loop around to enter the Outer Banks further north, near Nags Head.
Driving inland will also give you a chance to visit the beautiful city of New Bern along the way!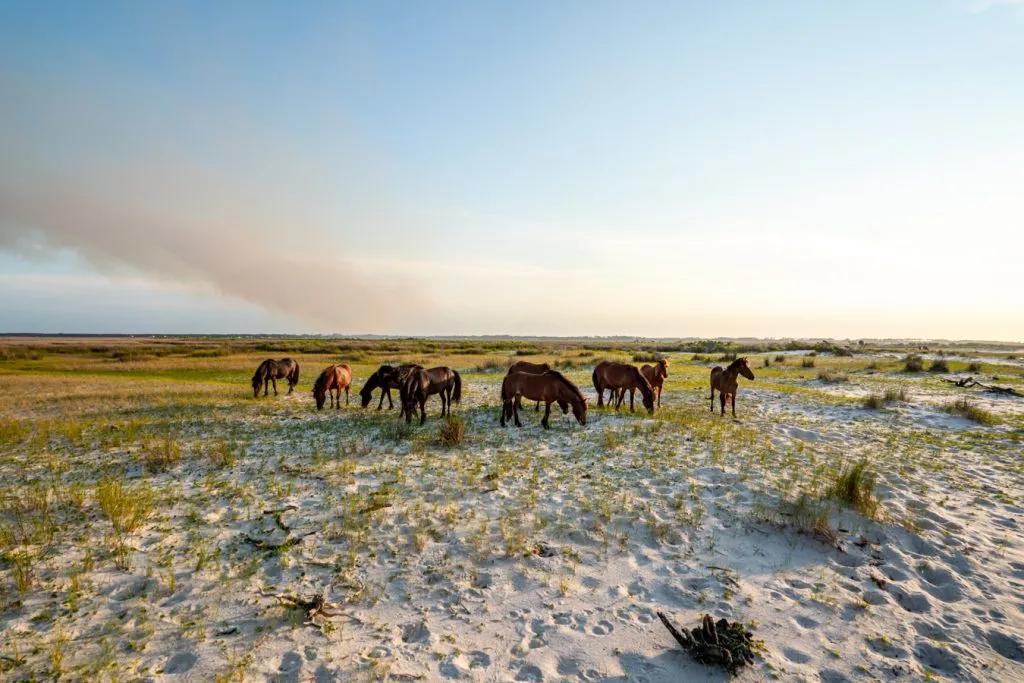 Does Beaufort, North Carolina have a beach?
You can definitely enjoy a beach vacation from a base in Beaufort, but the town itself is more of a coastal town than a beach town.
In other words, don't expect to find sandy shores and crashing waves right downtown.
Radio Island, located between Beaufort and Morehead City, is the closest traditional beach to Beaufort, NC by car.
You can also kayak (or take the ferry) across Taylor Creek to reach Bird Shoals Shore.
The beaches of Atlantic Beach, NC are also only a 15-20 minute drive away!
Does Beaufort have a boardwalk?
Yes, Beaufort does have a boardwalk!
It runs parallel to Front Street along Taylor Creek, rather than jutting out into the water.
From here, you can enjoy excellent views of the marina, Carrot Island (often complete with ponies), and more.
Personally, we find the views from the boardwalk are even better when enjoying a cone from Beaufort Creamery as we stroll!
Is Beaufort worth visiting?
After 30+ visits to Beaufort, with many more to come in the future, I'm definitely biased on this question!
But if you're looking for a beautiful coastal town with water views, a walkable historic district, great food, reasonable prices, and plenty of beach adventures within a short drive or boat ride, then yes: Beaufort, NC is definitely worth visiting.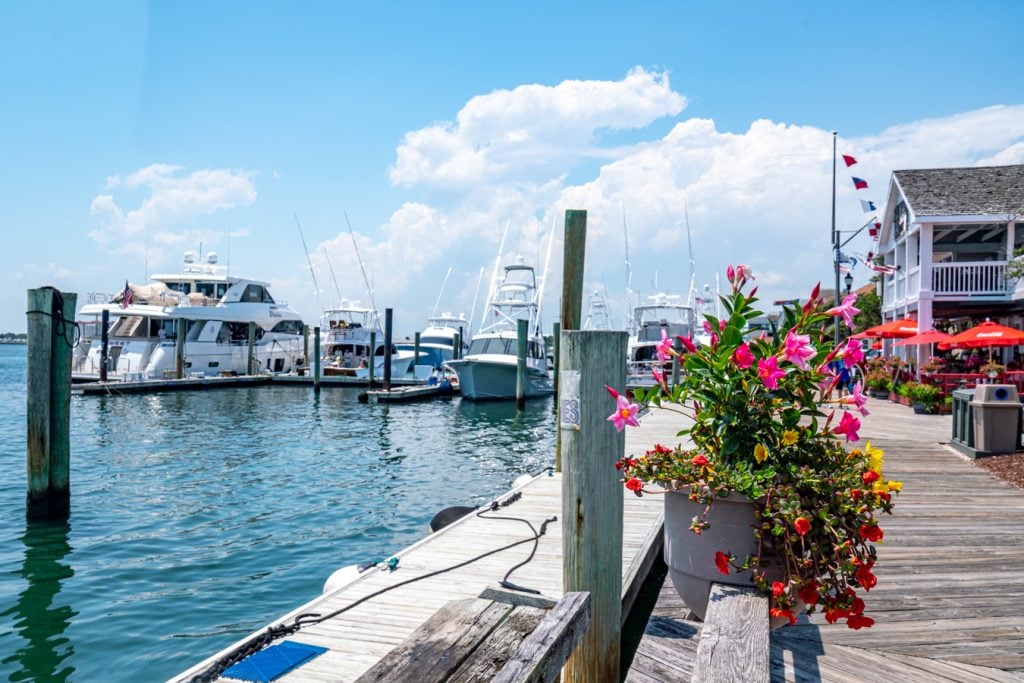 Read More About Visiting North Carolina + the South
Planning a trip to North Carolina soon, or further afield in the south?
You might like these guides, too!