Packed with waterfalls, hikes, viewpoints, and even the iconic Great Smoky Mountains National Park and Blue Ridge Parkway, there is so much to see in beautiful Western NC–including the best mountain towns in North Carolina!
The landscape of Western North Carolina is simply breathtaking, and with over 2,700 named peaks within the area, it's no wonder there are so many gorgeous NC mountain towns to visit.
Whether you're looking to head out on some hiking trails, get involved with the local culture, or taste delicious food — there's something for everyone here.
To help you make the most of your trip to the Tar Heel State, here are the best mountain towns in North Carolina to visit on your next vacation.
This Western NC travel guide was written for Our Escape Clause by mountain town enthusiast Emily Collins of Retreat Pundit. Thanks for joining us, Emily!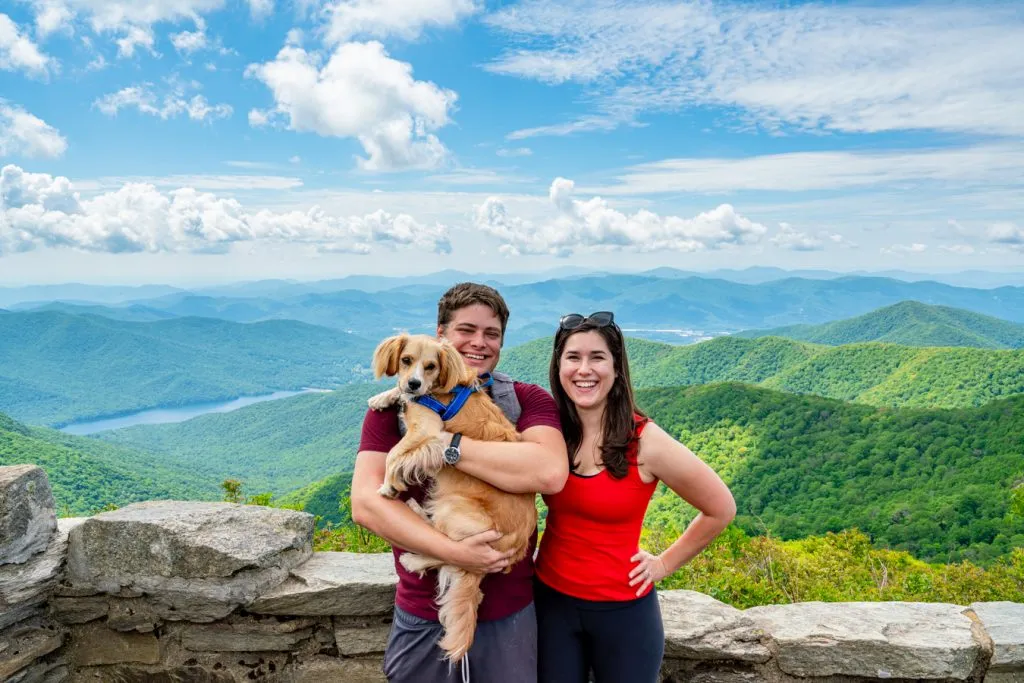 The Best North Carolina Mountain Towns to Visit
Blowing Rock
Blowing Rock, North Carolina, is a quaint mountain town that sits on the scenic Blue Ridge Parkway and is named after the nearby rock formation.
The town supplies visitors with fantastic panoramic views overlooking the Johns River Gorge and miles of forested mountains.
The town of Blowing Rock is small, but despite its small size, the town holds a lot for visitors to discover and ranks among the top NC mountain towns to visit (in other words, book early if you hope to visit during the peak fall foliage season!).
Blowing Rock is best known for its natural Blowing Rock formation, which hangs 4,000 feet above sea level overlooking the gorge.
The town is also home to many wellness retreats and resorts due to its gorgeous outdoor landscapes.
In addition to the natural beauty surrounding the town, the area has a lot of charm.
There are various breweries and coffee houses, in addition to walkable streets of restaurants, shops, and museums.
Though it's a popular day trip from Asheville, Blowing Rock is ideal for a long weekend trip, as it is hard to see everything in just one visit.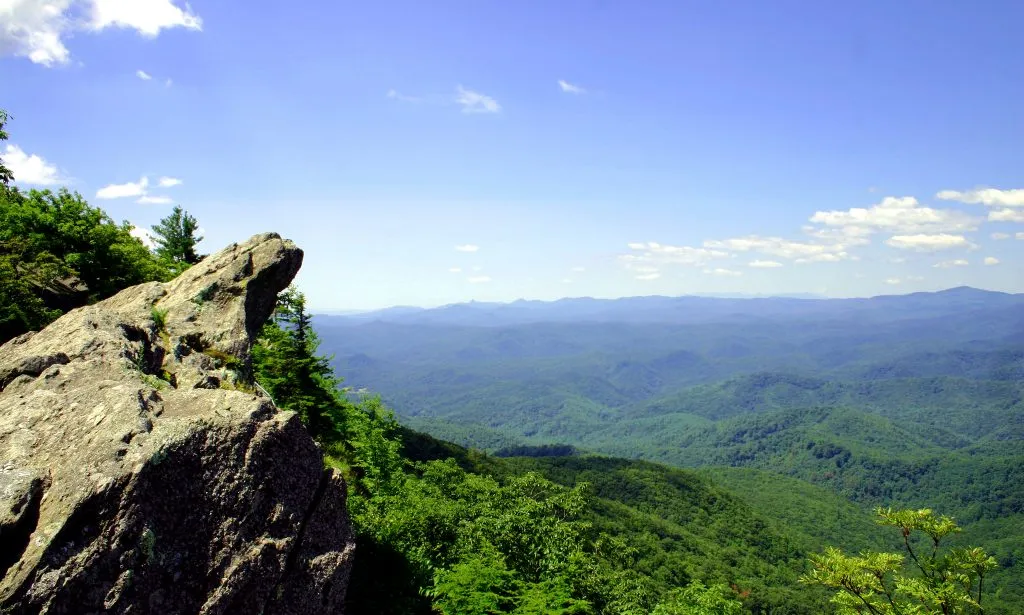 Hendersonville
Hendersonville, North Carolina, is located in the Blue Ridge Mountains, just south of the city of Asheville.
It's best known for its abundance of fertile apple orchards and hosts the famous Apple Festival each year.
Both the rural areas and downtown areas of Hendersonville offer activities for all types of travelers.
Not only is Hendersonville famous for its apple orchards but also for its breweries, cideries, and wineries as well.
The town even created a 23-stop trail, known as the Cheers Trail, for visitors to have the opportunity to visit them all.
In addition to the wide variety of beverages, the nature surrounding Henerdsonville is remarkable in itself.
There are dozens of hiking trails and paths throughout the Blue Ridge area, like Pisgah National Forest.
If you're around in the late spring-early summer season, the forest boasts thousands of wildflowers each season and is best seen on the Pink Beds Trail.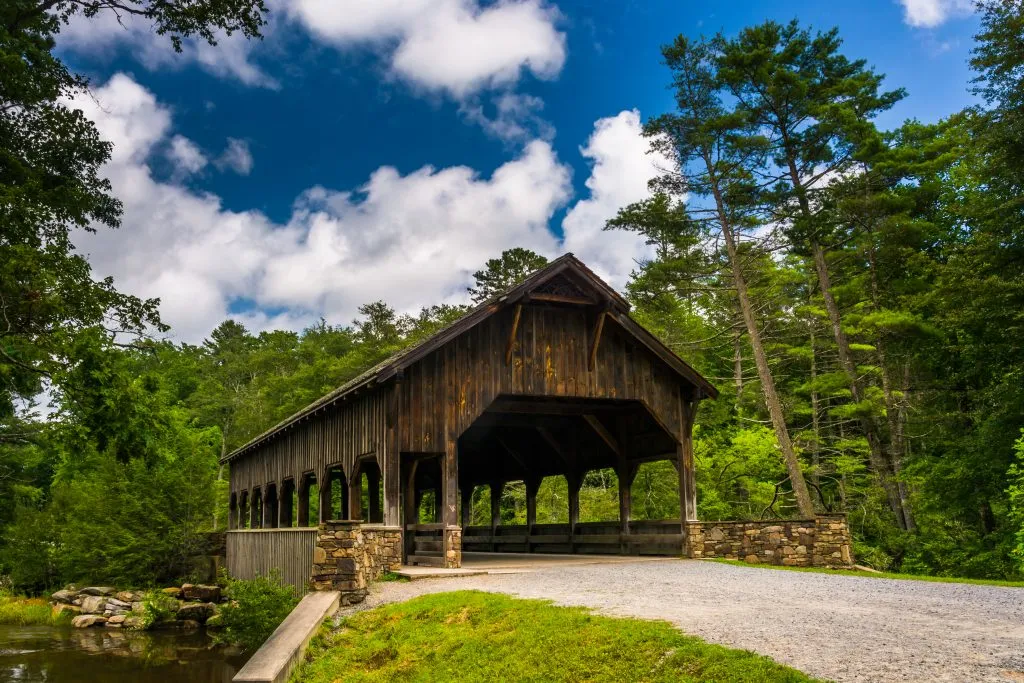 Boone
Beautiful Boone, North Carolina, is easily one of the most popular NC mountain towns to visit.
The city is named after pioneer Daniel Boone and has breathtaking views of the Blue Ridge Mountains.
For a mixture of small-town roots and modern comforts, Boone is a great balance of the two.
The Art of Living Retreat Center in Boone has popular wellness retreats due to its location in the Blue Ridge Mountains.
One of the best ways to experience the history of Boone and the heritage of Appalachia is by visiting the Hickory Ridge Living History Museum.
The museum is designed in a 1700s-style setting, allowing visitors to travel back in time to the 18th century.
Nearby is the Appalachian Ski Resort, so the town is a great place to visit for snowboarding or skiing enthusiasts.
It's the perfect winter destination will all the snow sports available to travelers who come to this college town.
Boone is also home to quite a few quality breweries and is the capital of craft beer on the east coast.
Visitors can spend an entire afternoon hopping between the Appalachian Mountain Brewery, Booneshine Brewing Company, and Lost Providence Brewery.
In addition to a hopping downtown region, the surrounding areas host various hiking trails and scenic lookouts.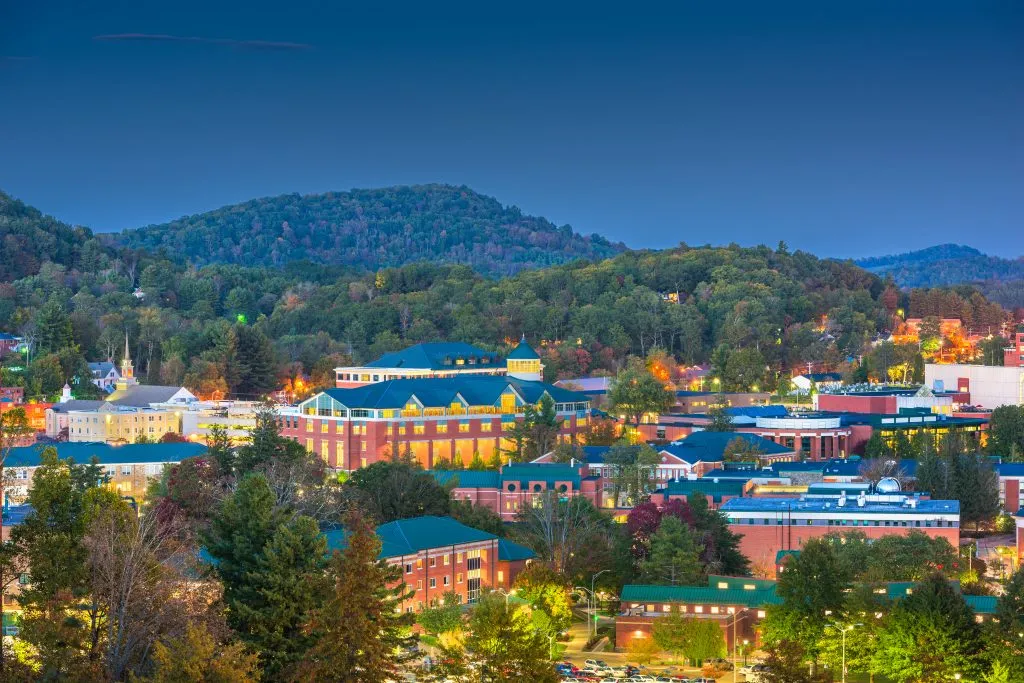 Bryson City
Bryson City, otherwise known as the Gateway to The Smokies, is a small mountain town that sits right on the border of Great Smoky Mountains National Park.
It's home to sections of the famous Appalachia Trail, in addition to other hiking paths leading into the park.
For such a small town of only 1700+ residents, there is much to experience in Bryson City. It has a bustling and vibrant downtown region.
There are multiple different breweries, museums, local artisan shops, and nice restaurants.
Outside of the city, Deep Creek offers a multitude of hiking trails for all physical levels and abilities, so all travelers have the chance to experience the magic of the Smokies.
The must-do attraction on any trip to Bryson City is a ride on the Great Smoky Mountains Railroad.
Lining the banks of Fontana Lake, the train ride takes travelers throughout the forest with majestic mountain views, changing with the season throughout the year.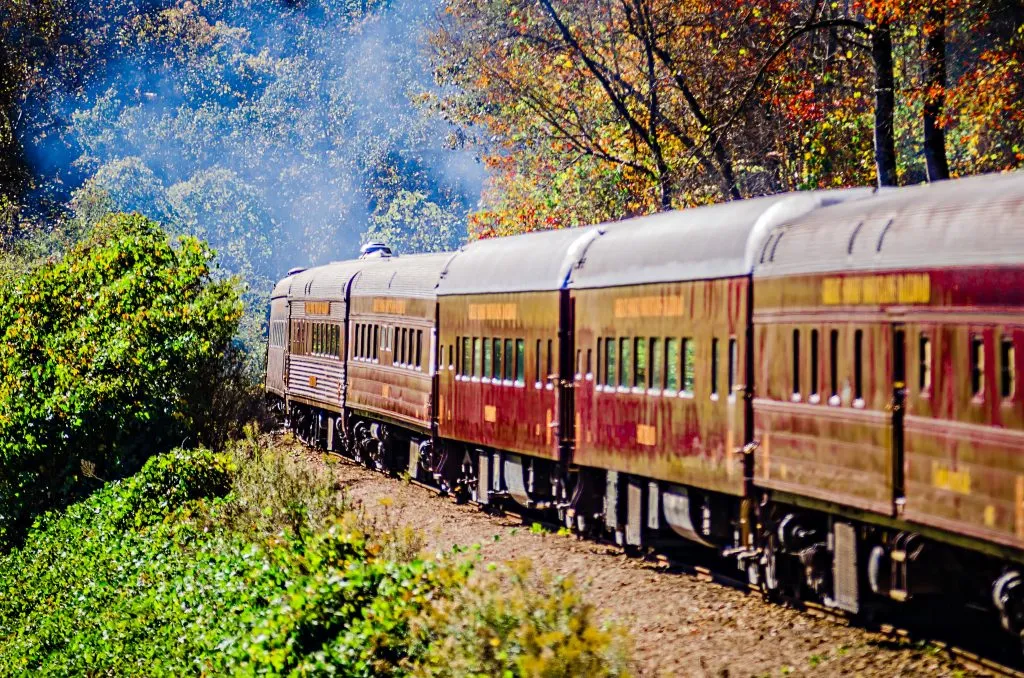 Highlands
The stunning mountain town of Highlands is just a 2.5-hour drive from the city of Charlotte.
With an elevation of 4,118 feet, it's one of the highest North Carolina mountain towns, so as you can imagine, the views are pretty scenic.
Highlands is also surrounded by one of the only temperate rainforests in North America, so there are many excellent hiking trails in the area.
One of the best things to do here is chase waterfalls, as there are so many!
Some famous waterfalls near Highlands include Dry Falls, Glen Falls, and Bridal Veil Falls.
You'll also want to visit Cullasaja River Gorge, where you'll see rushing rapids and striking rock faces.
Aside from outdoor activities, there are plenty of things to do within the center of Highlands.
This includes checking out The Bascom: Center for Visual Arts, the Highlands Botanical Station, and the Highlands Playhouse.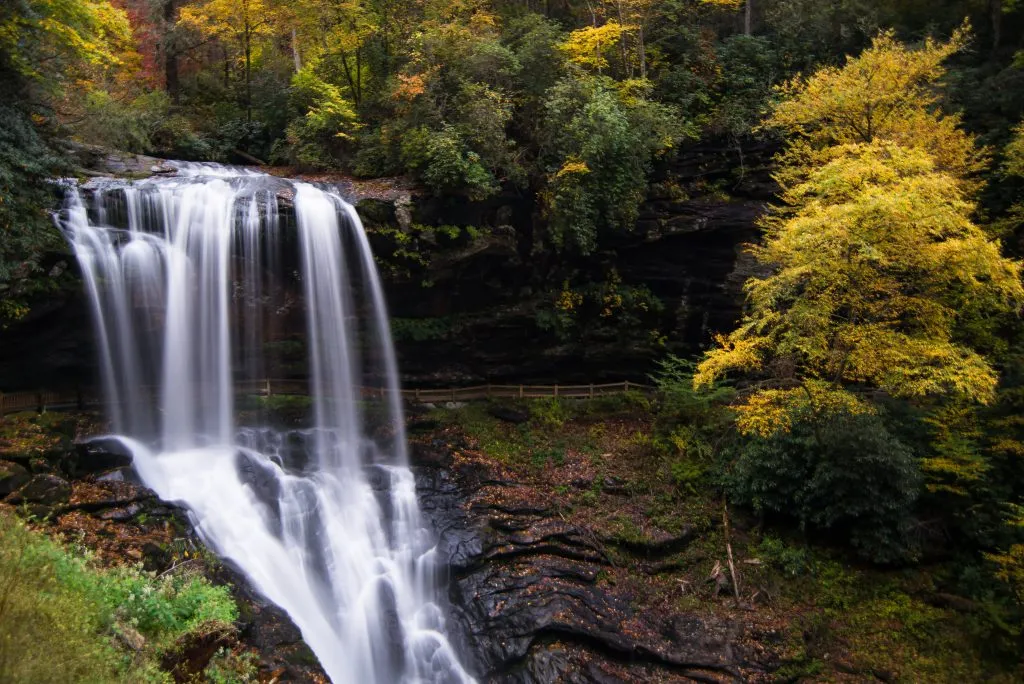 Maggie Valley
With its charming downtown core and proximity to both the Blue Ridge Parkway and Great Smoky Mountains National Park, Maggie Valley makes for a fantastic base for a mountain trip in North Carolina!
While you're there, be sure to enjoy browsing the many shops featuring local artisans, soak in the views at the easily accessible Soco Falls, and stop by the Wheels Through Time Motorcycle Museum.
Be sure not to miss breakfast at the ever-popular Joey's Pancake House, either–it's highly recommended that you show up early in order to get a table!
Sylva
Sylva, North Carolina, is a significant hub for cultural and recreational opportunities and an all-around delightful mountain town as it sits near the Great Smoky Mountains.
The main street is home to 4 local breweries, which are some of the city's biggest attractions.
The Jackson County Courthouse is located on Main Street in Sylva and is one of the most photographed courthouses in all of the state.
At the top of the courthouse, visitors can take in the landscape of the town and the beautiful scenery of the surrounding greenery.
Sylva is most famous for its magic around the holiday season.
It's a popular Christmas town in western North Carolina and attracts thousands of visitors each year.
Various markets and shops cater to the holiday season, and there are glistening lights and festivities all over town.
The downtown area is also home to the Greening up the Mountains Festival, which is a free street festival that receives thousands of visitors.
Banner Elk
Banner Elk is one of the most pristine mountain towns in the entire Blue Ridge Mountain region.
The town is small, and in its history, it was home to the Cherokee for its many hunting and fishing opportunities.
Banner Elk is often overlooked as it's surrounded by major tourist hotspots, but it keeps enough spark and charm to deserve a visit.
The town is a short venture to the Blue Ridge Parkway, Elk River Falls, and Wildcat Lake.
Nature lovers can enjoy the various hiking and biking trails, fishing opportunities, and other lake and water activities.
It's a perfect home base for immersing oneself in the great outdoors and for taking part in a wide variety of outdoor activities.
Grandfather Mountain State Park is close to the town and makes for a great day trip.
While the town is aimed at the outdoorsy type, and the downtown region isn't as vibrant as the neighboring towns, there is still a lot to see.
Some of the best restaurants in the region are located in Banner Elk, in addition to the Banner Elk Winery and museums.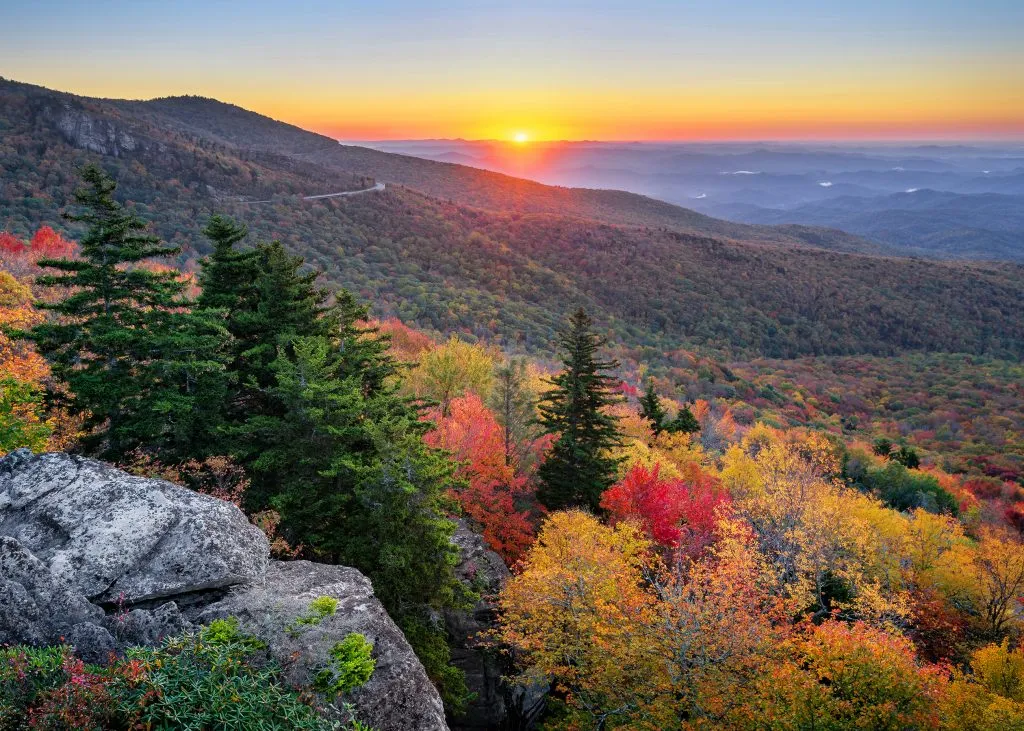 Brevard
Brevard is most famous for being one of the top mountain biking destinations in the United States, with hundreds of miles of trails to ride along.
Also known as The Land of Waterfalls, Brevard is an excellent place in Transylvania County for outdoor enthusiasts and nature lovers.
The town is situated in a prime location for some of the most awe-inspiring natural sights in North Carolina.
The downtown area of Brevard is an antique lovers' dream, as there are streets lined with antique shops, second-hand stores, and seasonal flea markets.
The whole town is quite authentic, with many local mom-and-pop shops, live local music, and historical sights and galleries for travelers and locals to enjoy.
With dozens of cycling paths and hiking trails, the outdoor scene is the biggest attraction to the area.
The location of Brevard has easy access to waterfalls (including the famous Looking Glass Falls), state parks, and the Blue Ridge Parkway.
Dillsboro
Dillsboro is located on the banks of the Tuckasegee River and is one of the most picture-perfect towns in North Carolina.
Although it's only made up of five square blocks, Dillsboro is home to plenty of quirky stores, restaurants, inns, and art galleries.
You'll find many places to visit here, including the Appalachian Women's Museum, Dillsboro Chocolate Factory, and the artsy Craft Circle street.
During your visit, you can even head on a train ride along the Great Smoky Mountains Railroad.
The views along the way are breathtaking, making it one of the top things to do in the area. However, the highlight of Dillsboro has to be its fantastic location!
The Great Smoky Mountains National Park and the Nantahala River are all within a 45-minute drive from the town, so outdoor recreation opportunities are abundant.
With its proximity to the Smoky Mountains, historic railroad, and scenic views — Dillsboro has to be one of the best mountain towns in North Carolina!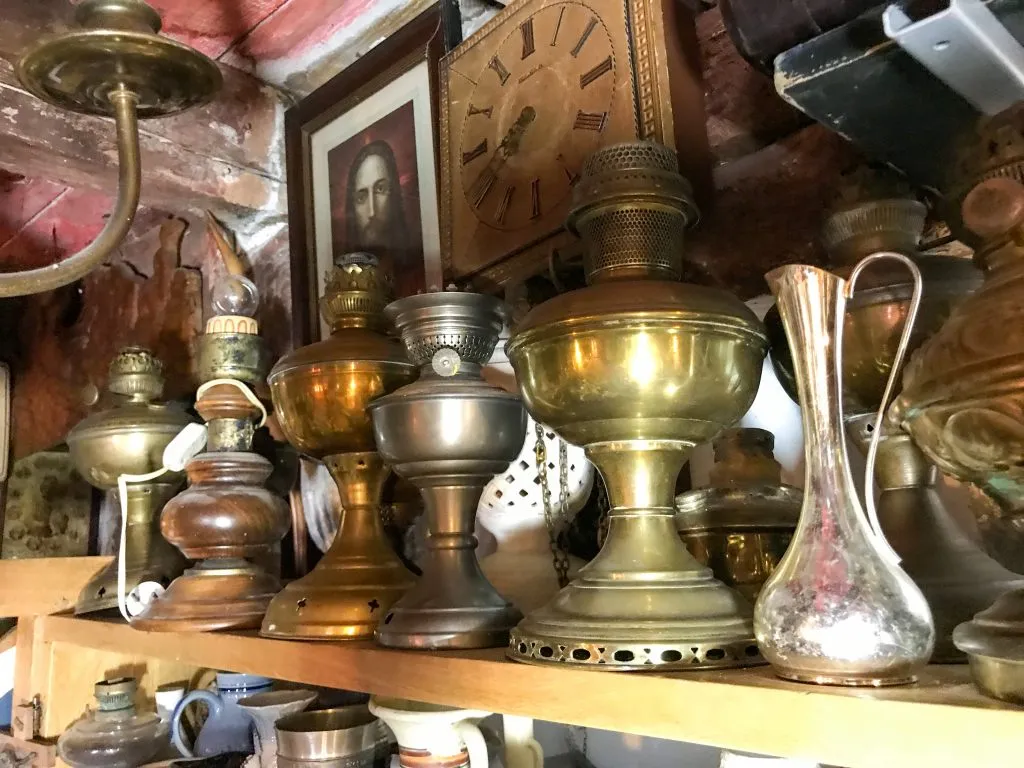 Cherokee
Cherokee is a scenic town that's actually the ancestral home of the Cherokee Indians.
You can find many cultural things to do like visiting the Museum of the Cherokee Indian and Qualla Arts and Crafts Mutual Inc.
However, one of the most popular attractions is the Unto These Hills outdoor production which documents the story of the Cherokee people.
You're also in for a real treat if you visit during the summer months.
Every Friday and Saturday during the summer, Cherokee storytellers gather around a fire and tell traditional stories from their culture.
Make sure you spend some time outdoors exploring the nearby waterfalls or the Fire Mountain Trails.
The Smoky Mountains are also close by, making this a perfect base if you're looking to hike some amazing trails.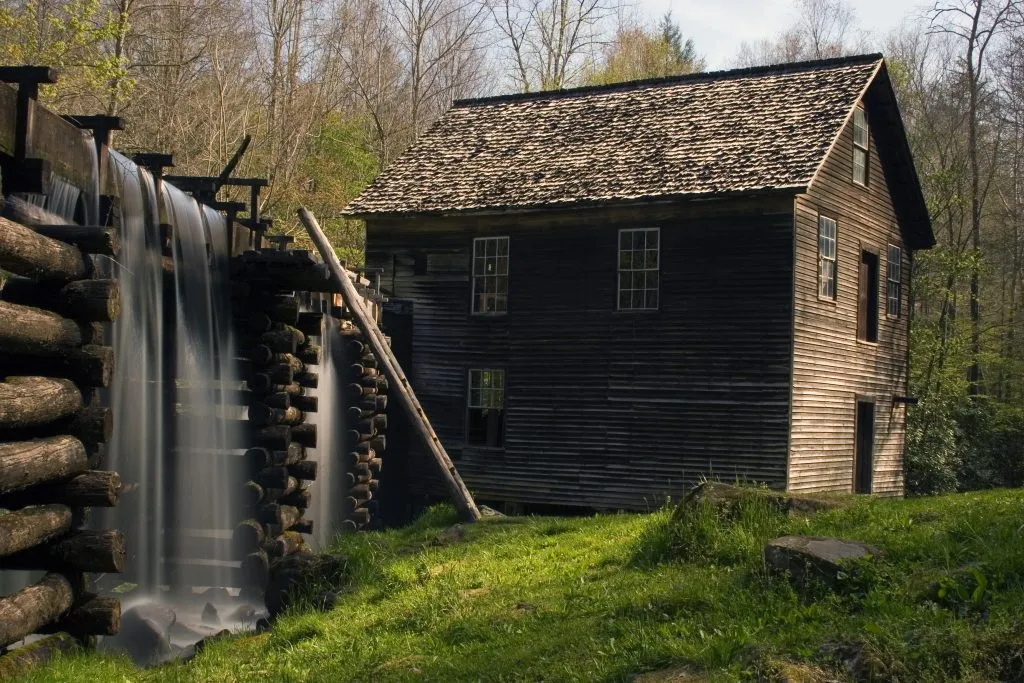 Little Switzerland
With a name like this, you know you're in for a treat when visiting Little Switzerland.
Located along the Blue Ridge Parkway, this beautiful town is the perfect NC mountain getaway.
If you're looking to learn a little about its history, head to Emerald Village, which is made up of twelve historic mines.
You'll get to take an underground tour of Bon Ami Mine and learn about the history of mining in this area by visiting the North Carolina Mining Museum.
During your trip to Little Switzerland, walk up to Wiseman's View.
It's situated 1500 feet above the Linville River and offers spectacular views of Linville Gorge, Hawksbill Mountain, and Table Rock.
If you visit this majestic settlement during July and August, then make sure you visit Geneva Hall.
Events are held every Friday and Saturday evening and include music, traditional dancing, and the iconic cake walk.
Burnsville
The scenic Burnsville is home to the towering Mount Mitchell. It's the highest peak found east of the Mississippi River, so if you're up for a challenge, take on this 6-mile hike.
The trail up to Mount Mitchell is incredibly rewarding and naturally boasts stunning views.
However, if you don't fancy that but still want a taste of the outdoors, then simply explore Mount Mitchell State Park instead.
You'll also find plenty of waterfalls, including the spectacular Crabtree Falls.
Not only that, but this part of North Carolina is known for its stargazing, so make sure you head to the Bare Dark Sky Observatory during your trip and the Glenn & Carol Arthur Planetarium!
Other popular places to visit within Burnsville include Toe River Arts, Parkway Playhouse, and Yancey History Museum.
With endless outdoor adventures waiting for you, stunning scenery, and plenty of unique stores, Burnsville has plenty to offer!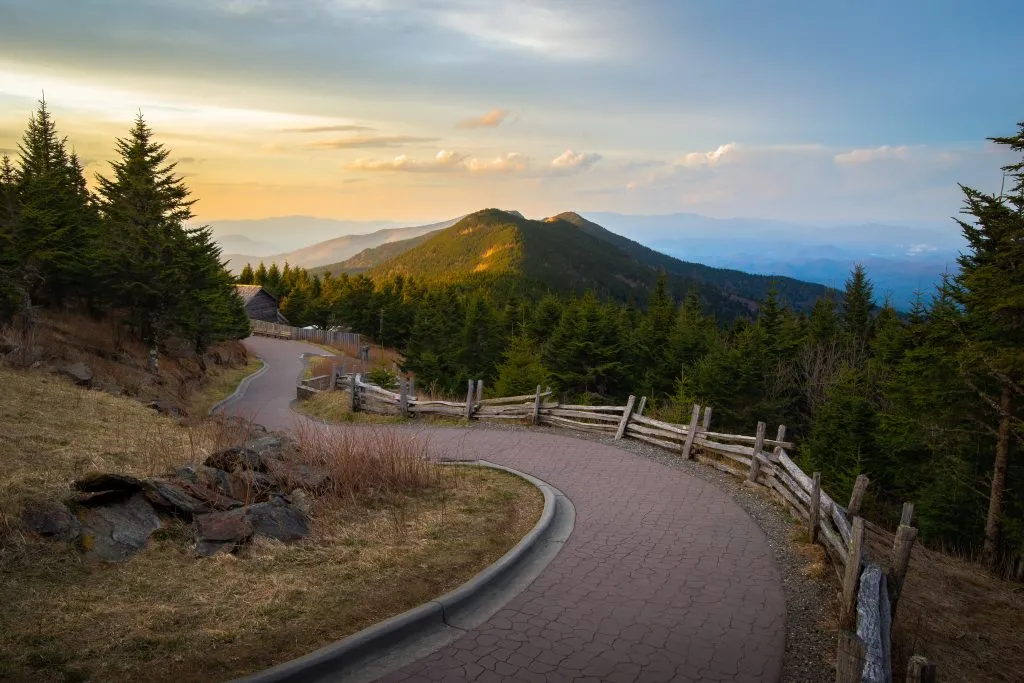 Hot Springs
This mountain town is home to a natural hot spring, which is the only known spring of its type in North Carolina!
People have been visiting the hot spring since the 1800s due to the belief that it contains healing properties.
The springs can be found within the Hot Springs Resort & Spa, but water is also pumped through to the outdoor tubs that are located beside Spring Creek and the river.
Aside from the town's main attraction, you'll find plenty of other things to do, especially for outdoor enthusiasts.
The Appalachian Trail runs through Hot Springs, so allow some time to hike along a portion of it.
Other popular activities include rafting and kayaking along the French Broad River!
For those not interested in adventure activities, you can go horseback riding or visit the Artisan Gallery and Cafe.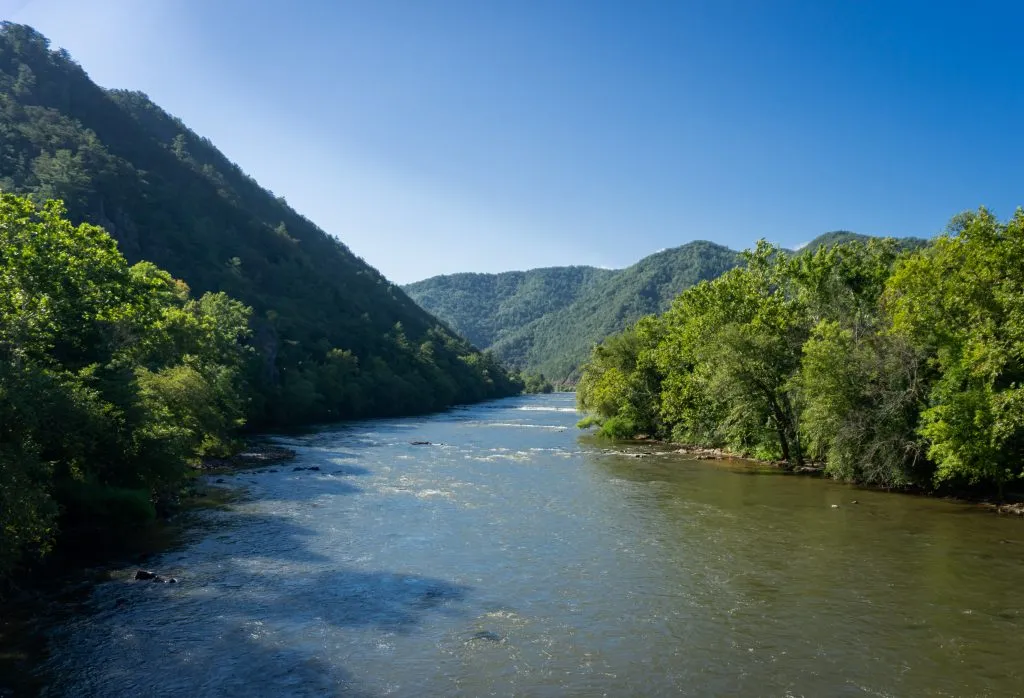 West Jefferson
West Jefferson is found within the scenic Blue Ridge Mountains and has been listed on the National Register of Historic Places.
With stunning landscapes, fresh mountain air, and a diverse arts scene, it's a must-visit if you're traveling through Western NC.
Some of the most popular attractions within West Jefferson include Ashe County Farmers Market, Parkway Theater, Boondocks Brewing, and the beautiful Church of the Frescoes.
You'll also want to explore the town's arts district, where you can find several art galleries and studios that showcase the talent of local artists.
This is where you'll find the Ashe Arts Center too!
Mount Jefferson State Natural Area is located nearby and is home to five awesome hiking trails.
The New River State Park is also just a 20-minute drive away and is home to the oldest river in North America.
West Jefferson is also home to some exceptional restaurants, coffee shops, and bars.
Morganton
The scenic mountain town of Morganton is located along the Catawba River and has been inhabited since the early 1700s, making it one of the most historic North Carolina mountain towns to visit!
Morganton is situated within the base of the Blue Ridge Mountains, so travelers are surrounded by breathtaking scenery no matter where you look!
Morganton hosts many alluring places for visitors of all ages, like the History Museum of Burke County, the Historic Burke County Courthouse, and the McDowell House.
Also, make sure to visit Beanstalk Ziplines, Catawba Meadows Park, and Freedom Park. You'll also want to walk along the popular Water Trail.
There are some fantastic eateries and breweries here, so you won't be short of dining options.
Depending on the time of year, you can even find a food truck court, mini markets, and farmer's markets taking place throughout the week.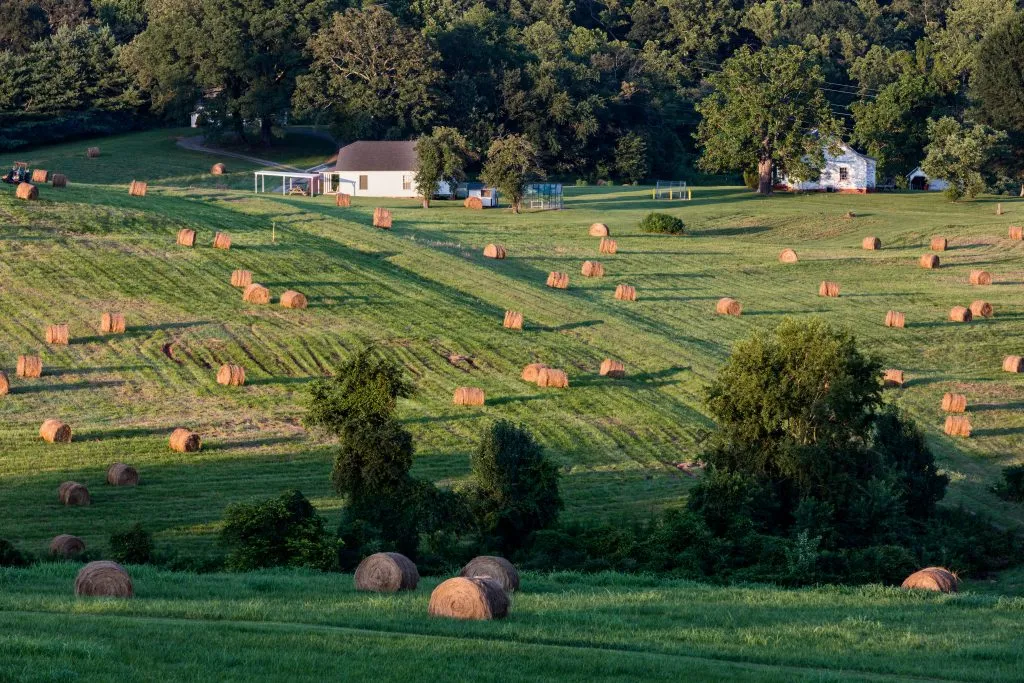 Waynesville
Whether you're looking to explore some of the nearby hiking trails or a relaxing getaway, Waynesville is an attractive option.
Located near the Smoky Mountains and the Blue Ridge Parkway (just a short drive from Maggie Valley), the views in Waynesville are pretty special.
There are lots of outdoor activities to get involved with here, including hiking, cycling, and fishing.
If you prefer something more relaxing, there are plenty of things to do within Waynesville.
Some of the most popular spots include the Shelton House, Haywood's Historic Farmer's Market, and Winchester Creek Farm.
During your trip, you'll also want to visit Cedar Hill Studio & Gallery and Haywood Arts Regional Theatre.
If you're a big foodie, make sure you head to the Barber Orchard Fruitstand for its delicious apple pies.
There are endless attractions in Waynesville, so you won't have to worry about being bored!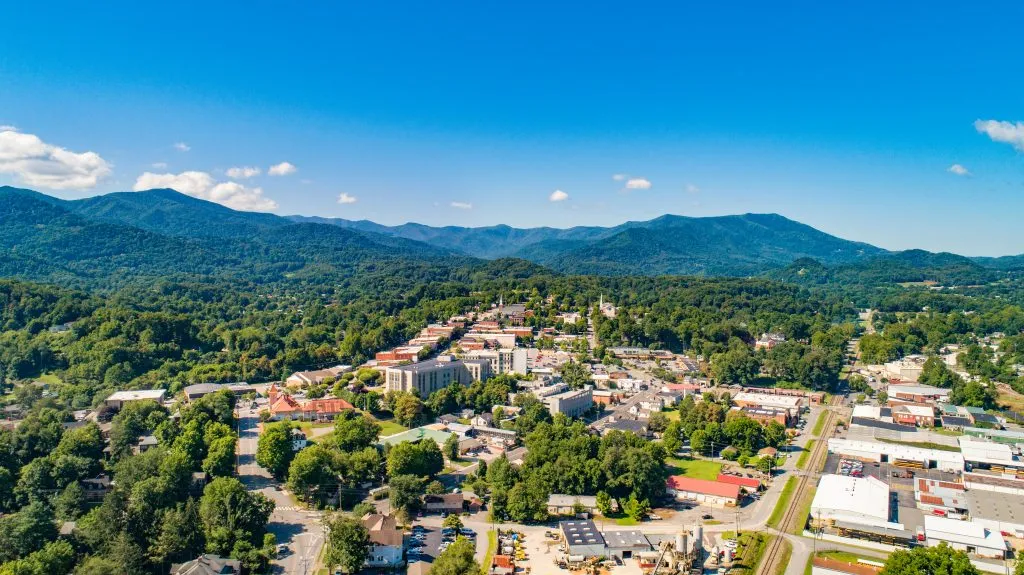 Tryon
Tryon has a reputation as being one of the friendliest places in all of North Carolina.
There is much to do and explore, with its alluring mountain views, cool attractions, and natural beauty.
It's the hometown of many iconic names, including F. Scott Fitzgerald and Nina Simone, whose childhood home is a historical landmark you can visit.
Other popular attractions include the Old Mill Market Square, Tryon Fine Arts Center, and Pearson's Falls.
If you've got time, then make sure you head to Norma Wilder Forest, as it's just a quick five-minute drive from the town center.
Covering an impressive 185 acres, Norma Wilder Forest is home to plenty of fantastic trails, beautiful wildflowers, and birdwatching opportunities.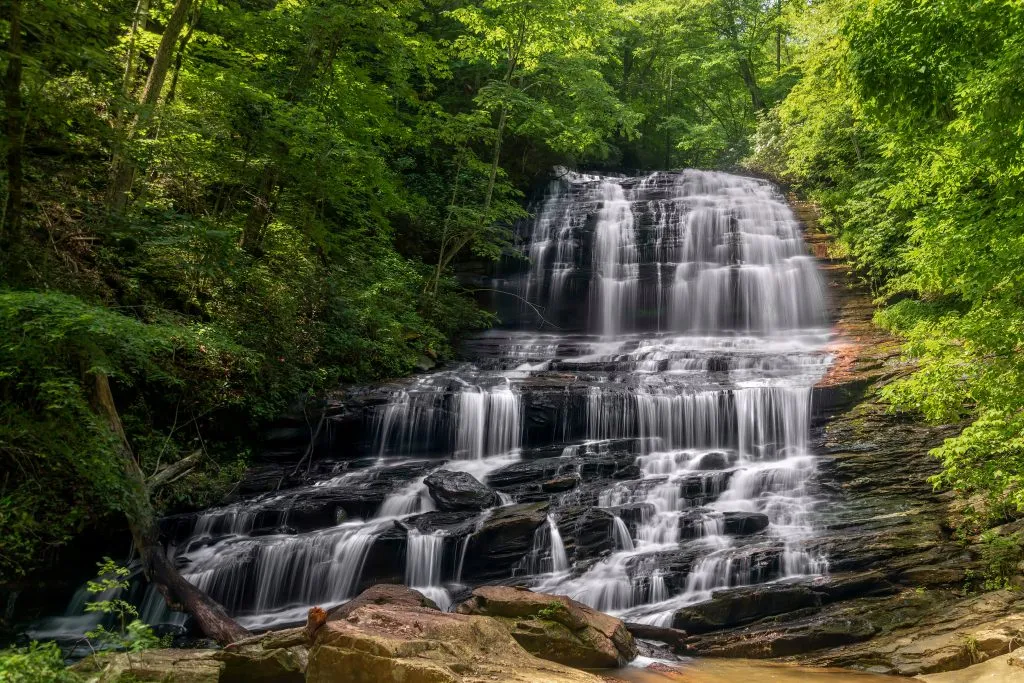 Bonus: Asheville
While Asheville is decidedly a city, not a town, no list of the best places to visit in Western NC could leave it off!
Plus, if you ask the locals, Asheville often feels more like an oversized town than a city, anyway.
Home to an epic craft beer scene, the incredible Biltmore Estate, plenty of street art, and delicious food options, there's no shortage of interesting things to do in Asheville.
Its location right next door to the Pisgah National Forest, Great Smoky Mountain National Park, and the Blue Ridge Parkway, however, makes it a fabulous NC getaway for outdoor enthusiasts, too.
Conveniently located within day-tripping distance of most of the best mountain towns in North Carolina, Asheville makes a great base in the mountains or city break destination for the day!
Map of the Best Mountain Towns in NC