Planning a long weekend in Asheville itinerary? You're in for a fantastic experience!
Nestled in the Blue Ridge Mountains of Western North Carolina, the beautiful city of Asheville, NC is one of the best weekend getaways on the East Coast, packing everything from world-class cuisine to mountain views to waterfall hikes to nearly 40 breweries into a city of just 90,000.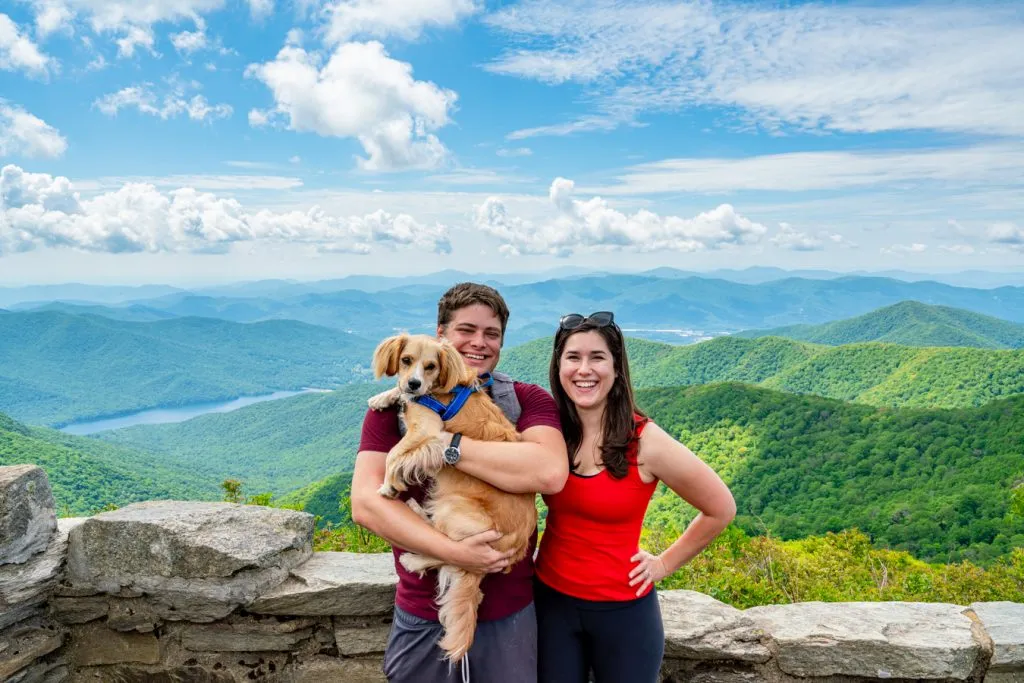 … And that doesn't even mention the most famous of all the attractions in Asheville: the stunning Biltmore Estate.
With so much to do, though, it's safe to say that making the most of 3 days in Asheville requires some careful planning.
Here's how to make the most of an Asheville weekend getaway!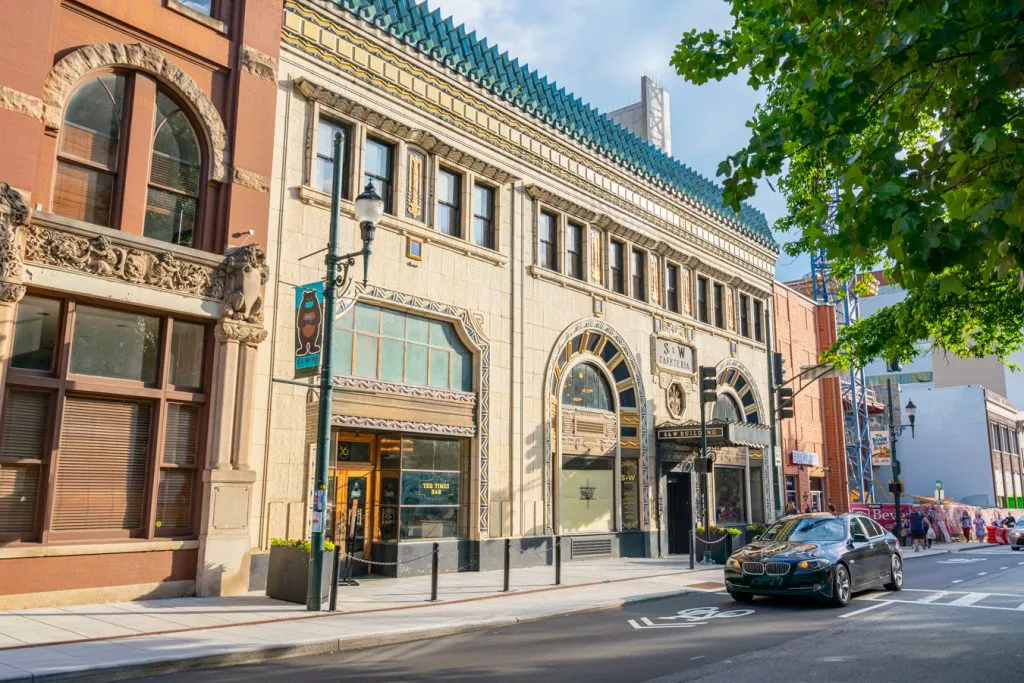 The Perfect 3 Day Weekend in Asheville Itinerary
Day 1: Waterfalls, Downtown + River Arts District
Start your morning with a classic Asheville breakfast.
What better way to kick off an Asheville weekend getaway than with some of the delicious, farm-to-table southern food that the city is known for?
Asheville is packed with popular breakfast places, but Tupelo Honey and Sunny Point Cafe (where you can walk their garden while you wait for your food!) are among the best.
Both get incredibly busy, so be prepared!
Tupelo Honey takes reservations, so if you're planning to eat there, consider calling ahead.
Chase waterfalls in Pisgah National Forest.
Located just outside of Asheville, the Pisgah National Forest is a magical place filled with waterfalls, hiking trails, and even the Cradle of Forestry–the first forestry school in the USA.
With the exception of Mt. Pisgah, whose trailhead is about 25 minutes from Looking Glass Falls, the stops outlined here are all very close together, so you won't drive much between them!
You can mix-and-match these stops depending on the weather and your timeline.
Looking Glass Falls
Located right on the side of the road, Looking Glass Falls is one of the top Asheville attractions in part because it's one of the easiest waterfalls to access–but it also happens to be absolutely stunning!
You can see the waterfall from above, but for the best view, climb down the short staircase to get closer.
The trail is less than half a mile round-trip, so it's not much of a time commitment.
Moore Cove Falls
Located just a mile up the road from Looking Glass Falls, this 1.5-mile round trip hike is easy and peaceful, with creeks running along the trail.
Moore Cove Falls itself is a 50-foot stunner, and one of the few waterfalls in the area that you can walk behind!
Sliding Rock
Natural swimming holes are one thing, but have you ever experienced a natural waterslide?
That's what you'll find at Sliding Rock, a 60-foot, gently sloping waterfall over a boulder that will send you plunging into the pool below.
The water is very cold, so this is best saved for Asheville weekend getaways that take place during the hot summer months.
Sliding Rock costs $4/person to visit, and National Park passes are not accepted.
Cradle of Forestry
The area surrounding Asheville is considered to be the birthplace of forestry in America–and you can discover the profession's history and roots at the Cradle Discovery Center, located just a few minutes north of Sliding Rock!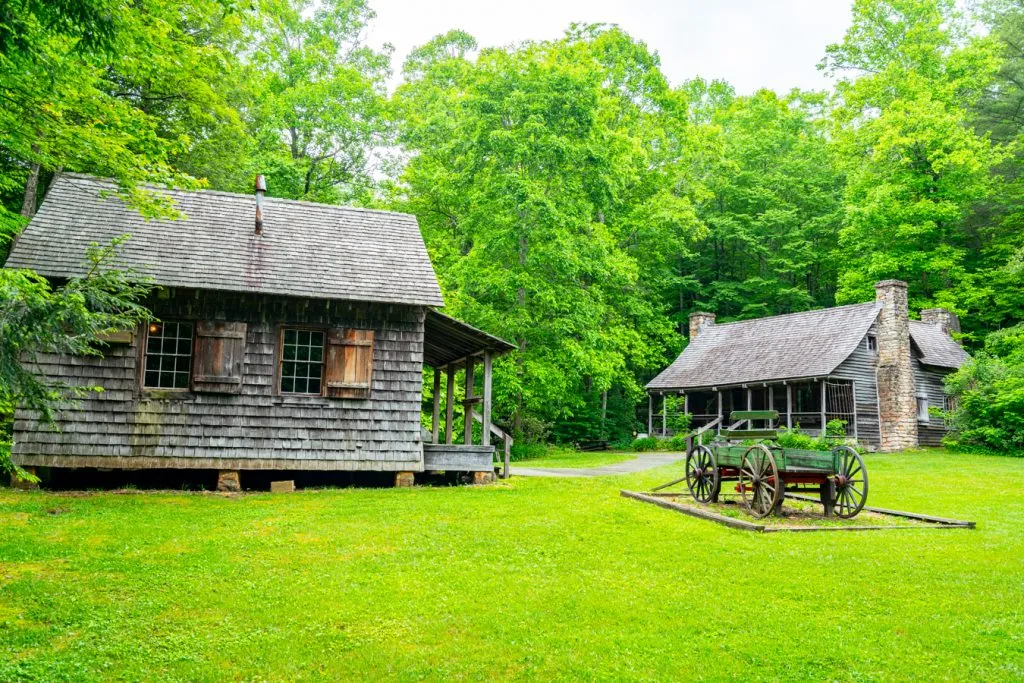 Mt. Pisgah
At 3.2 miles round-trip, summiting Mount Pisgah doesn't take too much hiking–and the resulting views of the Blue Ridge Mountains are well worth the effort.
Alternative to Pisgah National Forest: Chimney Rock State Park.
Looking for something a bit different?
Chimney Rock boasts one of the most popular views near Asheville!
While the state park does have some beautiful hiking trails, the Chimney Rock itself can be accessed by elevator–perfect for those who want the view without a hike.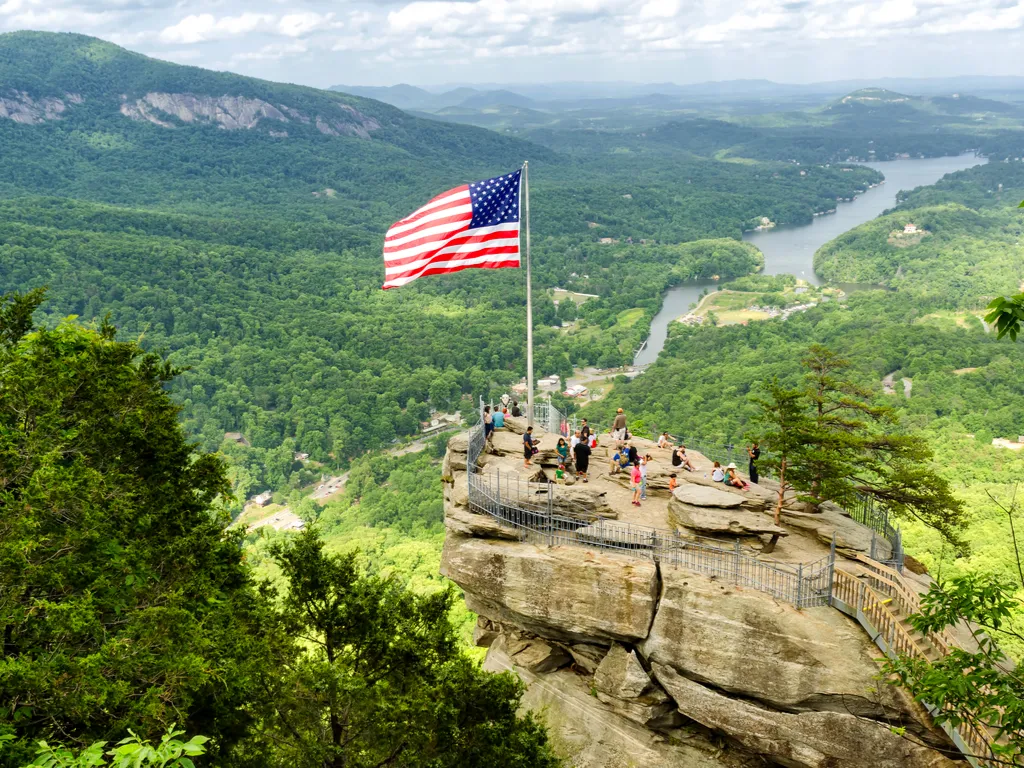 Head back to Asheville to explore the River Arts District.
Breweries, galleries, and eye-catching street art rule the roost in Asheville's popular River Arts District!
This warehouse-district-turned-trendy-locale isn't quite as dense as you might expect before seeing it, but it's full of nooks and crannies to explore, including Asheville coffee shops, art galleries, and, of course, breweries.
Wedge Brewery, one of the most popular Asheville breweries, is a great starting point, but be sure to spread the love a bit!
The River Arts District also has excellent access to the French Broad River!
Here, you'll find a hiking/biking path that is a great place to relax between stops (if you want to get an even better view of the river during your weekend in Asheville, consider adding in a kayaking tour!).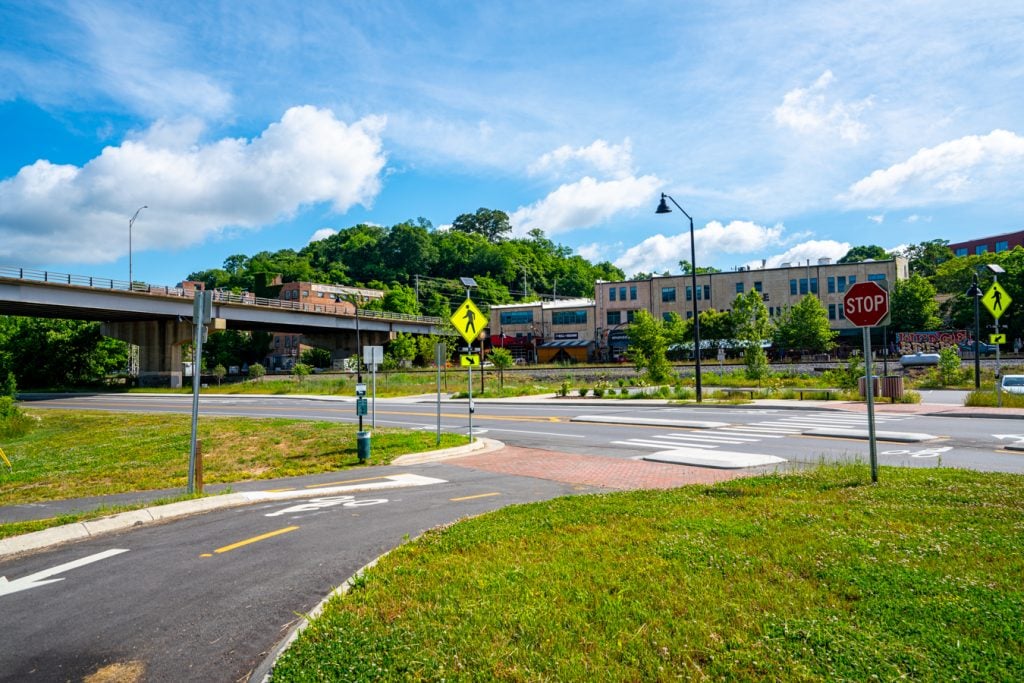 If it's Friday, check out the Pritchard Park Drum Circle.
From roughly 6:00 PM to 10:00 PM on Friday nights from roughly April to October (note the double use of "roughly" here–this is a very casual event), Asheville hosts a public drum circle in Pritchard Park.
It's quite the experience, so if your 3 days in Asheville happen to coincide with a Friday night, be sure to add the Pritchard Park Drum Circle to your itinerary!
… or take a ghost tour.
Haunted hotels, a spooky bridge, and the tragic death of Zelda Fitzgerald are just a few things you'll learn about on an Asheville ghost tour.
Whether you're a true believer, curious about Asheville's darker legends, or simply love a good spooky story, a ghost tour is a fantastic way to learn more about the city!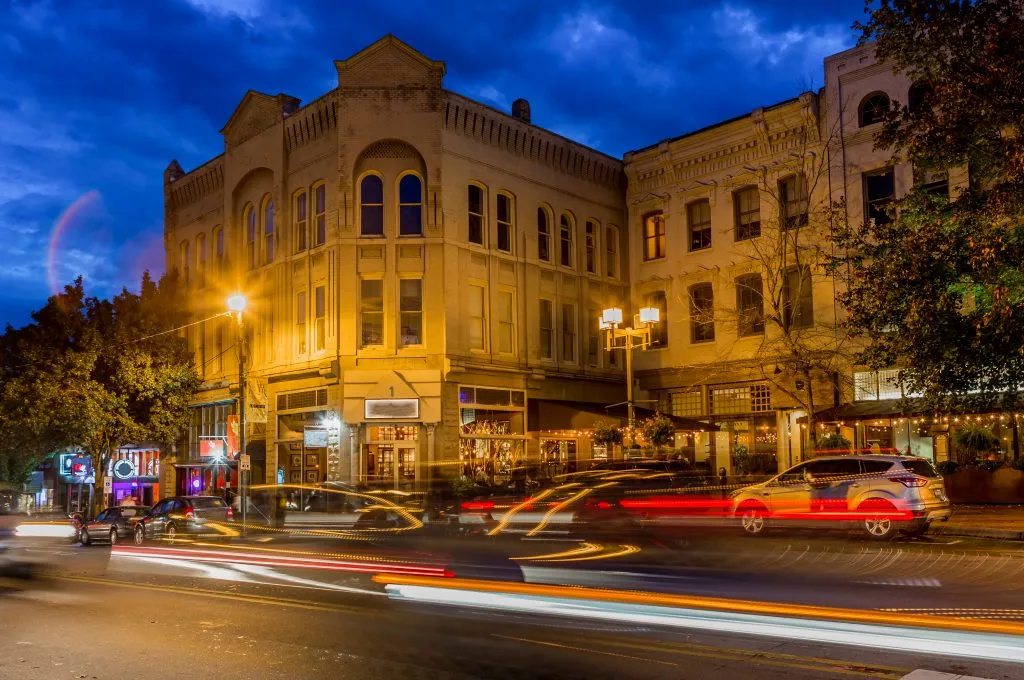 Day 2: The Biltmore Estate
Built in the late 19th century by George Vanderbilt (grandson of railroad tycoon Cornelius Vanderbilt), the Biltmore Estate is the largest privately-owned home in the USA (yes, the Vanderbilts still own it), one of the most popular Asheville attractions, and an unforgettable place to visit.
If you've seen Downton Abbey, the Biltmore Estate is essentially an American Downton Abbey, complete with all the fanciful notions and bizarre details of the Gilded Age pseudo-aristocracy.
It's also quite expensive to visit (expect to pay $70+ per person for a day at the Biltmore, though there are ways to slightly manage the costs), so it's best to make the most of your time there and enjoy the property!
These Biltmore attractions aren't listed in any particular order, as you'll need to book a specific time for your house tour and wine tasting and plan the rest of the day around them–but here's what you can expect to do during a day at the Biltmore.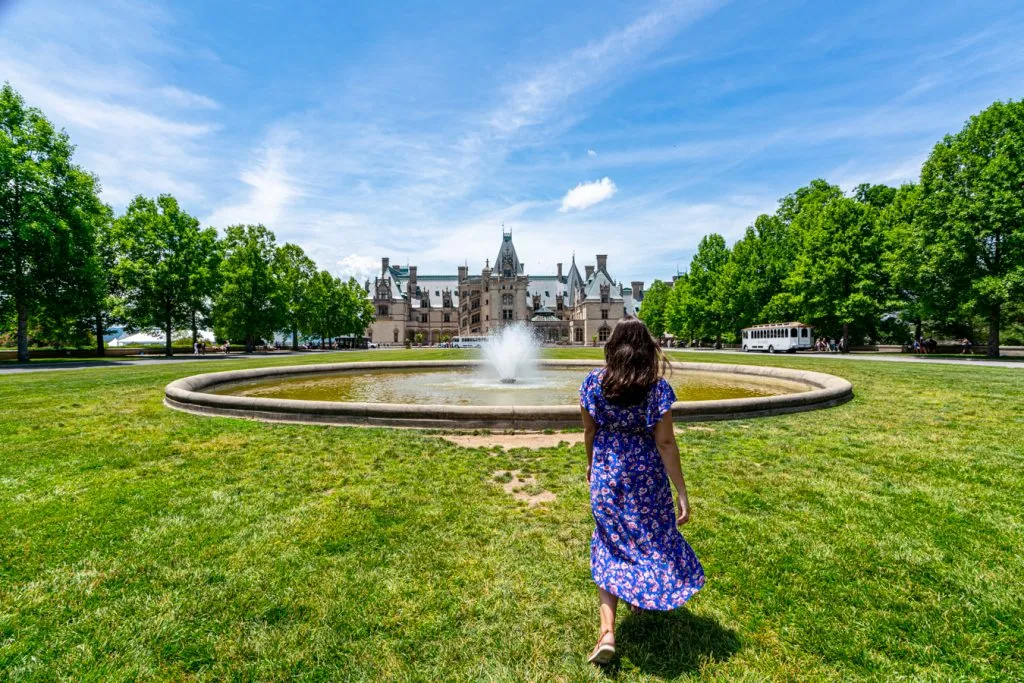 Biltmore House Tour
The crowning attraction of visiting the Biltmore Estate is the house tour, which takes you through some of the public (the library, oh my!), and private (bedrooms of the family and guests) sections of the home's "upstairs" before heading down to the basement.
The basement is the most interesting section in my opinion, covering places like the indoor swimming pool, kitchens, some servant quarters, and of course that famous bowling alley.
While guided in-person tours are very expensive, it's absolutely worth getting the audio guide.
The tour isn't signposted, so without an audioguide, you'll miss the vast majority of the context.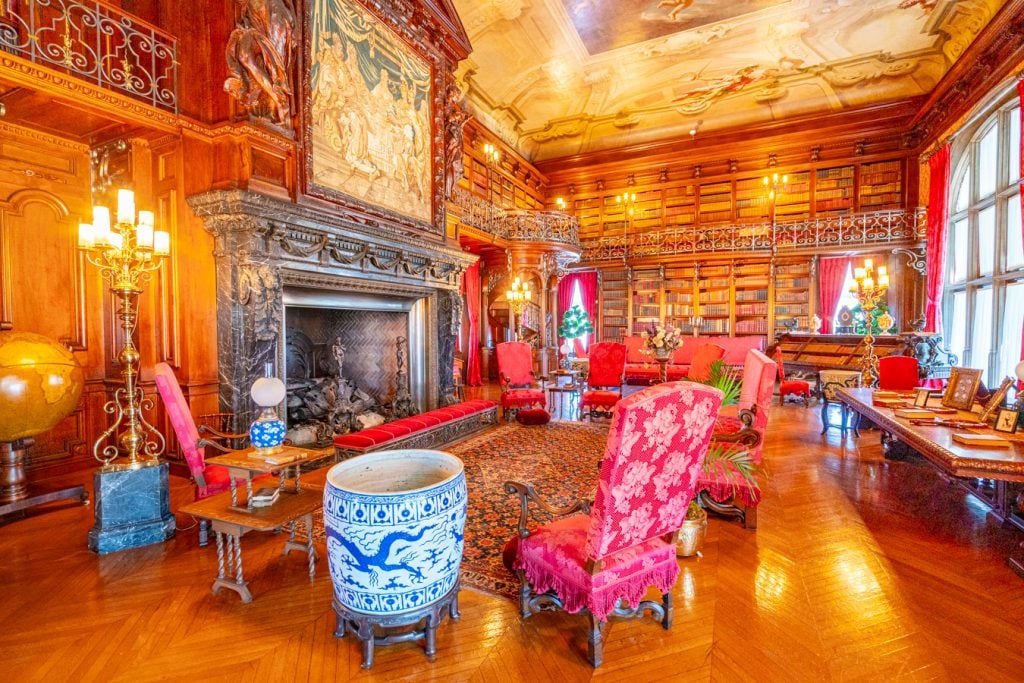 Biltmore Gardens + Conservatory
The Biltmore gardens are beautiful, of course, but the Conservatory really steals the show–don't miss a chance to wander through it!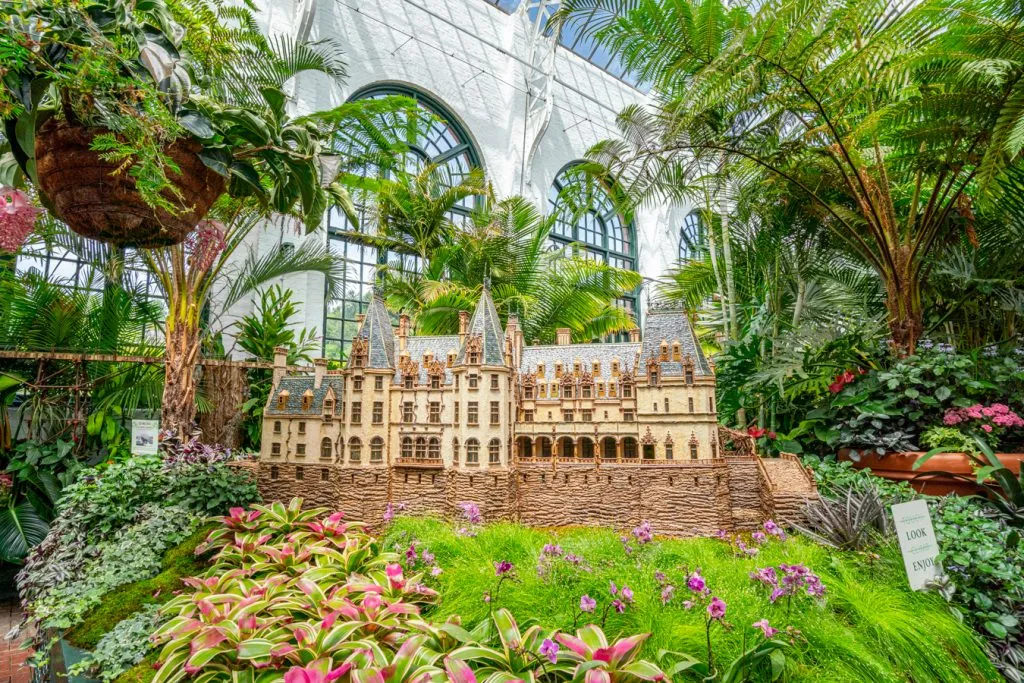 Antler Hill Village + Biltmore Winery
Antler Hill Village, which lies a short drive away from Biltmore House (that is to say–short without traffic. At peak times, the Biltmore recommends planning to spend 45 minutes getting from Antler Hill Village to a Biltmore House tour), is home to the Biltmore Winery, a historic barn and livestock area, several restaurants, and a charming walkable "village".
This is where you'll be able to take advantage of the free wine tasting that is included in your Biltmore ticket, but be aware that you'll need to reserve a time for the tasting in advance, which you will do through a QR code once arriving on the property for the day.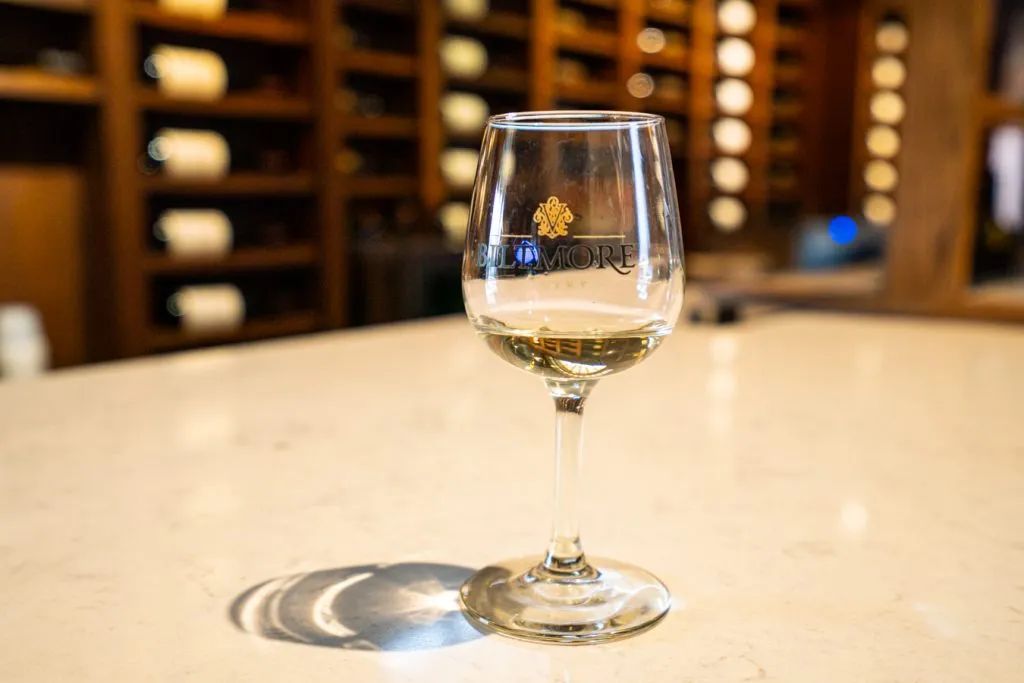 Biltmore Estate Dining Options
When spending a full day exploring the Biltmore Estate, it's easiest to plan on having lunch on-site.
With 15 dining options ranging from four-star dining to an ice cream shop, there's plenty to choose from!
We personally had lunch at Stable Cafe, which is housed in the home's original stables and serves Carolina-style barbecue (if you loved pink lemonade as a kid, don't skip the blackberry lemonade on the menu!).
It's also located right by the entrance to Biltmore House, which was incredibly convenient because we didn't have to move our car in between lunch and our house tour.
The food was solid, and the prices, while more expensive than an average restaurant, were more affordable than, say, eating at a theme park.
Many sit-down restaurants at Biltmore Estate take reservations, including Stable Cafe–definitely consider planning ahead if you intend to eat at a popular time.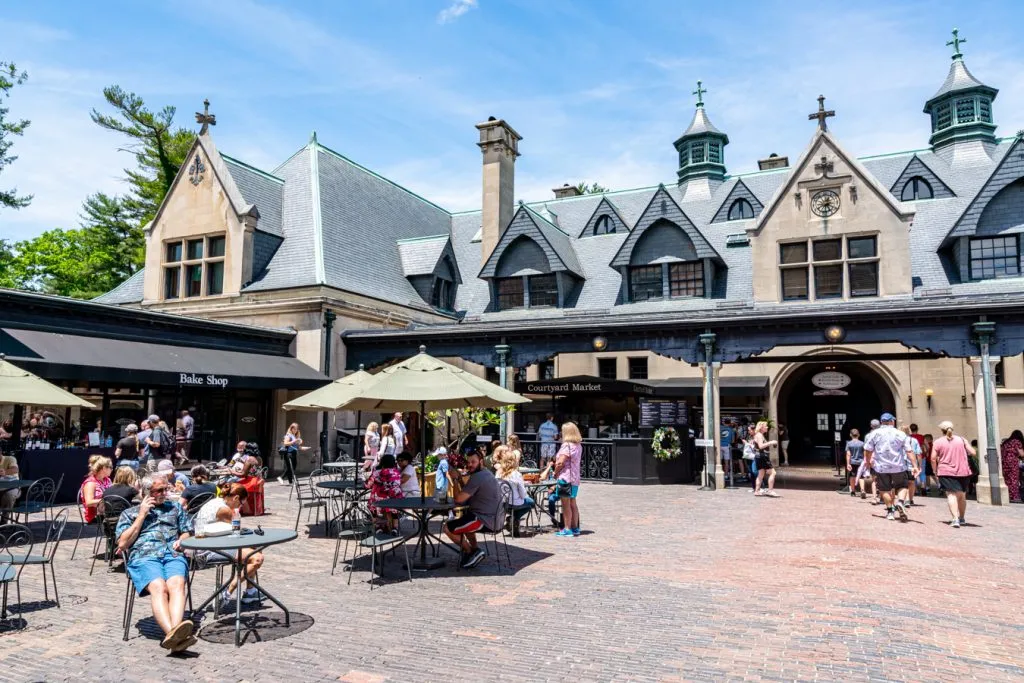 Day 3: Blue Ridge Parkway + Downtown Asheville
Drive a portion of the Blue Ridge Parkway.
The stunning Blue Ridge Parkway is widely considered to be one of the most scenic drives in the USA–and a portion of it lays just outside of Asheville!
Managed by the National Park Service, the Blue Ridge Parkway runs for 469 miles through North Carolina and Virginia.
While you won't be able to see most of it during your long weekend in Asheville, you can enjoy plenty of scenic views and a few of the parkway's iconic tunnels.
We recommend starting by making your way to the Craggy Gardens Visitor Center, taking the time to stop at viewpoints like the Lane Pinnacle Overlook along the way.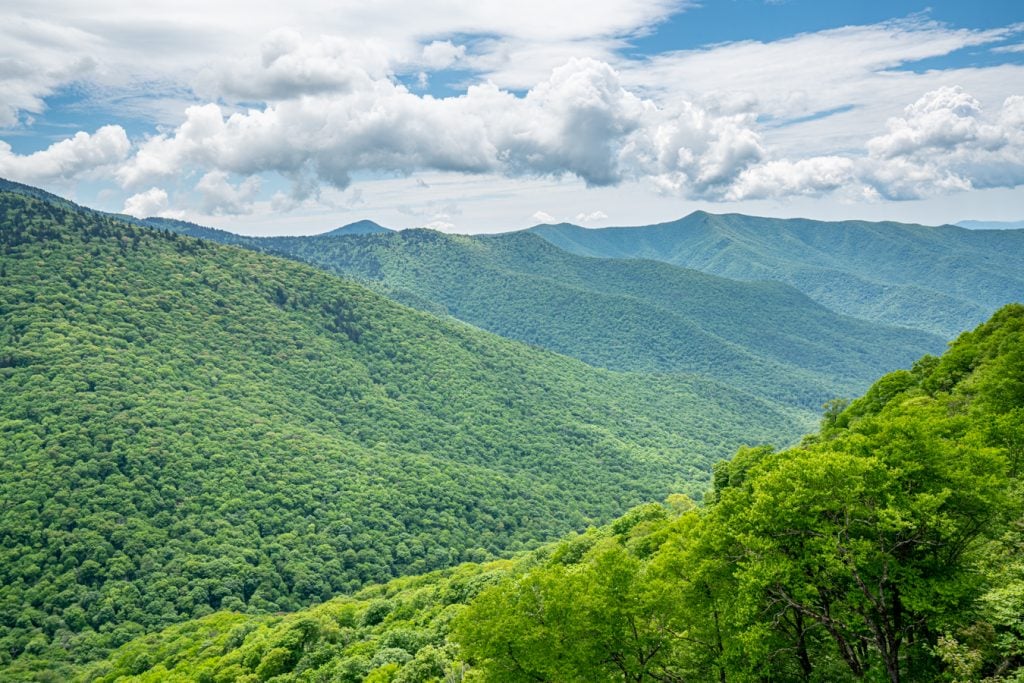 Hike to Craggy Pinnacle.
If you're driving the Blue Ridge Parkway north from Asheville, just past the Craggy Gardens Visitor Center, you'll see a tunnel.
And just after exiting the tunnel, on your left, you'll see a parking lot for the Craggy Pinnacle Trail–the next stop on your Asheville itinerary.
This short trail only clocks in at 0.7 miles each way, but the reward is staggering: 360-degree views of the mountains, as far as the eye can see.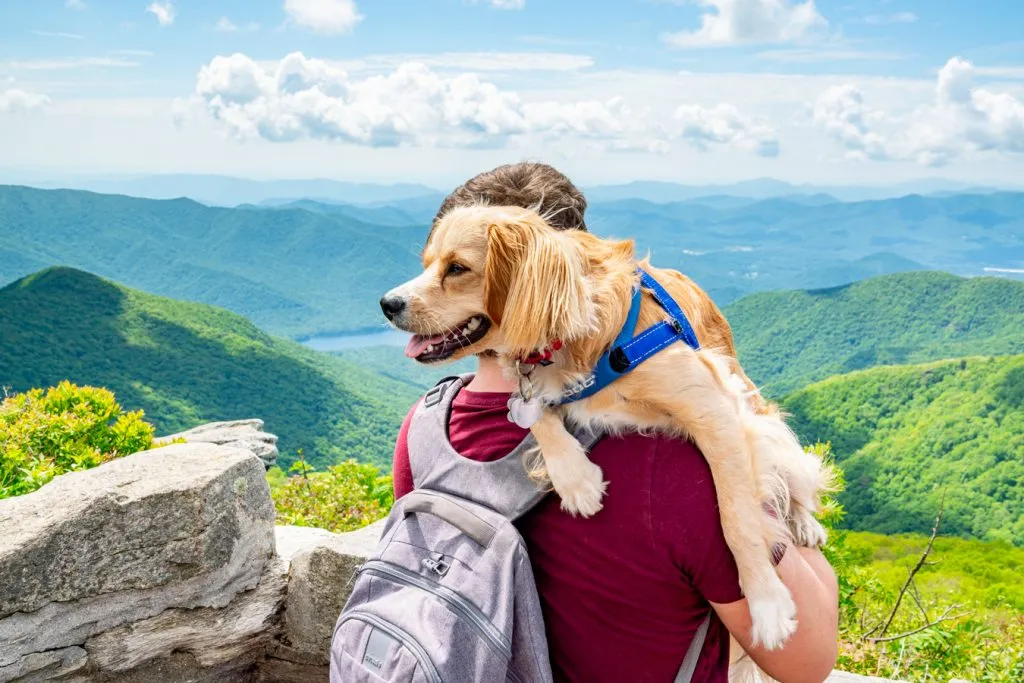 The climb is fairly easy (you only gain 252 feet in elevation), and the trail is mostly shaded.
If you happen to visit during rhododendron season in June, all the better!
Be sure to keep the weather in mind, as well: it's frequently 15-20 degrees colder at Craggy Pinnacle than in downtown Asheville.
Optional: Stop by the North Carolina Arboretum or hike to Catawba Falls.
Depending on how long you choose to spend on the Blue Ridge Parkway–you can always continue further north after hiking to Craggy Pinnacle to sample more viewpoints–you may have room for an afternoon stop!
If so, garden lovers may want to consider visiting the stunning North Carolina Arboretum, while hikers can potentially check another waterfall off of their list.
The 3-mile round-trip Catawba Falls hike delivers visitors to one of the most popular waterfalls near Asheville for fairly limited effort–the only catch is that as the trailhead is about a 40-minute drive from downtown Asheville, it may be hard to squeeze into your schedule.
Explore downtown Asheville, including the Grove Arcade.
No 3 day Asheville itinerary is complete without carving out time to enjoy Asheville's downtown center with its lively boutiques, celebrated restaurants, and many Art Deco buildings.
Pritchard Park–more of a central square than a park, really–is a great starting point.
As for architecture, none of Asheville's Art Deco architecture is as popular as the beautiful Grove Arcade (though I personally also have a soft spot for the magnificent S&W building located just across the street from Pritchard Park).
Be sure to duck inside the Grove Arcade to truly appreciate its splendor!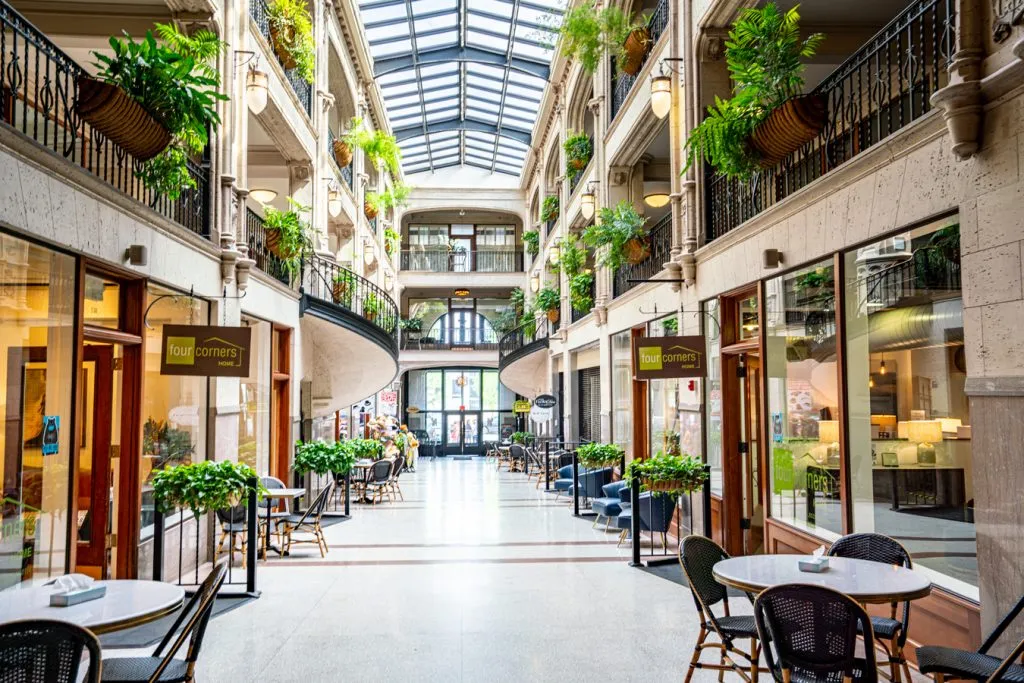 Grab a glass of bubbly at the Battery Park Book Exchange + Champagne Bar.
Technically located in the Grove Arcade, though you'll need to use an exterior entrance, the Battery Park Book Exchange + Champagne Bar is easily one of the most popular places to visit in Asheville for bibliophiles like us.
The store itself is beautiful and has a fantastic selection of local books–if you're remotely curious about the history and culture of Western North Carolina, don't leave without browsing the shelves.
An enormous selling point to the store, though, is the fact that it has a champagne bar inside!
Once upon a time, you could wander the stacks with your glass of bubbly, however, it's no longer allowed.
No worries, though–balancing a plate of charcuterie and champagne flutes on a tiny table surrounded by books is still a lovely experience (just be sure not to ruin your appetite before dinner).
Close out your weekend in Asheville with a fantastic meal.
Asheville is widely celebrated for its food scene, and there's no way to properly see Asheville in 3 days without splurging on at least one magnificent meal.
Extremely popular places like Curate, a widely celebrated tapas bar, often book out weeks in advance, so consider planning ahead if you have your heart set on a particular place!
Asheville's chefs have collected an impressive slew of awards, though, so don't worry too much if you've missed the boat for a particular place–there's no shortage of amazing food in Asheville.
We personally spent an evening at Benne on Eagle and absolutely loved the braised short rib!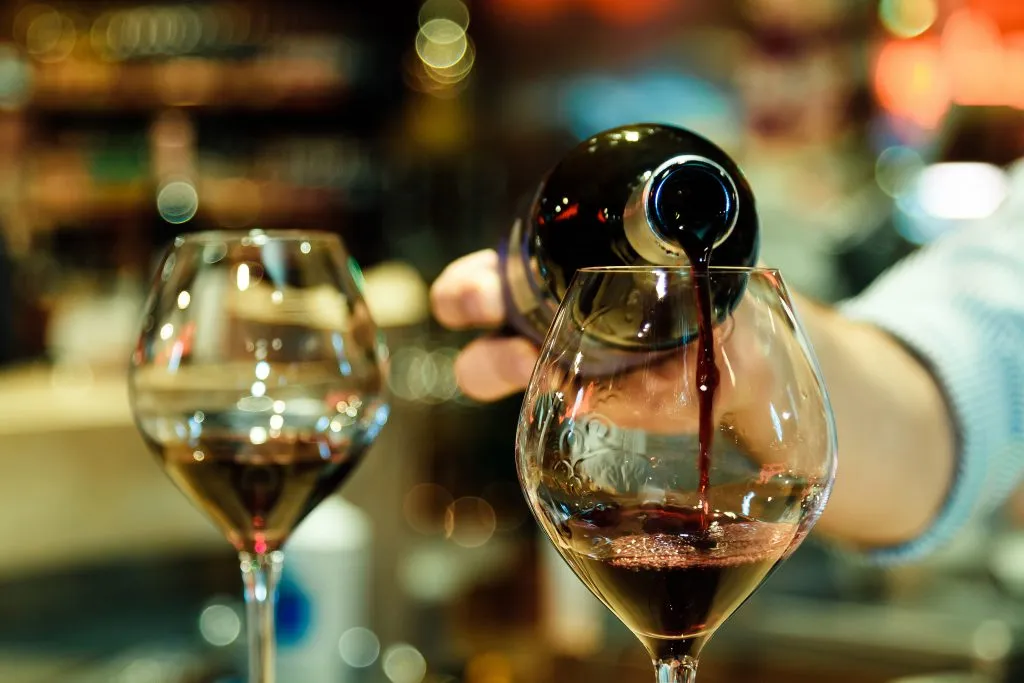 Where to Stay For 3 Days in Asheville, NC
Assuming you are hoping to stay inside the center of Asheville itself (as opposed to renting a nearby cabin, for instance), you'll find the most convenient hotels in the downtown area, and the best historic bed and breakfasts in the nearby Montford Historic District (which, depending on exactly where you stay, is within walking distance of downtown).
Here are 3 well-reviewed and popular properties in Asheville to consider–including the Asheville bed and breakfast that we adored!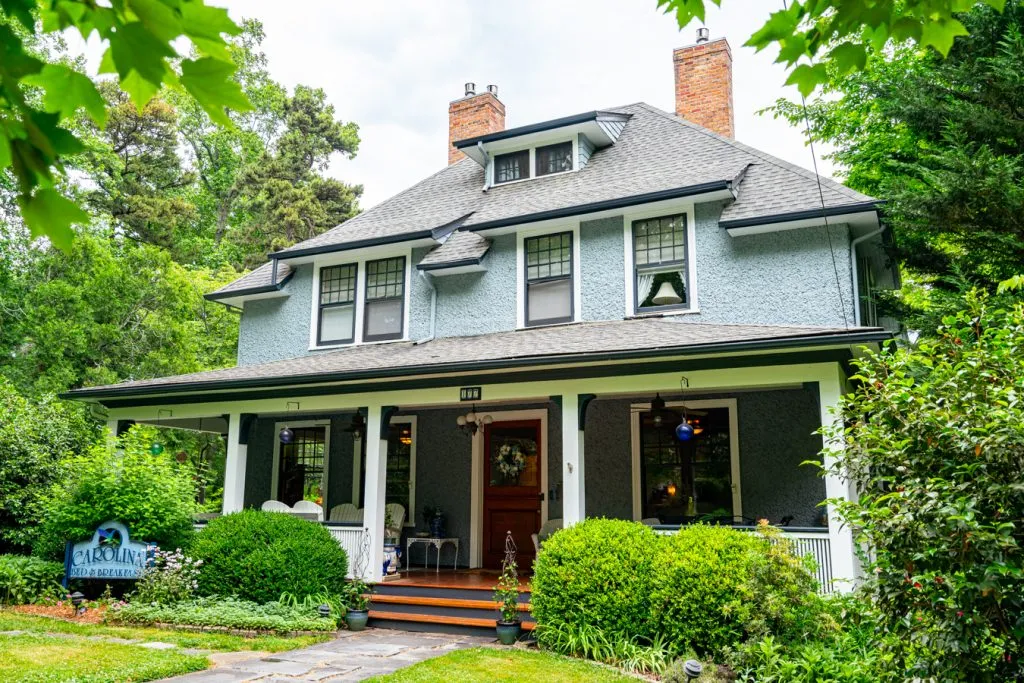 Budget
Four Points By Sheraton — For an affordable hotel option that doesn't skimp on location, the popular Four Points By Sheraton is an excellent choice.
Located within walking distance of Asheville's downtown attractions and a quick drive away from the Biltmore, Four Points By Sheraton gets great reviews and during the summer months, features an outdoor pool.
Mid-Range
The Applewood Manor — We absolutely adored this bed and breakfast in the Montford Historic District!
In addition to a gorgeous property, spacious room, and beautiful interior, we loved chatting with the co-owner, Robin over the delicious breakfasts she made each morning.
Located within walking distance of downtown via a greenbelt trail, The Applewood Manor feels like it's in a peaceful, quiet location–but it's still in a perfect location to make the most of 3 days in Asheville.
Luxury
Omni Grove Park Inn — Widely considered the most luxurious hotel in Asheville, the Omni Grove Park Inn is located a couple of miles outside of downtown Asheville–but with stunning views, four on-site restaurants, and a fantastic spa, you won't be sorry to lay your head here during an Asheville weekend getaway.
Built in 1913, this historic hotel gets fantastic reviews, is an Asheville vacation destination unto itself, and is the perfect luxury retreat in Asheville, NC.
Getting Around During an Asheville Weekend Getaway
While Asheville's downtown core is fairly compact and walkable, spending a weekend in Asheville is going to necessitate quite a bit of driving.
Many of the most popular Asheville attractions, such as Looking Glass Falls, Craggy Pinnacle, Chimney Rock, and more, lie 30+ minutes worth of driving outside the city center.
As a result, having a car is an absolute necessity for spending a weekend in Asheville.
If you're planning to rent a car for your 3 days in Asheville, the best company to rent from will likely vary dramatically depending on exactly when you're traveling.
Sometimes large international carriers offer the best prices, sometimes local outfits. Sometimes one company has an excellent base price, but terrible rental requirements.
We recommend searching for your rental car through Discover Cars, which will sift through dozens of companies to find the best combination of low prices and reasonable rental terms for your road trip.
Shop rental cars for your trip to Asheville today!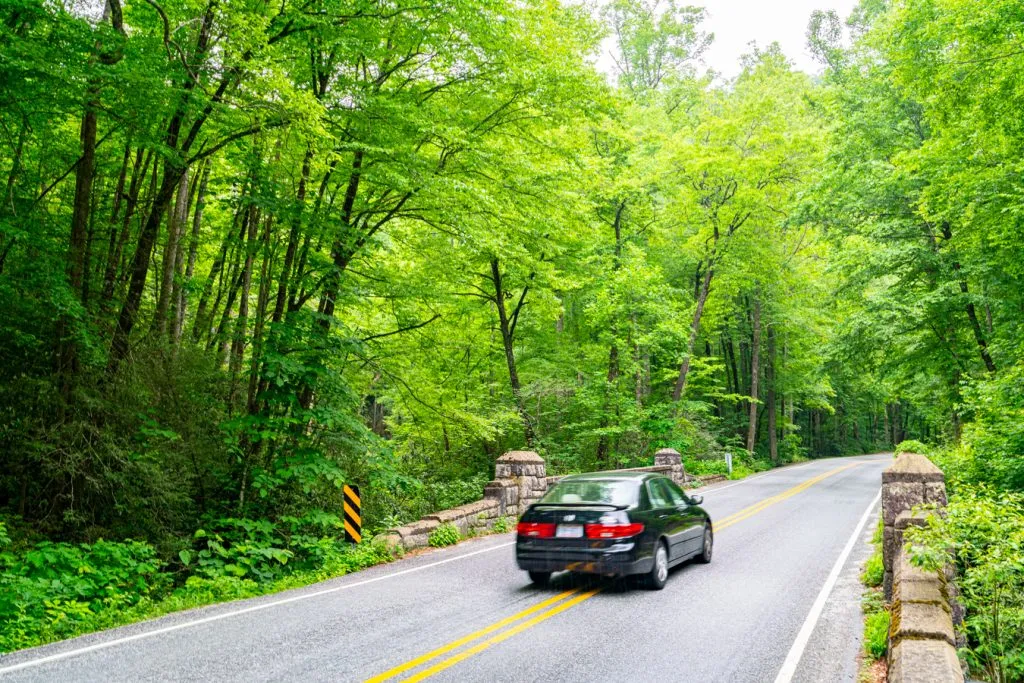 More Than 3 Days in Asheville?
With more than a 3 day Asheville itinerary to work with, you absolutely won't run out of things to do in Asheville–especially if you consider yourself a foodie or a lover of the outdoors.
The surrounding area is packed with hikes, waterfalls, state parks, and more, all of which are begging to be explored–consider starting with Chimney Rock State Park, Mount Mitchell State Park, and the DuPont State Recreational Forest.
Within Asheville, visiting Biltmore Village, sampling a few more restaurants, and enjoying a drink with a fantastic sunset view over the mountains at the Omni Grove Park Inn are also all excellent ideas.
Nearby small towns like Brevard, Maggie Valley, Waynesville, and Black Mountain all make excellent day trips from Asheville if there's room in your itinerary.
Food lovers may want to consider working their way through the Western North Carolina Cheese Trail–we have this one personally earmarked for our next Asheville vacation.
And, of course, there's the magnificent Great Smoky Mountains National Park to explore!
When to Spend a Weekend in Asheville, NC
Planning a 3 day Asheville itinerary may look a bit different depending on which season you visit, but on top of the many other things to recommend it, Asheville, North Carolina also bears the distinction of being a four-season destination!
During spring, you can expect wildflowers, exceptionally strong waterfalls, and cool temperatures.
In the summer, many mountain hikes are at their best, and spots like Sliding Rock are ready to help you cool off.
In the fall, foliage steals the show: the Blue Ridge Parkway is often considered one of the best places to experience fall foliage in the country, making it one of the most popular times to plan a weekend getaway in Asheville.
During winter, the Biltmore's Christmas decor offers extra beauty to an already incredible destination, and–if you're so inclined–you can even day trip to nearby ski slopes, like Cataloochee Ski Area in Maggie Valley.
Regardless of when you plan your 3 day weekend in Asheville, you're bound to have an unforgettable trip.