As the second-oldest town in North Carolina and the first capital of the state (however briefly), it's no surprise that there are plenty of incredible things to do in New Bern, NC.
From charming brick sidewalks leading to quirky local shops to interesting museums and delicious restaurants, there are lots of New Bern activities to choose from!
Set where the Neuse and Trent Rivers meet, New Bern is captivating from the moment you catch sight of the marina or start your stroll down Middle Street.
As someone who has cherished Eastern North Carolina my entire life, let me say: you can't go wrong with a New Bern getaway.
Here are the best things to do in New Bern, NC!
The Best Things to Do in New Bern, NC
Browse the shops on Middle Street.
Running for 6 blocks through New Bern's historic center, Middle Street is one of the most charming places to visit in New Bern and a must-see during your visit!
From cool boutiques to tasty restaurants to plenty of photogenic corners (those lampposts!), Middle Street is a place that deserves to be savored.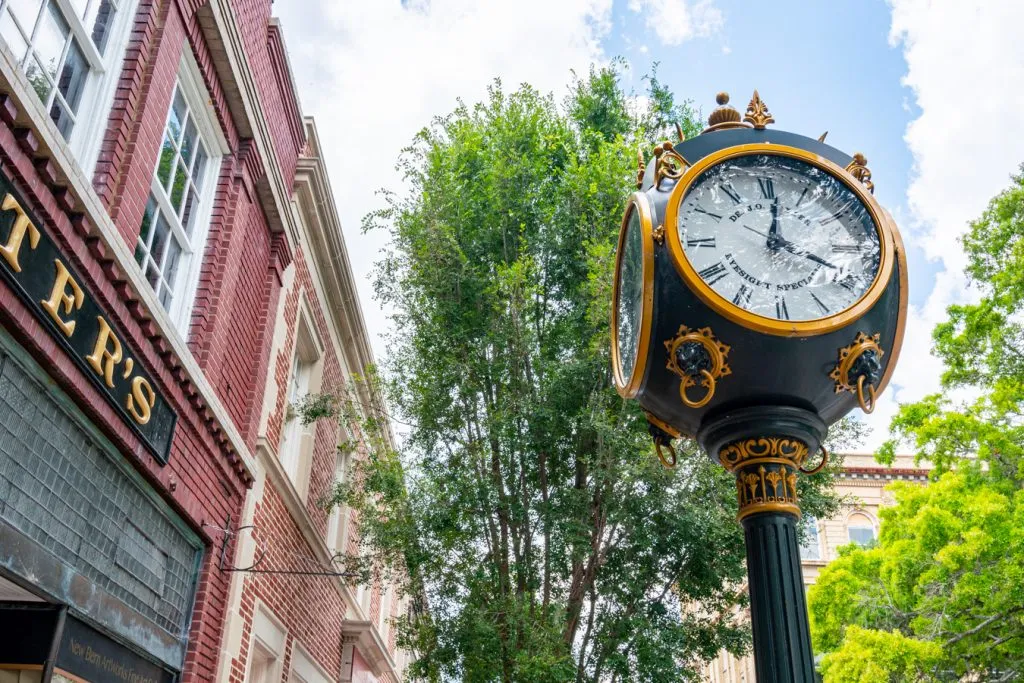 Tour the (in)famous Tryon Palace.
Originally commissioned by Royal Governor William Tryon, Tryon Palace was initially completed in 1770 and later served as the very first capital of the state of North Carolina.
The building was controversial from the start, with heavy criticisms coming from North Carolinians who felt that their tax dollars were being misused to provide luxury to the British Governor.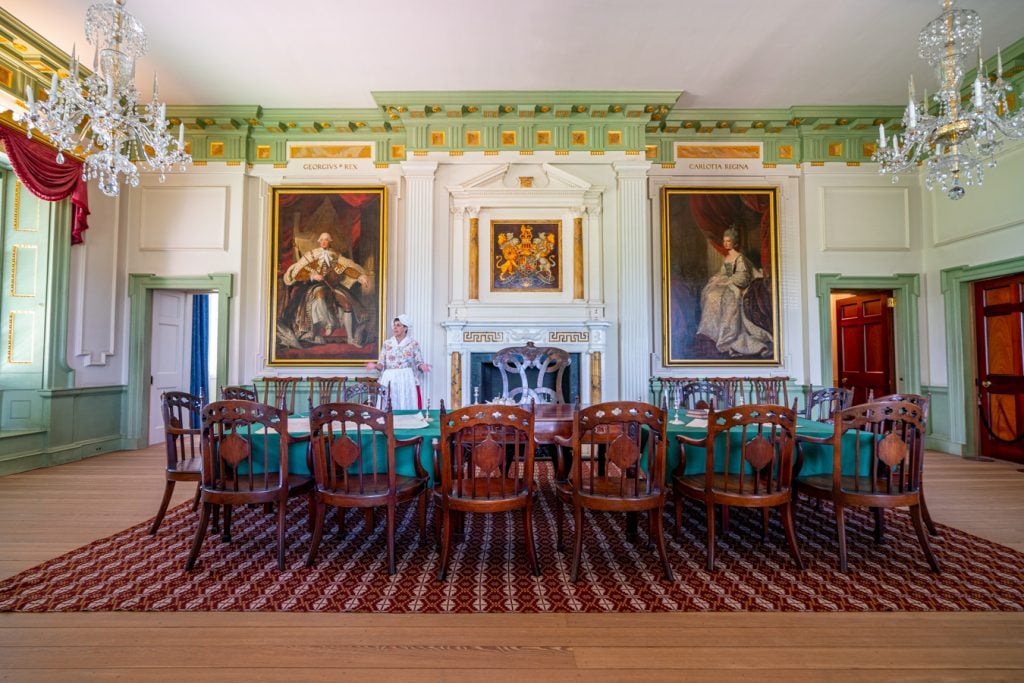 The original palace didn't even see the 19th century, though: in 1798, it was destroyed in a fire.
Today, the rebuilt Tryon Palace offers a window into one small piece of 18th-century North Carolina, complete with interpretive tours and sprawling gardens.
The current building opened in 1959 and was carefully designed and furnished with period-appropriate pieces.
The tour is interesting and well worth taking–there's no doubt that visiting Tryon Palace is one of the best things to do in New Bern!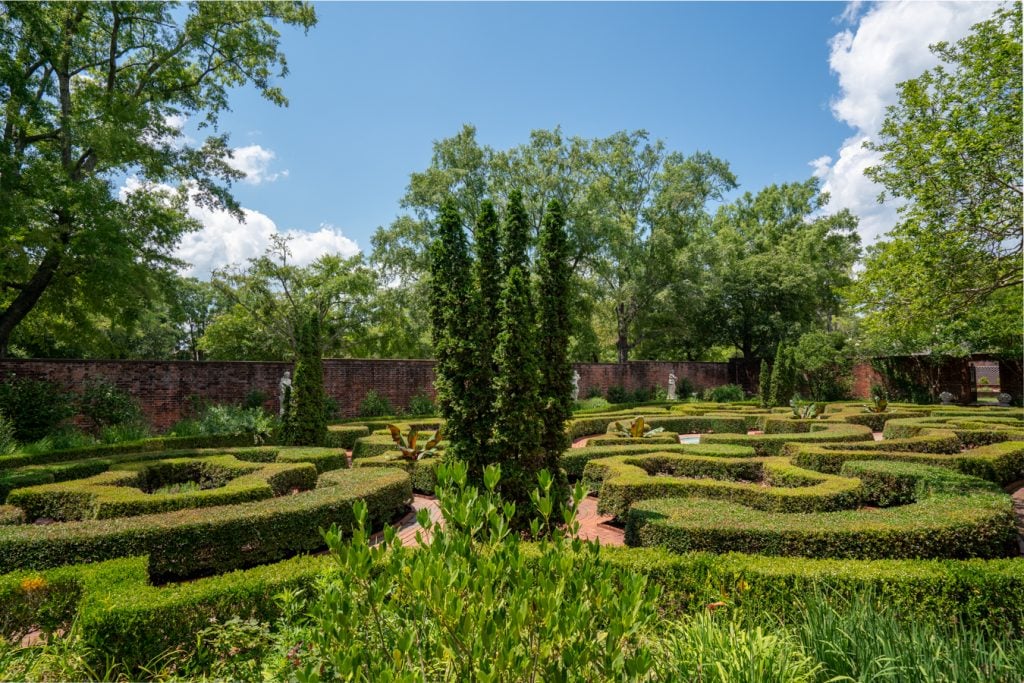 Grab a drink at the cozy Birthplace of Pepsi-Cola.
Did you know that Pepsi was invented in a pharmacy right here in New Bern?
In 1893, pharmacist Caleb Davis Bradham started selling "Brad's Drink" from his pharmacy.
In 1898, the drink's name was changed to Pepsi-Cola, and the rest is history!
Today, you can grab a Pepsi and wander through the Birthplace of Pepsi-Cola, which is now an old-fashioned soda bar/museum/store combo that is located on the sight of the original pharmacy.
The building is fairly small, so it doesn't require much of a time commitment, but it's one of the most classic New Bern attractions for good reason!
Explore the North Carolina History Center.
Located near Tryon Palace, the North Carolina History Center is enormous–which, considering it covers more than 300 years of New Bern's history, isn't surprising!
Entry to the center is included with a visit to Tryon Palace.
And, while the North Carolina History Center is technically one entity, each section of exhibits is separated enough that it often feels like you're visiting multiple museums in one go!
With exhibits covering New Bern's history from many angles and time periods, as well as on-site dining options and an easy-to-access location on the river, history buffs could easily spend hours delving into the North Carolina History Center.
Snap photos with New Bern's quirky bear statues.
When New Bern turned 300 in 2010, several bear statues were commissioned to celebrate–and today, a whopping 80 of them can be found around town!
New Bern was named for the capital of Switzerland–and in the Bernese German dialect of that area, "Bern" means "bear".
Hence, welcome to Bear Town!
If you keep your eyes peeled when visiting New Bern, odds are that you'll happen across a dozen or so of the bear statues without even trying.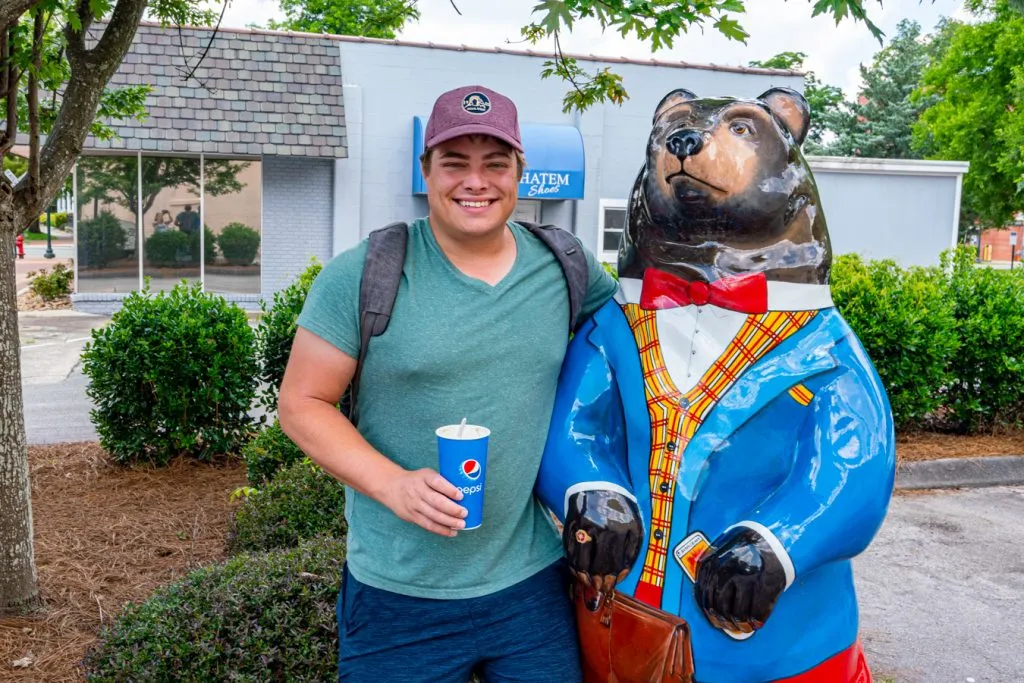 Tour the New Bern Civil War Battlefield Park.
On March 14, 1862, Union forces won control of New Bern at this very battlefield–control that the Union would then maintain for the rest of the war.
The battle raged for 6 hours, and more than 1000 soldiers are estimated to have lost their lives as a result.
Today, you can find a visitor's center, quiet walking trails, and interpretive plaques exploring the history of the battle at the site.
The park is owned and maintained by the New Bern Historical Society, and is free to visit.
Downloadable audio guides are also available.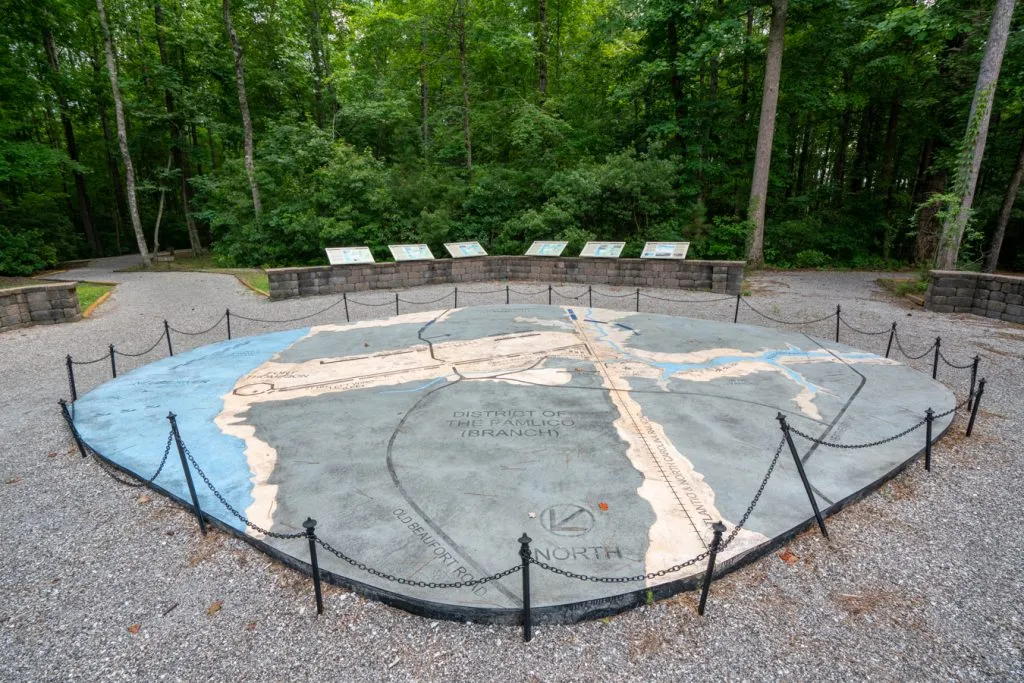 Stroll through Union Point Park.
Located right where the Neuse and Trent Rivers meet, popular Union Point Park features a fishing pier, excellent river views, plenty of open green space, and–of course–some bear statues.
If you're looking for a charming place to relax and enjoy a picnic or just an afternoon break from sightseeing in New Bern, Union Point Park is the place to be.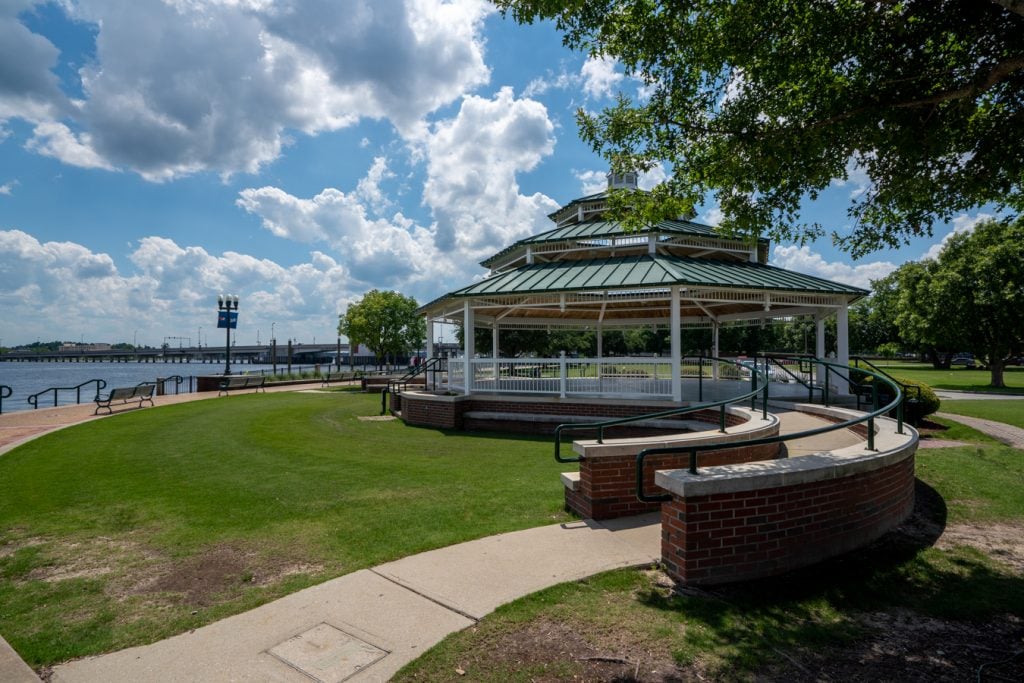 Check out the New Bern Firemen's Museum.
Fun for kids and adults like, the New Bern Firemen's Museum (sometimes called the New Bern Fire Museum), explores the history of firefighting in New Bern.
As the home of the first chartered fire company in North Carolina, the history of firefighting in New Bern–like most aspects of New Bern's history–is a long story.
The museum also details the devstating 1922 fire in New Bern, which destroyed more than 1000 buildings in the historic city.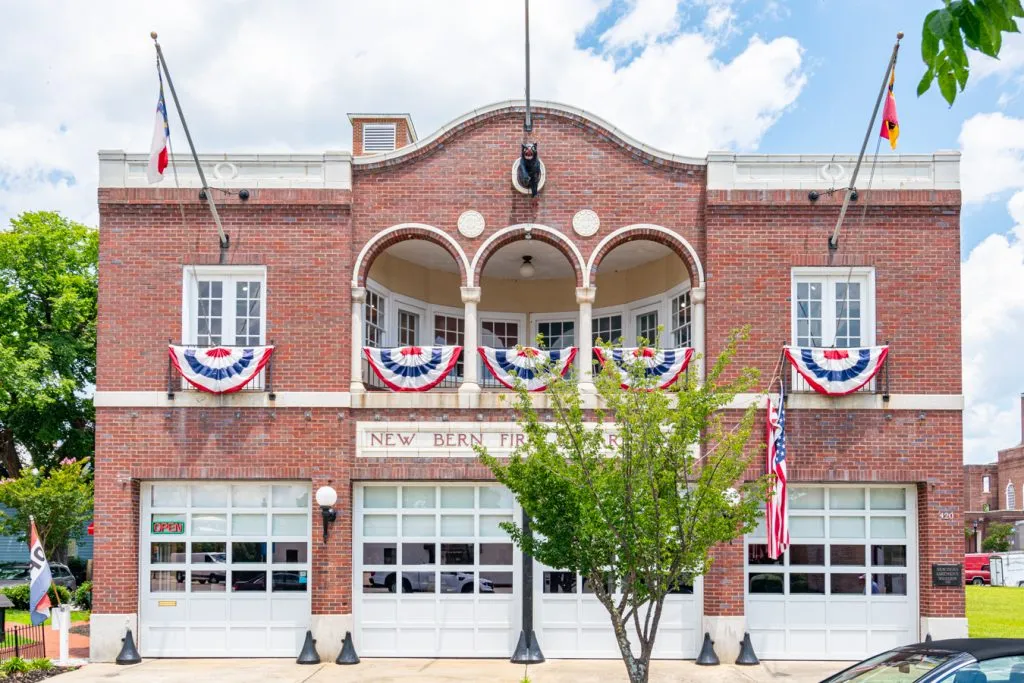 Admire New Bern's beautiful historic churches.
New Bern's center is home to several historic churches, often surrounded by beautiful, shady gardens.
Christ Church and the First Baptist Church are two excellent places to start (and you'll no doubt walk by them both as you explore the top things to do in New Bern).
Enjoy some peace and quiet at Lawson Creek Park.
Stretching onto a small peninsula in the Trent River, Lawson Creek Park covers 140 acres in New Bern.
Whether you want to launch a kayak, go fishing, or simply enjoy the nature trail that winds around the perimeter of the park, Lawson Creek Park is a great place to enjoy local nature and belongs on any list of what to do in New Bern.
Explore New Bern's African-American history.
Hoping to focus on local Black history during your trip to New Bern?
Like all history in the area, there are many stories to share!
Even before the Civil War, New Bern was home to a vibrant community of free Black men, women, and children, and their stories and the stories of those who came after them continue to be told in New Bern today.
Whether you're looking for a self-guided walking tour or a deep dive into a specific location, you'll find options ranging from Queen Street to Tryon Palace and beyond.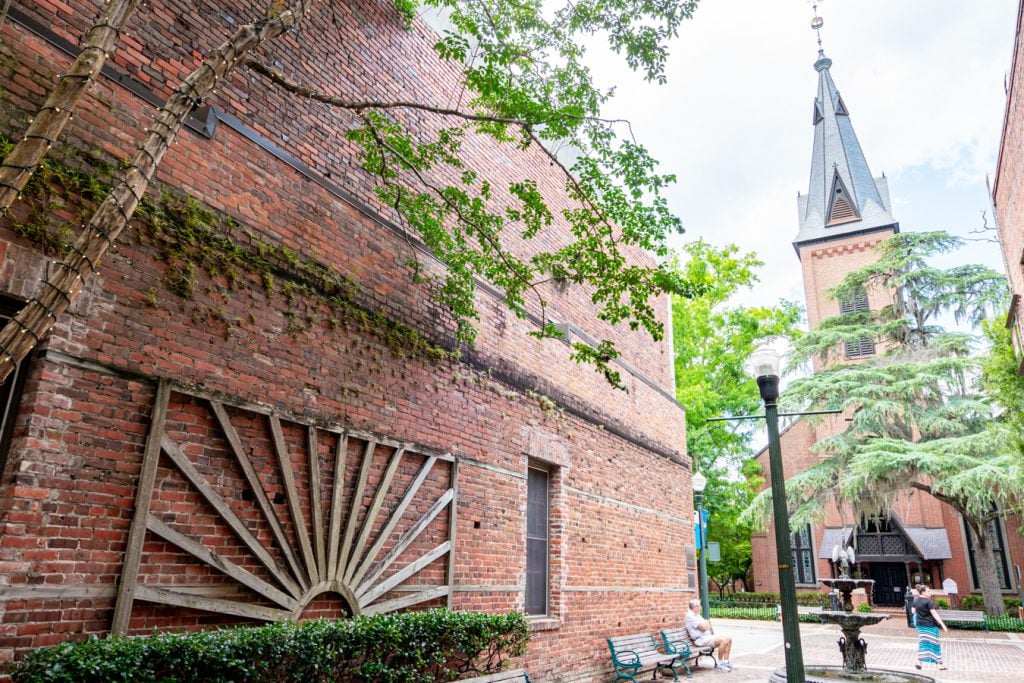 Appreciate the beauty of the Croatan National Forest.
Technically located just outside of New Bern and stretching to the coast, a stroll through the peaceful Croatan National Forest is the perfect way to appreciate the natural landscape of the Inner Banks region.
The Island Creek Forest Walk Trailhead is located just a short drive from town, and from March to October, is one of the best things to do near New Bern!
You can check out a full map of the forest here.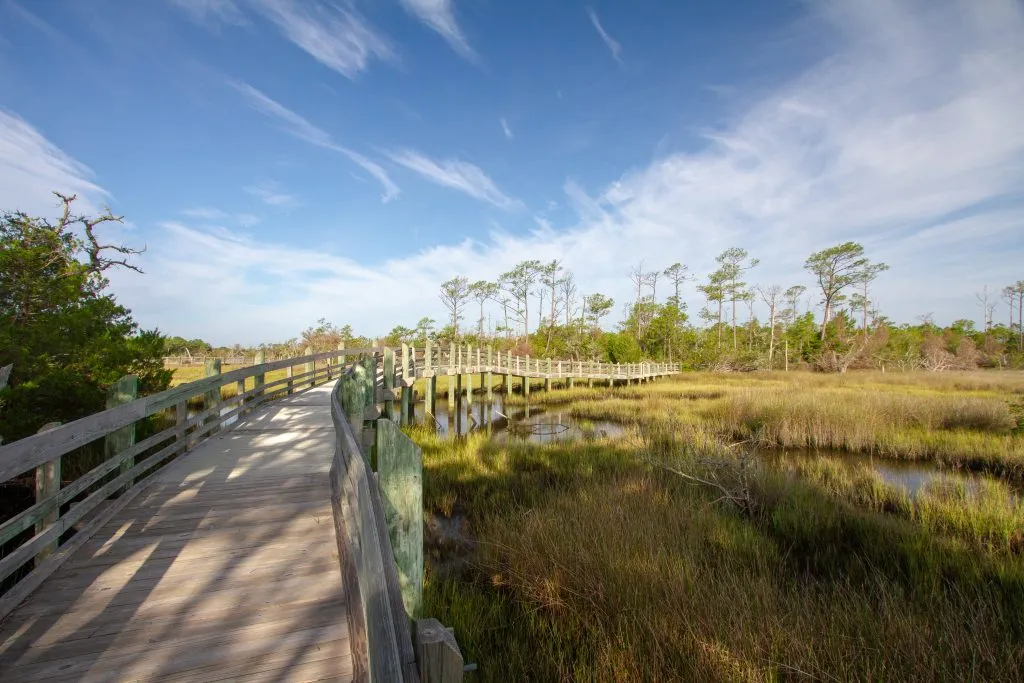 Snap a photo with the clock tower at New Bern's City Hall.
This historic, 19th-century building adds charm to downtown New Bern.
And–if you squint and look closely–you can see a tiny amount of Swiss architectural inspiration in the clock tower, paying homage to the town name's origins!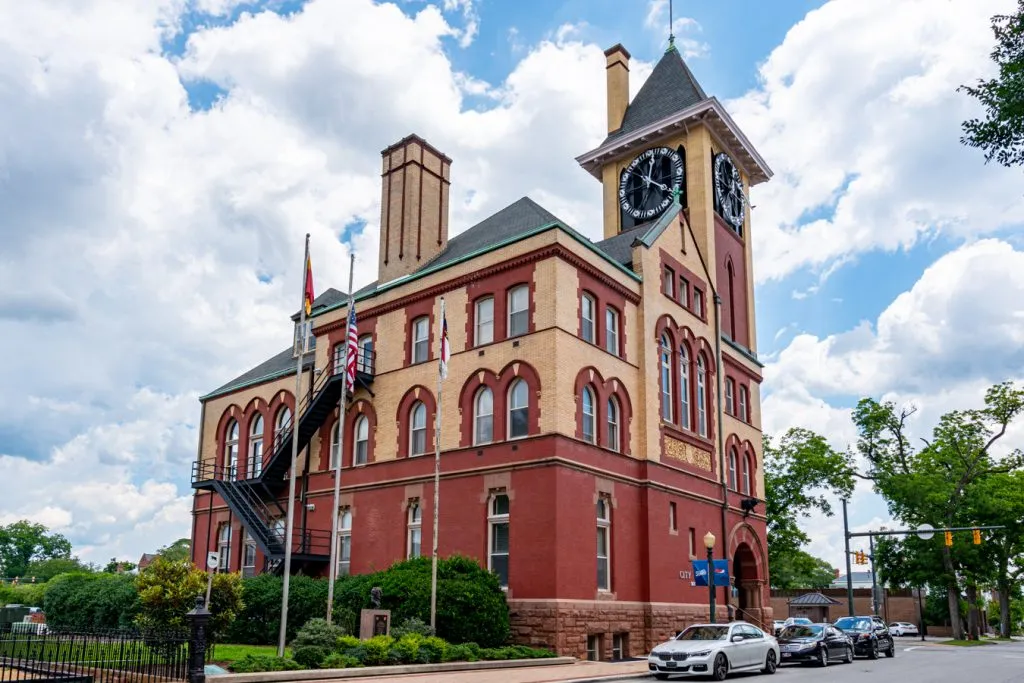 Discover local artists at the Gallery Bank of the Arts.
Housed in a historic bank building in downtown New Bern, the Gallery Bank of the Arts is run by the Craven Arts Council and is one of the best New Bern attractions to visit!
Featuring rotating exhibitions, this gallery focuses on local and regional artists.
Since the exhibits change regularly, you never know what you might find next!
Check hours and visitor information here.
Step inside The Next Chapter to find your next book.
As a self-professed bibliophile, it was easy to fall in love with The Next Chapter!
Owned by a local author (Michelle Garren-Flye), this cozy shop features new and used books and art, with a focus on local artists.
Set across a few rooms, The Next Chapter has that cluttered, slightly chaotic feel that the best bookstores do–as you move from room to room, you can't be quite sure what you'll stumble upon next!
The Next Chapter does have somewhat limited hours, so be sure to plan ahead if you have your heart set on visiting!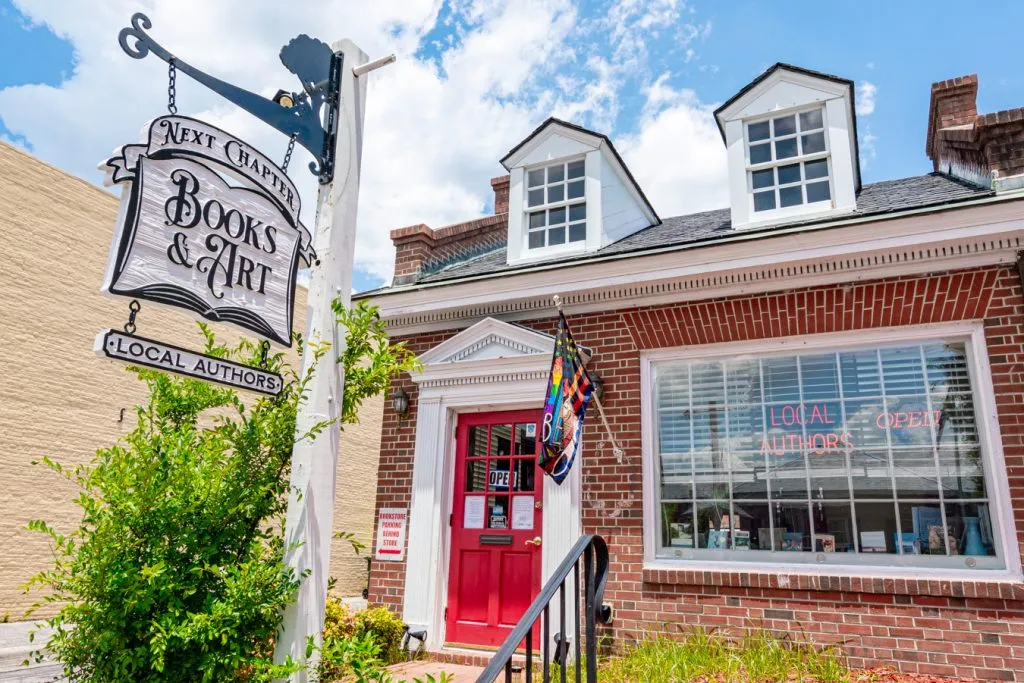 Tour the historic Attmore-Oliver House and Gardens.
Dating from 1790, the handsome Attmore-Oliver House is a beautiful example of New Bern's historic architecture.
Today, the building serves as the headquarters of the New Bern Historical Society, though if you'd like to step inside, you can tour part of the house by appointment.
The beautiful gardens, though, are open daily and are among the best places to visit in New Bern, NC.
Explore New Bern's excellent restaurant scene.
Like most Southern cities, there is no shortage of absolutely divine restaurants in New Bern!
A few popular options include The Chelsea, Persimmons, and Morgan's Tavern.
If you have your heart set on eating at one of the more popular New Bern restaurants, especially for dinner during the summer months, strongly consider making reservations in advance!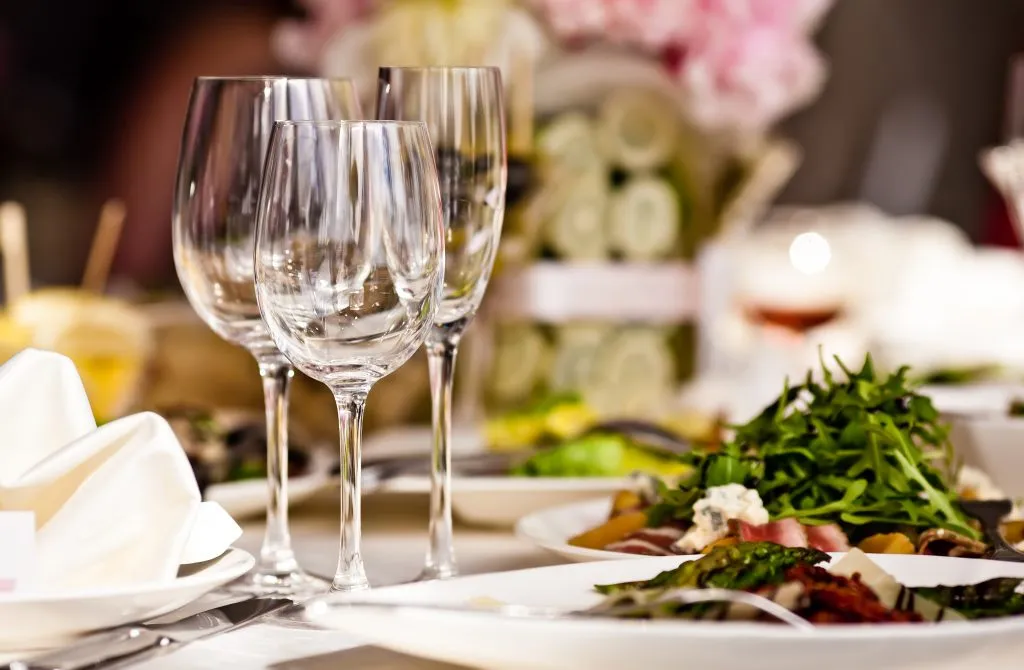 Where to Stay in New Bern, NC
Looking for the best places to stay in New Bern?
These are a few of the top-rated hotels near the historic core of the city, each featuring raving reviews and a walkable location near the water.
From any of these hotels, you'll be able to stroll to some of the best activities in New Bern without worrying about moving your car!
Classic Bed and Breakfast
Hanna House Bed & Breakfast — For a full southern bed and breakfast experience, you can't go wrong with a stay at the popular Hanna House Bed & Breakfast!
Located less than 2 blocks from Middle Street, Hanna House offers beautifully decorated rooms and a fantastic breakfast each morning.
River Views + A Pool
Doubletree by Hilton New Bern Riverfront — For a modern hotel located right along the harbor, New Bern's Doubletree location is a perfect choice!
From the Doubletree, you can admire the Trent River from your room and then make your way to Union Point Park in only 5 minutes.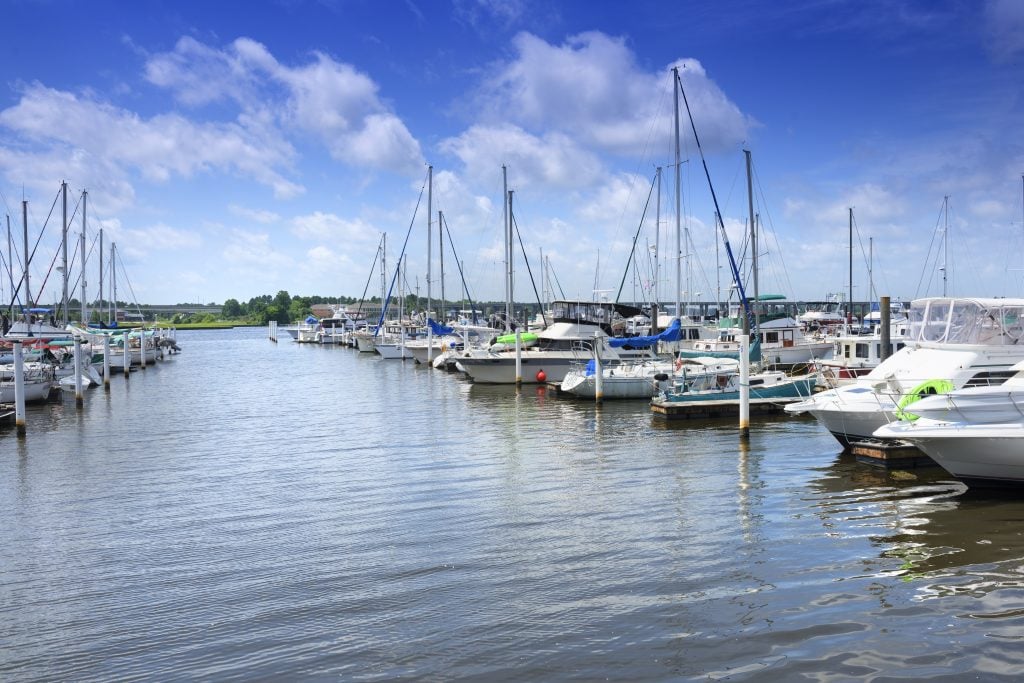 Courtyard by Marriott New Bern — Featuring modern rooms and an excellent location along the Neuse River, the New Bern Courtyard by Marriot is an excellent place to stay in New Bern.
From the Courtyard by Marriott, all of New Bern's historic center is at your fingertips.
Getting Around When Visiting New Bern
While New Bern's downtown core is surprisingly walkable, you'll definitely want a car with you when visiting!
Destinations outside the historic center, such as the Battlefield Park and Croatan National Forest, will require you to drive.
Many visitors road trip into New Bern, but if you'd like to fly in (perhaps as the kick-off to a road trip through North Carolina's best beach towns), the Coastal Carolina Regional Airport is also located in town.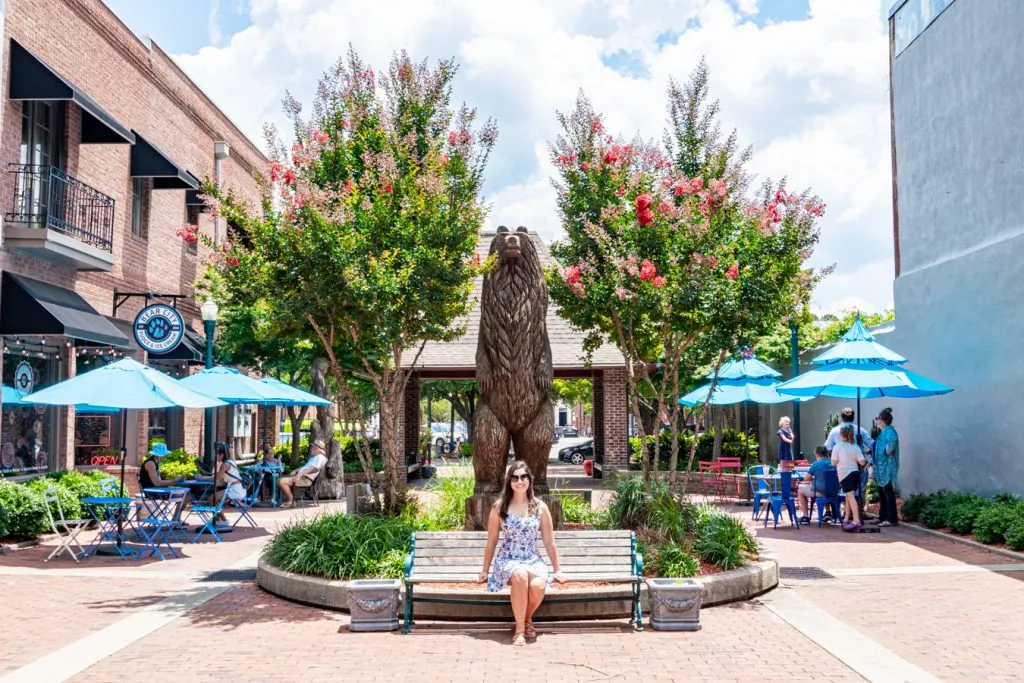 I've flown in and out of there a handful of times, and the airport is minuscule, with only 3 gates (it ranks up there with Cappadocia, Turkey, and Vilanculos, Mozambique as one of the smallest airports we've ever visited), but it gets the job done.
If you need to rent a car for your trip to New Bern, we highly recommend searching for competitive prices and rental contracts through Discover Cars.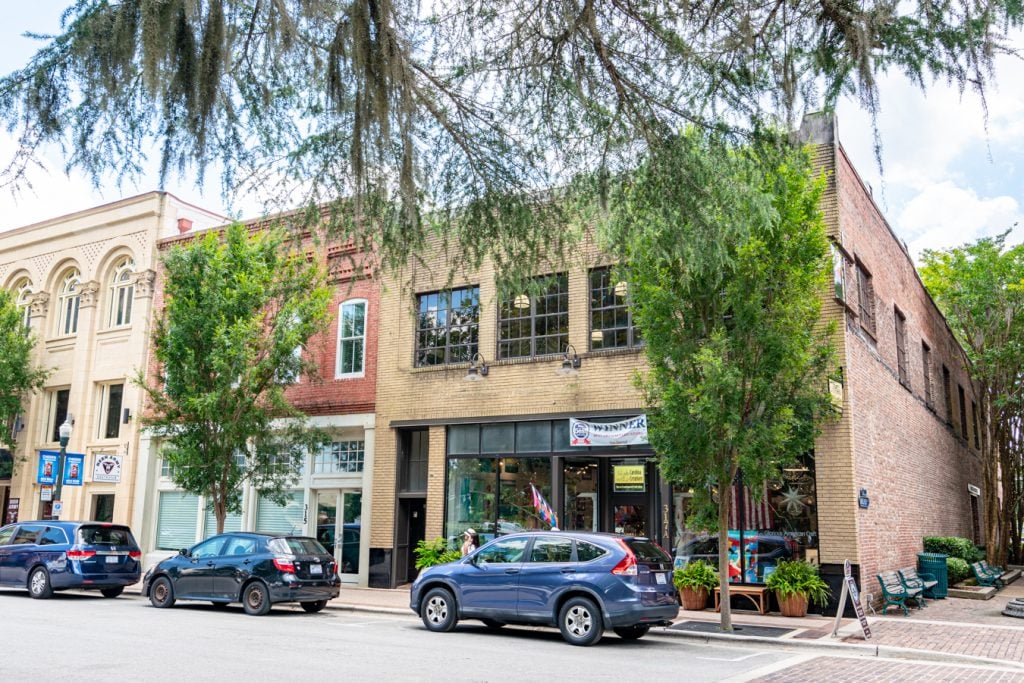 Beaches Near New Bern, NC
As a riverfront city located in the "Inner Banks" region of North Carolina, New Bern is tantalizingly close to being a beach town–but it definitely is not, and there are no specific New Bern beaches!
If ocean waves are what you're after, you'll find Atlantic Beach less than an hour east of New Bern.
Growing up, we visited Atlantic Beach every summer, and passing New Bern was always my sign that we were "almost" there–the drive goes quickly!
If you're interested in NC history, be sure to also visit Fort Macon and Beaufort while you're down on the Crystal Coast.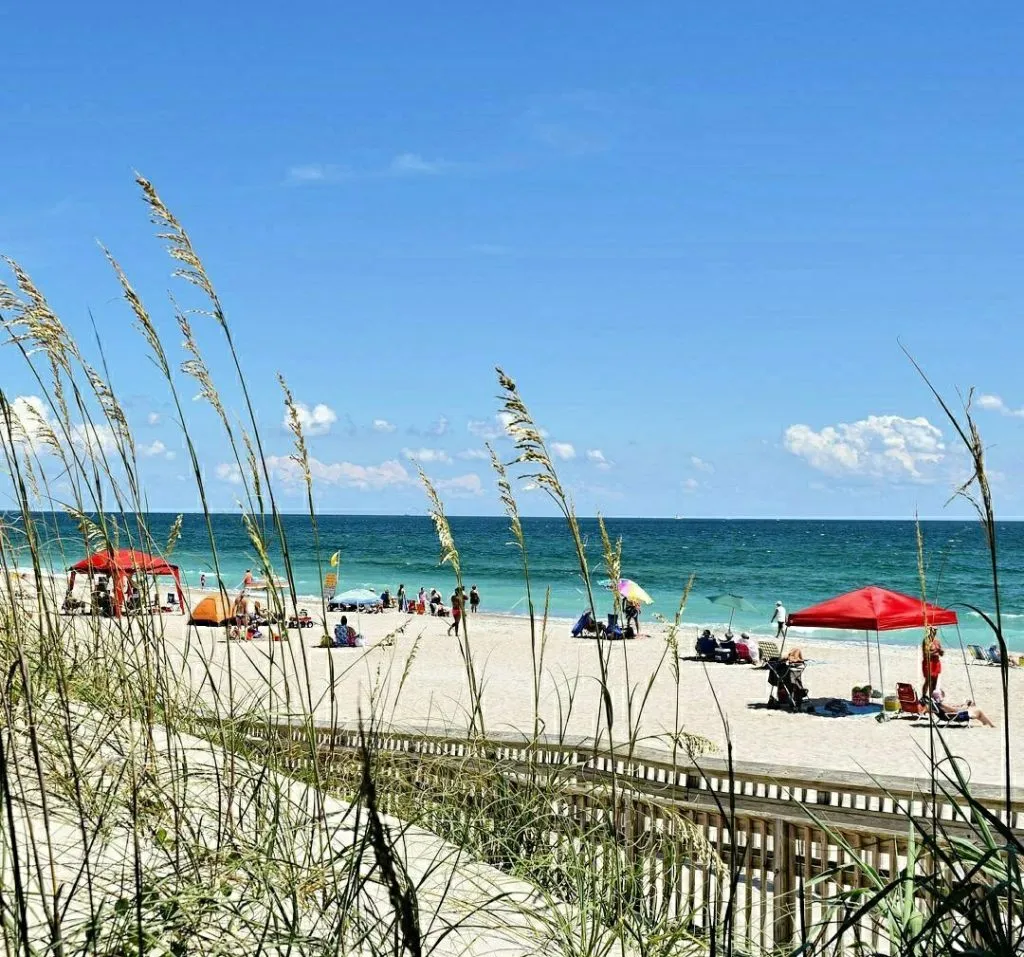 Outlander in New Bern, North Carolina
Any other Outlander fans around?
Jeremy and I have loved following Jamie and Claire's TV adventures since the early seasons in Scotland, but have a particular affection for when the show moves to North Carolina!
As the TV show exclusively films in Scotland, sadly New Bern doesn't have any filming locations to offer–but there are many references to the second-oldest city in North Carolina in the show.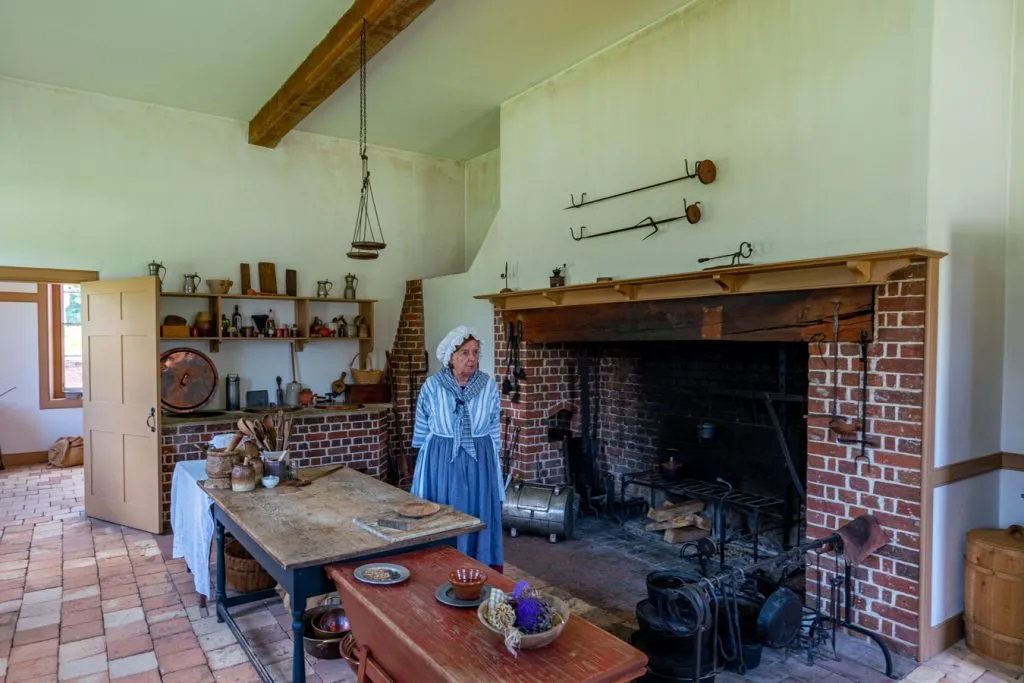 Most notably, Tryon's Palace plays a role in the escalation between the British government and the Scottish Highlanders (and others) who have moved to the region and feel that their taxes are being misused, just as the building did in real life.
If you'd like to learn more about the real history behind Outlander plot points, Tryon Palace does offer a few Outlander-themed tours!
I'll avoid any spoilers for those who are considering giving the show (or books!) a watch/read, but if you're an Outlander fan, it's safe to say that you'll definitely have the Frasers on your mind when exploring some of the best things to do in New Bern, NC.