If you're heading to the Crystal Coast, don't miss a chance to explore Fort Macon– one of North Carolina's most popular state parks!
Fort Macon, NC is an absolutely delightful state park, featuring both a well-preserved historical fort and a phenomenal beach for relaxing and swimming.
It's also a place that I love dearly: of all the beaches in all the world, I have spent more hours on this one than any other–and by quite a wide margin, too!
If you're considering a visit to Fort Macon State Park, here's what to know before you go.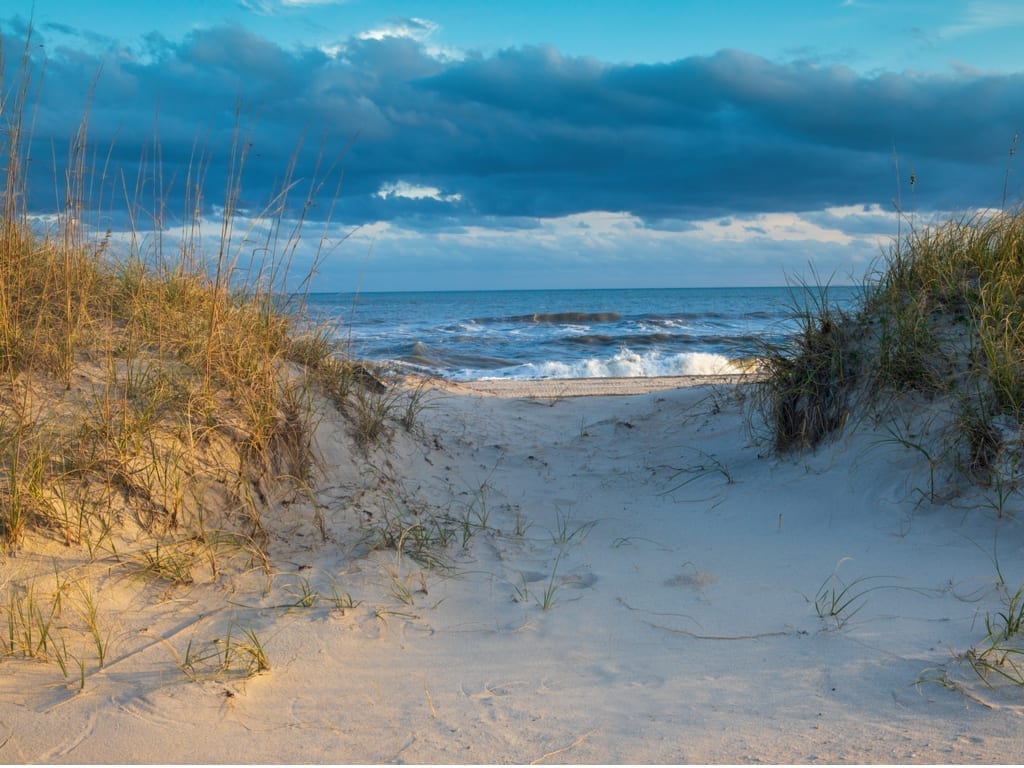 Some links in this post may be affiliate links. If you make a purchase through one of these links, we may earn a small commission at no extra cost to you. Please see our

disclosure policy

for more detail.
A Brief History of Fort Macon, NC
Completed in 1834 after 8 years of construction, Fort Macon, NC is one fort in a series that was built along the eastern coast of the USA following the War of 1812.
The 19th century wasn't the first time a fort was contemplated for the area, though.
Nearby Beaufort was captured by both the British and the Spanish at various points during the 18th century, and also sustained attacks from pirates in the area (Blackbeard included)–a defense system was clearly needed.
In 1756, construction began in the area on Fort Dobbs, which was never completed, and later, a smaller fort named Fort Hampton defended the Beaufort Inlet during the War of 1812 before being unceremoniously swept away by a hurricane in 1825.
Once Fort Macon was built, though, it saw quite a bit of action, starting with being the site of a Civil War battle (the Union captured Fort Macon from the Confederates in April 1862 and kept control of the fort for the rest of the war), and as a federal prison for 11 years during the Reconstruction era.
Later, in the Spanish-American War of 1898, the fort was garrisoned, and notably, was the assigned location of an all-volunteer Black regiment led by all-Black officers, which was extremely notable for the time (and was likely one of the first regiments of its kind). 
Fort Macon was initially purchased by the state of North Carolina in 1924, and with the exception of being garrisoned during World War II, it has been a state park ever since.
Today, Fort Macon is one of the most popular state parks in North Carolina, attracting over a million visitors each year.
The Best Things to Do at Fort Macon State Park
Tour Fort Macon itself.
The Fort Macon of today is well-restored and very interesting to visit–it's well worth checking out before hitting the beach!
Enjoy a beach day.
The beach at Fort Macon is everything you hope for in a North Carolina beach: sandy and clean, with rolling waves, beautiful sand dunes, and excellent sunrises and sunsets.
Go fishing.
There are great year-round fishing opportunities in Fort Macon State Park!
Take a quick hike.
There are a couple of trails at Fort Macon to hike in addition to simply strolling along the beach–that is, if you can tear yourself away from the ocean long enough to enjoy them.

Tips + Logistics for Visiting Fort Macon, North Carolina
Fort Macon State Park is free to visit.
With the exception of using the indoor bathhouse at the beach, Fort Macon State Park is completely free to visit–fort, beach, trails, and all.
There are showers, changing rooms, and restrooms at the beach.
All but the restrooms are seasonal and close during the winter, but during the busy summer months, there are plenty of services!
There's a snack counter at the beach (open seasonally).
Prices are a little steep as compared to shopping in Atlantic Beach or Morehead before arriving at the park, but if you'd like a quick snack, basic foods and cold drinks are available.
The picnic areas are always available.
… and come complete with grills!
During the summer, there are lifeguards at the beach.
Lifeguards are typically on duty at Fort Macon State Park from 10:00 AM to 5:45 PM, Memorial Day through Labor Day.
The beach is open year-round, but outside the summer months, swimming is undertaken only at your own risk.
Be cautious of currents.
The currents at Fort Macon can get very strong–for that reason, it's recommended to only swim in the protected areas.
Consider touring the fort before visiting the beach.
It doesn't take too long to tour Fort Macon, but the fort itself is incredibly well-preserved and worth taking the effort to see before getting sandy!
The typical visit to the fort itself lasts about an hour.