With its beautiful 18th-century architecture, dripping Spanish moss, delectable food, and variety of things to do, there's no doubt that spending one day in Savannah, GA, is always worth it.
No matter how long or far we travel (50+ countries and counting!), we will always rank Savannah among our favorite cities in the world, and continue visiting again and again.
At this point, we're losing track of how many times we've visited Savannah, but this is what I do know: we'll never be "done" with the city, and we'll also never regret taking the opportunity to visit, no matter how short of a trip it is.
We've lovingly designed this one day Savannah itinerary to show off the beauty of one of our all-time favorite places, and hope that it will help you make the most of your 24 hours in Savannah (or even less–you can use this as a guide to a day trip to Savannah, too!).
Here's how to see the best of Savannah in a day!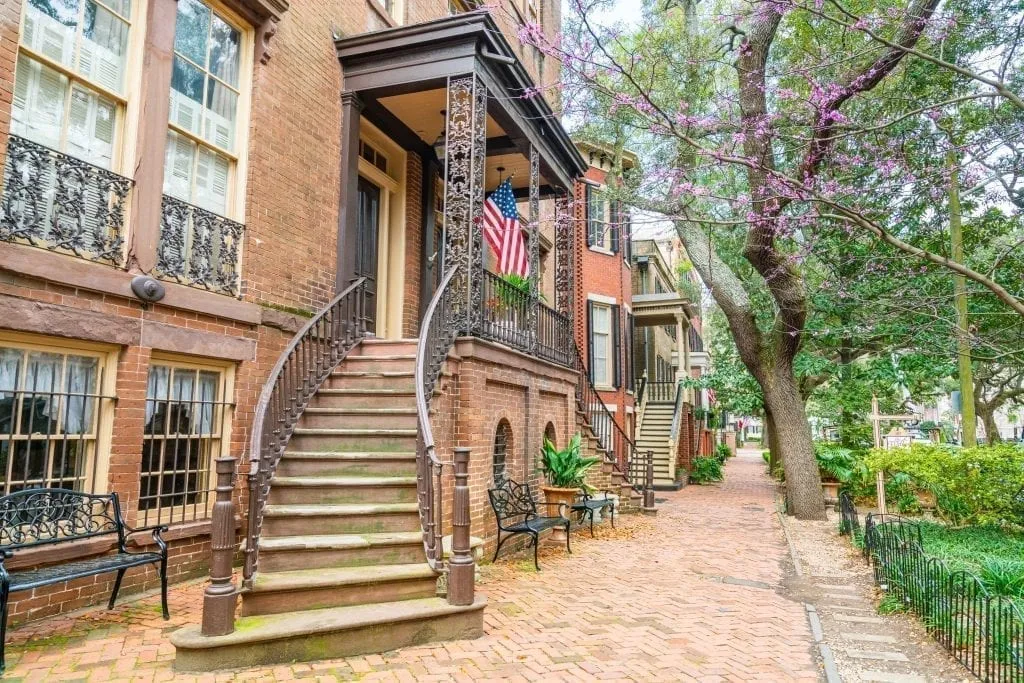 The Perfect One Day in Savannah Itinerary
Start your morning with a stroll through Forsyth Park.
Savannah's beautiful Forsyth Park is centrally located, packed with beautiful oak trees, and home to the city's iconic Forsyth Park Fountain.
It's also lined with stately homes and properties, and makes an excellent first stop during your day in Savannah!
Forsyth Park is also home to your next stop, which you won't be able to miss when wandering through the park…
Enjoy brunch at The Collins Quarter.
The Collins Quarter is easily one of the most popular brunch places in Savannah, for good reason.
Their food, coffee, and atmosphere make for the perfect combination!
While we love the original location on Bull Street, when trying to see Savannah in a day, it's better to stick with the second location inside Forsyth Park.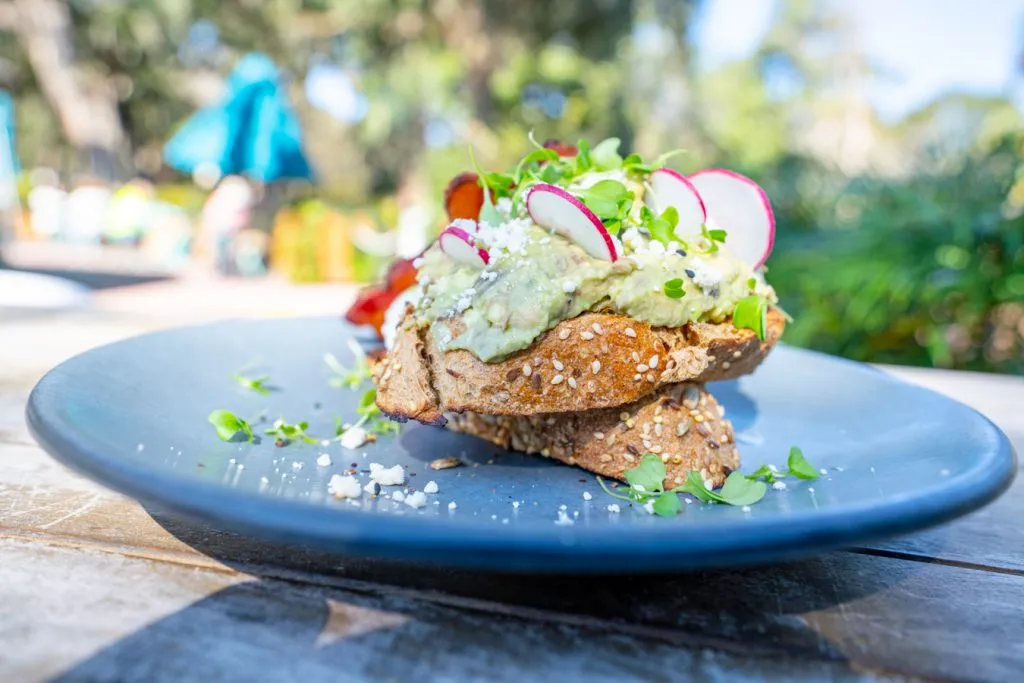 Also, let me be approximately the 772nd person to recommend the spiced lavender mocha from The Collins Quarter in a Savannah blog post: I generally don't even like lavender in my food, and this drink is still in the running for the best coffee I've ever had in my life.
Seriously. It is that good.
Not a chocolate fan? The Madagascar vanilla latte is a very close second.
Keep in mind that The Collins Quarter doesn't take reservations for brunch!
We highly recommend putting your name down as soon as you arrive at the park, and then enjoying through Forsyth Park as you wait.
Make your way up to Monterey Square.
A short walk north of Forsyth Park, you'll find the gorgeous Monterey Square.
You can find 22 of Savannah's original 24 town squares in town today, and Monterey Square is a fantastic first example to visit.
While you're there, be sure to keep an eye out for two interesting Savannah attractions that you'll find on the edges of the square!
With only a day in Savannah to work with, odds are that you won't tour either of these spots–but it's worth checking out the exteriors as you pass by.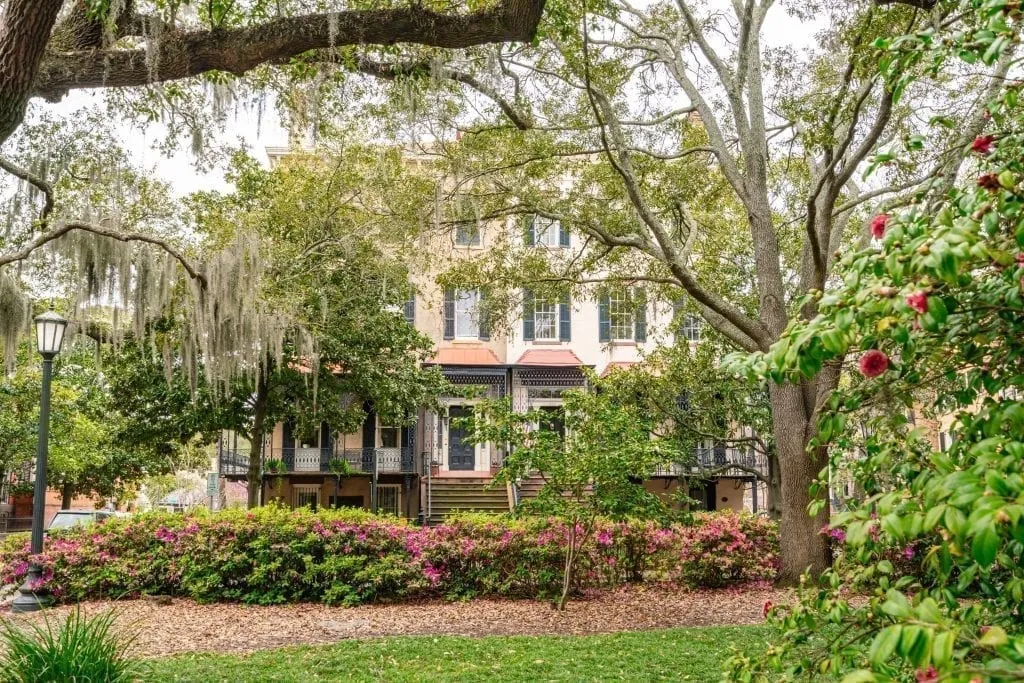 Mercer Williams House
This is the former home of Jim Williams, a notable antique dealer in Savannah who was tried (and acquitted) four times for the 1981 murder of Danny Hansford.
This murder mystery is one of Savannah's most famous and was the subject of the incredibly famous book Midnight in the Garden of Good and Evil, which you should definitely start reading immediately as you plan your Savannah getaway.
Because Jim Williams' sister owns the house, its most famous story is decidedly not told on the tour, which instead focuses on Jim Williams' impressive collection of antiques and eclectic objects from around the world.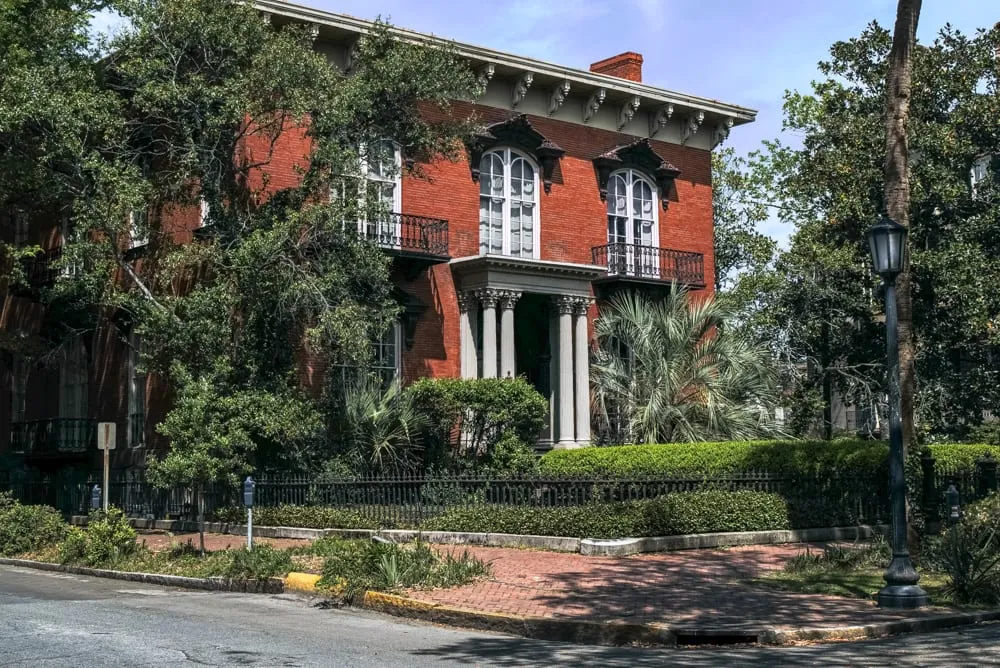 Congregation Mickve Israel
Congregation Mickve Israel is one of the oldest Jewish congregations in the USA, founded in 1733 (the synagogue itself dates to 1820).
In addition to interesting history and a beautiful synagogue, Congregation Mickve Israel is also in possession of some incredible historical artifacts.
Its notable artifacts include a 15th-century deerskin Torah that is the oldest in North America, and a Torah belonging to a congregation in the Czech Republic that made its way to the USA during the Holocaust.
Guided tours take about 45 minutes.
Head over to Calhoun Square.
No day in Savannah is complete without a stop by as many squares as possible!
A couple of blocks east of Monterey Square, you'll find Calhoun Square, which is a great place for a quick walk and/or rest in the shade.
(It's also home to some of the most grisly legends and/or ghost stories in Savannah, but those are stories for later tonight).
From Calhoun Square, turn north and head up to Jones Street.
Be sure to pause to snap some photos on beautiful East Taylor Street on the way!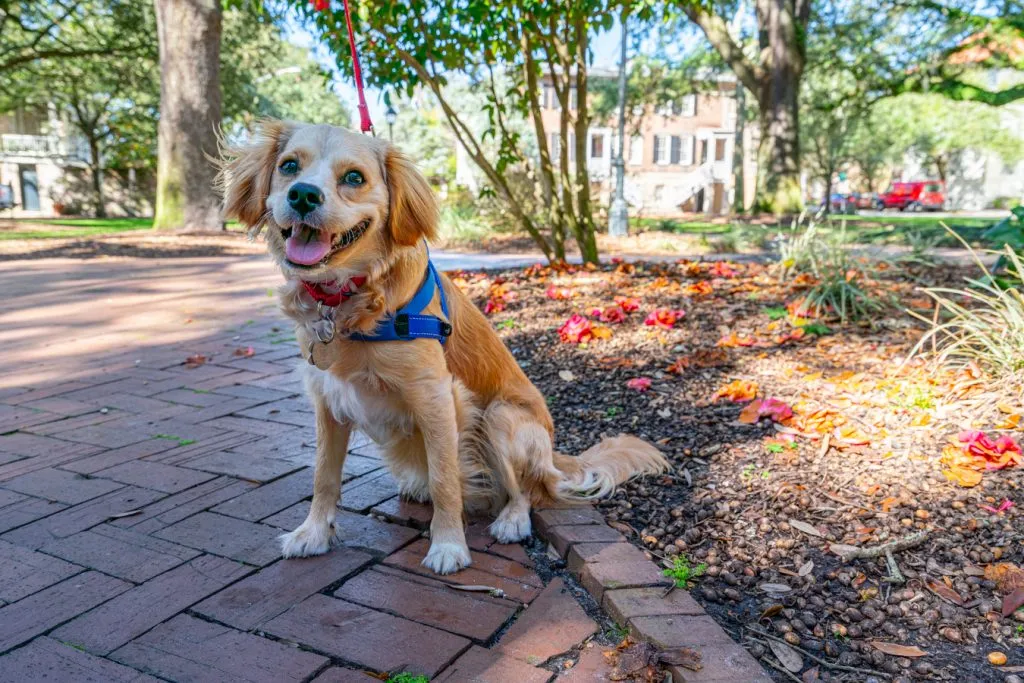 Stroll down stunning Jones Street.
Frequently hailed as the most beautiful street in America, Jones Street is an absolutely stunning place to snap gorgeous photos of Savannah.
Lined with mature oak trees dripping with Spanish moss, magnificent mansions, cobblestone staircases, and plenty of American flags for a pop of color, Jones Street happens to be one of my favorite places to visit in Savannah.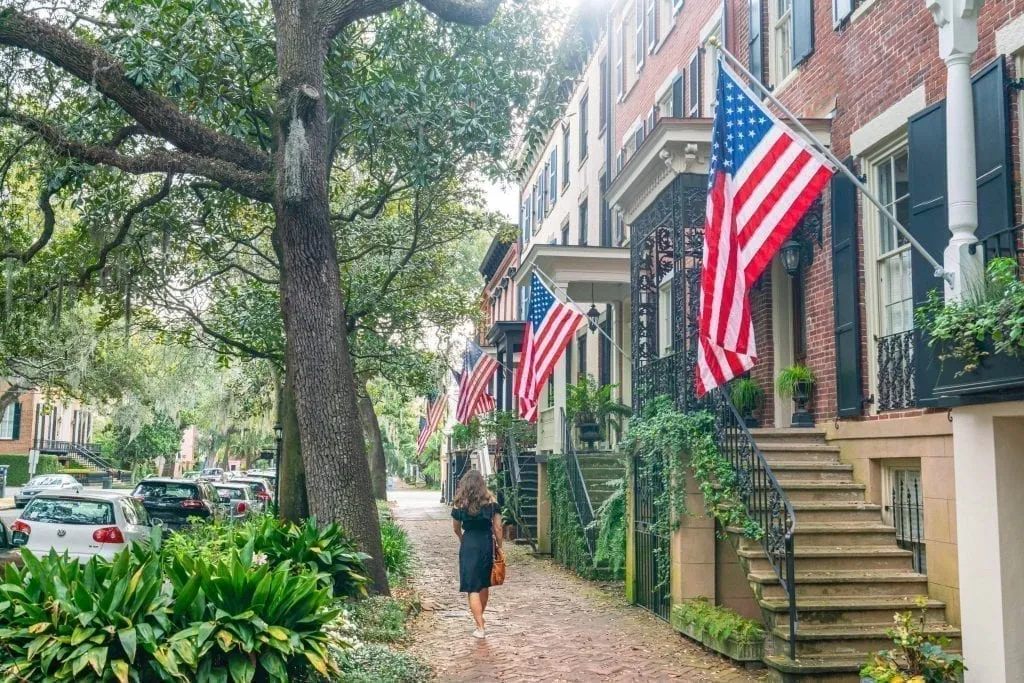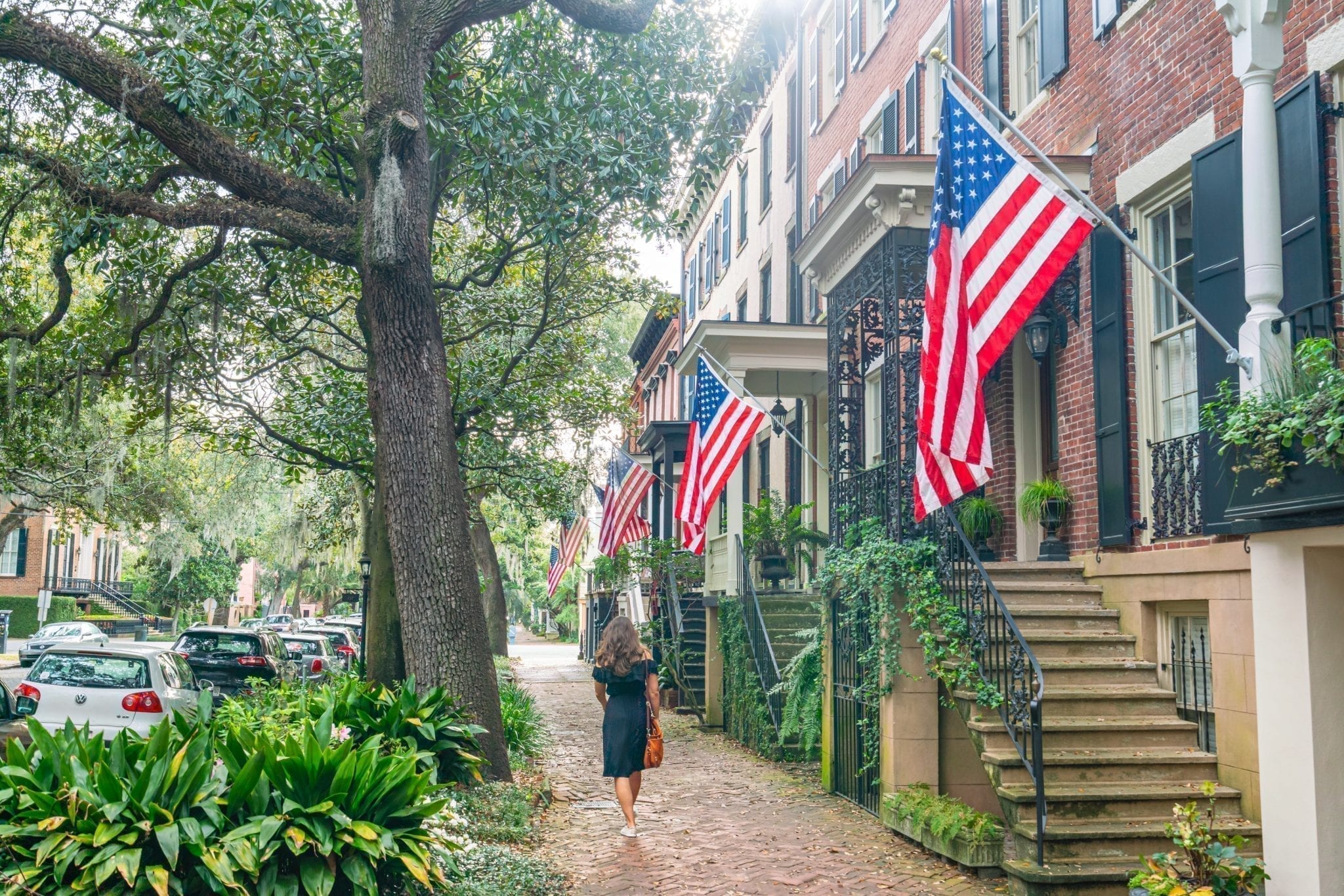 Pay a visit to the Cathedral Basilica of Saint John the Baptist.
When Savannah was established as a colony in 1733 and the city as we know it today was founded, a few surprising things were immediately outlawed, among them slavery, lawyers… and Catholics.
That quickly changed, however, once founder James Oglethorpe (who worked closely with the local Yamacraw tribe and its chief Tomochichi in the early years of the city) returned to Britain, and by the 1790s, there was an early Catholic parish in Savannah.
The current, beautiful cathedral we see today was built at the turn of the 20th century, and is among the most stunning houses of worship we've ever seen in North America.
Don't miss a chance to step inside during your short trip to Savannah!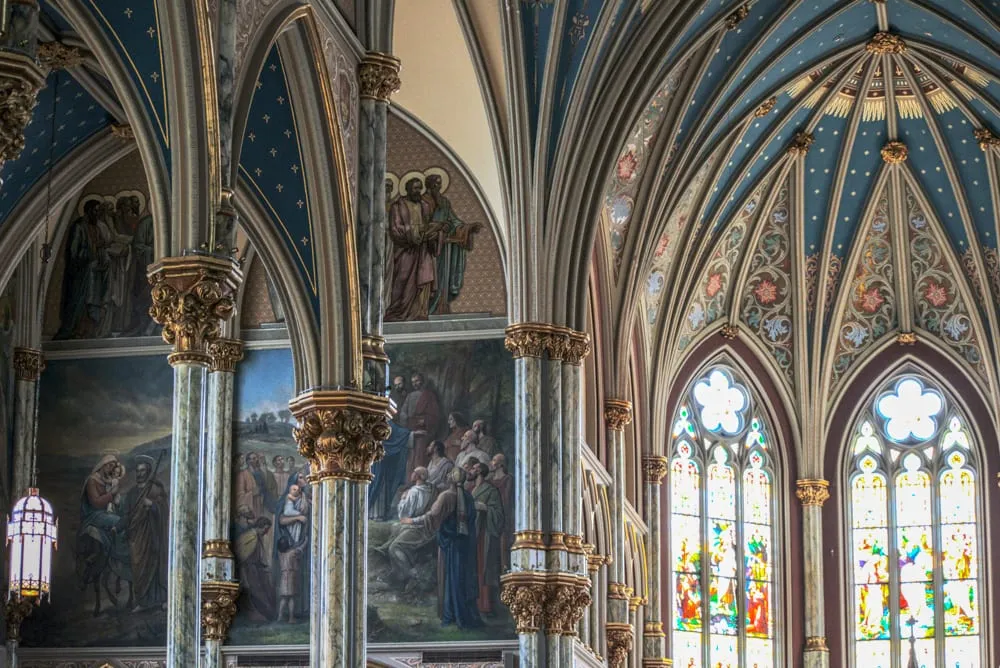 Wander through Chippewa Square.
Possibly one of the most iconic squares in Savannah, you can't miss Chippewa Square during your 24 hours in the Hostess City!
Not only is the square itself charming and peaceful, it's home to an iconic cinematic moment: this is where the bench that Forrest Gump waited for the bus on once lived.
The actual bench is now in the Savannah History Museum, but the backdrop remains.
You'll also find Gallery Espresso (one of our favorite Savannah coffee shops), the facade of the gorgeous Savannah Theatre, and the Foley House Inn (one of our favorite hotels in Savannah and one of its many reportedly haunted hotels) on the edges of Chippewa Square.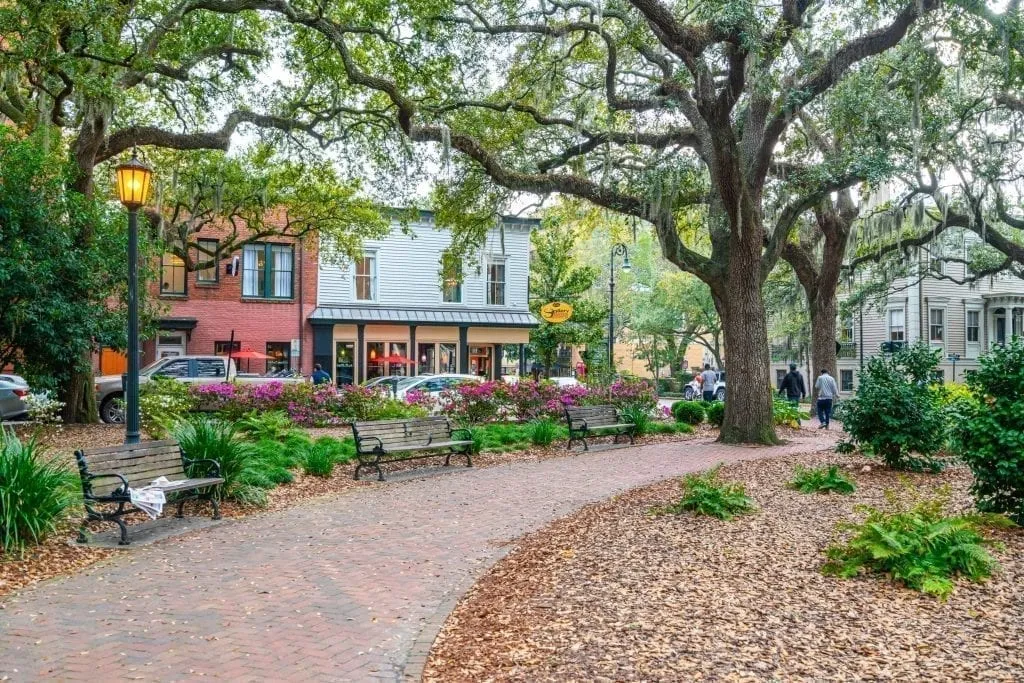 Optional: tour a house museum.
Savannah is packed with beautiful and fascinating house museums, each with their own focus and story to tell.
Since you're trying to see Savannah in a day, you may not want to eat up 1+ hours of your time inside, which I completely understand!
If you're a history and/or architecture buff, though, or you're looking for an indoor activity (say, to escape the heat), now is a great time to duck inside a museum.
The Owens Thomas House & Slave Quarters is an excellent option that tells a holistic story of Savannah's mansions–the good, bad, and horrendously ugly.
Former (or lifelong) Girl Scouts may opt for the Juliette Gordon Low Birthplace, where the founder was born and raised.
Alternatively, you could move your house museum tour to the morning and step inside the setting of Midnight in the Garden of Good and Evil with a tour of the Mercer-Williams House as we discussed above.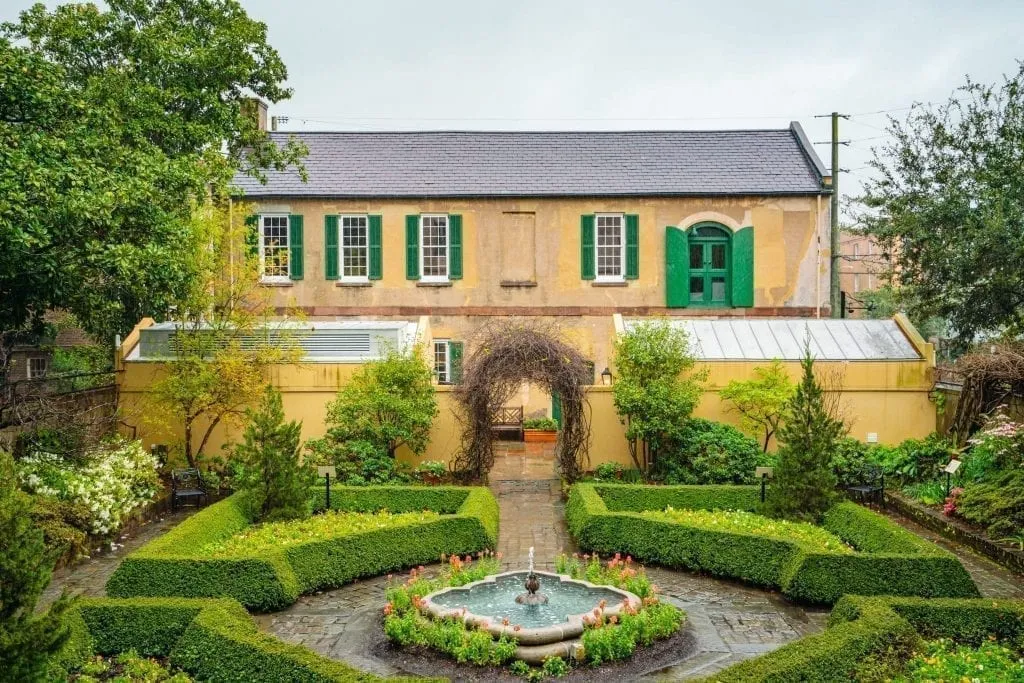 Boutique hop along Broughton Street.
Savannah's premier shopping street is home to some of the best boutiques and restaurants in the city and is a fabulous place for photos, shopping, and snacks.
You'll see several national and international chains on the street, but the real standouts are the independent boutiques.
You won't want to miss The Paris Market & Brocante (truly a wild place–don't miss the basement!) or the Savannah Bee Company (consider stopping for a honey and/or mead tasting).
Broughton Street is also home to Leopold's Ice Cream, the most famous ice cream parlor in Savannah and arguably one of the best in the world.
Famous for their Tutti Frutti ice cream, the flavors are truly out of this world.
Head over to City Market.
City Market is one of the most popular places to visit in Savannah and a fun, quick stop during your quest to see Savannah in a day!
This warehouse-district-turned-tourist-attraction is home to souvenir shops, a few boutiques, and–because this is Savannah–even more food.
Be sure to stop by Savannah Candy Kitchen for a fresh, warm sample of their classic praline.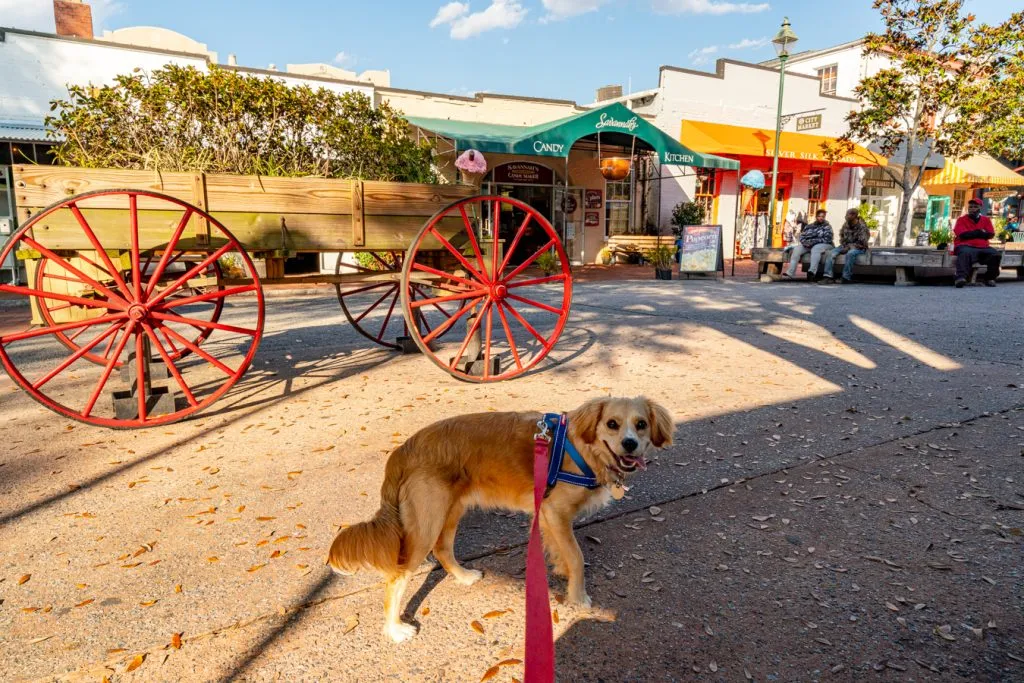 Stop by the outside of First African Baptist Church.
While you likely won't have time for a tour during a Savannh day trip (check the updated tour schedule here), be sure to make note of the nearby First African Baptist Church while you're near City Market.
This congregation was founded in 1773 and was primarily built, literally and figuratively, by enslaved people.
The building itself was completed in 1859 (read: two years before the outbreak of the Civil War) and has survived ever since, including through the Civil War, Reconstruction, its time as a stop on the Underground Railroad, and the Civil Rights Movement–just to name a few.
It's a remarkable piece of Savannah's history and definitely worthy of your attention!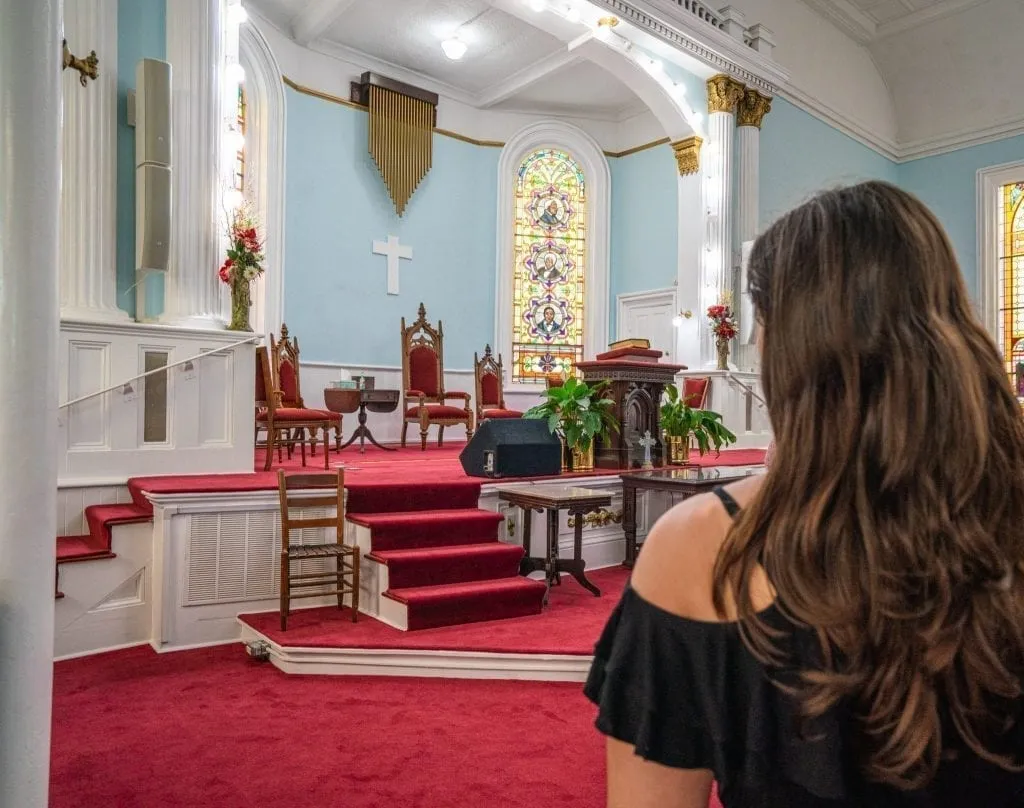 Stroll along River Street.
Head down (literally) to River Street to stroll along one of the most popular places in Savannah.
Here, even if you don't want to take a riverboat cruise yourself, you'll likely be able to snap photos with the Georgia Queen Riverboat!
We also highly recommend ducking into River Street Sweets, home to what are possibly the best pralines on the entire planet.
Yes, that is our second praline recommendation in a handful of paragraphs, and no, you won't regret trying both!
Want to hit the water? Book your Savannah riverboat cruise today!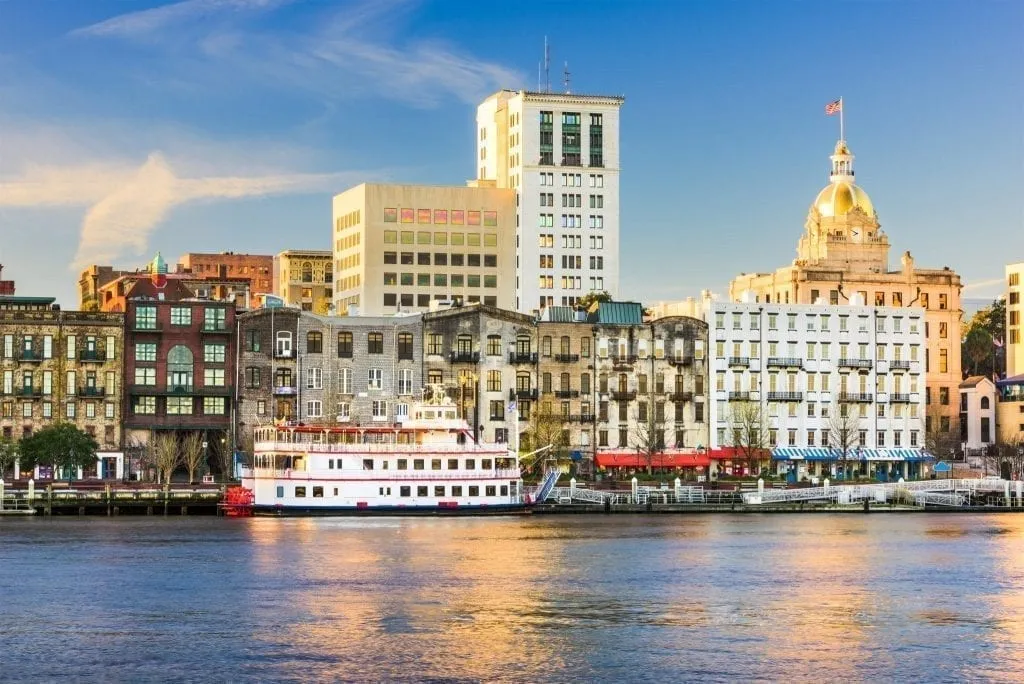 Have a delicious Lowcountry dinner at one of Savannah's best restaurants.
Savannah's Lowcountry food scene is famous for a reason, and there is no shortage of incredible restaurants in Savannah to choose from.
We have a full guide to what to order and the best Savannah restaurants here, but a few we highly recommend for your night out include The Olde Pink House, Husk, and The Grey.
Looking for something a bit more casual?
Try The Public or Crystal Beer Parlor.
Wherever you go, though, be sure to plan ahead.
Reservations for popular restaurants in Savannah are becoming more and more of a necessity, especially on weekends!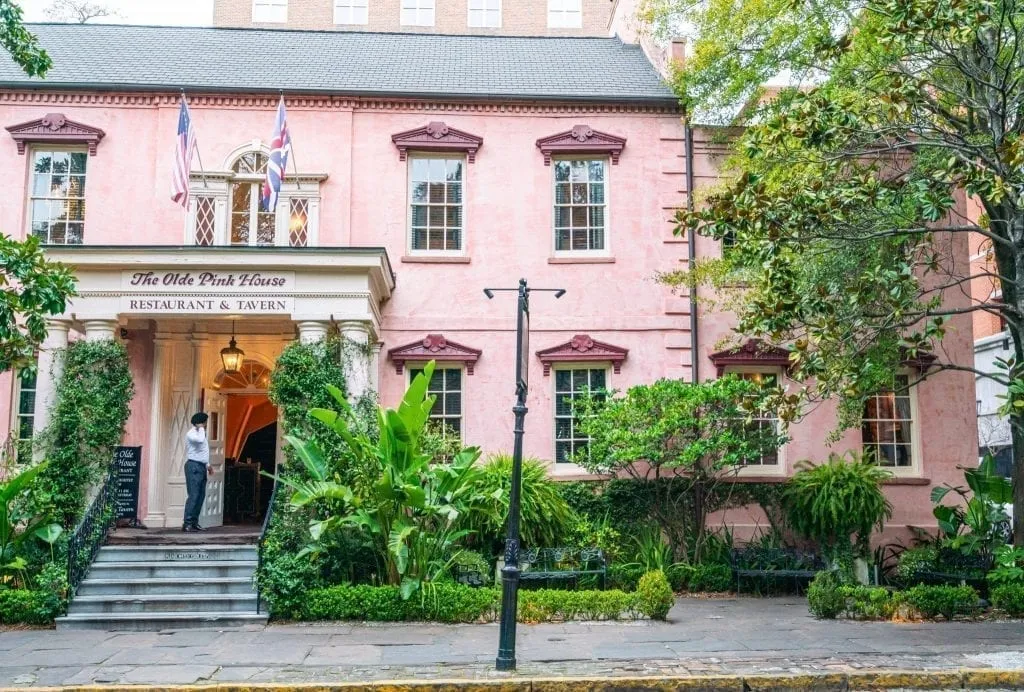 Close out your one day in Savannah with a ghost tour.
If there's one thing Savannah does well, it's ghost tours.
Want a light-hearted ride in a hearse? They've got that.
A grisly late-night tour where drinking is recommended and kids are best left at home? Yep, got that too.
Horse and carriage ghost tour? Check. Paranormal activity tour? Check.
Whatever flavor of ghost tour is for you, and whether you're a true believer or a die-hard skeptic like me, ghost tours in Savannah are a great way to get to know the legends of the city, and I highly recommend enjoying one during your night in Savannah!!
If you're looking for a solid, not-too-corny, not-too-gory Savannah ghost tour, check out this trolley ghost tour!

Prefer a more supernatural bent? Try this popular paranormal activity tour (skeptics welcome)!

For a classic walking ghost tour, this option gets great reviews.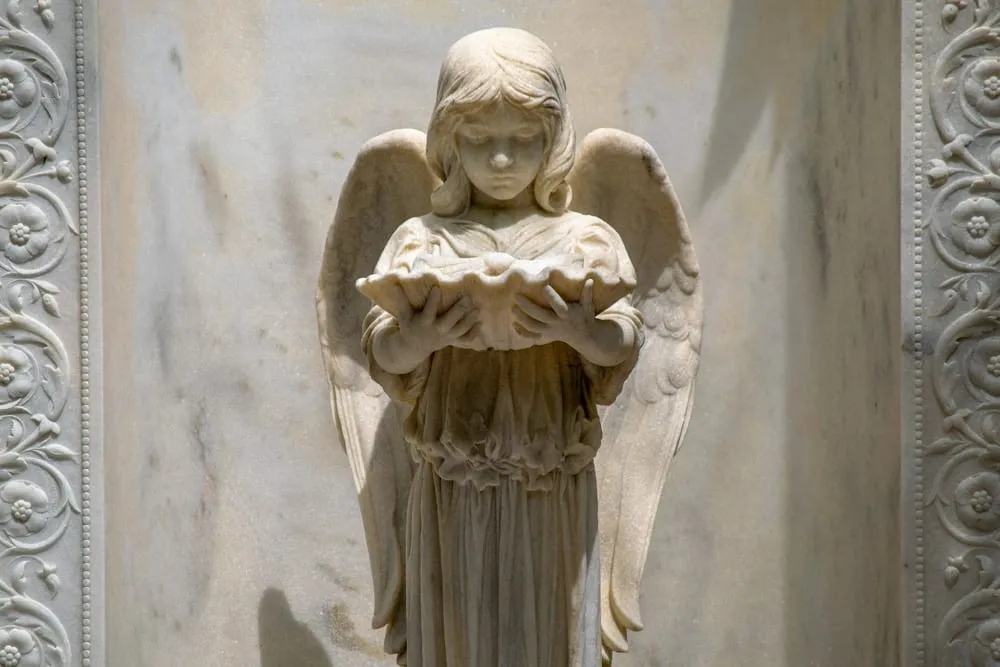 Where to Stay in Savannah, GA
Assuming you're spending one night in Savannah rather than visiting as part of a day trip, you'll need a place to sleep!
There's only one place to consider staying when in Savannah: in the historic district (or at least as close to it as you can get).
Forget downtown–it's a lovely place, but miles away from the tourist attractions that will fill up your 24 hours in Savannah, GA.
Stick with the historic district, and you'll be able to walk to all of the stops on this itinerary.
From a haunted bed and breakfast to a modern hotel, here are some highly recommended places to stay in Savannah!
Unlike some of our city guides, these Savannah hotels are a bit closer in price than you might think.
Savannah has a shortage of extreme budget properties like hostels, but historical bed and breakfasts can be an excellent value for the experience you receive.
We've also included a stunning apartment rental that we've personally stayed in and can highly recommend!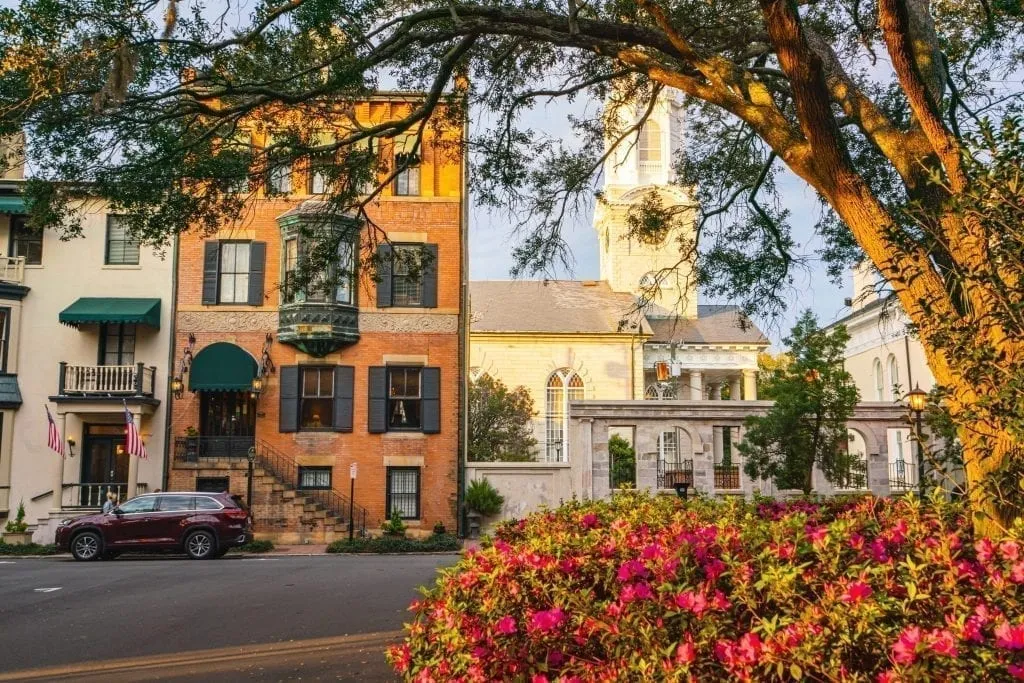 Budget
Best Western Savannah Historic District — If you're looking to stick to a budget during your trip to Savannah while still being in a walkable area, the Best Western Savannah Historic District is the perfect spot for you!
Featuring parking onsite, an included breakfast, and easy access by foot to all the historic district highlights, we were completely satisfied by our stay in this hotel and would be happy to stay again if we were looking for something in a similar budget!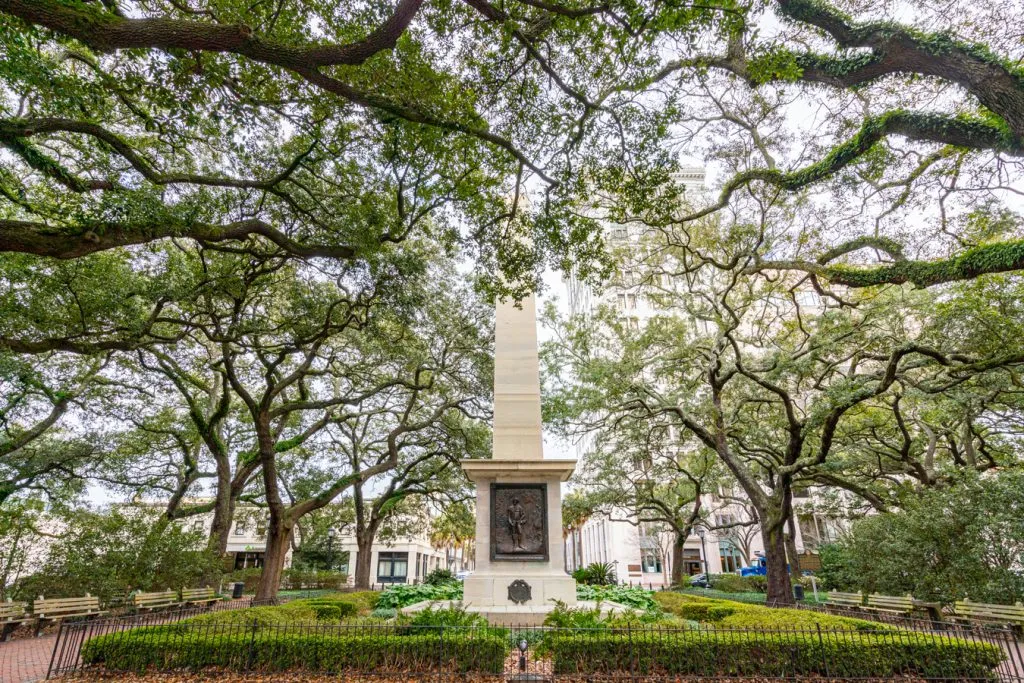 Mid-range
The Marshall House — Located on trendy Broughton Street (and dangerously close to Leopold's Ice Cream), the gorgeous Marshall House is a fantastic option for those looking to stay in a historical inn in Savannah while sticking to a reasonable budget.
Featuring a popular included breakfast, a fantastic location in the heart of Savannah's historic district, and phenomenal reviews, you can't go wrong with a stay at The Marshall House!
Check rates & book your stay at The Marshall House!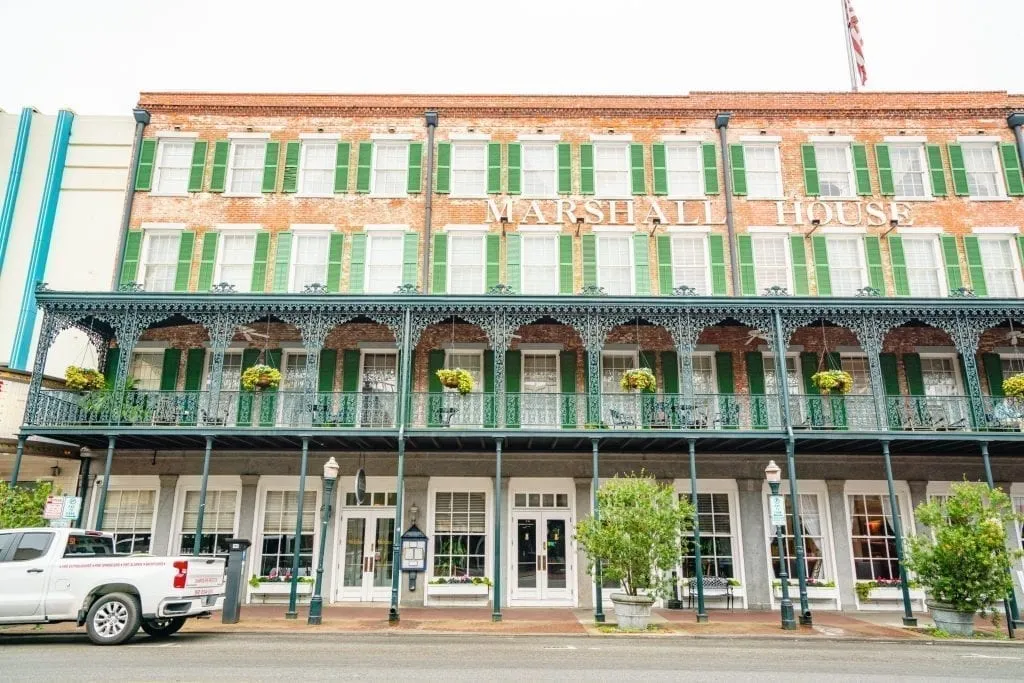 Luxury
Foley House Inn — Easily my favorite hotel that I've stayed in while in Savannah, the Foley House Inn is absolutely beautiful inside and out, and has a perfect location right on Chippewa Square.
The included breakfast is delicious (as are the included afternoon treats–don't miss the lemon pound cake!), the service excellent, and the decor absolutely gorgeous.
Though there isn't parking onsite, street parking is plentiful and easy to find.
I'd be thrilled to stay here again–even if it is potentially haunted (the Foley House Inn is featured many of Savannah's ghost tours!).
Apartment Rental
Bird Baldwin Parlor — Housed in the historic Bird Baldwin House (built in 1838), this apartment is both absolutely beautiful and incredibly well-located.
Located on Liberty Street just steps away from Pulaski Square and Savannah Coffee Roasters, you can't ask for a better location in a Savannah apartment.
The apartment has a full kitchen–perfect for cooking or, let's be honest, leftovers–and onsite, off-street parking, a huge convenience in the historic center.
There is some street noise from Liberty Street, but we didn't find it too bothersome and would love to stay here again!
If the parlor is booked, the Bird Baldwin House does also have several other beautiful spaces available, including the Magnolia Suite, Forsyth Suite, and Twelve Oaks, among others, but be sure to check the inclusions–not all of them have kitchens.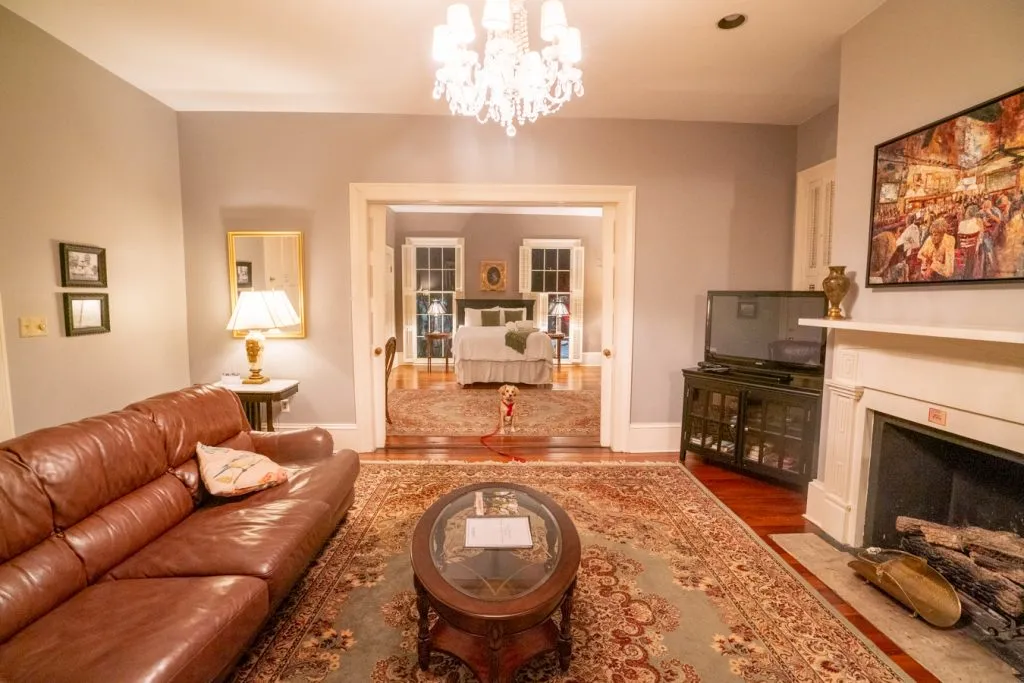 More than 24 hours in Savannah, Georgia?
Lucky enough to have longer to spend in the Hostess City?
You're in for a fantastic time!
We recommend checking out our detailed Savannah weekend itinerary and our giant list of the best things to do in Savannah if you have more time.
With more than a day in Savannah, you'll definitely want to check out more of the town's squares, take a food tour, and sample a couple more museums (such as the popular Telfair Museum).
Savannah's houses of worship also offer memorable tours, and with more time, we definitely recommend taking guided tours of First African Baptist and Congregation Mickve Israel.
If you want to enjoy Savannah from a different angle, a riverboat cruise along the Savannah River is very popular.
And, of course, with more than 24 hours in Savannah, you'll have the opportunity to get outside the city center!
Bonaventure Cemetery, Fort Pulaski, and Tybee Island (also known as "Savannah's Beach") are all absolutely worth a visit!
If you're looking for the iconic Savannah tree tunnel, you'll find it at Wormsloe Plantation.
While the visit to Wormsloe Plantation leaves much to be desired, the tree tunnel is right at the entrance, and you can easily stop to snap a few photos.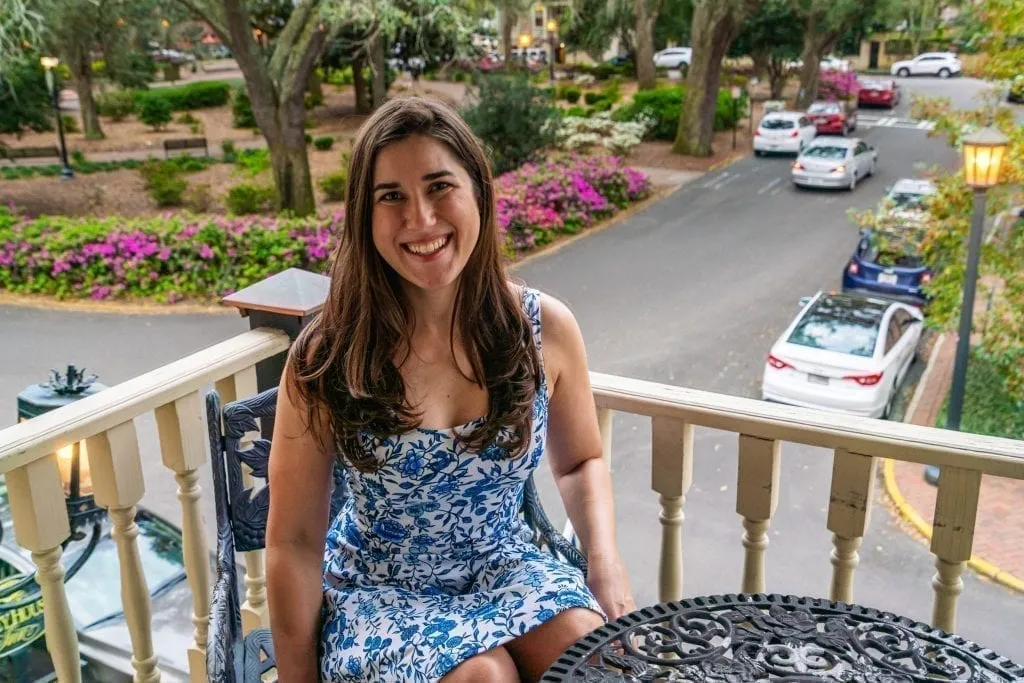 Getting Around During One Day in Savannah
This one day Savannah itinerary is designed to be entirely walkable, and you won't need anything but your two feet to get around throughout the day.
Savannah is one of the most walkable cities in the USA, and that is one of its many charms!
However, if you'd like to rest your feet, the free Dot Express Shuttle runs throughout the historic center of Savannah.
Hoping for more of a tour experience as you zip around town?
Savannah's Hop On/Hop Off Trolley is extremely popular for good reason, and also includes discounts at many local attractions!
Book your Hop On/Hop Off Trolley Tour in Savannah today!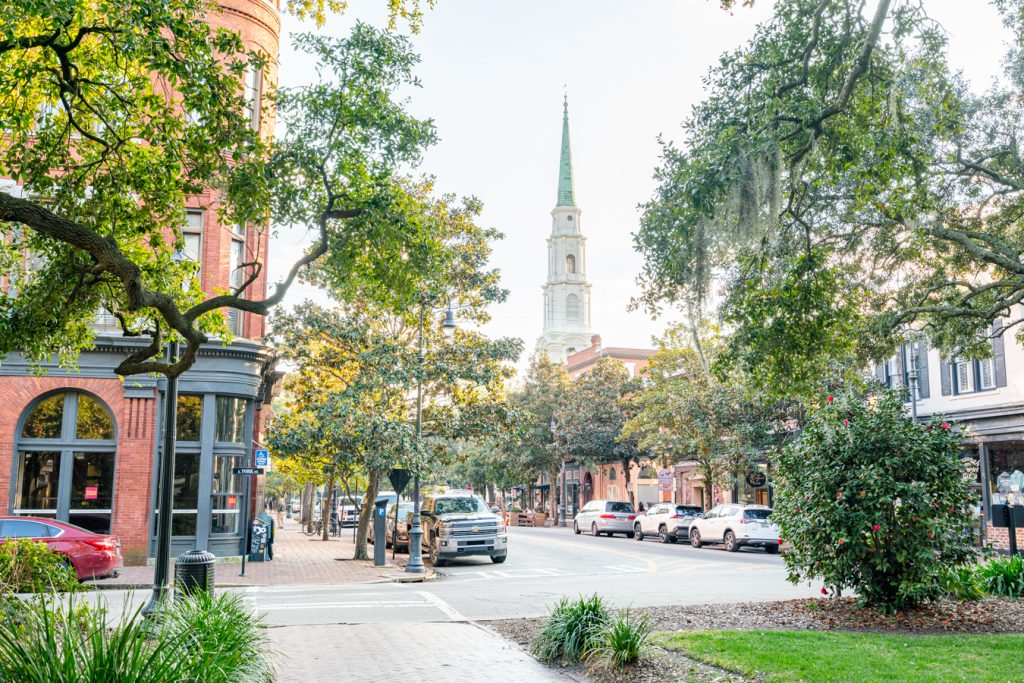 Quick Tips for Seeing Savannah in a Day
You don't necessarily need an early start.
Savannah is not what you would call and early-rising city!
The Collins Quarter opens at 8:00 AM, and the sooner you arrive the less of a wait you'll likely have for breakfast.
Outside of breakfast joints, though, you can expect most other places in town to open around 10:00 AM.
In other words, there's no need to rush!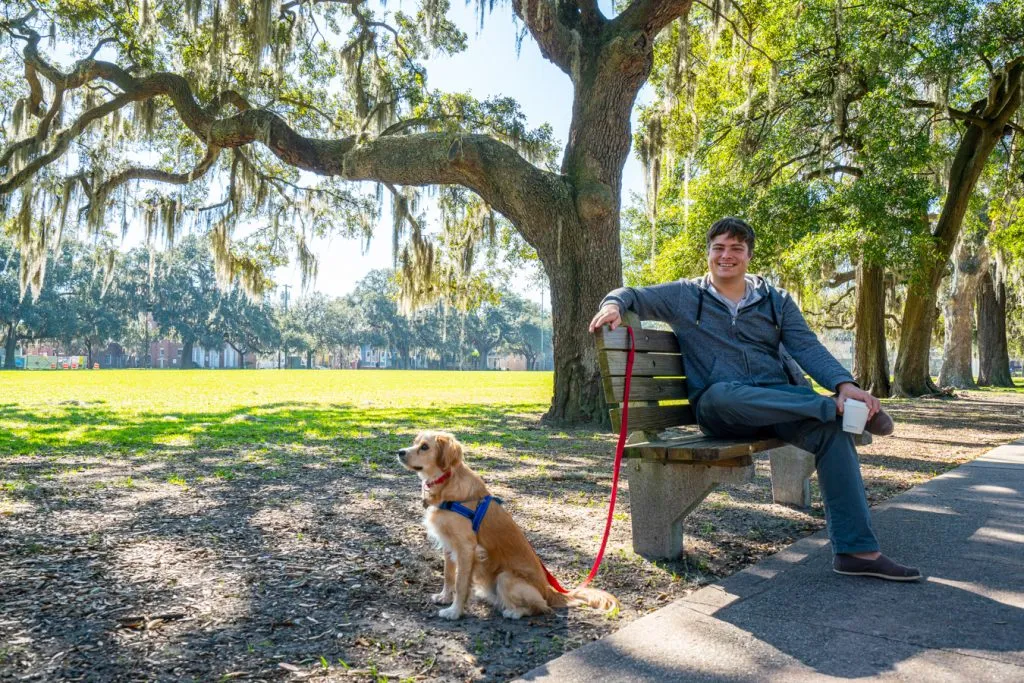 … and consider taking a food tour.
Taking a food tour when you only have a day to enjoy Savannah is a bit of a trade-off: on the one hand, you'll likely need to skip any museums, hurry through some aspects of this one day itinerary, and only be hungry enough for one sit-down meal at a restaurant.
… On the other hand, you'll get to sample a much wider variety of Lowcountry foods, try more restaurants on for size, and learn plenty of local history along the way!
We adore food tours and have taken them all over the world, and believe you'll have a fantastic day in Savannah either with or without one.
If a food tour sounds right for you, this popular tour is a fantastic option!
Book your Savannah food tour today!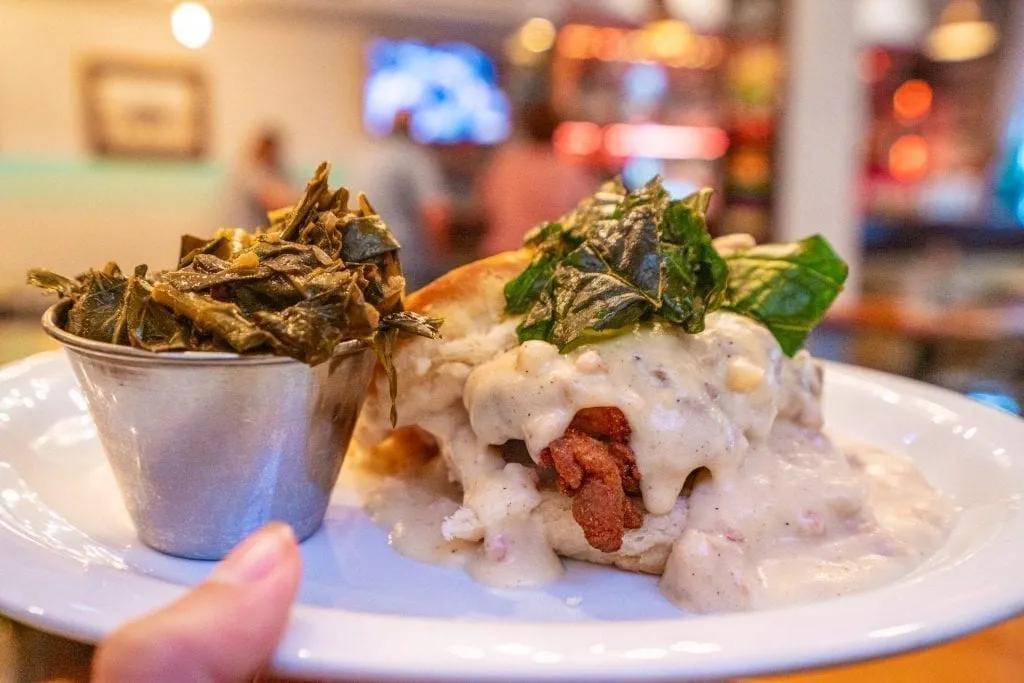 Make restaurant reservations in advance where possible.
If you're planning to enjoy dinner at a popular local restaurant, we highly recommend making a reservation as soon as you can!
A friend of ours recently missed out on her first and second choices for dinner because the restaurants were already booked for her dates when she tried to make reservations a week in advance.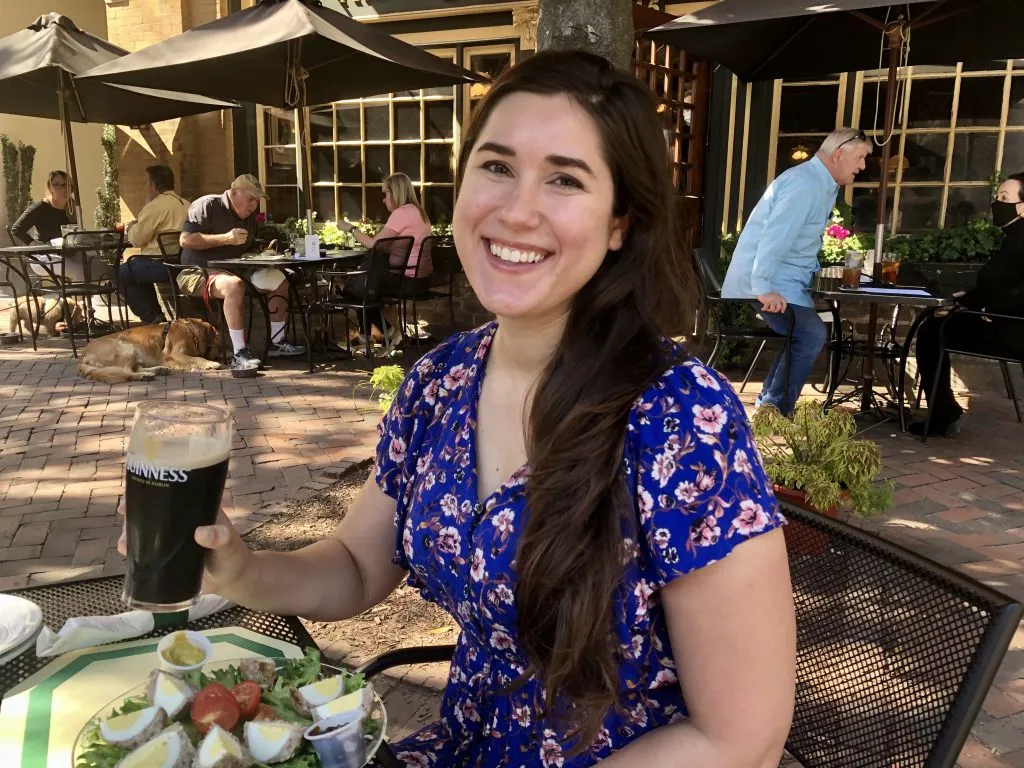 Wandering is at least half the fun.
There's a reason this one day Savannah guide is heavy on walking: it's the best way to enjoy the city!
While you can see plenty of sights and attractions throughout the day, be sure to also take plenty of time to meander down beautiful side streets and admire gorgeous architecture.
Savannah's beauty is a large part of its charm, and taking plenty of time to slow down and enjoy it is an essential part of any trip to Savannah!
Remember to cool off and take breaks.
Unless you happen to be coming from the south, odds are that Savannah's downright intense heat and humidity will be a bit of a shock!
Be sure to take breaks, enjoy the shade, and soak up air conditioning wherever you can during your one day in Savannah, GA.