Wide, sandy beaches, beautiful state parks, and plenty of classic family beach vacation activities are just a few things you'll find when looking for the best things to do in Emerald Isle, North Carolina!
Though my family tends to vacation in nearby Atlantic Beach, the minuscule nature of the towns on and around the delightful Bogue Banks barrier island means that virtually every trip includes a stop in Emerald Isle, too.
With its gorgeous setting and laid-back beach town vibes, figuring out what to do in Emerald Isle on any given day is a downright relaxing challenge.
While we've mostly kept this Emerald Isle travel guide centered on the town itself, some of the other big Crystal Coast attractions snuck in–but that's par for the course when vacationing along these beautiful beaches in Eastern North Carolina.
Here are the best things to do in Emerald Isle, NC!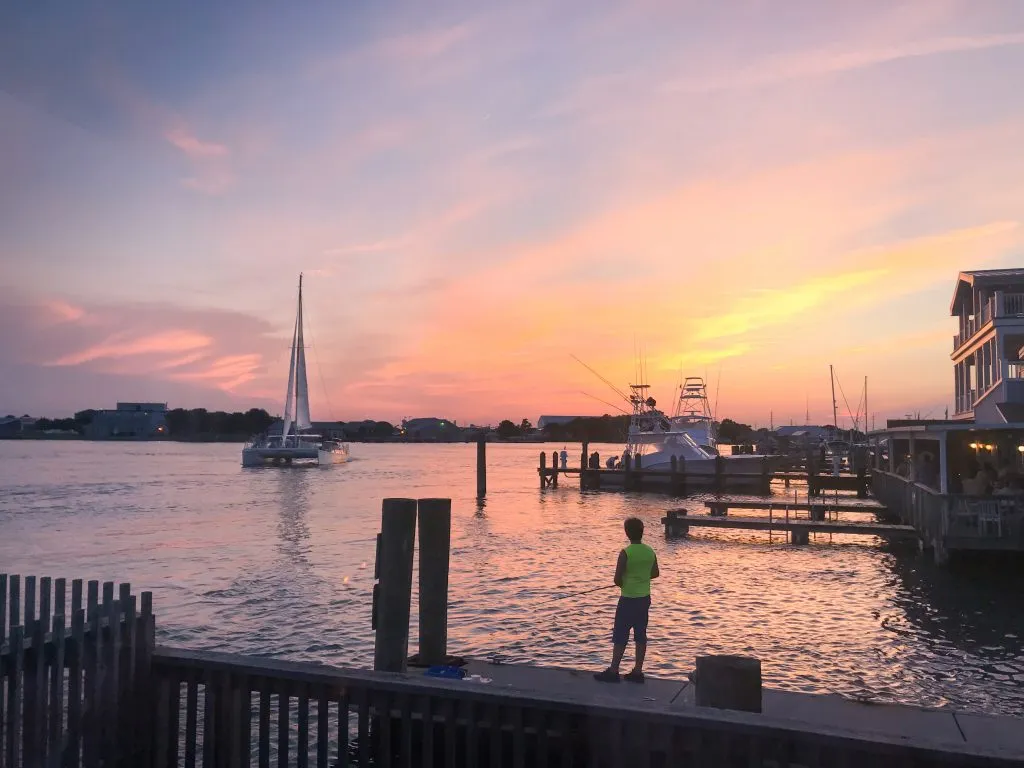 Some links in this post may be affiliate links. If you make a purchase through one of these links, we may earn a small commission at no extra cost to you. Please see our

disclosure policy

for more detail.
The Best Things to Do in Emerald Isle, NC (+ Nearby!)
Spend a day with your toes in the sand at The Point.
Located at the far western end of Bogue Banks, The Point is one of the biggest–and prettiest–beaches in the area.
Home to some of the most beloved activities in Emerald Isle, The Point is the perfect place for a beach day, and no trip to town is complete without spending some time here.
With a permit, you can drive on this beach at certain times as well.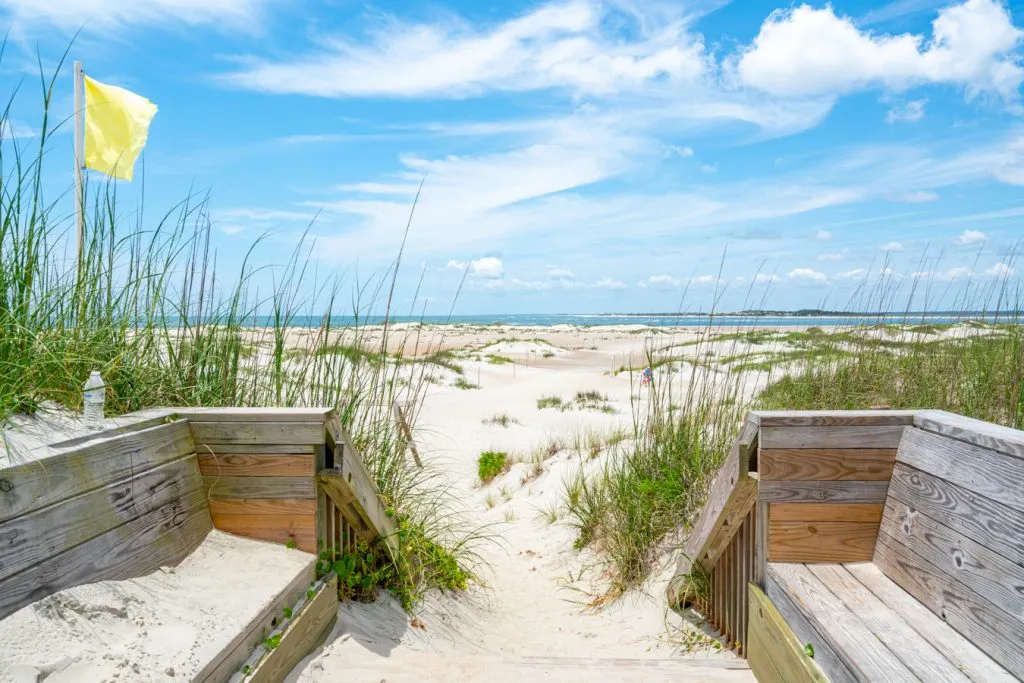 … and stay for sunset.
The sunsets are beautiful all over the Crystal Coast, but as the beaches on Bogue Banks typically face south, you'll mostly be watching the sunset over the dunes, not the water.
That's still lovely, of course, but if you're looking for a classic beach sunset to admire while you have your toes in the sand, The Point is the place to be!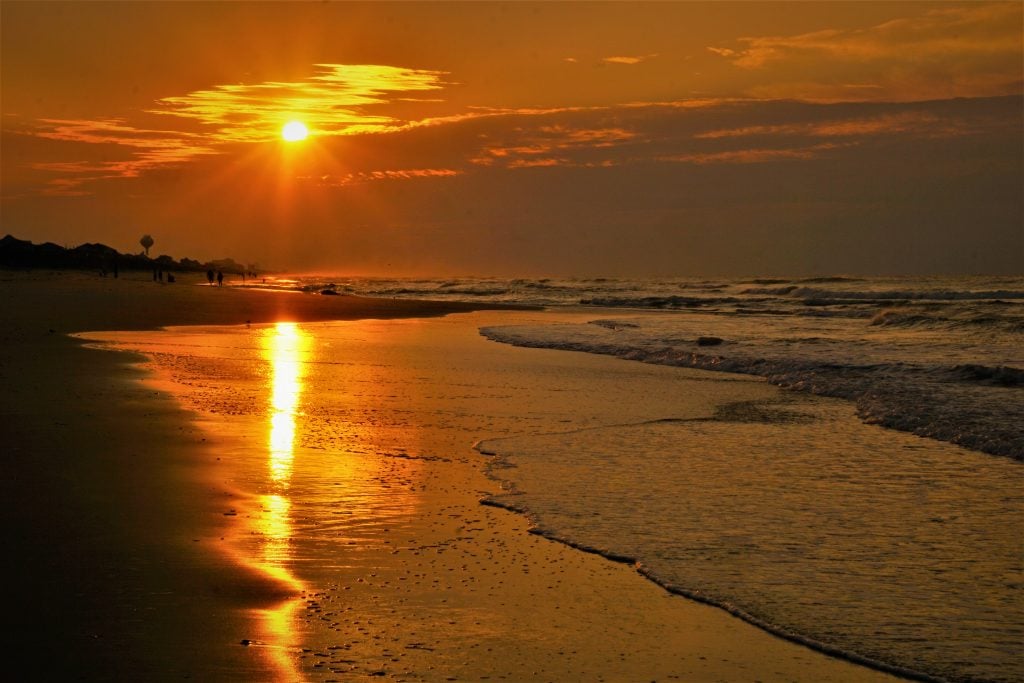 Pay a visit to the Bogue Inlet Fishing Pier.
Whether you want to fish, enjoy views of the waves, or watch the sunset, the Bogue Inlet Fishing Pier is one of the best places to visit in Emerald Isle!
Family-owned since 1971, this pier is a beloved local business and a staple of beachgoers for generations.
The pier is open seasonally, but the on-site restaurant, Surf's Up, offers casual seafood, burgers, and more with water views year-round.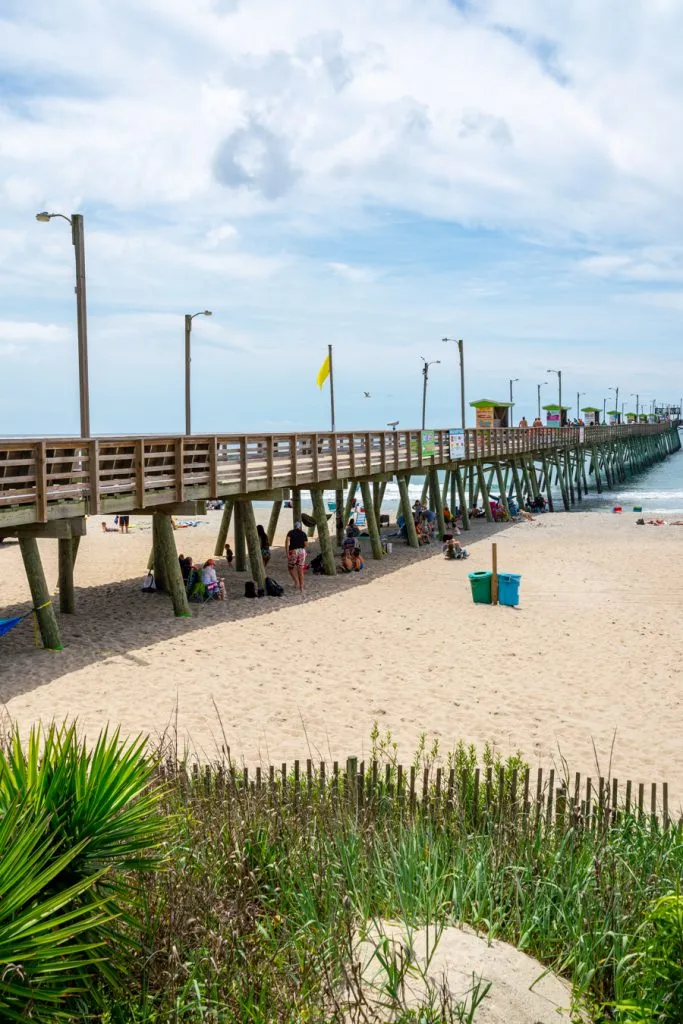 Explore Hammocks Beach State Park.
Kayaking, paddleboarding, and untouched barrier islands (especially gorgeous Bear Island) are the stars of the show at Hammocks Beach State Park, located directly across the sound from The Point.
Don't want to paddle yourself to Bear Island from the mainland?
A passenger ferry will deliver to Bear Island as well, and there are also peaceful, quiet trails throughout the park.
Though there is a charge for the ferry, the entrance to Hammocks Beach State Park is free.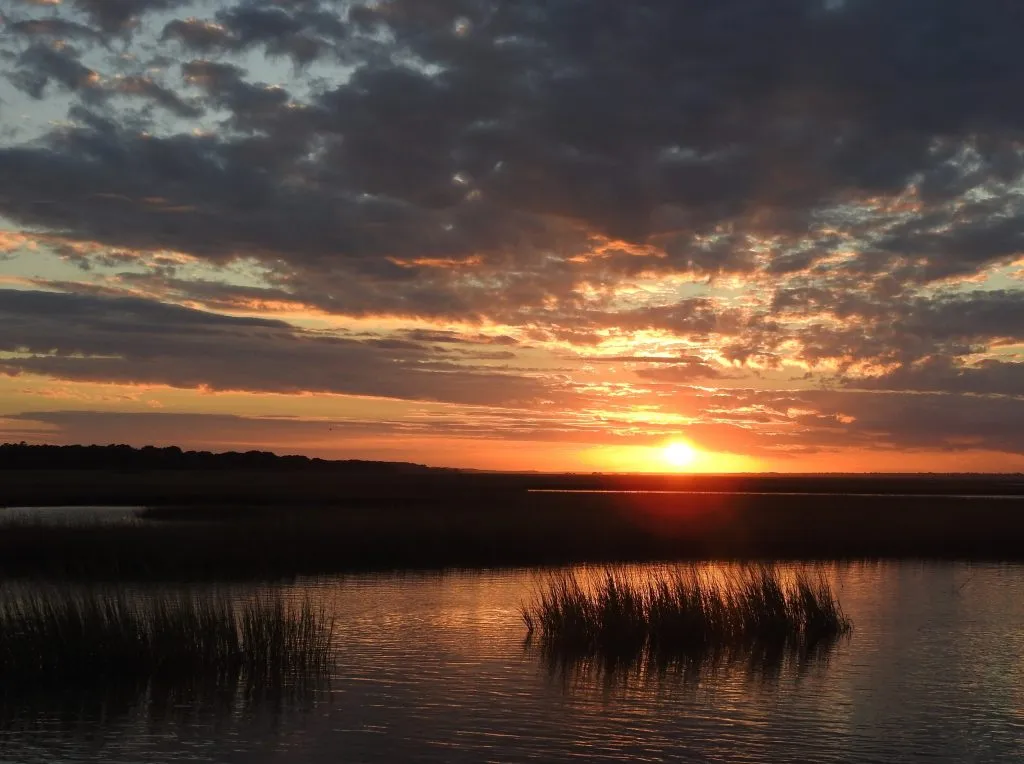 Go for a walk in the woods.
Want to give your skin a break from the constant sun and enjoy a bit of time in the shade?
Emerald Isle Woods Park is a laid-back, shady, 41-acre escape located right in town.
Walking trails, a birding trail, and a disc gold course are all available at this peaceful spot.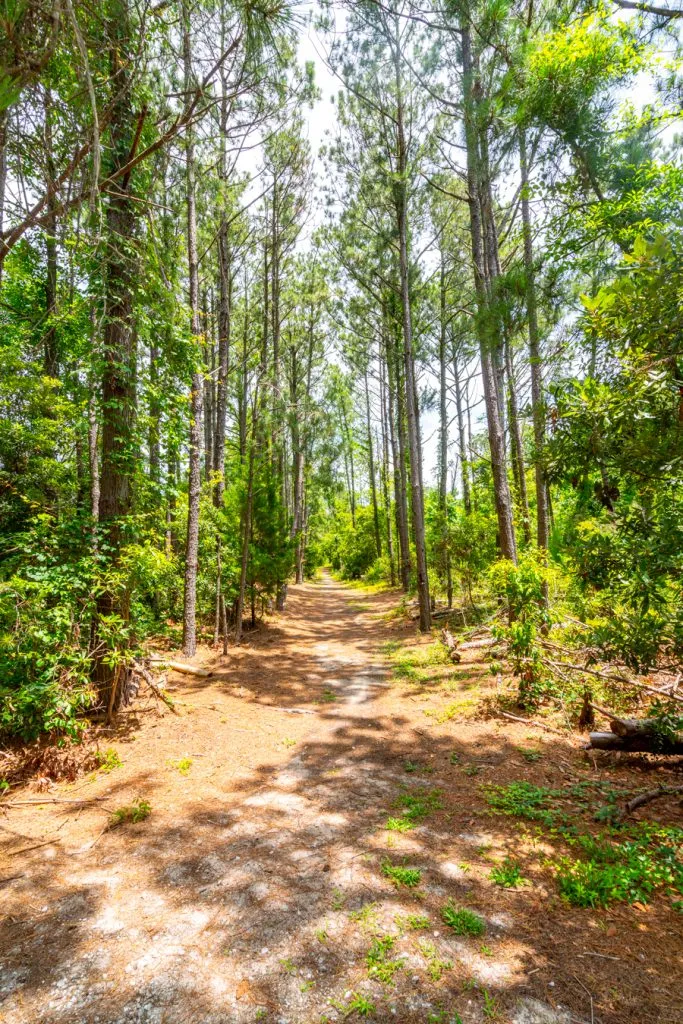 Check out the North Carolina Aquarium at Pine Knoll Shores.
The North Carolina Aquarium is involved in enormous amounts of conservation work–and what better time to learn about the fragility of our oceans than when you're already visiting one?
Pine Knoll Shores is practically next door to Emerald Isle and is also home to one branch of the North Carolina Aquarium.
The aquarium is beautiful and interesting, and I credit it with teaching me a lot about the ocean, marine life, and the local ecosystem as a child.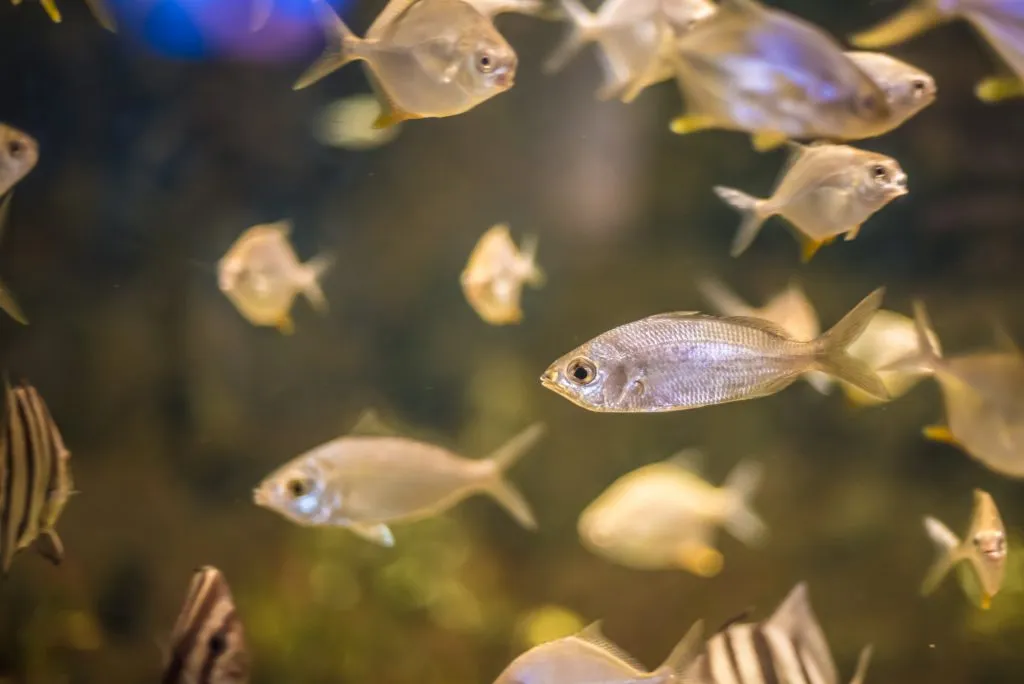 Go surfing in Emerald Isle, NC!
Hoping to learn how to surf… or just enjoy some North Carolina waves?
Surfing is popular in Emerald Isle, especially from August through December.
The area surrounding the Bogue Inlet Pier is a popular spot, but for more detailed advice, head to one of Emerald Isle's local surf shops.
If you're not experienced, Hot Wax Surf Shop and South Swell Surf Shop both offer surf lessons/camps in addition to rentals!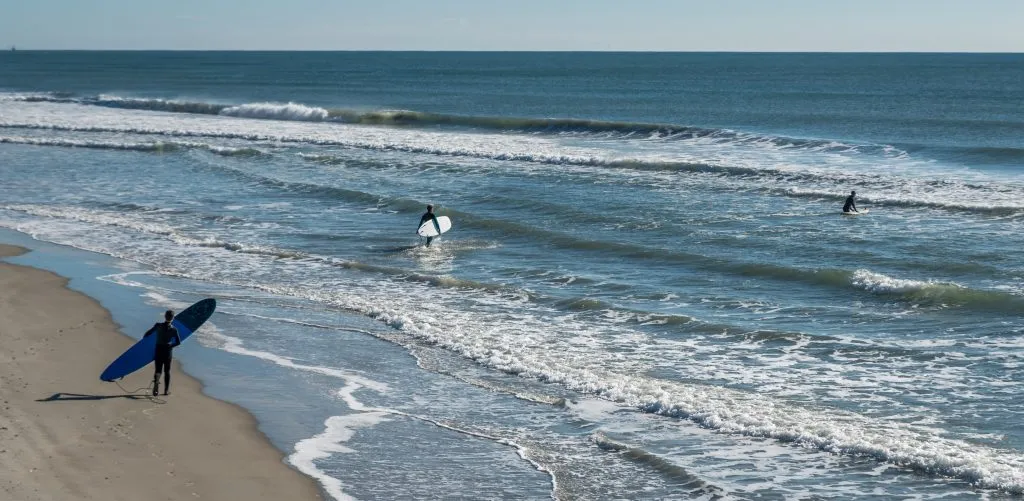 Drive across the island to Fort Macon State Park.
While Emerald Isle and Fort Macon are set on polar opposite ends of Bogue Banks, they're also only a bit over a 20-minute drive apart.
Visiting one of the most popular state parks in North Carolina definitely belongs on your list of what to do in Emerald Isle!
At Fort Macon State Park, you can tour the restored 19th-century fort, hike a nature trail, or simply head directly to the beach to enjoy some sun and waves at the (beautiful and free to access) beach inside the park.
Go kayaking, fishing, or beyond at Cedar Street Park.
Featuring a lowkey public access point to Bogue Sound and a charming dock, Cedar Street Park is one of the best places to visit in Emerald Isle if you're looking to do a little fishing or put your kayak or SUP in the water.
Parking is very limited, so if you're visiting during the summer (especially on a weekend), arrive as early as you can.
Get 3-for-1-family fun at Professor Hacker's Lost Treasure Golf and Raceway.
Mini-golf, bumper boats, and go-karts all in one place make Professor Hacker's Lost Treasure Golf and Raceway a great place to spend a day near Emerald Isle, NC!
While I will never quite be able to warm up to this place because it's not Jungleland (if you know, you know), it is a great place to let kids get their beans out when everyone needs a break from the waves.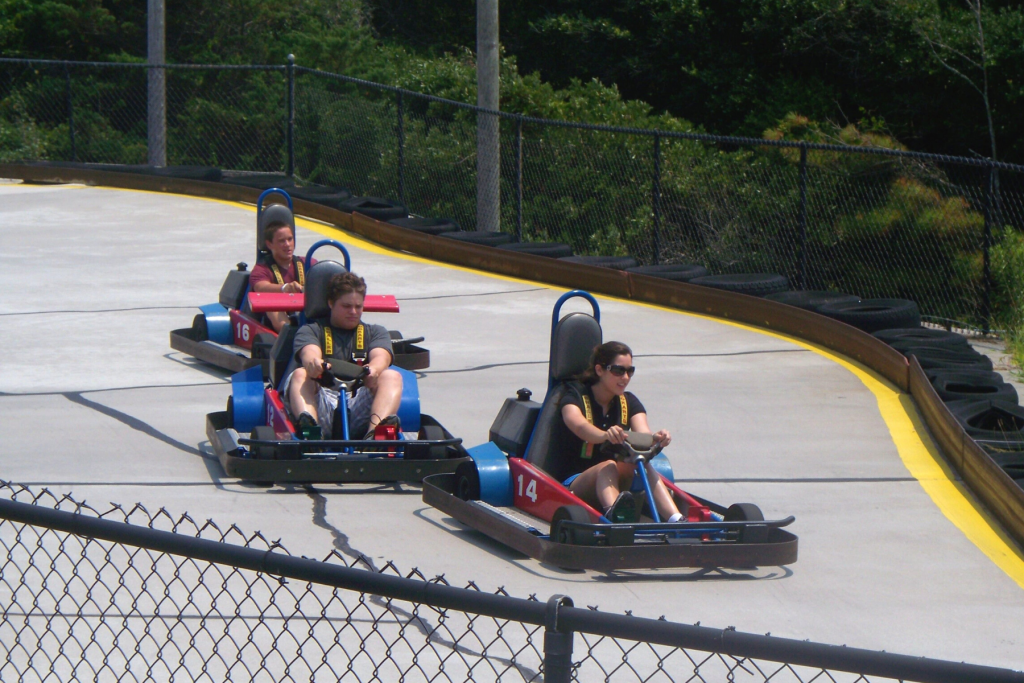 Shop for local food and souvenirs at the Salty Air Open Market.
Located about a 15-minute drive from town, between Emerald Isle and Swansboro, sits the delightful Salty Air Open Market.
Featuring local products ranging from cheese to kombucha to crafts to live music, the Salty Air Open Market is one of those places to will keep you coming back again and again.
If you're looking for unique groceries to eat during your Emerald Isle vacation or a locally made souvenir to take home, the Salty Air Open Market is the place for you.
Check updated hours and information here.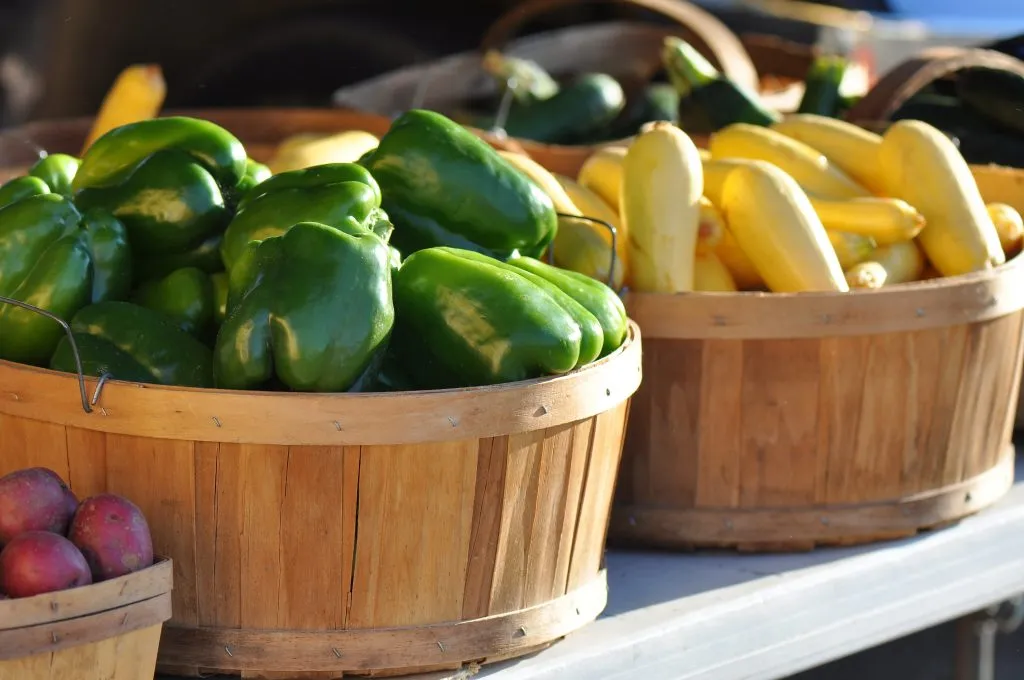 Zip around a go-kart track at Fun World Motorsports.
This popular local go-kart track is one of the top places to visit in town–especially for families visiting Emerald Isle with kids!
Fun World Motorsports has a reputation for fast cars on an engaging track, perfect for all ages.
Keep in mind that this Emerald Isle attraction is cash-only, but there is an ATM on-site.
Take a day trip to Beaufort, NC.
Located about a 30-minute drive away (without traffic–avoid rush hour on the bridges for best results!), exploring the charming town of Beaufort, NC is one of the best things to do near Emerald Isle.
As one of the oldest towns in North Carolina, Beaufort is packed with history and charm.
Growing up, no trip to the Crystal Coast was complete without at least one visit to Beaufort!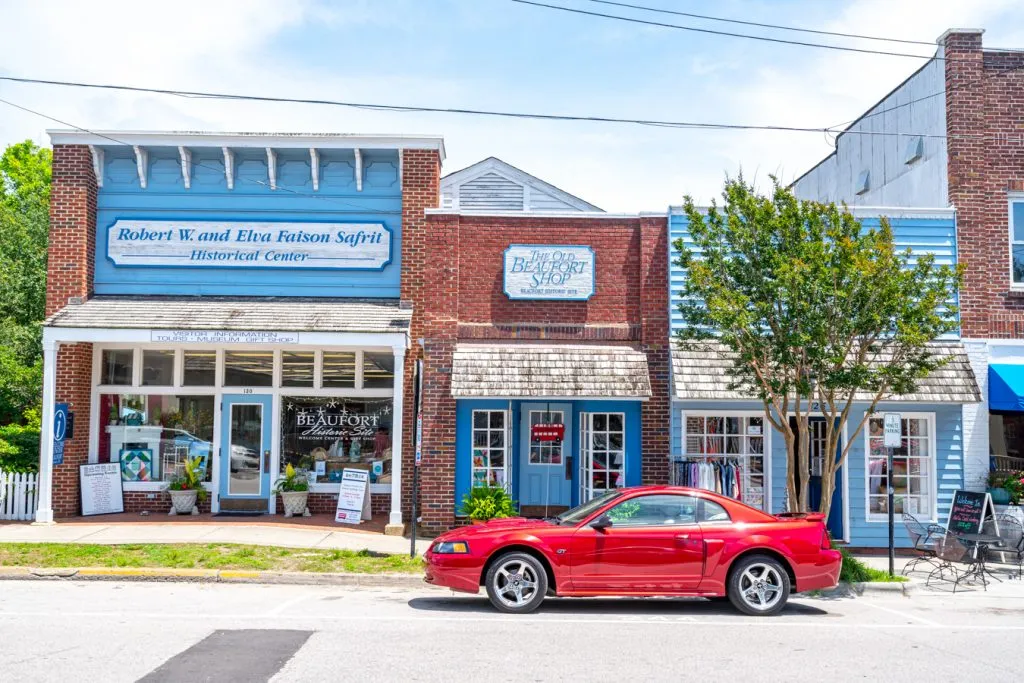 While you're there, shop the boutiques on Front Street, learn a bit of history at the North Carolina Maritime Museum, see if you can spot the wild ponies across Taylor Creek, and grab lunch.
Beaufort is also a great place to use as a jumping-off point for visiting Cape Lookout and/or Shackleford Banks–more on that below.
… Or a much longer day trip to Cape Lookout.
At more than 2 hours away by the time you add in drive time and a ferry, visiting Cape Lookout from Emerald Isle is a bit of a daunting task, and perhaps not at the top of your list if you're traveling with small kids.
That being said–Cape Lookout National Seashore is one of the best places to visit near Emerald Isle, and it's worth the effort if you're up for a long day!
Be sure to climb the lighthouse itself for absolutely magnificent views.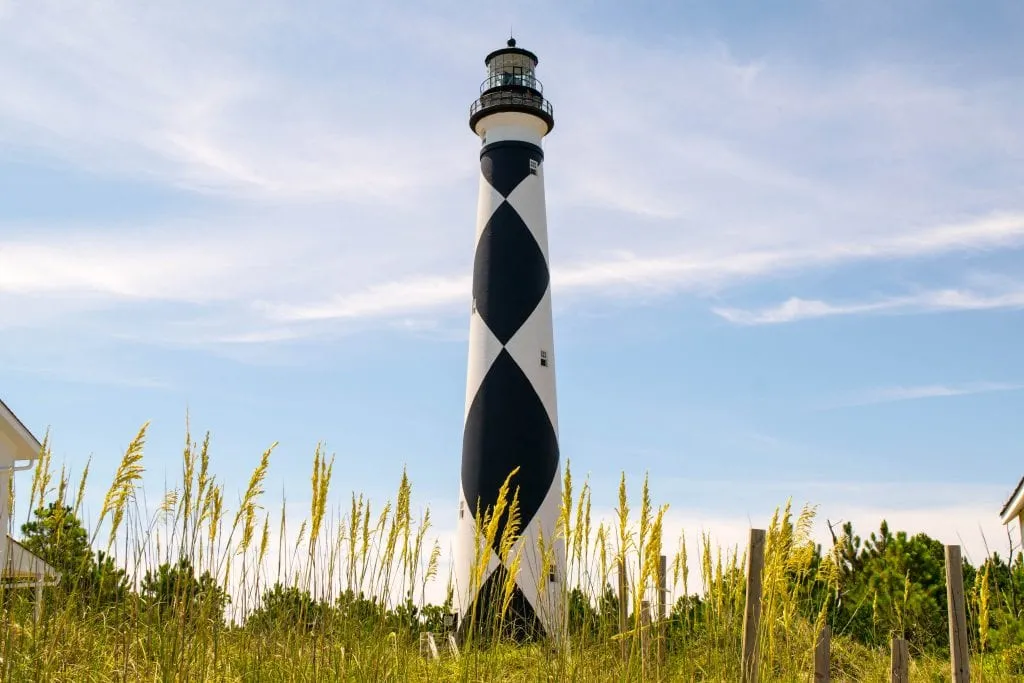 (Note: Sadly, the lighthouse is currently closed for renovations, check the NPS website for updates.)
You can also enjoy the bright, shallow water on the beach that is more reminiscent of the Mediterranean than most of the beaches on the Crystal Coast, partake in some fantastic shelling, and keep an eye out for wild horses across the water on Shackleford Banks!
Enjoy a Crystal Coast classic at Salty Pirate Water Park.
Salty Pirate Water Park is one of the staple attractions in Emerald Isle (or really along the whole Crystal Coast) for families, I have many treasured childhood memories of slipping and sliding down these water slides!
The park's wide, classic concrete water slides are fantastic fun for all ages, and have been entertaining families since my mom visited Emerald Isle as a girl!
Today, the park also offers more modern slides and attractions like a kiddie pool for those so inclined.
While the Salty Pirate Water Park does have a website, for updated information on opening hours and weather-related events during the season, their Facebook page is a great place to stay informed.
Where to Stay in Emerald Isle, North Carolina
Emerald Isle's location along a long, thin barrier island means that most hotels are on or near the ocean, though since this is such a small town, there are only so many to choose from!
We typically stay in a family home or occasionally a rental property when visiting the Crystal Coast, which is common among repeat visitors.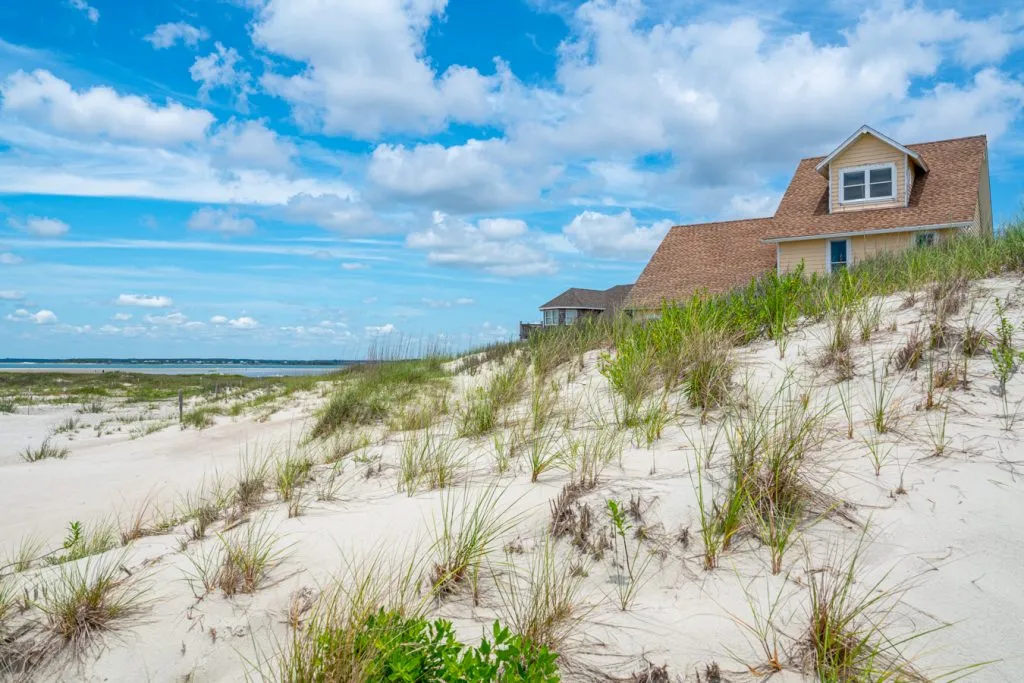 There are lots of gorgeous beachfront homes for rent in Emerald Isle over the summer (options like this beautiful property are incredibly popular).
That being said, you'll generally need a family or group with you to justify the price tag (also, be sure to book as far in advance as you can–annual visitors snap up the listings quickly).
For hotels, both the beachfront Islander Hotel and Resort and the spacious Light House Suites (located a short walk from the water) are excellent options boasting great reviews.
No matter where you stay, you won't be far from the best things to do in Emerald Isle, NC!