Set on a barrier island along North Carolina's Crystal Coast, Atlantic Beach will always be one of my favorite beach towns on the planet–and despite its small size, there are a surprising number of fun things to do in Atlantic Beach, NC!
This small town, along with surrounding spots like Morehead City, Beaufort, Emerald Isle, and Pine Knoll Shores, are the beach towns that I grew up in, visiting at least annually since birth–as did my mother before me, and my grandmother before her.
The Crystal Coast (sometimes known as the Southern Outer Banks) may not have as much name recognition as the better-known Outer Banks towns to the north, but if you're looking for a laid-back, fun, and affordable beach vacation in North Carolina, you can't go wrong with a visit here.
Here are the best things to do in Atlantic Beach, NC!
Some links in this post may be affiliate links. If you make a purchase through one of these links, we may earn a small commission at no extra cost to you. Please see our

disclosure policy

for more detail.
What to Do in Atlantic Beach, NC
Hit the beach!
Without a doubt, the beach that runs the length of town and beyond is the major reason people visit Atlantic Beach, us included.
We tend to head to Fort Macon State Park–more on that below–to park our umbrella in the sand, but there are plenty of places to choose from.
Atlantic Beach is home to some of the best beaches in North Carolina, so no matter what stretch of sand you choose, it's bound to be gorgeous.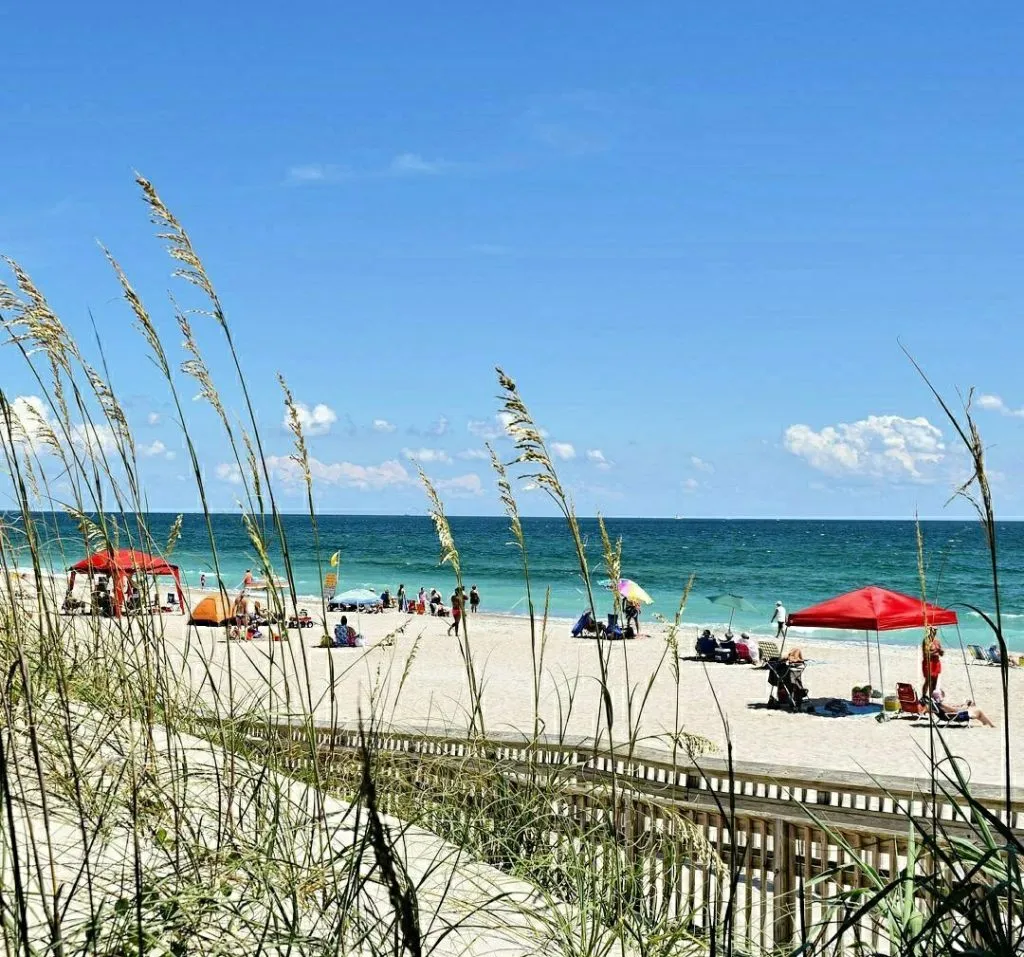 Visit Fort Macon State Park.
As one of the most popular state parks in North Carolina, visiting Fort Macon is definitely one of the best things to do in Atlantic Beach!
Tour the restored 19th-century fort, hike a nature trail, or simply head directly to the beach to enjoy some sun and waves.
Check out one of the boardwalks or piers. 
The Atlantic Beach Boardwalk and Oceanana Pier are both popular and offer great views. 
The Oceanana Pier is also a great place to fish, and home to one of the many tasty restaurants in Atlantic Beach!
Take a day trip to Beaufort.
As one of the oldest towns in North Carolina, Beaufort is packed with both history and charm.
Shop the boutiques on Front Street, learn a bit of history at the North Carolina Maritime Museum, see if you can spot the wild ponies across Taylor Creek, and grab lunch.
Growing up, no Atlantic Beach vacation was complete without spending at least one day in Beaufort!
… or to Cape Lookout.
Of all the things to do in Atlantic Beach, this is one that you absolutely should not miss: a day trip to nearby Cape Lookout National Seashore will introduce you to a completely different side of the Crystal Coast that you can't get by staying on the mainland.
During the summer, tours run daily from both nearby Beaufort and not-so-nearby but reachable Harkers Island (which incidentally, while very small, is a deeply interesting place that is home to one of the only unique dialects of English in the United States).
Be sure to climb the lighthouse itself (it's one of the prettiest lighthouses in North Carolina) for absolutely magnificent views, to enjoy the bright, shallow water on the beach that is more reminiscent of the Mediterranean Sea than most of the typical beaches on the Crystal Coast, and look for wild horses across the water on Shackleford Banks!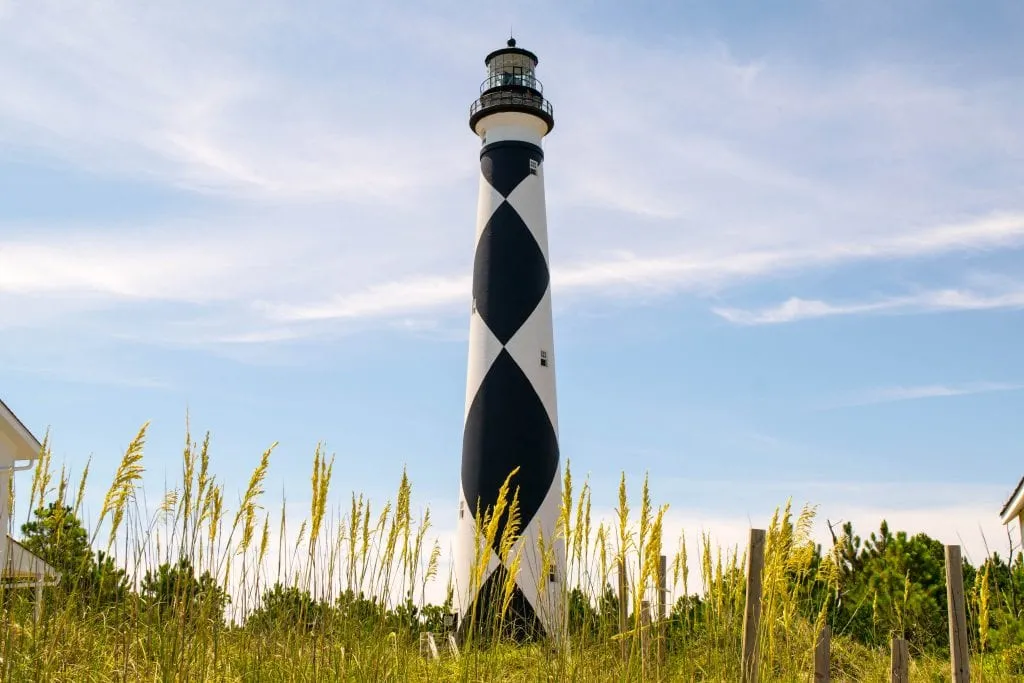 Since climbing the lighthouse is such a big part of a day trip to Cape Lookout, be sure to check the schedule to see when it is open, and hurry to grab your ticket and schedule your climbing time as soon as you arrive on the island!
Since only a certain number of people are allowed to climb Cape Lookout at a given time, you'll likely need to wait a bit to go up.
Note: Unfortunately, the Cape Lookout lighthouse will not be open during the 2021 season due to a need for structural repairs.
However, the seashore itself is still absolutely worth visiting!
Get up early to watch the sunrise.
Atlantic Beach is home to some stunning sunsets over the dunes and sound, too, but the sunrises over the ocean are truly magnificent.
Go fishing.
Depending on your experience level, this could mean grabbing some bait and heading to one of the piers, signing up for a deep-sea fishing tour, or renting a boat and heading out to sea yourself!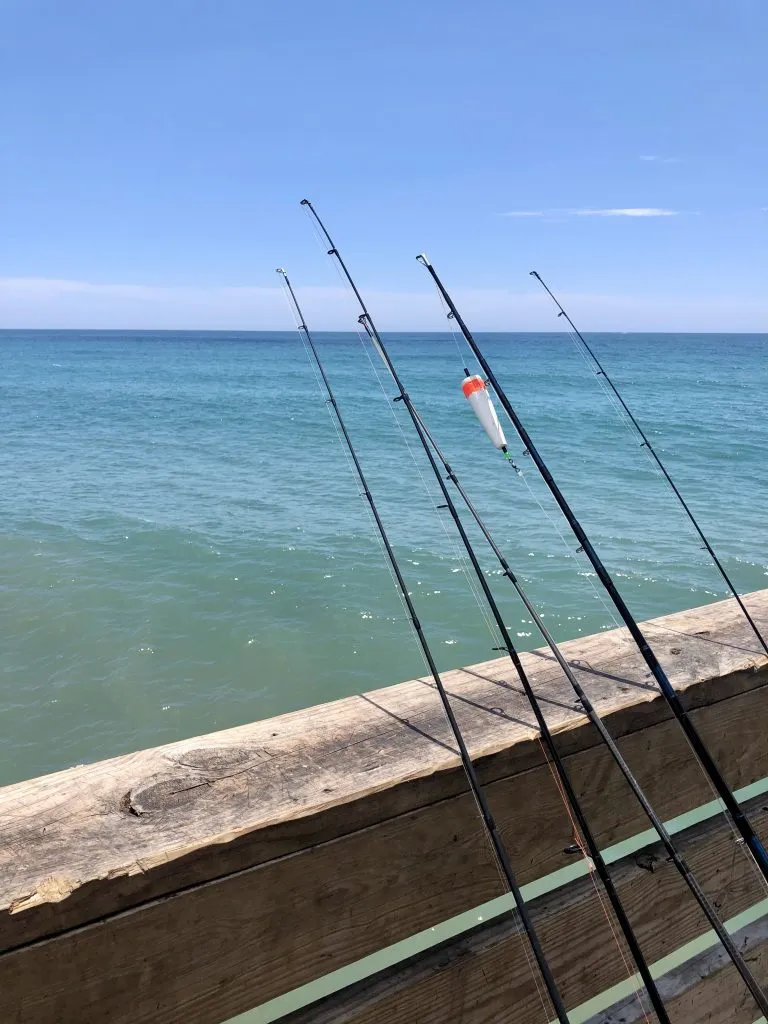 Enjoy a bird's eye view. 
Going parasailing over the Bogue Sound was a childhood favorite in my family, and offers fantastic views over the water!
Go wreck diving.
Home to one of the largest collections of shipwrecks in North America, the Crystal Coast of North Carolina is a fantastic place for experienced divers to head underwater!
Don't have your diving certification?
No worries–there are plenty of schools in the area for that.
Explore Atlantic Beach on foot.
Long walks (or bike rides) are one of our favorite ways to get to know a new place–and Atlantic Beach has several marked loop walks that will help you discover the best of the town.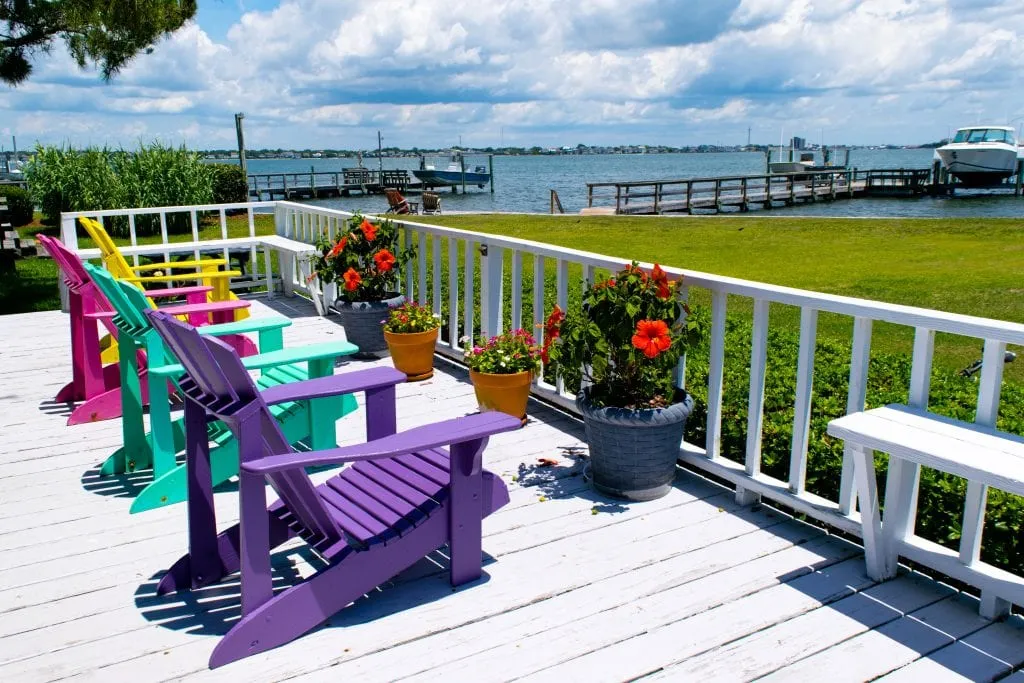 Check out the Hope Pole Creek Nature Preserve.
This short, shady, one-mile loop walk leads to excellent views over Bogue Sound.
It's a great way to stretch your legs with a little less sun exposure!
Be sure to bring bug spray, though–the mosquitos are brutal here during the summer.
Pay a visit to Shackleford Banks.
The barrier island known as Shackleford Banks is an easy day trip from Atlantic Beach, and visiting is undoubtedly one of the most unique things to do in the area, as the island is home to wild horses!
It's not entirely clear how they got there, but a pack of wild horses that are distantly related to Colonial Spanish horses have made their home on this small barrier island (the most likely scenario for their arrival is via shipwrecks in the 1500s).
The horses are generally shy, and as with all ethical wildlife encounters, a close view isn't guaranteed–but in the decades I've been visiting Shackleford Banks, I don't think I've ever left without spotting at least a couple of beautiful horses.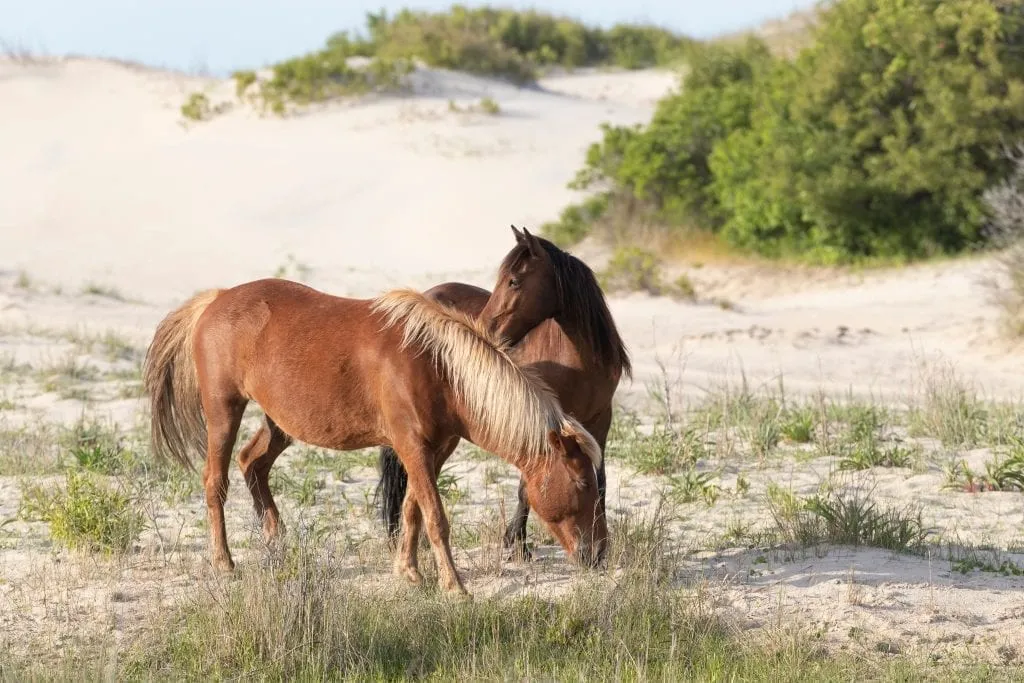 Visit Atlantic Beach Town Park.
Home to a very affordable mini-golf course ($5 per round as of the time of writing), a splash pad, and more, this park is a fairly new addition to the list of things to do in Atlantic Beach.
(Side note: does anyone else remember when there was still a Food Lion here?).
It's also an excellent way to still enjoy a bit of fresh air when you need a break from the beach.
Check out the North Carolina Aquarium.
The North Carolina Aquarium is involved in enormous amounts of conservation work–and what better time to learn about the fragility of our oceans than when you're already visiting one?
Pine Knoll Shores is home to one branch of the North Carolina Aquarium, one that I credit with teaching me a lot about the ocean, marine life, and the local ecosystem as a child.
Rent a boat for the day.
Depending on how confident you are driving, renting a boat for a day can mean anything from driving to Beaufort via the sound to taking an independent day trip to Cape Lookout and Shackleford Banks!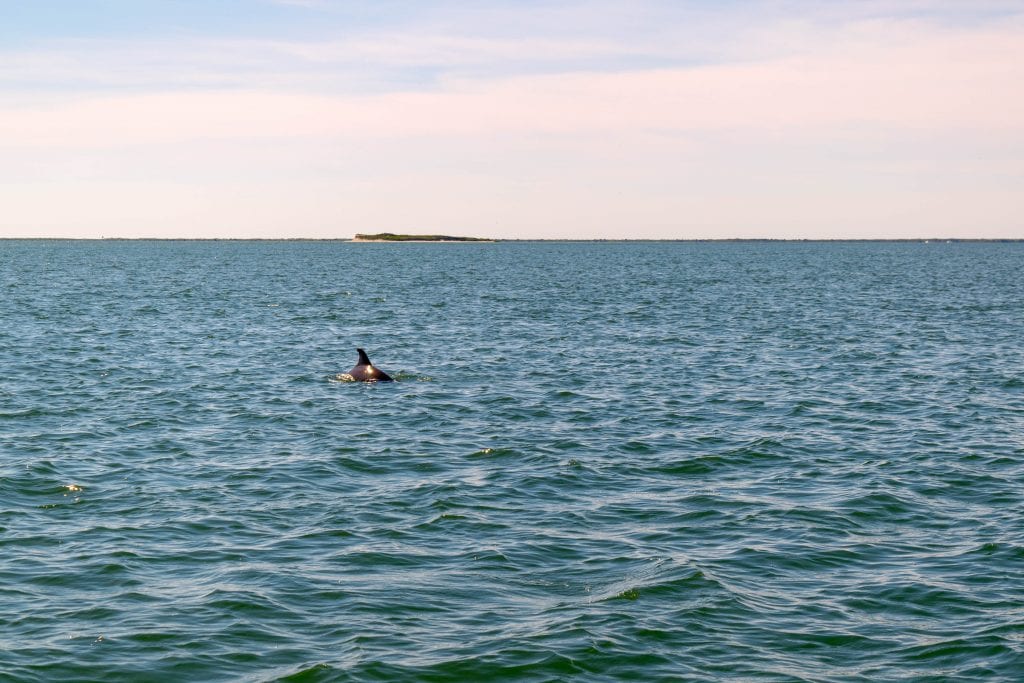 Devour a slice of Atlantic Beach pie.
Atlantic Beach pie has been a staple on the Crystal Coast for far longer than it has had a national reputation, and it's definitely worth enjoying on its home turf!
A pie crust made with saltines may sound a little quirky, but I promise–you won't regret ordering a slice.
Go horseback riding on the beach.
If you've always wanted to go horseback riding on the beach, there are a few outfits (kind of) near Atlantic Beach that will take you out for an unforgettable ride.
You can go horseback riding on the beach in Emerald Isle during the off-season, however, during the summer your best bet is to head up to Cedar Island.
It's a bit of a drive, but if you ask us, it's well worth it–we got to admire wild horses right up close during this sunset ride!
Where to Stay in Atlantic Beach
Atlantic Beach's location along a long, thin barrier island means that most hotels are on or near the ocean, though the small size of the town means that there aren't too many to choose from. 
We typically stay in a family home or occasionally a rental property when visiting Atlantic Beach,  which is common among repeat visitors (options like this are the norm), but we did stay in the Doubletree a few years ago and absolutely loved the oceanfront location.
If you'd like to save a little money, you can stay sound-side instead of oceanfront, but even in a worst-case scenario, if you're staying in Atlantic Beach itself you'll never be further than a short walk or very short drive from the ocean.
Prefer to have a few more hotel options? Morehead City and Pine Knoll Shores both have more properties to choose from.