Planning a trip to Portugal and intrigued by how tantalizingly realistic a day trip to Porto from Lisbon seems when looking at a map?
You're not alone!
As American ex-pats who spent a bit over a year living in Lisbon and have traveled between Lisbon and Porto many times (we love both cities), we've received this question a lot.
After all, we're all looking to maximize our travel time, and spending one day in Porto while still keeping a base in Lisbon looks like a great option at first glance.
Honestly, it's not–we do not recommend taking a Lisbon to Porto day trip, for reasons we'll cover below.
… But that being said, it is technically a realistic day trip, and if you're determined to take it, we're also going to show you exactly how to make the most of it.
Here's exactly how to take a day trip to Porto from Lisbon–and exactly why we think you shouldn't.
How far apart are Lisbon and Porto?
First things first: what's the actual distance between Lisbon and Porto, anyway?
Lisbon and Porto are roughly 320 kilometers or 200 miles apart (give or take, depending on the route).
Whether you travel by train, car, or bus, you can expect to spend an average of between 3 and 4 hours traveling from one city to the next.
In other words, you can expect to spend an average of 7-8 hours in transit to pull off a day trip to Porto from Lisbon, especially once you account for getting from your Lisbon hotel to the train station and back.
If you ask us, that's an incredible time commitment to spend one (or rather, roughly 1/2 to 2/3 of one) day in Porto, however beautiful the city is.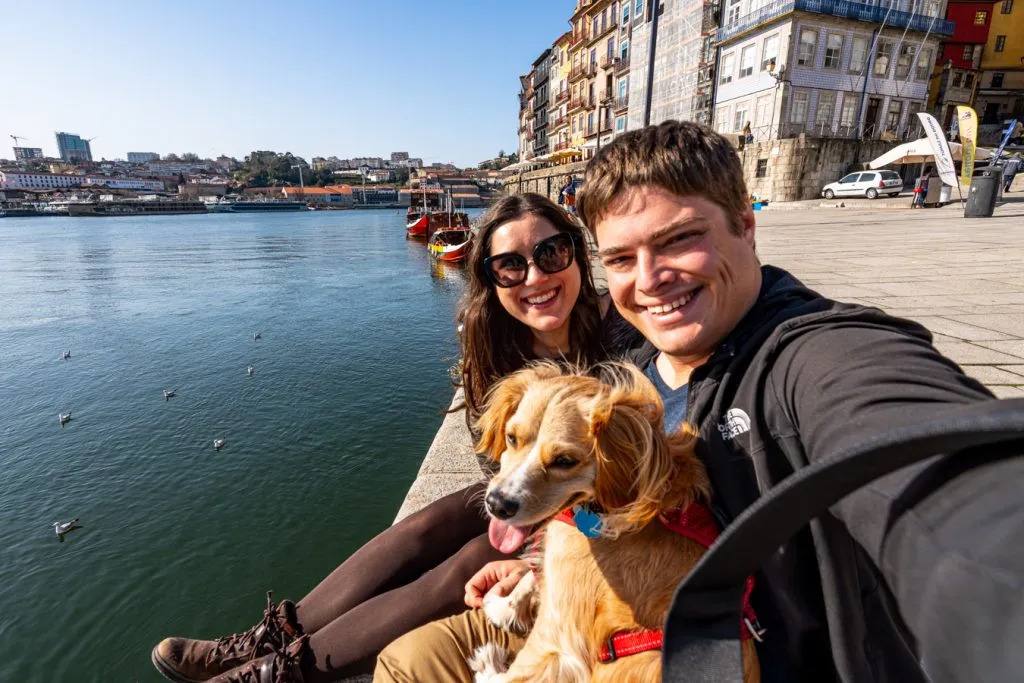 Is a Lisbon to Porto day trip worth the effort?
Not intimidated by the transit time and think a Lisbon to Porto day trip is still right for you?
Honestly, it might be: as a fellow overly-ambitious traveler who has done wildly improbable things that locals would never recommend in order to maximize my time in a destination, I'll be the last one to emphatically state that no one should take a day trip to Porto from Lisbon.
If you're staying in Lisbon due to unrelated reasons (conference, family, etc.) but have Porto toward the top of your bucket list and you don't expect to be back in Portugal anytime soon, it might be worth it.
If your biggest draw to enjoying Portugal's architecture is the azulejos, you'll certainly find far more of them in Porto than in Lisbon.
And, if you are a gigantic port fan, Porto might be calling your name (though this suggested Porto day trip itinerary likely won't be right for you–in your case, head across the river of Vila Nova de Gaia and enjoy a port tasting at a lodge, or sign up for a Porto wine tour).
Before committing to a day in Porto (plus plenty of time on a train), though, be sure to check out all of the best day trips from Lisbon to see if something closer draws your eye!
Ultimately, Portugal has far more than one trip's worth of sights to discover, and there are some incredibly memorable Lisbon day trip options that are far closer–including many you may not have heard of!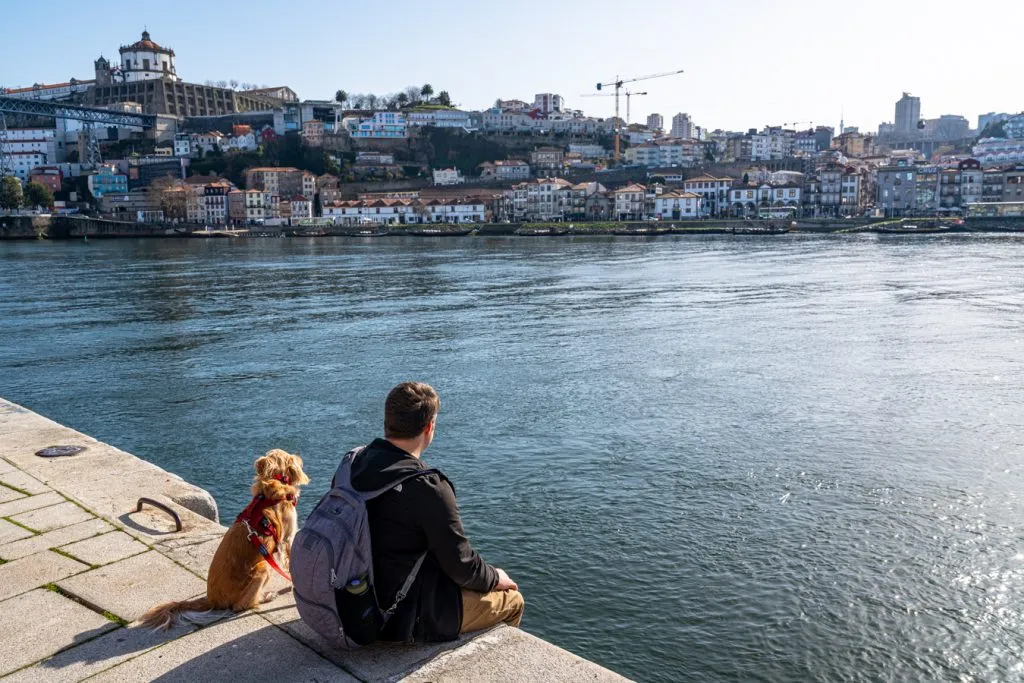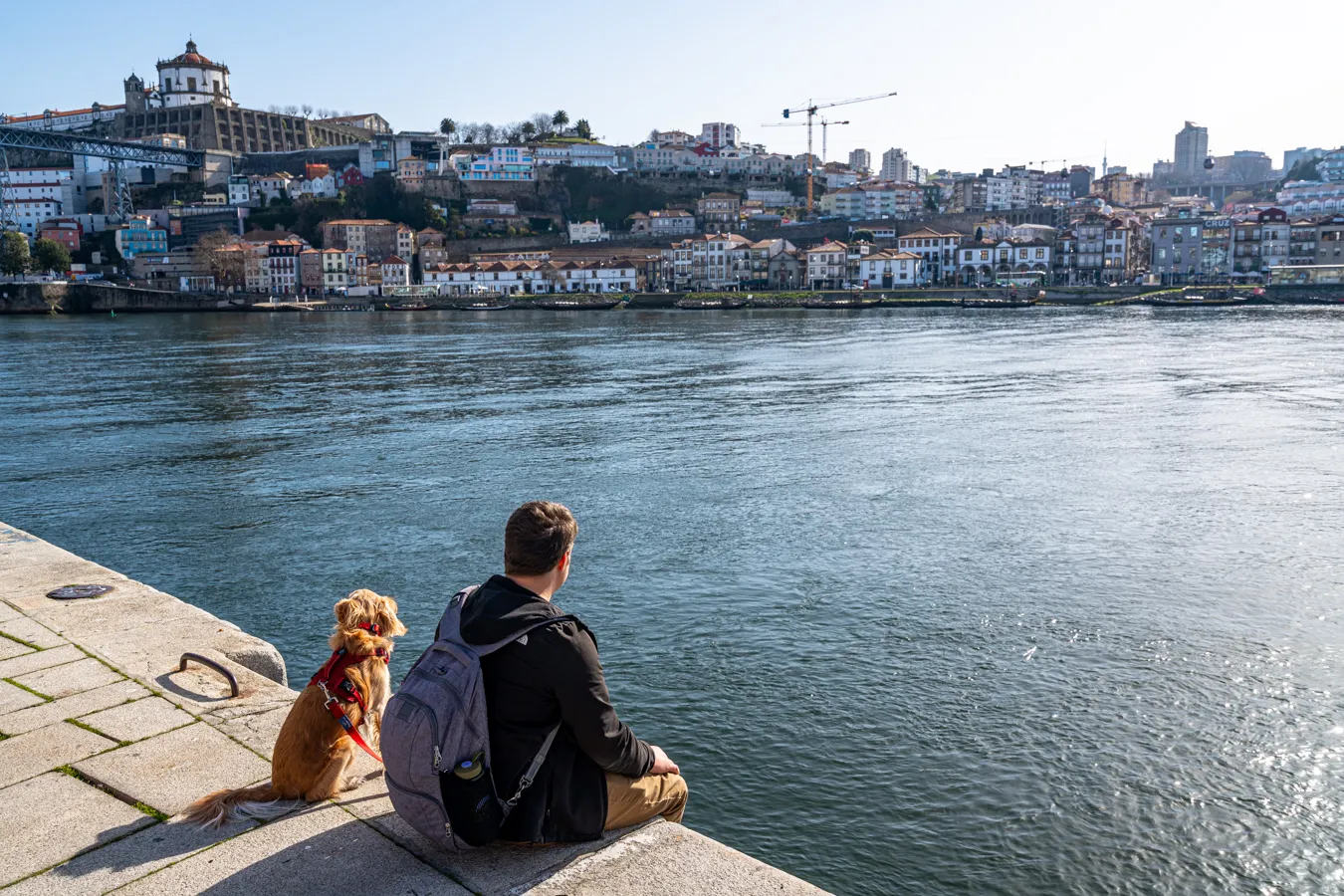 How to Travel From Lisbon to Porto For a Day Trip
If you're planning an independent day trip to Porto from Lisbon, there's one transportation that is easily the best option: the train.
The trains between Lisbon and Porto are reliable, easy to use, and allow you to begin and end your journey in each city's respective center.
Around 30 trains run between Lisbon and Porto each day, and the route takes 3-4 hours way.
We strongly recommend booking your train tickets in advance in order to be able to better plan your day and to ensure you access the most convenient (read: fastest) trains.
Trains between Lisbon and Porto generally leave from the Santa Apolonia station in Lisbon and arrive at Sao Bento Station in Porto (where you'll be dropped off right among the best things to do in Porto).
When arriving in Porto, trains generally stop at Porto Campanha Station, where you'll make a change to board a train to Sao Bento Station.
We go into far more detail on exactly how to take the train from Lisbon to Porto (plus other transportation options) in this blog post.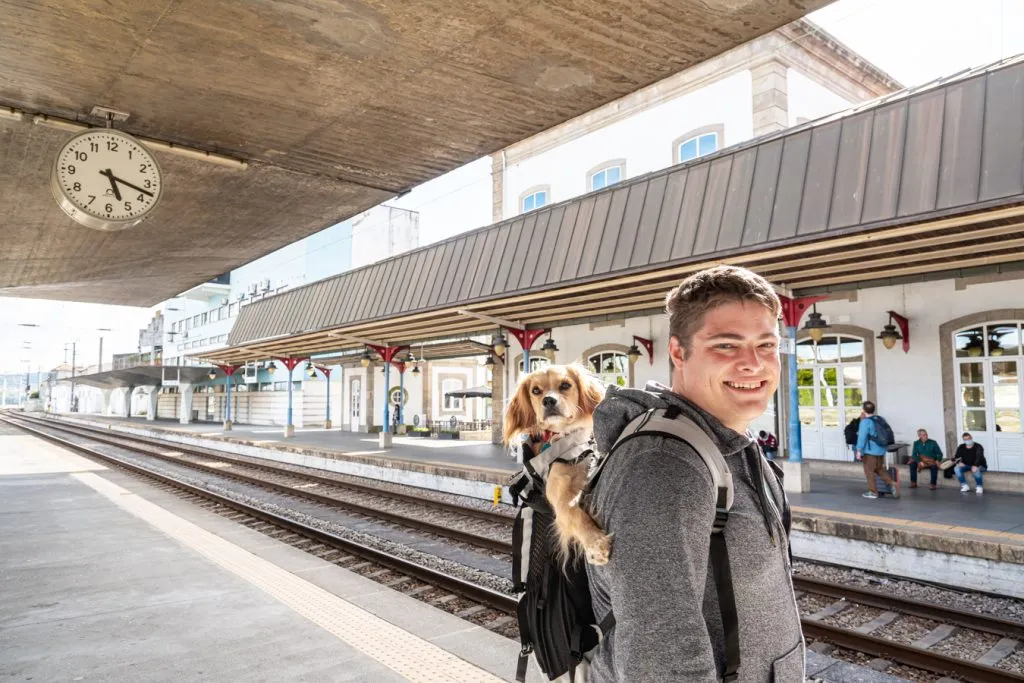 The Perfect Porto Day Trip Itinerary From Lisbon
We designed this Porto day trip itinerary with a few things in mind: limited time, an efficient walking route, and a focus on the Porto destinations that are most different from Lisbon.
In other words, get ready for lots of azulejos and viewpoints!
All in all, this route includes roughly an hour and 15 minutes of walking, not including any time spent at or in the attractions.
We don't cover nearly as much here as our suggested one day Porto itinerary does, because we're expecting travelers to spend somewhere between 6-8 hours in Porto at the absolute max.
On the plus side, you won't have to travel far once you arrive in order to start sightseeing in Porto…
Start your sightseeing at the famous Sao Bento Train Station.
Porto has so many stunning azulejos, that you won't even need to leave the train station in order to enjoy a magnificent example of them!
The azulejos decorating the main atrium of the Sao Bento Train Station are the most famous in the city, and they're definitely worth stopping to appreciate as you begin your short trip to Porto.
You'll pass right by the azulejos as you exit the train station–they're impossible to miss!
Make your way to the Igreja de Santo Ildefonso.
After leaving Sao Bento (and pausing to appreciate the view of the city you get from the front steps of the train station–it's a beauty), it's time to start seeking out some of Porto's famous churches.
About a 15-minute walk away (uphill), you'll find yourself at the Igrejo de Santo Ildefonso, one of the most photographed churches in Porto!
With limited time in Porto, you'll need to prioritize which churches and attractions you step inside, and we recommend sticking with enjoying the exterior of Igrejo de Santo Ildefonso.
Enjoy lunch at Casa Guedes.
Casual, fast, and delicious, Casa Guedes is a staple restaurant in Porto and the perfect place to grab a quick lunch during your day trip!
This is one of our favorite places in town, and we don't consider any trip to Porto complete without at least one roast pork and soft cheese sandwich from Casa Guedes.
There are a couple of locations, but for this Porto itinerary, head to Casa Guedes Tradicional on Praça dos Poveiros.
Stroll over to the Chapel of Souls.
After lunch, take a quick stroll over to the Chapel of Souls to visit another one of Porto's most photographed churches.
Unlike the other churches covered in this guide, the Chapel of Souls doesn't incorporate azulejos into its exterior decor–the exterior is entirely azulejos.
It's quite the sight, especially viewed from the corner when you can appreciate both angles.
To get there from Casa Guedes, head up Rua Santa Catarina, which will give you a chance to appreciate one of Porto's main pedestrianized shopping streets.
You'll pass the Majestic Cafe along this route, famous for being the place where J.K. Rowling wrote part of the first Harry Potter book.
The prices are correspondingly high, given its reputation and beauty, and time is limited–but if you're interested, peek in the window to check out the gorgeous interior!
Step inside the Igreja do Carmo.
Dating to the mid-18th century, the Igreja do Carmo is one of my favorite places to visit in Porto and one that we always make sure to bring out-of-town visitors to!
It's also home to one of the most popular walls of azulejos in Porto!
The interior of the Igreja do Carmo is particularly large and ornate, and the nominal entrance fee also covers a museum in the former monastery that's worth a look.
As you approach, the wall will be right in front of you, and it's quite the sight (don't miss the nearby Fonte dos Leões, either).
It's worth noting that our next stop, the Porto Cathedral, is also worth going inside (especially for its cloisters–see the photo at the top of this blog post).
If you have to choose between the two, I'd opt for the Igreja do Carmo if you're more interested in the back rooms of the monastery, and the Porto Cathedral if you're more interested in the cloisters.
On the other hand, if you left Lisbon at the crack of dawn and are making great time, it's worth noting that the Miradouro da Vitoria is a short walk away and is a fun place to visit, too.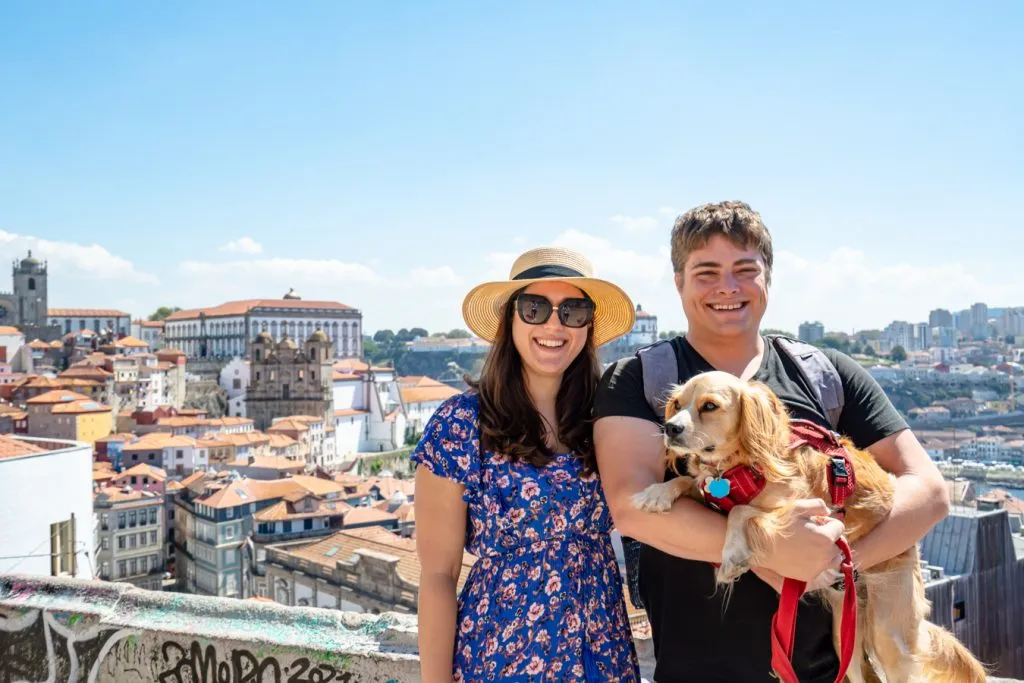 Stop by the Porto Cathedral.
Completed in the 1700s after several centuries of effort, the massive Porto Cathedral features soaring architecture and–you guessed it–beautiful azulejos.
There's a small fee to visit the cloisters, but they are one of the most beautiful parts of the cathedral, and well worth the money.
In front of the cathedral, you'll also find plenty of beautiful viewpoints over Porto!
The Miradouro da Rua das Aldas is particularly gorgeous.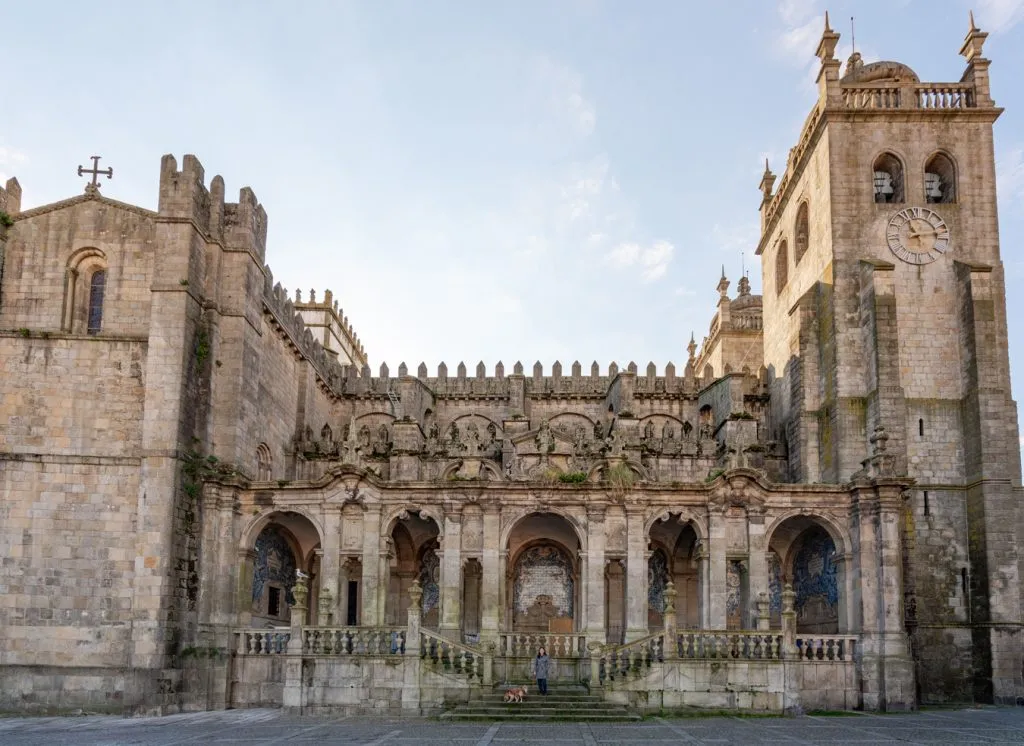 Soak up views of the Douro River on Ponte Luis I.
A short walk away from the Porto Cathedral, you'll find the famous Ponte Luis I, Porto's most famous bridge, and one of its absolute best viewpoints!
From here, you'll be able to admire the Douro River, as well as several features of Porto that you didn't have a chance to see during your day trip, like the Ribeira District and the traditional Rabelo boats parked on the river.
Wrap up your day trip to Porto with a francesinha.
Whether you end up eating a shockingly early dinner or not, one thing is for sure: no Porto itinerary, no matter how short, would be complete without a francesinha!
Bread, ham, sausage, steak, more sausage, cheese, more bread, all smothered in a tomato and beer sauce: these are the general ingredients behind Porto's iconic francesinha sandwich.
The sandwich is generally served with french fries and sometimes topped with a fried egg–and yes, it's quite gluttonous.
It's also fairly new: despite its fame, the sandwich was only invented in the 1950s by a French-Belgian emigrant who was adapting a French croque-monsieur.
For a convenient option, consider heading to Cafe Santiago to try one.
For dessert, enjoy a glass of port–there's no better way to toast the end of a busy but memorable day trip to Porto from Lisbon!
Walk to Sao Bento and board your train back to Lisbon.
This Porto day trip route has taken you–more or less–along a tight circle that visits many of the best places to visit in Porto.
As a result, you should only find yourself a very short walk back to Sao Bento at the end of the day!
Once you board, enjoy a hopefully relaxing train ride back to Lisbon, with plenty of time to rest your feet and go through the many photos you snapped during your day trip to Porto!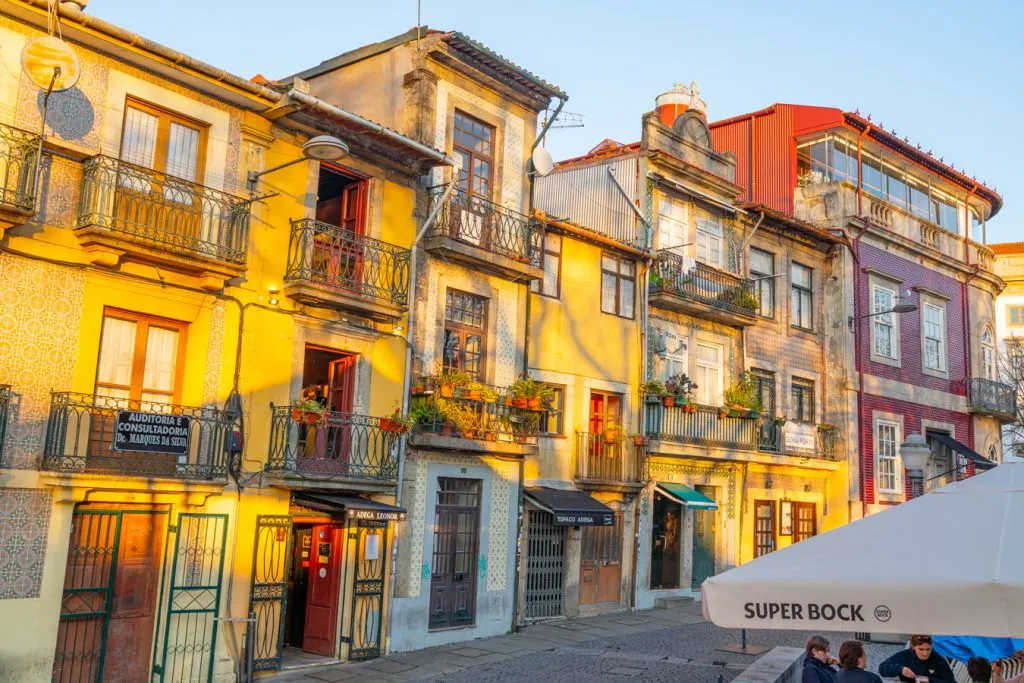 FAQ About Taking a Day Trip to Porto From Lisbon
Is it possible to take a day trip to Porto from Lisbon?
Yes, it is technically possible to take a day trip to Porto from Lisbon.
However, it's not recommended, due to travel time and because there are so many wonderful places to visit that are much closer to Lisbon!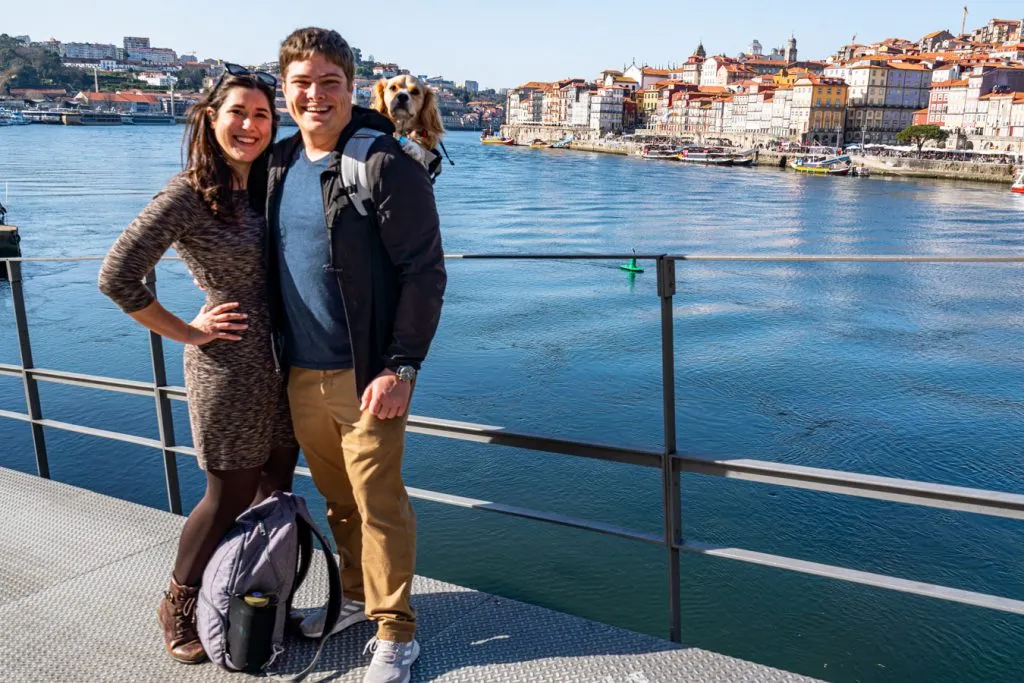 Should you book a tour to visit Porto from Lisbon?
No, it's not necessary to book a Porto day tour to visit from Lisbon.
The trains are efficient and–most importantly–drop you off in the heart of the action, making the benefits of having a guide organize your day much less important than on some day trips.
There are a few options online, including this very ambitious day trip that is popular but includes stops in cities in addition to Porto (be prepared for a long day), and this one that focuses only on Porto.
Unless you particularly want a guide to help you get to Porto though, it's unnecessary–and you can always sign up for a walking tour in Porto if you'd like someone to show you the sights once you arrive.
If you particularly want a guide with you in Lisbon, we think taking the train yourself and then meeting up with a tour group in Porto makes much more sense!
Book your Porto walking tour today!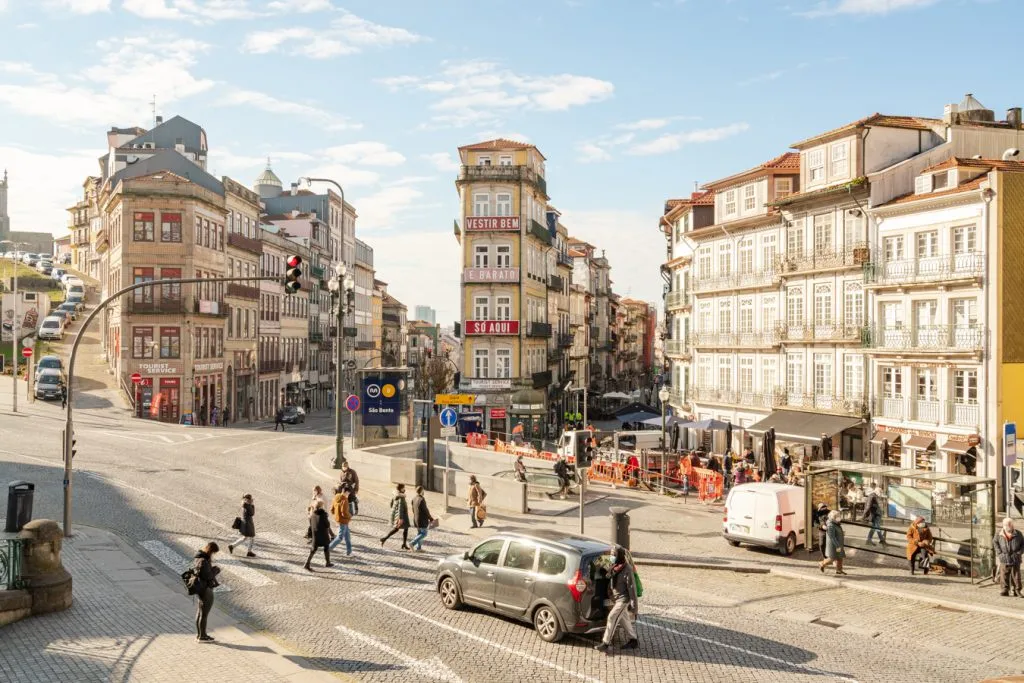 Can you visit Livraria Lello on a day trip to Porto?
Technically, yes, but we don't recommend it.
Livraria Lello is located a short walk from the Igreja do Carmo, however, it's ridiculously crowded, and has long lines in addition to a timed entry system that requires you to pre-purchase a ticket voucher for 5 Euro in order to enter the store.
For travelers spending at least one night in Porto, we recommend seeing the store first thing in the morning (we took our photos of the store right as they opened on a quiet January day, and the store still filled up seconds after we snapped them).
What's the best way to get to Porto from Lisbon for a day trip?
Without a doubt, the simplest way to travel to Porto on an independent day trip from Lisbon is to take the train!
The Alfa Pendular High-Speed Trains are slightly faster than the alternative Intercidades Express Trains, however, both options take roughly 3-4 hours to travel between the cities.
We recommend booking your tickets in advance to best structure your day trip, and to ensure you get access to the trains you want.
Is the Lisbon to Porto train scenic?
I wouldn't go so far as to call the Lisbon to Porto train journey a scenic train journey in the sense that it's worth booking only for the views… but it does have some lovely ones!
Sit on the left when heading north, and you'll be treated to some beautiful views of the Silver Coast in particular when making your way from Lisbon to Porto for the day.
Read More About Visiting Portugal
Planning a trip to Portugal soon and want to keep reading?
You can browse our many Portugal blog posts here, or check out these guides:
Porto Day Trip Itinerary Map
Take This Map With You! Click each highlight to pull up the name of the destination. To save this map to "Your Places" on Google Maps, click the star to the right of the title. You'll then be able to find it under the Maps tab of your Google Maps account! To open the map in a new window, click the button on the top right of the map.