Hoping to spend one day in Lisbon, Portugal?
After spending more than a year living in Lisbon, we have lots of tips on how to do it right!
Sunny, colorful, and (very) hilly, Lisbon is one of those cities that is simultaneously engaging and relaxing to visit.
With a year-round mild climate, lots of sunshine (it's one of the sunniest cities in Europe!), beautiful views, and plenty of laid-back sightseeing options, spending one day in Lisbon is bound to delight.
We originally put this one day Lisbon itinerary together after a couple of visits to Portugal's capital city, and have now tweaked it even further after our experience living there.
In one day, you'll cover parts of Alfama, Baixa, Chiado, and Bairro Alto.
We've also included lots of travel tips along the way, including the answer to one of our most frequently asked questions about Lisbon: whether you can visit Lisbon and Sintra in a day.
If you have 24 hours in Lisbon or less, here's how to see the best of the city in a day, featuring beautiful views, historic trams, and delicious pastries.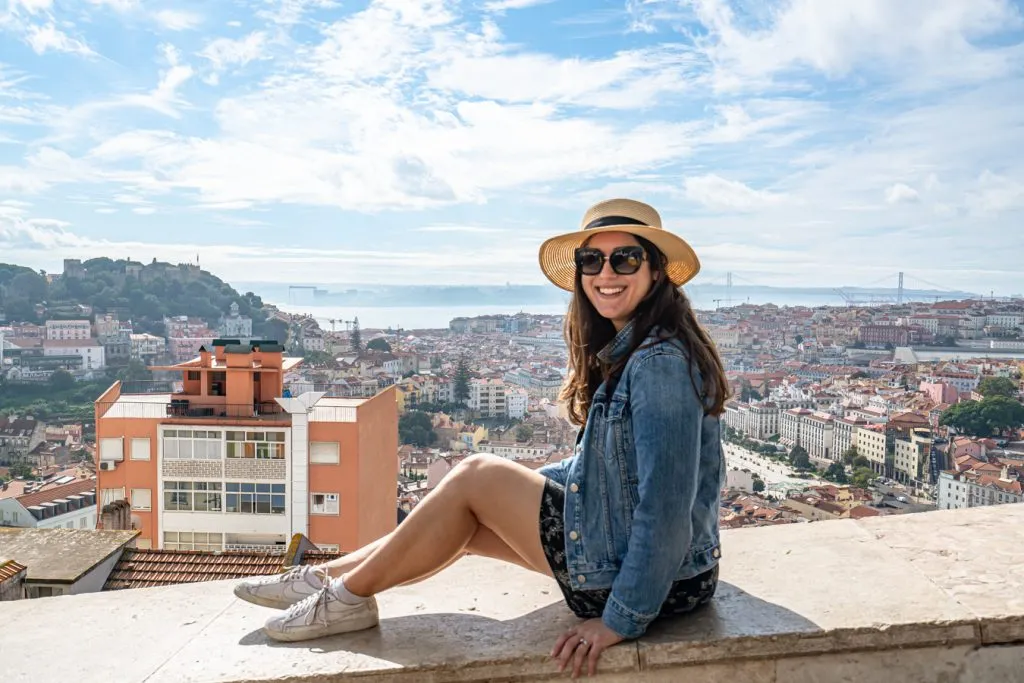 Want to plan a day in Lisbon the easy way?
The independent one day Lisbon itinerary that we've outlined below will show you many of our favorite places in the Portuguese capital, from beloved viewpoints to one of our favorite pastéis de nata bakeries and beyond.
However, if you would rather not worry about navigating through Lisbon yourself, and your goal is to see absolutely as much as possible of Lisbon in one day (including a traditional lunch), you can also consider signing up for this extremely well-organized tour.
Take Walks, which hosts this jam-packed Lisbon in a day tour, is one of our favorite companies for small group tours in Europe, and we've used them in many cities.
While there are trade-offs to booking a full-day tour of Lisbon–less freedom, less chances to relax and take in the city–there are benefits to a tour, too.
The biggest one is that thanks to a knowledgeable and efficient tour guide, Take Walks' tour covers an enormous amount of ground and includes the Jerónimos Monastery.
Be prepared for sore feet but a very satisfying day if you sign up!
The Ultimate One Day in Lisbon Itinerary
Start your morning with epic views over Lisbon at Miradouro da Graça.
Lisbon is an incredibly hilly city, which lends itself to some phenomenal views.
One of the most popular is Miradouro da Graça, which boasts a fabulous view of the city, Castelo de São Jorge, and the 25 de Abril Bridge stretching across the Tagus River (one look at that view and you'll get your first glance at why Lisbon is often compared to San Francisco!).
We recommend starting your one day in Lisbon here–be sure to take plenty of time to admire the view of the city before you start wandering down into it.
Wind your way downhill through Alfama.
As you leave Miradouro da Graça and started climbing downward, you'll make your way into Alfama, one of Lisbon's most famous and beautiful neighborhoods.
All tiny streets, tiled buildings, and beautiful views, Alfama is a neighborhood that is ripe for exploring.
Here are a few things to consider checking out along the way–but don't be afraid to get a little lost in between stops!
That's part of the fun of discovering Alfama.
Miradouro de Santa Luzia
Miradouro de Santa Luzia is one of the most popular viewpoints in Lisbon, and while the view is lovely, it's not the absolute best.
What makes the Miradouro de Santa Luzia worth visiting when trying to see Lisbon in a day, though, is the viewpoint itself.
This small park boasts a pergola, a garden, and some beautiful tiled walls–perfect for snapping photos in Lisbon!
Tram 28
Lisbon's most famous tram passes right through Alfama, and the full route connects Campo Ourique to Matrim Moniz.
While riding the vintage Tram 28 is one of the most popular (and therefore crowded) things to do in the city, we recommend skipping the lines and crowds and simply admiring the exterior.
The best views are from across the street, anyway, not inside the crowded tram car.
As you slowly make your way from Miradouro da Graça to Praça do Comércio, you'll have plenty of chances to admire it!
Miradouro das Portas do Sol
One of the most frequently visited miradouros in Lisbon (in part because Tram 28 passes right by), this platform boasts beautiful views over the city.
And, since Miradouro das Portas do Sol and Miradouro da Santa Luzia are more-or-less next-door neighbors, they're easy to visit back-to-back!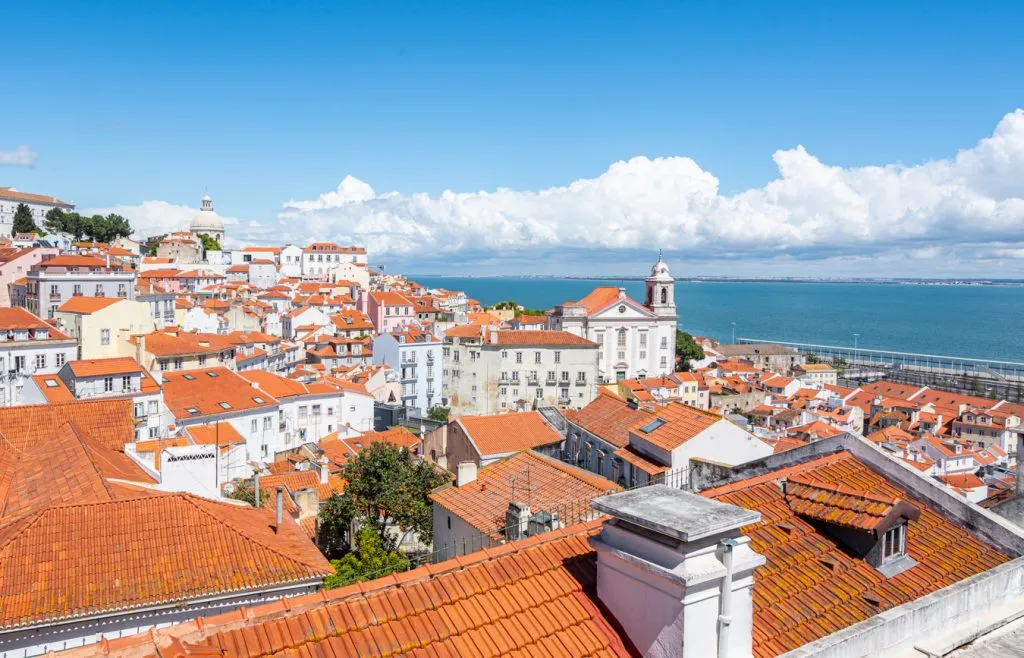 Optional: Pastelaria Santo António
Depending on how hungry you are, how much of a sweet tooth you have, and what time you got started this morning, you just may have time for a quick detour to Pastelaria Santo António, which makes one of our favorite pastéis de nata in the city!
Housed in an azulejo-covered building just down the street from Castelo de São Jorge and consistently busy (meaning you're virtually always buying a fresh pastel de nata) but not overwhelmingly so, Pastelaria Santo António won the "best pastel de nata in Lisbon" award in 2019.
Two natas per person is usually enough, though, of course, you can always have more.
Don't forget the cinnamon, either: whether or not you should sprinkle cinnamon (and/or powdered sugar) on top of your pastel de nata is something of a debate, but it's worth trying at least once!
Lisbon Cathedral
Dating to the 12th century, the Lisbon Cathedral (often simply referred to as the Sé in Portuguese) is imposing, beautiful, and one of the most recognizable buildings in Lisbon.
It has been restored many times, in large part due to Lisbon's many earthquakes (most notably, of course, the earthquake of 1755), but endures to this day and is well worth stopping to admire during your short trip to Lisbon.
However, whether it's worth going inside is another question: the interior is beautiful, but with a 5 Euro entry fee and a less "typical" Lisbon style inside (more stone, less gold), it's not necessarily a must-enter… just a must-see (the exterior).
Check out Praça do Comércio.
Praça do Comércio is Lisbon's main square, both historically and in the present day: once the location of Portugal's Ribeira Palace before it was destroyed in the earthquake of 1755, the square used to host royalty and dignitaries from around the globe.
After the earthquake, the Praça do Comércio was eventually rebuilt with the intention of being used as a commerce hub in the city–hence the name.
Set right on the Tagus River, the Praça do Comércio is beautiful and well worth checking out during your one day in Lisbon.
If you'd like to get fantastic views of the Praça do Comércio from above, head up to the Arco da Rua Augusta platform for fabulous views (it's not a must-do, but it's a fun, cheap side quest and I've never seen a line there).
Also: don't miss the elephant on the statue in the middle of the square!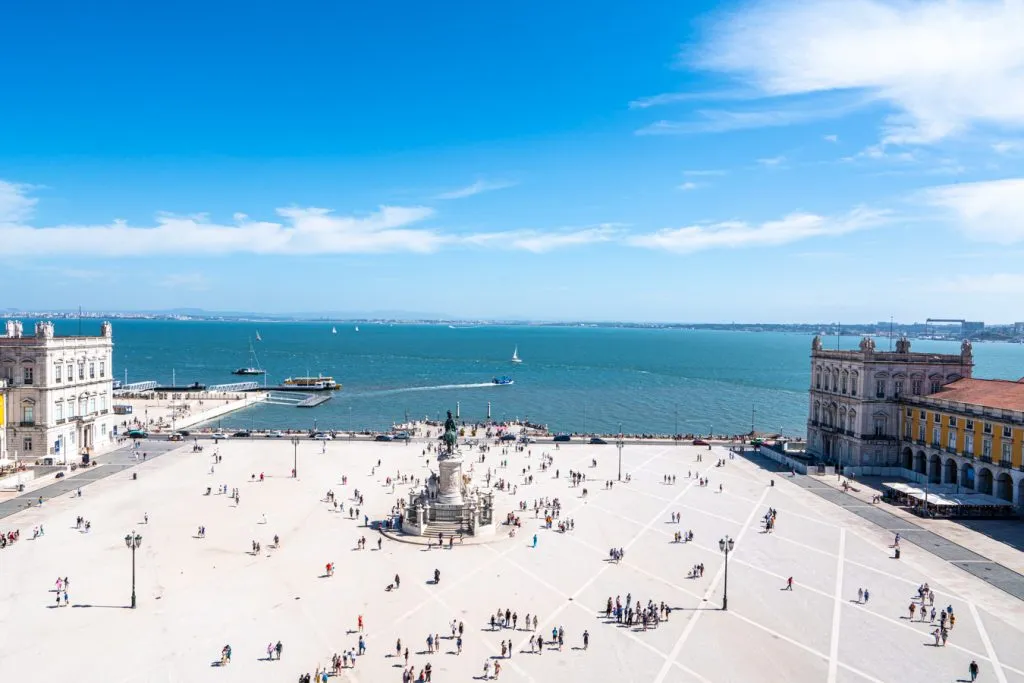 Head up Rua Augusta and experience Baixa.
As you pass underneath the beautiful Arco da Rua Augusta, head up the street and say hello to Baixa!
The straight, uniform streets here are a marked departure from the maze of Alfama, and that is directly tied to the rebuilding of the city after the 1755 earthquake (Alfama was one of few areas in Lisbon that was spared).
This is Lisbon's most touristy neighborhood, but it does house some gems, including a Manteigaria location (which is consistently in the running for best pastel de nata in Lisbon), and the Santa Justa Lift.
Opened in 1902 and designed by Raoul Mesnier du Ponsard, who was a student of the one and only Gustave Eiffel, you may notice some similarities to a certain other famous iron tower.
It's not worth riding–more on that soon–but it's definitely eye-catching!
Head up (literally) to Bairro Alto and Chiado.
After spending the morning heading downhill, it's time to go back up again–but ideally, without a climb.
You have a few options!
(And before listing them, it's worth noting that Beira Gare right around here makes one of our favorite bifanas in the city and is a great stop if you're hungry).
Option 1: head all the way to the Gloria Funicular, passing through beautiful Rossio Square (look up and above the right corner of the square if you're facing the river and see if you can spot the roofless church), and ride the funicular up to Chiado.
Option 2: Grab a cab in Rossio Square to take you up (less efficient but helpful if there's a line for the funicular.
Option 3: Head over to the H&M entrance of Rua do Aurea in Baixa, not far from where you are, and ride the escalators to the top. It's a great shortcut!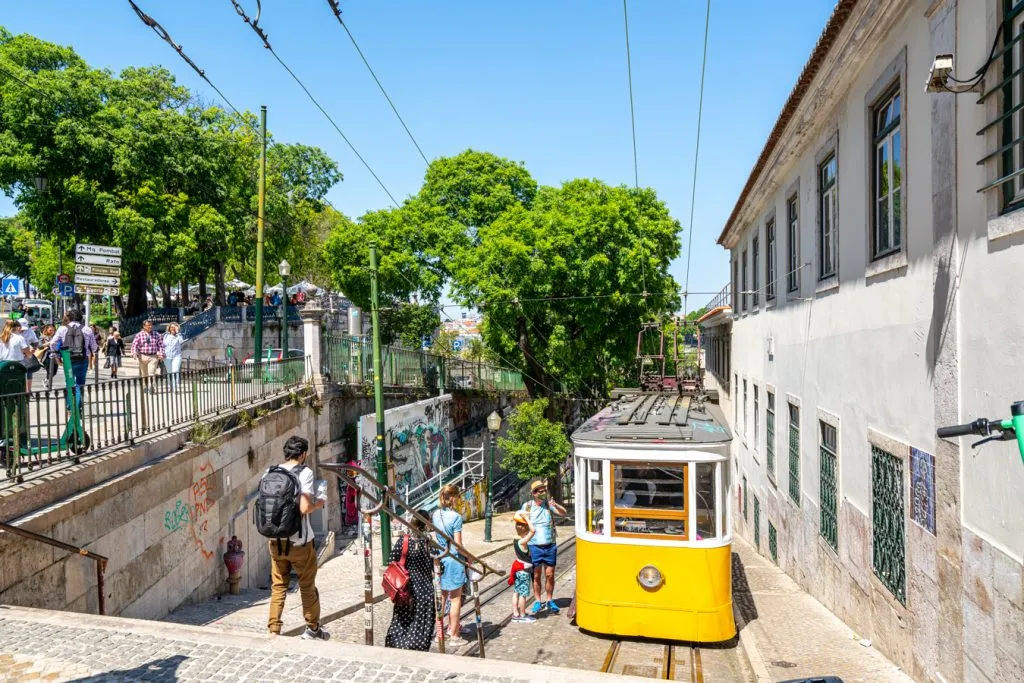 Explore Chiado and Bairro Alto.
At this point, you're on top of another one of Lisbon's hills and in one of my favorite parts of Lisbon–historic, beautiful, and popular, without quite the level of tourism down in Baixa.
Here's where to go (starting with the viewpoint that the Bica Funicular will drop you right by):
Miradouro de São Pedro de Alcântara
One of my favorite viewpoints in Lisbon, with an incredible view of the castle!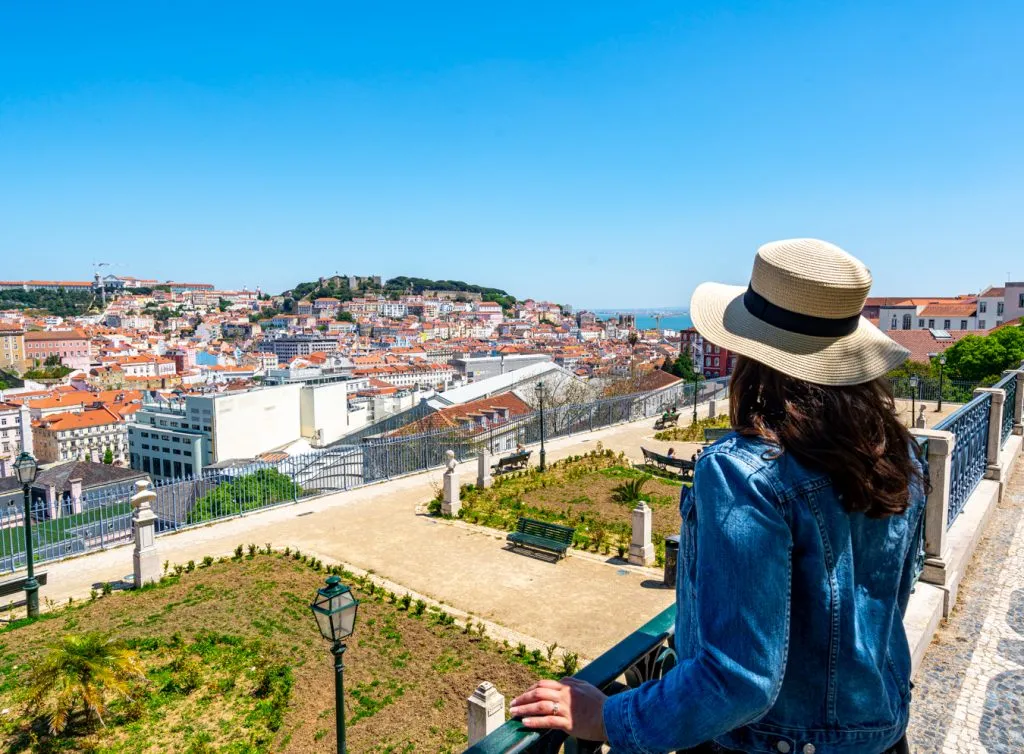 Church of São Roque
Dating to the 16th century, the Church of São Roque is one of the most spectacular churches in Lisbon.
If you only step inside one church during your 24 hours in Lisbon, make it this one!
The earliest Jesuit church in Portugal, the Church of São Roque has a collection of incredible gilded (primarily Baroque) chapels, as well as a magnificent painted ceiling.
Livraria Bertrand
Want to visit the oldest continuously operating bookstore in the world?
Livraria Bertrand is located right in Chiado and doesn't take long to see.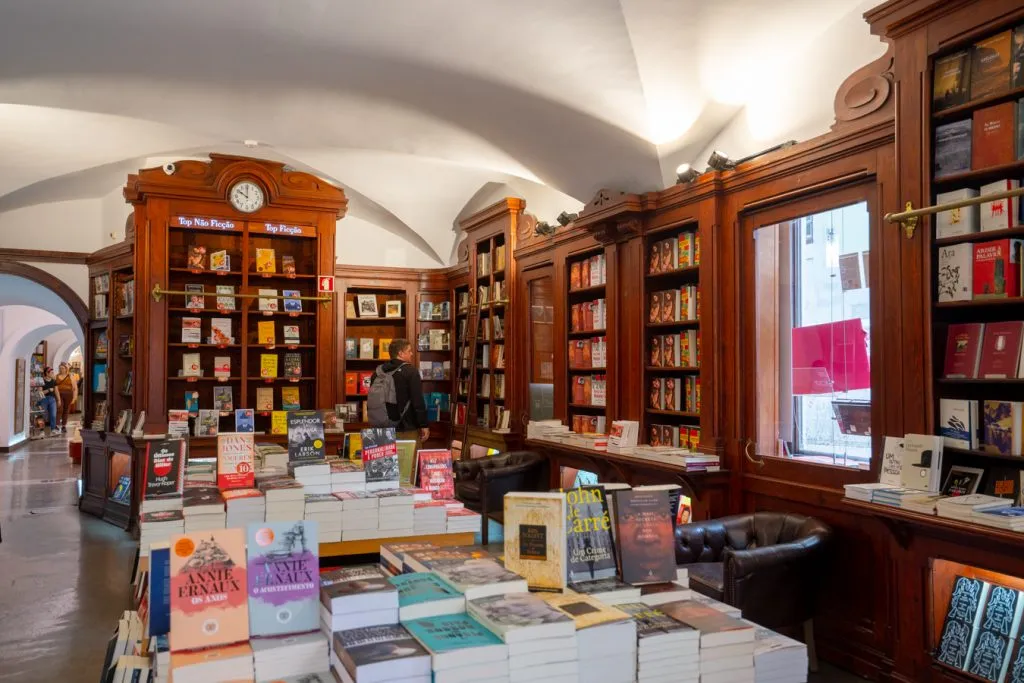 Optional: Carmo Convent
Honestly, this is a very packed Lisbon itinerary, so you may not have time for this!
But if you're curious about the roofless church you may have spotted from Baixa… this is it, and it's worth going inside.
Construction broke on the magnificent, Gothic-style Carmo Convent in 1393.
Fast forward a few centuries, and the church collapsed in the infamous earthquake of 1755–and as you can see, it was never fully rebuilt.
The small museum is worth a look, too, and even includes a couple of mummies.
The Santa Justa Lift (With No Lines!)
Here's the biggest reason not to wait in line to ride the Santa Justa Lift: you can visit the top for free!
If you're standing in the shady Largo di Carmo square, facing the Carmo Convent, you'll see a road leading alongside the right side of the convent.
Follow it, and within less than a minute, you'll find yourself at the top of the Santa Justa Lift!
From here, you can freely walk onto the beautiful iron structure, admiring the same views that you would have gotten by waiting in line to ride it.
It really is one of my favorite views of Lisbon, too–the dead-center view of the São Jorge Castle perched high on a hill above Baixa is stunning.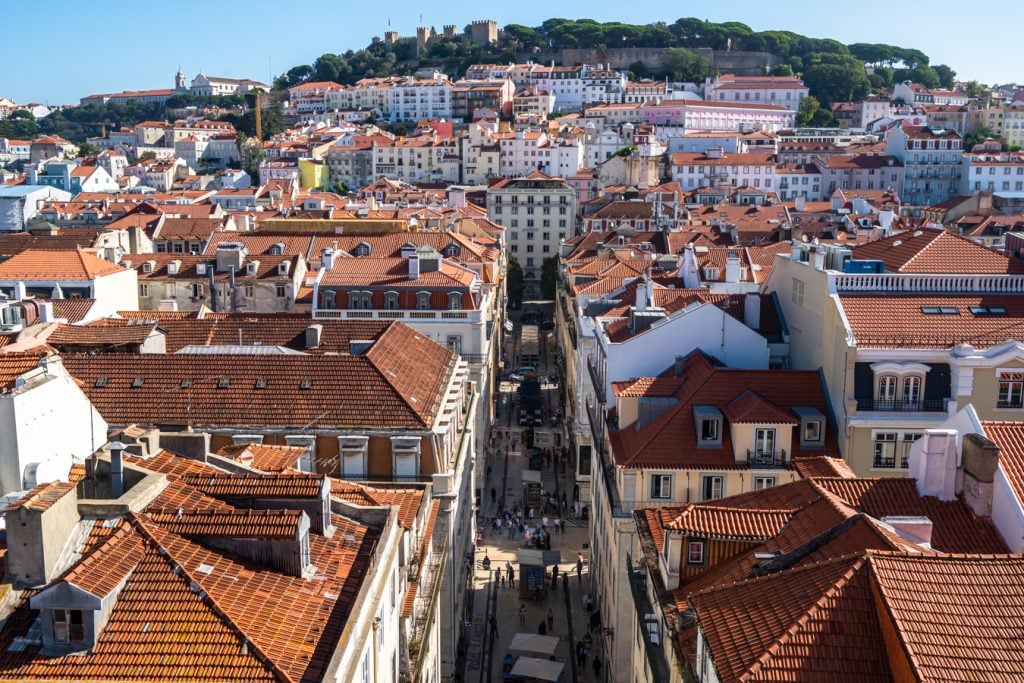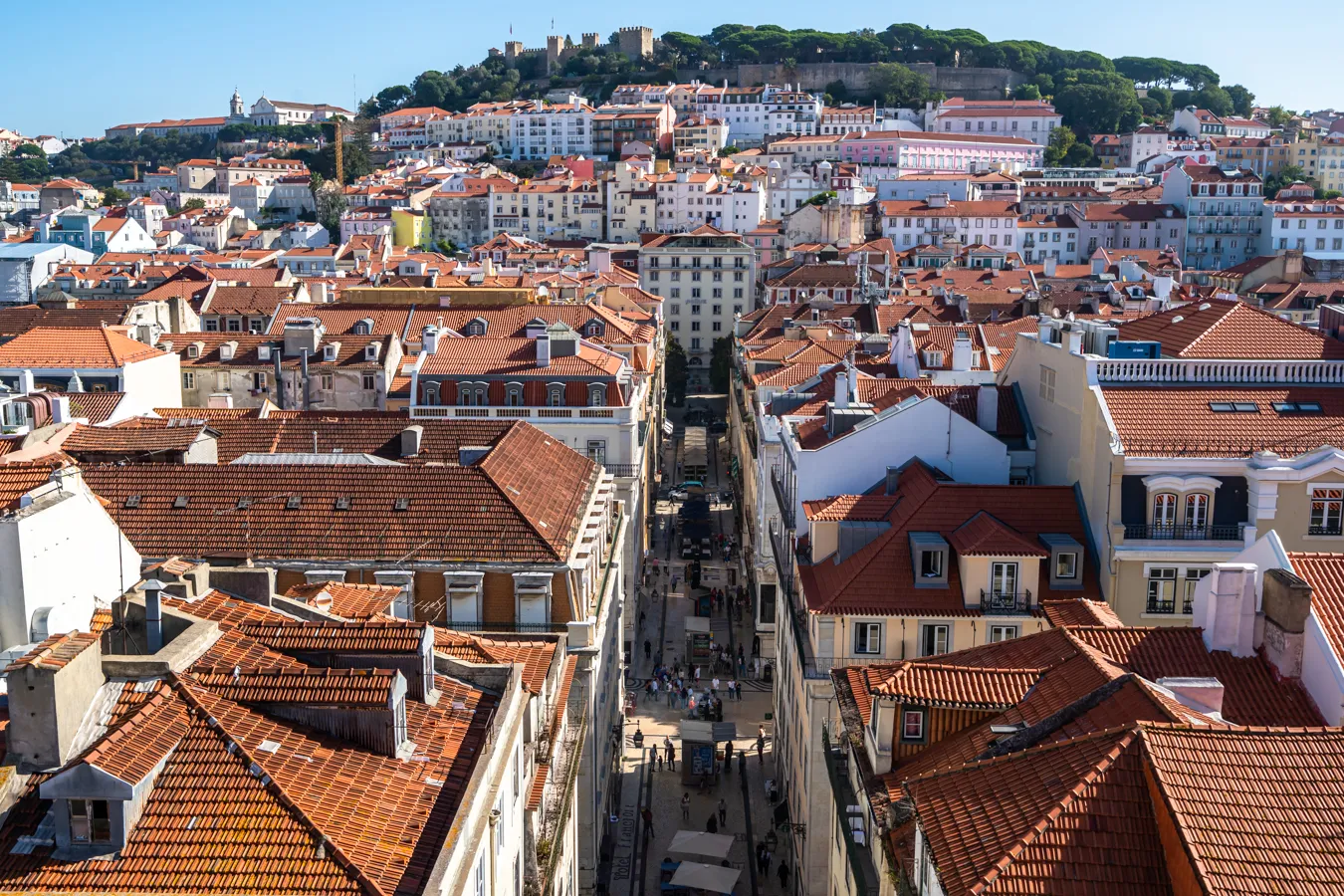 Enjoy the sunset over Lisbon from a sailboat on the Tagus River.
At this point, you may be absolutely wiped from your day of zipping to and from the best places to visit in Lisbon–if so, head from Chiado to trendy Príncipe Real and relax into a nice dinner.
If you still have some exploring left in you, though, closing out your one day in Lisbon with a sailboat cruise on the Tagus River serves several purposes.
It's lots of fun, it's a fantastic way to admire the sunset in Lisbon, and it'll give you a chance to admire views of some of Lisbon's most famous spots that otherwise can't quite fit into this one day Lisbon itinerary: the Belém Tower, Monument of the Discoveries, and the 25 de Abril Bridge.
It's also more affordable than you might think.
Our sunset sailboat cruise is one of our fondest memories from Lisbon, and we highly recommend taking the chance to admire the city from the water!
This popular tour is a fun, well-reviewed option.
Book your sunset cruise on the Tagus River today!
Where to Stay With 24 Hours in Lisbon
For this one day Lisbon itinerary, we recommend staying either within Alfama (for great atmosphere), or Baixa (for easy access in and out of the city), depending on your preference.
Príncipe Real is another great option, especially if you plan to end your sightseeing there.
And, keep in mind that Lisbon is fairly large and spread out: no matter what neighborhood you choose to stay in, you won't be within walking distance of everything!
For a budget-friendly hostel experience (with private rooms available), the Sunset Destination Hostel is a great, centrally located option.
At a mid-range price tag, you can't beat the location or rave reviews for Tempo FLH Hotels Lisboa.
Looking for a splurge?
The Lumiares Hotel & Spa is part of the much-acclaimed Small Luxury Hotels of the World Collection, and offers stunning views that you won't forget anytime soon!
More Than One Day in Lisbon, Portugal?
If you have more than one day in Lisbon, you definitely won't run out of things to do (and our 3 day Lisbon itinerary can help you narrow down your options).
First things first, consider paying a visit to Belém, where you'll find the famous Belém Tower, Monument to the Discoveries, a beautiful promenade to stroll along the Tagus River, and the famous Jerónimos Monastery (but be sure to get your ticket in advance as the lines can be extremely long).
We love food tours in Lisbon, and can highly recommend this one from personal experience!
Castelo de São Jorge, which we trimmed from this one day in Lisbon guide due to time constraints and the number of viewpoints already included, is also incredibly popular.
Time Out Market and surrounding Cais do Sodré neighborhood are also great options (nightlife lovers will love Cais do Sodré, and this is where you'll find Lisbon's famous Pink Street).
Hidden gems like the Monastery of São Vicente and National Coach Museum are absolutely worth a visit, too!
Museum buffs will love the National Tile Museum, which is dedicated to Portugal's beautiful and distinct tilework.
With more than a day in Lisbon, you may also want to consider some day trips: Sintra, of course, is one of the most popular, but nearby Cascais, Cabo da Roca, and Ericeira are all great options as well.
To the north, Batalha Monastery and Alcobaça Monastery rank among my favorite places in Portugal, and they're wonderful options paired with the fairytale town of Óbidos.
If your trip to Lisbon overlaps with either a Tuesday or Saturday, also consider hitting up Feira da Ladra, Lisbon's vintage flea market!
Getting Around During A Day in Lisbon
While we've designed this one day Lisbon itinerary to be primarily walkable, the city of Lisbon itself is not particularly walkable by the standards of dense European city centers.
Belém and LX Factory, for example, are both a 25+ minute drive away from the center of Alfama, which is why despite being very well-known, they didn't make it onto this itinerary for seeing Lisbon in a day.
In addition to distance, there's also height: Lisbon is a very hilly city, so if you're planning to climb to a miradouro, be prepared for a workout!
Keep an eye out for public elevators to help you along–not the most traditional form of public transportation, but they're great for ascending hills very quickly and with the exception of the touristic Santa Justa Lift, tend to be free to use.
Lisbon's tram system is very helpful in navigating the city, however, if you'd like to ride the famous Tram 28 through Alfama, be prepared for heavy crowds (honestly, we don't recommend it with such limited time).
In addition to the photogenic trams, Lisbon also has a more traditional bus system and metro system that are great for getting around the city.
Taxis are also reasonably priced and easy to access, and tend to use the meter without issue (with the exception of getting taxis from the airport).
Can you visit Lisbon and Sintra on the same day?
The famous and majestic palaces of Sintra (especially the colorful and photogenic Pena Palace) are some of the best-known sights in Portugal–and they're located less than an hour from Lisbon!
For that reason, many people who have one day in Lisbon get tempted to squeeze in a visit to Sintra too–but is it a good idea?
It depends.
By visiting both Sintra and Lisbon in one day, you won't be able to do justice to both of them.
You'll likely need to trim quite a bit of the one day Lisbon itinerary outlined here (basically see either Alfama or Chiado/Bairro Alto), and you won't be able to visit all of Sintra's palaces, instead likely needing to pick 1-2.
That being said, if you have been dreaming of seeing Sintra and this is your best opportunity to do so, it's not a bad idea to squeeze in both–honestly, it's what I would do given that choice (but then again, I really wanted to see Pena Palace… and it lived up to the hype).
The best way to combine a day in Lisbon with a day in Sintra is to book a half-day tour like this.
That way, you won't need to navigate Sintra alone (Pena Palace is a 20-minute bus ride away from the Sintra train station, for example), and you'll know that you're seeing the best of Sintra in the most efficient way possible, while still leaving half your day dedicated to Lisbon itself.
Book your half-day visit to Sintra today!
Lisbon Blog Posts To Read Next
Have more questions about spending a day in Lisbon?
Here are a few more of our travel guides to Lisbon that might help you plan your trip!
One Day Lisbon Itinerary Map
Take This Map With You! Click each highlight to pull up the name of the destination. To save this map to "Your Places" on Google Maps, click the star to the right of the title. You'll then be able to find it under the Maps tab of your Google Maps account! To open the map in a new window, click the button on the top right of the map.
---