Whether you have a day in Lisbon, Portugal, or a month, Lisbon is one of those cities that is simply relaxing to visit.
With a year-round mild climate, lots of sunshine (it's one of the sunniest cities in Europe!), beautiful views, and plenty of laid-back sightseeing options, spending one day in Lisbon is bound to be a delight.
We've loved each of our visits to Lisbon, and while we definitely think that in a perfect world Portugal's capital deserves more than 24 hours of your time, that's not always an option.
If you're hoping to see Lisbon in a day, here's what to do.
The Ultimate One Day in Lisbon Itinerary
Start your morning with epic views over Lisbon at Miradouro da Graça.
Lisbon is an incredibly hilly city, which lends itself to some phenomenal views.
One of the most popular is Miradouro da Graça, which boasts a fabulous view of the city, Castelo de São Jorge, and the 25 de Abril Bridge stretching across the Tagus River (one look at that view and you'll get your first glance at why Lisbon is often compared to San Francisco!).
We recommend starting your one day in Lisbon here–be sure to take plenty of time to admire the view of the city before you start wandering down into it.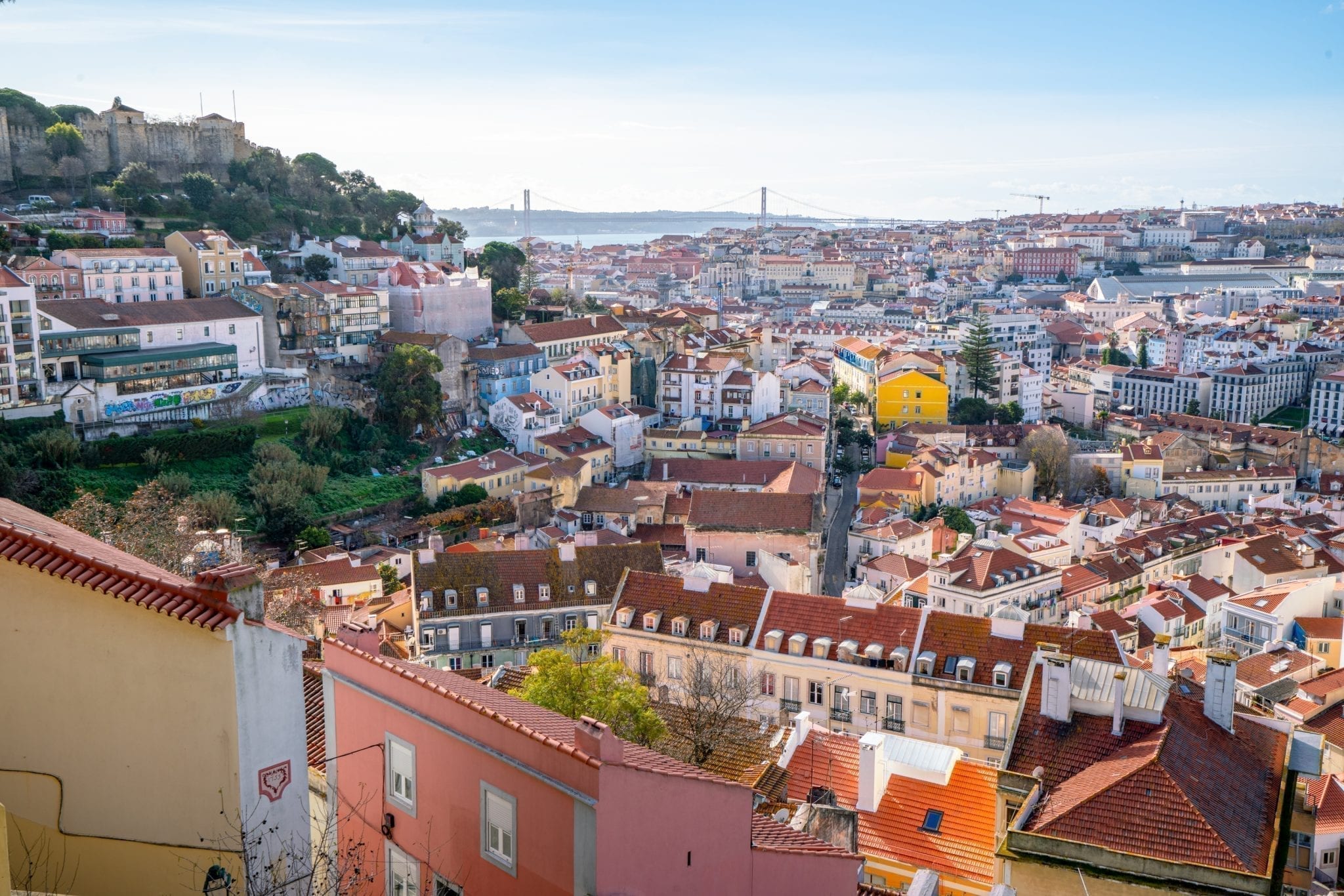 Wind your way downhill through Alfama.
As you leave Miradouro da Graça and started climbing downward, you'll make your way into Alfama, one of Lisbon's most famous and beautiful neighborhoods.
All tiny streets, tiled buildings, and beautiful views, Alfama is a neighborhood that is ripe for exploring.
Here are a few things to consider checking out along the way–but don't be afraid to get a little lost in between stops! That's part of the fun of discovering Alfama.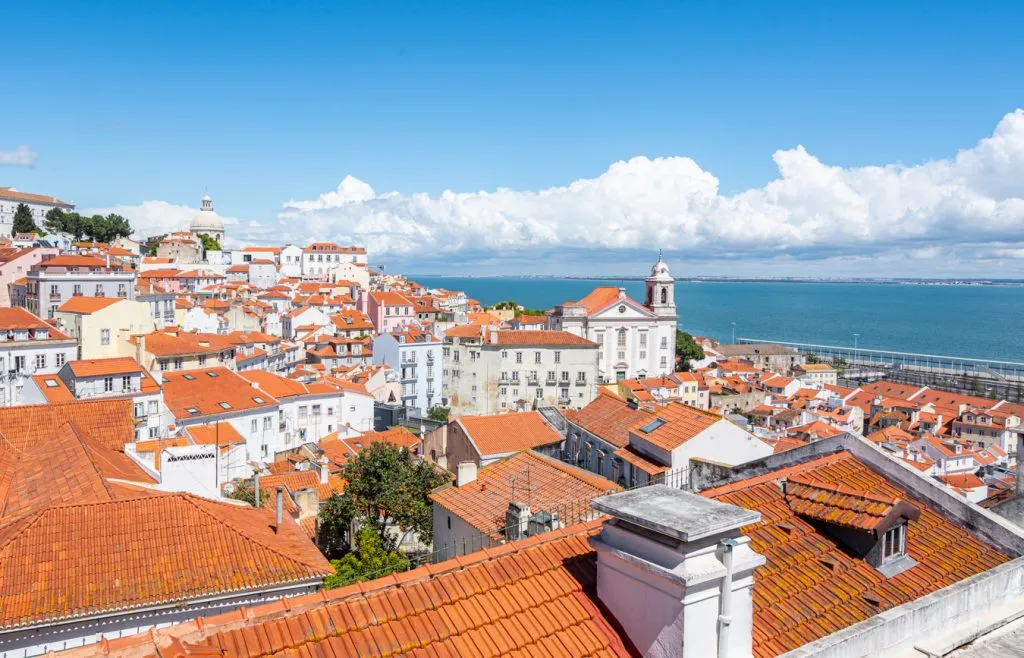 Miradouro de Santa Luzia
Miradouro de Santa Luzia is one of the most popular viewpoints in Lisbon, and while the view is lovely, it's not the absolute best.
What makes the Miradouro de Santa Luzia worth visiting when trying to see Lisbon in a day, though, is the viewpoint itself.
This small park boasts a pergola, a garden, and some beautiful tiled walls–perfect for snapping photos in Lisbon!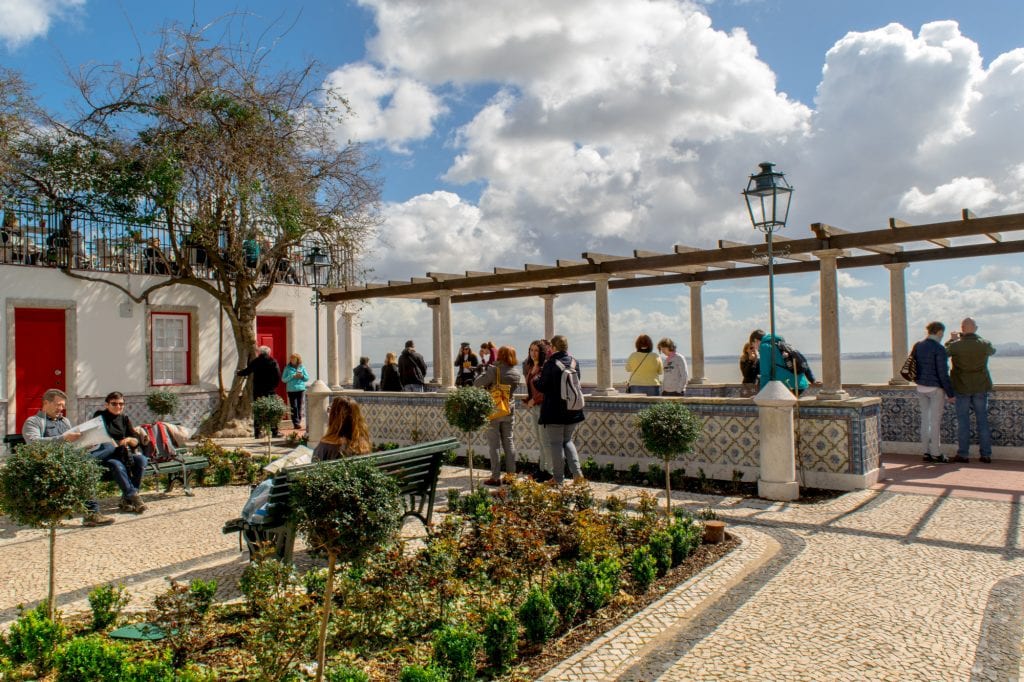 Fado Museum
Portugal's traditional Fado music is immortalized in this popular museum at the base of Alfama.
If you're a big music fan, you may want to duck inside during your day in Lisbon!
Tram 28
Lisbon's most famous tram passes right through Alfama, and the full route connects Campo Ourique to Matrim Moniz.
While riding the vintage Tram 28 is one of the most popular (and therefore crowded) things to do in the city, with only one day in Lisbon, we recommend skipping the lines and crowds and simply admiring the exterior.
The best views are from across the street, anyway, not inside the crowded tram car!
Miradouro das Portas do Sol
One of the most frequently visited Miradouros in Lisbon (in part because Tram 28 passes right by), this platform boasts beautiful views over the city.
Lisbon Cathedral
Dating to the 12th century, the Lisbon Cathedral (often simply referred to as the Sé in Portuguese) is imposing, beautiful, and one of the most recognizable buildings in Lisbon.
It has been restored many times, in large part due to Lisbon's many earthquakes over the centuries, but endures to this day and is a great place to visit when exploring Alfama.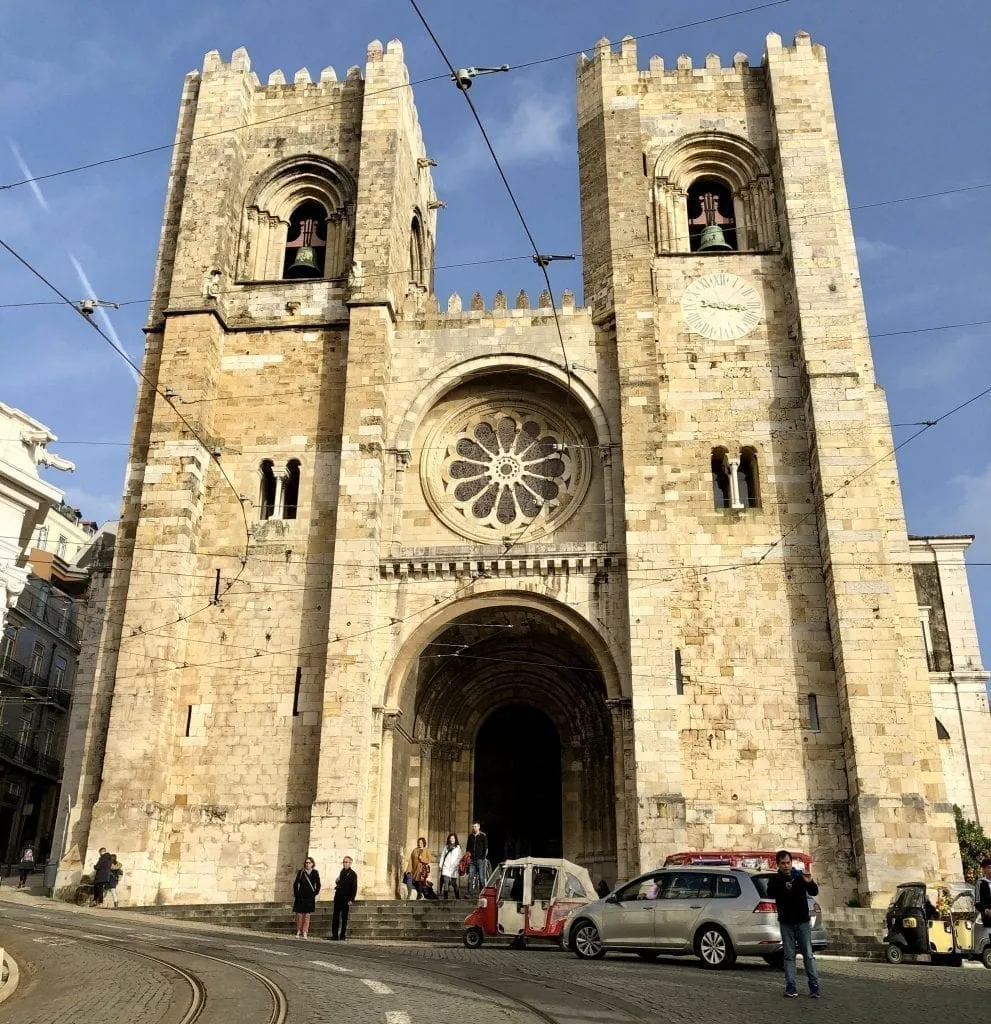 Check out Praça do Comércio.
Praça do Comércio is Lisbon's main square, both historically and in the present day: once the location of Portugal's Ribeira Palace before it was destroyed in the earthquake of 1755, the square used to host royalty and dignitaries from around the globe.
After the earthquake, the Praça do Comércio was eventually rebuilt with the intention of being used as a commerce hub in the city–hence the name.
Today, the square is popular with tourists and is also a transportation hub for getting around Lisbon.
Set right on the Tagus River, the Praça do Comércio is beautiful and well worth checking out during your one day in Lisbon.
If you'd like to get fantastic views of the Praça do Comércio from above, head up to the Arco da Rua Augusta platform for fabulous views.
Snap some photos of Lisbon's Pink Street.
Lisbon's Pink Street is literally exactly what it sounds like–a street painted bright pink!
Once upon a time this street was Lisbon's red light district, but today it's more about nightlife and photos–it's a total shock that a bright pink street is a popular photo spot in Lisbon, right?
The street is lined with bars, restaurants, and other nightlife venues, so it doesn't really get hopping until after dark.
If you want some photos, though, it's best to come early–and since it's only a quick walk from Praça do Comércio and is on your way to Time Out Market, it's worth swinging by for a second during the day when the pink really pops. You can always come back later for the nightlife!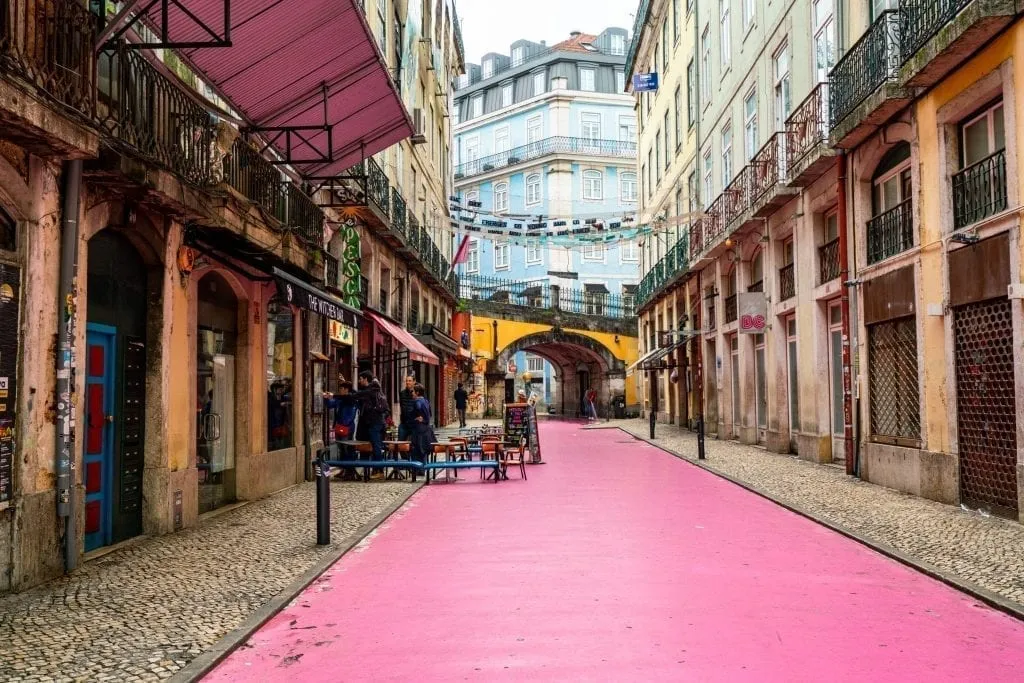 Eat your heart out at Time Out Market.
Fun, touristy, and full of good food–Time Out Market is Lisbon's most famous food hall, and it's positively packed with delicious things to eat.
With only one day in Lisbon, you won't have long to experience the best of Lisbon's cuisine, but by enjoying a large meal at Time Out Market, you'll be able to sample a lot of regional specialties in one location.
If you're a wine fan, be sure to try a glass of vinho verde–it's delicious!
Enjoy the sunset over Lisbon from a sailboat on the Tagus River.
Closing out your one day in Lisbon with a sailboat ride on the Tagus River serves several purposes.
It's lots of fun, it's a fantastic way to admire the sunset in Lisbon, and it'll give you a chance to admire views of some of Lisbon's most famous spots that otherwise can't quite fit into this one day Lisbon itinerary: Belém Tower, Monument to the Discoveries, and the 25 de Abril Bridge.
Our sunset sailboat cruise is one of our fondest memories from Lisbon, and we highly recommend taking the chance to admire the city from the water! This popular tour is a fun, well-reviewed option.
Book your sunset cruise on the Tagus River today!
Where to Stay in Lisbon
For this one day Lisbon itinerary, we recommend staying either within Alfama (for the best atmosphere) or near Praça do Comércio (for easy access in and out of the city), depending on your preference.
Personally, we love staying in Alfama!
Budget
Sunset Destination Hostel — With rave reviews and a prime location near Lisbon's Pink Street, Time Out Market, and Praça do Comércio, budget travelers will love the convenience of popular Sunset Destination Hostel!
Mid-range
Santa Luzia B&B — Located in the heart of Alfama, you can't ask for a better location in Lisbon than the popular Santa Luzia B&B. Be sure to wake up early enough for the wonderful included breakfast!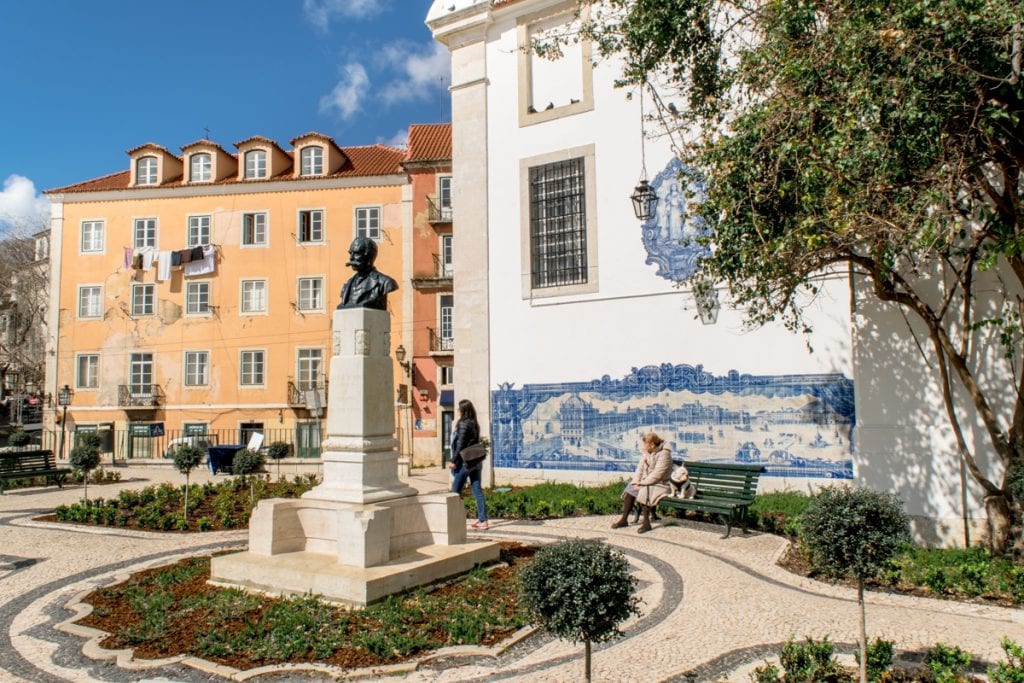 Luxury
Torel Palace — Housed in two 19th-century mansions and featuring phenomenal city views, a pool, and on-site restaurant and spa, luxury seekers can't go wrong with a stay at beautiful Torel Palace–and, since this is Lisbon, all that luxury comes at surprisingly affordable prices!
With rave reviews and a fabulous breakfast buffet, you're bound to love waking up in Torel Palace each morning in Lisbon.
More Than One Day in Lisbon?
If you have more than one day in Lisbon, you definitely won't run out of things to do!
Consider paying a visit to Belém, where you'll find the famous Belém Tower, Monument to the Discoveries, a beautiful promenade to stroll along the Tagus River, and the famous Jerónimos Monastery.
Be sure to get your ticket in advance as the lines can be extremely long!
Museum buffs will love the National Tile Museum, which is dedicated to Portugal's beautiful and distinct tilework.
You can also head to LX Factory for plenty of food and shopping–be sure not to miss the famous Ler Devagar bookstore (and if you're a bibliophile, go ahead and also add Livraria Bertrand to your list of things to see in Lisbon too, which is the oldest still-operating bookshop in the world!).
Food lovers may want to consider a food tour in order to learn all about Lisbon's tasty and unique food options–this one is a great option.
With more than a day in Lisbon, you may also want to consider some day trips: Sintra, of course, is one of the most popular, but nearby Cascais, Cabo da Roca, and Ericeira are all great options as well.
If your trip to Lisbon overlaps with either a Tuesday or Saturday, also consider hitting up Feira da Ladra, Lisbon's vintage flea market!
And, if you're visiting Lisbon in winter, you may be lucky enough to catch the Christmas markets.
Getting Around During One Day in Lisbon
While we've designed this one day Lisbon itinerary to be primarily walkable, the city of Lisbon itself is not particularly walkable by the standards of dense European city centers.
Belém and LX Factory, for example, are both about a 30-minute drive away from the touristic center of Alfama, which is why despite being very well-known, they didn't make it onto this itinerary for seeing Lisbon in a day.
In addition to distance, there's also height: Lisbon is a very hilly city, so if you're planning to climb to a Miradouro, be prepared for a workout!
Keep an eye out for public elevators to help you along–not the most traditional form of public transportation, but they're great for ascending hills very quickly and with the exception of the touristic Santa Justa Lift, tend to be free to use.
Lisbon's tram system is very helpful in navigating the city, however, if you'd like to ride the famous Tram 28 through Alfama, be prepared for heavy crowds!
In addition to the photogenic trams, Lisbon also has a more traditional bus system and metro system that are great for getting around the city.
Uber is another option: the service is affordable and easy to use, and we've relied on it more than once to navigate Lisbon.
Can you visit Lisbon and Sintra on the same day?
The famous and majestic palaces of Sintra (especially the colorful and photogenic Pena Palace) are some of the best-known sights in Portugal–and they're located less than an hour from Lisbon!
For that reason, many people who have one day in Lisbon get tempted to squeeze in a visit to Sintra too–but is it a good idea?
It depends.
By visiting both Sintra and Lisbon in one day, you won't be able to do justice to both of them–you'll likely need to trim quite a bit of the one day Lisbon itinerary outlined here, and you won't be able to visit all of Sintra's palaces, instead likely needing to pick 1-2.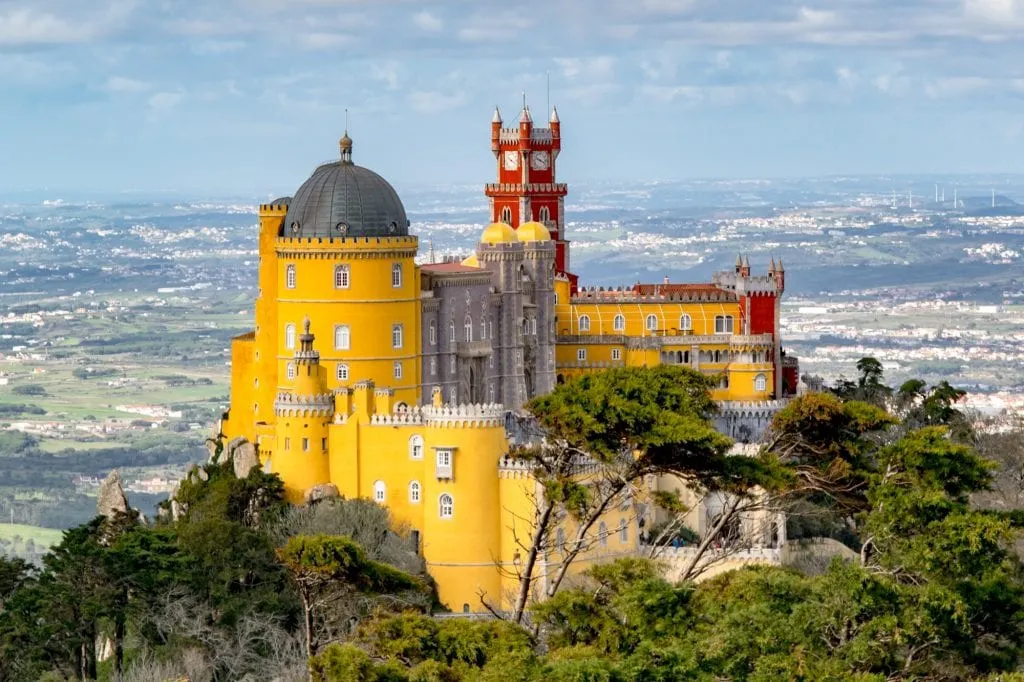 That being said, if you have been dreaming of seeing Sintra and this is your best opportunity to do so, it's not a bad idea to squeeze in both–honestly, it's what I would do given that choice (but then again, I really wanted to see Pena Palace… and it lived up to the hype).
The best way to combine a day in Lisbon with a day in Sintra is to book a half-day tour like this.
That way, you won't need to navigate Sintra alone (Pena Palace is a 20-minute bus ride away from the Sintra train station, for example), and you'll know that you're seeing the best of Sintra in the most efficient way possible, while still leaving half your day dedicated to Lisbon itself.
Book your half-day visit to Sintra today!
---