Arguably the most famous bookstore in Portugal, Livraria Lello is devastatingly beautiful and one of the most popular places to visit in Porto.
With (loose) ties to Harry Potter, a staircase that looks like it was ripped right out of a fairytale castle, and an easy-to-access location near the popular Igreja do Carmo in central Porto, Livraria Lello's rise to fame seems almost inevitable.
Add in plenty of people referring to it as the most beautiful bookshop in the world, and its fate was sealed.
As ardent bibliophiles, we couldn't pass up the chance to experience this famous bookstore for ourselves when visiting Porto.
Was it worth the hype?
We think so… with some caveats.
If you're hoping to visit Livraria Lello as part of your trip to Portugal, here's what to know before you go!
Some links in this post may be affiliate links. If you make a purchase through one of these links, we may earn a small commission at no extra cost to you. Please see our

disclosure policy

for more detail.
Did Livraria Lello inspire Harry Potter?
While Livraria Lello is stunningly gorgeous and does, in fact, look like it could be in Hogwarts, its real-life connection to The Boy Who Lived is muddled at best.
Essentially, J.K. Rowling worked on Harry Potter and the Philosopher's/Sorcerer's Stone in Porto, ergo, Livraria Lello could have inspired Hogwarts!
It's a stretch, yes, but the store is magnificent, and I'm convinced that in the age of social media it'd be famous regardless.
Looking for more Harry Potter links in Porto?
Livraria Lello isn't your only option.
Rowling worked on the first book at Cafe Majestic, which is beautiful (though quite expensive).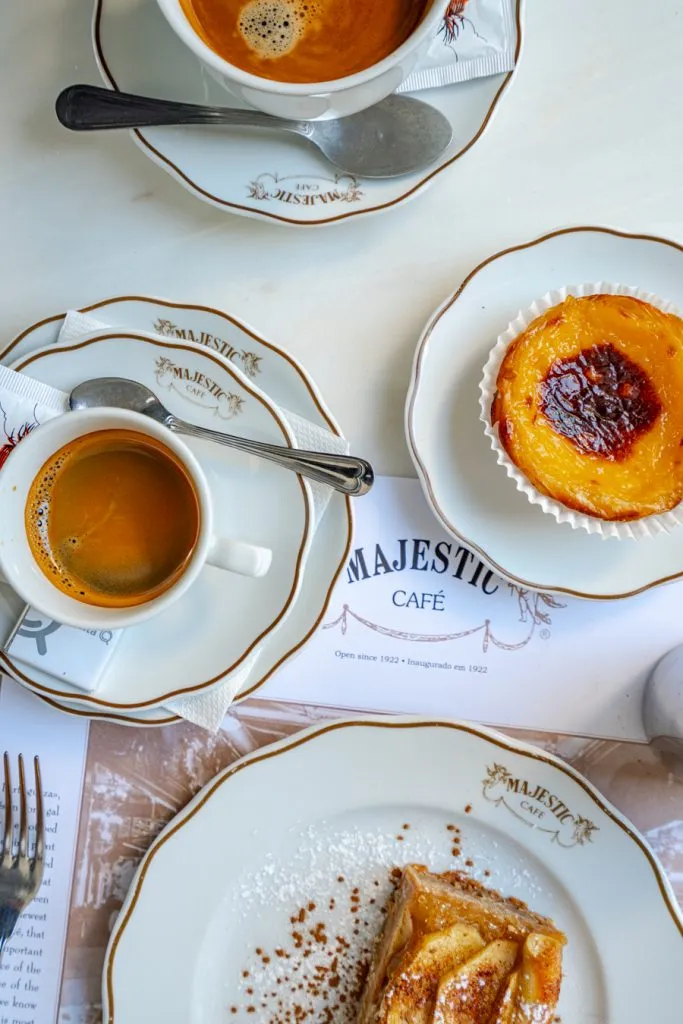 Things to Do in Livraria Lello Bookstore
Check out the exterior.
Before walking in (or while you're waiting in line, as the case may be), be sure to take a moment to appreciate the gorgeous Art Nouveau exterior of the building!
Buy books, of course!
As much fun as it is to wander through and photograph Libreria Acqua Alta, that doesn't pay the bills for this independent bookshop!
If you come to explore and take photos, consider picking up one of the many, many books available as well.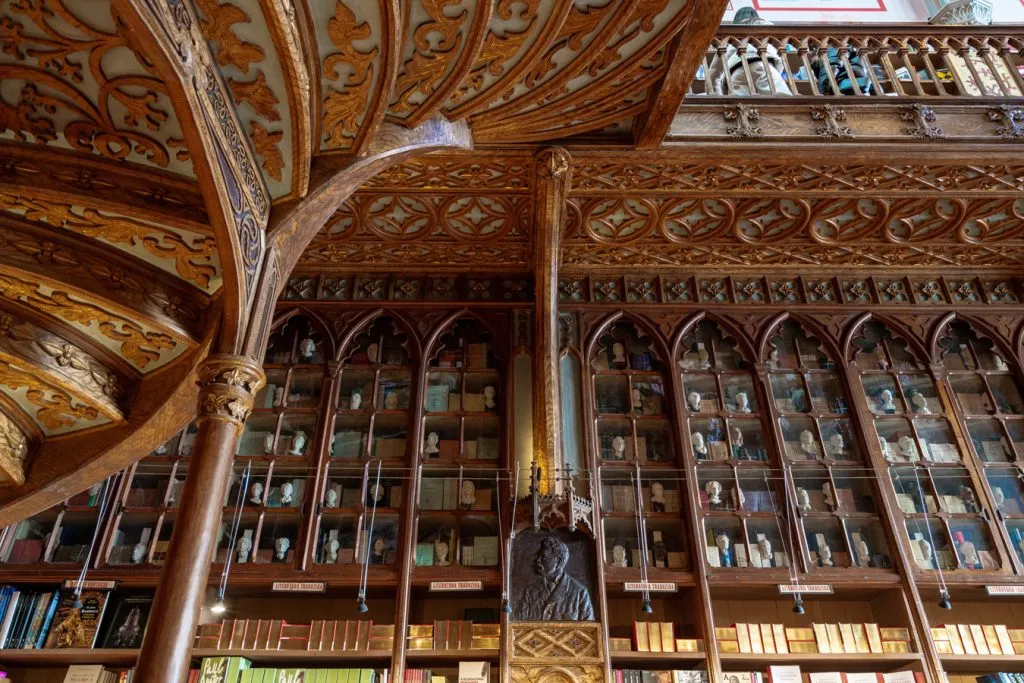 Since you've already put 5 Euro toward the price of a book (more on that in a bit), it's a good excuse to pick up a nice Porto souvenir.
The inventory includes plenty of books in both Portuguese and English.
Before visiting, we had heard that there were a wide selection of Harry Potter editions in Livraria Lello.
That didn't seem to be the case when we visited, but they did have plenty of copies of all of the books.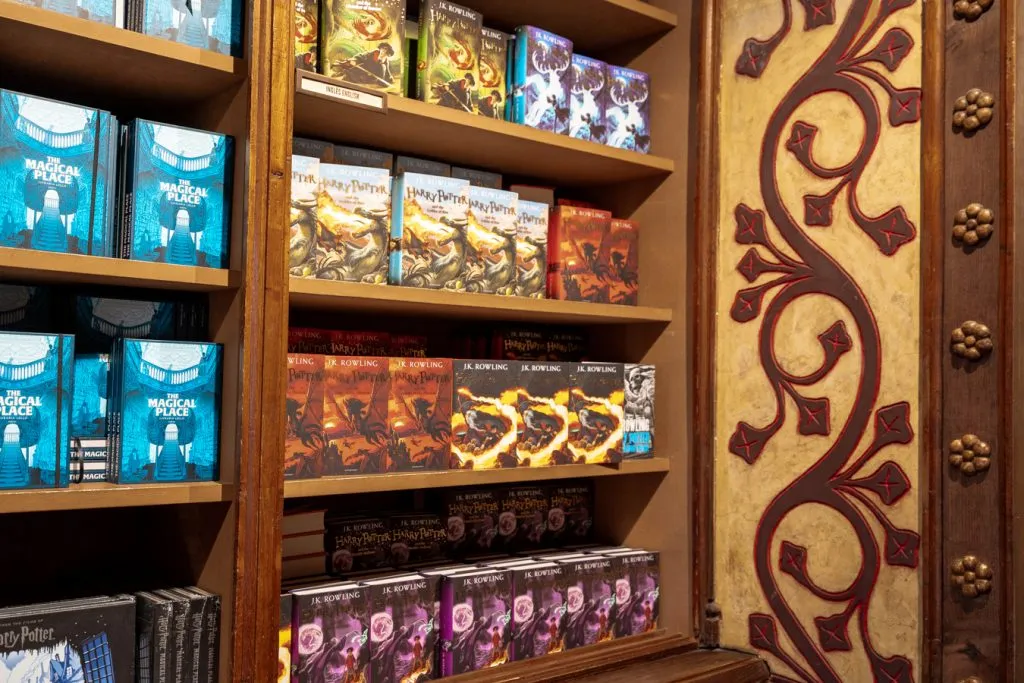 Admire the staircase from every angle.
Livraria Lello's unique staircase is undoubtedly the star of the show in this famous Porto bookshop.
There are many surprising things about it, starting with the fact that it is made of concrete!
Even up close, its regal and intricate appearance makes you think of wood, not concrete… and yet, when you step on it, the construction is unmistakable.
The stairs have also only been red since 1993 (a color that was original painted by mistake!), though it's now hard to picture them as anything else.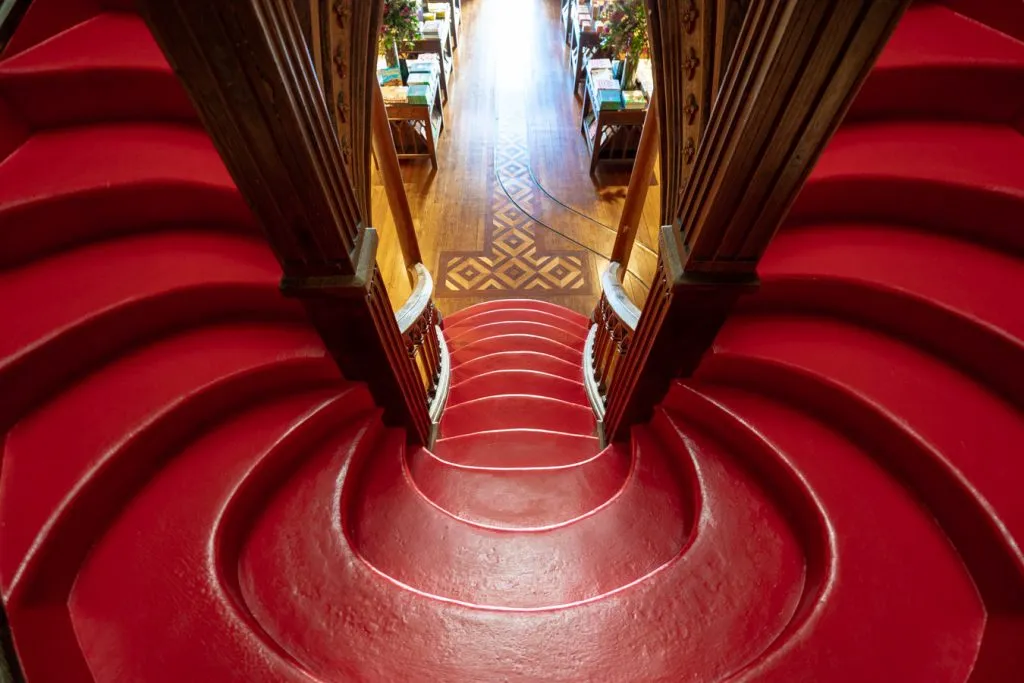 Walk the whole perimeter upstairs.
The views of Livraria Lello from upstairs are gorgeous, including plenty of angles of the staircase!
We also found the upstairs to be a bit less crowded than downstairs, as well as having a nice selection of books to peruse.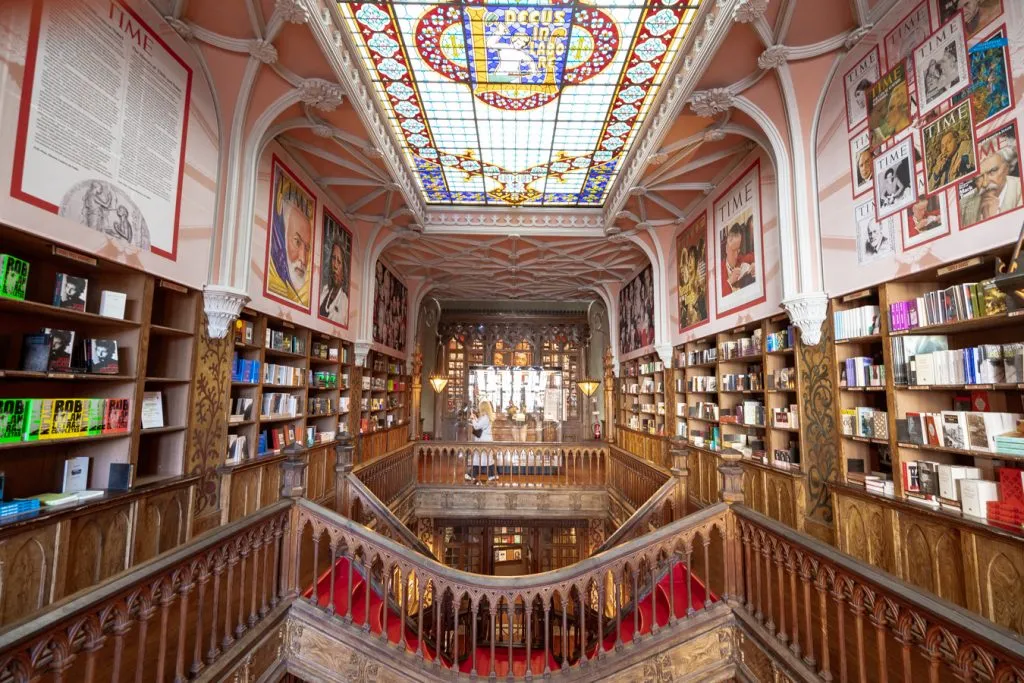 Essential Tips for Visiting Livraria Lello in Porto
You need to pre-book a ticket to visit Livraria Lello.
Yes, this is a bookshop that charges an entrance fee!
Essentially it costs 5 Euro to enter Livraria Lello, and you can reserve your tickets here.
If you buy a book, the 5 Euro will be credited toward your purchase (we bought a pretty copy of Love in the Time of Cholera).
You can also book more expensive tickets that include a specific book, but we don't think that's necessary–better to just enjoy browsing.
We strongly recommend arriving right when they open.
The crowds at Livraria Lello can get quite over-the-top–understandable, as it's a beautiful place without much room to spread out, but hardly a relaxing bookstore experience!
If you want to so much as glance at that gorgeous red staircase without a crowd of people on it, let alone take a photo with it, opening is the best time to do so.
Current hours are 9:30 AM to 7:00 PM, 7 days a week.
Don't expect a huge bookstore.
Livraria Lello is a fairly small shop, all things considered–it's certainly not as big as, say, Libreria Acqua Alta in Venice (one of our favorite bookstores on the planet).
The bulk of the shop is visible when you first walk in, spread across two floors.
There is also a small back room.
Ultimately, even with copious amounts of time to snap photos and wait for good (read: people-free) angles, it would be hard to spend more than 30 minutes there.
Location of Livraria Lello in Porto, Portugal
Livraria Lello is located in Porto's historic center, within walking distance of many of the best places to visit in Porto.
Address of Livraria Lello
R. das Carmelitas 144, 4050-161 Porto, Portugal
Livraria Lello Phone Number
+351 22 200 2037
Map of Livraria Lello Location
Take This Map With You! Click each highlight to pull up the name of the destination. To save this map to "Your Places" on Google Maps, click the star to the right of the title. You'll then be able to find it under the Maps tab of your Google Maps account! To open the map in a new window, click the button on the top right of the map.