If you're planning a trip to Portugal, there's a very good chance that you'll need to travel from Lisbon to Porto at some point, whether that's by train, bus, or taking a drive!
As American expats who live in Lisbon and adore visiting Porto, we've had the opportunity to travel between the two cities several times.
And, while we prefer traveling from Lisbon to Porto by train, there are certainly merits to going by car as well.
Here, we've broken down everything you need to know about traveling between Lisbon and Porto, including a step-by-step guide to traveling by train.
We've also included a guide to the best stops along a Lisbon to Porto road trip.
And, of course, everything in this post works when traveling from Porto to Lisbon, too!
Here's what to expect when planning your trip between Portugal's two largest cities.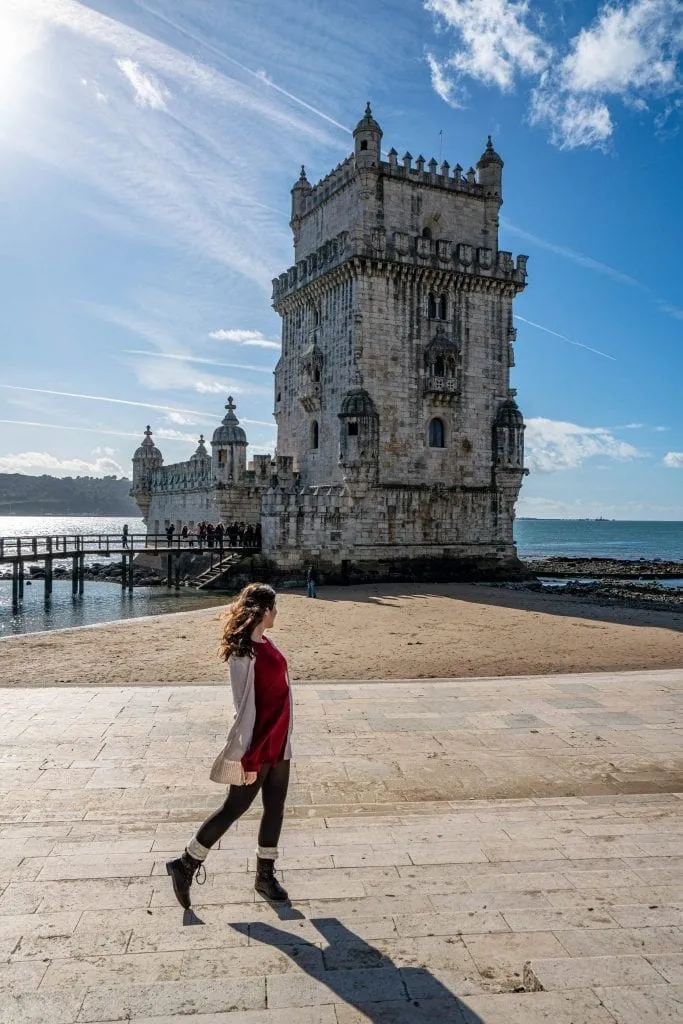 Some links in this post may be affiliate links. If you make a purchase through one of these links, we may earn a small commission at no extra cost to you. Please see our

disclosure policy

for more detail.
How Far Apart Are Lisbon and Porto, Portugal?
Lisbon and Porto are roughly 320 kilometers or 200 miles apart (give or take, depending on the route).
Whether you travel by train, car, or bus, you can expect to spend an average of between 3 and 4 hours traveling from one city to the next.
While we don't recommend taking a day trip from Lisbon to Porto (or vice versa), it is technically possible–we talk a bit more about that in this post.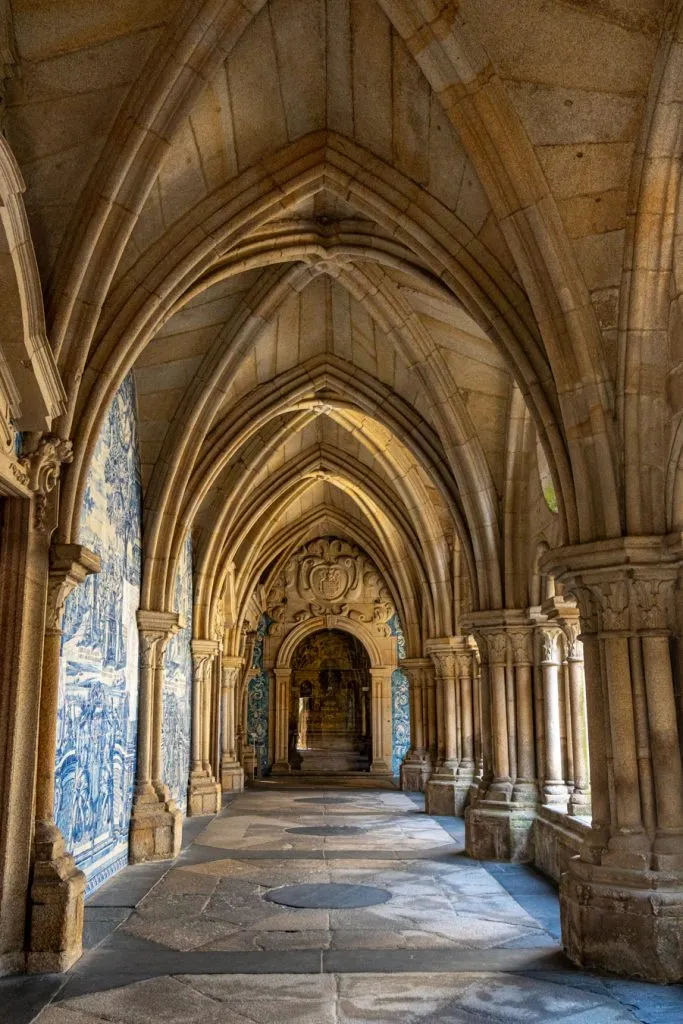 Our Favorite Way to Travel from Lisbon to Porto: Train
As I mentioned above, our absolute favorite way to travel between Porto and Lisbon is by train!
Portugal's rail system is excellent for traveling the main corridor of the country along its western edge, and traveling by train from Lisbon to Porto is extremely popular.
There are around 30 trains that travel each day, from early in the morning until late in the evening, making it extremely easy to travel with minimal advance planning.
Two different types of trains travel this route: the Alfa Pendular High-Speed Trains (which are slightly faster) and the Intercidades Express Trains (which are slightly older).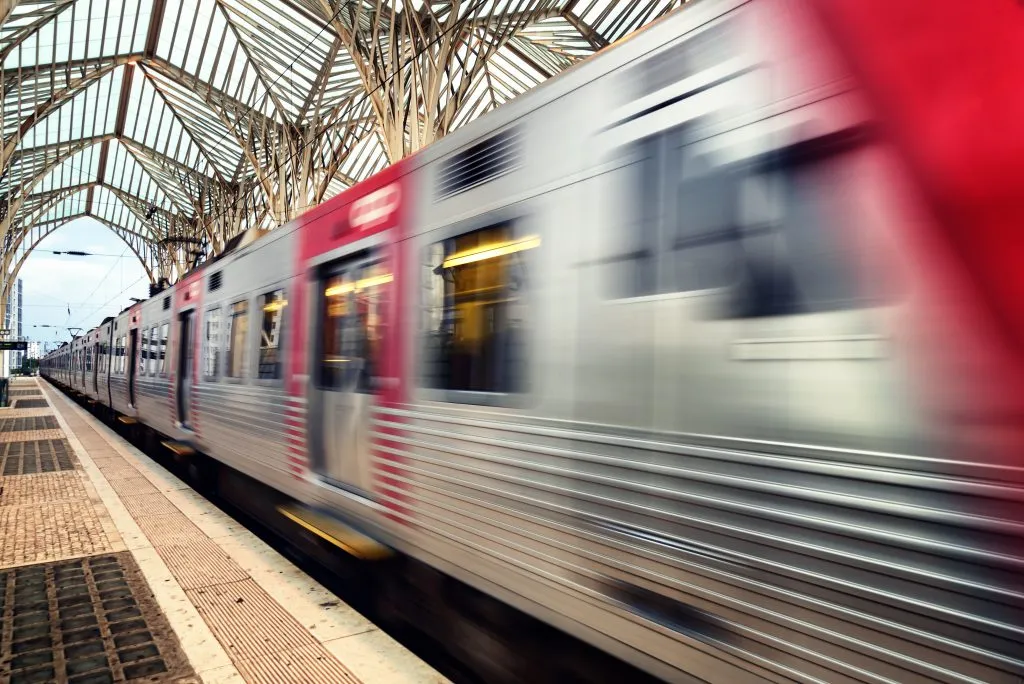 I have a tendency toward motion sickness and find that I have to be a bit more cognizant to make sure I'm looking ahead, etc, on the Alfa Pendular trains.
That being said, the experience is extremely similar, and we book both types interchangeably depending on what fits into our schedule.
Both trains are comfortable and clean, with plenty of room to spread out and space to store luggage.
Here's how to plan your trip from Lisbon to Porto–or Porto to Lisbon–by train.
7 Easy Steps for Traveling from Lisbon to Porto By Train
Buy tickets for your Lisbon to Porto trip.
First things first: you'll need to buy tickets for your trip between Lisbon and Porto!
While you can buy tickets in person if you're traveling at the last minute (and if you happen to be traveling with a dog as we do, you'll need to do so), it's much easier to compare prices and train schedules by looking online.
Omio will allow you to check prices and schedules for both types of trains, and buy train tickets with ease.
Shop train tickets for travel between Lisbon and Porto today!
Depart from the correct train station.
Lisbon has four train stations, so be sure to read your train ticket carefully and make sure you head to the right place!
Most trains from Lisbon to Porto, though, depart from Santa Apolonia, which is located (more or less) at the base of the Alfama District.
Santa Apolonia is fairly small and simple to navigate.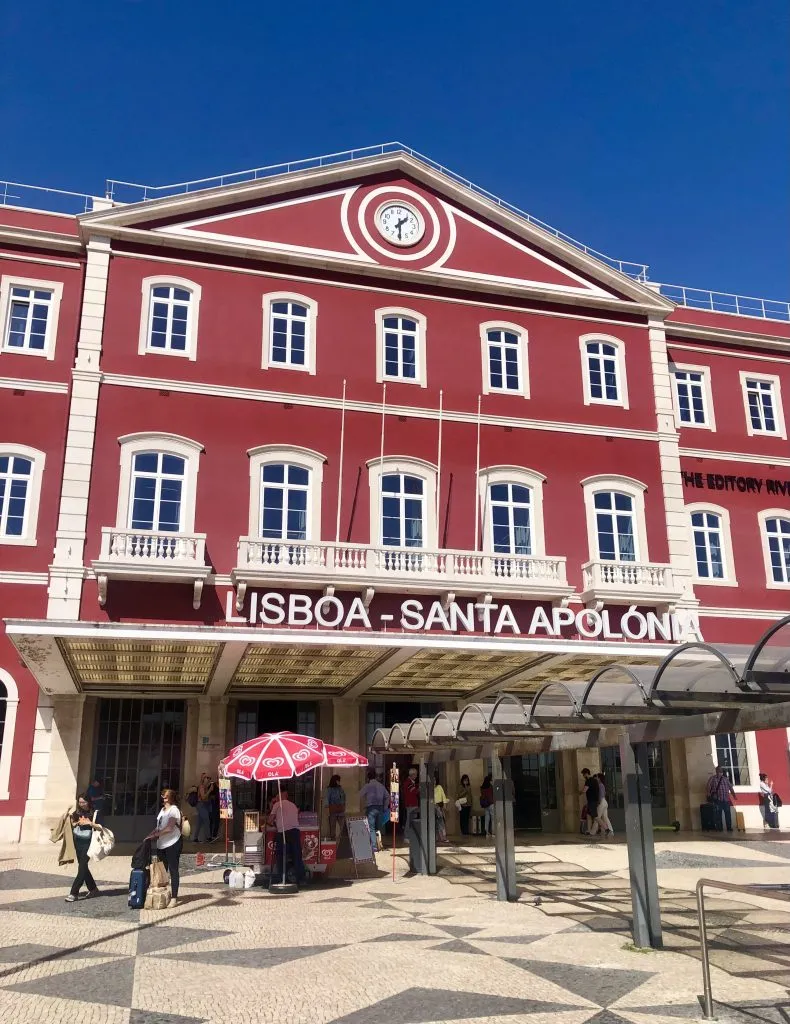 Be prepared for the conductor to check your ticket.
Once you board, at some point between departure and arrival in Porto hours later, you'll have your ticket checked by the conductor as they walk by.
Be sure to have your ticket handy in order to show it to them!
Relax and enjoy the views!
The views along the train route between Lisbon and Porto have some beautiful sections, especially north of Espinho where you can admire sandy beaches as you travel and ask you approach Porto Campanha Station.
While I wouldn't go as far as to call the views a destination worth traveling for in their own right, it's certainly not a bad stretch of countryside to admire for a few hours!
Arrive in Porto Campanha.
When your train pulls into Porto Campanha and you disembark, your journey isn't quite over yet!
Your train ticket from Lisbon to Porto remains good for this part of your journey–but you'll need to switch trains.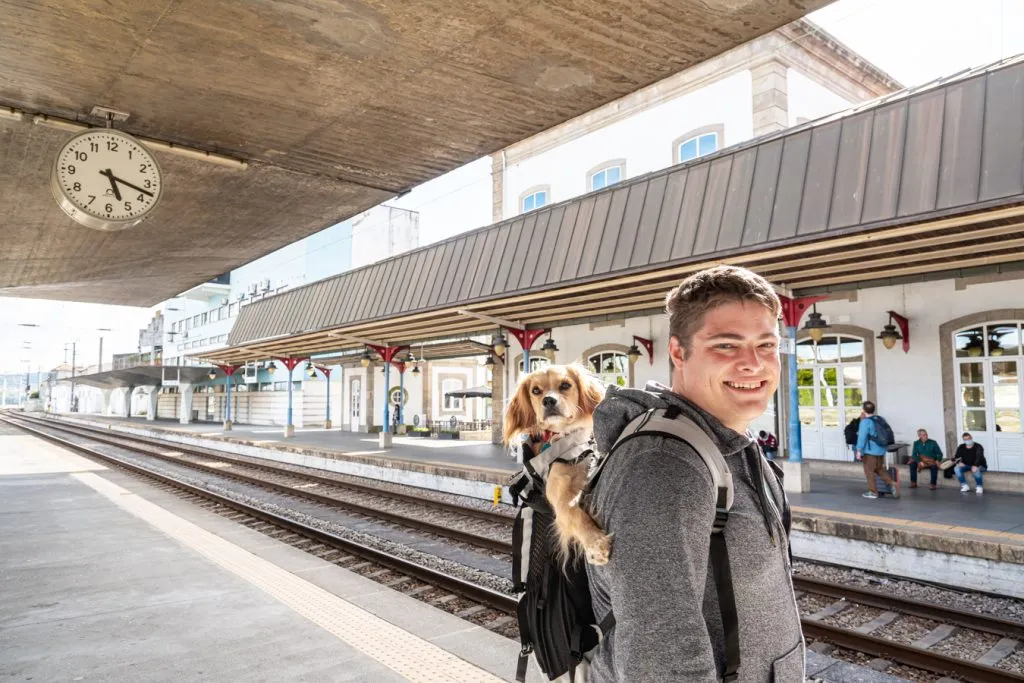 Board your train to the famous Sao Bento Train Station.
When in Porto Campanha, look for trains headed to Sao Bento Train Station.
They leave every 10-15 minutes or so, so you won't have to wait long!
Once you get on board, the ride lasts a brief 4 minutes.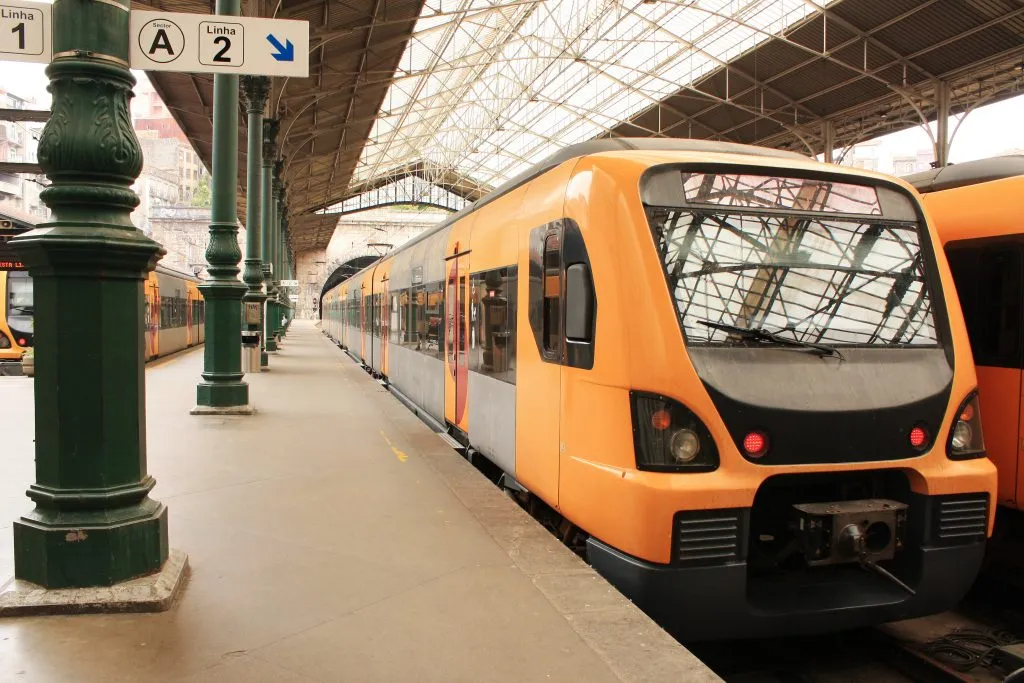 Arrive in the heart of Porto and start your adventure!
When you pull into Sao Bento Train Station and disembark, congratulations: you've officially traveled from Lisbon to Porto by train!
As you walk into the entrance hall of the train station, be sure to look up: the azulejos of Sao Bento are a destination in their own right, and this magnificent view is a fantastic welcome to Porto.
Once you exit the train station, you'll be in the heart of the city, with many of Porto's top attractions located within a 10-minute walk (or in the case of the cathedral, within sight).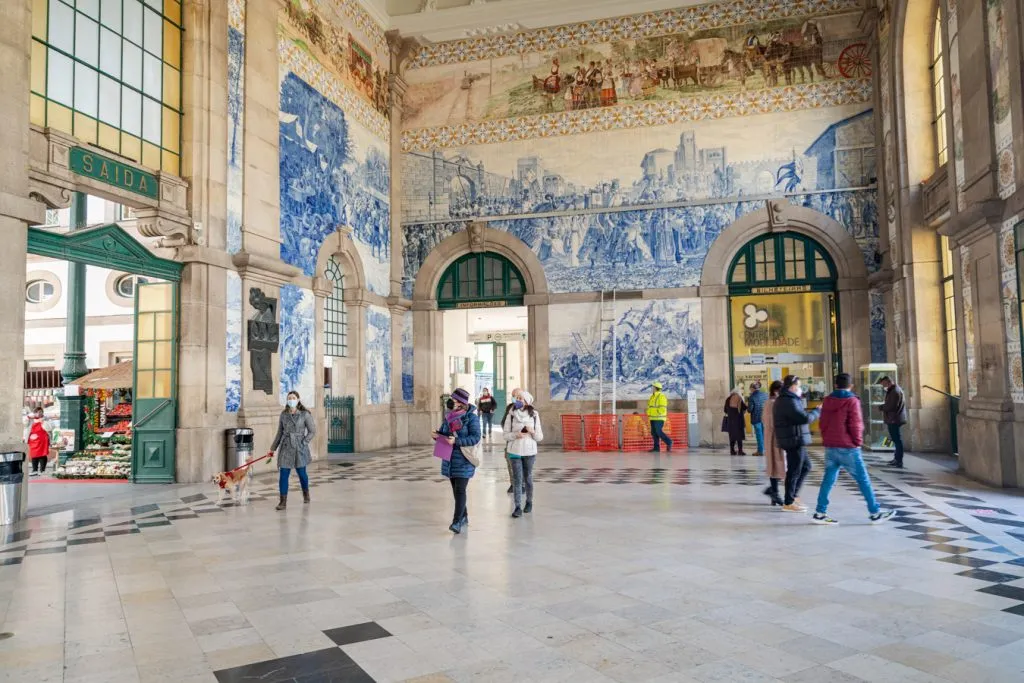 How (and Why) to Travel from Porto to Lisbon By Car
If your trip to Portugal is focused only on the cities of Lisbon and Porto, with possible day trips to popular nearby spots like Sintra and the Douro Valley, then there's absolutely no reason to drive.
However, if you are hoping to focus your Portuguese road trip on the cities, small towns, beaches, and more that lie between Lisbon and Porto, driving can be a blast!
Portuguese roads between Porto and Lisbon are well maintained and easy to navigate (though you'll definitely want a GPS).
You will also be paying plenty of tolls, so be sure to account for them in your budget!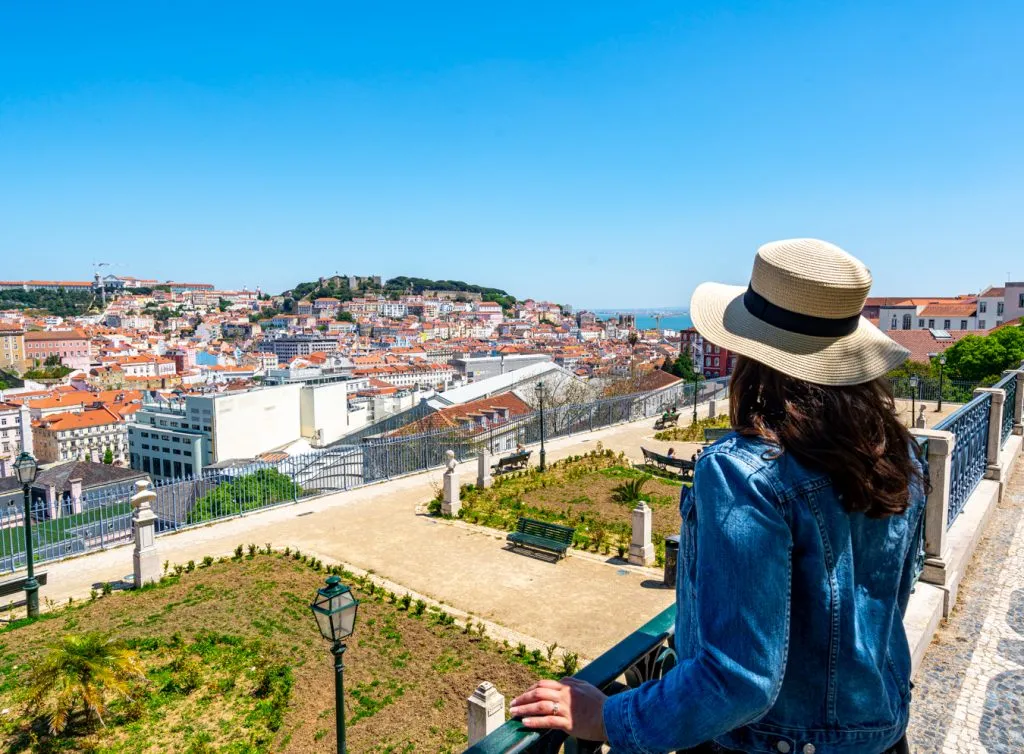 Ready to book your road trip between Lisbon and Porto?
We recommend searching for your rental car through Discover Cars, which will allow you to sift through all your options and choose the right car for you based on price, the reputation of the company that is renting it, and the terms of the rental contract.
With favorable traffic, it takes a little over 3 hours to drive from Lisbon to Porto.
While some of these stops will add 30 minutes or so to your schedule, they're all located fairly directly between Porto and Lisbon!
Shop rental cars for your Lisbon to Porto road trip today!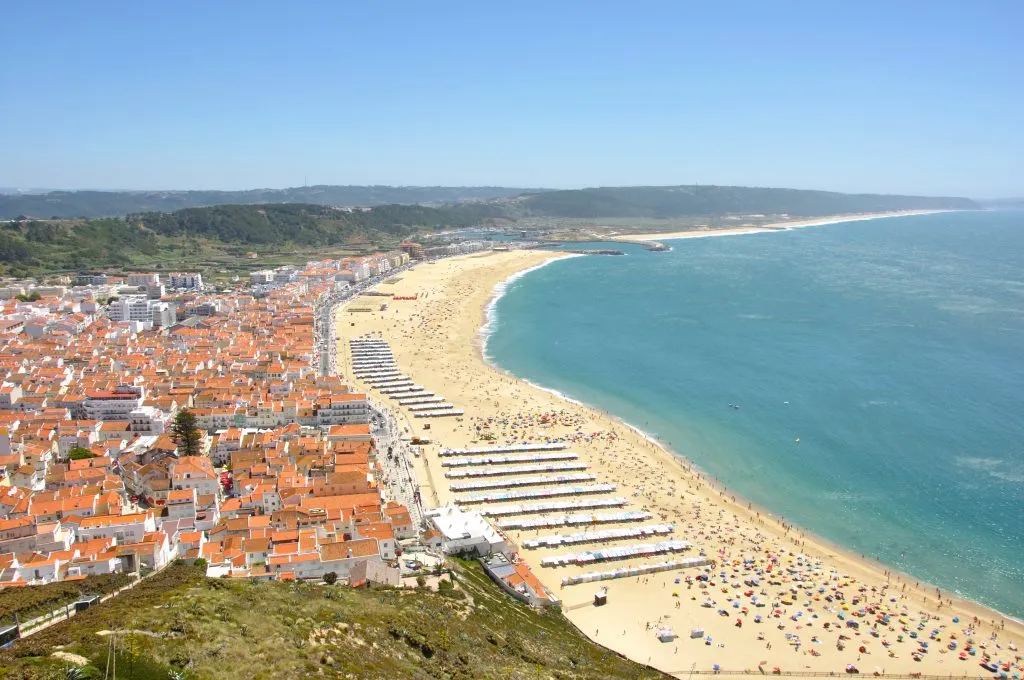 Fabulous Lisbon to Porto Road Trip Stops
Coimbra
Home to the University of Portugal, Coimbra is incredibly beautiful and mixes ornate architecture and lengthy history (it was the capital of Portugal from 1139 to 1385) with youthful energy.
Note that Coimbra is located along the train route between Lisbon and Porto, so you can easily add a stop here with or without a car.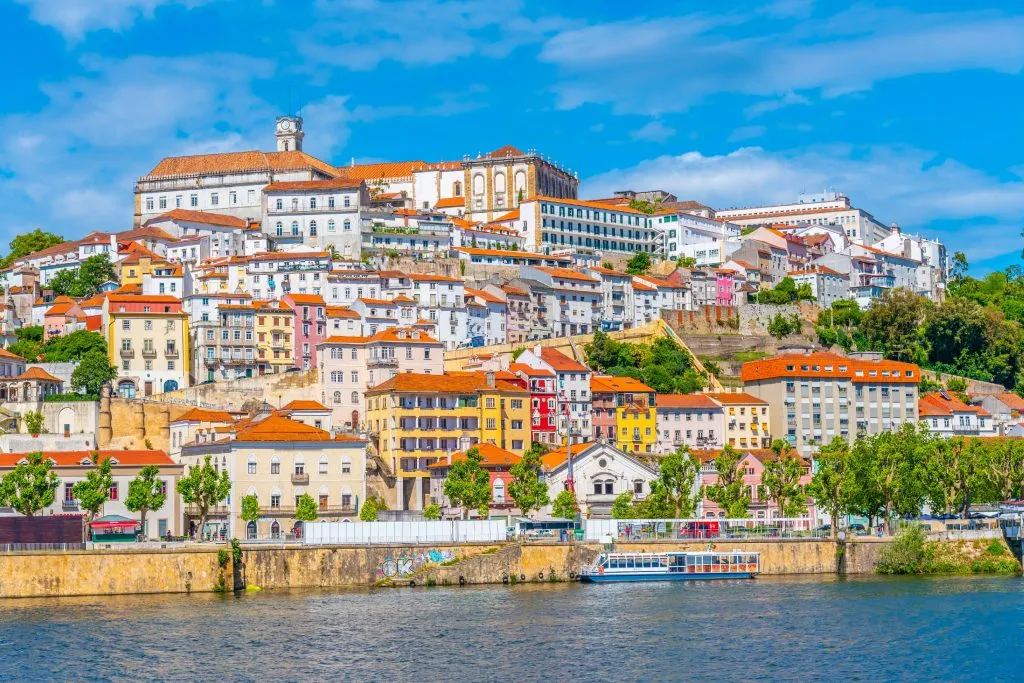 Fatima
Fatima is the most important Catholic pilgrimage site in Portugal and a fairly recent one at that!
It is said that in 1917 (as World War I raged across Europe), the Virgin Mary appeared to 3 young children here stating that the world needed peace.
Whether you are a member of the Church or not, Fatima is a fascinating cultural and historical destination between Lisbon and Porto.
Aveiro
Calling Aveiro the "Venice of Portugal" may be overselling it a bit–but you can ride a colorful boat through a canal here!
Located on the coast, Aveiro is also known for its Art Nouveau architecture.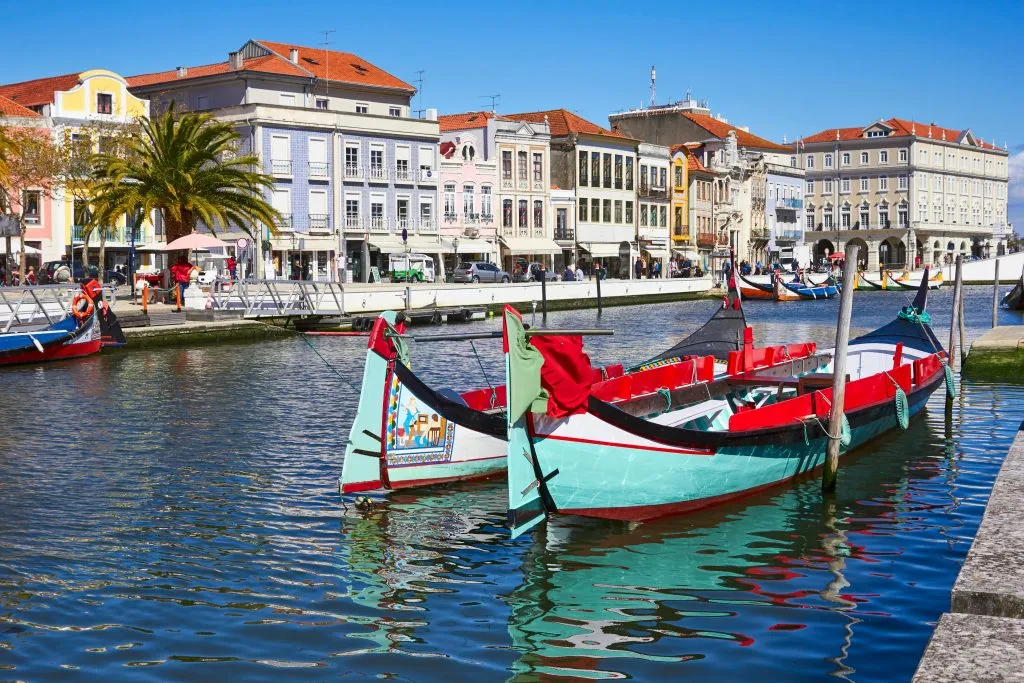 Nazare
This charming fishing village is most famous today for a very special reason: the utterly gigantic waves that arrive between October and February, making it one of the most famous surfing destinations in the world!
Whether you want to watch the surfers or simply enjoy the town, though, there's no doubt that Nazare is a delightful place to visit on Portugal's Silver Coast.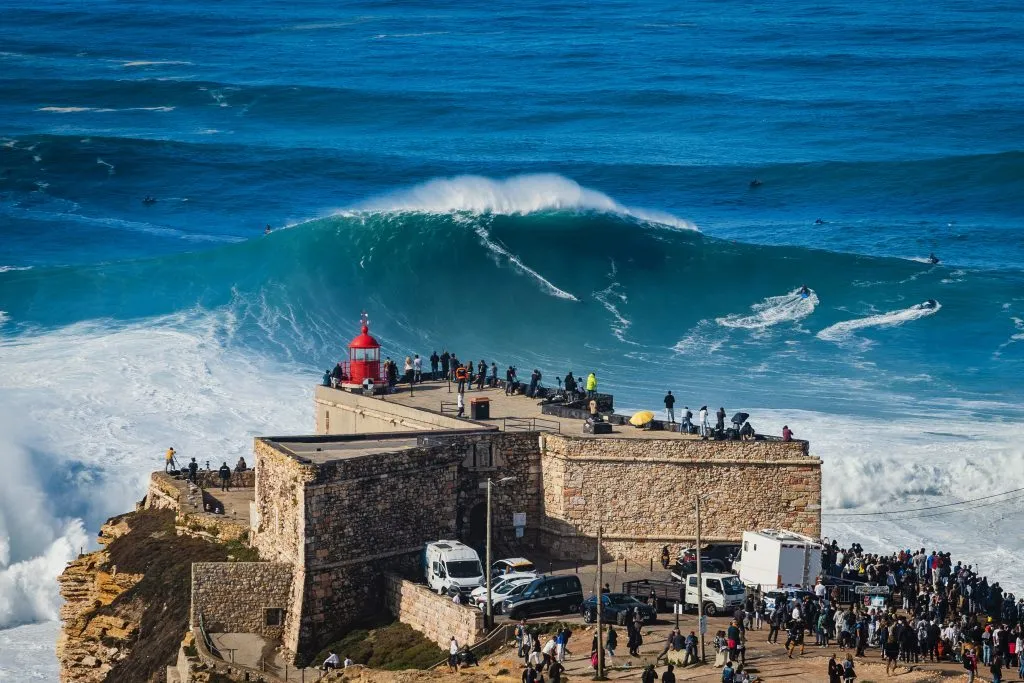 Obidos
Obidos is a quintessential small European town.
Walled, whitewashed, utterly beautiful, and overlooked by an imposing castle, Obidos is absolutely one of the best places to visit between Porto and Lisbon!
Check out our guide to the best things to do in Obidos!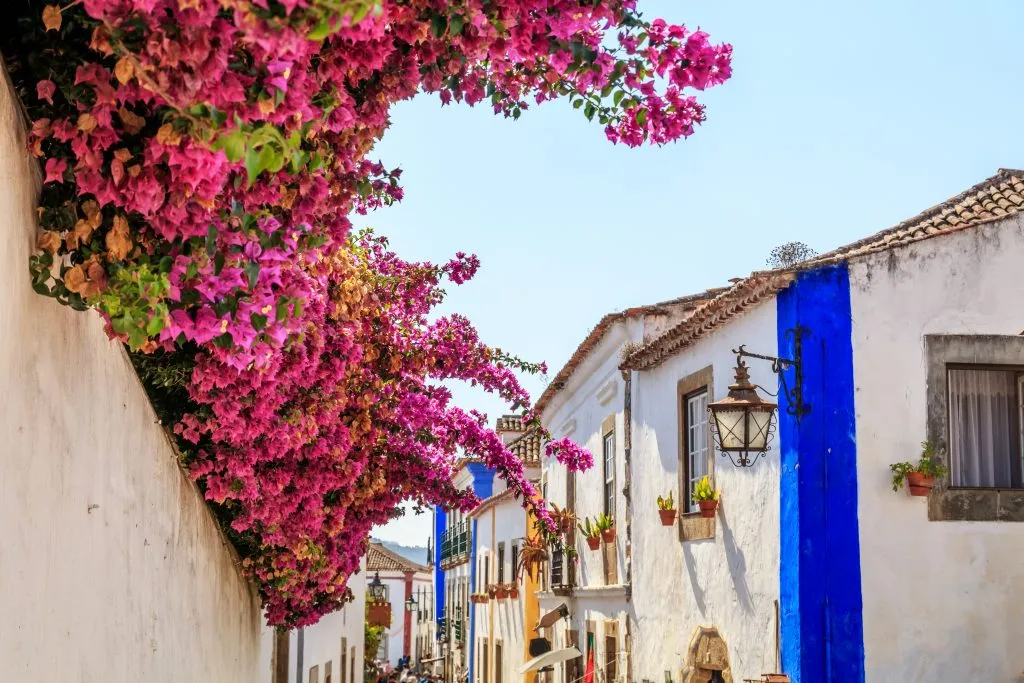 Tomar
With beautiful winding streets and striking medieval architecture, Tomar would be a lovely place to visit in Portugal regardless of its link to a very famous group…
… But the fact that Tomar was once the seat of the Order of the Knights Templar certainly adds to the city's mystique!
Both the Tomar Castle and the famous local Convent of Christ are connected to the Knights Templar.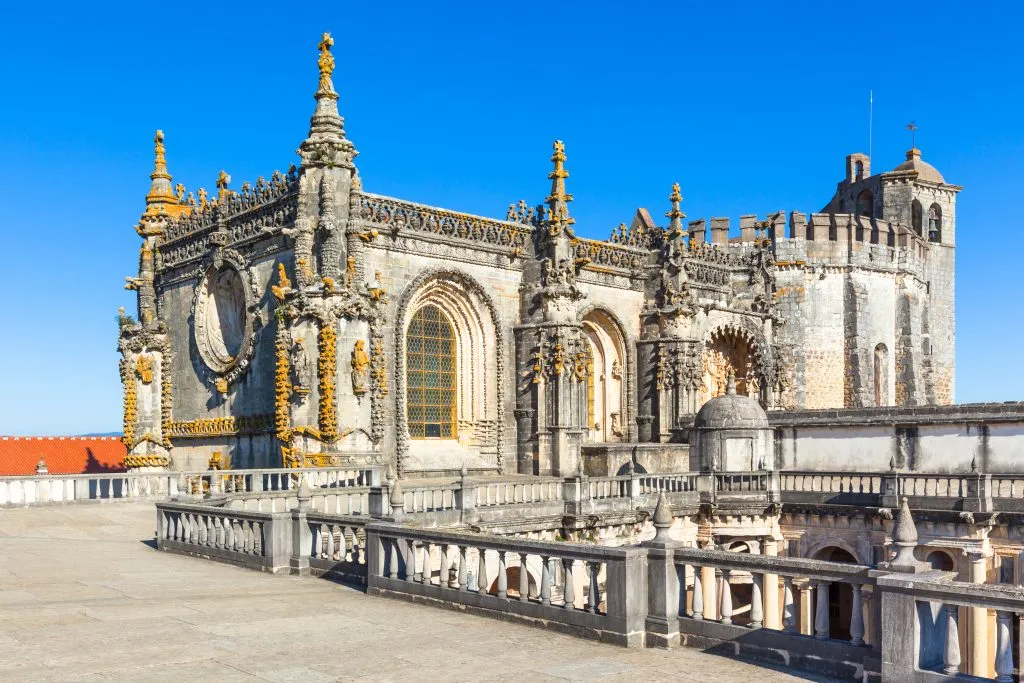 More Beach Towns
From Ericeira to Peniche to Figueira da Foz and beyond, tracing all of the beach towns that hug the west coast of Portugal between Lisbon and Porto would be worthy of several blog posts in and of itself!
Suffice it to say, though, that if you're looking for beautiful beaches, sweeping Atlantic views, and charming villages, you'll find no shortage of them in this part of Portugal.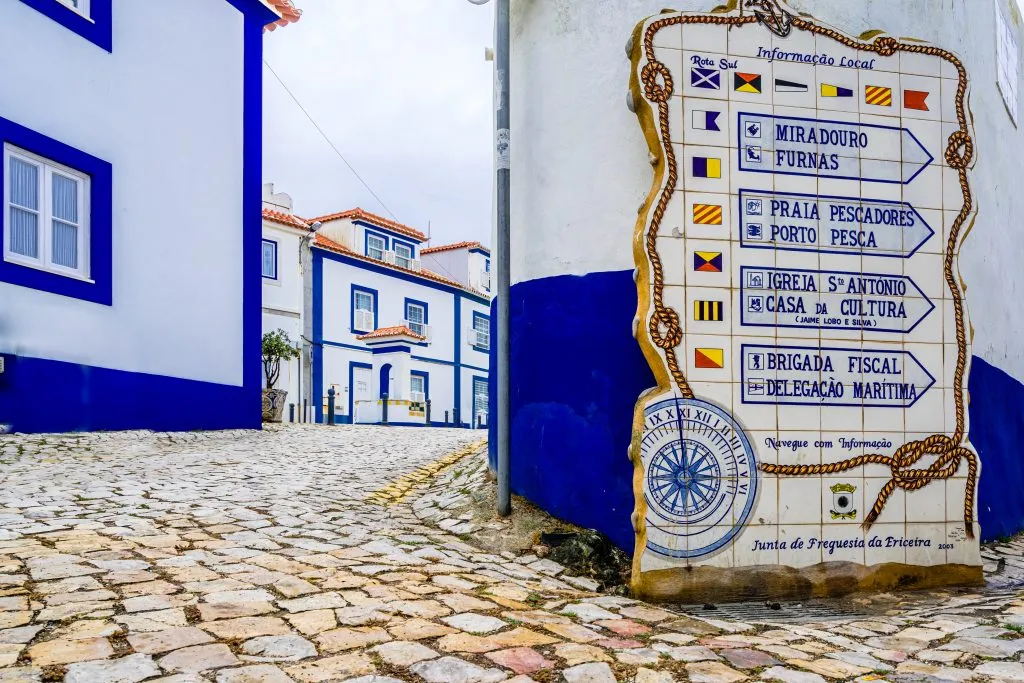 About Traveling from Lisbon to Porto By Bus
Traveling to travel from Lisbon to Porto (or Porto to Lisbon) on a very tight budget?
If so, traveling between Portugal's two largest cities by bus may be right for you!
In any other scenario, though, we highly recommend taking the train over the bus when traveling between Lisbon and Porto.
It takes roughly the same amount of time to travel between the two cities by bus as it does by train, and often longer (especially when accounting for traffic).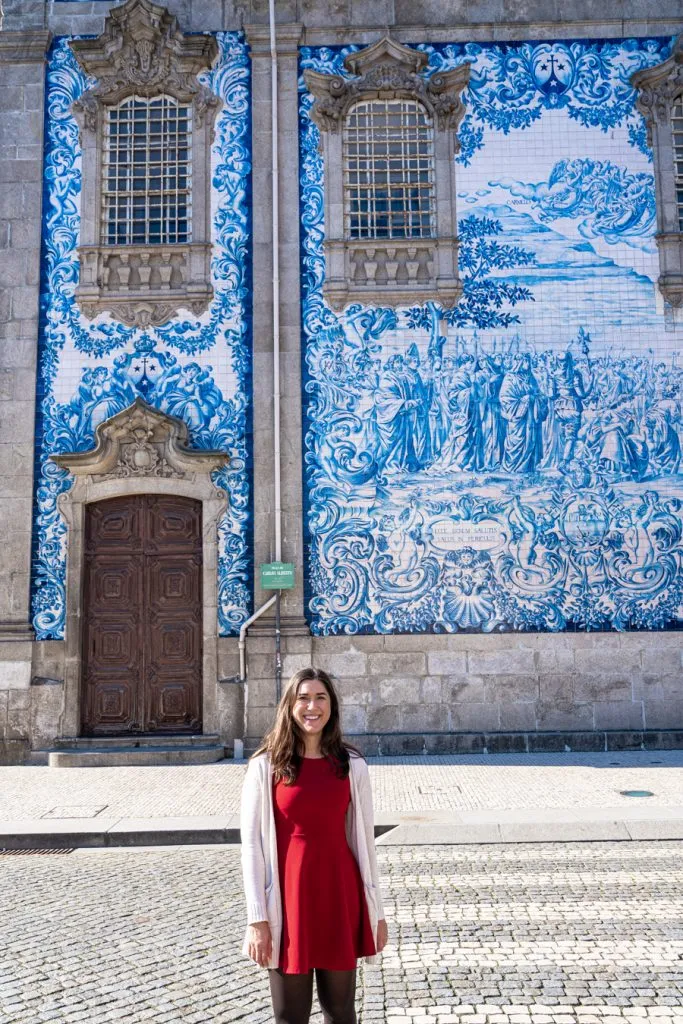 In addition, most buses have drop-off points further away from the heart of Porto than the train route does.
There's also truly nothing like arriving in Porto and being greeted immediately by the magnificent azulejos in the Sao Bento Train Station–it makes my heart skip a beat every time!
Buses are generally less comfortable than trains, as well, and we'll choose a train over a bus whenever possible.
For travelers wanting to enjoy the best of Portugal, we will always recommend traveling from Lisbon to Porto by train unless they are planning to make a full, multi-stop road trip experience out of the journey!
Compare prices between buses and trains for visiting Porto from Lisbon!