Trying to decide whether to visit Lisbon or Porto on your next trip to Portugal?
You have your work cut out for you!
As an American who lives in Lisbon and has flirted with the idea of moving to Porto many times, I know exactly how difficult it can be to decide which of Portugal's 2 largest cities to visit.
Lisbon and Porto are both incredibly beautiful destinations, equally suited to a quick weekend city break or to kick off a broader trip to Portugal.
However, as tempting as both options are, Porto and Lisbon are very distinct cities, with more differences than might be apparent at first glance.
You'll also find that Portuguese people are extremely opinionated on this topic–the rivalry between Lisbon and Porto is intense!
If you absolutely must choose whether to visit Porto or Lisbon, here's what to consider before you book your tickets.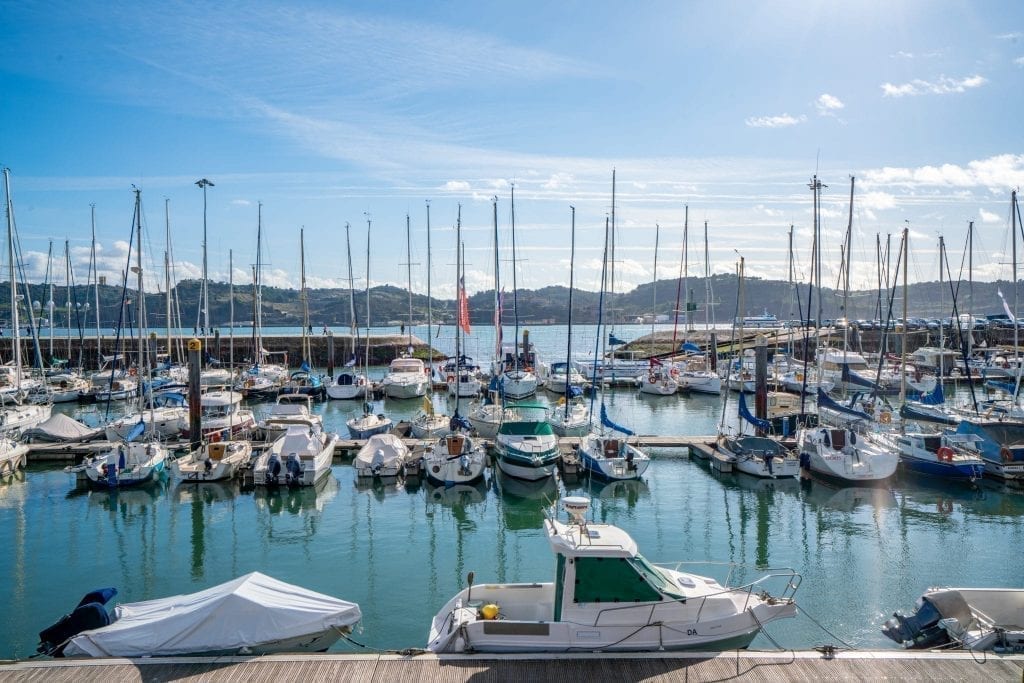 Some links in this post may be affiliate links. If you make a purchase through one of these links, we may earn a small commission at no extra cost to you. Please see our

disclosure policy

for more detail.
Once You Choose Porto or Lisbon…
Once you settle the Porto vs Lisbon debate for yourself and book your trip, we'd love to help you plan in more detail!
You can access all of our Portugal blog posts here.
Choose Lisbon if…
… you're looking for a larger city.
With more than twice the population of Porto, Lisbon is the clear winner if you're hoping to visit a large, expansive city!
Lisbon's status as Portugal's biggest city doesn't just include its population, either: Lisbon is also much more geographically spread out than Porto is.
While you'll likely want to hop on a cable car or funicular once or twice when visiting Porto, generally speaking, you'll need to use far more public transportation in Lisbon.
… Portugal's iconic yellow trams are calling your name.
While you'll find plenty of Porto souvenirs for sale featuring the famous yellow trams, the trams truly belong to Lisbon–at least today.
Porto's tram system has been mostly eliminated, and the few routes left are mostly for tourists.
In Lisbon, however, trams still zip all over the city carting locals from place to place, offering plenty of photography opportunities as they do.
(The exception, I feel compelled to point out, is the iconic Tram 28: you'll generally find that line positively overflowing with tourists crammed into all corners today!).
… sunny weather is a priority for you.
Featuring more than 300 sunny days a year, Lisbon is one of the sunniest cities in Europe and Porto is… absolutely not.
As beautiful as Porto is, it suffers from downright temperamental weather for about half the year, with plenty of fog and rain.
If you know which dates you're planning your Portugal trip for, definitely check the weather in both cities before committing if the sun is a priority for you!
And, if you're traveling in winter, you can read our full guide to winter in Lisbon here, or our full guide to Portugal in winter here.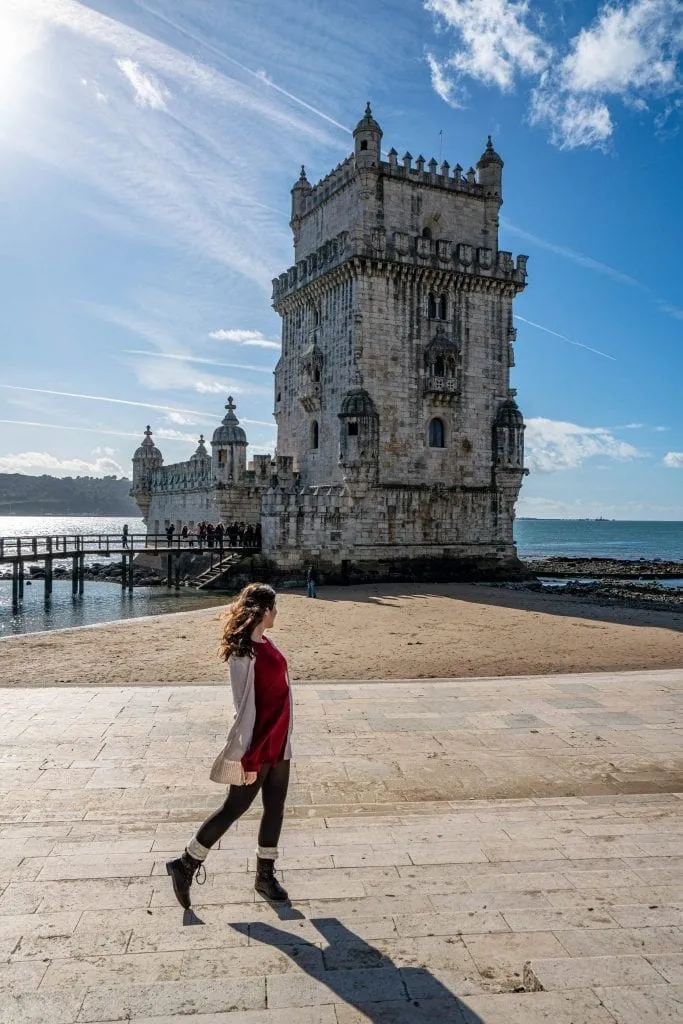 … your dream Portugal day trip is to Sintra.
The dreamy palaces of Sintra are located less than an hour outside of Lisbon and are one of the most photographed destinations in the country (and rightly so).
From the wildly colorful Pena Palace to the intricate beauty of the Quinta da Regaleira and beyond, Sintra's palaces are a fantastic destination.
The surrounding region is pretty remarkable, too: there's a reason Lisbon's elite once chose to build their country palaces out here in the first place!
You can easily access Sintra by train from Lisbon, or book an organized day trip if you'd prefer a bit more structure.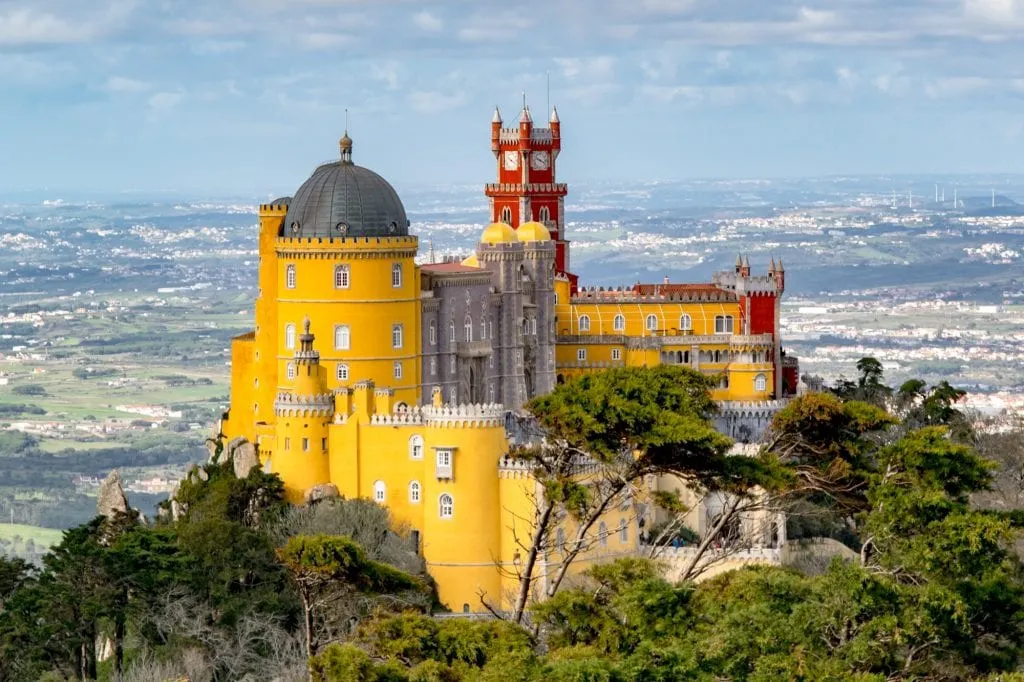 Choose Porto if…
… you're looking for a more compact city center.
Without a doubt, Porto has a more compact city center than Lisbon, allowing you to visit most of the city's highlights on foot!
That being said, you'll probably want to add in the occasional funicular ride or cable car ride in order to save your legs–Porto's hills are intense!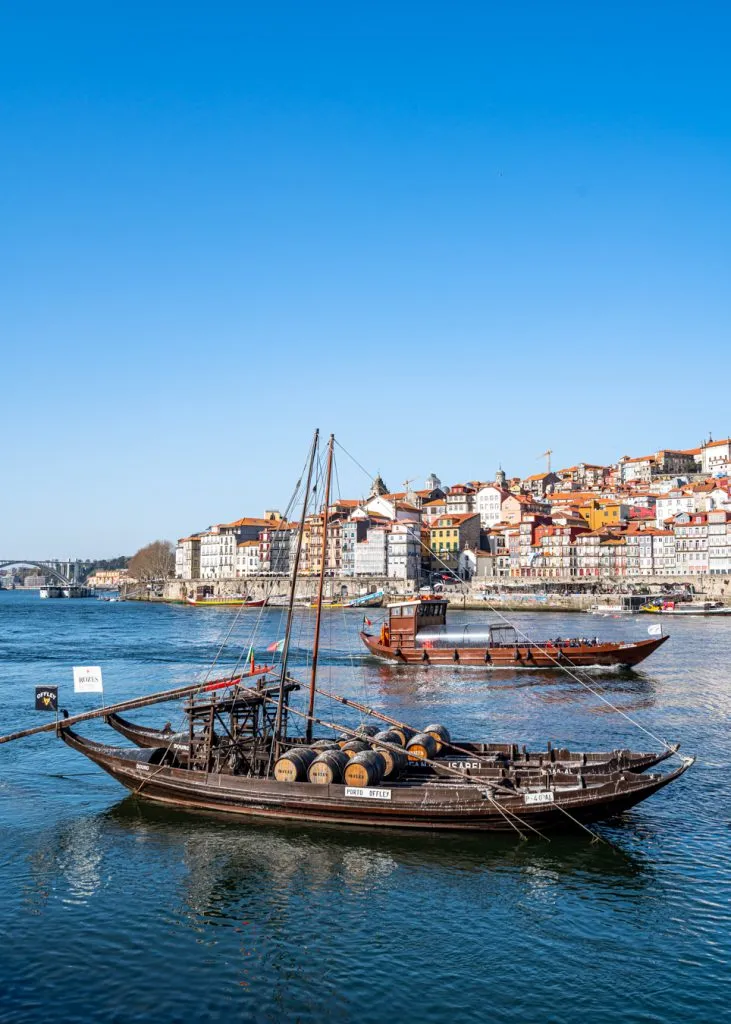 … you want to see plenty of Portugal's gorgeous azulejos.
Azulejos (hand-painted tiles) are an iconic feature of Portugal, especially the traditional blue-and-white variety!
While Lisbon also has some beautiful examples of azulejos, there's no doubt that Porto features far more beautiful tilework, especially when it comes to its ornate churches and its famous Sao Bento train station.
If admiring azulejos is at the top of your Portugal to-do list, Porto is the city for you!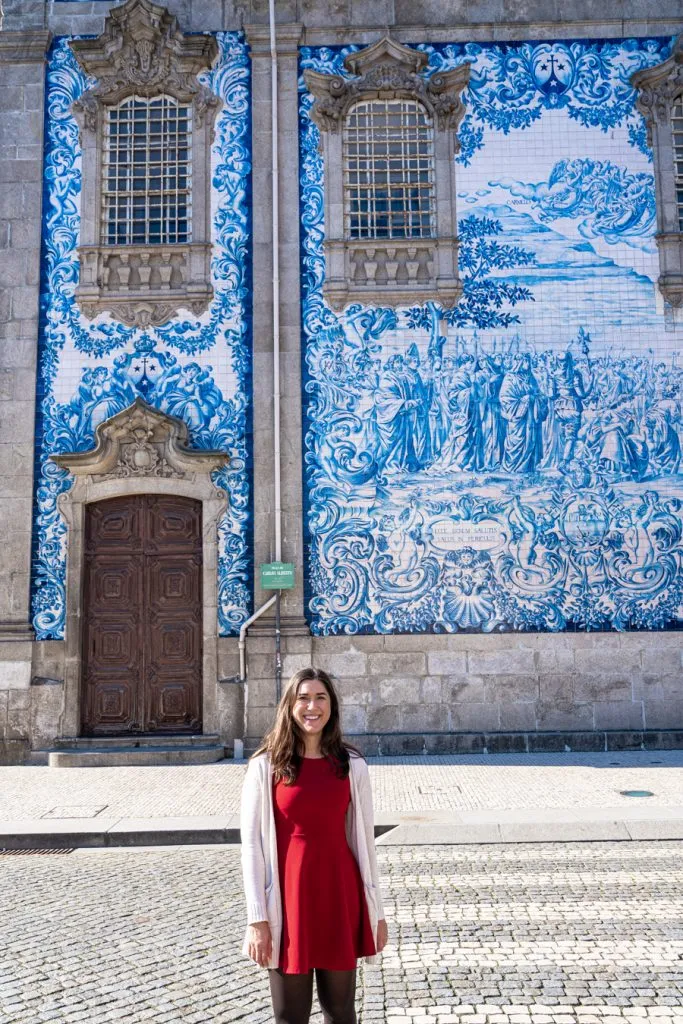 … you want to sample port wine at its source.
The Douro Valley, located east of Porto, is the oldest demarcated wine region in the world and the origin of port wine.
As the namesake of port wine, Porto has long been the destination of the wine grown in the valley, which was traditionally floated down the river to Porto and then delivered to the port lodges lining the river in Vila Nova de Gaia.
Today, the port travels downriver a bit more efficiently, but the port lodges themselves are still extremely active with their current job of greeting visitors, giving tours, and providing tastings of their delicious wines!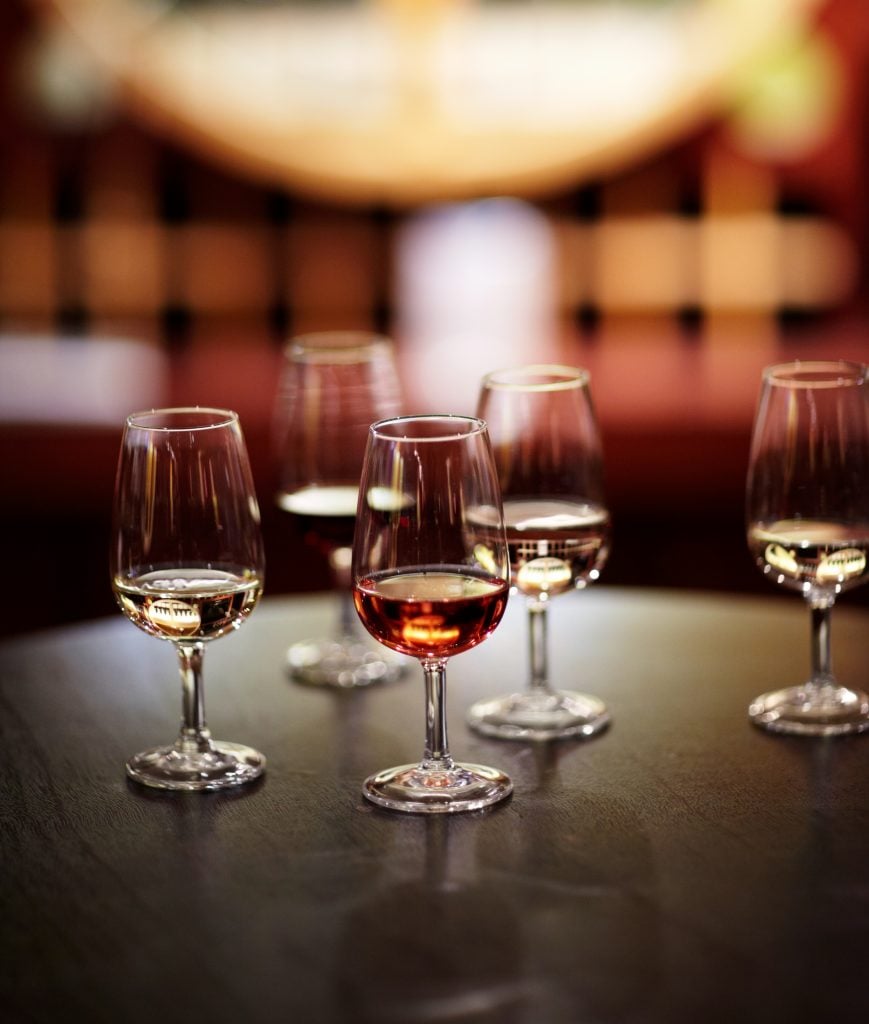 … your dream Portugal day trip is to the Douro Valley.
Without a doubt, the most iconic day trip from Porto is the dreamy Douro Valley, home to port wine and sublime scenery.
In the Douro Valley, grapes (and olive trees, and more), are grown on steep terraces that travel upward from the river, creating distinct and beautiful views.
A Douro Valley day trip to sample wine, port, delicious local food, and stunning viewpoints is one of those Portugal travel experiences you'll never forget!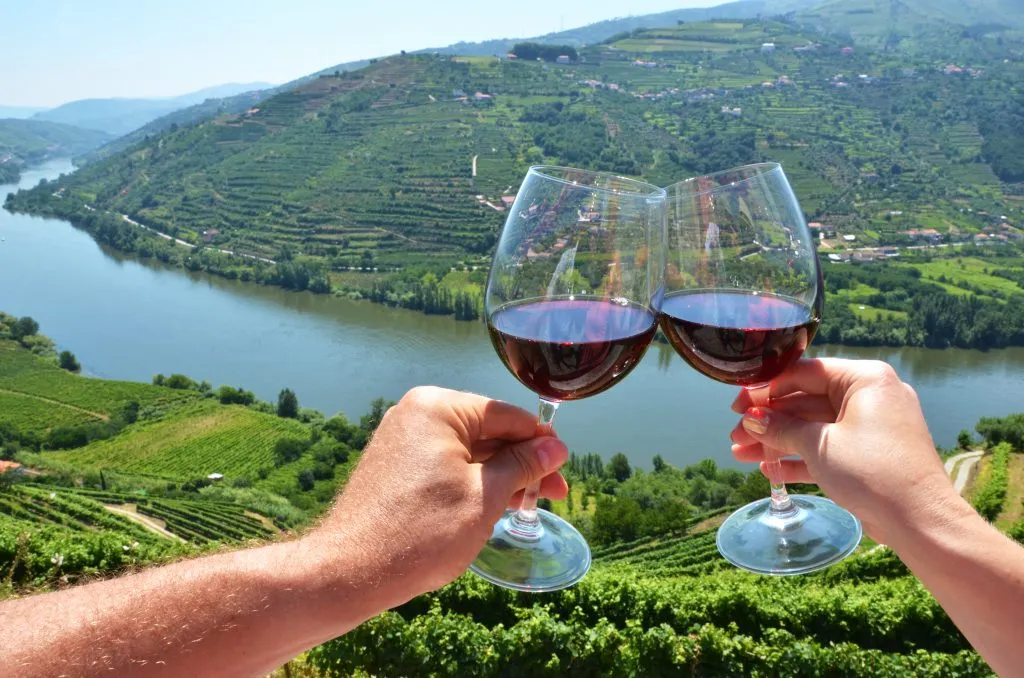 Visit either Lisbon or Porto for…
… easy access to the coast.
While neither Lisbon nor Porto is technically right on the ocean, both are located directly on rivers that quickly spill out into the Atlantic Ocean!
If you're hoping to spend a day on the water, you can easily access the Atlantic on day trips from either city.
… excellent Portuguese food.
From bifanas to pasteis de nata to all things cod, you'll be spoiled for choice when it comes to Portuguese food in either of Portugal's two largest cities!
… That being said, the famous francesinha is a traditional Porto food, so if you decide to visit Lisbon, you may want to save your arteries and wait to sample one until you visit Porto.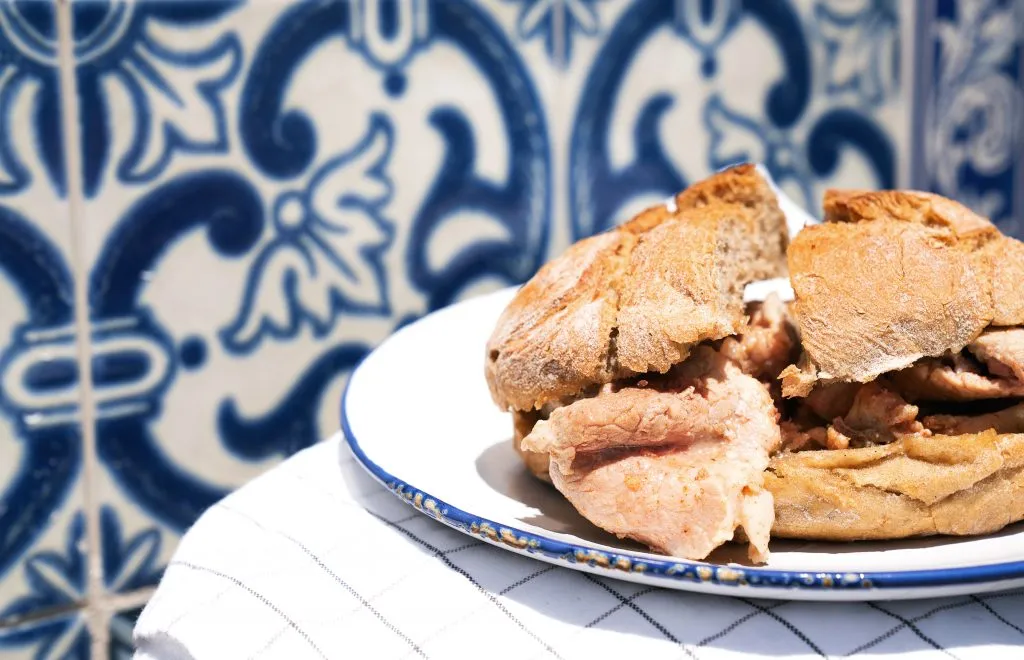 … lots and lots of hills.
There's no getting around it: a trip to either Porto or Lisbon will involve climbing many hills!
You can find plenty of ways to save your legs, from public elevators to cab rides, but definitely, pack comfortable shoes and prepare for some climbs when visiting either of the top 2 cities in Portugal.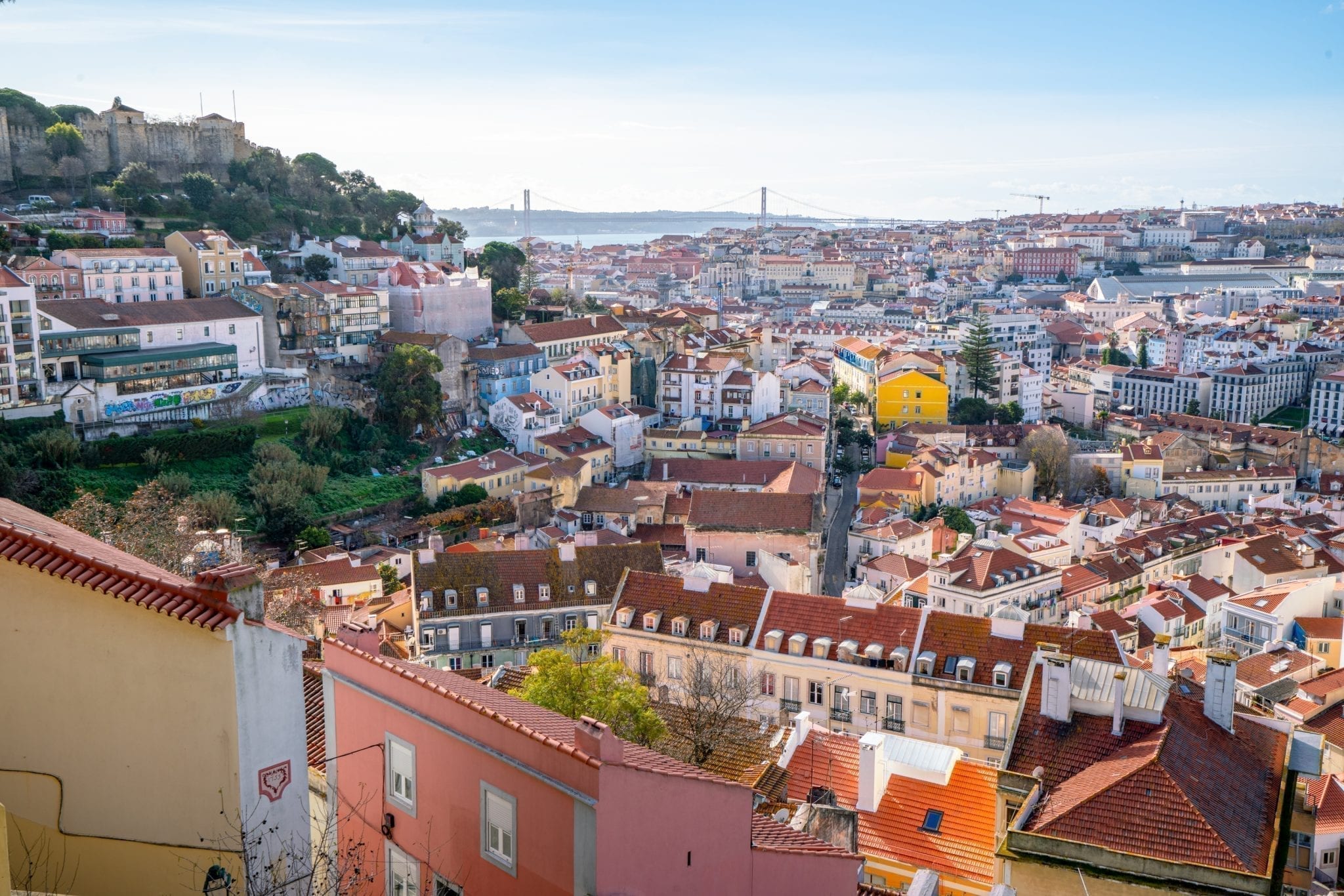 … a very affordable European getaway.
While both Lisbon and Porto's prices are rapidly increasing right along with their popularity, both cities are still incredibly affordable as far as European cities go, and can be very budget-friendly destinations!
Porto is a bit more inexpensive than Lisbon, but neither will break the bank.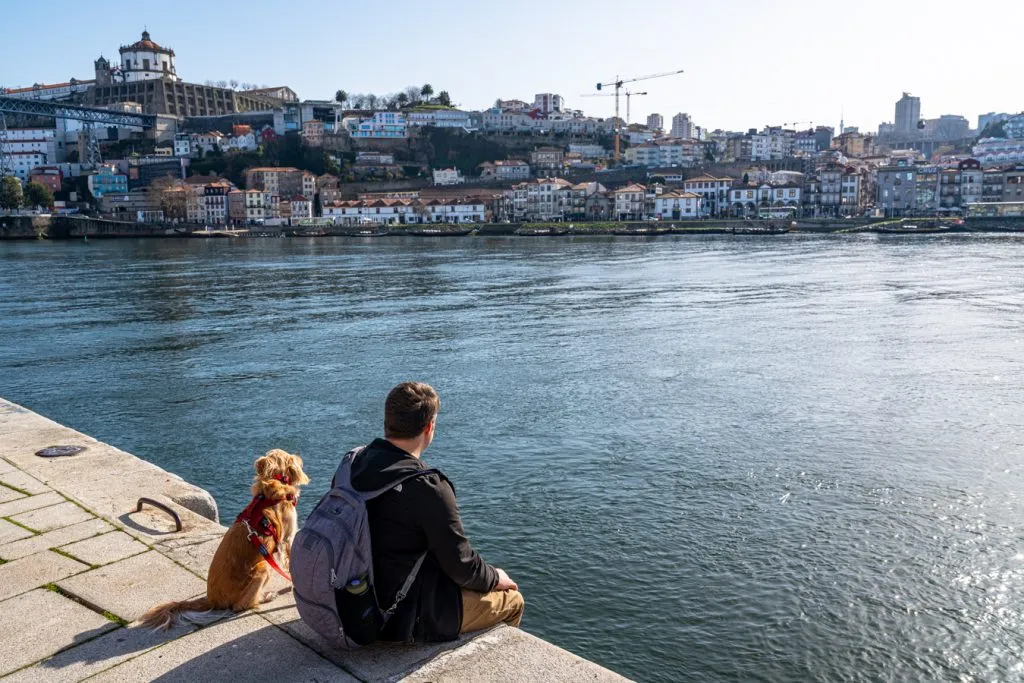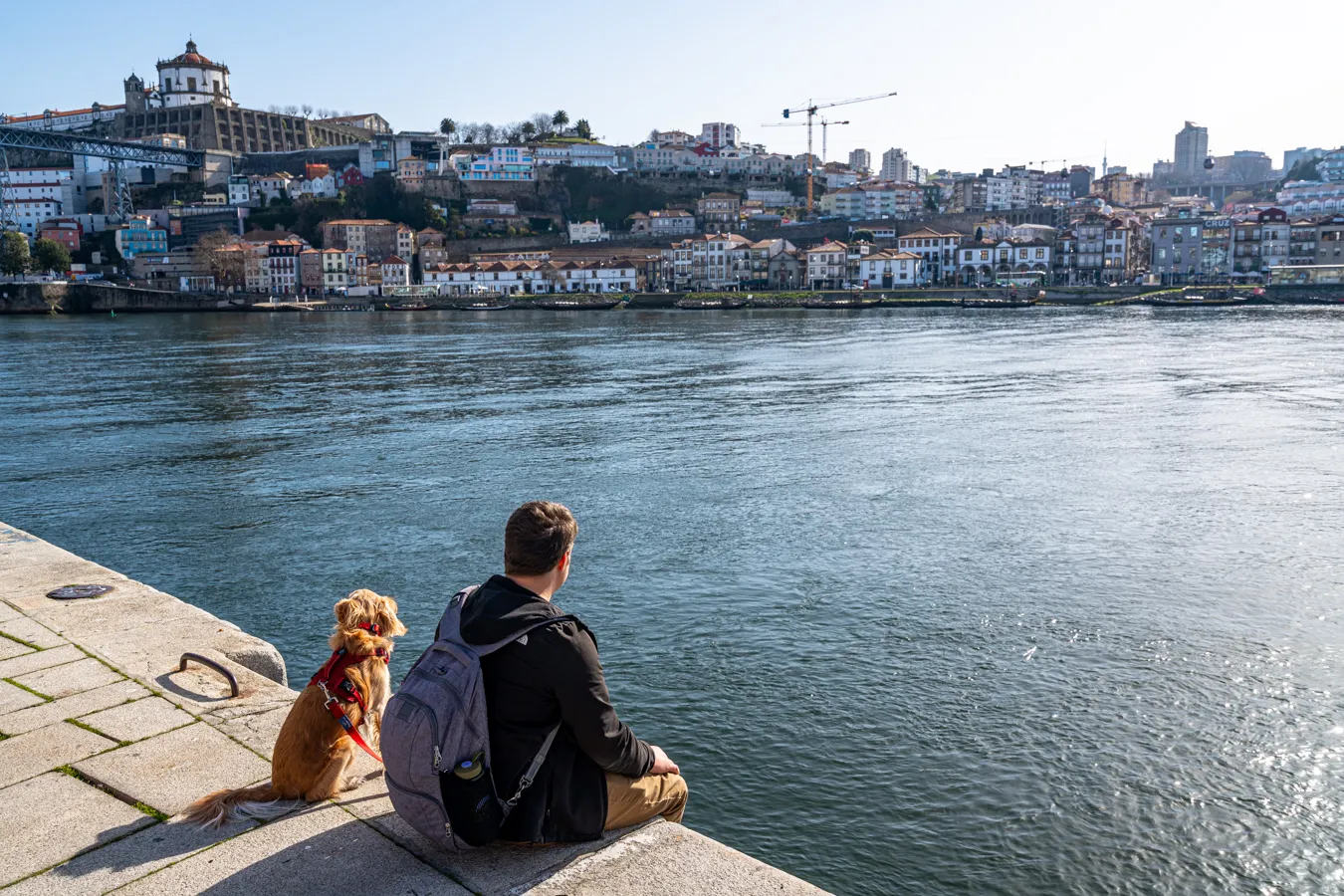 … gorgeous bookstores.
Porto has the insta-famous Livraria Lello, and Lisbon has the world's oldest still-operating bookstore at Livraria Bertrand.
They both have plenty of beautiful bookshops beyond the most famous ones, too!
Should you visit both Lisbon and Porto?
Yes, yes, absolutely yes!
If you can avoid the Lisbon vs Porto debate entirely and visit both cities, that's absolutely the best option.
As Porto and Lisbon feel very distinct and have plenty to do and see, visiting both cities is absolutely the ideal option.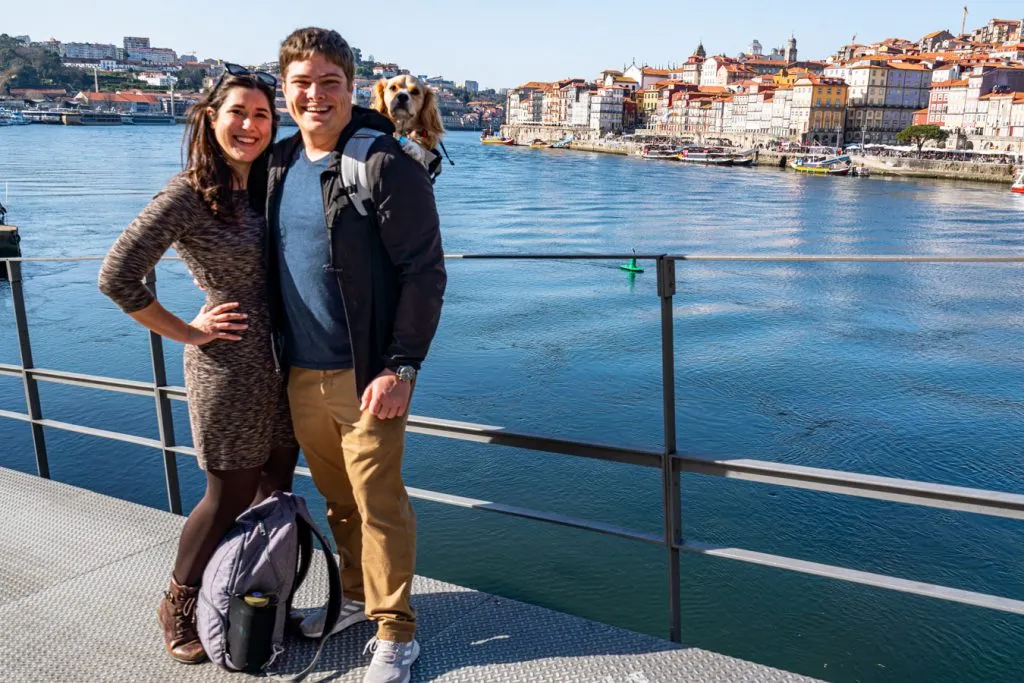 Can you day trip between Porto and Lisbon?
Is it technically possible to take a day trip from Lisbon to Porto (or vice versa)?
Yes, technically–it's about a 3-4 hour direct train ride between the two cities, and if you pre-book your train tickets in order to ensure you can access the trains you want, it's theoretically possible.
Do we recommend it?
Absolutely not–it makes for an incredibly long day, and you'll barely get a taste of the city you're day-tripping to (literally or figuratively).
If you find yourself considering a day trip between the two cities, strongly consider soaking up the city you're staying in or choosing a closer day trip instead (Lisbon and Porto both have incredible day trip options).
That being said, if you insist on day-tripping between the two cities, it's much better to take a day trip to Porto from Lisbon than the other way around (and here's how to do it).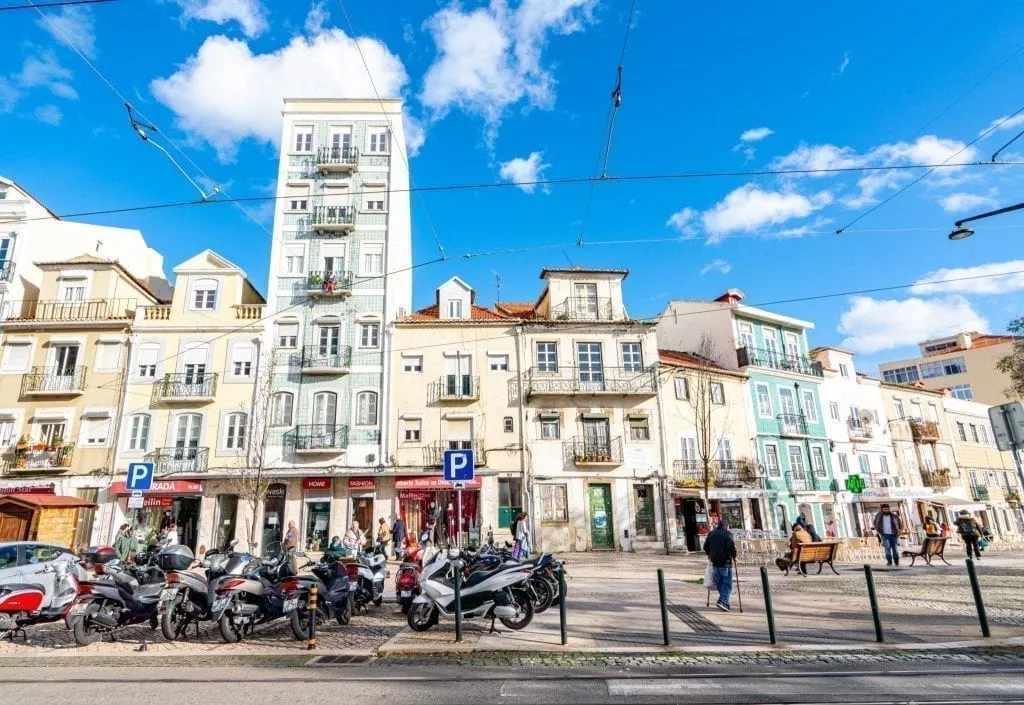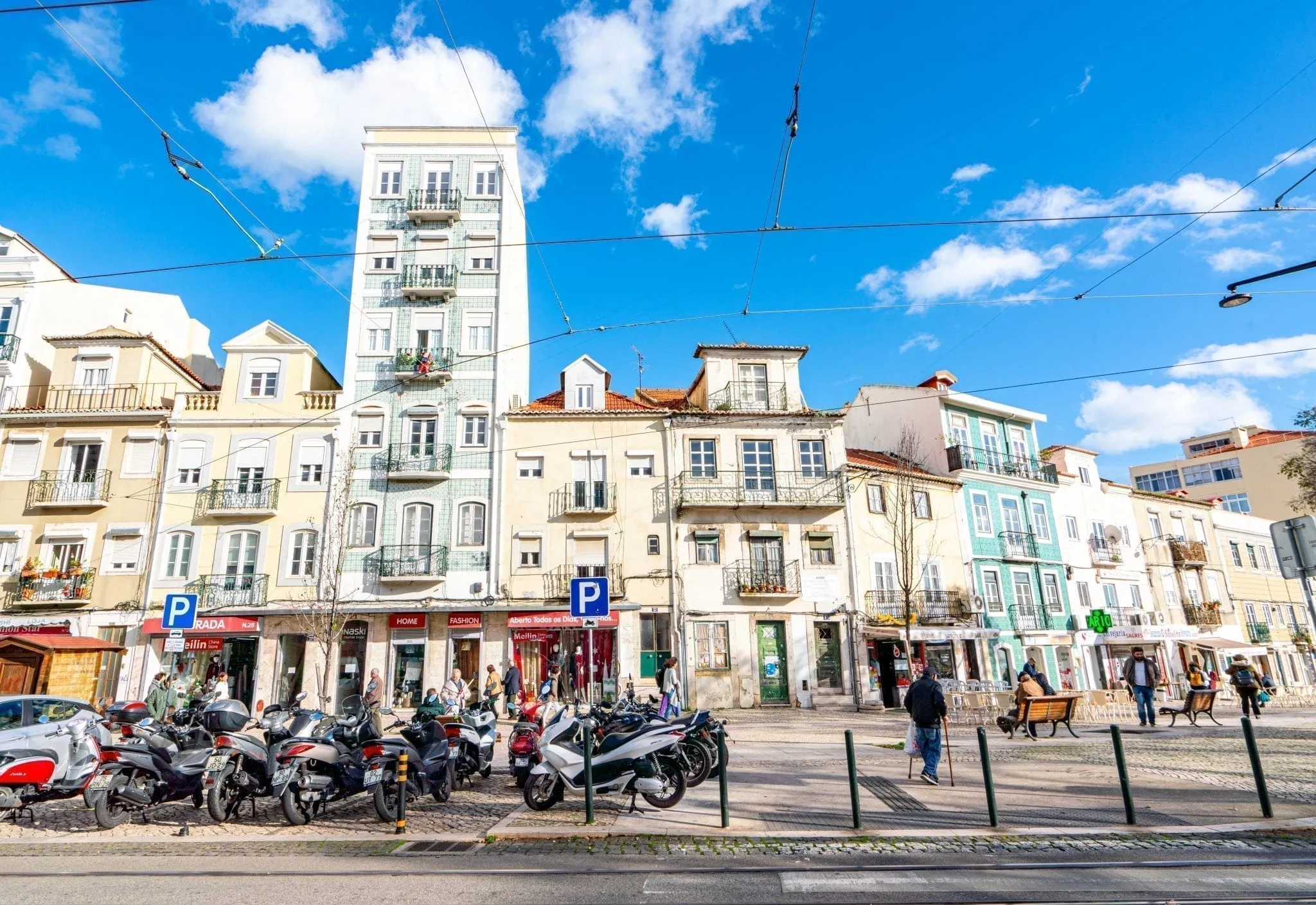 Lisbon vs Porto: The Final Decision
As difficult as it can be to settle the Porto vs Lisbon debate, here's the good news: there are no wrong answers.
Both cities offer a fantastic introduction to Portugal and offer enough to do that they can act as standalone destinations or operate as a launching pad into the rest of Portugal.
Whether you choose to visit Lisbon or Porto this time, you're bound to leave dreaming about your next trip to Portugal!
---