Beaches, monasteries, small towns, palaces, and even islands: there is truly no shortage of incredible day trips from Lisbon, Portugal!
After spending more than a year living in Lisbon, I'm convinced that it offers more variety and beauty in its day trip options than most capital cities in Europe (which is quite the high bar).
Whether your tastes run toward history and architecture, food and wine, or beaches and sunshine, we have some incredible Lisbon day trip ideas here for you.
We've also included details on the best ways to get to each place, whether a tour is worth it for that particular destination, and the best things to see while you're there.
As a result, this guide to the best places to visit near Lisbon got a bit long–feel free to use the table of contents underneath this introduction to navigate as you narrow down which day trips from Lisbon are best for you.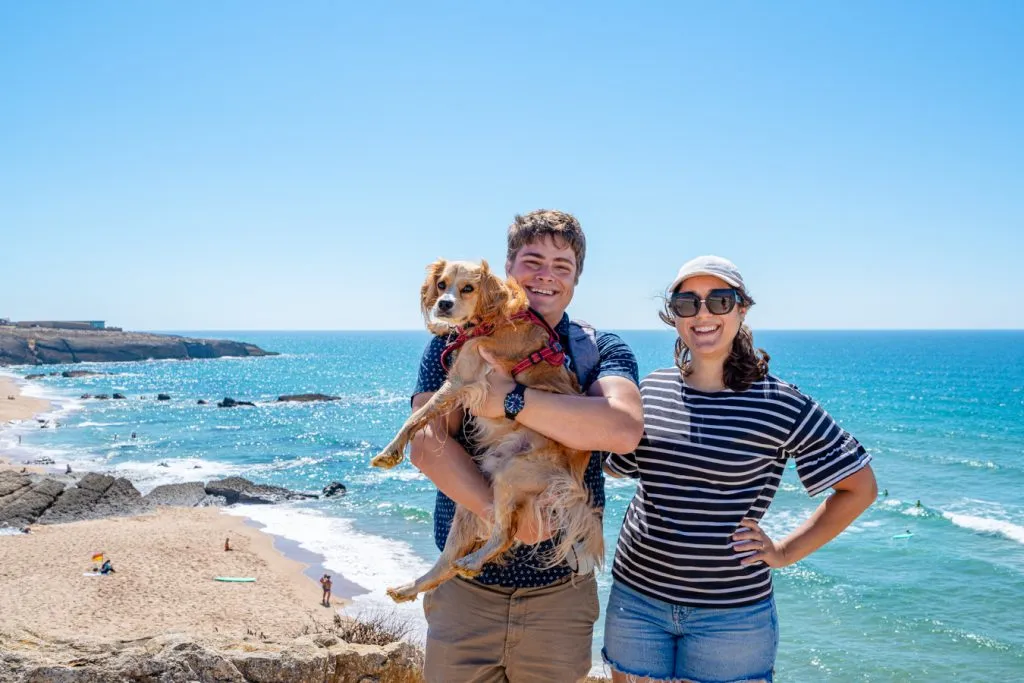 A Quick Note On Structuring Your Day Trips From Lisbon
If you take a look at the Lisbon day trips map that we included at the bottom of this blog post, you'll probably notice something interesting: many of these destinations are tantalizingly close to each other!
In certain cases, it's not uncommon to combine 2, 3, or even 4 of these places near Lisbon into one epic day trip (typically, we recommend choosing no more than 2 if you're traveling independently, organized day tours often visit 3-4).
Some combinations, like Sintra, Cascais, and Cabo da Roca, or Fátima, Batalha Monastery, Óbidos, and Nazaré, are popularly offered by tour companies, and others are more of a do-it-yourself endeavor.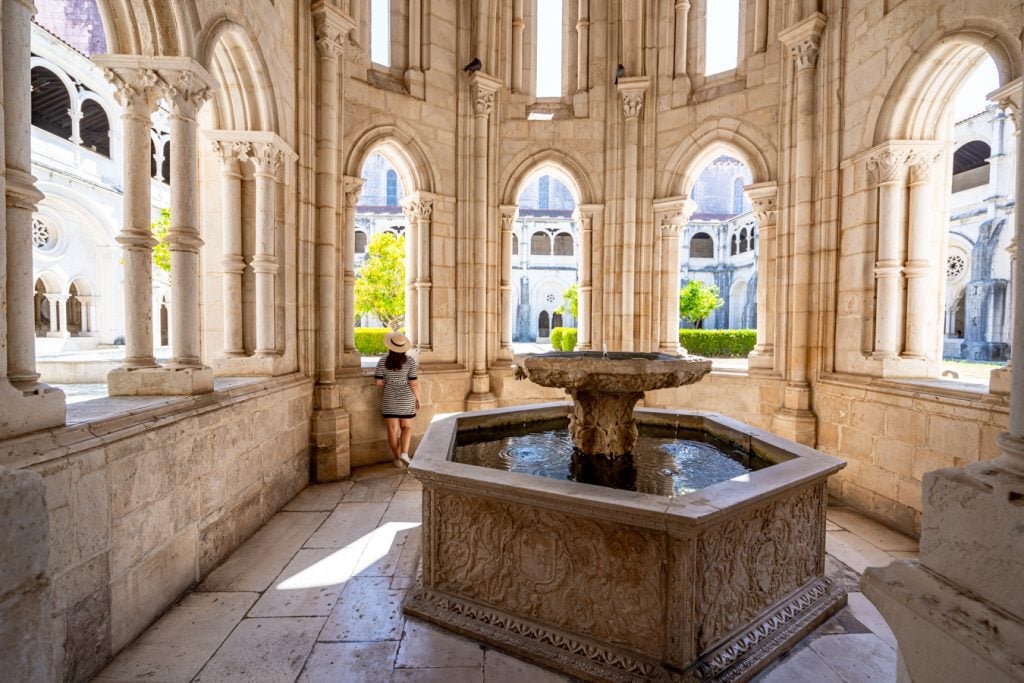 We'll go into more detail under each individual destination, but generally speaking, if you want to visit multiple destinations in one day, we'd recommend either booking a tour or renting a car for the day.
Navigating public transportation can get stressful when trying to visit multiple destinations near Lisbon in one day, and most (not all) of these day trips are very car friendly.
If you'd like to drive, we recommend searching for your rental car through Discover Cars, which will allow you to sift through all your options and choose the right car for you based on price, the reputation of the company that is renting it, and the terms of the rental contract.
Shop rental cars for your day trip from Lisbon today!
Quick Decision: An Epic + Easy Lisbon Day Trip Idea
Want to take an epic day trip from Lisbon, but don't want to overthink it or sort through 20+ options?
If so, this incredibly popular day trip to Sintra, Cascais, and Cabo da Roca is perfect for you!
Variations of this tour are among the most popular things to do in all of Portugal, and booking this tour will allow you to sample the iconic Pena Palace, beautiful downtown Sintra, the beach town of Cascais, and the incredible coastal views from Cabo da Roca–all without worrying about dealing with transportation.
Given the packed schedule, you won't be able to visit any of the destinations as in-depth as you would with more time, of course–but consider this Lisbon day trip a sampler platter of the region.
By the end of the day, you'll have had a full taste of what makes the area surrounding Lisbon so beloved among visitors and locals alike!
Book your day trip to Sintra, Cascais, and Cabo da Roca today!
Top Day Trips From Lisbon, Portugal
Without a doubt, Sintra, Cascais, and Cabo da Roca are the most popular day trips from Lisbon–hence why they're covered in our quick-decision day trip option above!
If you want to visit just 1 or 2 of them, though, or hope to plan your day independently, this round-up will help you know exactly which of these top Lisbon day trips is right for you.
Sintra
Sintra, with its array of fantastical, whimsical palaces and beautiful views, is absolutely the most popular day trip from Lisbon.
Here's the catch, though: you can't see all of Sintra's palaces in one day, let alone see them and also visit the town and nearby attractions like Cabo da Roca or the Capuchin Convent.
You can definitely get a taste of Sintra in a day either independently or with a tour, though!
If you visit independently, you'll have time for 2-3 palaces plus perhaps sample the town–but not all of the palaces are within walking distance of each other, so you'll need to plan your day carefully!
Pena Palace (the iconic red and yellow one), Quinta da Regaleira (home to the Instagram-famous well and Alice in Wonderland vibes), and the Moorish Castle (epic views) are the most popular.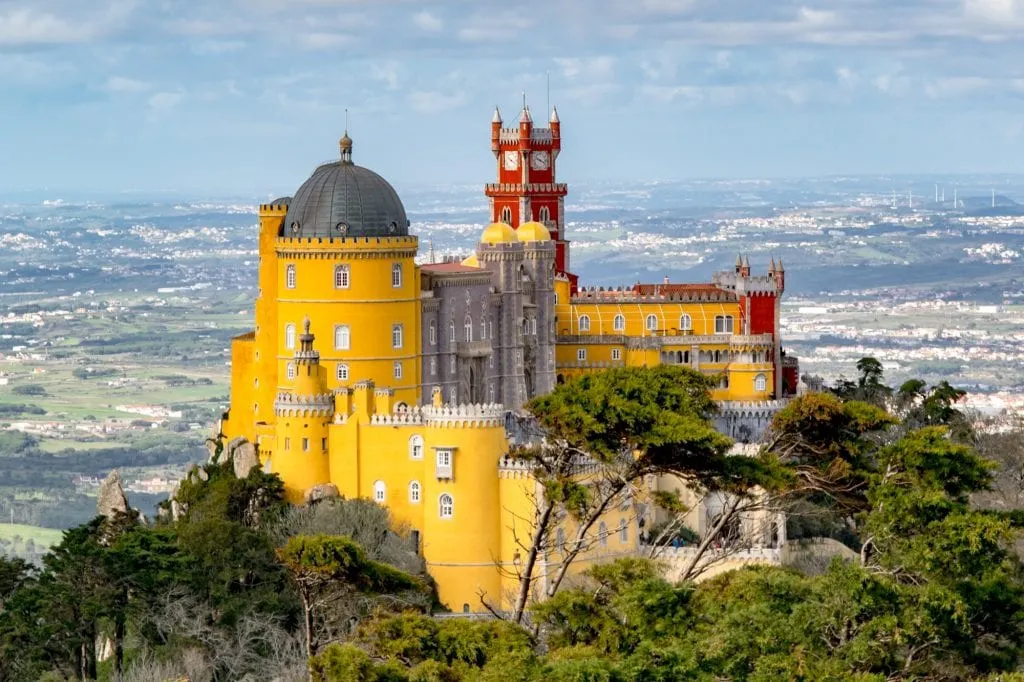 Monserrate Palace (one of my personal favorites) and the Sintra National Palace (arguably the best interior) are a bit lesser-known but also wonderful, and you can mix and match.
If you're visiting independently, be sure to book your tickets for Pena Palace and Quinta da Regaleira in advance!
Alternatively, a tour like this (this one is similar but visits 2 palaces) can give you a wonderful taste of Sintra.
How to Travel From Lisbon to Sintra
Traveling from Lisbon's Rossio Station to Sintra takes about 40 minutes by train, and there are plenty of trains to choose from each day.
From there, you'll hop on one of a couple of bus routes to head to the palace of your choice.
Though you can take the train back as well, we've gotten in the habit of hailing an Uber once we're ready to leave for the day, which is a bit pricier, but more efficient.
Cascais
Lisbon's favorite beach escape, the idyllic coastal town of Cascais is easy to access, fun to explore, and offers a fun mix of beaches, viewpoints, museums, shopping, and restaurants.
And, this beautiful coastal gem lies less than an hour from Lisbon by train!
With a package like that, it's not surprising that Cascais is one of the most popular day trips from Lisbon for locals and visitors alike.
While you're there, be sure to explore the Old Town, visit a beach or two (Praia da Rainha is small but incredibly picturesque), and stop by one of Cascais' museums (we loved the Castro Guimarães Museum).
By walking out to Boca do Inferno from the train station, you'll not only meander past most of the best things to do in Cascais (including getting the postcard-worthy view of the Santa Marta Lighthouse) but you'll also be treated to stunning views of the coast along the way.
You can easily spend a whole day in Cascais, especially if you're visiting during the summer and want to enjoy the beach, but Cascais can also be combined with Sintra and/or Cabo da Roca, or even lesser-known nearby spots like the Cresmina Dunes.
How to Travel From Lisbon to Cascais
Cascais is extremely accessible from Lisbon by train!
Simply take one of the many trains per day from the Cais do Sodré Station near the Time Out Market directly to Cascais.
If you only want to visit Cascais, there's no reason to book a tour–but if you'd like to see as many places as possible during your Lisbon day trip, booking a tour like this that combines Sintra, Cabo da Roca, and Cascais can be a great option.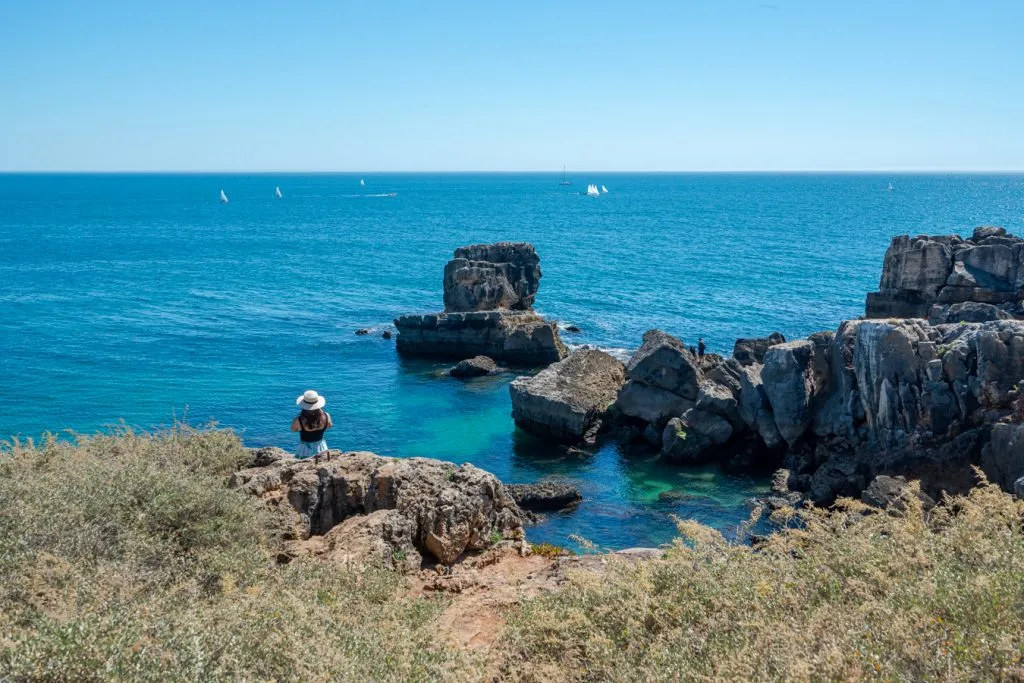 Cabo da Roca
Once believed to be the westernmost place in mainland Europe, and now just a beloved, gorgeous viewpoint near Lisbon, Cabo da Roca is one of the most popular day trips from the Portuguese capital!
Cabo da Roca is technically part of Sintra–and one of the Sintra tourist bus routes does travel here–but it's about a 30-minute drive from the city center.
This beautiful viewpoint still feels like it exists at the end of the world.
There's a lighthouse to admire, a coffee shop if you get thirsty, toilets at the visitor's center, and a parking lot… but that's about it!
Trails lead along the coast from Cabo da Roca, so visiting can take as little as 15 minutes or as long as a full day, if you want to hike down to Praia da Ursa or another beach to while the day away (though this is not the best option for travelers with a fear of heights).
While it may seem excessive to catalog a viewpoint as a day trip–and you can and should combine Cabo da Roca with at least one more nearby destination–we have absolutely loved each and every one of our visits and highly recommend appreciating the beauty of the coastline for yourself.
How to Travel From Lisbon to Cabo da Roca
Cabo da Roca is about a 45-minute drive from Lisbon, and by far the simplest ways to visit are to rent a car and drive there (we've done this a few times) or visit as part of a combined day trip like this.
There isn't direct public transportation between Lisbon and Cabo da Roca, but you can connect through Sintra or Cascais (bus 403).
Cities + Small Towns to Visit Near Lisbon
The list of beautiful cities and small towns near Lisbon that make excellent day trips expands far beyond Sintra and Cascais!
If you're looking for a gorgeous inland city or town to visit, this section is for you.
Óbidos
If your idea of the perfect day trip from Lisbon is climbing along the walls of a medieval castle, shopping in unique bookstores, and sampling sips of ginjinha served right on the street, Óbidos is the place for you!
This gorgeous small town is famous for being fully encircled by its medieval castle walls, and you can walk freely along the tops of them.
Be sure to stroll along Rua Direita and step inside to see the azulejo-covered interior of Igreja de Santa Maria while you're there, too.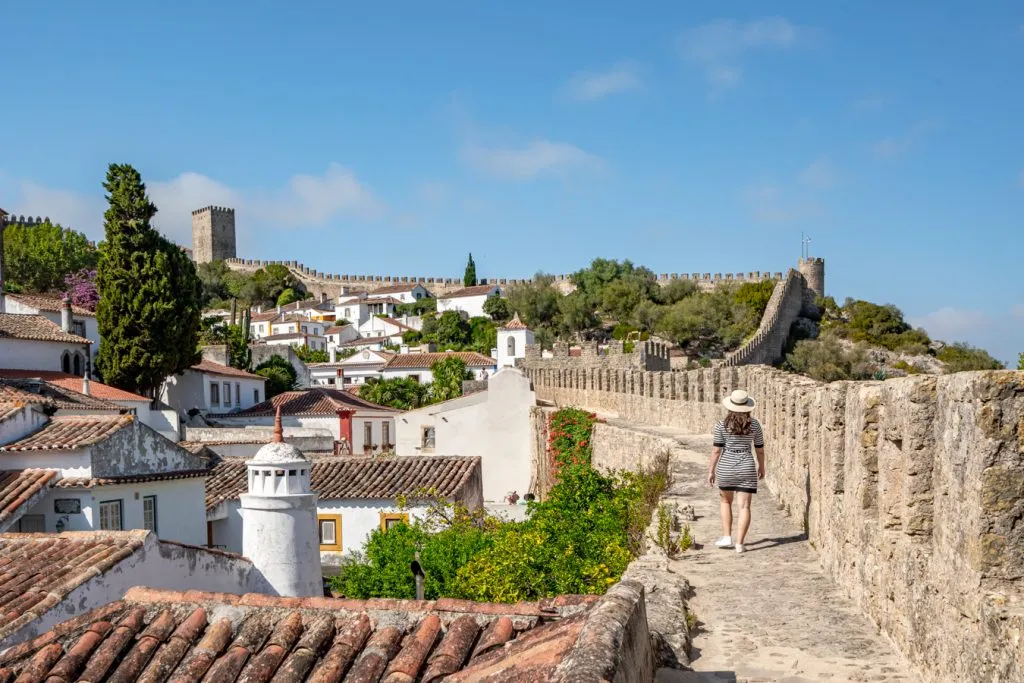 How to Travel From Lisbon to Óbidos
By far the simplest way to get from Lisbon to Óbidos is to rent a car and drive there, which is what we typically do.
However, there's also an express bus service that will help you travel between Lisbon and Óbidos in about an hour.
If you'd like to combine Óbidos with other popular day trip destinations in central Portugal like Nazaré and Batalha Monastery (more about those and other potential options further down in this guide), a tour like this is a great option.
Fátima
If you're a practicing Catholic, Fátima is arguably the most significant of all of these day trips from Lisbon–and if you're not a practicing Catholic, it may not be on your priority list at all.
Either way, though, it's worth keeping Fátima in mind, especially since many multi-stop day tours like this include Fátima among their locations.
Fátima is most famous for the fact that in 1917, an officially-recognized-by-the-Vatican miracle occurred: the Virgin Mary is said to have appeared to 3 children in town.
Multiple popes have visited, and the location of the miracle has become a significant Catholic pilgrimage location.
How to Travel From Lisbon to Fátima
To visit Fátima from Lisbon, you'll need to either rent a car and drive, take a bus (about an hour and a half each way), or book a tour.
It only takes a couple of hours on average to see Fátima's major pilgrimage sites, so it is typically one stop on a greater day trip from Lisbon.
Tomar
Did you know that the home of the legendary Order of the Knights Templar is found less than 2 hours north of Lisbon?
Tomar, Portugal is most famous for its Convent of Christ complex, which is a UNESCO site that was once the seat of the Knights Templar, featuring a castle, church, convent, and more.
It's beautiful, memorable, and a bit mysterious–exactly what you would expect from a place tied to the Knights Templar!
If you plan to drive to Tomar, you can also walk along the top of the city's aqueduct just outside of town–if you don't mind the lack of handrails in some places, that is!
How to Travel From Lisbon to Tomar
You can reach Tomar from Lisbon by train, car, bus, or tour, making it a very versatile option for day trips from Lisbon.
Tomar is about 1.5-2 hours north of Lisbon, depending on which transportation option you pick.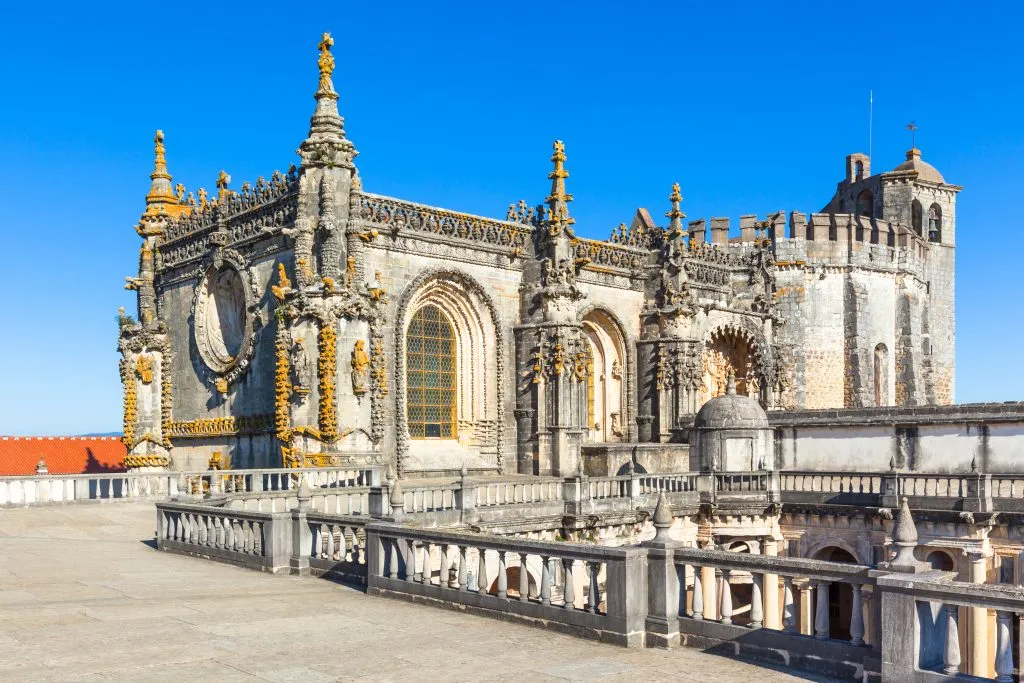 Coimbra
Portugal's "third city" lies conveniently on the train line between Lisbon and Porto–but this lovely city is far more than a stopover.
Coimbra is incredibly beautiful and mixes ornate architecture and lengthy history (it was the capital of Portugal from 1139 to 1385) with youthful energy.
It's most famous for being home to the UNESCO World Heritage-recognized University of Coimbra, which is partially housed in a former royal palace and well worth touring during your day trip.
Don't miss the stunning Biblioteca Joanina while you're there, which just may be one of the most beautiful libraries in the world!
How to Travel From Lisbon to Coimbra
Coimbra is located about 2 hours north of Lisbon by direct train, which is by far the easiest way to get there.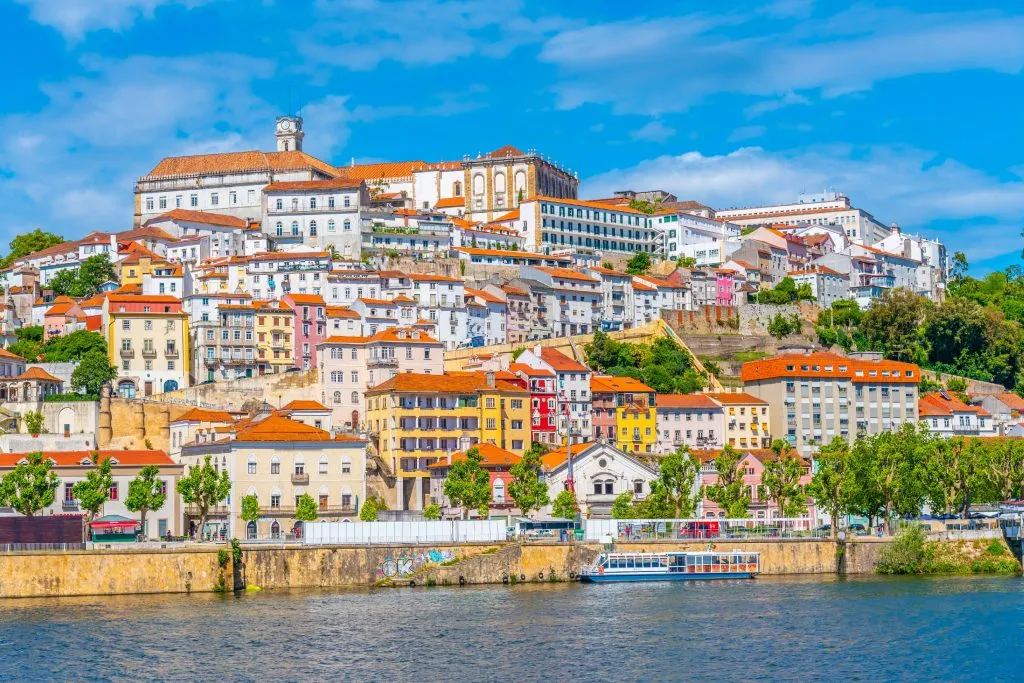 Évora
As the capital of Portugal's Alentejo region, the delightful yellow-and-white city of Évora is known for many things: wine, architecture… and bones.
Évora's most famous attraction, its Chapel of Bones, is already enough of a reason to take a day trip from Lisbon to Évora.
Add in the stunning Évora cathedral (and the views from its rooftop), Évora's very own Roman Temple, and plenty of other churches and attractions to explore, and this beautiful city makes for a packed day trip.
How to Travel From Lisbon to Évora
Évora is about 2 hours east of Lisbon by train (though there are only a couple of trains per day, so you'll need to plan your time carefully) or a bit longer by bus.
If you choose to rent a car or book a tour, though, you'll also be able to visit the 7,000-year-old megaliths that lie outside of town, which are incredible to visit.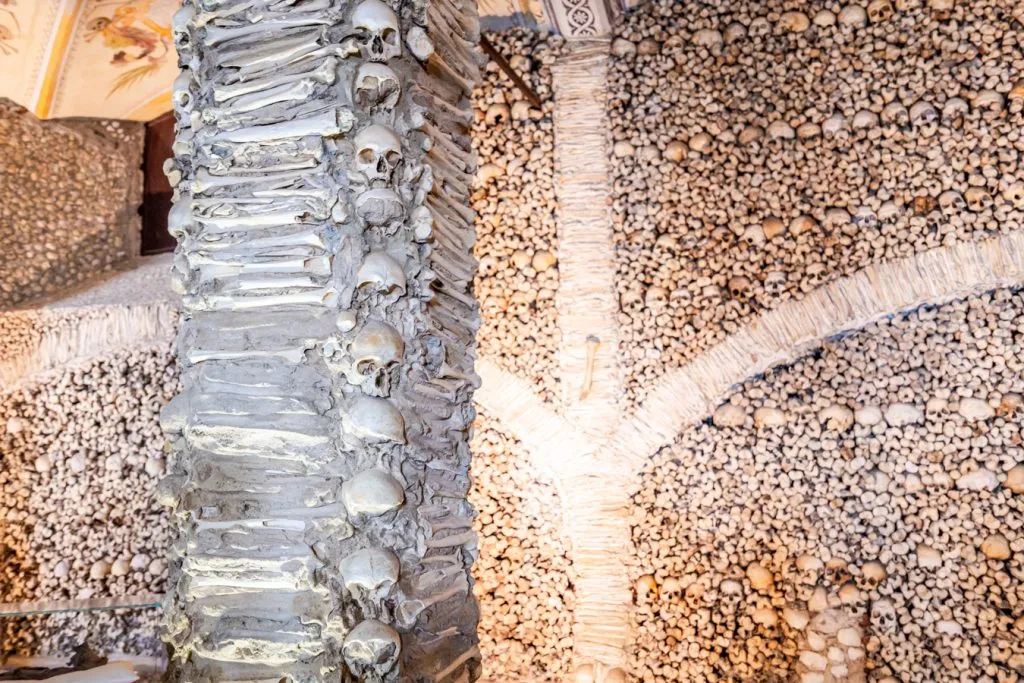 Coastal + Beach Towns For Lisbon Day Trips
Lisbon lies tantalizingly close to the Atlantic Ocean–and as a result, there is an enormous number of charming beach towns near Lisbon that are well worth a day trip.
If you're looking to enjoy coastal views, take a hike along the ocean, or (if you're open to dealing with the cold water, that is) go for a swim, these day trip ideas are for you.
Nazaré
The beautiful beach town of Nazaré has a seasonal personality: by summer, it's merely a charming beach town, with winding streets, a long stretch of sand, and great views.
But by winter, it's one of the most unique day trips from Lisbon around–because this is where expert surfers ride the biggest waves in the world.
"Big wave" season runs from November to February, and visitors flock to Nazaré to admire the surfers at work (the phenomenon doesn't happen every day, but you can track your odds of seeing giant waves here).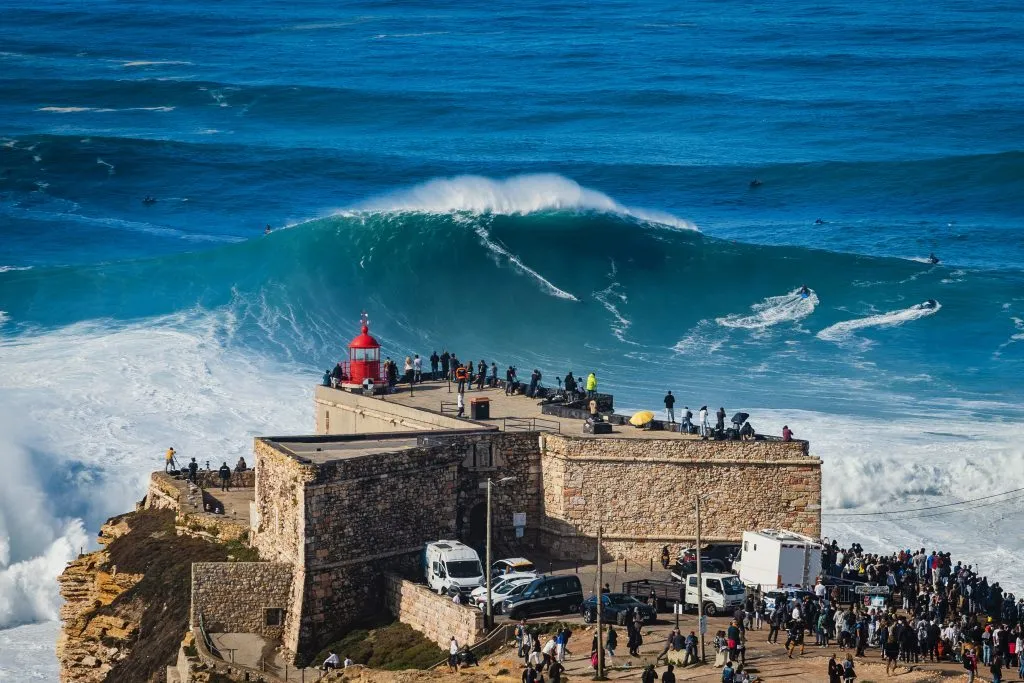 How to Travel From Lisbon to Nazaré
Nazaré is about an hour and a half north of Lisbon by car or a little under 2 hours (on average) by bus.
It's also popularly included on multi-stop day trips like this one, which also visits Fátima, Óbidos, and Batalha Monastery.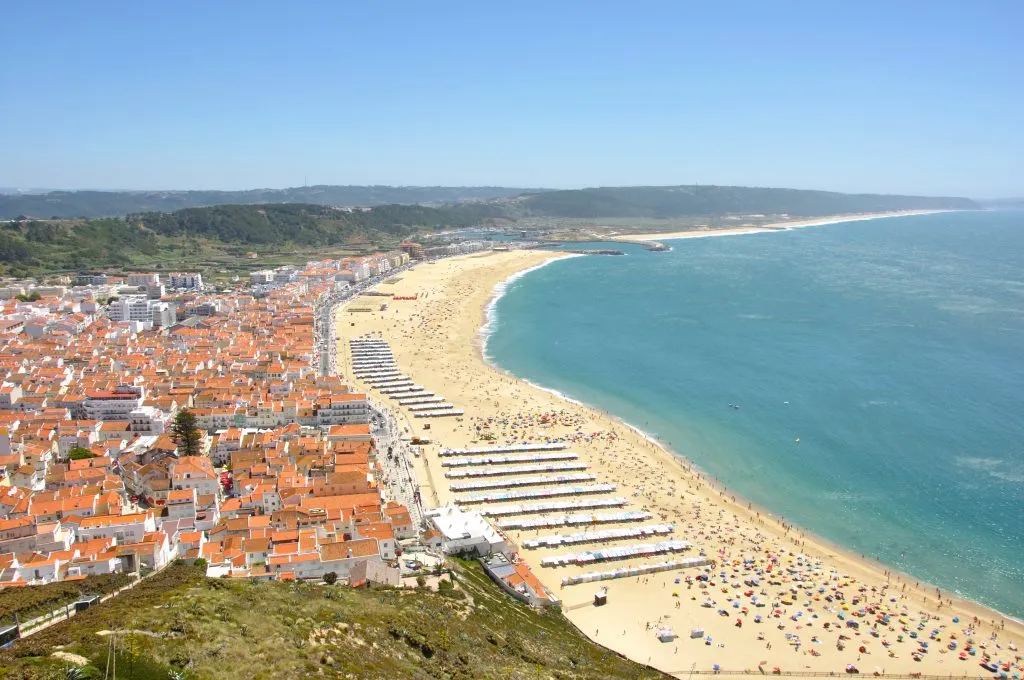 Berlengas Islands (+ Peniche)
While the town Peniche itself makes for a fun day trip, with a beautiful coastline and a local fort to explore, there's another reason that this makes the list of the best day trips from Lisbon: it's the launching pad to the Berlengas Islands.
The Berlengas Islands are a picturesque archipelago lying about a 45-minute ferry ride away from Peniche, perfect for quick summer getaways.
If you don't have time to make it to the Algarve during your trip to Portugal but are craving island vibes, this is the day trip for you!
Featuring sea caves, swim spots, beaches, a lighthouse, and the picturesque São João Baptista Fort, the Berlengas Islands make for an incredibly memorable day trip.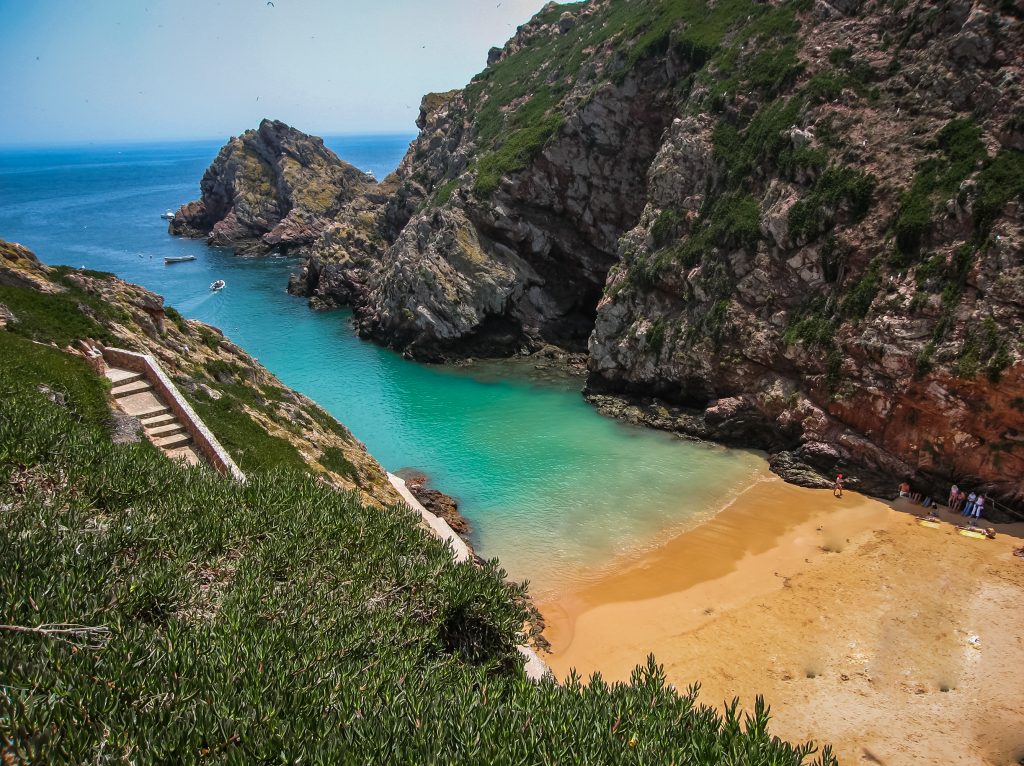 How to Travel From Lisbon to Peniche
Due to the time-sensitive nature of catching a ferry and the goal of making the most of your limited time on the Berlengas Islands, this is one Lisbon day trip that's better accomplished with a tour.
This can be accomplished in one of a couple of ways: first, you could either drive or take a bus to Peniche (which is about an hour and a half north of Lisbon) and then join a Berlengas Islands tour leaving from Peniche.
Alternatively, you can avoid worrying about transportation entirely by booking a full Berlengas Islands day tour like this that leaves right from Lisbon!
Book your day trip to the Berlengas Islands and Peniche today!
Azenhas do Mar
As you've been planning your trip to Portugal, odds are pretty high that you've come across a photo or 2 of the beautiful town of Azenhas do Mar!
This picturesque beach town is perched on a cliff over the Atlantic, giving the impression that its jumble of cliffside buildings is tumbling into the sea.
It's also home to some beautiful beaches, complete with tidal pools, and restaurants serving up seafood with ocean views.
Azenhas do Mar is tiny–it's generally combined with a multi-stop day trip to the area, which we recommend unless you're just looking for a beach day–but definitely worth seeing.
There's a reason that wealthy people from Lisbon and Sintra have long chosen to build luxurious summer homes on this spot!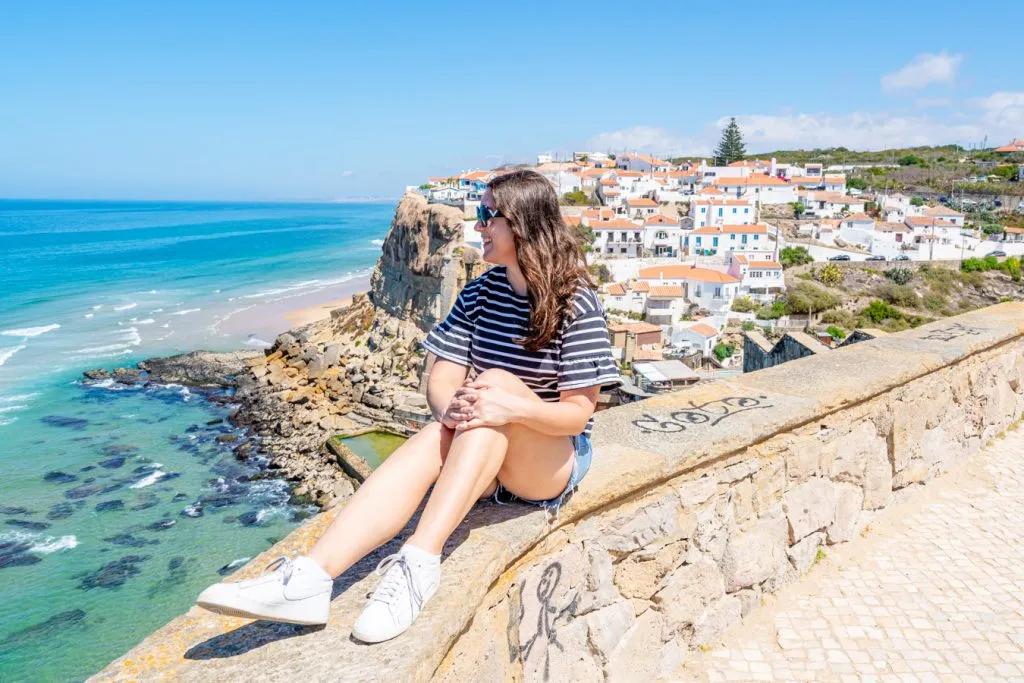 How to Travel From Lisbon to Azenhas do Mar
While you can technically reach Azenhas do Mar from Lisbon via public transportation (many people take the train to Sintra and then catch a bus to Azenhas do Mar from there), this is a day trip destination that will be infinitely more laid back by renting a car (which is what we do) or booking a tour.
This well-reviewed tour includes Azenhas do Mar as a stop on a broader Sintra and Cascais day trip, which trades time in the other places for this extra peek at the beauty of the Portuguese coast.
Estoril
Right along the coast between Lisbon and Cascais, you'll find the beautiful beach town of Estoril.
Above all, Estoril is famous for one thing: its casino was Ian Fleming's inspiration for writing the first James Bond book, Casino Royale, which launched a character that has now been around for generations!
Beyond this connection, though, Estoril is a lovely resort town in its own right, with many similarities to Cascais (though often a bit less crowded).
Don't miss Praia do Tamariz when you visit!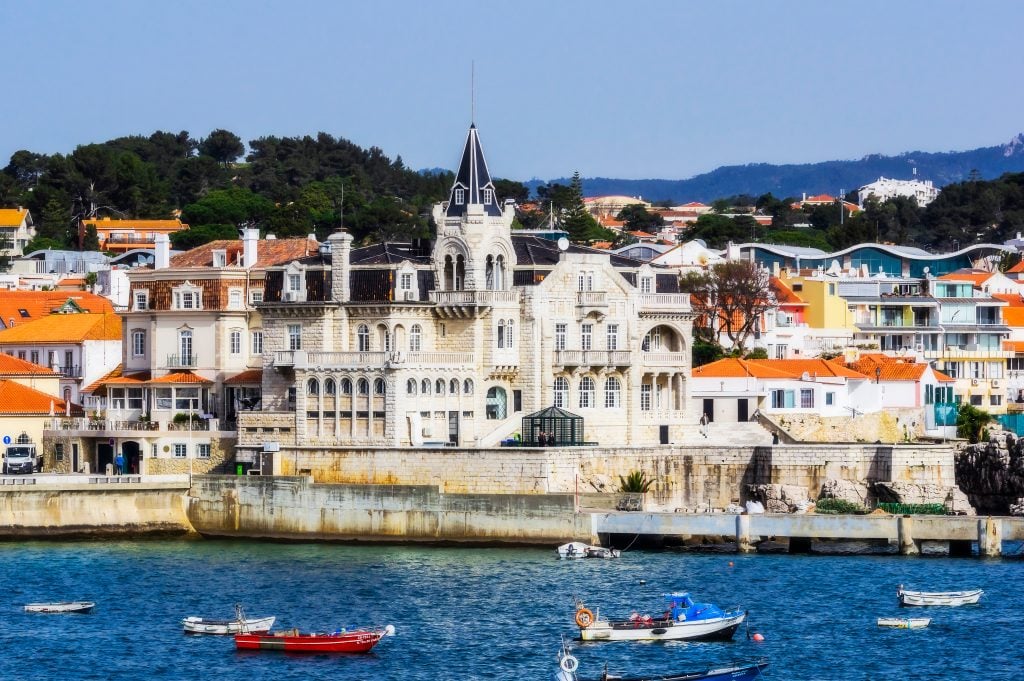 How to Travel From Lisbon to Estoril
Estoril is one of the easiest day trips from Lisbon to access.
A roughly 35-minute train ride from Cais do Sodré Station (with trains leaving multiple times an hour) will take you to this resort town!
Alternatively, if you want to visit both Cascais and Estoril, you can take the train all the way to Cascais and then walk along the sea until you reach Estoril.
The walk only takes about 30 minutes (depending on how many times you stop to enjoy the view, that is).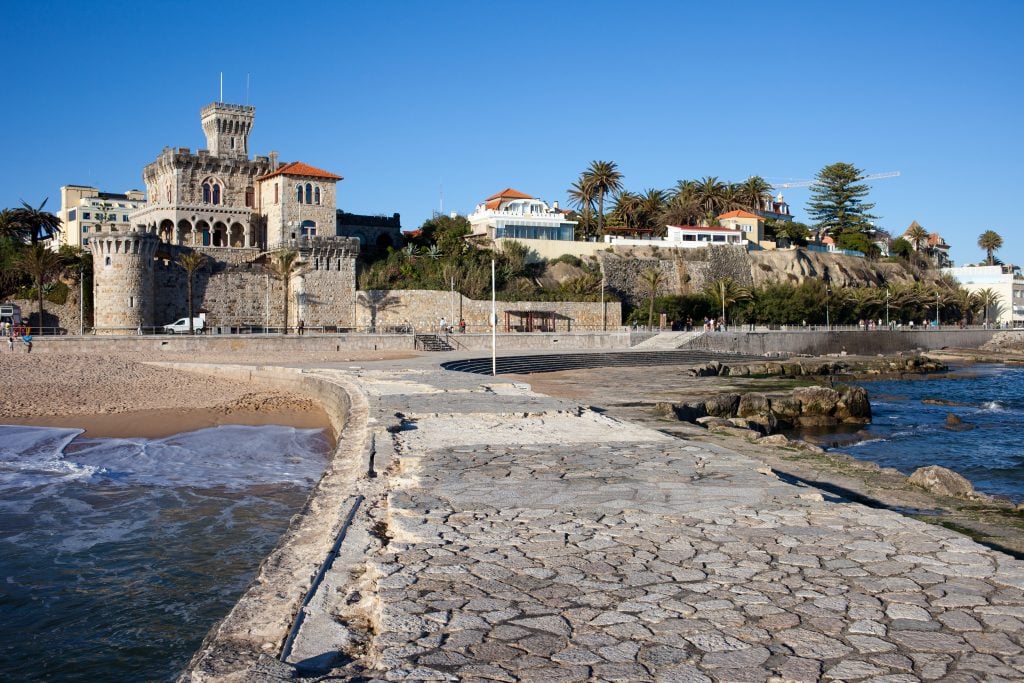 Ericeira
If you're looking for a laid-back fishing and surfing village to enjoy a relaxing day trip from Lisbon, Ericeira might be the place for you!
Ericeira features a small, walkable downtown center packed with restaurants and cafes, but its main draw is simple: the beaches.
From Praia dos Pescadores to Praia do Sul and beyond, Ericeira is positively surrounded by beautiful beaches, several of them located within walking distance of town.
It's also part of the World Surf Reserve, and a very popular place to learn to surf.
Whether you're hoping to swim or surf (or both), Ericeira has beaches for you.
How to Travel From Lisbon to Ericeira
You can reach Ericeira by bus in less than an hour from Lisbon's Campo Grande bus station, and buses run very regularly.
However, for maximum flexibility and in order to visit beaches outside the center (like the famous Praia de São Julião), renting a car can be very helpful.
This is especially true if you're visiting on a weekday, when parking is less competitive than on the weekend.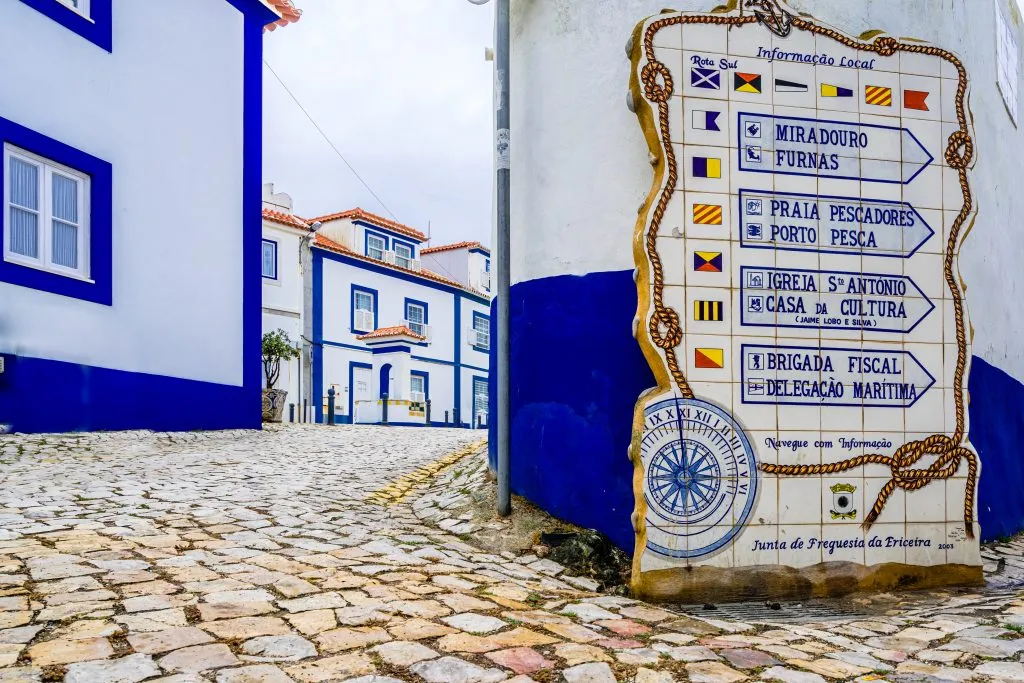 Palaces + Monasteries to Visit on Lisbon Day Trips
The palaces and monasteries covered in this section of our guide are much less visited than some of the top day trips from Lisbon.
That's not because they're less worthy, but simply because they are less famous and have so many amazing places to compete with!
If you want to get a bit further off the beaten path with your Lisbon day trip choices, these are excellent options.
National Palace of Mafra
In 1717, construction broke on the National Palace of Mafra under the reign of King John V–and more than 300 years later, visitors are still streaming through the doors of this UNESCO World Heritage Site!
The opulent, expansive Mafra Palace was originally intended as a modest friary, but thanks to newfound wealth, it quickly expanded into the palace that we know today.
The National Palace of Mafra is a slightly off the beaten path day trip from Lisbon, but it delights those who make the trip.
While there are many facets of the building to admire, from the basilica to the royal apartments and beyond, the Rococo library is particularly memorable.
How to Travel From Lisbon to Mafra Palace
The National Palace of Mafra is accessible from Lisbon by bus, along the same route as the surf town of Ericeira.
The ride takes about 30-45 minutes, or alternatively, you can drive there.
Queluz National Palace
The beautiful Queluz National Palace, with its dazzling Rococo architecture and expansive gardens, is technically one of the official palaces of Sintra… but a much less crowded one than, say, Pena Palace.
Located in Queluz between central Lisbon and Sintra, the Queluz National Palace is an excellent alternative day trip for those intrigued by Portuguese palaces but concerned about Sintra's crowds.
Queluz's story is as interesting as its opulent rooms are beautiful.
One of the final Rococo palaces to be built in Europe, this 18th-century palace served as the retreat of a queen in declining mental health, and was once the official residence of the Portuguese royal family.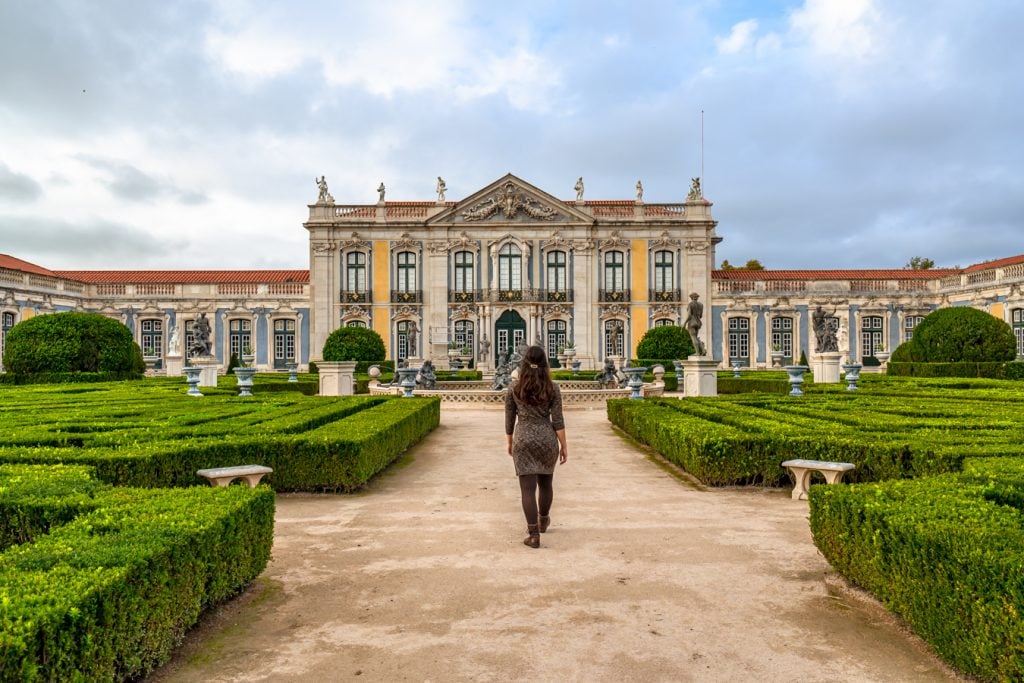 It's also where the royal family fled from in 1807 when they moved the court to Brazil in order to avoid Napoleon.
Thanks to being one of the more unusual Lisbon day trips, it's also marvelously uncrowded: we practically had it to ourselves on the afternoon that we visited!
How to Travel From Lisbon to Queluz National Palace
To get to Queluz National Palace from Lisbon, you can either take a train about 20 minutes and then walk 15 minutes from the station to the palace, or take a car (which takes about 20 minutes door-to-door).
We opted to use Uber to visit the palace, since it is geographically so close to central Lisbon.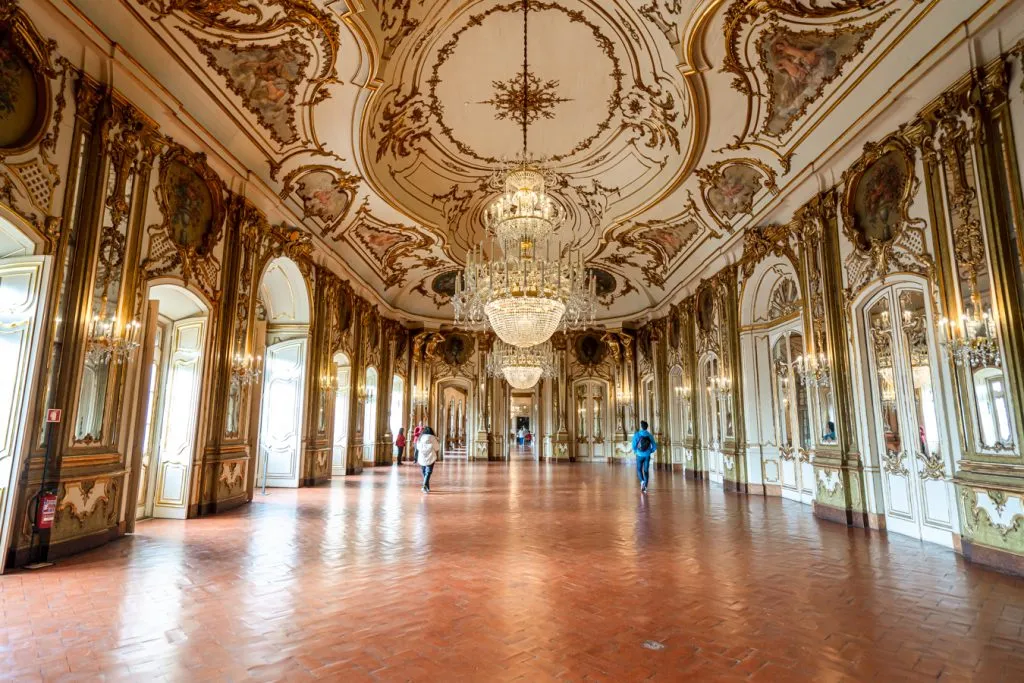 Alcobaça Monastery
The stunning Alcobaça Monastery is not only Portugal's first-ever Gothic religious building, but it's also one of my favorite places in Portugal and–best of all–generally uncrowded.
We had the monastery almost to ourselves when visiting on an August afternoon!
Consecrated in 1252, the Alcobaça Monastery is famously home to Portugal's real-life star-crossed lovers, King Pedro I and his longtime lover Inês de Castro, who was eventually robbed of her life by King Pedro I's father (but not before the couple had several children together).
Sad history aside, Alcobaça features gorgeous cloisters, a soaring nave in its church, and ornate detail throughout the structure.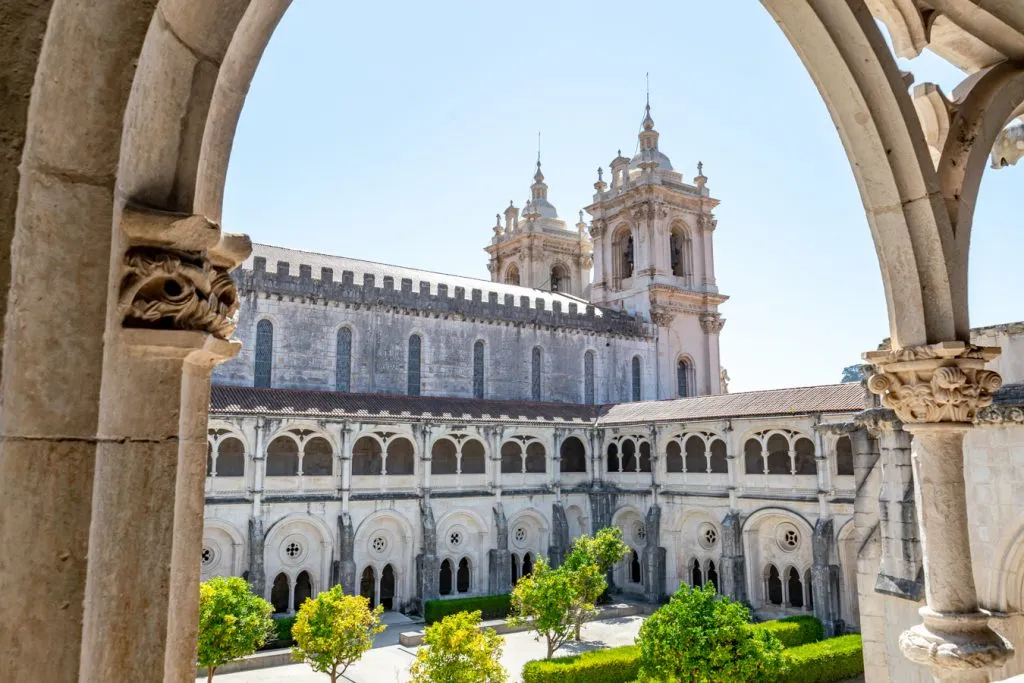 How to Travel From Lisbon to Alcobaça Monastery
Alcobaça Monastery is located about an hour and a half north of Lisbon by car, or a bit longer by bus.
It's also included on a handful of multi-stop tours through central Portugal, like this one that also visits Óbidos, Batalha, and Fátima!
Batalha Monastery
Dating to the 14th century, Batalha Monastery is (like Alcobaça), both absolutely beautiful and one of Portugal's 17 UNESCO World Heritage Sites.
Located in the town of the same name, Batalha Monastery is a soaring Gothic complex, featuring intricate details and Manueline influences.
Don't miss the Unfinished Chapels, which are–exactly as the name implies–ornate chapels that were never roofed in.
The effect is stunning, but you can only access them from outside the monastery, making them easy to miss if you don't keep an eye out!
How to Travel From Lisbon to Batalha Monastery
Batalha Monastery is located about an hour and a half north of Lisbon by car, or a bit longer by bus.
Alternatively, it's a popular inclusion on multi-stop day tours from Lisbon, like this one that also visits Óbidos, Nazaré, and Fátima!
More of the Best Day Trips From Lisbon
Arrábida Natural Park
Less than an hour south of Lisbon and a hop, skip, and jump across the Tagus River, you'll find one of the best hidden gems in Portugal: Arrábida Natural Park.
Arrábida Natural Park is a haven for outdoor lovers, whether you want to enjoy a hike, hit the beach, go kayaking, or even just enjoy a scenic drive.
Nature isn't the only draw of the area, either: the town of Azeitão offers plenty to wine-lovers (and cheese lovers: Azeitão cheese is one of my favorites in the world), and Sesimbra's castle is well worth seeing.
In short, this catch-all day trip from Lisbon is an excellent option for those looking to enjoy beautiful views, delicious wine, and the great outdoors.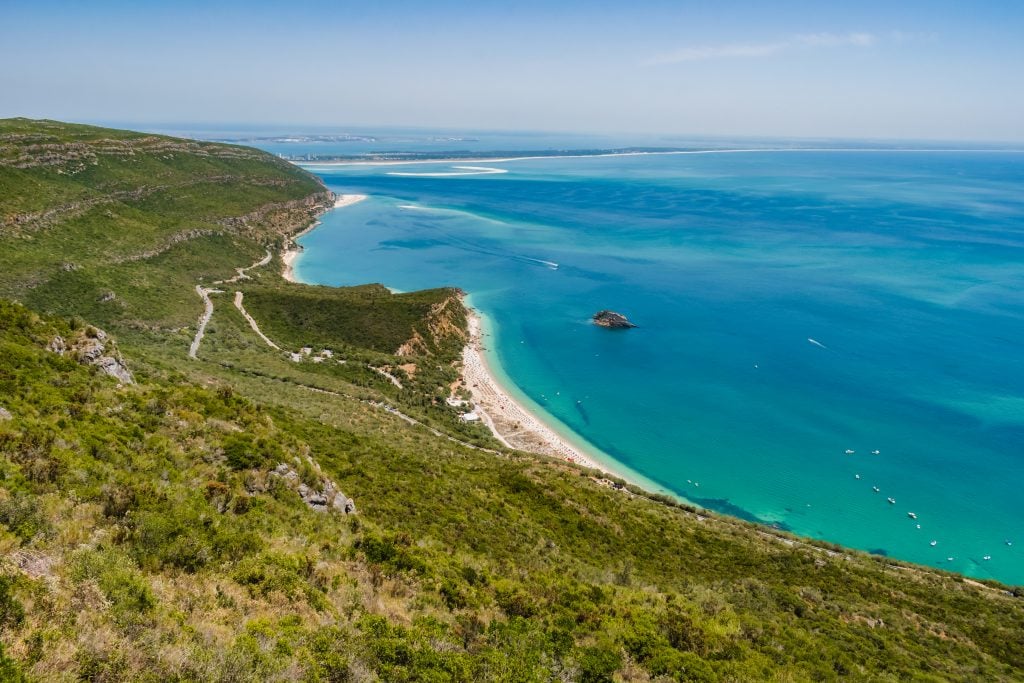 How to Travel From Lisbon to Arrábida Natural Park
While you can technically reach Arrábida Natural Park by bus, seasonal routes and the expansive area make this one place where first-time visitors will definitely benefit from signing up for a tour.
If you'd rather explore independently, renting a car is also an option–but with so many places to visit over a fairly wide area, you'll likely see more by letting a local take the reins.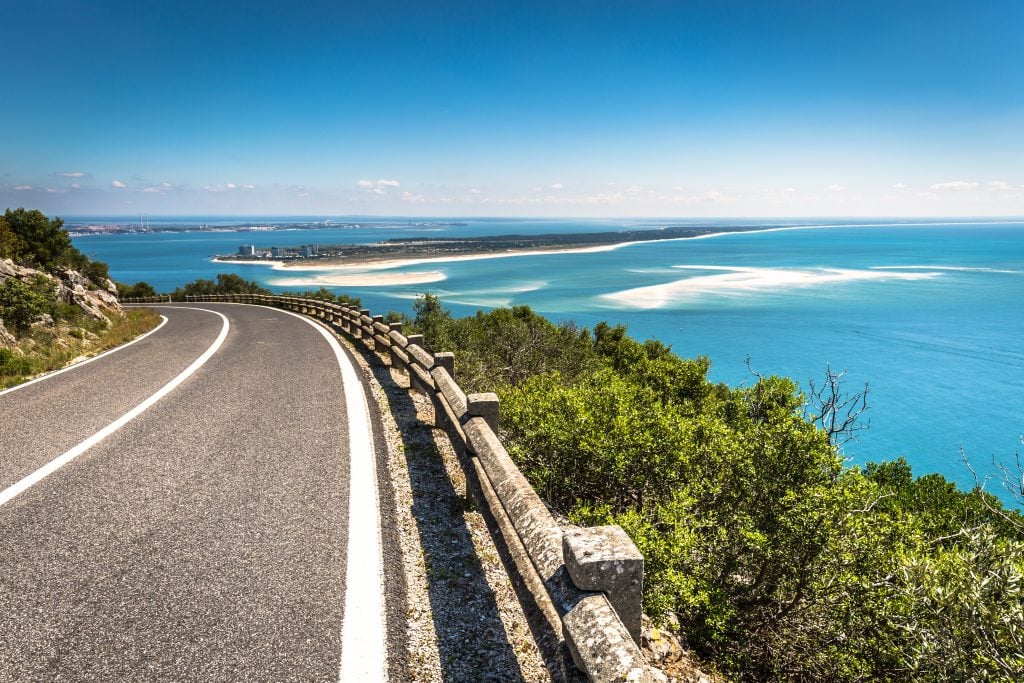 Surfing Day Trips From Lisbon
Portugal is a magnet for surfers from across the world–and there are plenty of fantastic places to surf close to Lisbon!
Whether you're a beginner hoping to sign up for a surf lesson for the first time or an experienced surfer who just wants to spend a day with a like-minded group visiting the best surf spots near Lisbon, there's an option nearby for you.
If you'd rather set off independently, some surf schools also offer rentals.
Book your surf lesson or surf-focused day trip from Lisbon today!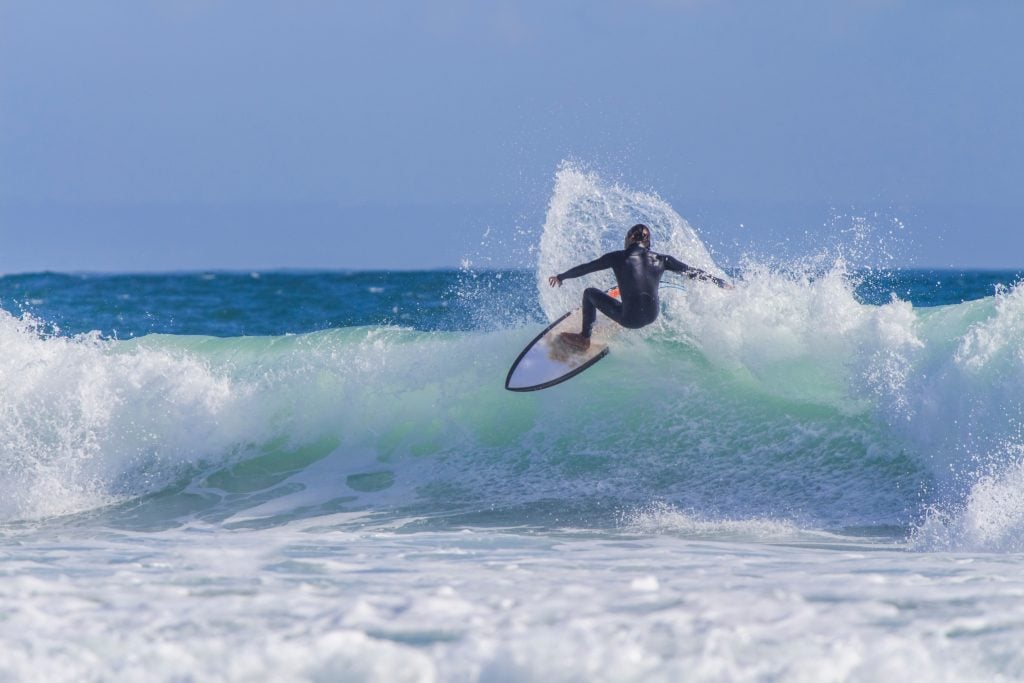 Beaches Near Lisbon For Laid-Back Day Trips
We've focused this day trip guide primarily on sightseeing destinations.
However, if you're instead looking for a little sun, sea air, and relaxation, there are plenty of excellent beaches near Lisbon to visit, too (just keep in mind that this is the Atlantic, after all: the water here is not warm!).
Praia de Carcavelos is one of the most popular beaches near Lisbon, thanks to its wide stretch of sand, often calm water, and the fact that it can be accessed by train.
The beaches in central Cascais, including Praia da Rainha, Praia da Duquesa, and Praia da Conceição, are also great options that you can easily access by train.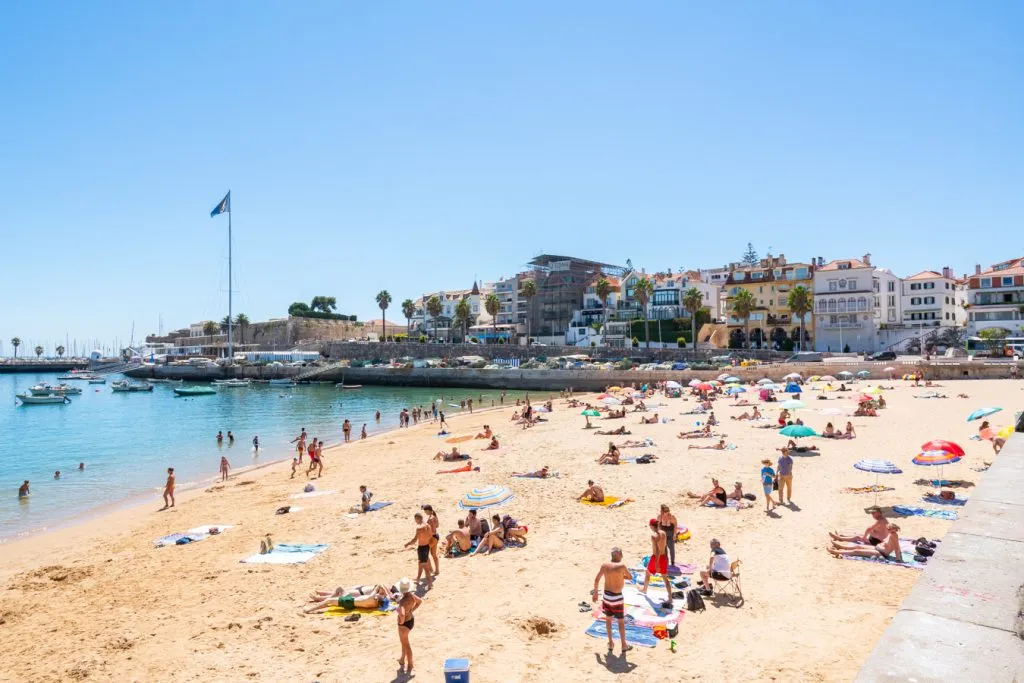 Praia do Guincho is popular with surfers, and there are also surf schools located here!
The nearby town of Costa da Caparica, located across the Tagus River from the capital, is also a top option for beach days near Lisbon thanks to its expansive, sandy coastline.
Of course, if you look at a map of Portugal, you'll easily be able to see that these are just a few of the many, many beaches close to Lisbon.
We specifically chose to highlight these, though, because they're excellent options for visitors hoping to get a taste of the coast, especially without needing to rent a car.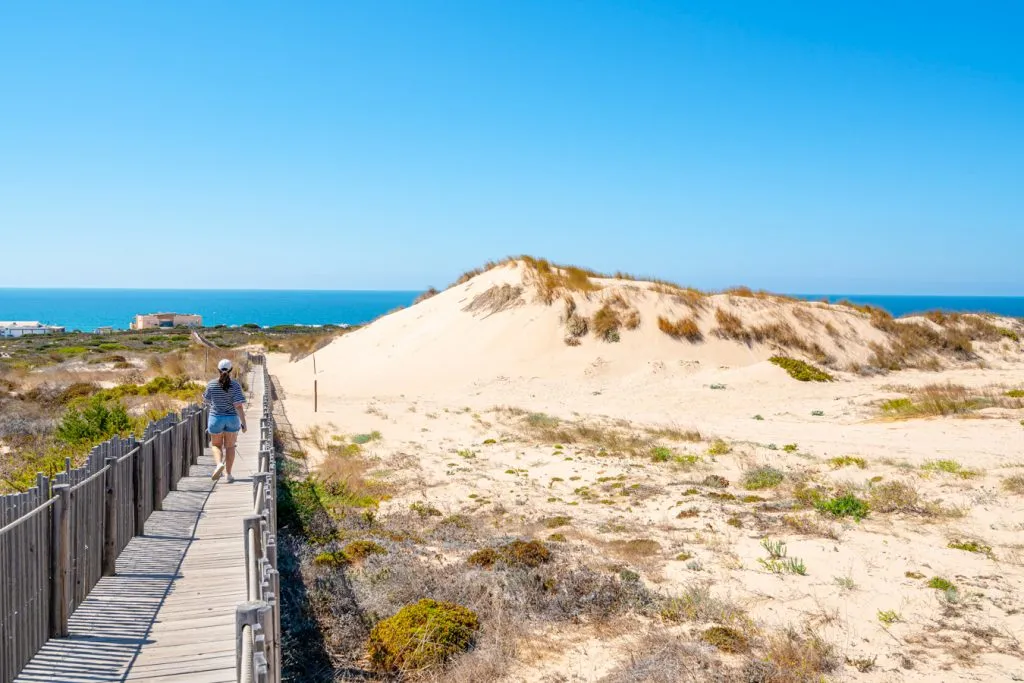 Can you take a day trip from Lisbon to Porto?
As Portugal's second-largest and second-most-famous city, Porto is a delight to visit–so it's not surprising that many visitors consider taking a day trip to Porto from Lisbon!
However, we don't recommend it.
Is it technically possible to take a day trip from Lisbon to Porto (or vice versa)?
Yes, technically–it's about a 3-4 hour direct train ride between the two cities, and if you pre-book your train tickets in order to ensure you can access the trains you want, it's theoretically possible.
However, it makes for an incredibly long day, and you'll barely get a taste of Porto on a day trip.
If you find yourself considering a day trip to Porto, strongly consider choosing one of the many closer day trips from Lisbon instead–after all, there are plenty to choose from!
If you're determined to take a day trip to Porto, though, here's exactly how to make the most of it.
Map of the Best Day Trips From Lisbon, Portugal
Take This Map With You! Click each highlight to pull up the name of the destination. To save this map to "Your Places" on Google Maps, click the star to the right of the title. You'll then be able to find it under the Maps tab of your Google Maps account! To open the map in a new window, click the button on the top right of the map.