This post is sponsored by Moon Travel Guides and includes tracking links. For more information about tracking links and how to opt-out, please visit All About Do Not Track prior to clicking any links found in this post.
Florence may be one of the most popular cities to visit in all of Italy, but even in the highly touristed Cradle of the Renaissance, there are still plenty of secrets to discover. If you're looking to discover Florence off the beaten path, we've rounded up some of the best secret Florence spots here.
We've teamed up with Moon Travel Guides to help put together this guide on the hidden gems in Florence, and they sent us a copy of their new guide, Moon Florence & Beyond, to help.
Some links in this post may be affiliate links. If you make a purchase through one of these links, we may earn a small commission at no extra cost to you. Please see our

disclosure policy

for more detail.
From helpful itinerary suggestions to hiking and day trip suggestions throughout Tuscany, Moon Florence & Beyond is an in-depth look at getting off the beaten path in Florence (and beyond).
Even after more than half a dozen trips to Florence–including one that lasted a solid month–we still found a few new secret Florence spots to explore with this Moon guide.
Divided into useful, structured sections on what to do in Florence itself and what places in Tuscany to explore beyond Florence (and what to do once you get there), Florence & Beyond is an excellent resource for planning your offbeat trip to Tuscany.
Here are our suggestions on exploring Florence off the beaten path–including some hidden gems we discovered thanks to Moon Florence & Beyond.
Places to Visit in Florence Off the Beaten Path
Santa Maria Novella Pharmacy
Tucked behind an unassuming door in the Santa Maria Novella neighborhood sits the oldest and possibly most opulent pharmacy in the world.
If you're looking to discover Florence off the beaten path, step inside this pharmacy to check out the lovely soaps, perfumes, and lotions that are sold here–some of them made from original recipes dating back hundreds of years.
Bull of Santa Maria del Fiore
When looking for secret Florence spots that lurk in plain sight, be sure not to miss the Bull of Santa Maria Fiore.
If you are standing in line to climb the cupola of Florence's Duomo (or if you just walk by the line), you'll be able to look up and spot an unusual sight. Underneath the dome, among the many carvings, one sticks out more than the rest: a bull.
No one is quite sure why this bull was carved into the third largest cathedral in the world, but rumor has it that it may have been either a tribute to the working animals who contributed to the building of the Duomo, or an act of petty revenge by a spurned lover–personally, I find the second theory more entertaining!
Stibbert Museum
Florence is covered in fascinating museums, but if you're looking for hidden gems in Florence, the quirky Stibbert Museum should jump to the top of your list.
In the 19th century, wealthy Frederick Stibbert set out to acquire a massive private collection of interesting objects from around the world.
After his death in the early 20th century, the collection was gifted to the city of Florence, who opened the museum in Stibbert's former home.
If you're interested in historical armor, the Stibbert Museum is a must-see when exploring Florence off the beaten path: the museum is home to around 16,000 pieces of armor from around the globe.
Bardini Gardens
While the Boboli Gardens are easily the most famous in Florence, the Bardini Gardens are also incredibly impressive and one of the loveliest hidden gems in Florence.
Be sure to stop and enjoy the phenomenal views of the city, and if you happen to time your visit right, to snap photos in the wisteria tunnel (it typically blooms in April).
Basilica San Miniato al Monte
Set just a bit higher than the famous Piazzale Michelangelo, the 1000-year-old San Miniato al Monte is incredibly beautiful both inside and out–and it also happens to boast one of the absolute best views of Florence.
Though most visitors to Florence stop climbing once they reach Piazzale Michelangelo, it's really worth forcing yourself to climb just a bit higher to admire this less-crowded viewpoint.
Or, if you don't want to climb, consider heading up how we did on our first visit to San Miniato al Monte: by vintage Vespa.
Book your tour of Tuscany by vintage Vespa today!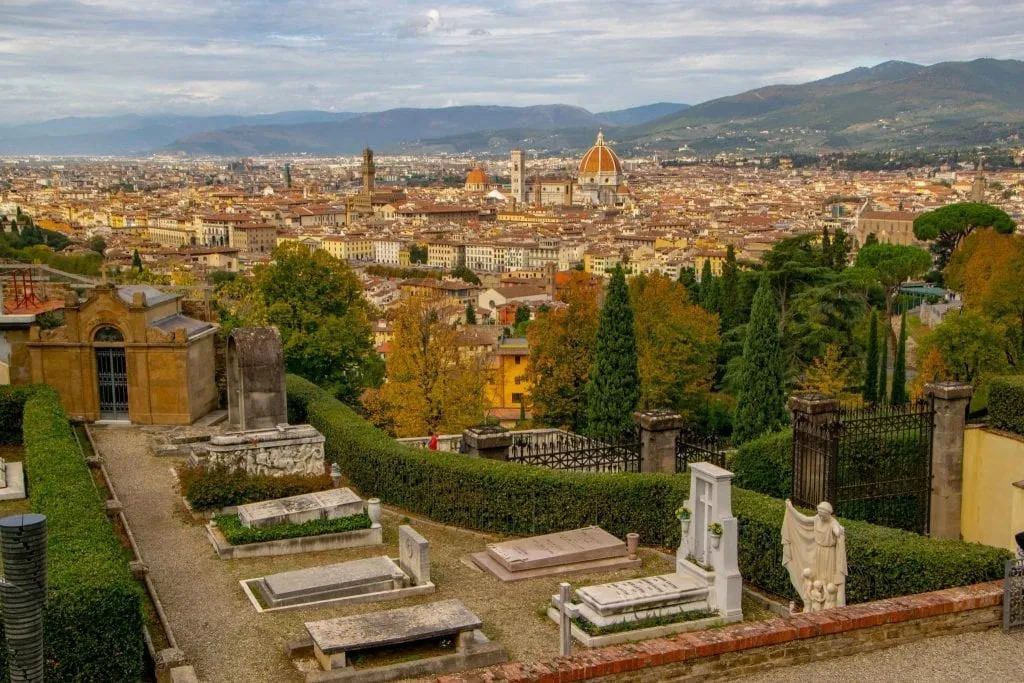 Brancacci Chapel
We found this beautiful chapel in deep into Oltrarno, far past where visitors will tend to wander in Florence without a purpose, thanks to Moon Florence & Beyond.
Painted in the 1420s, the chapel is considered a masterpiece of the early Renaissance and an inspiration for much of the work that followed it, earning it the nickname of "the Sistine Chapel of the early Renaissance".
Only 30 people are allowed to admire the chapel at a time, which gives it a peaceful atmosphere, but that also means that reservations are required–we went and had a coffee during the 45 minutes we had to wait for ours.
Book your tickets to the Brancacci Chapel + video guide today!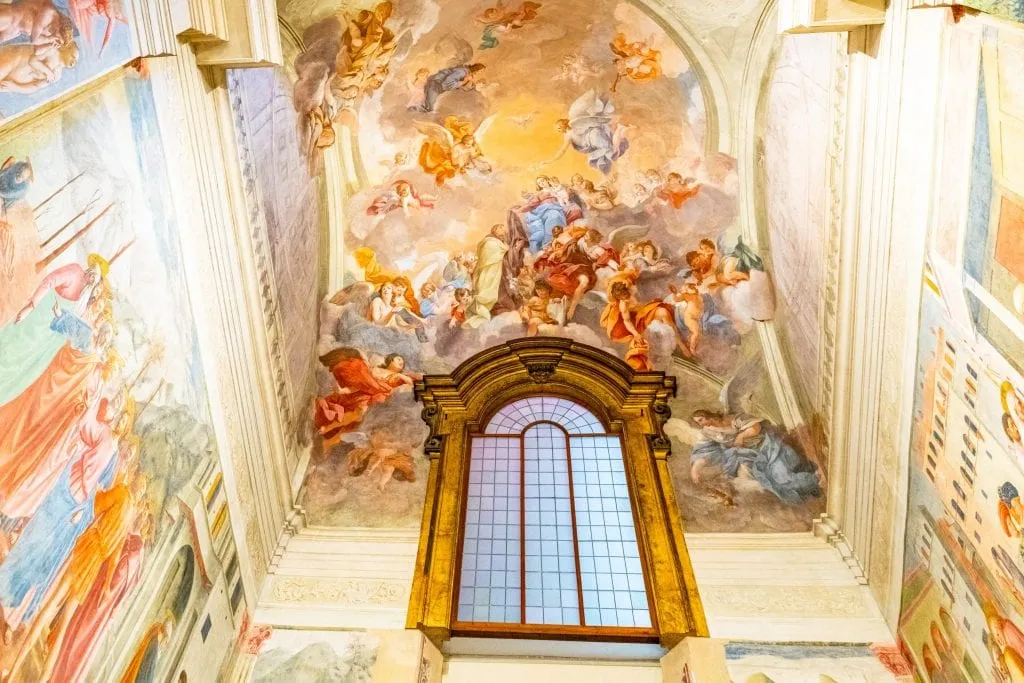 Laurentian Library
Set inside the Basilica de San Lorenzo, the stunning Laurentian Library was designed by Michelangelo and holds roughly 11,000 manuscripts from the Medici family's library–and yet, it remains uncrowded and very few visitors to Florence stop by.
If you're looking for hidden gems in Florence, the Laurentian Library absolutely belongs on your list.
Rose Garden
As you climb from the center of Florence up to the Piazzale Michelangelo, you'll pass a blink-and-you'll-miss-it subtle entrance to the Rose Garden–but it's worth keeping an eye out for when exploring Florence off the beaten path.
Free to visit and boasting absolutely beautiful views of Florence without the crowds of Piazzale Michelangelo, the Rose Garden is a delightfully peaceful place to relax.
Palazzo Pitti
Plenty of visitors hurry through a courtyard in the center of Palazzo Pitti in order to access the palace's gorgeous Bardini Gardens–but far fewer stop by exploring Florence off the beaten path by stepping into the palace itself.
Ornate and beautiful, the Palazzo Pitti was home to Florence's most famous family–the wealthy Medici. Touring the palace is an excellent way to admire the stunning architecture as well as the impressive collection of paintings belonging to the palace, and we loved our visit.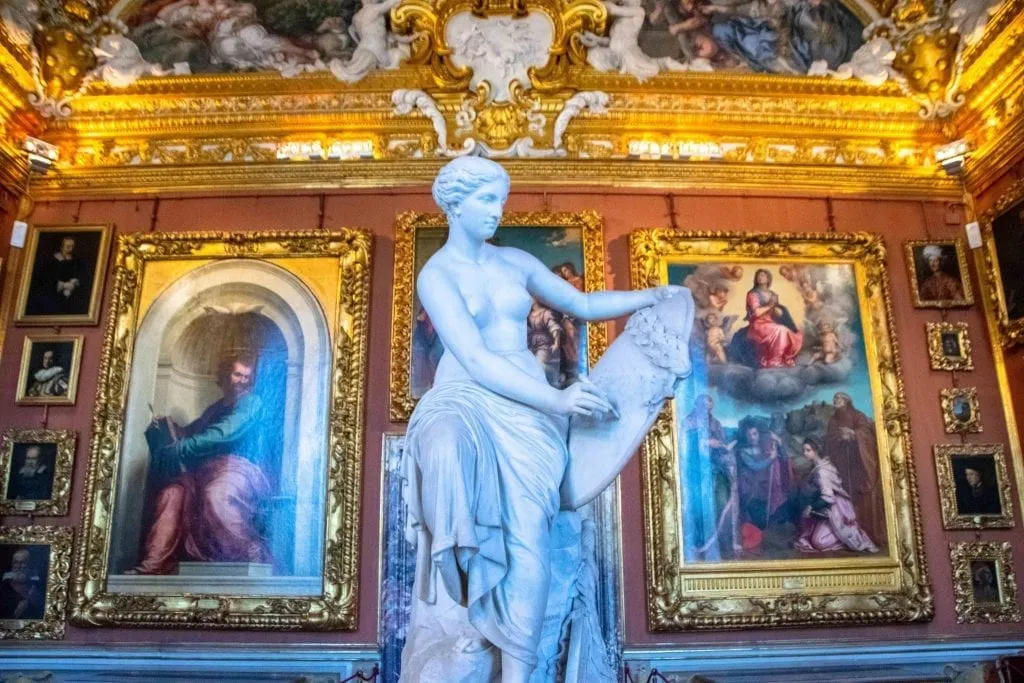 Experiences to Enjoy in Florence Slowly
While the list of interesting sightseeing destinations in Florence is a mile long, exploring Florence slowly means that you also have time to savor some of the laid-back and delightful experiences in the city that allow you to truly soak up the atmosphere.
Indulge in a full four-course Tuscan meal.
One of the most memorable and relaxing experiences to have in Florence is simply to settle for a long, complete Tuscan meal–by which I mean, all four courses.
Be sure to set aside several hours at least once to work your way through the four traditional Italian courses in a single sitting: antipasto (appetizer), primo piatto (this is where you'll usually find pasta dishes, though it can be other things), secondo piatto (the meat course), and dolce (dessert).
This is definitely a marathon, not a sprint–so don't make any plans for right after!
Shop at a local market.
From more tourist-friendly spots like the famous Mercato Centrale to less crowded destinations like the Santo Spirito Flea Market or the Florence Antique Market, shopping at one of Florence's many markets is a fabulous way to enjoy traveling in Florence slowly.
If you don't have room in your luggage to cart any hard goods home, consider picking up some food: when we spent a month in Florence, we bought pesto and parmigiano-reggiano from Mercato Centrale on an arguably way-to-frequent basis.
Wander aimlessly.
Cliche but true: wandering aimlessly through the beautiful streets of Florence is one of the best ways to discover Florence off the beaten path.
You never know quite what coffee shops, restaurants, small museums, beautiful churches, or gorgeous architecture you'll happen across–and that's part of the fun.
Pick a piazza and people-watch as the sun goes down.
We're partial to Piazza Signoria, ourselves, but there are plenty of piazzas in Florence that are perfect for people-watching in the evenings, from busy tourist hotspots to secluded local corners.
Beyond Florence: Savoring Tuscany Slowly
Moon's Florence & Beyond guide not only covers plenty of ways to discover Florence off the beaten path, but it also includes information on exciting and unusual day trips to take.
Here are a few to consider.
Admire the views from Fiesole.
The small town of Fiesole sits high in the hills above Florence, and is best known for its gorgeous views of the city (the sunsets in Fiesole are especially amazing)… and the fact that it's located only an hour's hike from Florence!

While you can hop on a bus up to Fiesole from Florence, if you're interested in discovering secret Florence spots, there's nothing like completing the climb yourself.
Once you can tear your eyes away from the view, be sure to pay a visit to the Monastery of San Francesco and the local Roman ruins–including an impressive amphitheater.
Hike part of the Via Francigena.
Here's a fun Florence fact: there's a historic pilgrimage route located right outside of it!
While Spain's Camino de Santiago is the most famous pilgrim route in Europe, Italy has its own–and it passes right through Tuscany, including the towns of San Gimignano and Siena.
For the ultimate slow travel in Tuscany experience, consider literally walking across it along the Via Francigena!
Take a Vespa tour in Tuscany.
I mentioned our vintage Vespa tour above, but it bears repeating here: if you want to admire Tuscany from an entirely new perspective, there's no better way to do it than from the back of a Vespa!
Book your tour of Tuscany by vintage Vespa today!
Stay in an agriturismo.
When enjoying slow travel in Tuscany, there's nothing like the experience of staying in an agriturismo.
Essentially small Italian farmhouses, these properties are generally located in rural areas on working farms, and staying there typically includes getting to sample the local food–often at least some of which is grown and prepared right on the farm!
If you're looking to soak up the atmosphere of Tuscany without rushing from place to place, and especially if you want to admire some incredible Tuscan sunsets, spending at least part of your trip at an agriturismo is absolutely the right choice.
Rent a car to take a day trip beyond where the trains reach.
While there are plenty of exciting day trips in Tuscany, for exploring off the beaten path, having a car will absolutely help.
When you can get beyond where the trains go–from small villages like Pienza and several other towns in the Val d'Orcia to hot spring destinations like Saturnia–you're bound to see a whole other side of Tuscany.
We recommend searching for car rental prices in Florence through Discover Cars here.
Check prices for rental cars in Florence today!