April 7, 2019
3 Days in Venice in November: Was It Worth It?
Italy
I'll be quite honest: Venice was never high on our list of destinations and visiting Venice in November even less so.
Before visiting ourselves, hearing people speak about Venice often felt like hearing about two different cities, depending on their opinion of the place.
To some people, Venice was romantic, magical, and a special city like nowhere else in the world. To others, it was an overpriced, overcrowded, and smelly city that wasn't worth the effort to get there.
As you can imagine, the second description left us a bit skeptical.
Still, while Venice remained low on our list of travel priorities, something always called us back: we wanted to see this controversial city for ourselves. So when a good opportunity came up to visit Venice in November after finishing up our month in Florence, we jumped on it.
And, let me just say: I'm so glad that we did.
What We Did During 3 Days in Venice in November
In many ways, visiting Venice in November was a lot like visiting during any other time–except better. The legendary heat and humidity were absent (though I did end up caving in and buying a warm coat due to colder temperatures), the crowds present but entirely manageable.
None of the major sites that we wanted to see were closed, though we did bail on the idea of visiting Burano and/or Murano due to rainy weather (the ferries were still running though, so we easily could have gone if we deemed it worth it or had better luck with the weather).
For the most part, our 3 days in Venice in November looked exactly like a standard first trip to Venice during any other time of the year, just with a few more clouds.
Here's what we got up to.
Wandered the streets & photographed the canals.
Wandering through Venice was like wandering through an impressionist painting: everything from the architecture to the paint to the narrow alleys to the canals felt vaguely ethereal and magical.
While heavy clouds can detract from photos of many destinations, in Venice they just worked: we couldn't even find the energy to be bummed out about the less-than-perfect weather we experienced while there.
It was lovely. It was quiet (especially in the early mornings). It was romantic. It was perfect. To us, the ambiance of Venice was everything that Venice-lovers had ever professed it to be when pitching the city to us, and more, and we loved our hours spent wandering the city aimlessly and photographing Venice.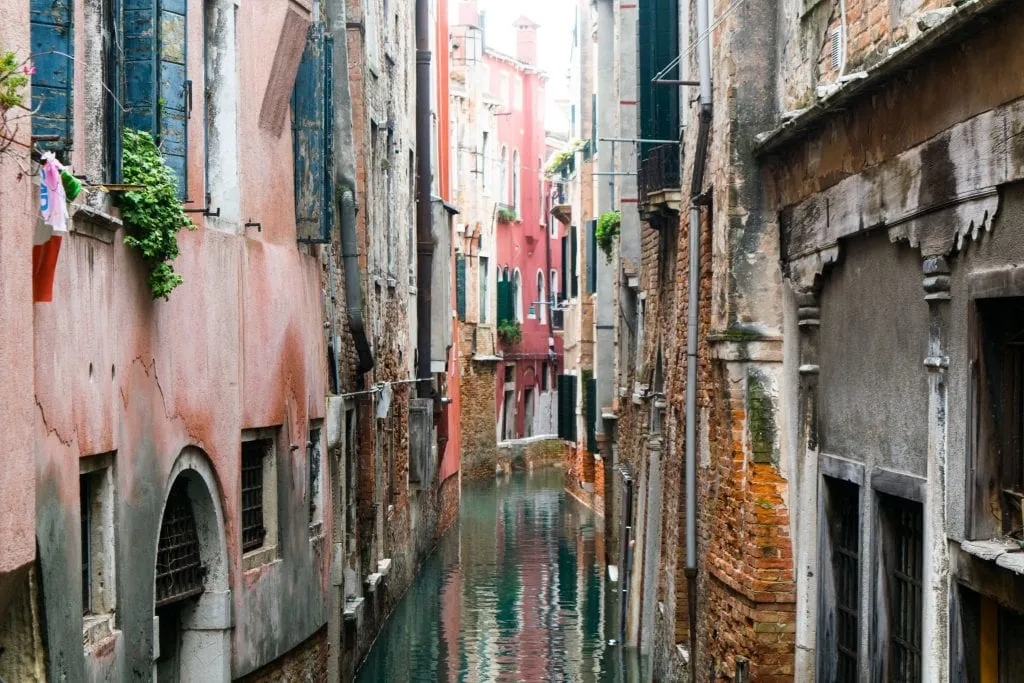 Don't plan a trip to Venice without buying travel insurance! We use and recommend World Nomads for their affordability, ease of purchasing & the clarity of their contract!
Admired the Rialto Bridge.
The famous Rialto Bridge and its epic view of Venice's Grand Canal were beautiful, and we walked across the bridge at least once every day we were there.
The famous view of Venice's Grand Canal as seen from the Rialto Bridge was first introduced to me before I even knew what it was: a picture of that view hung in my various childhood homes as far back as I can remember, and it was incredible to see it come to life.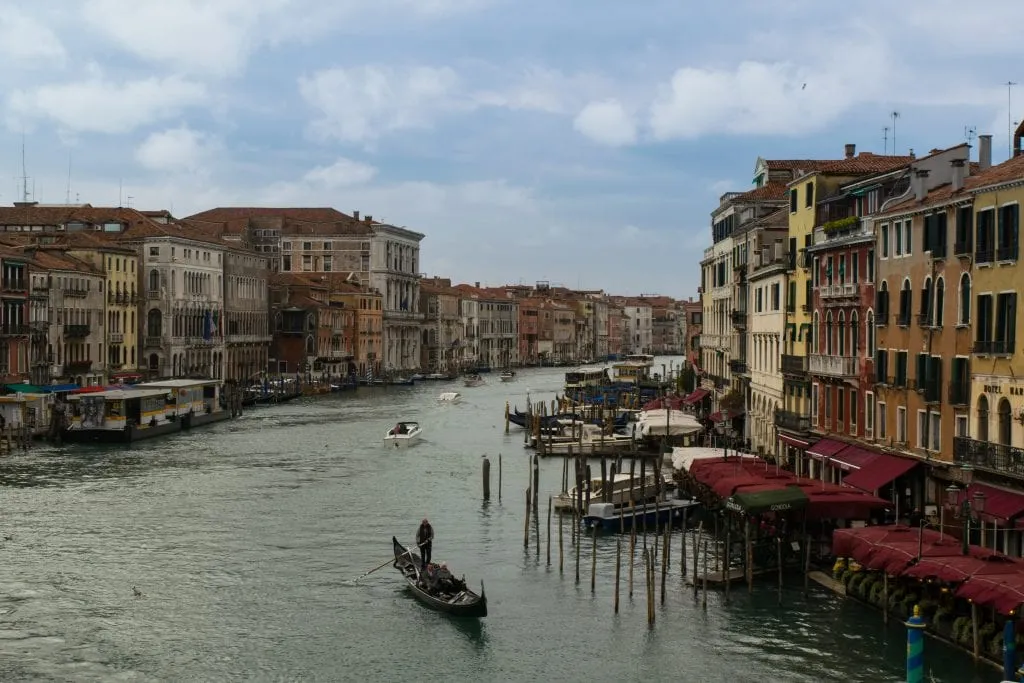 Considered a gondola ride, but passed.
A gondola ride with your partner in Venice–nothing sounds more romantic, right?
Well, for 80 Euros a ride… we could think of a lot of things that sounded better.
We went back and forth on the idea of taking a gondola ride–if you're going to ever ride a gondola, Venice is the place to do it, after all–but ultimately couldn't justify the cost.
We don't regret it a bit. Our trip to Venice was magical, and an expensive gondola ride wouldn't have made it better. Maybe if we go back one day when we're on a bit more of a spending spree, we'll consider it!
On the first day we arrived in Venice, though, we did take a water bus through the Grand Canal from the train station to the Rialto Bridge to shorten our walk to the hotel–that was an exciting and wonderful way to arrive in Venice, and at 7.50 Euros/person, was much more affordable!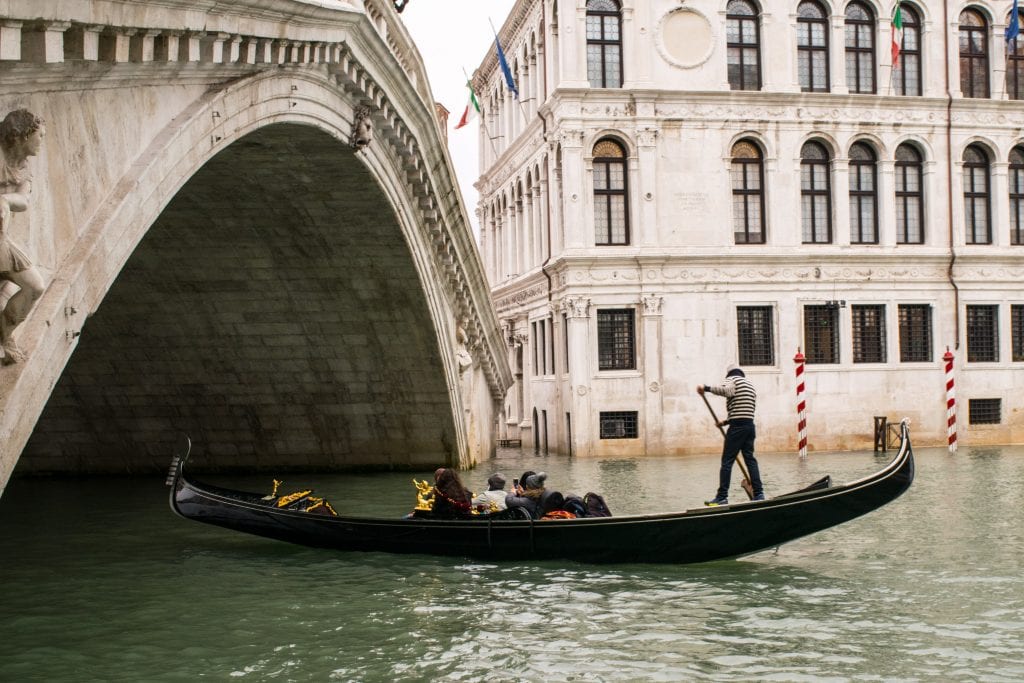 Took couple's photos in Venetian masks.
Cheesy? Over the top? Who cares!
We had a blast waking up early and taking cute photos of ourselves in our Venetian masks (which also made great souvenirs!), and we loved how they turned out.
Small tip if you're looking for a Venetian mask: they come in every price point you can think of, but for simple, inexpensive souvenir-style ones, look for prices around the 3 Euro mark. That's what we paid for ours, though we saw the exact same masks being sold around Venice for anywhere from 3-10 Euros!
Climbed the San Marco Bell Tower.
Brr!! Of all the things we did during our 3 days in Venice in November, this was the one that was most impacted by the season: what felt like reasonable temperatures and a light breeze on the ground felt like bitter, icy wind at the top of the bell tower!
We didn't care once we saw those views, though: the views from the San Marco Bell Tower are incredible, including views of Saint Mark's Square, Doge's Palace, the outlying islands, the dense city center, and more.
Visited Libreria Acqua Alta.
Way back in college, I found some photos of Libreria Acqua Alta on Pinterest, and I've wanted to go ever since!
This bookstore in Venice constantly prepares for floods, storing its books in rowboats, bathtubs, a gondola, and more. They also have a staircase out back that is made entirely of books, and when you climb to the top, you're rewarded with views of one of Venice's canals.
Both of those features made the store "Pinterest famous" before "Instagram famous" was ever a thing, and it was almost surreal to finally see in person a bookstore that caught my eye so long ago.
It lived up to the hype: Libreria Acqua Alta is a very cool spot, and is even home to several cats in addition to all of its other charms.
Be sure to check out our Facebook page to see the video we made at Libreria Acqua Alta!
Experienced a minor acqua alta.
This was definitely a benefit (in our eyes, anyway) of visiting Venice in November: we got to experience a small acqua alta (or "high water") while there!
While the constant flooding is no doubt a pain for residents and can definitely get much more dramatic than what we witnessed, it was a very interesting cultural experience to be in Venice and see St. Mark's Square completely dry one day and flooded the next, to walk on the elevated ramps the city puts down to help people move through the acqua alta safely and to see street hawkers selling plastic booties to tourists.
November and December are some of the most common months for an acqua alta to occur in, so we definitely upped our odds of seeing one by visiting Venice in November!
Being prepared for rain is a must while visiting Venice in November! Consider packing a rain coat or poncho and shoes that can get wet. Definitely bring an umbrella!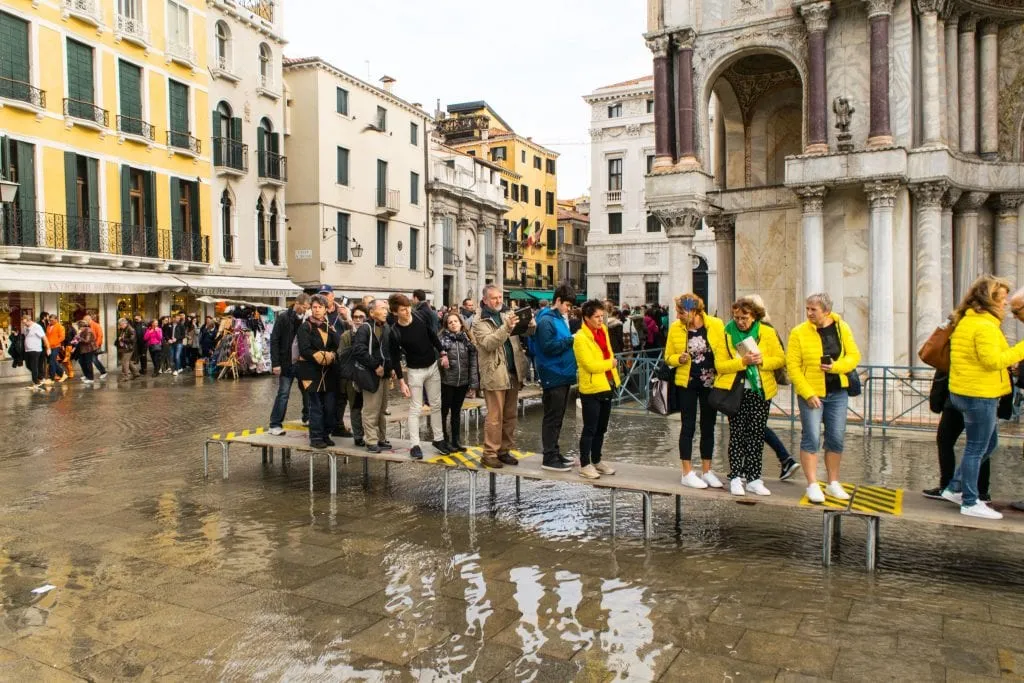 How Many Nights in Venice?
If you're just coming to Venice to see the highlights, deciding how many nights in Venice should be fairly simple–you can probably see most of what you came for in 1-2 days if you hurry! If you're planning a trip that is covering multiple spots in Italy in a relatively short amount of time, we would probably recommend 1-2 days, or 2-3 nights, in Venice.
However, that doesn't mean you'll run out of things to do with more time: we definitely left plenty of things undone in Venice, including a visit to Doge's Palace and day trips to both Murano and Burano.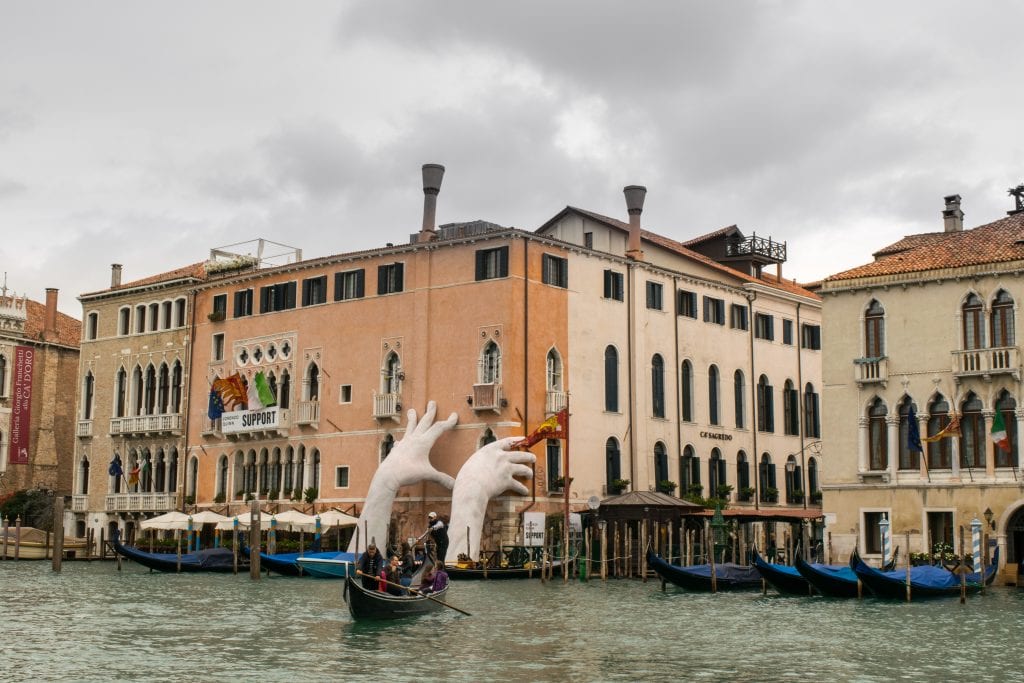 Venice in November: Was it Worth it?
Yes, yes, yes!

We are so glad that we took the risk and decided to spend 3 days in Venice in November–even one day in Venice would have been worth it.
True, the weather was not great–our umbrella was constantly with us in our day bag and the only time we saw blue sky hovering over Venice was on the ferry to the airport the day we left–but cloudy skies definitely didn't detract from Venice's beauty.
We loved the smaller crowds, lack of heat and humidity, and limited small factor that November brought as well–in fact, if we plan a return trip to Venice at some point, we would be more likely to plan it for November than for July! And if we ever do end up braving Venice during a crowded time, we'd rather see Venice's Carnival in February than deal with summer weather and crowds at the same time.
We are completely sold on offseason Venice–if you decide to give it a try, don't be surprised if you end up loving it too!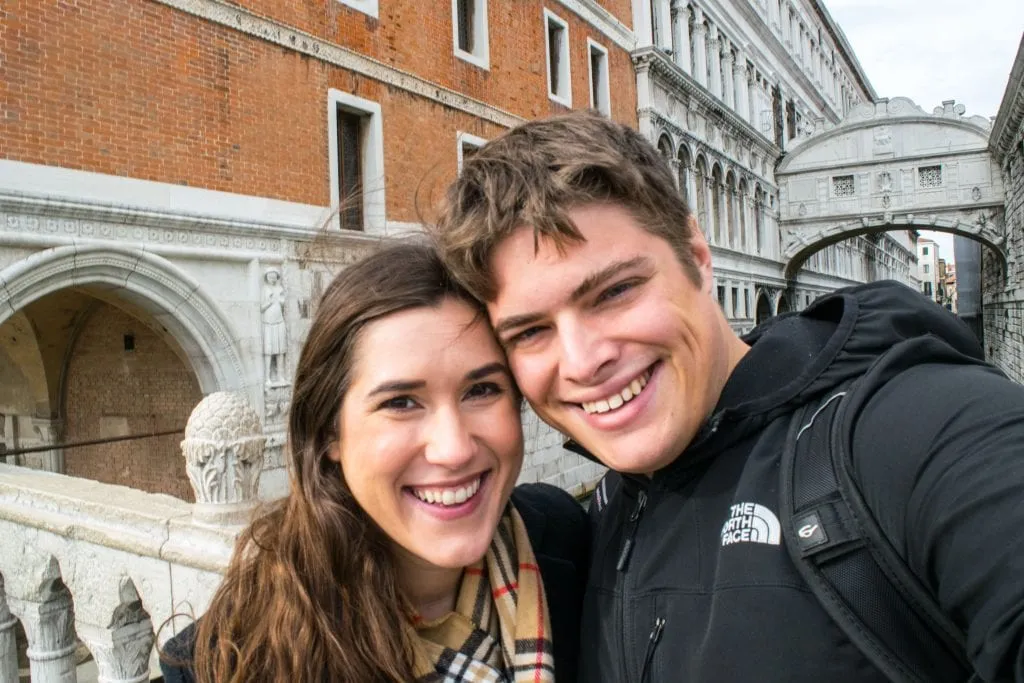 Where We Stayed in Venice
Hotel Casa Boccassini — This cute hotel easily met our needs in Venice! The room was simple but clean, and the shared bathroom a fair trade in exchange for their competitive prices in a great location. The bathroom was clean and we had a sink in our room, both of which always make shared bathroom situations much easier. The courtyard of the hotel was beautiful!
The hotel was a simple and beautiful 10-minute walk from the Rialto Bridge, and just a 5 minute walk to the airport water bus. We would definitely stay here again!