There's something magic about Venice in November.
Before visiting ourselves, hearing people speak about Venice often felt like hearing about two different cities, depending on their opinion of the place.
To some people, Venice was romantic, magical, and a special city like nowhere else in the world.
To others, it was an overpriced, overcrowded, and smelly city that wasn't worth the effort to get there.
Some links in this post may be affiliate links. If you make a purchase through one of these links, we may earn a small commission at no extra cost to you. Please see our

disclosure policy

for more detail.
As you can imagine, the second description left us a bit skeptical.
After visiting the city of canals during the summer and also hitting up Venice in November, we can say this with certainty: we love Venice at any time of the year, but November in Venice is something quite special–and it's definitely worth the trip.
From the decreased crowds to the foggy mornings on the canals, a late fall trip to Venice has so much to offer.
Here's what to keep in mind when planning a November getaway in Venice!
November Weather in Venice, Italy
High temperatures during Venice in November generally hang out around 11 Celsius/52 Fahrenheit for the bulk of the month, getting progressively colder as the month wears on.
By the end of November, you can generally expect highs in the 40s Fahrenheit.
Sunshine is limited, and it usually rains about a third of the days of the month.
November is also prime acqua alta season in Venice, so be prepared for the possibility of some flooding.
More often than not, the acqua alta is quite mild–you can see an example of it in the photo below–but it's definitely something to be aware of!
Ultimately, November weather in Venice is far from cheerful, but it is moody, cozy, and definitely not a reason to shy away from visiting.
What to Do When Visiting Venice in November
In many ways, visiting Venice in November is a lot like visiting during any other time–except better.
The legendary heat and humidity are absent, and the crowds are present but entirely manageable.
The major tourist sights don't close, and you'll always find plenty to do in a city whose mere existence is worth admiring for days on end.
Here's what not to miss.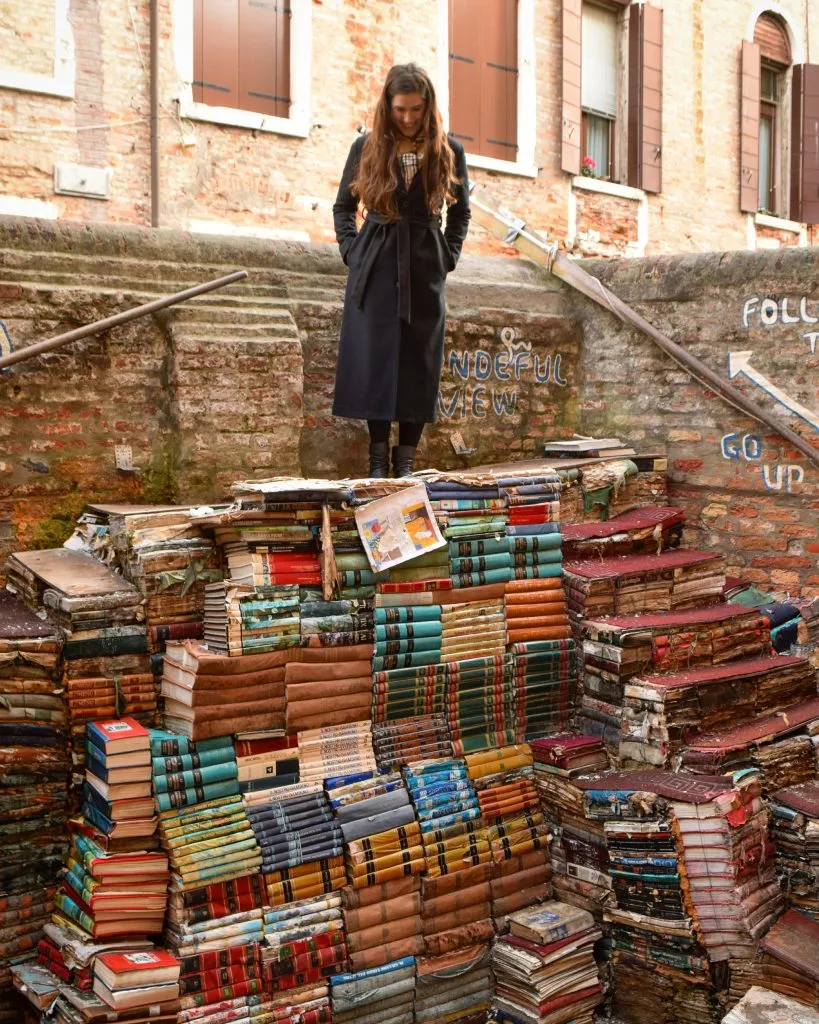 Wander the streets and photograph the canals.
Wandering through Venice is like wandering through an impressionist painting: everything from the architecture to the paint to the narrow alleys to the canals feels vaguely ethereal and magical.
While heavy clouds can detract from photos of many destinations, in Venice they just work!
Even if (like us during our trip to Venice in November) you never quite see the sunshine, the city still looks absolutely stunning, and there's definitely no shortage of opportunities to photograph Venice.
Even during the summer, you can certainly find spots to be alone with the canals in Venice–but in the popular sestieri of San Marco and San Polo, in particular, that is far easier to do in the offseason than the busy one.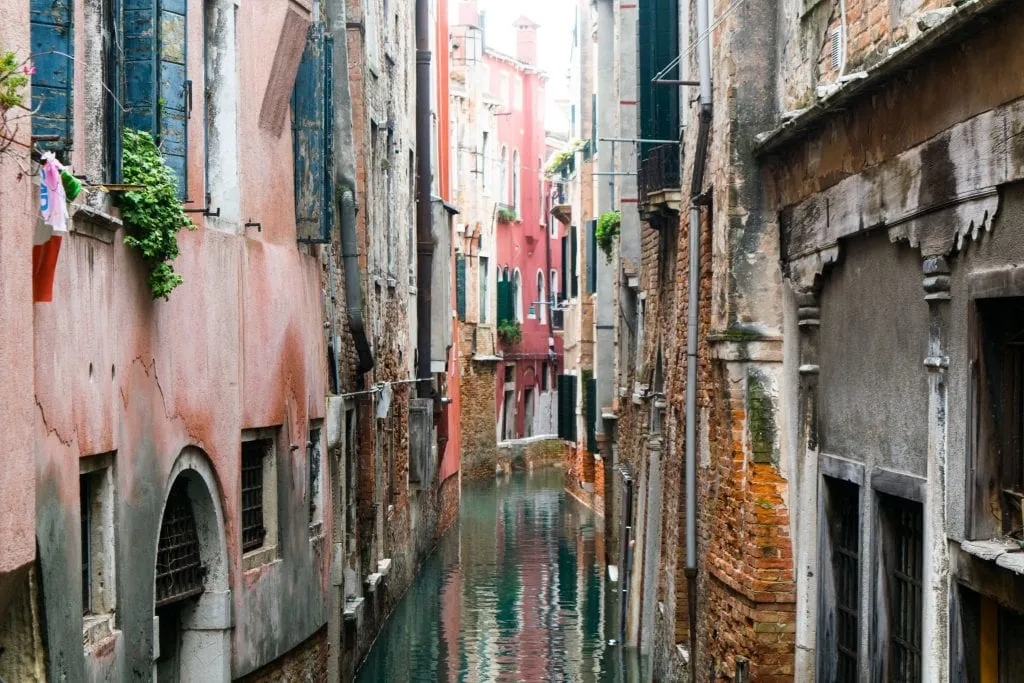 Take a day trip to Burano and/or Murano.
These popular outlying islands of Venice don't close for the season.
By visiting them while bundled in a coat instead of in a t-shirt or sundress, though, you'll have far fewer crowds to contend with (like just about everywhere else in Venice).
Head to Burano to see the famous colorful fishing village, or Murano to check out the island's legendary glass-blowing–or book a tour that will take you to both in one day!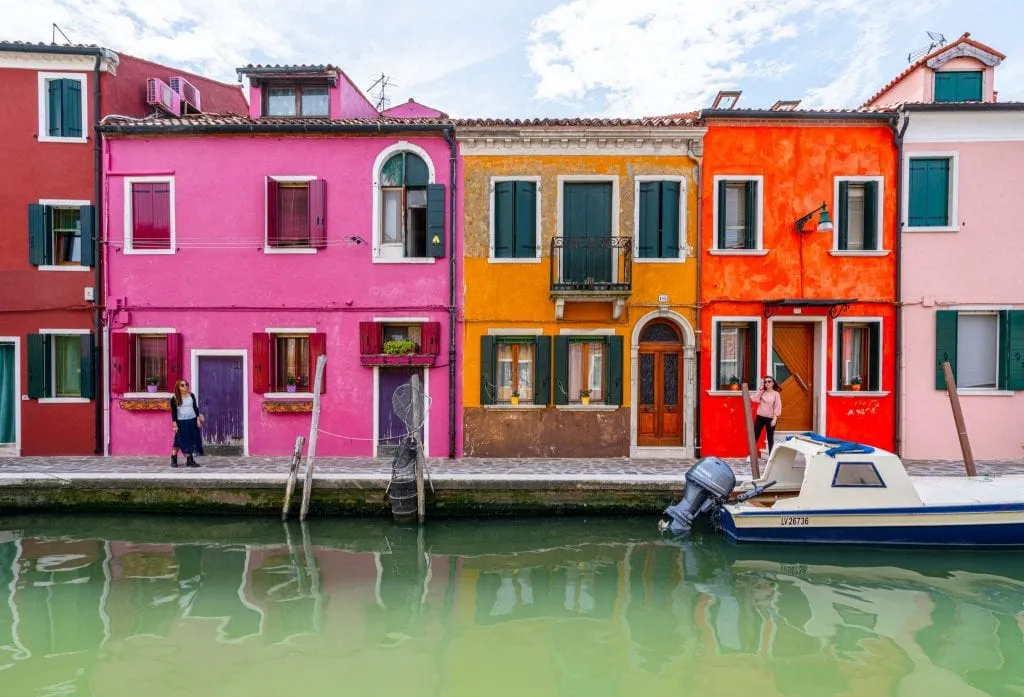 Consider a gondola ride.
Gondola rides are still just as expensive when visiting Venice in November, there's no doubt about it–but you're also far more likely to have the quiet canals to yourselves.
Perhaps, if you're lucky, a little fog might even roll in, making your gondola ride just that much more ethereal.
If you're looking for solitude, there's no reason to book your gondola ride in advance–but if budget is on your mind, arranging for a shared gondola ride in advance is a great way to save.
Alternatively, set off in search of a traghetto, Venice's cheap, elusive gondolas that serve as public transportation!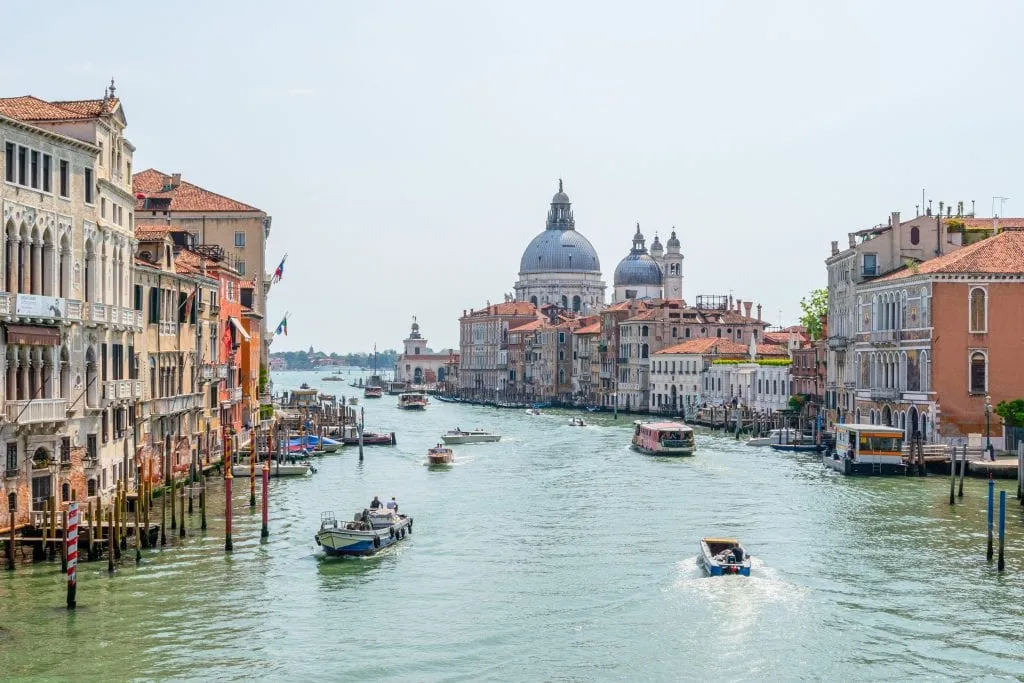 Curl up with a book.
My inner bibliophile simply can't miss an opportunity to suggest paying a visit to Libreria Acqua Alta!
This gorgeous bookstore in Venice is known for its unique methods of storing books: in a gondola, in bathtubs, in rowboats, and more.
The reason for this?
Protecting the books from the acqua alta–and there was even a minor one lapping at the feet of an armchair on the store's back porch during our first (of many) visits to the store.
Be sure not to miss climbing the epic staircase of books out back, either–the view of a canal from the top is lovely, and the decor itself even more so.
Be sure to check out our Facebook page to see the video we made at Libreria Acqua Alta during our trip to Venice in November!
Check out the acqua alta, if there is one.
November in Venice is prime acqua alta (or flooding) season, with November and December being the two of the most common months for one to occur.
The constant worry about flooding is no doubt a pain for residents, can definitely get much more dramatic than what we witnessed during our trip to Venice in November, and is concerning for the city overall.
That being said, it was a very interesting cultural experience to be in Venice and see St. Mark's Square completely dry one day and flooded the next!
If there's any flooding, you'll likely have a chance to walk on the elevated ramps the city puts down to help people move through the acqua alta safely and to see street hawkers selling plastic booties to tourists.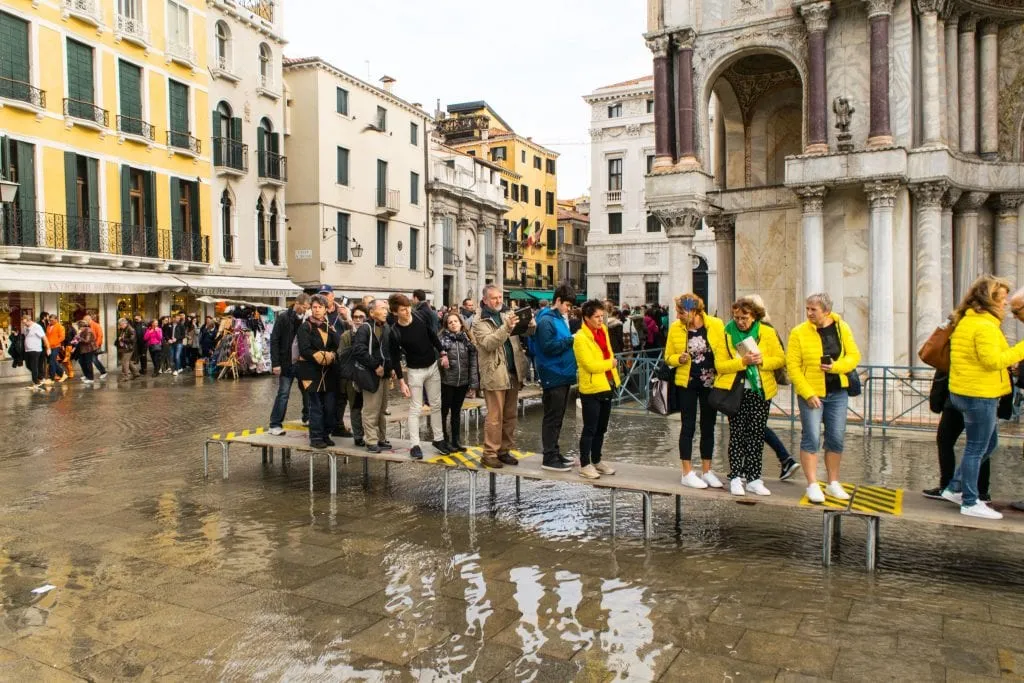 Visit all the major tourist attractions–just like any other time of year.
Sights like the Doge's Palace, the San Marco Bell Tower, and the St. Mark's Basilica certainly don't close for the winter.
Our detailed 2 day Venice itinerary can easily be enjoyed during your November trip to Venice!
If you're hoping to see Venice's major historical sights, it's actually easier to do so when visiting Venice in November than during, say, June or July–because there will be far fewer people to share the space with.
We do still recommend booking a tour of the Doge's Palace and St. Mark's Basilica, simply because the content is so interesting (and history buffs, definitely consider reading City of Fortune: How Venice Ruled the Seas before coming as well–it adds so much context to the city and is an enjoyable read).
Book your tour of the Doge's Palace + St. Mark's Basilica today!

Prefer something a bit more exclusive? This after-hours tour might be right for you!

If you'd rather avoid tours, you can still skip the line at the Doge's Palace by purchasing a priority ticket in advance.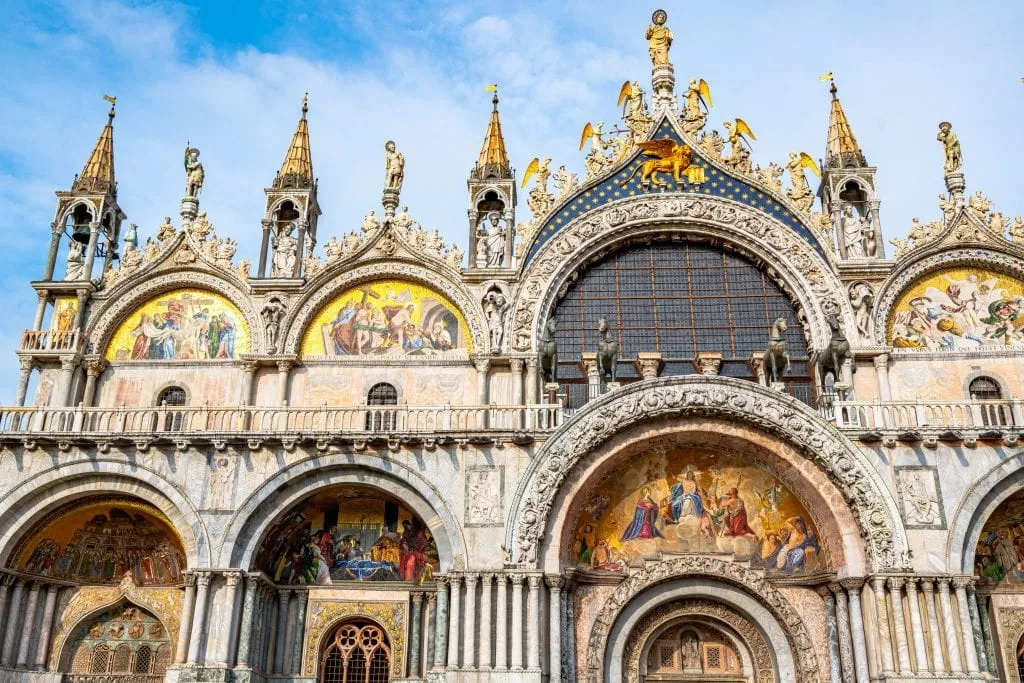 What to Pack for November in Venice, Italy
Travel Insurance — We don't ever suggest traveling without travel insurance–anything can happen, and this is definitely a case of better safe than sorry.
For example, it would be very, very rare, but in the event of a particularly severe acqua alta, you might be glad for the chance to cancel your trip!
Umbrella
— The odds of staying dry during your whole trip to Venice in November are quite slim!
Warm coat — Temperatures are far from frigid during November in Venice, but the damp, cold air–especially if you take a gondola ride or head out on the water via ferry–will certainly leave you chilled.
Be sure to pack a warm coat! Look for something like this or similar to this
–these options are very similar to what Jeremy and I wear when traipsing around Europe in November.
Hat
, Scarf
& Gloves — To stay cozy–trust me, you'll be glad you have them! I ended up buying a scarf during our trip to Venice in November.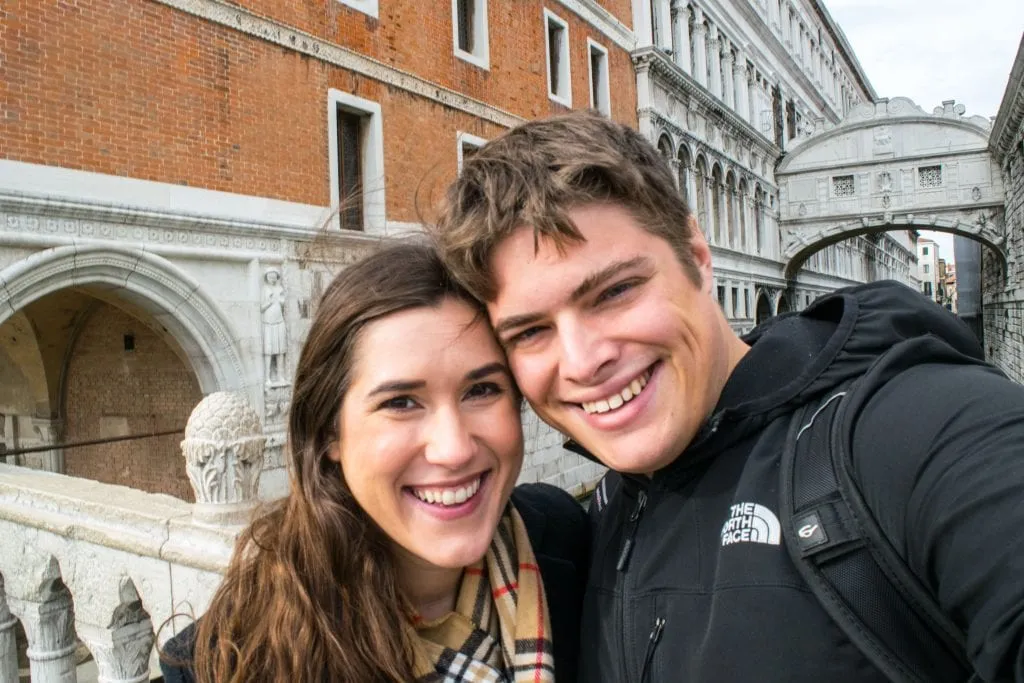 Travel Adaptors for Italy
— If you're coming from outside of Europe, you'll definitely need adaptors for your electronics.
Pacsafe
— We can't recommend our Pacsafe
enough: this travel safe is affordable, sturdy, easy to pack, and will help keep your valuables safe in your hotel room (not that you should need to worry much about theft in Venice, but it's better to be safe than sorry!).
Travel Journal
 — If you want to keep a travel journal, but can't commit to a huge amount of writing each night, I can't recommend the One Line a Day Journal
enough–I've been using it for more than 6 years now, and love it!
Sea Bands
& Non-Drowsy Dramamine
— If you're prone to motion sickness like me, I strongly recommend coming to Venice prepared–especially if you have your heart set on experiencing a gondola ride or even a boat ride to some of the outlying islands.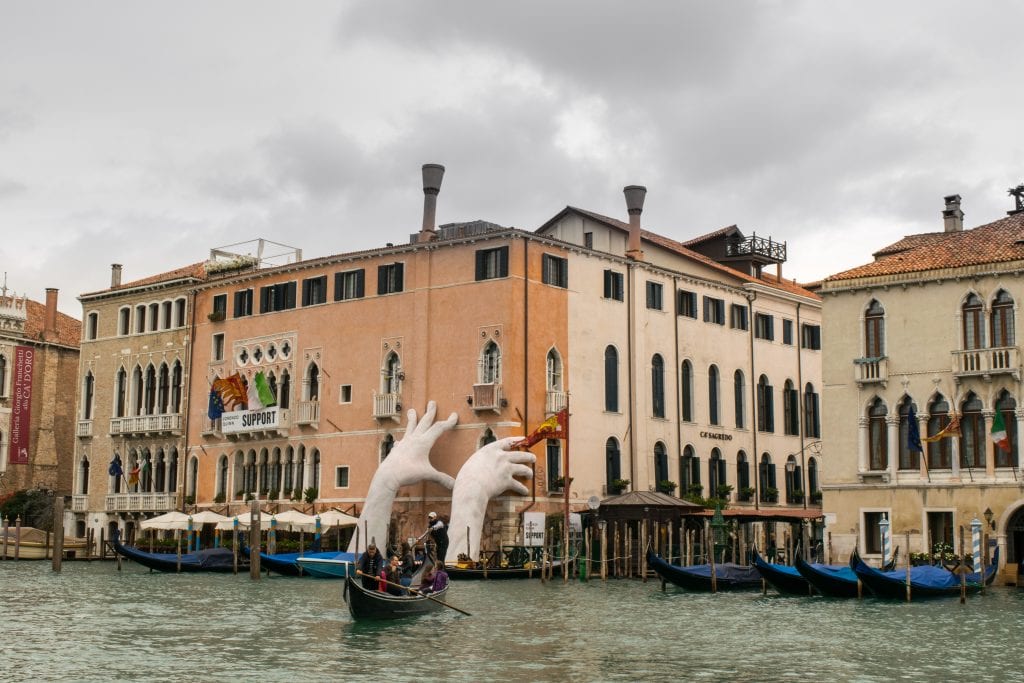 Where to Stay in Venice
Since Venice is such a walkable city, and exploring it by foot is such a joy, you can stay just about anywhere in or near the center of Venice and easily work your way through this Venice itinerary.
We've stayed in 5 of the 6 sestieri in Venice (Cannaregio, San Marco, Dorsoduro, Santa Croce, and Castello–we're only missing San Polo), and enjoyed our stays in all of them.
When researching hotels, consider checking out the prices for hotels a bit nicer than what you normally stay in–you might find them surprisingly low, another benefit to planning a trip to Venice in November!
Budget
Hotel Casa Boccassini — This cute hotel easily met our needs during our first trip to Venice!
The room was simple but clean, and the shared bathroom a fair trade in exchange for their competitive prices in a great location in Cannaregio.
The bathroom was clean and we had a sink in our room, both of which always make shared bathroom situations much easier. The courtyard of the hotel was beautiful!
The hotel was a simple and beautiful 10-minute walk from the Rialto Bridge and just a 5-minute walk to the Vaporetto to the airport. 
Mid-range
Hotel Lisbona — We decided to check into Hotel Lisbona for one reason: we wanted to stay on a canal!
If you're looking to stay right on a canal in Venice without paying luxury prices, we can heartily recommend Hotel Lisbona: the building is beautiful and definitely has that oh-wow-I'm-in-Venice effect (especially when you look out the windows), the customer service is great, and the included breakfast tasty.
The central location (it's around a 5-minute walk to Piazza San Marco) couldn't be better.
The downside? The room we stayed in was tiny–but to be staying right on a Venetian canal in such an amazing location, we definitely considered the trade-off worth it.
Luxury
Hotel Danieli — If you're looking for a true luxury experience for your 2 days in Venice–the kind of hotel stay that you'll remember for the rest of your life–look no further than the iconic Hotel Danieli, located inside 3 former palazzos along the Riva degli Schiavoni.
Every detail has been looked after here, and everything from the furniture to the breakfast to the location (mere steps from the Bridge of Sighs) to the truly stunning lobby will ensure you have an absolutely unforgettable trip to Venice.
Final Call for Venice in November: Is it Worth it?
Yes, yes, yes!

We are so glad that we took the risk and decided to spend 3 days in Venice in November, and highly recommend the experience–even one day in Venice would have been worth it.
True, the weather was not great during our November trip–our umbrella was constantly with us in our day bag and the only time we saw blue sky hovering over Venice was on the ferry to the airport the day we left–but cloudy skies definitely didn't detract from Venice's beauty.
We loved the smaller crowds (even more so after later experiencing Venice's summer crowds!) and the lack of heat and humidity, as well as the quiet peacefulness of seeing the city a bit foggy and with a slightly mysterious vibe completely fitting of Venice.
We would plan more trips back to Venice in the fall and/or winter in a heartbeat–probably starting with paying a visit to Carnival in February, which would definitely be crowded, but also an experience not to forget.
Read More About Visiting Venice (and Italy!)
Planning a trip to Venice soon and want to keep reading?
You can browse our 100+ Italy blog posts here, or check out these guides: