After many visits, in all seasons, we solidly count Venice, Italy among our favorite cities in the world to visit–and yes, that even includes summer in Venice!
For years, we were intimidated by the idea of visiting Venice in summer, especially during the peak months of July and August
Chalk it up to having heard one too many horror stories about the heat, the crowds, and the smell (that one, at least, seems to be an unfounded legend).
We recently spent a full week enjoying Venice in July, soaking up all of the good and bad that comes with visiting one of the world's most popular destinations at its peak time.
Would we recommend a summer trip to Venice?
For the right traveler, absolutely–but we have some thoughts on how to make the most of it.
Here's what to know before visiting Venice this summer!
What's the Weather Like in Venice During the Summer?
Summer weather in Venice is hot and humid, but bearable.
That's especially true in the shade and along the lagoon, where you can catch a breeze.
June temperatures in Venice hit an average high of 78°F/25°C.
In July, Venice temperatures warm up further to highs of 83°F/28°C.
During our July trip, we had some days reach 90°F/32°C, though others were closer to the norm.
Unlike in many destinations, July is the hottest month in Venice.
During August in Venice, average temperatures dip back down slightly to average highs of
82°F/27°C.
You can expect about 5 days of rain in both July and August, and about 7 days of rain during June in Venice.
We had one day of afternoon showers during our trip, and it was to our benefit, as it cooled down the city a bit.
Essential Travel Tips for Summer in Venice
Set reasonable expectations.
Mindset is a big part of the game during a summer vacation in Venice, and in many cases, it makes all the difference.
Yes, the midday crowds at Piazza San Marco, the Rialto Bridge, and the Bridge of Sighs will be absolutely ridiculous.
Yes, you will need to watch your pockets (don't you always when in a crowd in a major city?).
Yes, hotel prices will be at their peak for the year.
And, yes–you will be hot.
All of that aside, though, Venice is still Venice–and it is a magical place.
Pre-book the most popular activities.
Want to tour the Doge's Palace or marvel at the mosaics of St. Mark's Basilica?
If so, you'll want to book ahead, as the best times and tours do sell out!
We recommend booking a guided tour or, at a minimum, skip the line access to both the Doge's Palace and St. Mark's Basilica.
The crowds can be overwhelming, and the context gained from a tour is invaluable.
We recommend booking either the first or last tour of the day, to minimize the crowds (and indoor temperatures–the palace doesn't have air conditioning).
Book your visit to the Doge's Palace and St. Mark's Basilica today!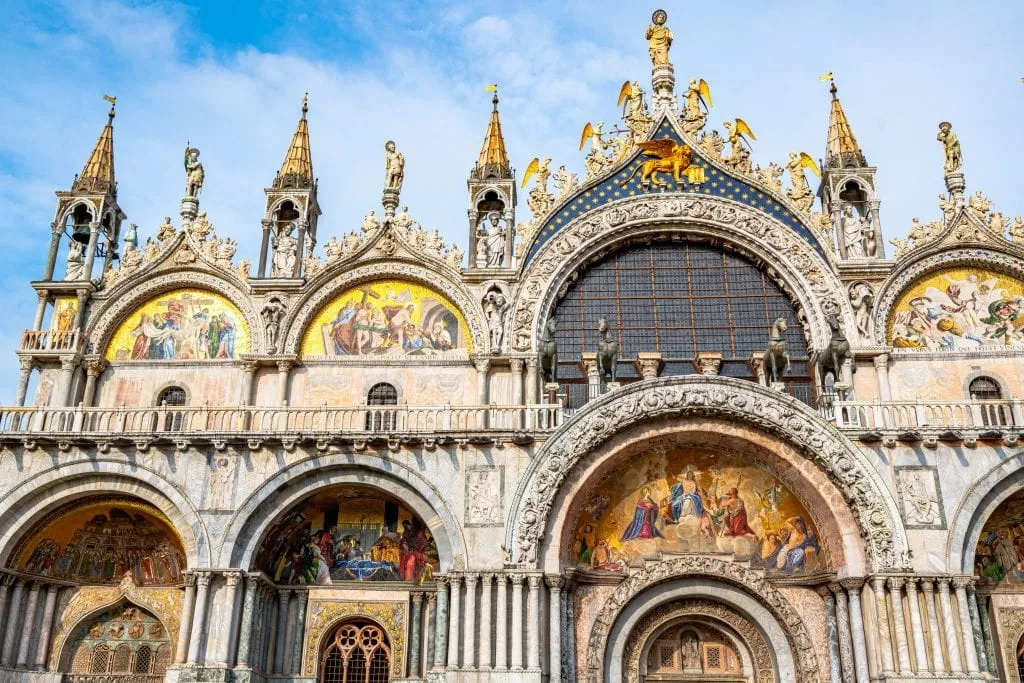 … and consider splurging on after-hours tickets.
Want to make absolutely sure that you ditch the crowds and escape the heat (remember, no a/c) while having an unforgettable experience at Venice's top attractions?
Consider signing for the Alone in St. Marks & the Doge's Palace After Hours tour with Take Walks!
We love Take Walks' interesting, boutique tours and have taken several tours with them throughout Italy.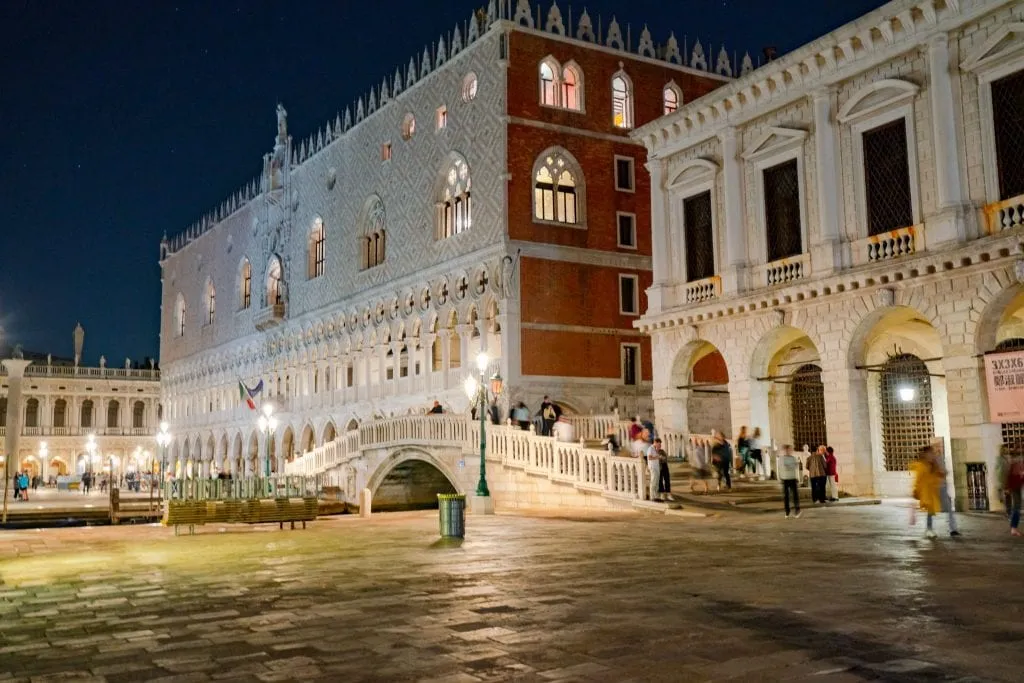 Their after-hours tours are truly spectacular!
Don't have time to spend the evening in both attractions, or looking for a smaller splurge?
Their Alone in St. Mark's After Hours tour gets rave reviews as well.
Book your after hours tour of St. Mark's and the Doge's Palace today!
Make sure to stay overnight.
We'll give this advice to travelers year-round, but it's especially important in the summer!
You've likely heard about Venice's struggles with over-tourism, but that can be narrowed: more specifically, Venice has a daytripper problem and a cruise ship problem (and it looks like Venice will be putting its long-standing plans to charge daytrippers in action in 2023).
All of this adds up to a more valuable and also more enjoyable tourism experience if you stay overnight in the city.
Not only will you be able to enjoy the city with far fewer crowds, the temperatures will be more pleasant outside of the midday hours, too.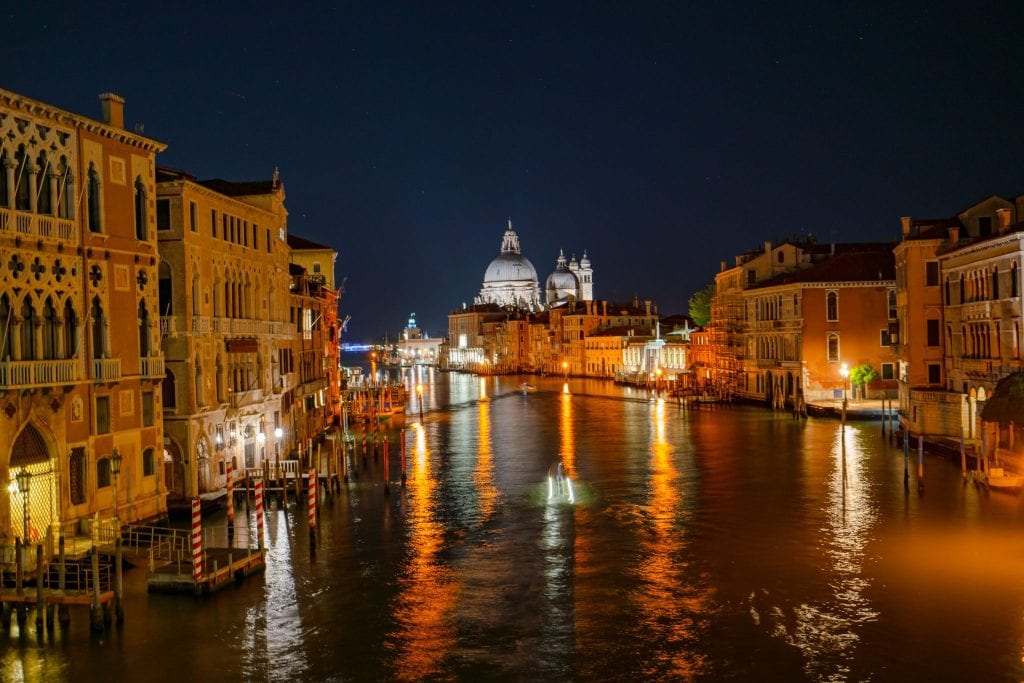 Plan your sightseeing around the mornings and evenings.
This goes hand in hand with staying overnight: the perfect day of sightseeing in Venice during the summer–and especially July and August–is to do a split schedule.
Get up reasonably early, explore for a few hours, have lunch, and then rest up during the afternoon.
Once the temperature starts to cool off, head back out for another few hours of sightseeing.
And, since the sun doesn't set until around 9:00 PM, you'll have plenty of daylight to work with!
Get outside the most popular sestieri.
The main island(s) of Venice are made of 6 sestieri, or neighborhoods/districts: San Marco, San Polo, Castello, Santa Croce, Dorsoduro, and Cannaregio.
San Marco (home to St. Mark's Square) and San Polo (connected to San Marco by the Rialto Bridge), are by far the most crowded.
Head to the outer corners of Dorsoduro or Cannaregio on the other hand, and you'll find plenty of peace and quiet!
Dorsoduro is our personal favorite sestiere, and we tend to spend a lot of time there these days when in Venice.
Enjoy some of the other islands in Venice.
The Venetian lagoon is much bigger than the historic center of Venice, and there are far more islands to explore, too!
From classics like Murano (home to the famous Murano glass-blowing studios) and Burano (home to delightfully colorful houses) to more offbeat stops like Torcello, San Giorgio Maggiore, and Giudecca, you'll find plenty to explore on the lagoon.
Plus, the vaporetto rides along the open lagoon can be quite refreshing with the sea breeze!
(That's not so true of the vaporettos on the Grand Canal, by the way–all that stopping and starting can make it hot in the afternoons.)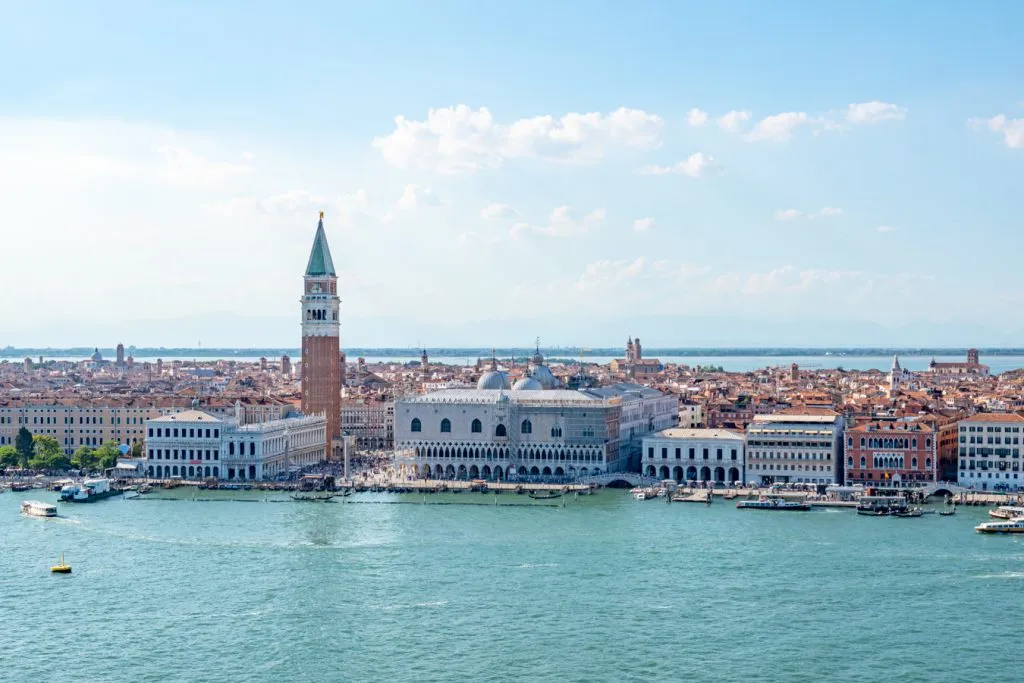 While you can absolutely travel to any of these islands independently, the fact that vaporettos can get quite pricey (7.5 Euro for a 75-minute ticket if you don't buy a pass) can also make guided tours a great deal.
If you're looking for a quick visit to several islands, this popular tour of Murano, Burano, and Torcello is a great option!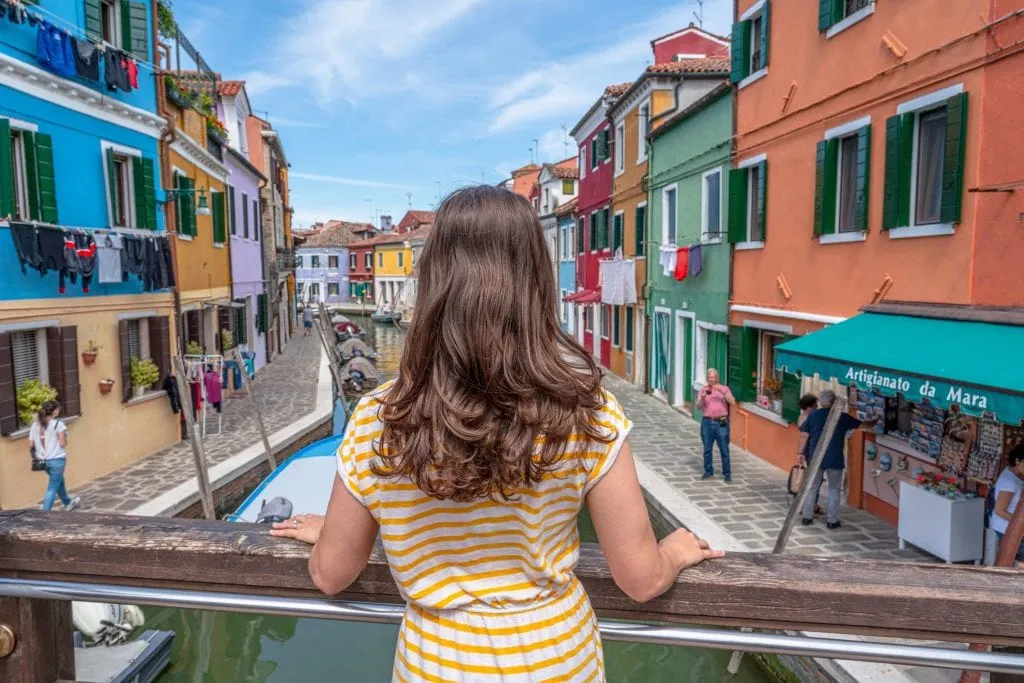 Get off the beaten path and explore Venice's hidden gems.
Despite its popularity, Venice is so densely populated with incredible things to do that it's fairly easy to escape the crowds and find some quiet(er) corners.
From admiring (across the canal) how gondolas are made and repaired at Squero di San Trovaso to stepping inside the flooded crypt of San Zaccaria to marveling at the opulent ceilings in Ca' Rezzonico, getting off the beaten path in Venice is both simple and delightful.
… And, during the summer, an investment in enjoying your trip!
Looking for less-crowded by still magnificent views of Venice?
Skip St. Mark's Campanile and head to the Basilica of San Giorgio Maggiore and/or the Scala Contarini del Bovolo!
Consider spending a day at the beach.
Sure, Venice isn't exactly a beach town–but that doesn't mean you can't beat the summer heat by spending an afternoon on the sand!
For a city literally surrounded by water, surprisingly few travelers consider visiting the beach in Venice, even in June, July, and August.
But, over on the island of Lido, located a mere 20 minutes by vaporetto from central Venice, you absolutely can!
Beaches on Lido generally boast incredibly calm, shallow water, perfect for families or those who just want to enjoy a laid-back day with the sun and sea.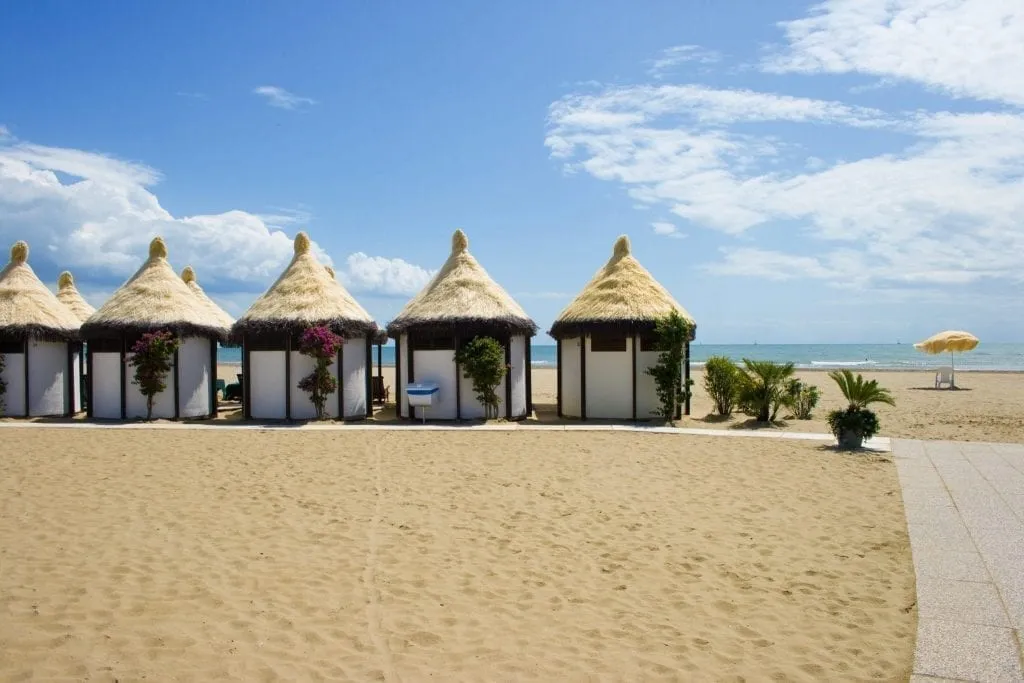 Choose a more obscure place to board a gondola.
Enjoying a gondola ride through the city's canals is one of the most iconic things to do in Venice–and yes, if you ask us, it is worth the splurge if it fits in your budget!
However, absolutely do not get in a gondola anywhere near Piazza San Marco, the Rialto Bridge, or the Bridge of Sighs.
If you do, especially in the middle of the day during the summer, you're liable to end up in a gondola traffic jam more reminiscent of riding "It's a Small World" at Disney than a romantic movie set.
If you're planning on a private gondola ride, head out to a quiet corner of Dorsoduro, Castello, or Cannaregio, and you'll find what you're looking for.
Hoping to book a shared gondola ride to stick to your budget?
If so, consider booking a slot in advance (but book the earliest time slot you can).
We have far more information on how to make the most of riding a gondola in Venice in this guide!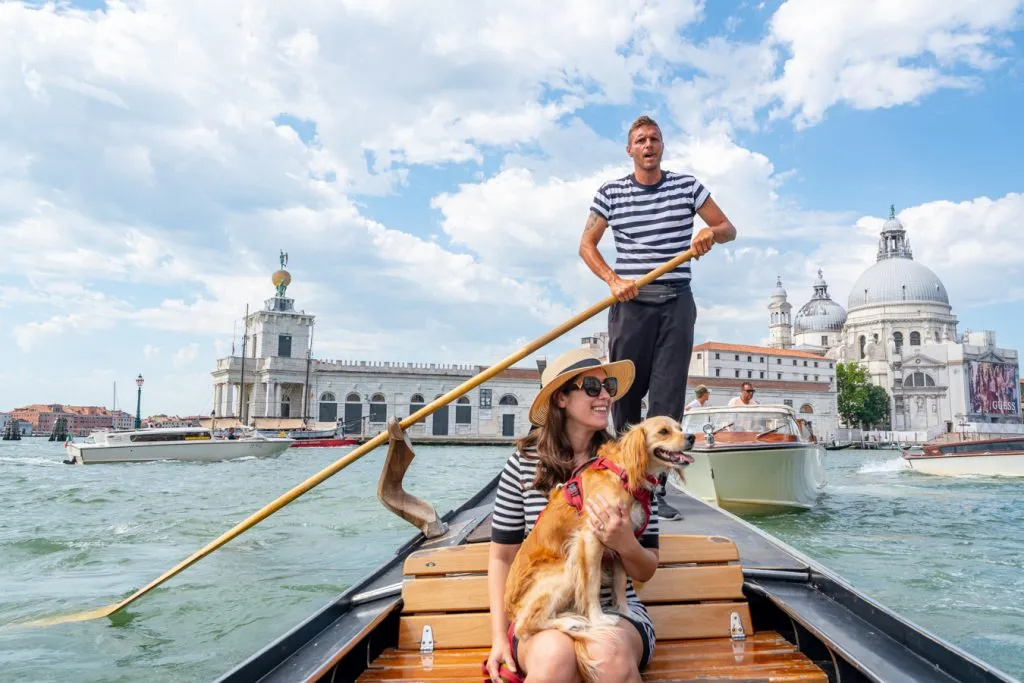 Take advantage of Venice's many public fountains.
Like many places in Italy, Venice has public water fountains all over the city.
You can usually find these in a piazza or sometimes along a walkway, pouring out a steady stream of crisp, drinkable water that is no doubt much colder than any water you've been carrying in your day bag!
These fountains are easy to find and completely free to use, and you'll spot locals doing everything from having a drink to splashing water over themselves to cool off.
These fountains are a great place to fill up your reusable water bottle (and will likely save you some money, too–no need to buy plastic water bottles from street vendors).
Consider packing bug spray.
Unfortunately, plenty of water means plenty of mosquitos during summer in Venice!
We found them annoying but not unbearable and didn't choose to use bug spray (mostly because we didn't pack any).
However, if you're sensitive to mosquito bites or just want to cover all your bases, be sure to add bug spray to your Italy packing list.
Make sure your hotel has air conditioning.
Air conditioning may not be as common in Venice as in some places, but most hotels catering to tourists in the center will have it, and you will absolutely want it!
This is especially true during the peak months of July and August.
Even if open windows would be enough to cool your room off temperature-wise, there are still the mosquitos to contend with!
Ready to plan your summer trip to Venice, Italy?
Decided that visiting Venice during the summer is right for you?
We have many more (free) Venice travel guides here on Our Escape Clause that can help!
Be sure to check out our detailed 2 day Venice itinerary, and if you're in a rush, our one day Venice guide (but again–we highly recommend spending at least one night in Venice).
We also have guides covering the best hidden gems in Venice, what to do in Venice at night, tips for finding the best views of Venice, a guide to what to buy in Venice, and many more.
Looking for something else?
Type "Venice" (or any other destination you're looking for) in the search bar at the top right corner of the screen (on desktop) or on the pop-out menu (on mobile).
Visiting Venice in June, July, or August may take a little extra planning–but you can absolutely have an incredible trip to Venice in summer.