In the mood to shop for souvenirs and wondering what to buy in Venice, Italy?
Luckily, you're spoiled for choice!
Venice's long history as a trading empire means that its tradition as a shopping emporium reaches back a full 1000 years or so, and shopping in Venice remains delightful today.
(Though getting your goods home these days is no doubt easier than for the medieval-era traders who hiked over the Alps to reach the famous trading city!).
With its unique traditions, beautifully handcrafted offerings, and countless shops to peruse, picking out gifts and souvenirs from Venice is a memorable experience.
While the best things to buy in Venice naturally have significant overlap with the best Italy souvenirs overall, we've made sure to focus this list primarily on suggestions rooted in the City of Canals itself.
Here are the best Venice souvenirs to pick up on your trip!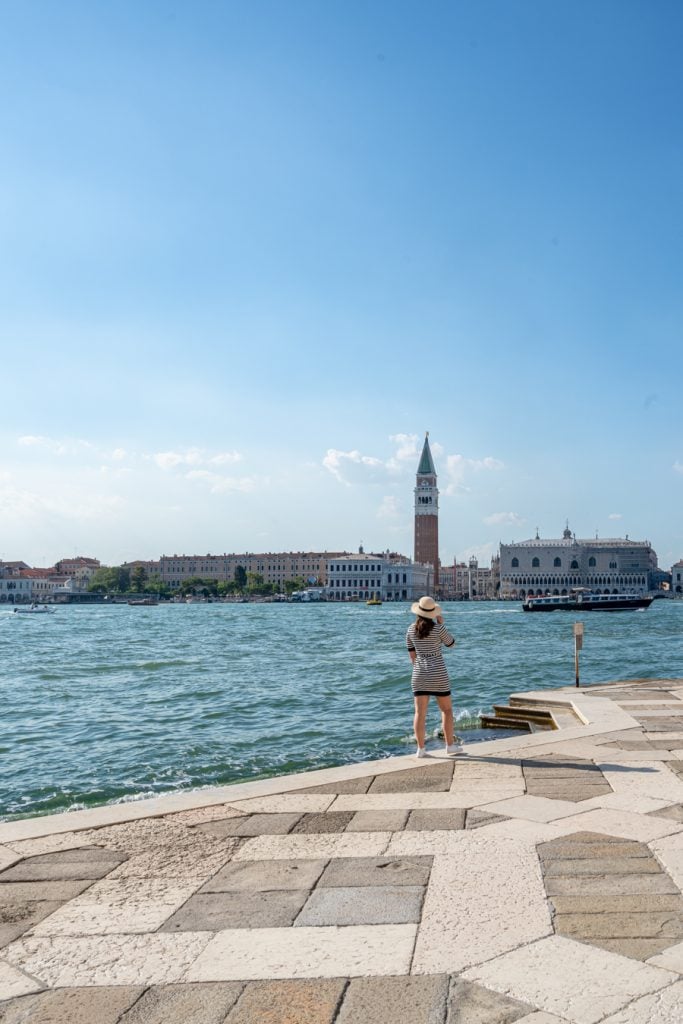 Some links in this post may be affiliate links. If you make a purchase through one of these links, we may earn a small commission at no extra cost to you. Please see our

disclosure policy

for more detail.
Memorable Things to Buy in Venice, Italy
Venetian Mask
Classic Venetian masks, or carnivals masks, are one of the most iconic symbols of the city and one of the absolute best things to buy in Venice!
Like many of the Venice souvenirs we'll cover here, Venetian masks are available at just about all price points and quality levels, ranging from costing a few Euro for a simple, mass-produced souvenir mask (that you may or may not find a near exact replica of if you visit similar souvenir shops in New Orleans), all the way to intricate, handcrafted masterpieces.
In higher-end shops, you may even be able to catch a glimpse of artisans hard at work creating their next mask!
Keep in mind that many of these shops don't allow photos inside, so be cognizant of what's allowed before you snap.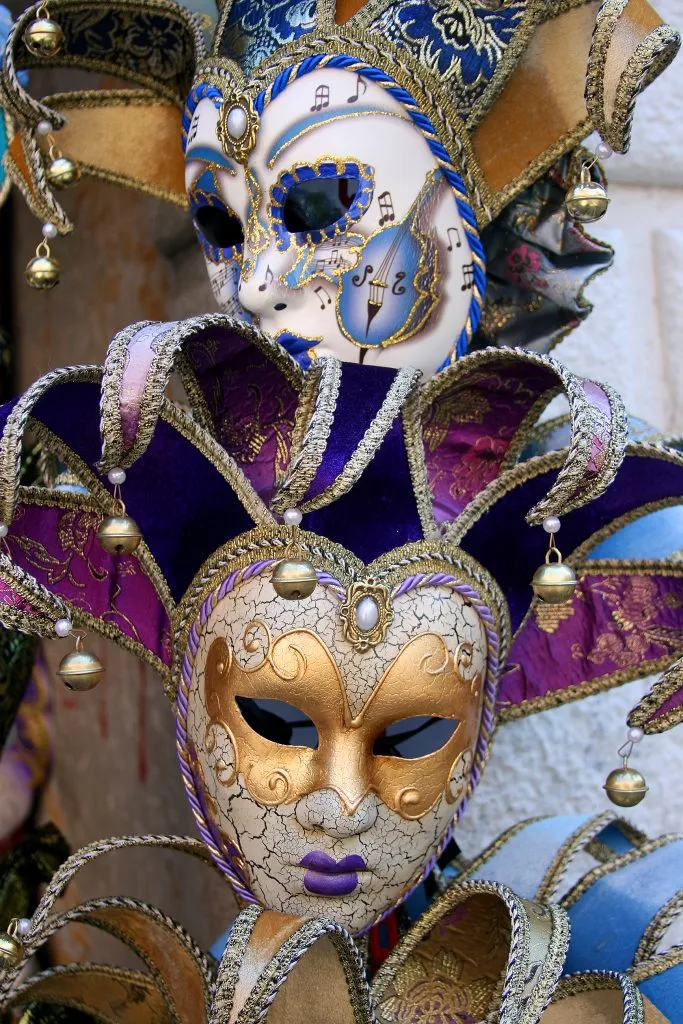 Murano Glass
In the late 13th century, Venice–already famous across Europe for its glass production–moved all glassmaking in the city to Murano, one of the floating city's outlying islands.
Murano glass has been celebrated ever since!
Colorful, handcrafted, and incredibly striking, Murano glass can be spotted in many castles and palaces throughout the continent.
Today, you can take a piece home in the form of anything from a simple bottle stopper to a stunning chandelier.
If you think you might like to buy Murano glass in Venice, consider touring a glass factory in Murano before you make your purchase.
That way, you'll be able to shop more knowledgeably and also have a memory specifically tied to your souvenir!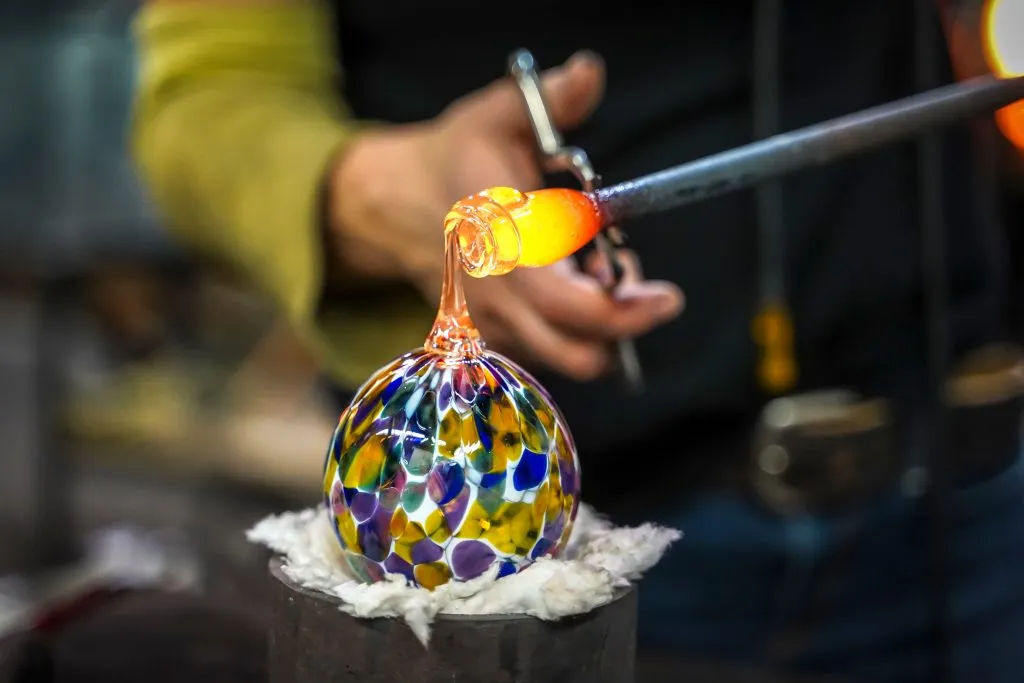 Gondolier Hat
There's no doubt that the iconic black gondolas of Venice are one of the city's most iconic symbols.
Since bringing home a gondola is far from practical for many reasons, gondolier hats have stepped in as popular Venice souvenirs to remind visitors of the city's unique boats!
Made of woven straw, the hats are easy to find across the city.
They also make excellent gifts from Venice for any loved ones you're shopping for!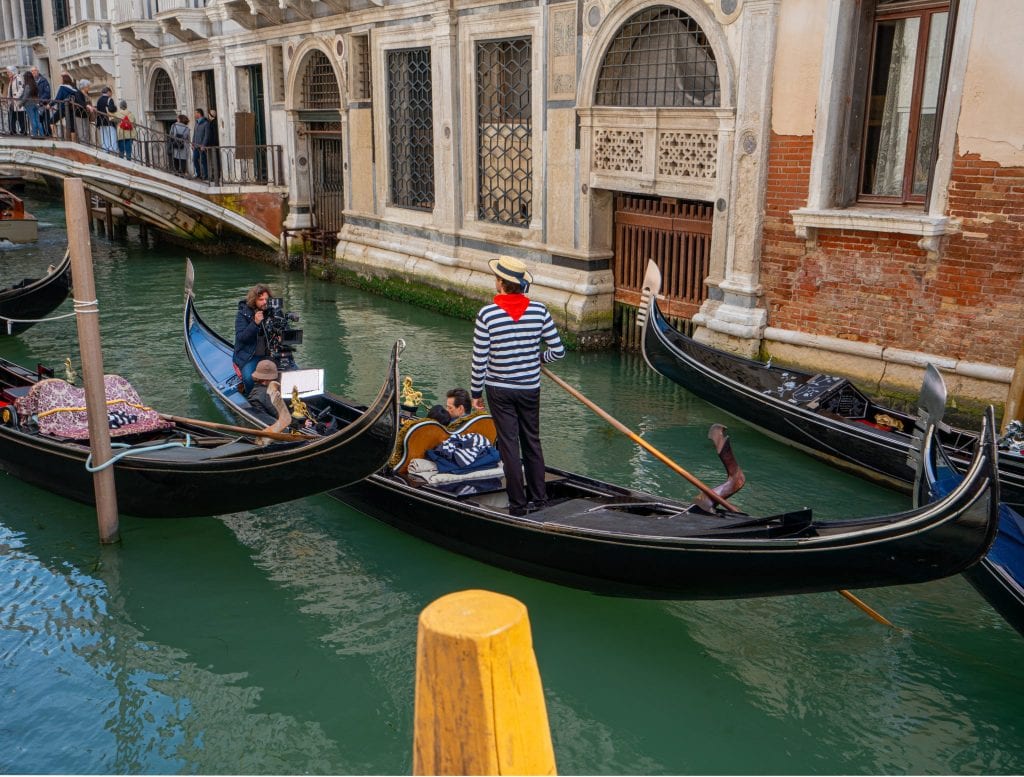 Burano Lace
Much like Murano is known for its glass, the Venetian island of Burano has been well-known for its lace production for centuries.
One of its best-known customers was Leonardo da Vinci himself, who bought a piece for the altar of the Duomo of Milan!
Though most of the lace you'll see for sale in Burano these days is made by machine or a hybrid of machine work and handmade touches (the traditional handmade pieces take months to create and cost thousands of dollars), it is still stunning and makes a wonderful souvenir or gift from Venice.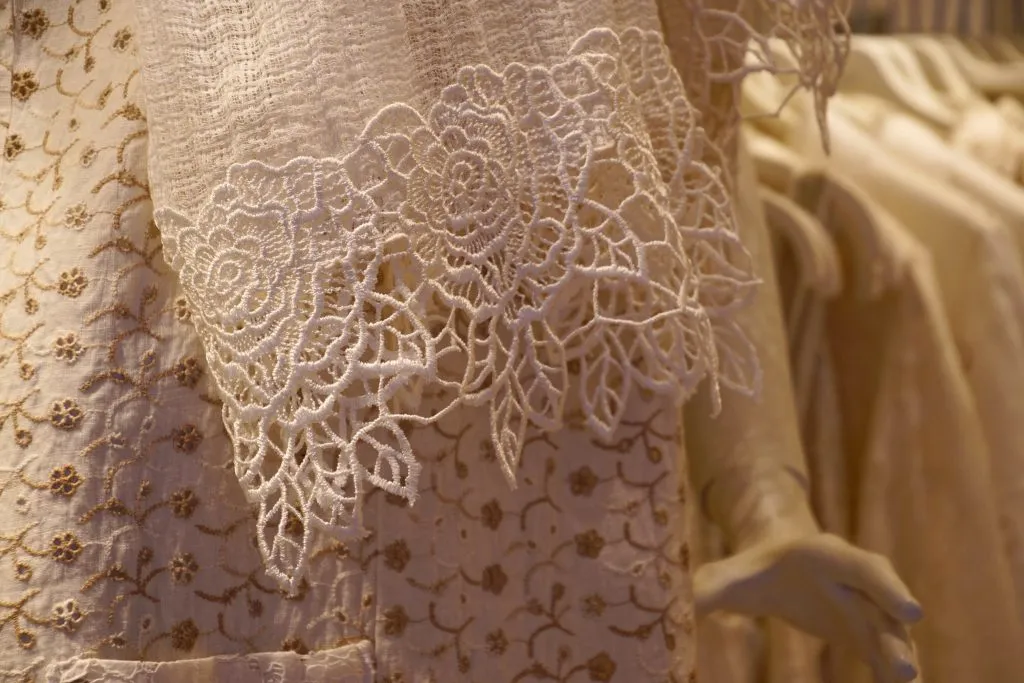 Marbled Paper
Venetian marbled paper has its roots in practicality: bookbinders used it as a cost-cutting measure and decor option starting in the 18th century.
Today, though, this beautiful, detailed paper remains associated with Venice, and you can find it all over the city.
Like many of these Venice souvenir options, you can easily find mass-produced versions for more affordable prices… or opt for a handcrafted paper to bring home a piece of art.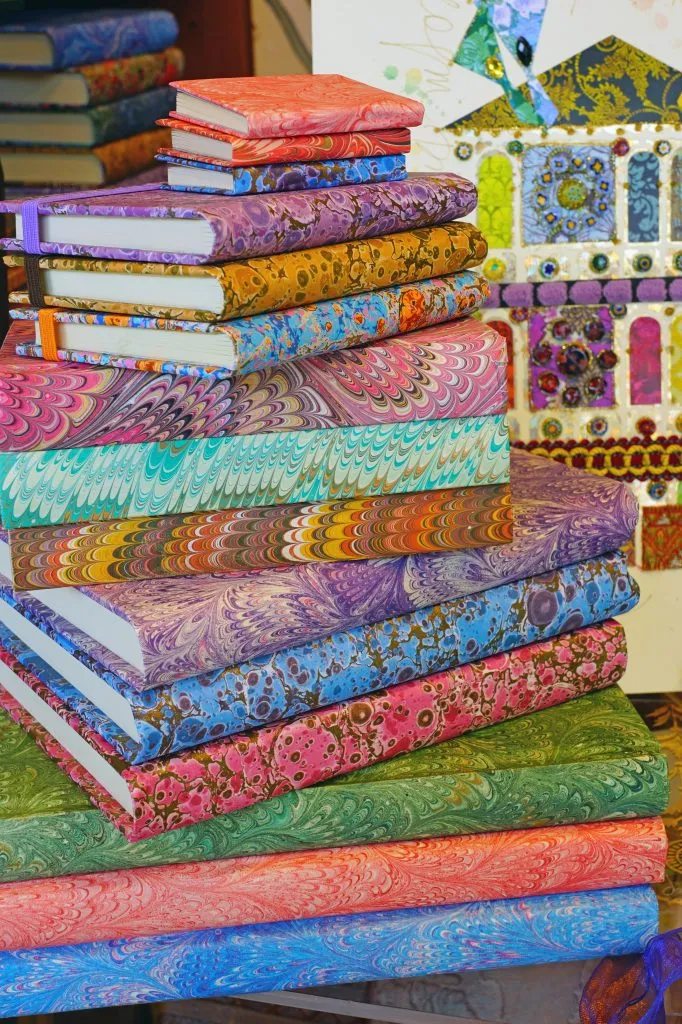 Fabrics
At the height of the Venetian Empire, Venice was a center of fabric production and trading, with traders from abroad coveting Venetian velvet much like they coveted Murano glass or Burano lace.
While the heyday has long since passed, you can still find rich, beautiful fabrics when shopping in Venice.
In one special place, you can even find handmade velvet created according to traditional methods.
Leather Goods
Leather clothing and accessories, including jackets, bags, belts, shoes, and more, are some of the most popular artisanal goods sold in Italy.
You can't walk down a commercial street in Italy without hitting at least one leather goods store, and Venice is no exception.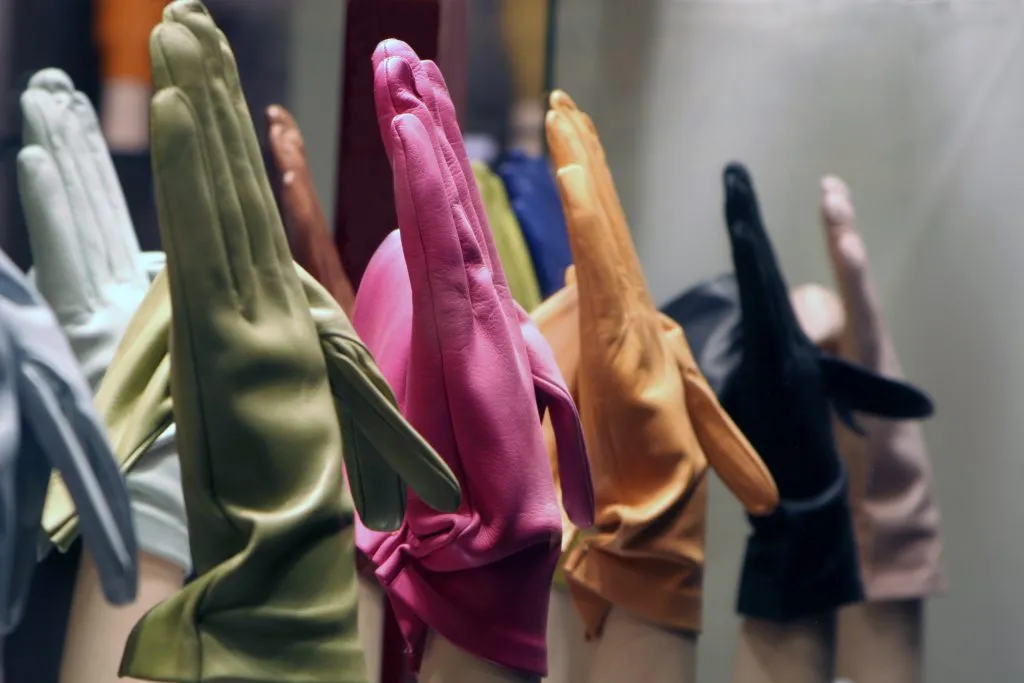 Perfume
Locally-made perfumes are one of the best things to buy in Venice (or Italy overall).
Just be careful bringing them home!
In Venice, the aptly named The Merchant of Venice is a great place to head when looking for compelling fragrances.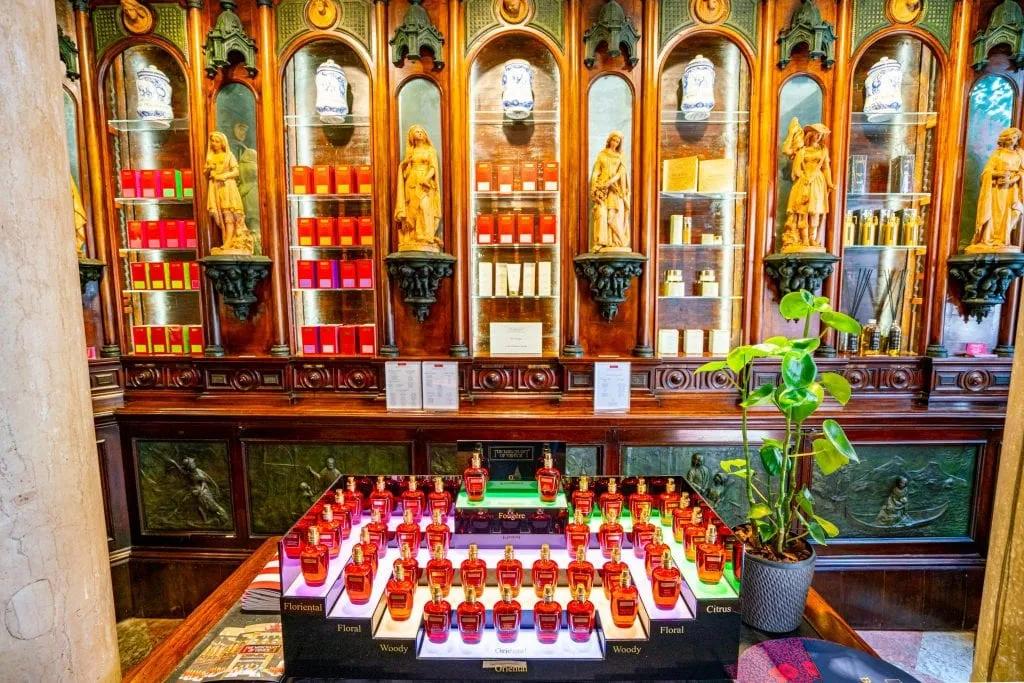 Gold Jewelry
Italy is world-famous for its exceptional gold jewelry, and Venice is a wonderful place to buy it!
Italy is known around the world for its high-quality gold (most gold pieces sold in the country are 18k, some are 14k) and dedicated artisans, and while it is quite the splurge of a souvenir, a new necklace or bracelet is definitely a memorable thing to buy in Venice.
Vicenza, often referred to as the Italian Capital of Gold due to how much jewelry production happens there, lies less than an hour away from Venice, making Veneto in general a wonderful place to shop for your next piece of fine jewelry.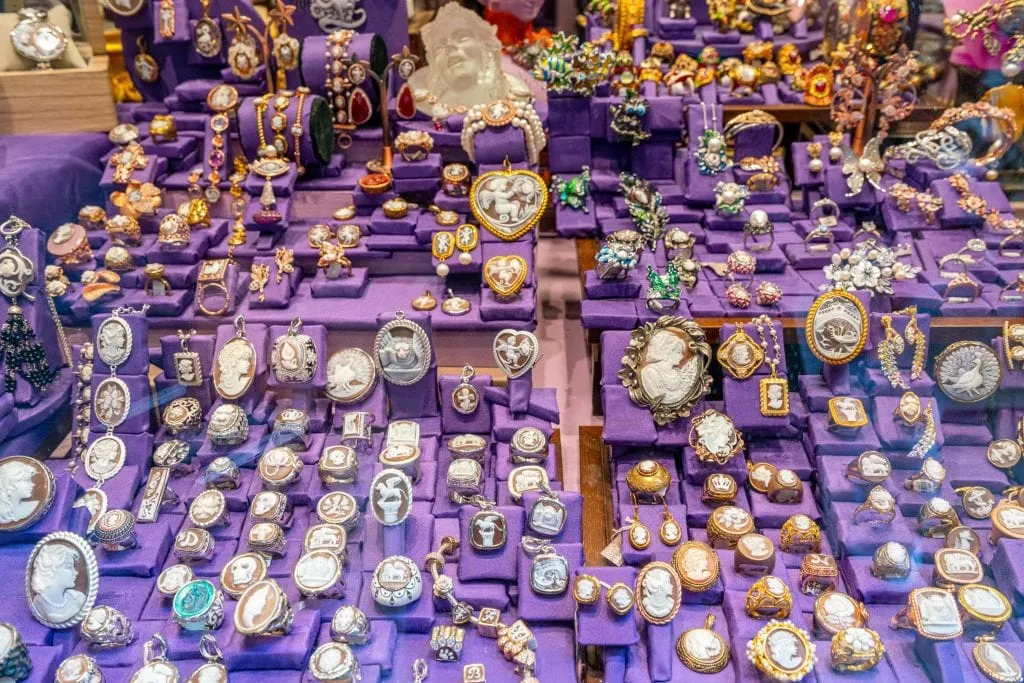 The Best Foodie Souvenirs From Venice
Bussolai Cookies
As a big fan of butter cookies (and cookies in general), bussolai (or bussolà in the singular) cookies from Burano are one of my favorite souvenirs from Venice!
Crisp and delicious, the cookies were traditionally made as durable snacks for fishermen to take out on their boats with them, but they remain popular to this day (particularly for Easter).
Bussolai cookies go by several names, including buranelli and essi (for the "S" shape that they're sometimes made into.
Whatever you call them, though, they are tasty, affordable, and easy to transport–in other words, a perfect Venice souvenir option.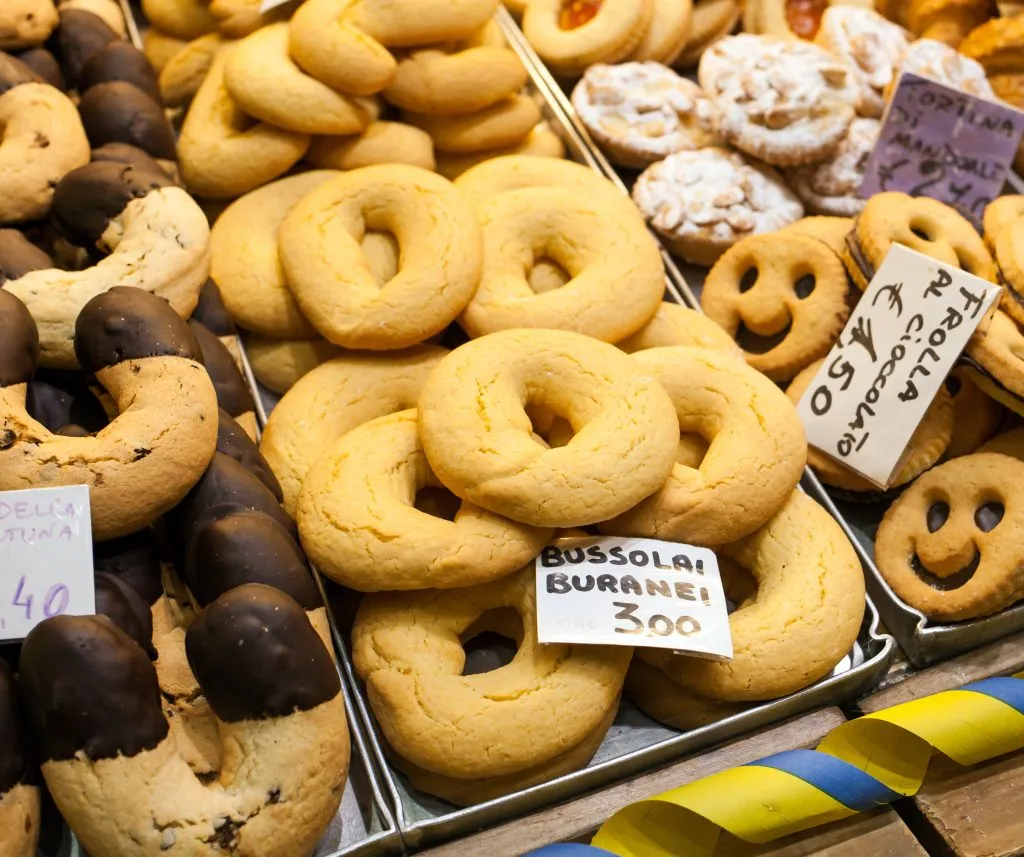 Grappa
Long associated with northern Italy and with Venice specifically, grappa is an Italian spirit that makes a great gift from Venice!
Traditionally, grappa is distilled with grapes left over during the winemaking process, and it's strong.
Not sure if it's your thing?
Consider trying some in a bar or restaurant during your trip to Venice before committing to a whole bottle.
As a digestif, grappa is typically served after a meal, in theory, to aid with digestion.
Spices from Rialto Market
Dating to 1097, the Rialto Market was once nicknamed the "souk of the world", and considered one of the most well-stocked and iconic shopping emporiums in Europe.
And, while there's no doubt that the market is a shadow of its former self, the history alone makes it a memorable place to go shopping in Venice!
While fresh fruits, vegetables, and fish don't make the best options for things to take home from Venice (though they're great for picking up during your stay, especially if you have access to a kitchen), spices are easy to transport, and make excellent souvenirs.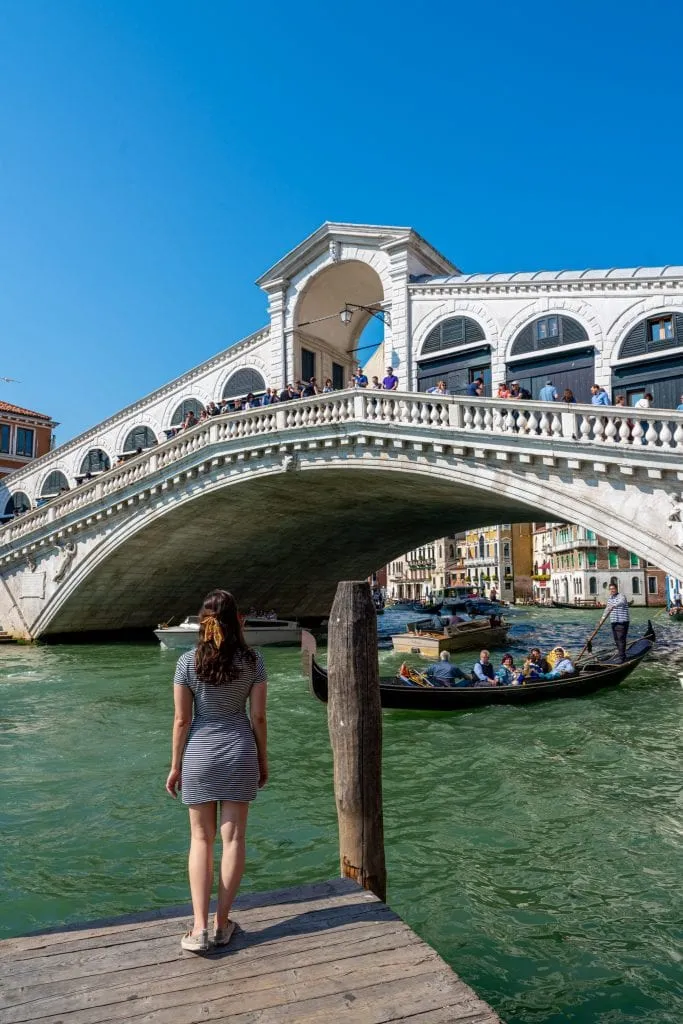 Inexpensive (But Fun) Venice Souvenirs to Buy
Magnets
Magnets are one of the most popular souvenirs to collect from around the world and tend to only run a few Euro a piece.
It can take a bit of digging to find one that speaks to you, but it's worth the wait!
Keeping your magnet(s) in your kitchen or office is a great way to recall your trip to Venice during your day-to-day life, long after the plane has landed back home.
And, since this is Venice we're talking about, if you want a miniature Venetian mask to display on your fridge, they're very easy to find!
Vintage Postcards
While you can easily buy typical postcards in Venice, if you're looking for a more unique Venice souvenir, consider browsing for vintage ones!
Libreria Acqua Alta, one of our favorite bookstores in the world, has boxes of vintage postcards, cards, and photographs available for very low prices.
Looking through them is half the fun, especially if one of the shop's resident cats stops by to say hello as you shop!
Espresso Cups
Much like buying a teacup in England or a beer stein in Germany, buying a beautiful espresso cup (or several) to display at home makes for an excellent souvenir from Venice.
Whether you drink Italian-style coffee at home or you just want to use it as a decor piece, for the right traveler, an espresso cup is a fun addition to their list of what to buy in Venice.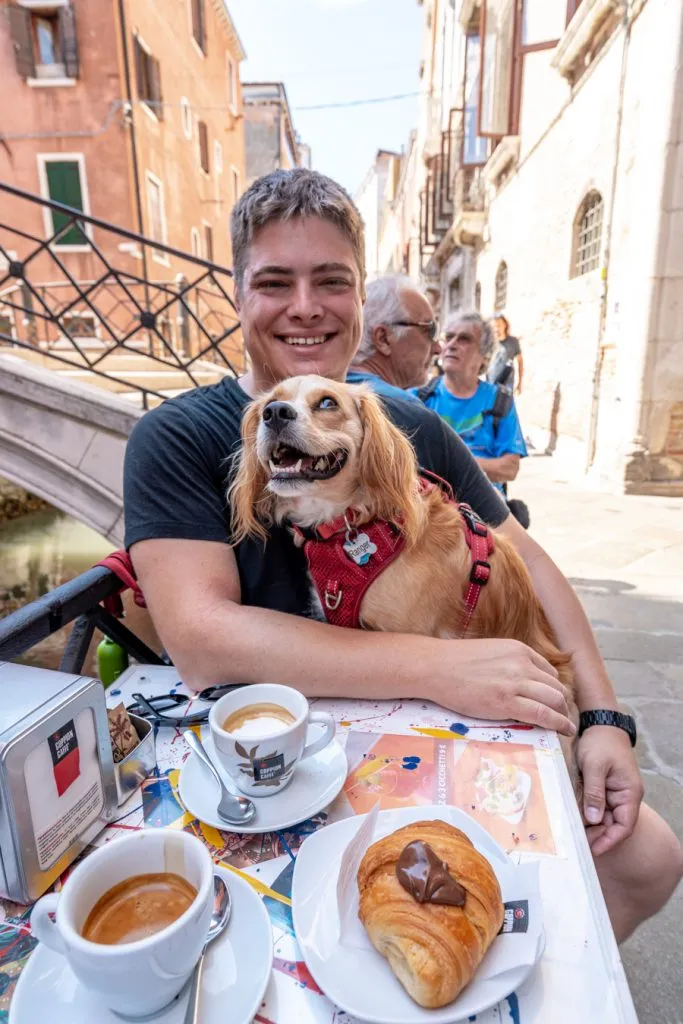 Read More About Visiting Venice (and Italy)
Planning a trip to Venice soon and want to keep reading?
You can browse our 100+ Italy blog posts here, or check out these guides: