Getting to know Italy's City of Canals through a 2 days in Venice itinerary is an entirely wonderful–and entirely unique–experience.
From its beautiful canals filled with iconic gondolas to the impressive Doge's Palace to the ease of getting delightfully lost in the maze of narrow streets and tiny canals, there is absolutely nowhere like Venice.
We've been lucky enough to visit Venice many times, in all seasons, and consider ourselves absolutely enchanted with the city.
Sometimes it can seem like any city with a canal wants to claim itself as the Venice of Wherever, but they all fall short by a mile.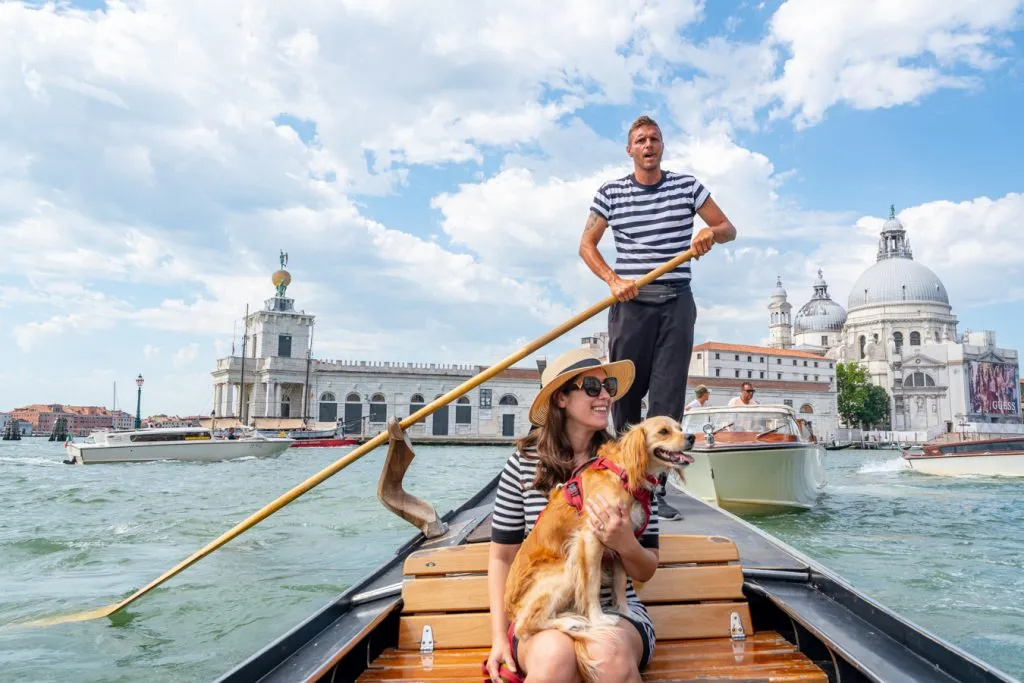 This city is a truly unique place, and the opportunity to spend a couple of days in Venice is one to cherish.
Yes, it is crowded. Yes, it is expensive (especially by Italy standards!). Yes, it is extremely touristic.
It doesn't matter.
Venice is magic–and with this 2 day Venice itinerary, we're going to help you discover what makes Venice truly enchanting.
The Ultimate 2 Day Venice Itinerary
Day 1 in Venice: St. Mark's Square and the Surrounding Sights
Grab a coffee and pastry to start your day the Italian way.
Here's the key to making sure your 2 days in Venice start perfectly: get up as early as you can (for this Venice itinerary, we recommend leaving your hotel no later than 8:00 AM) and start your morning with coffee.
While Venice is notoriously pricey, even here it's easy enough to find a standard 1 Euro shot of espresso and a 1.2–1.5 Euro cornetto if you stand at the bar.
As long as you find something in that general price range that catches your eye, you should be good to go.
If you want to seek out somewhere in particular, we loved Bar Ducale located just a short walk from Piazza San Marco.
Great coffee, tasty pastries, fair prices, and a beautiful and classically Italian interior–what more can you ask for?
We have returned to Bar Ducale for a few years now, most recently in 2022, and it continues to be a great option for a classic Italian breakfast experience.
Aimlessly meander through some of Venice's small streets.
Many suggested Venice itineraries start in Piazza San Marco/St. Mark's Square–and while it is a lovely place that is home to some of Venice's most iconic tourist highlights, it's also one of the most crowded places in a city known for overwhelming people with its crowds.
For that reason, we don't recommend kicking off your 2 days in Venice there!
Instead, take an hour or two in the morning to wander slowly and aimlessly through some of Venice's small streets, ducking into quiet corners and admiring small canals as the city wakes up.
This is the true beauty of Venice, and starting your trip off here is likely to get it off on the right foot.
We recommend exploring the neighborhood of San Marco or San Polo this morning, crisscrossing canals on tiny footbridges, and exploring whatever looks interesting.
Both neighborhoods are popular, but by staying off the main streets, you'll likely spend at least some of your time completely alone with your surroundings.
If you're the type who prefers to have a direction in mind during your wandering, consider setting your map to the Church of Santa Maria Formosa or the Church of San Zaccaria (don't miss its flooded crypt!) and heading vaguely in that direction.
But truly, the best way to get acquainted with Venice is to let it swallow you a bit.
It's a small island, so don't worry about getting too lost!
Head to St. Mark's Basilica (ideally before it opens).
Dripping with golden mosaics and full of incredible, Byzantine-style detail, St. Mark's Basilica may just be among the most unique churches in Italy (and there's definitely stiff competition for the title).
Touring the interior of the church is free, but unless you show up early, be prepared to wait to enter–wait times regularly climb past 45 minutes!
To get around this, we recommend getting in line before the church even opens in the morning. St. Mark's Basilica opens at 9:30 AM, and if you can be in line by 9:00 AM (especially during the busy summer season), you'll have a much smoother first morning in Venice.
Alternatively, you can purchase a skip-the-line entrance ticket for 3 Euros, or visit as part of a guided tour that covers both the Doge's Palace and the Basilica (more on that below).
Book your tour of St. Mark's Basilica + the Doge's Palace today!

Prefer something a bit more exclusive? This after-hours tour might be right for you!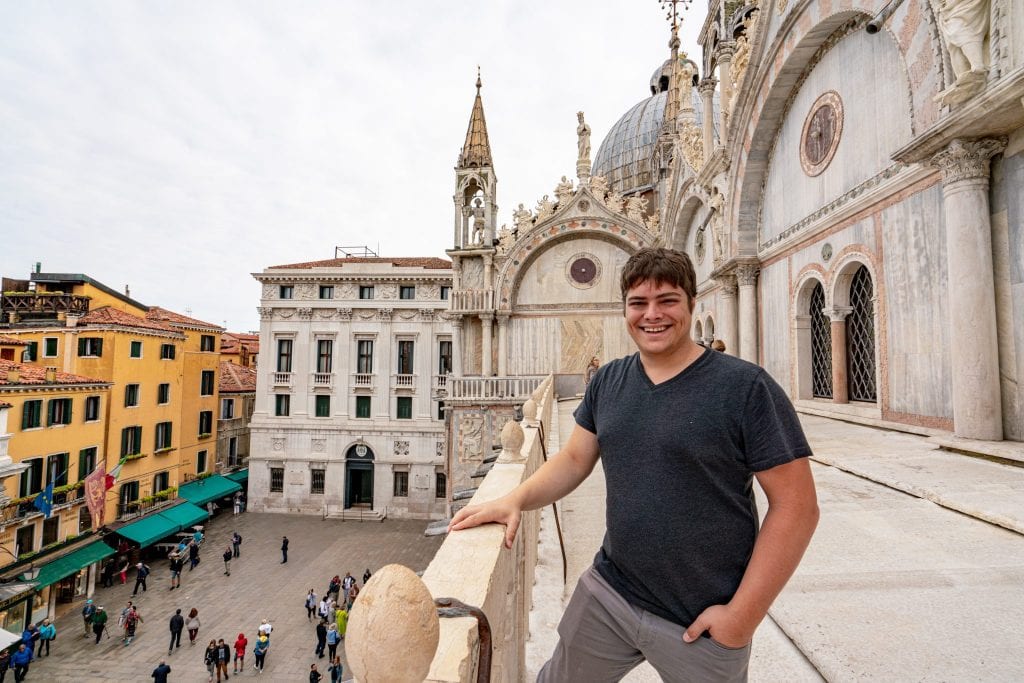 Enjoy the views in Piazza San Marco.
One of the (many) striking things about Venice is the size of its enormous, sprawling piazzas–and Piazza San Marco (in English, St. Mark's Square) is no exception!
The square is enormous and is generally crowded during the day with vendors, visitors, and pigeons alike.
If you're so inclined, this is the classic spot to get your photo taken with Venice's pigeons (we don't get the appeal, honestly, but it's a pretty popular thing to do).
You'll also find some of Venice's most famous and glitzy cafes here, including the famous Cafe Florian.
If you're inclined to grab a drink, sipping an espresso in St. Mark's Square is a popular choice when visiting Venice for a couple of days–but at more than 10 Euros per coffee (nope, that's not a typo), we recommend snapping a photo and moving on.
Make your way to the Doge's Palace.
The Doge's Palace is arguably one of the most interesting historical sites in the city, and well worth including on your itinerary for Venice in 2 days.
While it is (obviously) a palace, and you can tour the Doge's apartments, the main focus of the tour here is the broader government in Venice–which, at the height of the Venetian Empire, was rather forward-thinking for its time!
Several councils made up the government, and the largest body was composed of male members of every noble family in the city.
Each individual council has chambers that you can visit, all of which are incredibly beautiful and interesting, with gilded ceilings for days.
This is also where you can walk across the Bridge of Sighs and see the view it is truly famous for.
Originally, the bridge was known not for its beauty as seen from the outside, but for the view of Venice and its lagoon from the inside–the last glimpse of the city that many prisoners who made their way across it ever saw.
The Doge's Palace is truly fascinating, and of all the things on this 2 day Venice itinerary, it is the most enhanced by a tour.
We highly recommend booking one, as your experience will be so much better for it (and your time spent waiting in lines will sharply decrease, too!).
This tour is incredibly well-reviewed and is a great option for your 2 days in Venice.
If you're interested in the history of the Venetian Empire, I also highly recommend the book City of Fortune: How Venice Ruled the Seas for a fascinating look at the history of the empire.
Book your tour of the Doge's Palace + St. Mark's Basilica today!

Prefer something a bit more exclusive? This after-hours tour might be right for you!

Not into tours?

You can still skip the line at the Doge's Palace by purchasing a priority ticket in advance.
Head to the top of St. Mark's Campanile for gorgeous views over Venice.
The views from the top of St. Mark's Campanile are truly magnificent.
From here, you have amazing views of St. Mark's Square, the Doge's Palace, St. Mark's Basilica (and its remarkable roof!), the Venetian Lagoon, and nearby outlying islands… the list just goes on, and on.
Fair warning (because this totally surprised us!), you'll take an elevator to the top of the tower–no stairs!
Wander along the Riva degli Schiavoni and see the Bridge of Sighs (again).
If you walk between the Doge's Palace and St. Mark's Campanile toward the Venetian Lagoon, you'll quickly find yourself on the Riva degli Schiavoni–the lagoon's waterfront.
From here, if you turn left you'll find a bridge that will take you to the most famous view of the Bridge of Sighs.
If you turn right, you'll pass a large group of souvenir stands and, eventually, Harry's Bar–home of the original Bellini.
We recommend turning left!
The views of the lagoon itself are also lovely along the waterfront.
From here, you'll be able to see dozens of gondolas bobbing in the water, as well as San Giorgio Maggiore across the lagoon (which, if you're interested in less crowded views of Venice, is definitely worth a visit).
Turn down Venice's small streets and see what you find.
At this point, you've spent the bulk of your day–since about 9:30 AM–in some of Venice's most crowded, congested, touristy sections–so it's high time to leave!
Where you go doesn't matter nearly as much as the joy of exploring!
I'm not exaggerating at all when I say that our favorite thing to do in Venice is and always will be simply walking around and experiencing it.
From the Bridge of Sighs, you'll be fairly close to the beautiful Chiesa di San Zaccaria, which makes a lovely first stop on your wandering.
Grab a cocktail and enjoy aperitivo in Venice.
Aperitivo in Venice is a delightful affair: pull up to a lovely restaurant–ideally with a canal view–and spend the early evening enjoying an excellent Italian tradition!
Since Italians–Venetians included–tend to dine late, the early evening is reserved for aperitivo, where you can indulge in a drink and often an included snack, varying from a handful of potato chips to a full-on buffet of food.
This is also the perfect time of day to try cicchetti, which are essentially (delicious) Venetian tapas.
Not sure what to order?
The ever-popular Aperol Spritz was invented next door to Venice in the city of Padua, and is an easy choice!
For something even more traditional, try a Bellini–in fact, you can even sip a Bellini in the bar where they were invented if you're so inclined.
Harry's Bar along the Riva degli Schiavoni is the original home of the Bellini, and while we don't necessarily recommend going there (at nearly 20 Euros for the drink and with mediocre reviews, it screams tourist trap), there are plenty of delightful bellinis to be found in Venice.
Keep in mind that the further away from Venice's touristic highlights you wander, the cheaper your aperitivo will likely be.
We've paid everything from 2.5 Euros in Cannaregio to around 6 Euros near San Marco for an Aperol Spritz in Venice, and the price is not necessarily correlated to quality.
Day 2 in Venice: The Grand Canal and Beyond
Start your morning by crossing the Rialto Bridge.
There are four bridges that cross Venice's epic Grand Canal, and of all of them, the Rialto Bridge is both the oldest and the loveliest.
Its current iteration, complete with shops lining both sides of the stone bridge, dates to the late 16th century, but a bridge has been present at this spot since the 12th.
Once upon a time, it was the only way to cross the Grand Canal without boarding a boat!
When crossing, be sure to pause at the top to soak in some incredible views of the Grand Canal–and don't forget to take a peek out in both directions.
Check out the Rialto Market.
Located just slightly northwest of the Rialto Bridge in San Polo, the beautiful and bustling Rialto Market is a delight for the senses (okay, the fish market isn't a delight for the nose, but still) that dates back all the way to the 11th century!
Centuries ago, during the height of the Venetian Empire, this market was one of the greatest trading posts in the entire world.
People would travel even from over the Alps to access the wares shipped to the Rialto Market from Central Asia, the Middle East, and beyond.
Though parts of the market are quite touristy today, the history alone would make it worth a visit!
It's not the only reason to come, though: the Rialto Market is still a somewhat local place, with busy produce (closed Sunday) and fish (closed Sunday and Monday) markets that run in the mornings and are absolutely worth walking through.
Pay a visit to Libreria Acqua Alta.
If you're not a fan of bookstores, you can leave this one off your 2 day Venice itinerary–but we can't resist pointing it out.
Gorgeous Libreria Acqua Alta is known for its unique method of storing books: you'll find them stacked up in bathtubs, canoes, and even in a gondola!
All of this storage is designed to help the books survive Venice's flooding (aka acqua alta, or high water) when it occurs–and it also doubles as very memorable decor for the store!
While you're there, be sure to climb the staircase of books (yes, literally) on the back porch to get a fabulous view of a canal, and to say hello to the cats that call the store home.
Experience Venice's canals from the water.
Experiencing Venice's canals from the water is an absolutely unforgettable part of spending 2 days in Venice–and also potentially one of the most costly.
We have so much to say on this topic that I wrote an entire guide to gondola rides in Venice, but here is the short(ish) version:
Our #1 Gondola Tip for Venice
Before going into different options for experiencing Venice's canals, I do want to take a moment for a quick reality check: Venice's canals can be very crowded!
Sounds obvious, but if you're dreaming of a peaceful experience alone in a canal, we recommend boarding your gondola as far away from Piazza San Marco and the Rialto Bridge as you can.
There are gondola docking points–for lack of a better word–all over the city, including in less congested neighborhoods like Dorsoduro.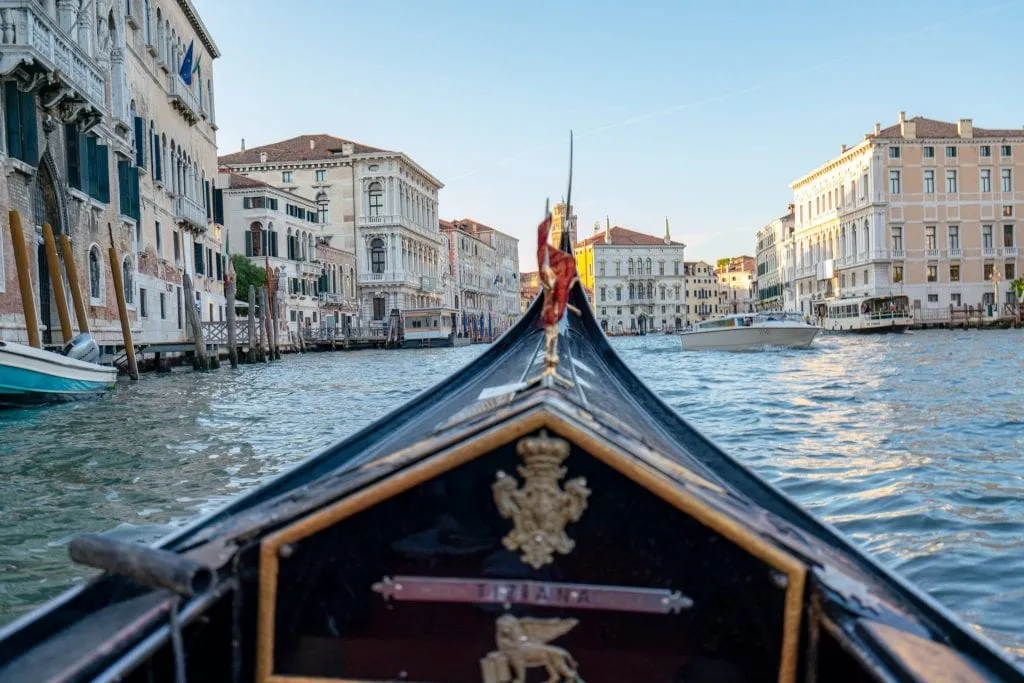 If you board your gondola there, well, still no guarantees of alone time, but you might get lucky enough to have some, and you'll certainly have a more peaceful experience than the souls who line up to board one of the dozens of gondolas parked together near Piazza San Marco.
To offer a small ray of hope, we do indeed see many gondolas with tourists in them that don't have another boat in sight during our many, many photo walks through the city.
Oh, and about photos…
Be prepared to be in a lot of them!
Sure, the focus isn't on you, but if you're in a gondola, expect to end up in dozens of strangers' photos of Venetian gondolas by the end of your ride.
Now with all that said, here's what you can expect from the most popular gondola options!
Splurge: Private Gondola Ride
A private gondola ride with just you and your partner/family/friends, a gondolier in a striped shirt, and the peaceful canals of Venice: if this is the Venice experience you dream of, it's definitely available… for a price.
The going rate in Venice, which is set by an official association and is the same all over the city, is 80 Euros for a 40-minute ride during the day, and 100 Euros at night.
As of the time of writing, if you want a private experience, it's cheaper to book on the ground than online.
However, if a small upcharge is worth having everything arranged before you arrive, you can book a private gondola ride here.
Mid-range: Group Gondola Ride or Grand Canal Cruise
If you are excited to experience a gondola ride but don't want to fork over the cost of renting a whole boat, you can also book a spot in a group gondola ride (gondolas sit up to 6 people) for a more reasonable fee.
Unlike booking a private gondola ride, booking in advance can come in handy if you're hoping to split the boat with strangers, as you won't have to wait for the boat to fill up before starting your ride.
Standard gondola rides last 40 minutes, though gondoliers are known to cut them short.
If your goal for experiencing the Venetian canals is less about the type of boat and more about the actual time spent on the water, an hour-long Grand Canal Cruise might be a better fit for you!
Book your shared gondola ride or Grand Canal cruise today!
Budget: Grand Canal Vaporetto or a Tragehtto
Trying to work your way through this 2 day Venice itinerary on a strict budget? No worries!
Venice's public transportation is–no surprise–made up of boats.
A vaporetto (aka water bus) regularly rides down the Grand Canal, which provides all the same views as a Grand Canal Cruise in a slightly less cozy atmosphere, and runs 7.5 Euros/ride.
If you plan to use public transportation regularly during your stay, a vaporetto pass can help you get the price per ride even lower.
Alternatively, you can try to find a traghetto, or the elusive 2 Euro gondola ride in Venice!
They're a bit hit-or-miss, but we have a guide to taking a traghetto in Venice here.
Wander slowly through Venice toward the Ponte dell'Accademia.
As your second day in Venice bleeds into the afternoon, it's time for another walk through the city.
Your ultimate destination?
The Ponte dell'Accademia, with its postcard-perfect view of the Grand Canal.
But that being said, there are a few interesting spots you might happen to stumble upon (or may want to plug into your GPS if you don't want to miss them!) along the way...
Teatro La Fenice
Venice's magnificent opera house is stunning inside and out–and like so much of Venice, it has a layered and fascinating history!
The Fenice most recently burned down (yeah, it has happened more than once) in 1996, and the story is quite fascinating.
The book The City of Falling Angels provides a compelling, non-fiction account of the story as told by a visitor to the city.
Whether you choose to tour the lovely interior or merely admire the outside, it's definitely worth passing by the Fenice during your 2 days in Venice.
Buy your tickets to visit Teatro La Fenice today!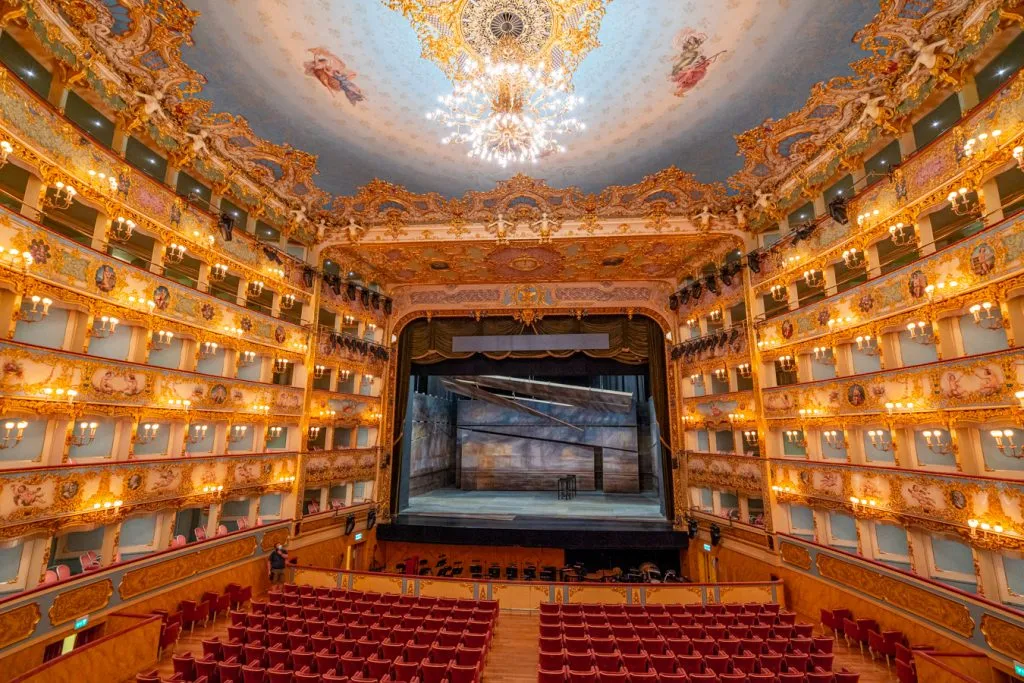 The Merchant of Venice
The beautiful flagship store of the Merchant of Venice perfume company is located–where else–in the heart of Venice!
If you're hoping for a long-lasting and remarkable souvenir from your trip to Venice, or you just want to enjoy the beautiful shop, be sure to duck inside as you meander through the city.
Scala Contarini del Bovolo
The view from the Scala Contarini del Bovolo is, to be perfectly honest, not the best view in Venice–but it is lovely, and the fairytale-worthy tower itself is well worth seeing.
The effort spent finding the tower is also a delight in and of itself and will take you through some of Venice's more deserted side streets.
Once you're over the Ponte dell'Accademia…
Gallerie dell'Accademia
Located just over the Ponte dell'Accademia, this beautiful art museum focuses on pre-18th-century art.
This museum is heavy on works from Venetian painters, including Tintoretto, whose name you'll likely see pop up quite frequently during your 2 days in Venice.
Peggy Guggenheim Collection
Housed in the 18th-century palace that was once the home of Peggy Guggenheim, the popular Peggy Guggenheim Collection focuses on modern art, including work by Peggy's personal friend Jackson Pollock.
Most of the collection comes from the personal collection of Peggy Guggenheim, who started displaying the work publicly herself in the 1950s.
Spend the evening exploring one (or more!) of Venice's more local neighborhoods.
Venice is made up of six sestieri, or neighborhoods, each with its own distinct feel and style.
To close out your 2 days in Venice, head outside the more crowded spots and take a (lovely) walk through one of Venice's less touristy sestieri!
Each one of these neighborhoods is far quieter than popular San Marco or San Polo, while also being beautiful in its own way and located a quick walk away from Venice's best-known highlights.
Dorsoduro
As the sestiere of Venice where both the Gallerie dell'Accademia and the Peggy Guggenheim collection are located, the quiet, lovely neighborhood of Dorsoduro would be an excellent place to close out your day in Venice if you're hoping to visit one or both museums.
Consider visiting the Ponte dei Pugni (Bridge of Fists), where clans used to fight each other during public spectacles, with the goal being to knock their rivals into the canal below.
Right next door to the bridge sits the vegetable barge, the floating vegetable stand that makes quite the photo op–not to mention the chance to pick up some tasty produce.
We also love the giant, sprawling, the incredibly relaxed piazza of Campo Santa Margherita–be sure to stop by as you wander through Dorsoduro.
Cannaregio
Something happens to the canals as you wander to the outskirts of Cannaregio: you start to see fewer gondolas and more small motorboats.
That makes Cannaregio a tiny bit less picturesque, it's true–but it is far, far more local.
You might actually see Venetians using boats as personal transportation here, as opposed to the much more trafficked and commercial-focused central neighborhoods.
Cannaregio is simply delightful: it's a bit less cramped, a bit more open, and a bit more relaxing. It's also a heck of a lot cheaper than places closer to the main attractions of Venice.
This is a magnificent place to wander through, and also packs some interesting sights.
Most importantly, Cannaregio is Venice's Jewish ghetto, which dates to the 16th century and was the only place Jewish people were allowed to live in Venice until the end of the 18th century.
Keep your eyes open, and you're bound to spot some Jewish bakeries as you explore!
Castello
Quiet Castello is the largest sestiere in Venice, and the only one not to border the Grand Canal.
It's a perfect place for wandering aimlessly in search of tiny canals and lowkey piazzas.
It's also home to Venice's widest street, Via Garibaldi, and a produce boat similar to the vegetable barge in Dorsoduro.
If you decide to wander through Castello, be sure not to miss the stunning San Pietro di Castello, which served as the Basilica of Venice into the early 19th century.
Castello is also home to the fabulous Libreria Acqua Alta that we mention visiting earlier in the day.
So, even if you choose another neighborhood this evening, you'll still get a tiny taste of Castello during your 2 days in Venice!
Where to Stay When Visiting Venice, Italy
Since Venice is such a walkable city, and exploring it by foot is such a joy, you can stay just about anywhere in or near the center of Venice and easily work your way through this Venice itinerary.
With only 2 days in Venice, we don't recommend staying in Mestre (the mainland) or Giudecca (a separate island that requires a ferry to visit the major highlights of Venice).
You can often find better deals there, but unless you are on an incredibly low budget, your trip to Venice will be greatly enhanced by staying within walking distance (even if it's a long one) of Piazza San Marco.
We've stayed in 5 of the 6 sestieri in Venice (Cannaregio, San Marco, Dorsoduro, Santa Croce, and Castello–we're only missing San Polo), and enjoyed our stays in all of them.
Here are a few well-reviewed properties we can recommend using as your base for this itinerary for Venice, Italy!
Budget
Hotel Casa Boccassini — This cute hotel easily met our needs during our first trip to Venice!
The room was simple but clean, and the shared bathroom was a fair trade in exchange for their competitive prices in a great location in Cannaregio.
The bathroom was clean and we had a sink in our room, both of which always make shared bathroom situations much easier. The courtyard of the hotel was beautiful!
The hotel was a simple and beautiful 10-minute walk from the Rialto Bridge, and just a 5-minute walk from the vaporetto to the airport.
Mid-range
Hotel Lisbona — We decided to check into Hotel Lisbona for one reason: we wanted to stay on a canal!
If you're looking to stay right on a canal in Venice without paying luxury prices, we can heartily recommend Hotel Lisbona, which is housed in a former palazzo dating to the 18th century.
The building is beautiful and definitely has that oh-wow-I'm-in-Venice effect (especially when you look out the windows), the customer service is great, and the included breakfast tasty.
The central location (it's around a 5-minute walk to Piazza San Marco) couldn't be better.
The downside? The room we stayed in was tiny–but to be staying right on a Venetian canal in such an amazing location, we definitely considered the trade-off worth it.
Luxury
Hotel Danieli — If you're looking for a true luxury experience for your 2 days in Venice–the kind of hotel stay that you'll remember for the rest of your life–look no further than the iconic Hotel Danieli.
Housed in 3 former palazzos along the Riva degli Schiavoni, the Hotel Danieli is one of the most memorable places to stay in Venice.
Every detail has been looked after here, and everything from the furniture to the breakfast to the to the location (mere steps from the Bridge of Sighs) to the truly stunning lobby will ensure you have an absolutely unforgettable trip to Venice.
And, if you want to add a little Hollywood glamour to your reasons to check in, Hotel Danieli was used as a filming location in 2 separate James Bond movies!
More than 2 days in Venice, Italy?
If you have 3 days in Venice or more, we recommend looking at adding on day trips!
Luckily, there are tons of great options in the immediate area: Burano, known for its colorful fisherman's village, and Murano, known for its glassmaking, are both nearby and make excellent getaways for a day.
If you'd like to go a bit further, the prosecco region of Italy is within easy reach and is an excellent day trip as well.
Padua, Verona, and the Italian Dolomites are also all options worth considering.
That being said, there is plenty more to do in the city that can't be covered with only 2 days in Venice!
Consider seeing an opera at the Fenice, hitting the beach on the Lido, exploring Giudecca, checking out San Giorgio Maggiore, or visiting Torcello.
We have a guide to some of Venice's more offbeat corners here, and they're all worth sampling.
And of course, it's impossible to be bored with the most classic (and free!) Venice activity: wandering around aimlessly and admiring how incredibly beautiful the entire place is.
How to Get Around During 2 Days in Venice
Venice's walkable nature means that ideally (ie, barring staying in outlying areas or mobility concerns), you won't need to use anything but your own feet to get around during your trip, with the possible exception of traveling with your luggage as you enter and leave the city.
Otherwise, vaporettos and water taxis are available throughout the city.
If you think you'll want to use public transportation regularly in Venice, you might want to look into a transportation pass–but for this 2 day Venice itinerary, you probably won't need it.
Think you'll want to use quite a bit of public transportation while in Venice?

Consider buying a transportation pass to save money on your rides!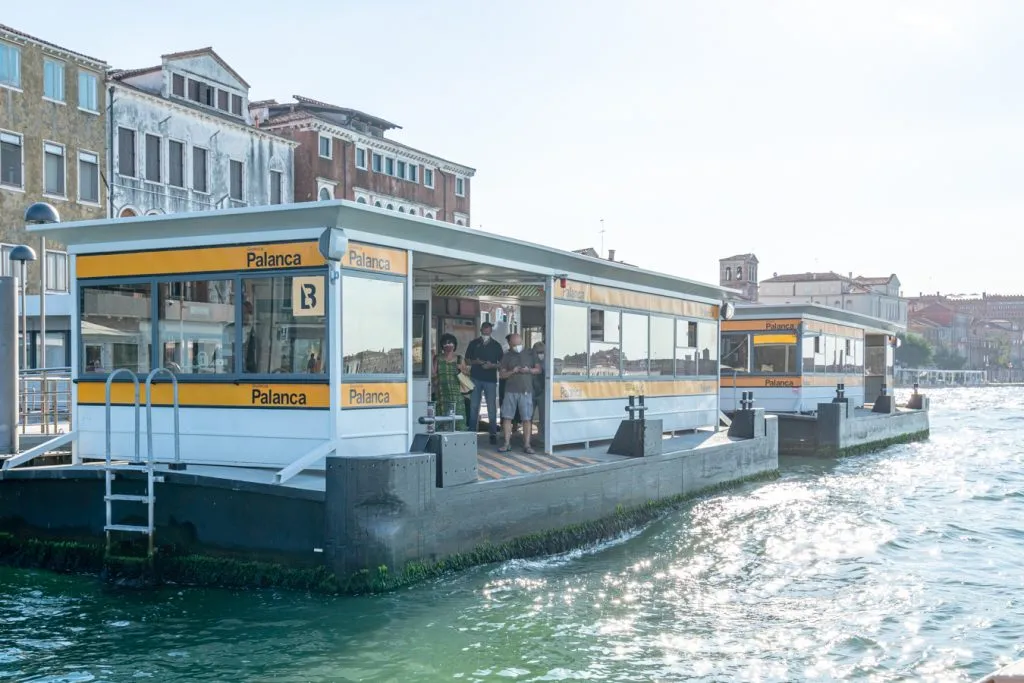 Safety Tips for Visiting Venice
Generally speaking, Venice is a very safe city for tourists to visit, but there are a couple of concerns to keep in mind.
First: mobility! Walking to most places in Venice will mean crossing bridges, and bridges in Venice generally mean stairs.
If you have a hard time walking for long distances or are concerned about slipping and falling on slick surfaces, Venice will be a challenging, though not impossible, destination to visit.
All travelers will need to watch out for pickpockets, which are quite prevalent in Venice, especially in the congested areas near Piazza San Marco and the Rialto Bridge. Keep an eye on your stuff!
General travel scams are also present in Venice, but there's one, in particular, I want to mention here: the rose scam.
You see this one all over Europe, but we've seen a particularly high concentration of this scam in Venice.
Essentially, it works like this: a man will approach a couple with a bouquet of flowers and hand one to (usually) a woman "for free".
Immediately after she takes it, he'll turn to her partner and insistently demand payment.
Avoid this by simply ignoring these scammers and stepping out of their way–even if they literally try to shove the flowers into your hand or even the crook of your arm–and keep walking.
2022 Update: Weirdly, we've seen far less of this lately than we did in the pre-2020 era–a silver lining, perhaps? I imagine the scammers will be back soon enough, though, so stay vigilant!
The Best Time to Visit Venice
If you have your choice of when to spend 2 days in Venice, the absolute best time to visit will depend on exactly one thing: do you prefer contending with cold weather or crowds?
Visiting Venice in the offseason (late fall and winter with the exception of during Carnival in February) will allow you to see Venice at its least crowded and cheapest.
Now, it's still not empty or objectively cheap, but it is noticeably less crowded, especially around popular spots like the Rialto Bridge and Piazza San Marco.
However, if you are dreaming of seeing Venice on a warm day with a blue sky above you, or enjoying aperitivo at a small table alongside a canal, or even taking a gondola ride without wearing a coat, offseason is not your best bet.
We personally barely saw sunshine during our first visit to the city, which was in November, and we spent most of our time bundled up and carrying an umbrella.
In our opinion, there is no bad time to complete this 2 days in Venice itinerary.
Even during the high season, you can escape the crowds fairly easily by wandering the maze of Venice's streets, and even on cloudy and cold days, the city is still stunningly beautiful.
If you're considering a summer trip, we have a full guide visiting Venice in the summer to help you make the most of your trip!
Whenever you have the opportunity to visit Venice for a couple of days, take it.
After visiting in all seasons, we consider Venice be a year-round destination, though one with certain costs and benefits to each time of year.
Your 2 Days in Venice Itinerary Map
Take This Map With You! Click each highlight to pull up the name of the destination. To save this map to "Your Places" on Google Maps, click the star to the right of the title. You'll then be able to find it under the Maps tab of your Google Maps account! To open the map in a new window, click the button on the top right of the map.