January 30, 2020
How to Take a Day Trip to Cape Lookout, North Carolina
United States
If there's one destination that I expect to return to again and again, despite changes in lifestyle and interests that the years and the decades will inevitably bring, it's the coast of North Carolina.
True, it's not as exotic of a location as many we have visited and plan to visit, and I doubt we'll ever live there–but Atlantic Beach, North Carolina (along with nearby destinations such as Morehead City, Beaufort, and Emerald Isle), has been the vacation haunt of part of my family dating back to at least to my great-great-grandmother's childhood at the turn of the 20th century, and quite possibly longer than that.
The sand dunes, crashing waves, adorable seagulls, the boardwalk in Beaufort, views from Fort Macon, and even many of the businesses hold a comforting familiarity that I adore.
Because of our traditions in the area, though–plus the fact we've taken a few of our recent southern Outer Banks trips in winter–it's also true that my family often doesn't explore it as much as we should: there are exciting things to do nearby, from scuba diving to horseback riding to sunset cruises and beyond that we essentially never take part in.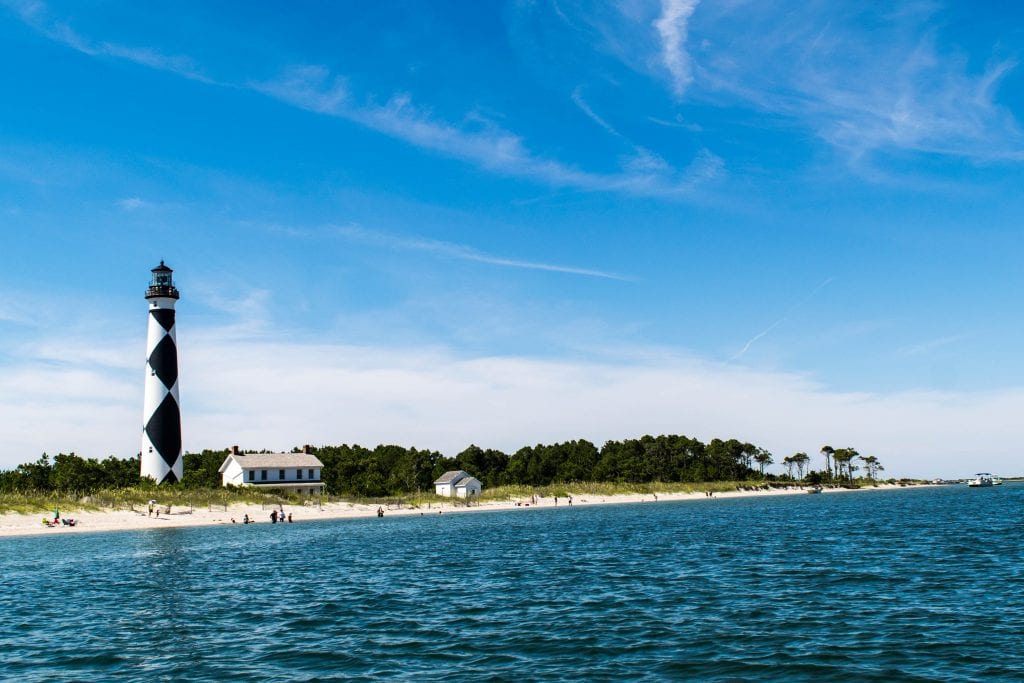 This year, I was determined to change that: while in North Carolina on a "just the girls" trip with my Mom and Grammy, Mom and I ducked out for a day trip to Cape Lookout with the intention of soaking in beautiful views, enjoying a boat ride along the coast, and finally climbing the lighthouse that we had only ever admired from the ground (and even that we had only done once in my lifetime!).
The trip far exceeded expectations. Not only were the views from the top of Cape Lookout utterly magnificent, but the weather was also absolutely perfect, showing off both the ocean and the island at their very best.
Whether you're a first-timer in the area visiting as part of a North Carolina weekend getaway, you've been visiting for as long as my family, or somewhere in between: get yourself to the top of Cape Lookout on a beautiful day. I promise you won't regret it.
How to Get to Cape Lookout
Even before reaching the island, the journey to Cape Lookout is magnificent: it was about a 45-minute ride from Beaufort (though ferries do also leave from Harkers Island, which is closer) via motorboat to the island, and there was plenty to see along the way.
If you're coming from Beaufort, your ride to Cape Lookout will almost certainly take you by Shackleford Banks, a barrier island system that is home to adorable wild horses. If you're lucky, you'll get to see them hanging out on the beaches–I think we spotted over ten this time!

If that's not close enough for you, consider booking another day trip to Shackleford Banks itself–though you'll need to keep a fifty-foot distance between you and the horses for everyone's safety, sitting on a wild beach while horses munch on grass nearby is an excellent experience not worth missing.
The horses weren't the only wildlife we spotted along the way: a pod of dolphins joined our boat at one point, and it was magical to get to see them jump in and out of the water–often in pairs!
As our boat came closer to Cape Lookout and we started getting better and better views of the lighthouse and its island (our first view was at 9 miles out, but it was no more than a speck), the water starts to become more shallow–obviously dangerous for boats that don't know the way, hence the need for a lighthouse in the first place, but very exciting for us: the shallow water turned to a beautiful, bright blue.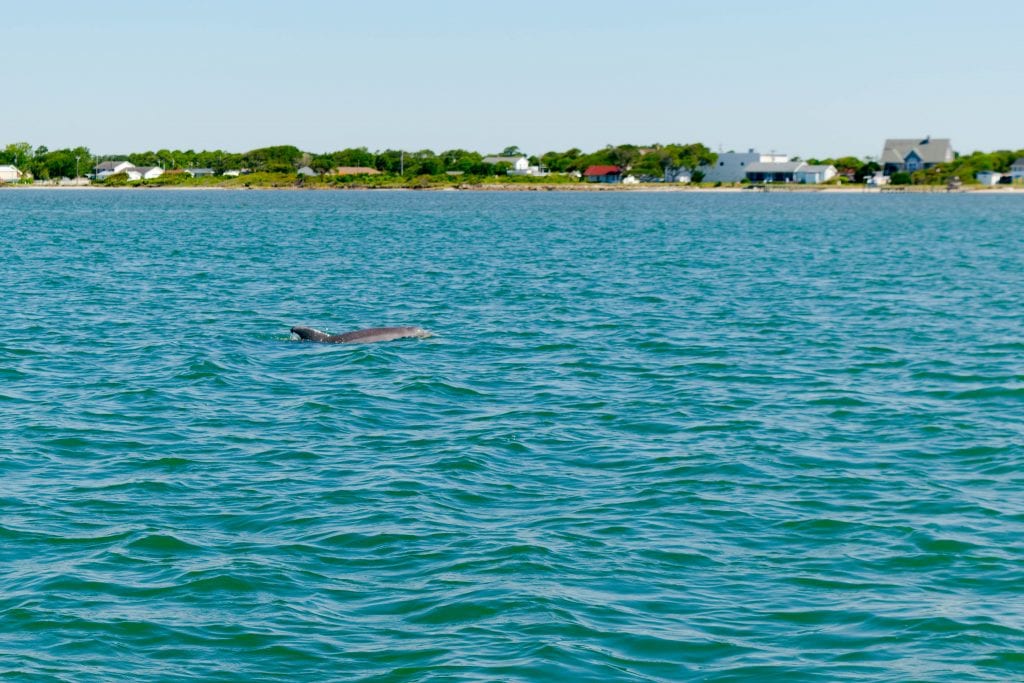 Prone to motion sickness? Get some Sea Bands!

I have been meaning to try these things for ages in the hopes that I can stop buying Dramamine by the bucketload and maybe actually enjoy some sailing trips, and as my Grammy already had some, a day trip to Cape Lookout was the perfect time to try them out! I was beside myself with happiness when I realized that they worked perfectly–no drowsiness from medication, no worrying about doses, just perfect health without the slightest tinge of motion sickness!

Our captain said that his wife has been wearing Sea Bands for 20 years and swears by them, and now I do too. I went home and ordered a pair on Amazon immediately.

Seriously, even if you're skeptical (like I was), give Sea Bands a try. Worst case scenario, you're out less than $10.00!
Climbing Cape Lookout
Climbing Cape Lookout takes, in the words of the ranger who gave us the safety spiel, "414 steps–but don't worry, 207 of those are down!" The physical challenge was mild to moderate–in our group alone, two people who had had recent knee surgery chose to attempt the climb and succeeded–but for someone who is scared of heights, there's a whole different set of challenges!

The steps have open gaps between them which triggered my fear of heights terribly. The views from the top, though, were so, so worth it. My mom had the opposite problem as far as heights go: she was fine on the stairs, but looking out at the open view was not her cup of tea. Moral of the story? If you have challenges with heights, get mentally prepared!
Despite the anxiety over the heights, I would climb Cape Lookout again tomorrow if it meant a chance to admire the views from the top again: the barrier islands combined with the brightly colored water made for a jaw-dropping beauty that felt a little bit wild and rugged around the edges.
I was so sad when we were told that it was time to leave and let the next group climb–our group probably had close to fifteen minutes at the top, but it still wasn't enough.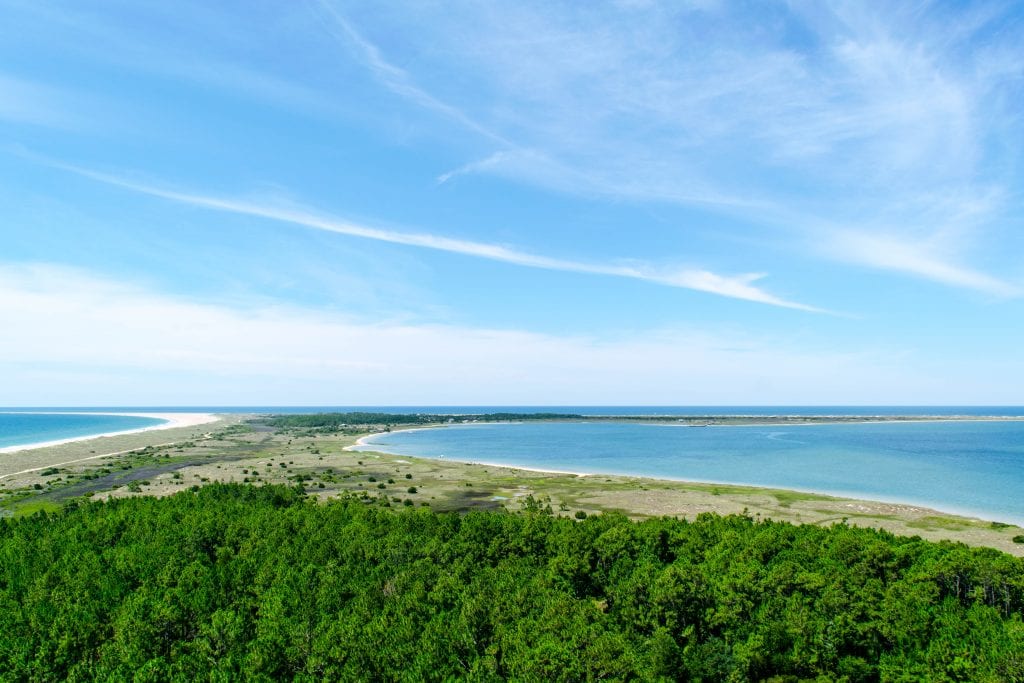 The Beach at Cape Lookout
There are two sides to the beach at Cape Lookout: one side of the barrier island is more protected, leading to a beach with a very calm, almost Caribbean or Mediterranean feel to it–no waves, just shallow and pretty water to enjoy.
We didn't swim, but the water was lovely and warm to walk in. There are plenty of shells around, especially in the areas a little further away from the main traffic, which is one of my favorite features of the beaches in the area.
A little girl in our group even picked up two shells that were housing hermit crabs! She put them back down, of course, but it's always a bit startling (and exciting!) to find out that you've picked up a sea creature instead of an empty shell.
The other side of the island (which we didn't have time to visit) is said to have more rolling waves–much more the style of beach that I'm accustomed to in North Carolina.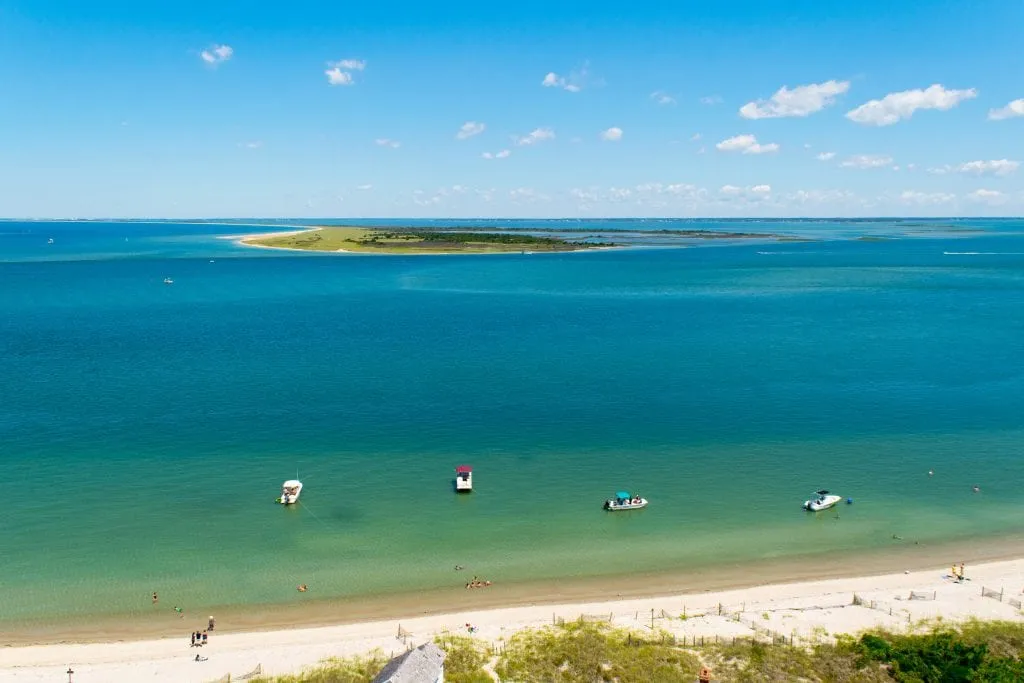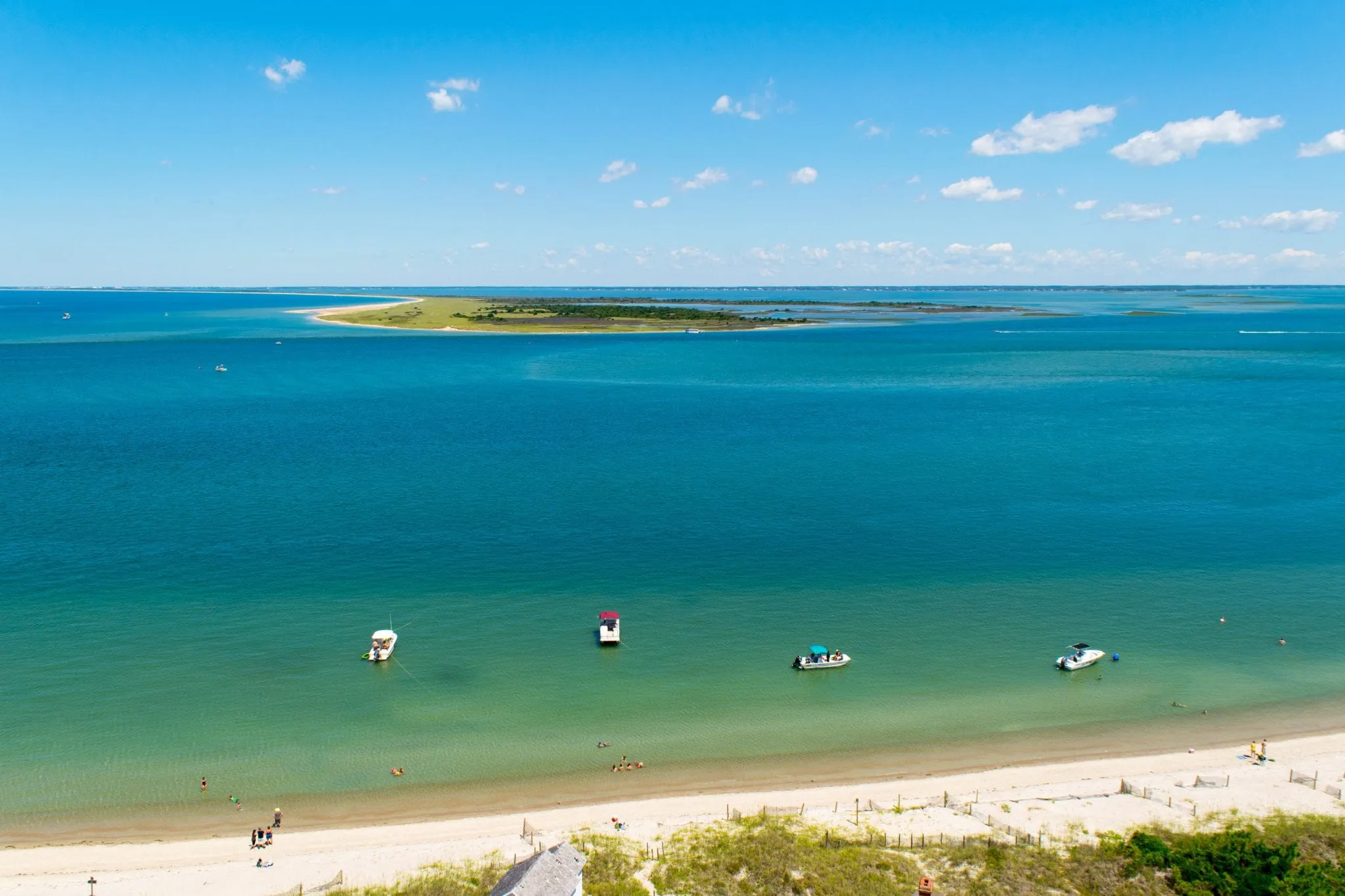 The Logistics of a Day Trip to Cape Lookout:
The Cape Lookout National Seashore is managed by the National Park Service–so while visiting is absolutely encouraged, you have to go about it the right way.
From what we were able to determine, the Island Express Ferry Service is the only licensed ferry service to Cape Lookout from Beaufort–check the National Park Service website for updated authorized ferries.
Though we visited on a day trip to Cape Lookout, camping is allowed on the seashore with a permit–I would love to go back with Jeremy and try this one day.
Mom and I had only one complaint about the day: we didn't have enough time on Cape Lookout (about half an hour on the beach to take a quick look around then time to climb the lighthouse), and camping seems like the perfect way to rectify that.
At the time of writing, climbing Cape Lookout costs an additional $8.00/person in addition to the cost of the ferry ($35.00/person round trip), and card is preferred over cash.
There is no food or drink for sale on the island, except perhaps some bottled drinks in the small gift shop (it was closed while we were there, so I can't confirm that). I definitely recommend bringing plenty of water and any snacks you might want with you! There are restrooms available on the island, something we weren't expecting.
Also, it should go without saying, but… absolutely bring and re-apply sunscreen
. You'd think we would know better by now, but Mom and I both had a minor sunburn by the end of the day.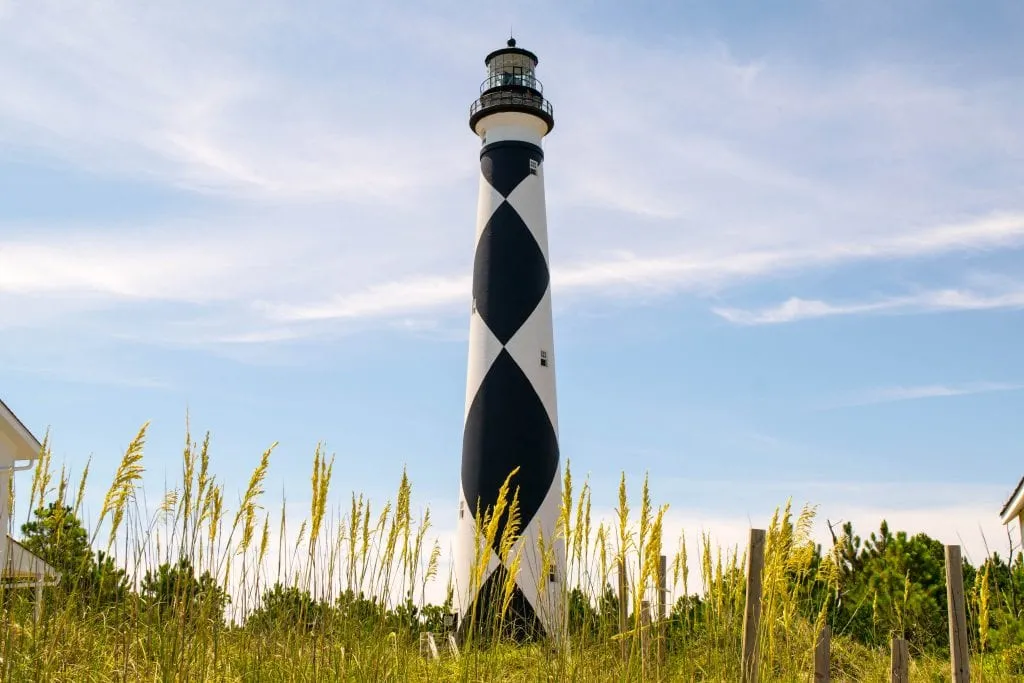 Though our day trip to Cape Lookout was too short–I'd love to find an eight-hour round trip excursion instead of a four-hour one–I absolutely adored my time there. Mom and I had a blast, even taking into account dealing with heights, and staring out at the view from the top of Cape Lookout easily makes it onto the list of most incredible views I have seen in the United States.
If you're headed to the coast of North Carolina as part of an epic east coast vacation, absolutely plan a day trip to Cape Lookout while you are there.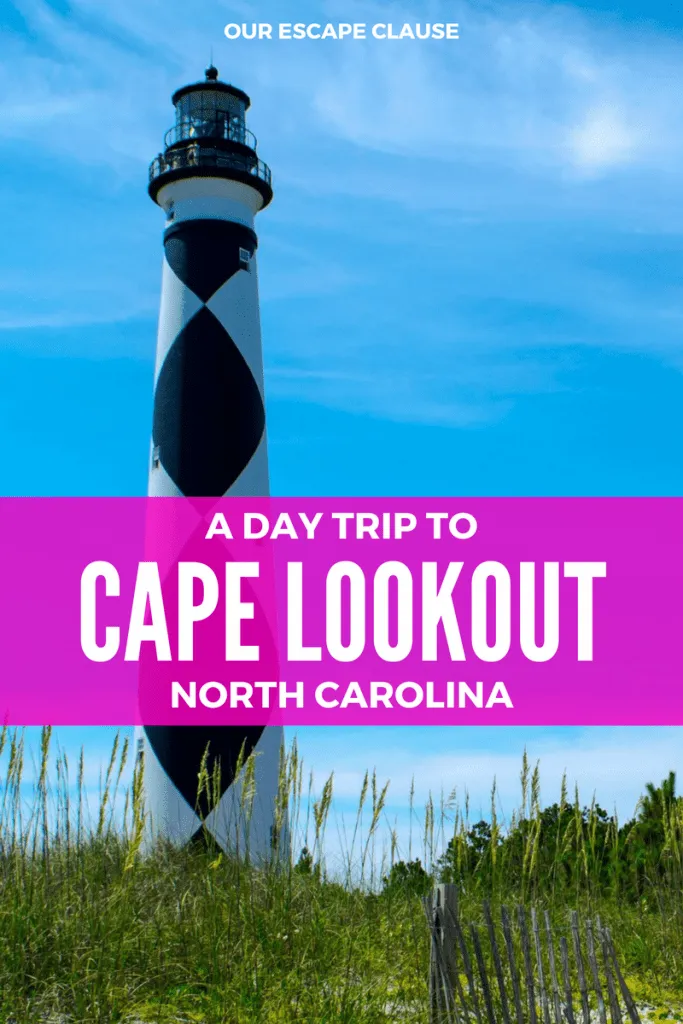 Some links in this post are affiliate links. If you click through one of these links, we may earn a small commission at no extra cost to you. We are committed to only ever recommending products and services that we personally use and like.