With its distinct diamond-shaped pattern and soaring height of 163 feet, it's impossible to approach Cape Lookout National Seashore without your eyes immediately being drawn to its iconic lighthouse.
Located off the Crystal Coast (sometimes called the southern Outer Banks) of North Carolina, the Cape Lookout National Seashore spans 56 miles across barrier islands that are home to not only the Cape Lookout Lighthouse but wild ponies, stunning beaches, and beautiful views.
Considering a day trip to Cape Lookout, NC? 
Here's how to get there, plus everything you need to know before you go!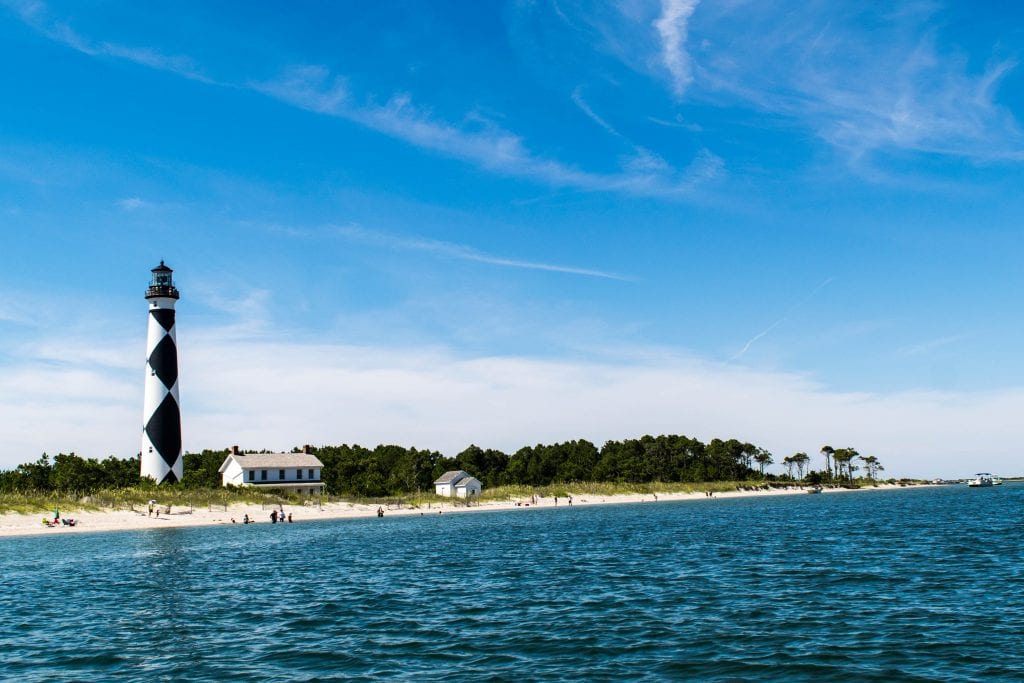 Some links in this post may be affiliate links. If you make a purchase through one of these links, we may earn a small commission at no extra cost to you. Please see our

disclosure policy

for more detail.
How to Get to Cape Lookout
Assuming to don't travel to Cape Lookout by private boat, you'll need to get there by ferry!
Island Express Ferry Service is the only licensed ferry service to reach the national seashore from either Beaufort or Harkers Island (it's a longer ride from Beaufort–about 45 minutes–but Beaufort is more accessible as a starting point for many visitors to the Crystal Coast).
If you'd like to visit Portsmouth Village and/or bring your car to the Cape Lookout National Seashore, you can check the National Park Service website for more information–but for a day trip to Cape Lookout, you'll want to start from either Beaufort or Harkers Island!
The ferry ride is a delight in and of itself: the barrier islands and beautiful water make for a fantastic view, and if you're lucky, you might spot some wild ponies on Shackleford Banks and some dolphins curious about the boat, as well!
Things to Do During a Day Trip to Cape Lookout National Seashore
Climb the lighthouse.
Without a doubt, this is the #1 thing to do at Cape Lookout if you visit between May and October (sadly, the lighthouse closes in winter): the 207-step climb up the spiral staircase rewards travelers with absolutely stupendous views over the Cape Lookout National Seashore and surrounding barrier islands.
The lighthouse does close for inclement weather, so if you have your heart set on climbing, check on opening times before heading out. For updated prices and hours, check the National Park Service website.
Climbing tickets are limited, so we recommend heading immediately to the ticket counter upon arriving on the island, getting an assigned time to climb, and then planning the rest of your Cape Lookout day trip around the climb.
2021 Note: Sadly, due to structural damage, the lighthouse will be closed this year.
Check out the small Keepers' Quarters Museum.
Next door to the lighthouse, you'll find a small museum detailing the history of the 19th-century lighthouse and those who cared for it until it became fully automated in 1950–well worth a peak during your day trip to Cape Lookout!
Spot the wild ponies.
The wild horses of Shackleford Banks and surrounding areas are thought to be descended from Mustangs that made it to safety when a Spanish ship crashed in the 16th century. 
That origin is a bit up for debate, but there's no doubt that North Carolina's wild horses are positively beloved today, and a great addition to family vacations in the area (they were a big hit with me as a kid)!
For the safety of everyone, please keep a 50-foot distance between you and the horses.
Hit the beach.
Of course, no trip to the stunning seashore near Cape Lookout could be complete without spending some time on the beach!
One side of the barrier island is home to calm, relaxing waters, while the other boasts the rolling waves that the Crystal Coast is more typically known for.
No matter which beach you choose, you're sure to have a fantastic day!
Tips for Taking a Day Trip to Cape Lookout
Bring plenty of snacks + drinks.
There aren't any restaurants near the Cape Lookout lighthouse, only a small gift shop, so come prepared!
We recommend bringing a reusable water bottle to cut down on plastic waste.
As always, be sure to pack out what you bring in!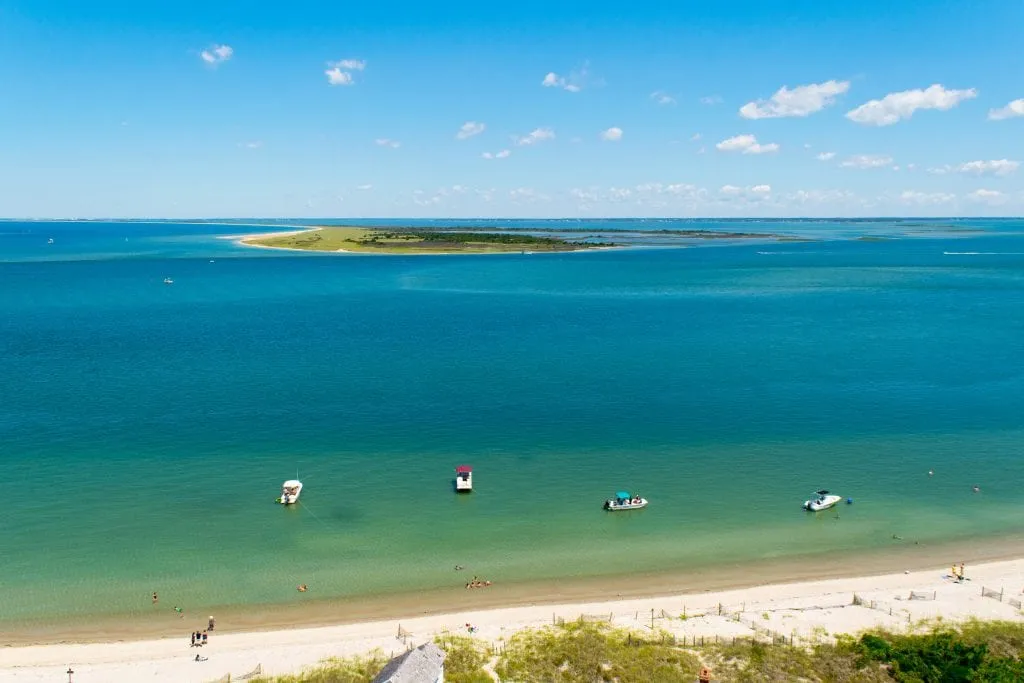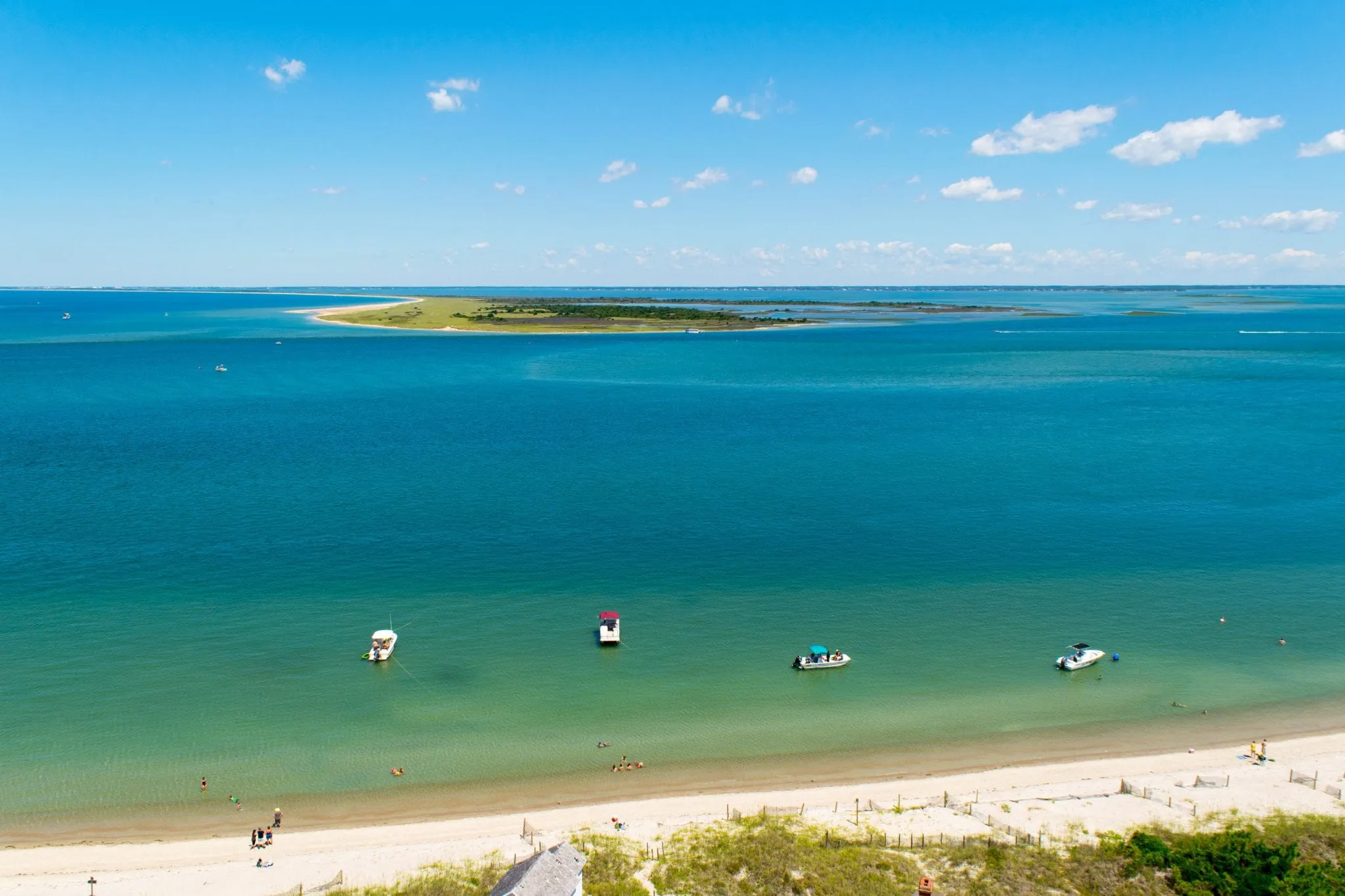 There are restrooms available on the island.
We weren't sure there would be, so just a heads up!
Extra sunscreen is a must.
You'll definitely want to reapply sunscreen more than once during your day trip–but of course, that's true for all coastal weekend getaways in North Carolina!