Today, Jeremy and I are celebrating 10 years together. A solid decade.
I almost can't quite believe it: in some ways, it feels like yesterday that we met on our first day of an afterschool job in high school (Fazoli's–basically a fast food Italian place), that we started awkwardly flirting with each other in the way that only shy high school kids can, that we had our first date at a terrible movie that we talked all the way through (Step Up 2: The Streets), that we attended my junior prom together.
However, when I think of all the things we have done and accomplished together in these 10 years, from mundane things like graduating high school and heading off to Oklahoma State University, to life-changing things like getting married at just 21 & 22 and then uprooting our lives a few short years later to go travel the world, I almost can't believe it in a different way: I can't believe how much life and love we've squeezed into just one decade.
To celebrate our relationship milestone, here are 10 things we have learned about love and relationships from almost two years of full-time travel as a couple (that is, almost two years of virtually never being more than eight feet apart).
Some links in this post may be affiliate links. If you make a purchase through one of these links, we may earn a small commission at no extra cost to you. Please see our

disclosure policy

for more detail.
Being around each other 24/7 is surprisingly easy, but we still need time to unwind.
Jeremy and I are both introverts, so naturally, we worried before we started traveling that we would drive each other crazy by never having a way to get away and be alone (many of the hotel rooms we've stayed in could easily pass for oversized walk-in closets back home, adding to the challenge).
The worries ended up being unfounded: we find it incredibly easy to be around each other 24/7, as long as we respect The Bubble.
Where once time alone to relax and disappear into our own mental spaces meant being physically apart, now it just means that we watch separate Netflix while one of us wears headphones.

Learning & experiencing new things together helps our relationship continue to grow.
One of the best things about traveling for us, in general, is the chance to experience new things, test our boundaries, and grow by putting ourselves into different situations.
As it turns out, adding a partner to that is even better: not only are we getting to know ourselves better every day, we're getting to know each other better as well. This is absolutely one of the best things about backpacking as a couple–it never gets old.
Chasing goals (and waterfalls) keeps us always looking in the same direction.
We've always been big believers in chasing our goals together, whether it was a house downpayment, a trip, or anything else–but full-time travel has bumped that up to a new level.
Every single day, we are working toward new goals together: new regions, new cities, new languages, new foods, new countries. There's constantly something to learn and work toward, and being able to inspire and motivate each other to continue seeking out these experiences makes life so much fun.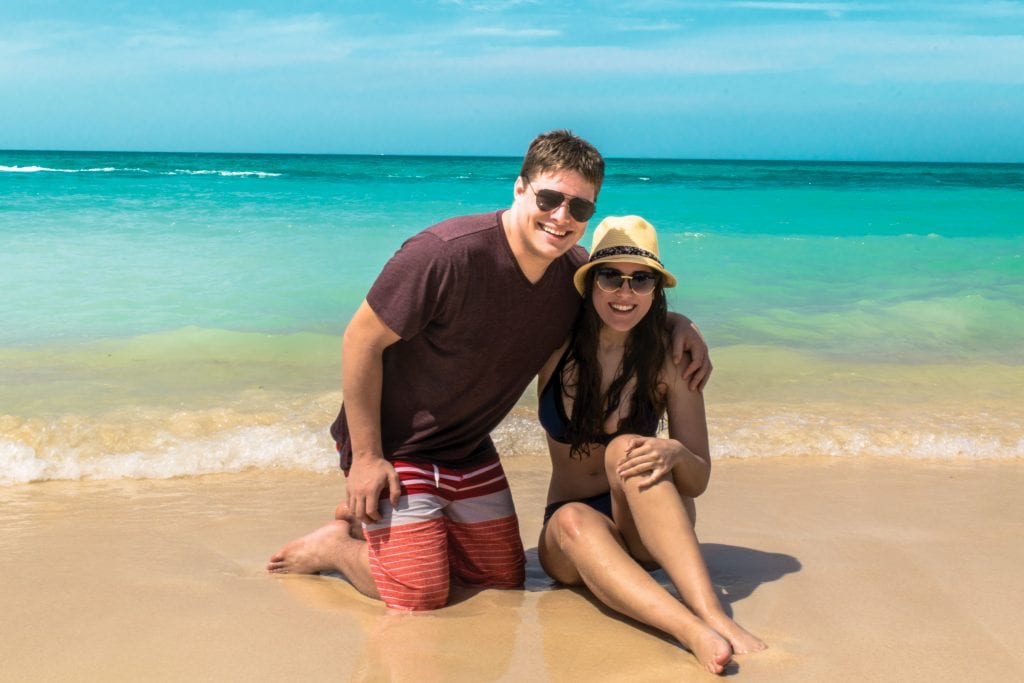 Travel challenges test (and improve) our communication.
Virtually every incident of bickering we have during our full-time travels can be traced back to one of three things: we're hungry, we're tired, and/or we're lost/insecure about where we're going.
The bad news is that when traveling, every one of those things is inevitable.
The good news is that with so much practice, we have gotten close to perfecting the art of managing those stressors: while we were never big fighters, it's undeniable that we get along even better now than we did at the beginning of our trip–mostly because we know exactly where most of our disagreements come from, and how to effectively address them.
It is so exciting to watch each other grow.
Watching each other try out a new language on a waiter or taxi driver, or accomplish a hike that we knew would be challenging, or take on an adventure activity we feared, or negotiate a solid price for a trinket makes our hearts just about burst with pride.
It is incredibly gratifying to watch each other grow into even better, more self-assured, and interesting people every day.
Our travels have pushed us out of our comfort zones over, and over, and over again–and the results are so much fun to watch in each other.
[instagram url=https://www.instagram.com/p/BegDa3xBKkT/?taken-by=ourescapeclause]
New information is still important to keep a relationship fresh.
There's a danger in never being more than a few feet apart: you see all of the same things, experience all of the same things, and have all of the same stories to tell.
That's a problem… because no matter where you are in the world, introducing new information into a relationship is vital to keeping it interesting.
We counteract this effect of always being together by bringing different kinds of knowledge to the table: we make a point of reading books and articles, of learning new skills, and of bouncing ideas off of each other.
After almost two years of being attached at the hip, we still constantly find new things to talk about.
We've learned to rely on each other even more than "usual", as we're often each other's only (physically) close emotional support.
Phone calls, texting, social media, email… all of it is invaluable for keeping in touch with loved ones back home, but it can't quite replace the feeling of having someone physically right there with you.
When traveling long-term as a couple, that pretty easily translates into your partner being an even bigger piece of your emotional support network than they already were: tired, grumpy, sad, disappointed? It's your partner who's there to pick up the pieces.
We've gotten into a great rhythm over the last two years, but it's definitely different than when we were living in one spot and could always reach out to a friend or family member for a meetup.
Seeing places through each other's eyes is often as exciting as seeing it ourselves.
As exhilarating as it is to check destinations, sights, and experiences off of our informal (and constantly growing) bucket lists, it's often even more fun to watch each other do the same.
As incredible as it was to play with elephants in Chiang Mai, for example, it was just as exciting to watch Jeremy practically explode with excitement when we landed in Mexico City for the first time.
In addition to being a blast to watch each other have their dreams come true, there's another exciting and unintended benefit to this: because we're always traveling together, we end up doubling our own lists of desired experiences and finding unexpected favorites–I was the one determined to play with elephants in Thailand, but Jeremy loved it so much that he still talks about it to this day.
Read Next: How to Ethically Visit Elephants in Thailand
We've become weirdly in tune with each other's moods.
Even as a "normal" couple with 9-5 jobs, we, of course, prided ourselves (like most couples) on knowing each other better than anyone else… but 24/7 contact for a couple of years has kicked that up to an even higher level.
The slightest facial twitch can let us know when the other person is tired, hungry, sleepy, or excited… would we still know each other quite this well without travel?
It's hard to say–after all, we have had another two years in a relationship since we started to travel full-time–but somehow, we doubt it.
Nothing is more gratifying than teamwork.
I handle booking flights, he handles buses.
I handle setting a budget, he handles finding great deals on the ground.
I find hotels, he negotiates with taxi drivers.
Hats off to all the awesome solo travelers out there, because we're spoiled rotten: we each only have to do half the work while we're traveling, and we love it that way.
Acting as travel partners as well as life partners 24/7 has caused us to rely on each other in ways that we never did before and has produced a fluidity to our teamwork and division of responsibilities that builds us up every day.