Despite being excited to experience all the best things to do in Salento, Colombia, we did not arrive in the best of spirits.
Our supposed 6.5-hour bus ride had turned into a whopping 11 hours.
We were both carsick from the journey.
And by the time we finally rolled into town, everything was closed–so the dinner we planned to have was cancelled, and instead we spooned peanut butter onto the apples from our bag and almost immediately went to sleep, wondering if we had made a mistake trekking all the way out Colombia's coffee triangle and hoping for a more optimistic outlook in the morning.
We didn't need to worry: Salento is amazing.
As soon as we leaped out of bed on our first morning in the city (which happened to be Valentine's Day) and started plotting out things to do, we were hooked.
Some links in this post may be affiliate links. If you make a purchase through one of these links, we may earn a small commission at no extra cost to you. Please see our

disclosure policy

for more detail.
Between the lush landscapes, the plethora of dining options for such a tiny town, the absolutely stunning Cocora Valley, Salento was absolutely our type of place.
By the end of day one, we had already decided we were going to extend our three-day visit to five (and had we not had a plane to catch the next week, we probably would have ended up extending it several days beyond that).
Looking to explore one of the most magical spots in Colombia?
Look no further than Salento.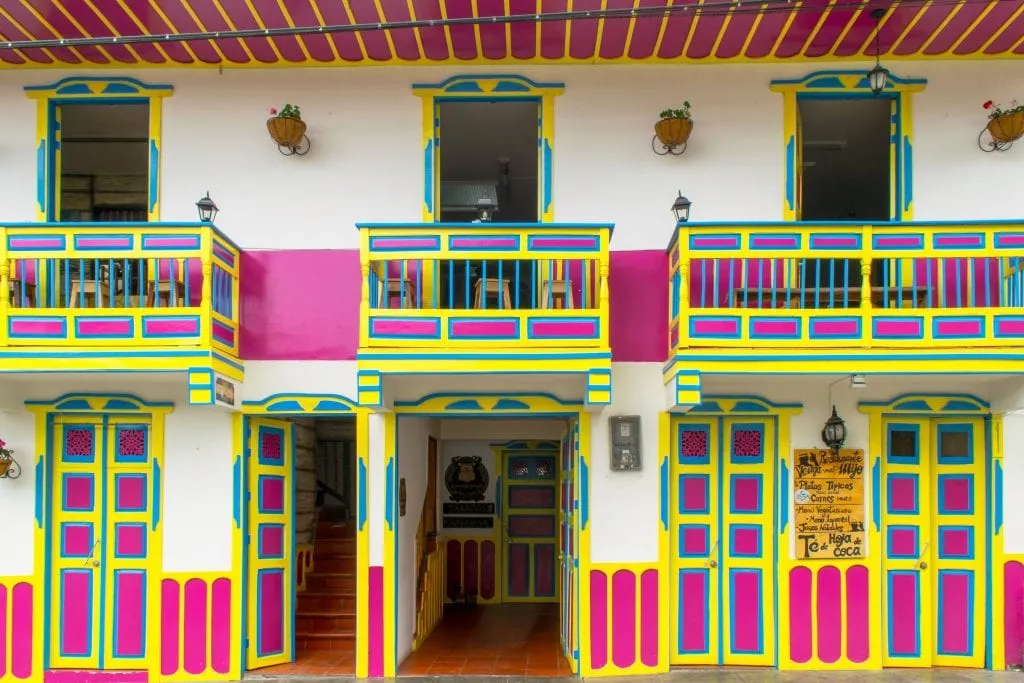 The Absolute Best Things to Do in Salento, Colombia
Wondering what to do in Salento?
For such a small town, Salento and its surrounding regions pack a hefty list of things to do–most of them featuring the incredible landscape of the surrounding valleys.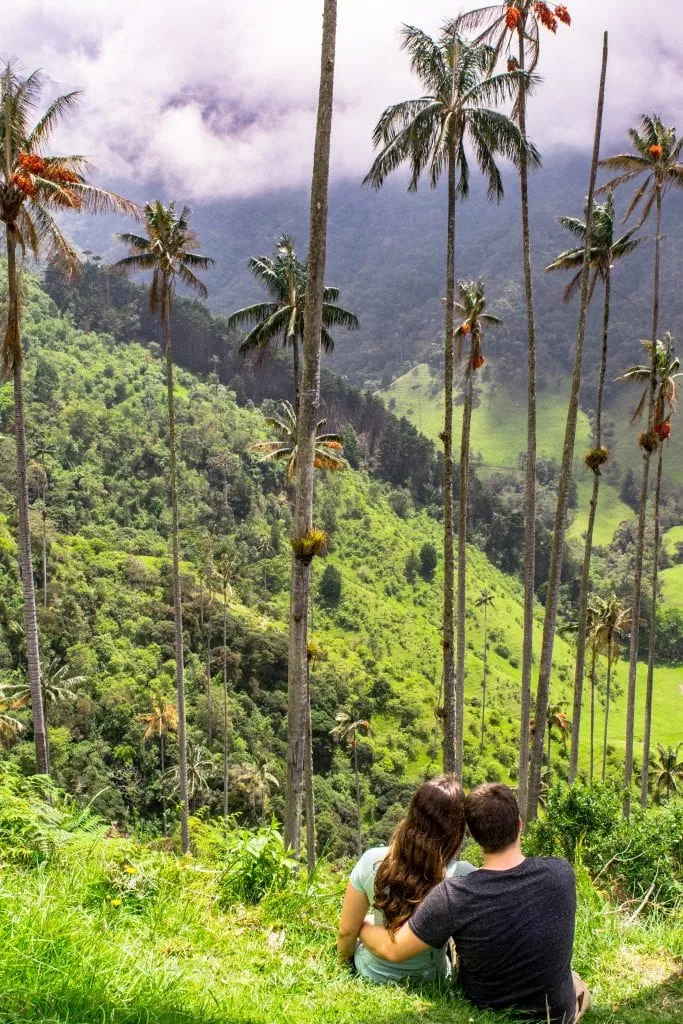 Hike the Valle de Cocora.
Let's start with the most obvious: the famous Cocora Valley tends to be what draws tourists to Salento and is one of the most popular things to do in Salento with good reason.
Between the incredibly green landscape, the gigantic wax palm trees (the tallest in the world!), and the invigorating trails, hiking the Valle de Cocora is like something akin to wandering through Ireland crossed with the Lorax.
Though you can rent horses to ride out to the best of the wax palm viewpoints, we really recommend making the hike yourselves (it takes about 5 hours, depending on how many photo stops and picnic breaks you take).
Not only does that ensure a whole bunch of extra views of the trees themselves, but you also get to enjoy the lush forested part of the hike, home to a beautiful river and some waterfalls.
We used these hiking directions and found them accurate and useful!
Play some tejo.
The object of tejo is simple.
Drink beer, and while doing so, throw heavy metal pucks at gunpowder-stuffed envelopes, causing them to explode.
It's hilarious, ridiculous, tons of fun, and absolutely worth playing–it also felt remarkably like being back home in the USA.
We could see tejo being popular there!
Walk to Salento's mirador.
The viewpoint over Salento is an easy climb up a staircase at the end of Calle Real (you can't miss it: the street literally dead-ends into the stairs), but the real views happen when you turn left and make your way past a playground to a second, less obvious viewpoint.
From there, you can see out over the entire valley.
Go horseback riding.
Our Valentine's Day gift to ourselves was a horseback ride (just the two of us and a guide!) outside Salento, and it made for one of the most memorable Valentine's Days that we've had together, as well as making the list of our favorite things to do in Salento.
The ride started in town, and once we got a little further out, our guide stopped at an inconspicuous gate, opened it, and let us through: suddenly, all at once, we were staring down at the valley.
"Welcome to paradise," he smiled, and we were inclined to agree.
The ride took us down into the valley, through several river and stream crossings, through tunnels built a hundred years ago for a train that never showed up, and to a beautiful waterfall.
On the way back, it rained (as it often does in Salento–it's how it stays so lush!), but we were quite content underneath warm, giant ponchos and found that the weather even added to the ambiance a bit.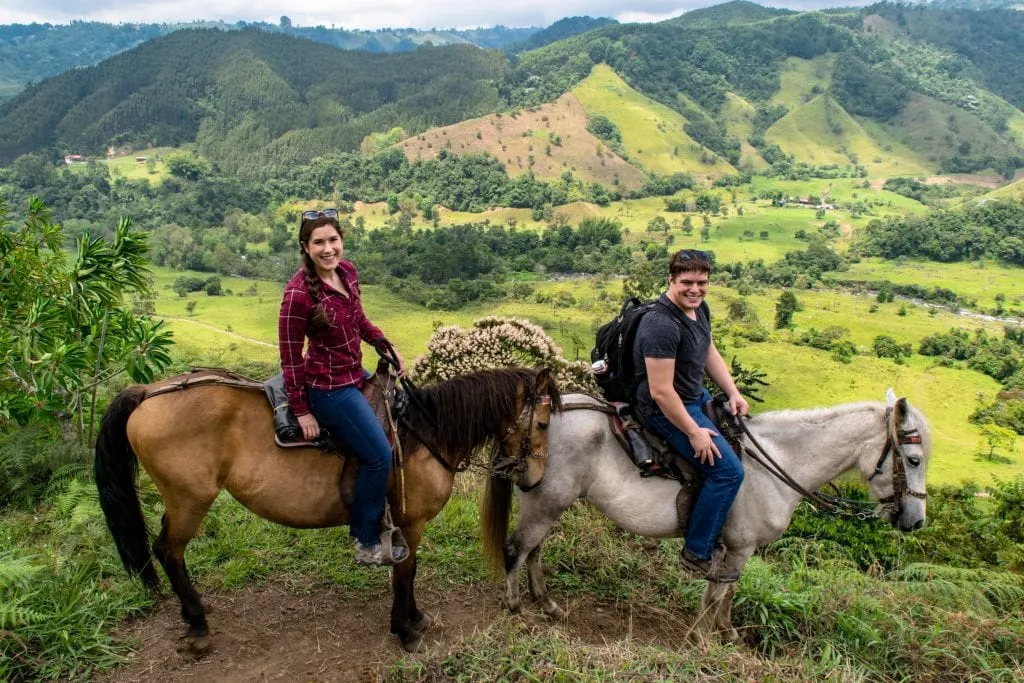 Go bike riding.
This region is perfect for biking, and there are oodles of trails–both along the river and beyond–to check out.
Bike tours are common, or consider renting a bike from one of the many hostels and shops in town and striking out on your own, trail map in hand.
Stop by the main square.
What's a Latin American city without a main square?
Salento's is small and cute, boasts a humble church (of course), is set at the top of a steep hill, and is framed in the background by beautiful, misty mountains: what's not to love?
True, you won't need to spend a long time here, but dropping by should definitely be on your mind when deciding what to do in Salento.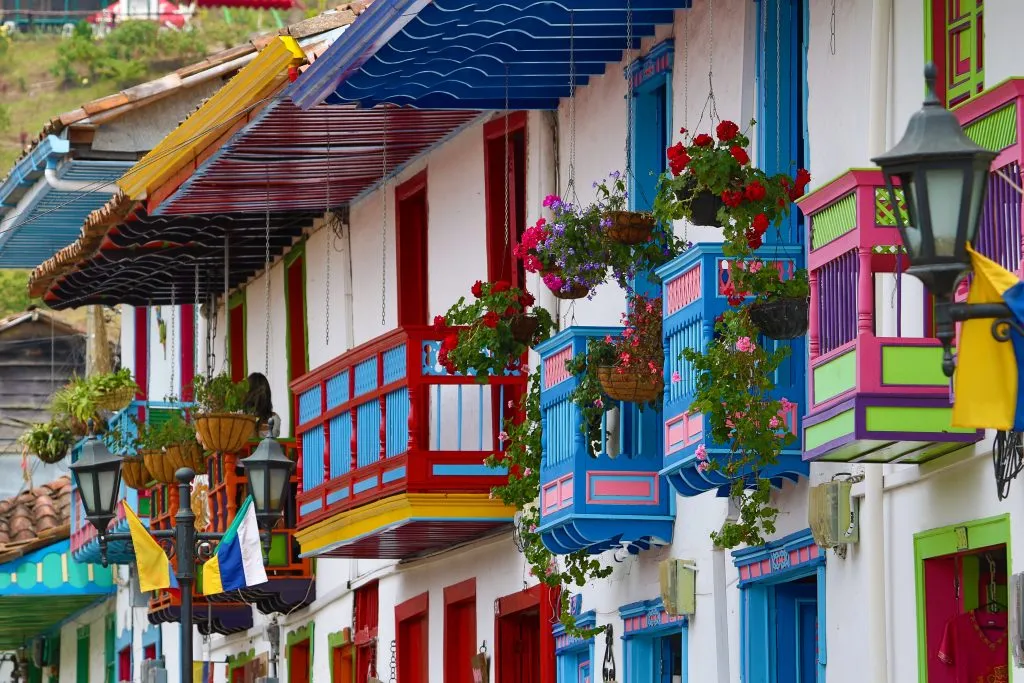 Visit the Santa Rita Waterfall.
Though we visited as part of our horseback ride from Salento, you also have the option of hiking out to the magical Santa Rita Waterfall.
There is a small fee to enter the area that the falls are in, but it is worth it: the hike there will have you wondering if you have been transported directly to Middle Earth.
We had the waterfall to ourselves while there, minus a small snack stand set up around the corner, and the waterfall takes on a majestic, otherworldly quality–it's pretty enough and isolated enough that it could easily be located in a fairytale.
Check out the wildlife.
The Salento region is well-known for its incredibly beautiful and diverse birds: from toucans to hummingbirds and beyond, this is a world-class place to try to spot exotic birds.
Bird-watching tours are available, and the Acaime House located in the Cocora Valley is a great way to see some colorful hummingbirds in a low-key setting.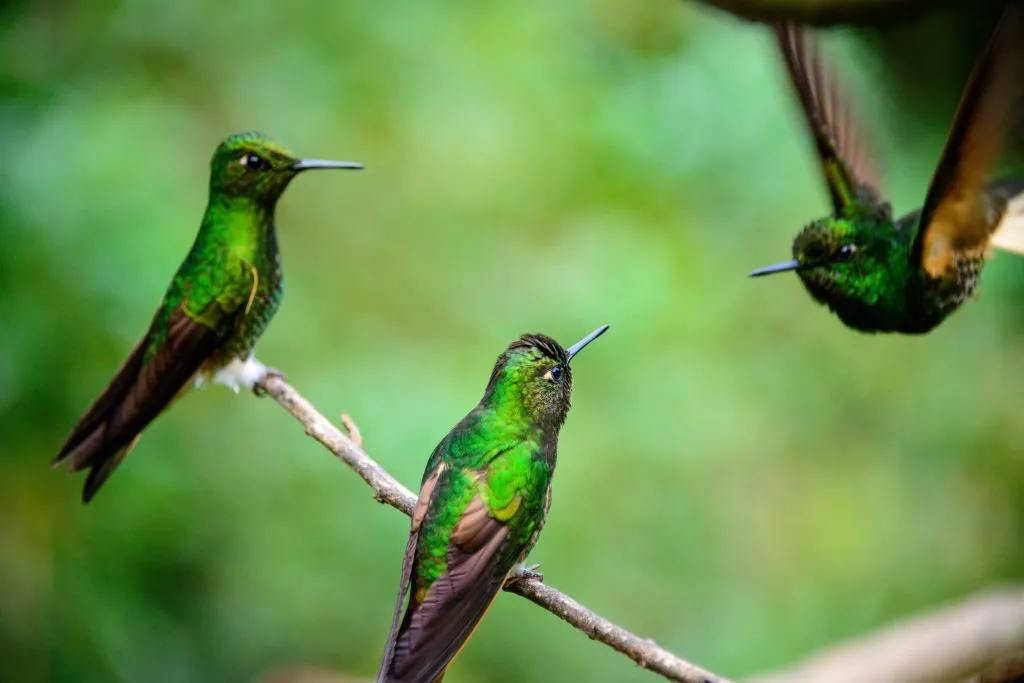 Learn all about coffee.
Colombia's coffee is world-famous, and Salento is set smack in the middle of Colombia's coffee triangle.
From either Salento or one of the other beautiful small towns in the coffee triangle, you have plenty of choices when looking for a lovely farm (or finca) to enjoy.
Sadly, the vast majority of Colombia's high-quality coffee gets exported, and there's not nearly as much of a coffee culture in most of the country as you would think (we found the highest concentration of tasty coffee in touristy Cartagena).
However, adding a finca visit to your list of things to do in Salento is the perfect way to get to taste some of the very best of what Colombia's coffee beans have to offer.
Don't have time to do a tour?
The Jesus Martin coffee shop in Salento is known as the best place in town for a high-quality cup.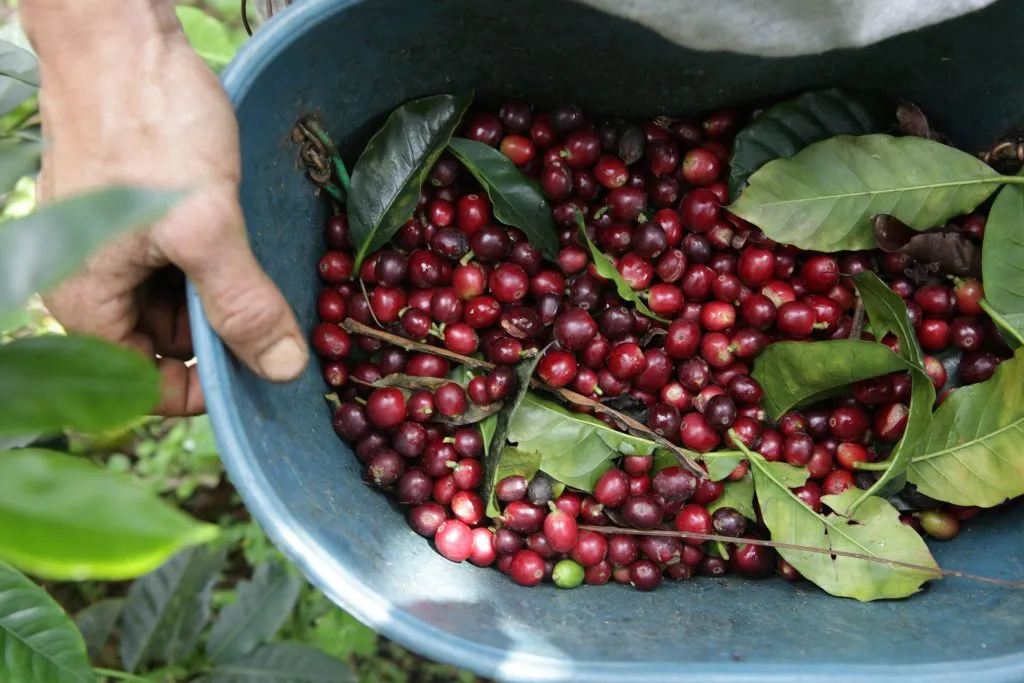 Stroll down Calle Real.
Salento's main drag of tourism is bursting with color from every direction: from the brightly painted buildings to the artisan crafts (some more legit than others) to the souvenir stalls, a visit to Calle Real cannot be overlooked when deciding what to do in Salento.
Try the trout.
Trout is an extremely common dish in Salento–you'll see it on just about every menu in town!
If you tend to like fish, don't leave Salento without trying a plate or two.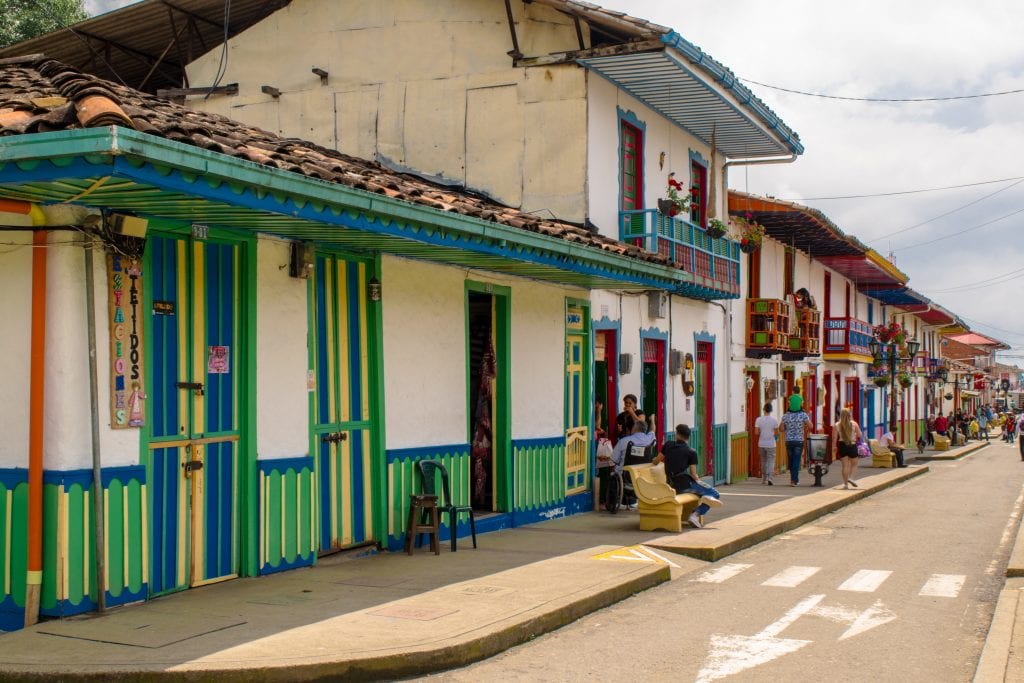 What to Pack for Salento, Colombia
Your packing list for Salento should revolve around two things: enjoying the outdoors, and the near-daily afternoon rainstorms.
Here's what we suggest you bring!
Rain Poncho
 — You can buy disposable ponchos in the area, but we recommend purchasing a reusable one before going and using it over and over again–if you're in Salento for any length of time, you'll likely keep pulling it out.
10L Dry Bag
— Easy to pack, and an easy way to stop worrying about your camera and other belongings getting soaked in an afternoon rain shower in the Valle de Cocora when exploring Salento, Colombia.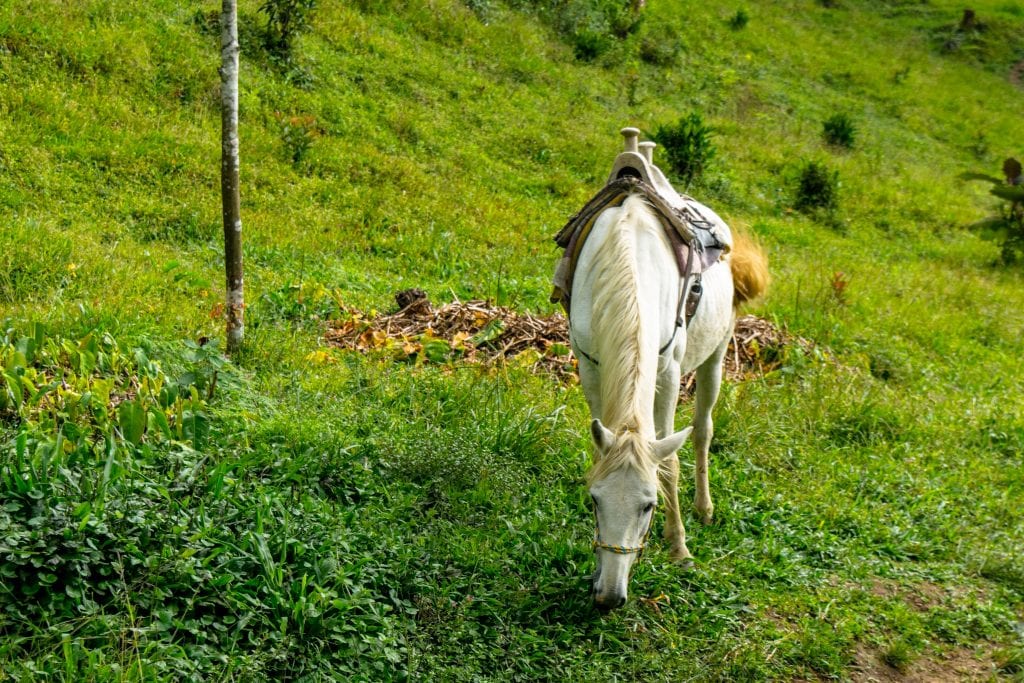 Umbrella — Seriously: you'll want it.
Hiking Boots/Shoes — In the muddy Cocora Valley especially, hiking boots came in very handy. At the very least, be sure to wear sneakers!
Hat — Don't go home with a sunburn.
SteriPen
 — The water in Salento isn't safe to drink, but our Steripen and Nalgene made it easy to keep a steady supply of safe water on hand without adding extra plastic waste to the Earth.
Don't forget to add travel insurance to your packing list for Colombia!

We use & recommend Safety Wing for their affordability, the ease of purchasing and the clarity of their contract!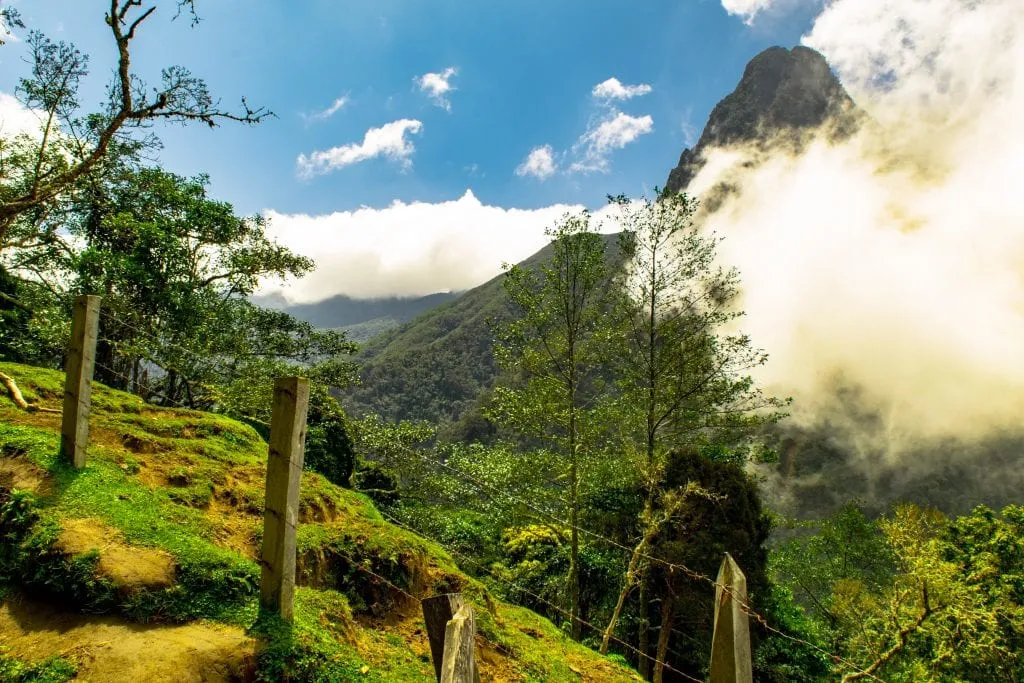 Where We Stayed in Salento, Colombia
Posada Martha Tolima — This guesthouse made for a perfect quiet retreat in Salento, with low prices, unassuming but decent rooms, and a very tasty included breakfast (eggs, arepa, fruit, coffee, and bread, with the eggs made to order!).
The hotel is just a  5-minute walk from the main square, and the price was right.
We would love to stay here again!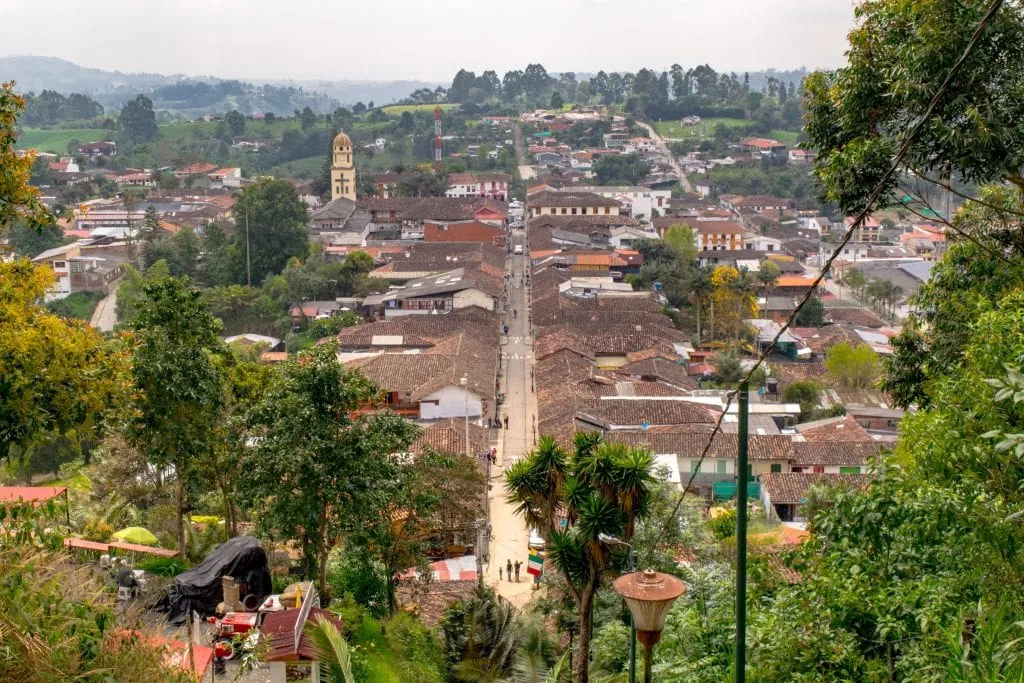 When to Visit Salento, Colombia: Weekday vs Weekend Trips
Salento is a very popular destination with Colombian travelers on a domestic weekend getaway, which means that the vibe in town is very different depending on when you go.
(And, for that matter, this is a Colombia travel tip that can also apply to other getaways like Cartagena and Guatape.)
During the weekdays, Salento is quiet to the point of feeling almost empty, though plenty of businesses and restaurants are open to cater to backpackers (though not Los Amigos, the bar where you can play tejo).
On the weekend, Salento's quiet streets are suddenly jam-packed, parking lots exist where empty fields once sat, and the main square suddenly holds around 10-15 extra restaurants and pop-up food stands that didn't exist before.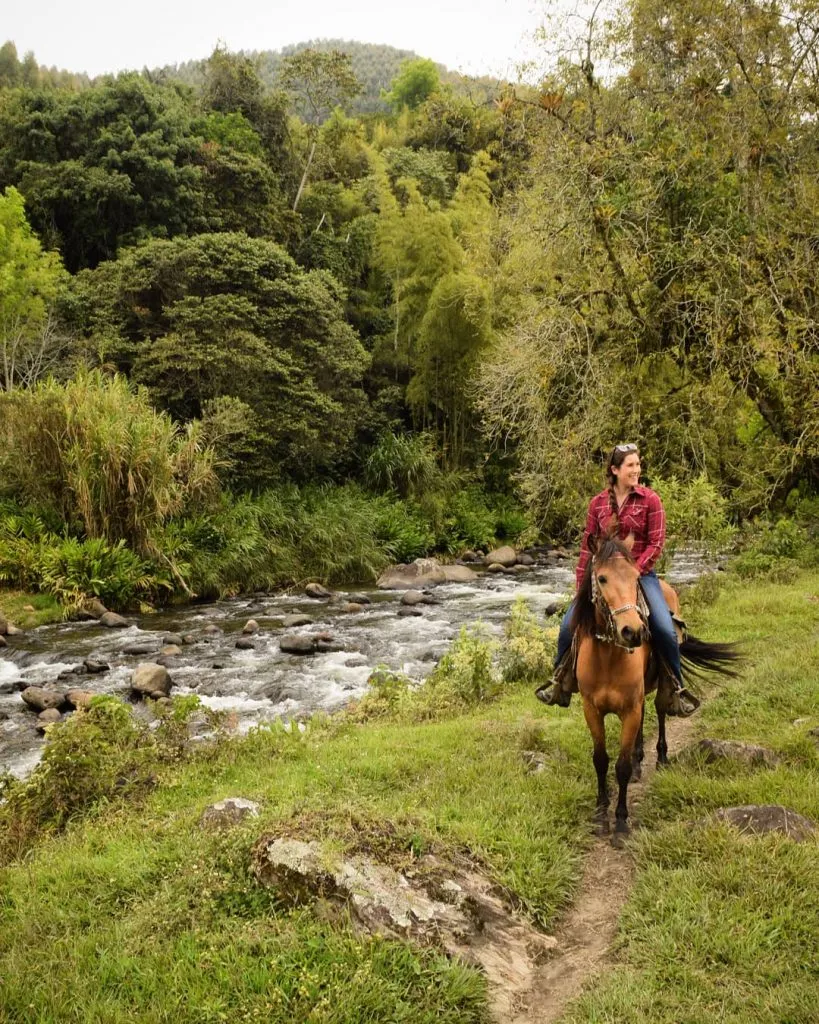 Calle Real becomes packed with people, and the city comes alive.
There are pros and cons to each type of visit: we loved that the Valle de Cocora was extremely uncrowded while we were there and that the town was leisurely for the beginning of our visit.
The liveliness of the weekend, though, had its own charms.
If possible, we'd recommend planning a trip to Salento, Colombia that includes both weekdays and weekends, but if you're short on time–go with whichever suits your personality best.
Getting Around Salento, Colombia
Salento is tiny–within the town itself, there's no need for transportation other than your own two legs.
To get to the Cocora Valley, Jeeps (also called "Willys") meet in the town square and leave about every half hour (whenever they fill up) in the morning. Rates are 4000 COP (or about $1.40 USD) per person, per way as of the time of writing.