The tiny town of Gimmelwald, Switzerland, looks exactly like someone dreamed up the ideal Swiss town, included more colorful flower boxes than is reasonable, added some cows, and then nestled it amongst the Alps, ready to be discovered.
Perched on a cliff overlooking the Lauterbrunnen Valley and seemingly exclusively consisting of idyllic Swiss chalets, cows, and the occasional goat, there's no doubt that the best thing to do in Gimmelwald is simply to exist there.
While absolutely minuscule (population: about 130), Gimmelwald is definitely worth visiting.
We were immediately enchanted with this slice of Swiss paradise after our visit in the height of summer, and foresee many more trips to Gimmelwald in the future (for starters, we can't wait to see it smothered with snow in the winter!).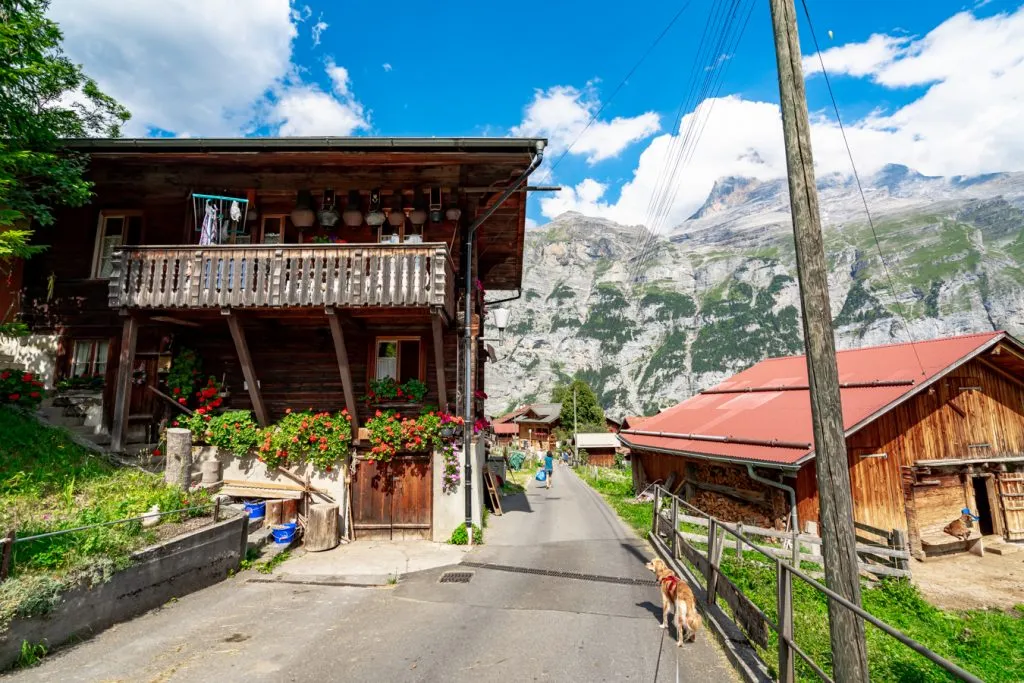 Some links in this post may be affiliate links. If you make a purchase through one of these links, we may earn a small commission at no extra cost to you. Please see our

disclosure policy

for more detail.
Nestled in the Jungfrau Region of the Bernese Oberland, Gimmelwald not only special in its own right, but is located right in the middle of what is, in our opinion, one of the most stunning regions on the planet.
This is a town where, even in 2022 and beyond, one of the best ways to arrive is on foot–and it's hard to think of something more special than that.
If you're curious about visiting Gimmelwald, here's what to know before you go!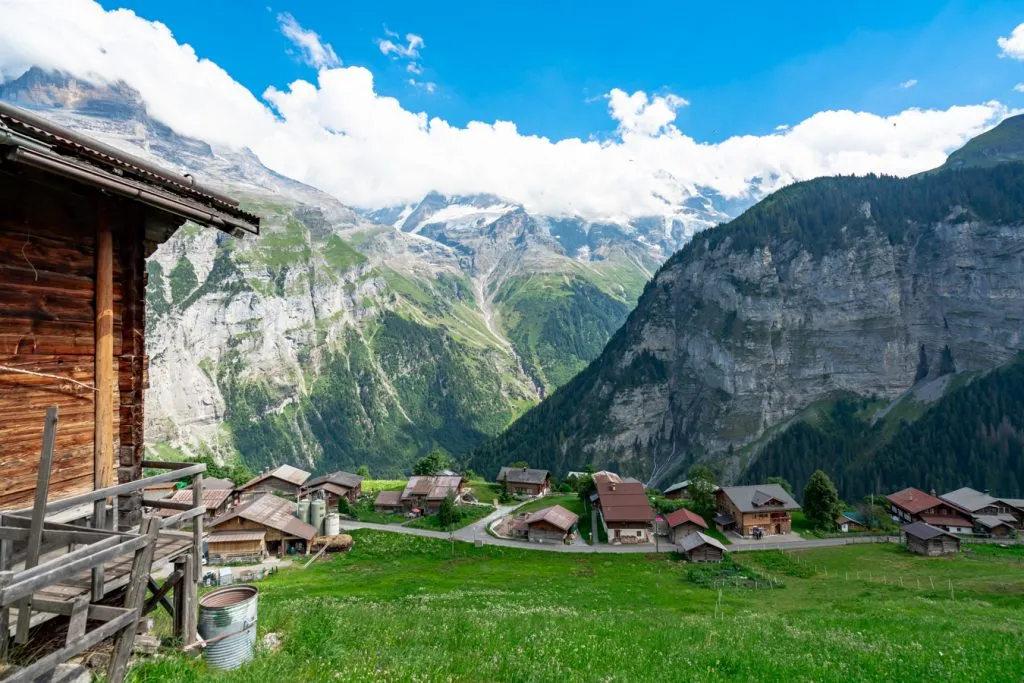 Things to Do in Gimmelwald, Switzerland
Sure, Gimmelwald is beautiful, but what exactly do you do when you get there?
While the answer could easily be "not much, just go stare at the Alps" (and that would make for an excellent visit), there are a few activities worth adding to your list of things to do in Gimmelwald.
Stroll through town and admire the views.
Gimmelwald's main street, such as it is, is lined with farms, cowbells, farm animals, and overflowing flower boxes (in the summer, anyway).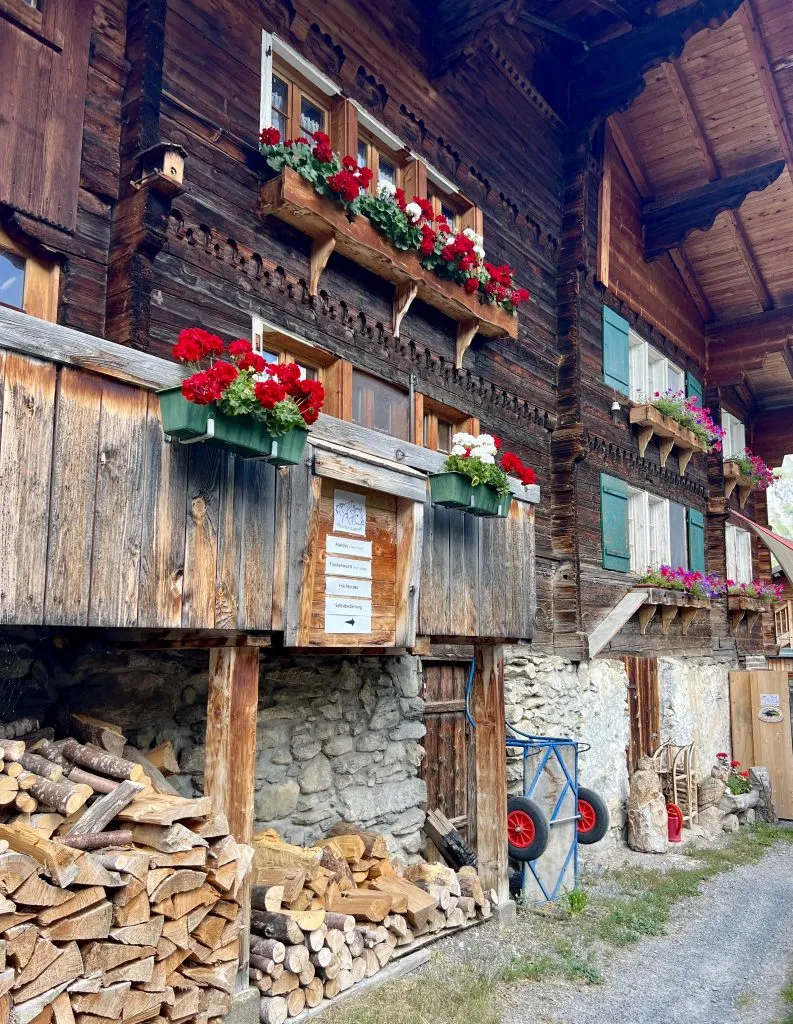 Simply walking through Gimmelwald is an absolute delight and a cherished memory from our time in Switzerland's Jungfrau region.
With towering views of the Alps all through the town, every single corner of Gimmelwald is picturesque.
Walks here are worth savoring!
To make the most of your time in town, consider winding past the central core of Gimmelwald and higher into the mountains–but more on that in a bit.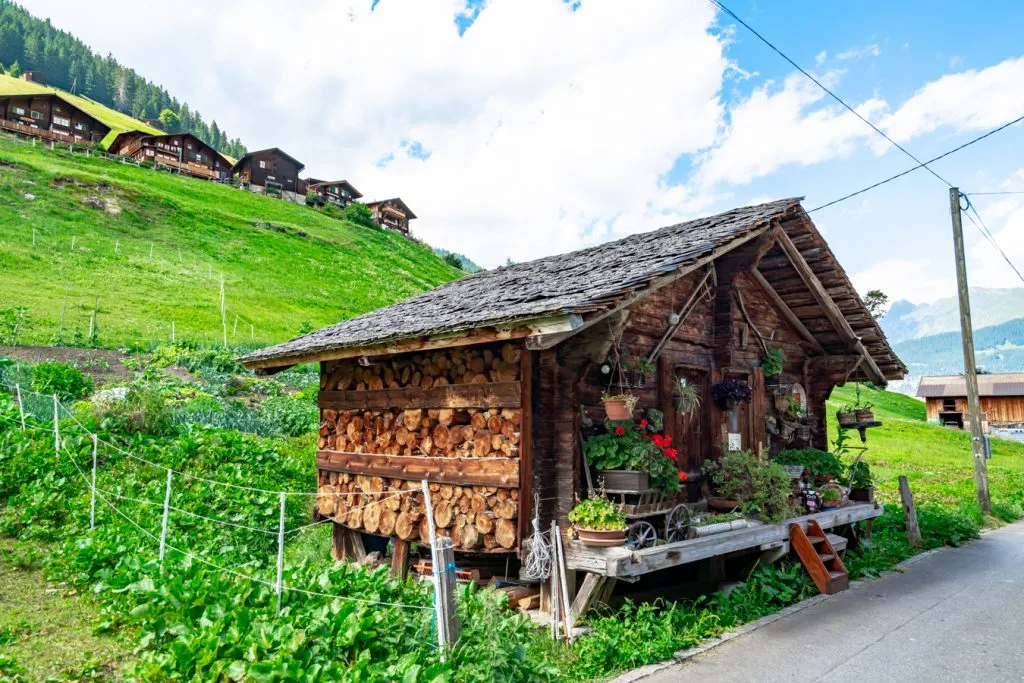 Pay a visit to the Honesty Shop.
The Honesty Shop, which is run (such as it is) by Pension Gimmelwald, is easily the most famous attraction in Gimmelwald.
Unmanned, with no cameras, employees, or cash registers, the Honesty Shop relies purely on the honor of its patrons to manage their own purchases.
It's a small but charming place, and one of the most memorable places around to buy Swiss souvenirs!
When I first heard of the Honesty Shop years ago, I assumed it was a food store, selling items like local cheese.
It's actually stocked primarily with non-food items, especially crafts and souvenirs, though there are some small snacks like candy and drinks available.
The lack of food is not a problem, though, in part because…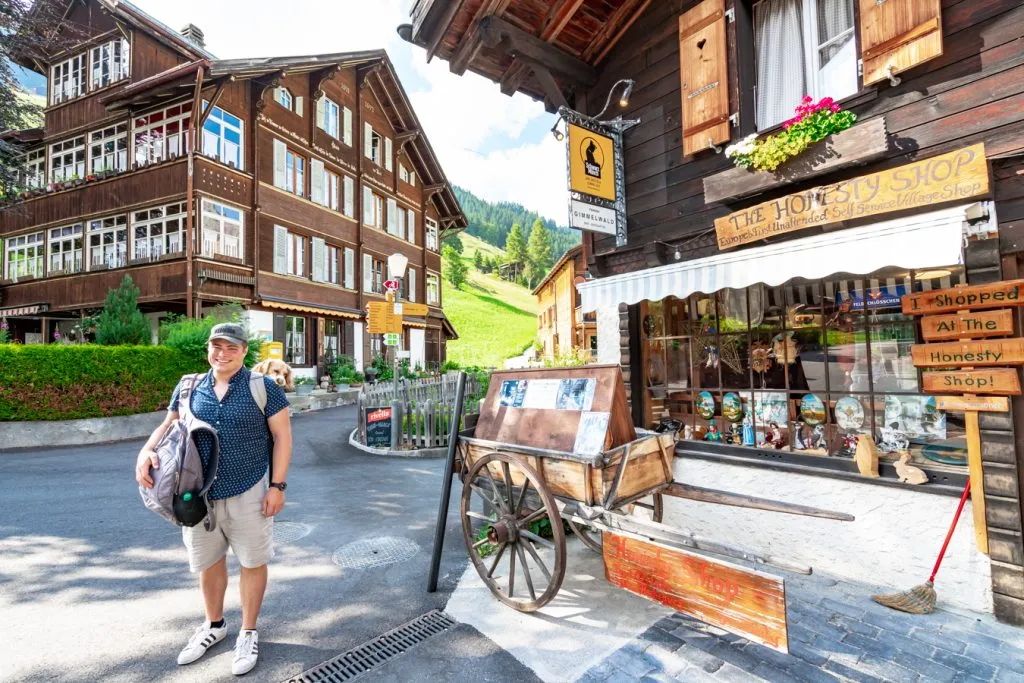 … and the several other informal honesty shops in town.
While the Honesty Shop is no doubt the most famous version of honor-based shopping in Switzerland, it's not the only one!
A few other farms in town have stocked fridges selling cheese, sausage, and other locally made products, and are definitely worth perusing when you visit Gimmelwald.
Keep an eye out for small signs advertising local goods for sale as you wander through town, and you'll almost certainly spot at least one.
If you hike from Mürren to Gimmelwald, we even passed a couple of honor-based fridges along the way that accepted credit cards!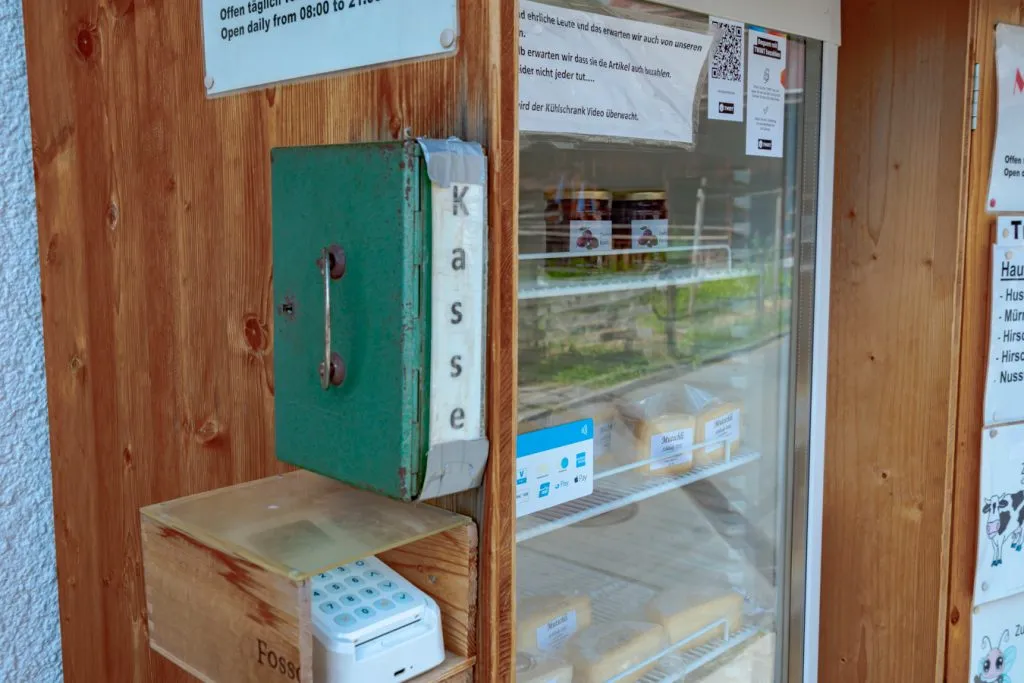 Enjoy food with a view at Mountain Hostel or Pension Gimmelwald.
Gimmelwald has very little to offer in the way of restaurants, but with options like these, a couple of choices are all you need.
Mountain Hostel offers pizza, breakfast, fondue, and more on their patio and also on a covered balcony overlooking the Alps (you can check the menu here).
The fondue we enjoyed on their balcony ranks among the most memorable meals we've ever eaten–the combination of cheese and views was simply sublime.
Pension Gimmelwald, located next door, offers a full menu from their beautiful patio (though if you're not staying overnight and want to enjoy a meal, they recommend making a reservation).
Whether you're planning to visit Gimmelwald for a couple of hours or a couple of days, it's definitely worth making time to enjoy a meal spent overlooking the Alps!
Make your way from (or to) Mürren on foot.
The downhill hike from Mürren to Gimmelwald (it's more of a stroll, really) is simultaneously incredibly picturesque and very simple, with little-to-no risk of getting lost.
In other words, it's a hike that most people can enjoy, including families.
In about 45 minutes, you can wind your way from the gorgeous, car-free town of Mürren to Gimmelwald on foot, meandering past sublime Alpine views, peaceful cows accompanied by the tinkering of their cowbells, and the occasional Swiss chalet.
The walk is mostly paved and incredibly relaxing!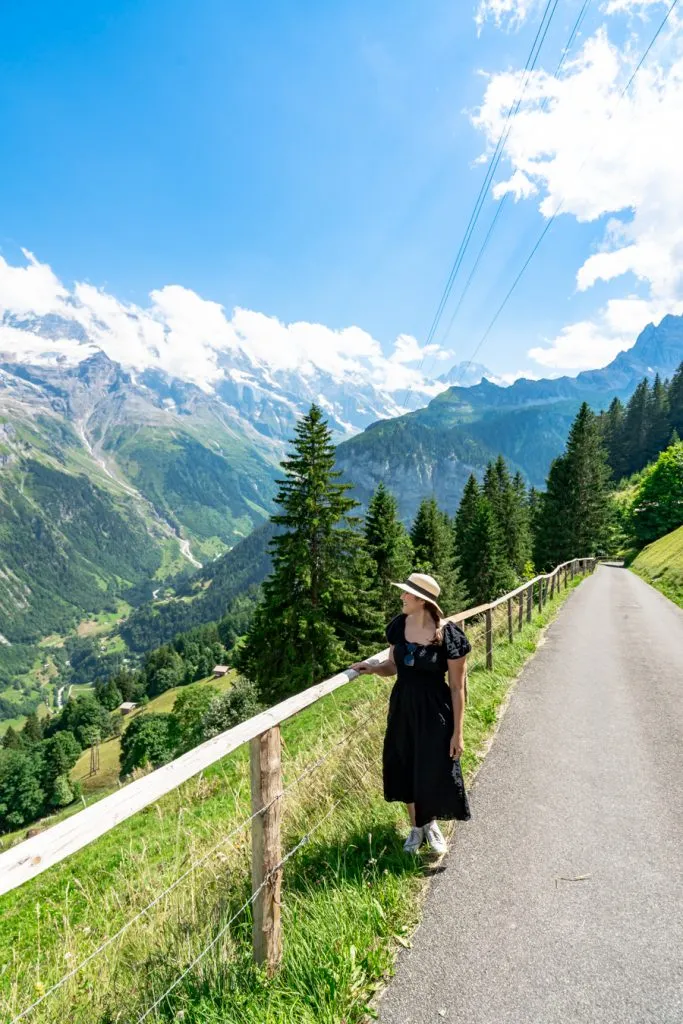 The road you walk along is not heavily trafficked, though it is technically a road, so be sure to keep your eye out for the rare passing car or tractor.
As you approach Gimmelwald, you'll enjoy views of the top from above as you approach and first come to the lesser-visited parts of town, allowing you to appreciate this idyllic Swiss village from all angles.
While it's certainly a bit more exerting to to walk uphill from Gimmelwald to Mürren, that option still qualifies as a very easy hike.
However, if you'd rather start from the top, so to speak, you can easily ride the cable car from Gimmelwald to Mürren with the help of your Swiss Travel Pass and then meander your way back down!
Where to Stay in Gimmelwald
Gimmelwald is an incredibly small town, and staying overnight is an option that is perfect for some visitors and may sound a bit dull to others!
If your idea of a perfect evening in Switzerland is winding down in the incredibly quiet atmosphere of Gimmelwald, though, there are some excellent options.
Because of its minuscule size, deciding where to stay in Gimmelwald is less about sifting through a bunch of choices (there is only a handful) and more about deciding on your travel style and then booking ASAP to ensure you get a space.
Mountain Hostel is the most famous place to stay in town and has a long tradition of being somewhat iconic among backpackers.
The view is truly sublime, the walk from the cable car short, the fondue delicious, and the building cozy.
It is, however, a hostel, so if you crave more privacy, the also-popular Pension Gimmelwald may suit you better!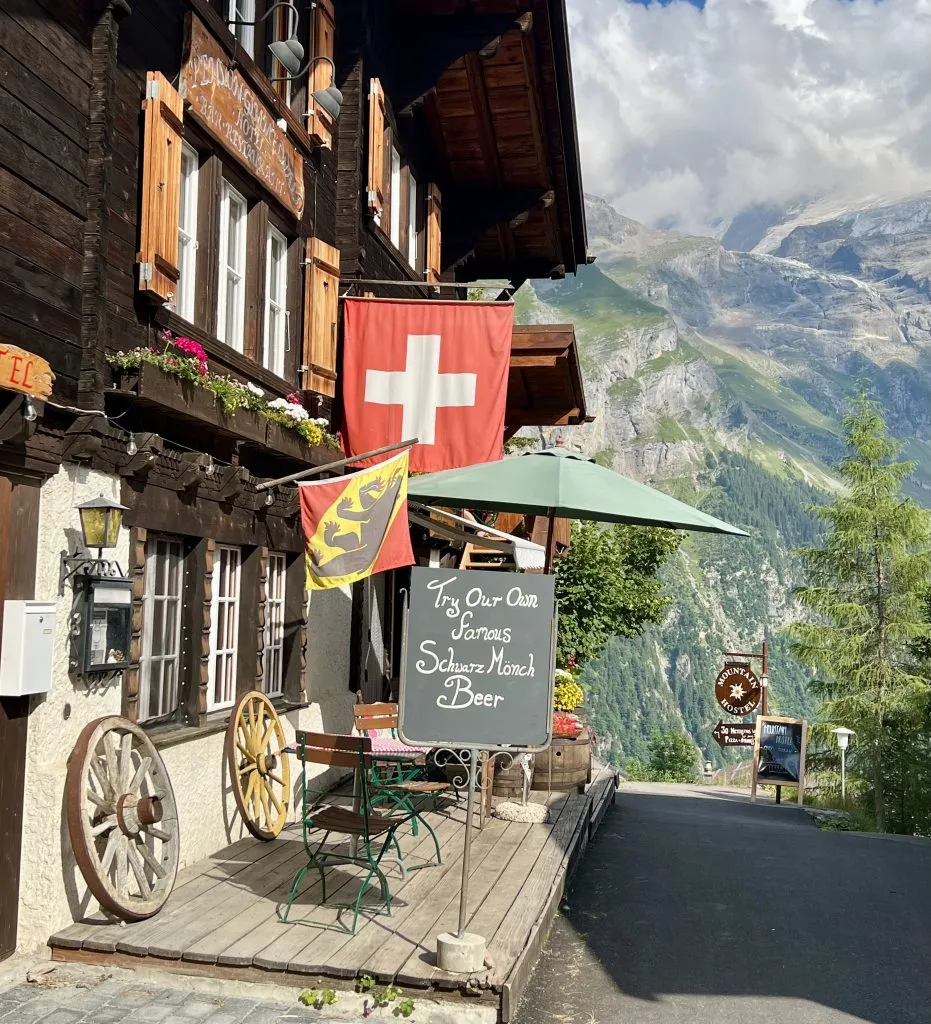 Housed in a 19th-century Swiss chalet and located right next door to Mountain Hostel, it's popular for good reason and, among other selling points, it brews its own award-winning beer right in Gimmelwald.
Finally, there are a couple of well-rated guesthouses in town, like Esther's Guesthouse and Olle & Maria's B&B, if that's more your speed.
If you'd like to enjoy the hospitality of Gimmelwald for a night but feel like it might be a bit too quiet for an extended stay, you could easily spend one night here and then bring your luggage up to Mürren via cable car for a longer stay without much trouble.
How to Get to Gimmelwald, Switzerland
Since driving to Gimmelwald isn't an option, you essentially have 2 choices when it comes to getting there: hike from Mürren, as we discussed above, or take the cable car from Stechelberg Station.
To get to Stechelberg Station, it's about a 10-minute bus ride or hour-long walk from the center of Lauterbrunnen.
The cable car is covered by the Swiss Travel Pass, which is an essential purchase for most trips to Switzerland (we loved ours and never plan to visit without one).
And, from Stechelberg Station, it's only about a 5-minute ride to Gimmelwald, and the Gimmelwald Station is located right by the tiny town center.
The same cable car that will deliver you to Gimmelwald also makes stops in Mürren, Birg (home to the famous Birg Thrill Walk), and finally Schilthorn.
Schilthorn was a Bond filming location, is home the renowned Piz Gloria Restaurant, and boasts fantastic views whose beauty has been compared to the iconic Jungfraujoch!
Whether you choose to continue all the way to Schilthorn, base yourself in Gimmelwald and/or Mürren in order to explore the area in-depth, or just want to enjoy a quick day trip, one thing is for sure: you're bound to fall in love with the idyllic beauty of Gimmelwald, Swizerland.