Looking for the best beach towns in Portugal for your next trip?
If so, you're spoiled for choice!
Situated in the southwestern corner of mainland Europe, there are charming seaside towns in Portugal for every kind of traveler.
Whether you're looking for a bustling town center, a quiet place to get away from it all, a fun surf spot, or a calm sea perfect for swimming, Portugal's coastal towns have plenty of options to offer.
From the popular beach towns in the Algarve, famous for their dramatic cliffs, to the laid-back villages in northern Portugal, and everywhere in between, Portugal is famous for its seaside towns for good reason.
… And, just to add a few more options to the mix, the Azores and Madeira have some incredibly tempting coastal towns to offer, too.
Here are the best beach towns in Portugal to visit!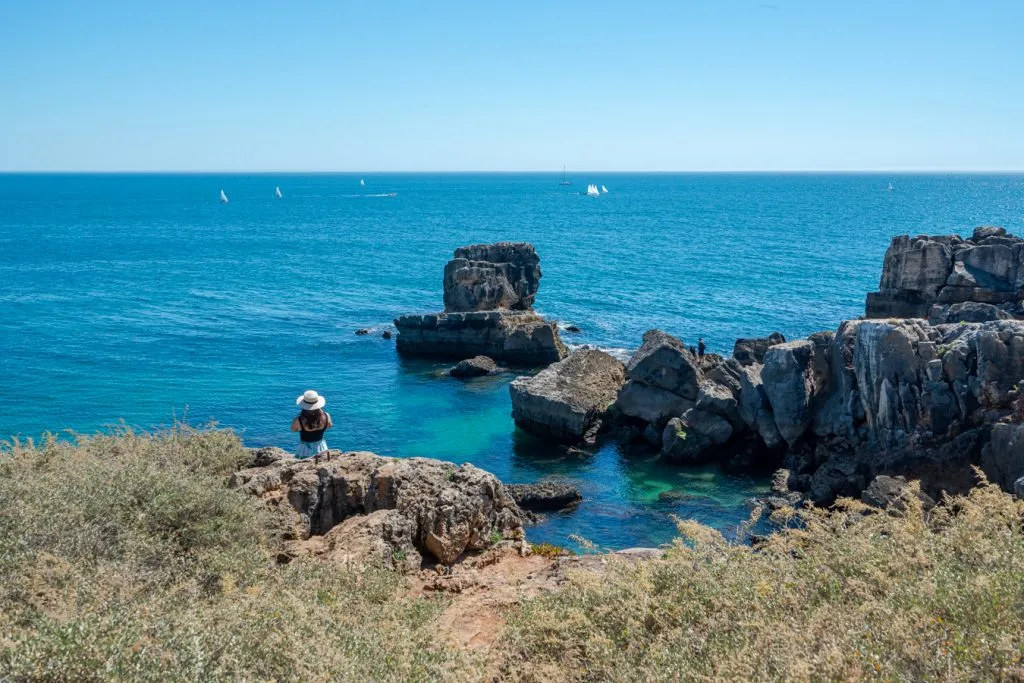 Beautiful Coastal Towns in Northern Portugal
Matosinhos
From Pafoua of Her Wanderful World
If you're headed to Porto, Portugal, you cannot miss out on visiting the nearby fishing town of Matosinhos, which features some of the finest beaches in northern Portugal!
Local Porto residents love going to Matosihnos during the hot summer days because it is so easily accessible from Porto.
This popular port town is about 8 kilometers from the city center of Porto but can take up to 30 minutes to get there on public transportation.
Visitors can take the local 500 bus to get to Matosinhos or the metro line A.
If you have a ticket for the Hop-On Hop-Off Bus in Porto, the beach town of Matosinhos is also a stop!
Praia de Matosinhos is where most visitors go because it's the closest to the bus stops and has a vast sandy beach and waves that are perfect for swimming or surfing.
Even though most visitors come to Matosinhos to relax and hang out on the beach, there are also other attractions in this beach town to explore.
You can visit the Castelo de Queijo market, walk along the coastal path of Leca da Palmeira, or visit the Bom Jesus de Matosinhos Church.
While in the fishing town of Matosinhos, you cannot miss out on the street filled with family-run restaurants that grill fish for a living.
As you enter Rua Heróis de França, you'll start smelling the delicious seafood.
Make sure to try cod as that's one of the main staples in Portugal. But you can also order anything from sardines to shellfish!
However you decide to spend your time in Matosinhos, it sure will be a great day of sunshine and adventure!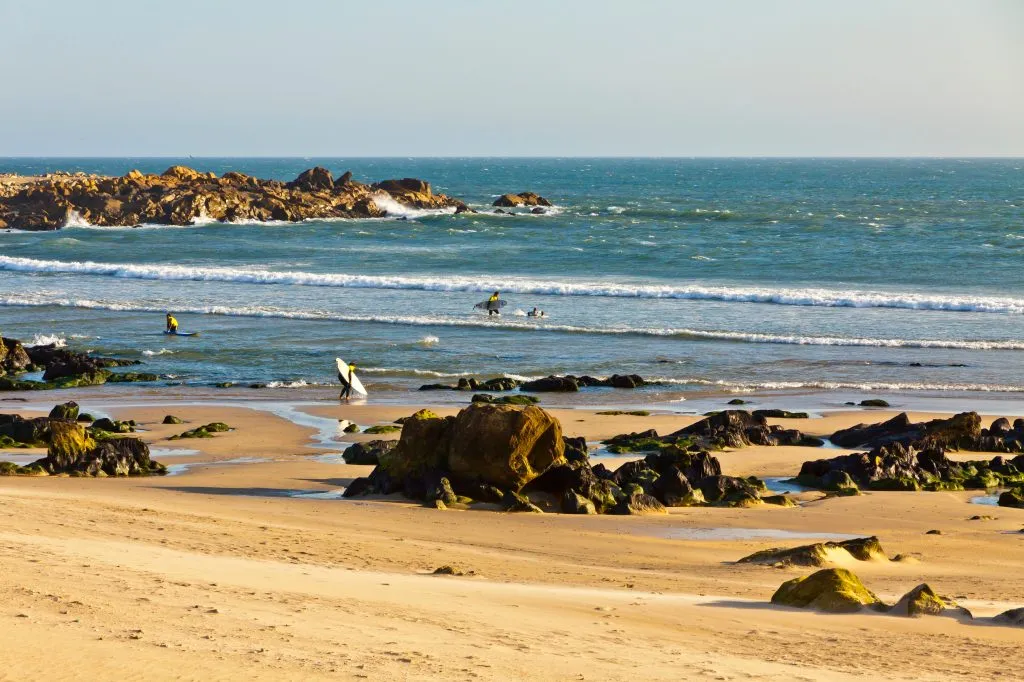 Best Beach Towns Near Lisbon (Central Portugal)
Peniche
From Greta of Love the Surf Life
Peniche is one of the most popular beach towns in Portugal, for very good reasons.
Located just over an hour from Lisbon, this quaint fishing town has become a worldwide surfing destination.
There are many beautiful beaches surrounding Peniche, characterized by soft golden sand, turquoise water, and world-class waves.
The most famous is Baleal Beach, where most of the surf schools are concentrated.
Around the beach you'll find lots of cute cafes, restaurants and bars, where you can refuel after a long day in the waves.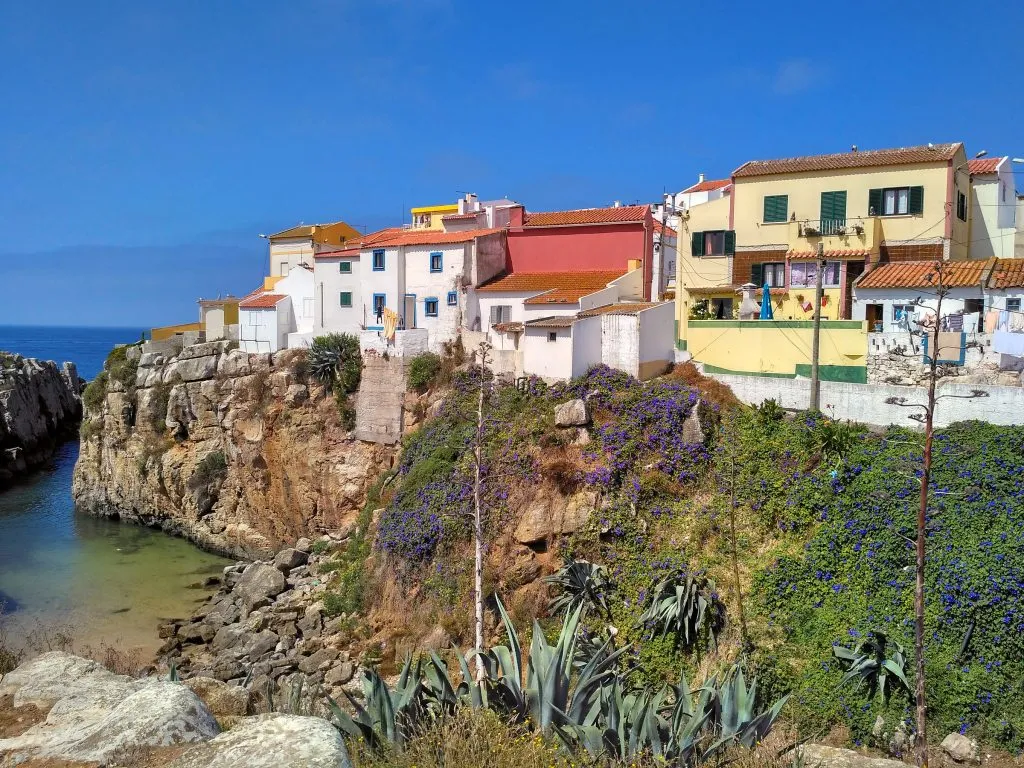 Peniche is also famous for the Berlengas Islands, which you can only reach with a 45-minute ferry from Peniche.
The Berlengas Islands are known for Forte de São João Baptista; a fort built on rocks off the coast of the island, and the winding bridge that connects it to the island.
Despite being a popular tourist destination, Peniche still has a rustic charm to it. It feels like a very local town, which hasn't completely altered its appearance to suit tourism.
It's a must-visit if you're looking for the best beach towns in Portugal.
Nazaré
From De Wet and Jin of Museum of Wander
Lovely Nazaré, located roughly halfway between Lisbon and Porto, has a bit of everything one looks for in the perfect Portugal beach town.
It has great beaches, excellent surf, a few cultural attractions, fantastic food, and friendly locals.
The town has two beaches, and they are very different.
Praia da Nazaré is the city's main beach, in front of the promenade. It has many facilities and restaurants nearby, making it the perfect family beach.
Little canvas beach cabanas are for rent by the day, week, or month.
Nazaré's other (and most famous) beach is Praia do Norte, situated around a headland from the city beach. It's wild and expansive with no facilities.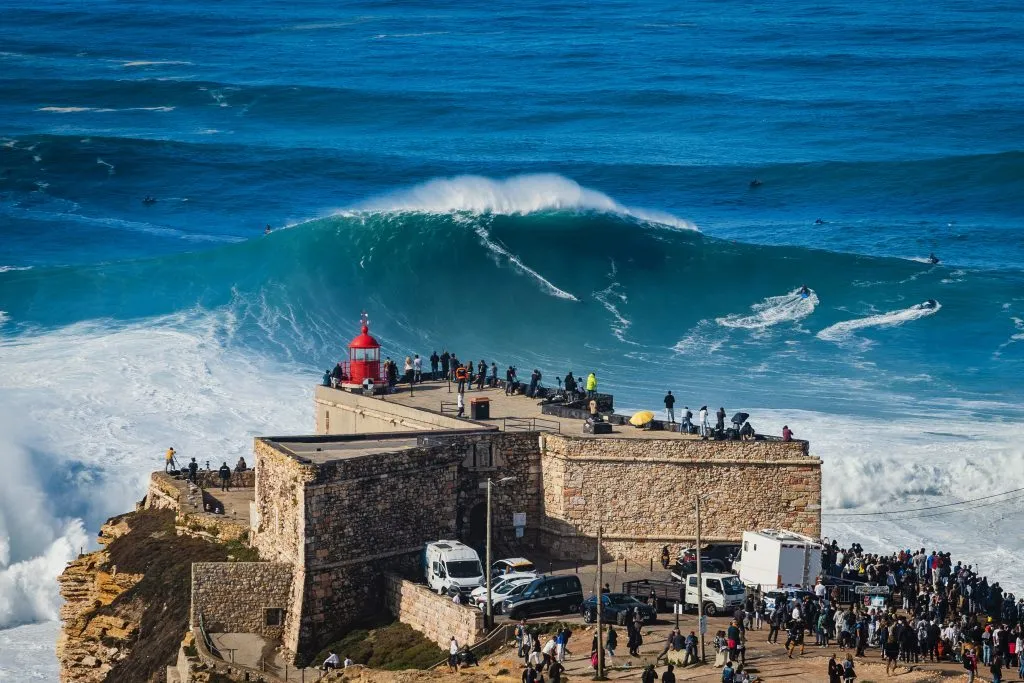 Praia do Norte is the best surfing spot in Portugal and is world-renowned for its monster waves, the biggest on earth!
The swell is most consistent in the winter months, making Nazaré an excellent winter destination for surfing as well as a traditional summer beach destination.
For the best view in Nazaré, ride the funicular up to the neighborhood of Sitio.
From here, you'll have a panoramic view over the red roofs of Nazaré and the beach.
In Sitio, also go check out the baroque church of Igreja Nossa Senhora da Nazaré.
It's an important pilgrimage site, and the church houses a small wooden statue of the virgin, believed to be carved by Joseph of Nazareth (thus the city's name).
Hotel Mar Bravo is a great place to stay, right on Praia da Nazaré.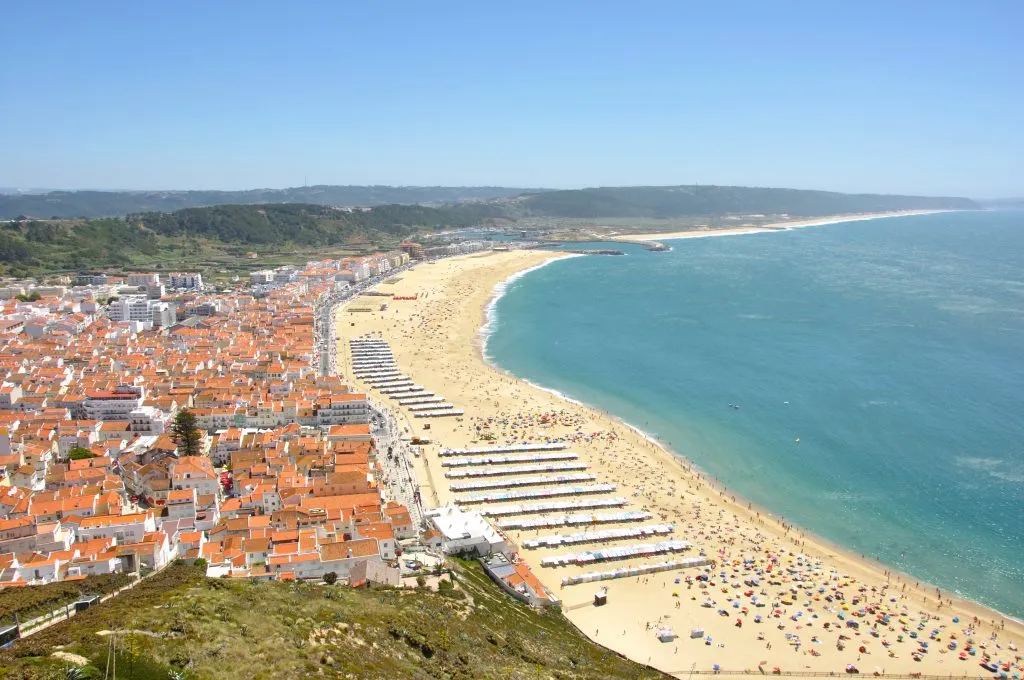 Cascais
Lying less than an hour west of Lisbon by car or train, the charming resort town of Cascais is easily one of the most delightful seaside towns to visit in Portugal.
With a maze of winding streets to explore and several beaches to visit within walking distance of the town center, Cascais is an easy day trip from Lisbon (often combined with Sintra) or a fantastic standalone destination.
While you're there, be sure to visit the Boca do Inferno and admire the cliffs and cave from above!
The Santa Maria House Museum (located with Cascais' photogenic lighthouse) and the Museu Condes de Castro Guimarães are also both worth a visit.
For beaches, you're spoiled for choice, but the Praia da Rainha and Praia da Ribeira are two popular options right in the center of town.
Don't miss a quick visit to the fortress and Cidadela Art District, either.
If you have a long stroll in mind, you can even walk all the way from Cascais to Estoril (home to the casino that inspired James Bond) along the sea.
Depending on how far you go, the walk between these 2 Portugal beach towns takes about an hour.
Sesimbra
From Marco of Travel-Boo
A mere 45-minute drive by car lies the quaint seaside town of Sesimbra, home to some of the best beaches near Lisbon, and in fact in the country!
With its stunning palm-tree-lined promenade overlooking the long golden sandy stretches of both the Praia do Ouro and the Praia da California beaches, Sesimbra is an idyllic day trip to escape from the hustle and bustle of the city.
Or better yet, why not book a night here and explore the nearby areas of Setubal, Palmela, and Azeitao, along with the stunning Arrabida National Park?
The gorgeous SANA Sesimbra Hotel is located right on the promenade overlooking the ocean and is a great choice for an overnight stay with ample choices for restaurants and bars a short walk away.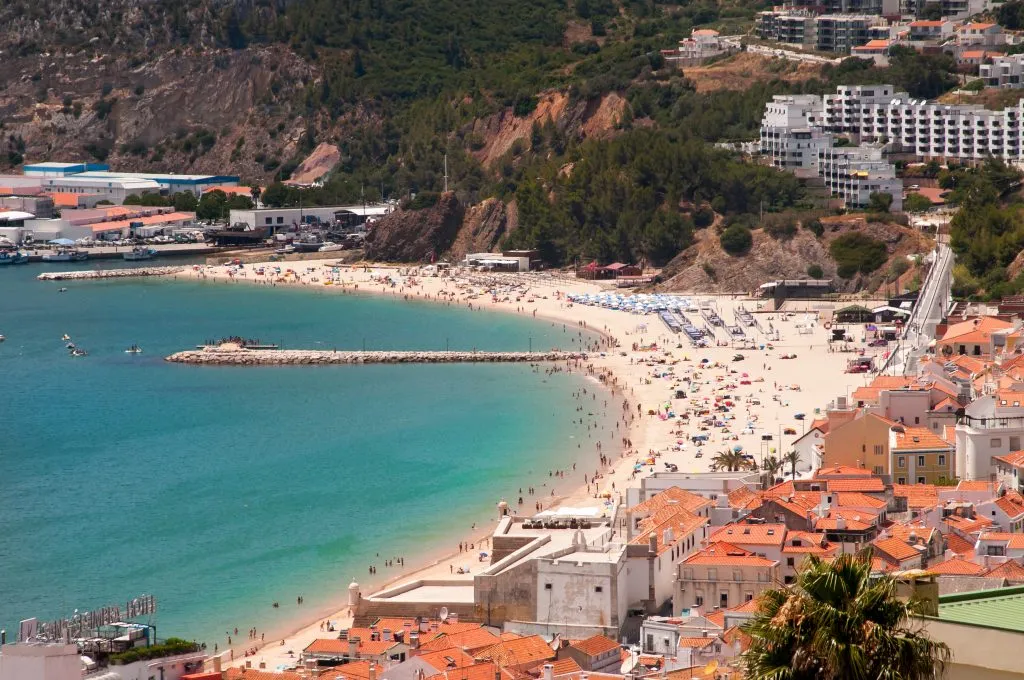 Apart from the two main beaches already listed, many visitors flock to Sesimbra to visit the beautiful Praia do Ribeiro do Cavalo beach which can be reached on foot, which should take you just under an hour.
Or, you can head to the nearby Clube Naval de Sesimbra and charter a boat to the beach which is still fairly inexpensive to do!
A little further out, along the coast set in the Arrabida National Park is where you'll find two other beaches, often considered some of the best in Portugal, Praia do Portinho da Arrabida and Praia de Galapinhos.
However, a car is required to reach these beautiful beaches.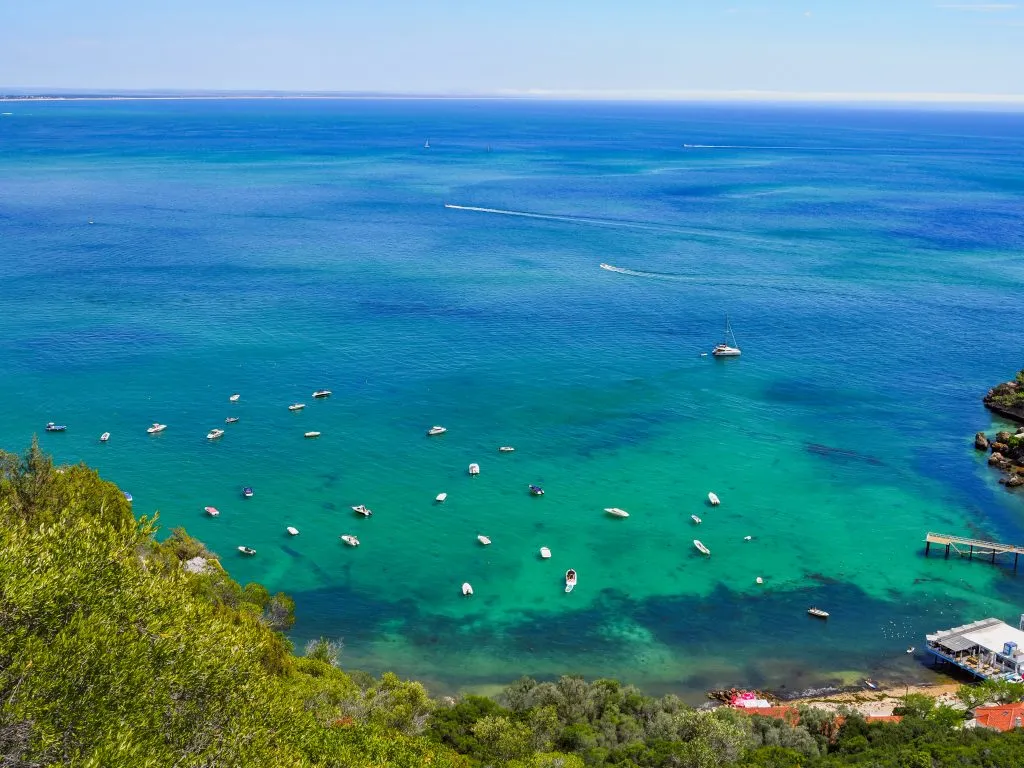 Figueira da Foz
From Victoria of Guide Your Travel
Figueira da Foz is a beach town located between Porto and Lisbon on the western coast of Portugal.
If you're looking for a unique place to stop on your road trip through Portugal, this is a great choice. With around 60,000 inhabitants, Figueira is actually larger than you might think.
If the weather is nice you should plan to spend some time at the Praia da Claridade, which is the most popular beach in this charming seaside town in Portugal.
The area is absolutely huge so you'll always find a free spot to lie down and relax.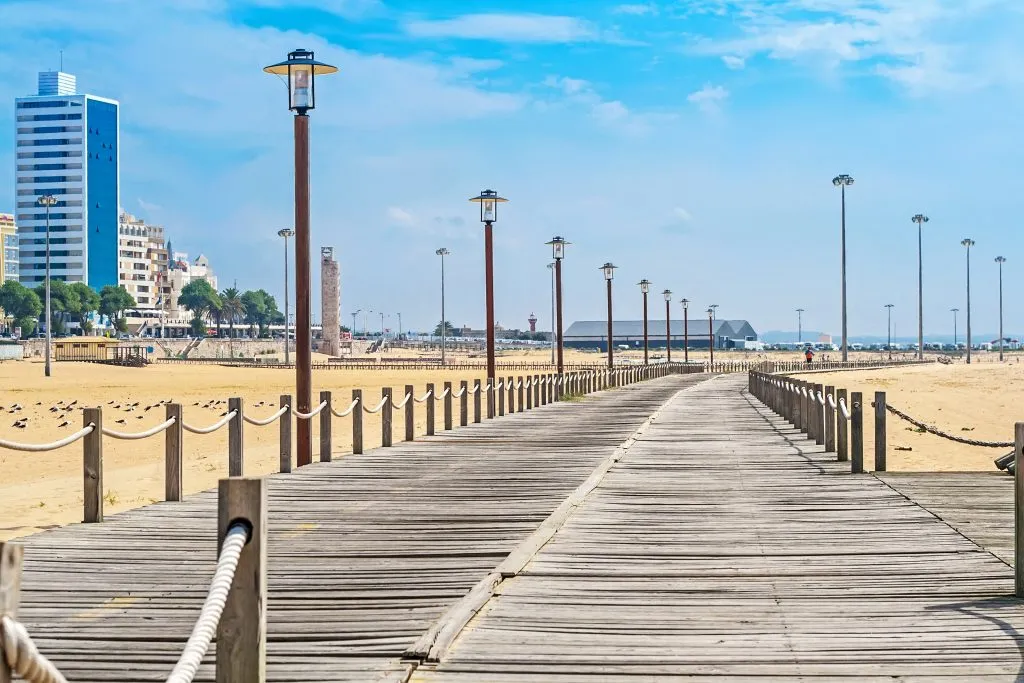 Make sure to stop by the Santa Catarina Fort. The ruins date back to the 16th century and the views are fantastic.
Another great beach to visit is Cabo Mondego which sits a little north of Figueira da Foz. This area is a lot more deserted and very quiet.
Be careful when swimming as the currents can be strong at this beach
However, a trip here still makes for a great day trip and shouldn't be missed when you head to Figueira da Foz.
If you're looking for an activity for a rainy day you can also explore some of the museums in town such as the Museu Municipal Santos Rocha which has a great art collection.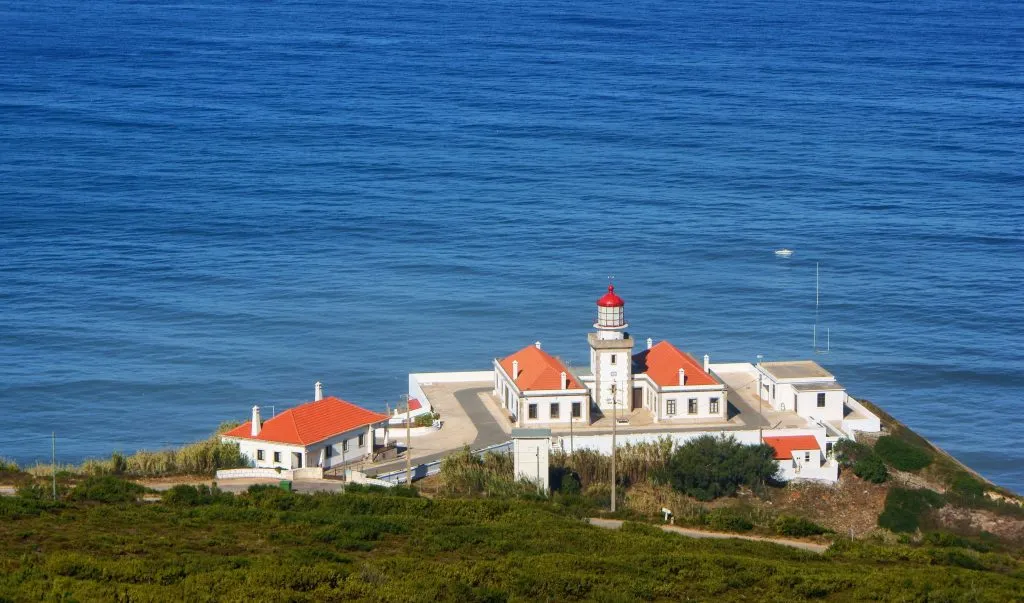 Amazing Algarve Beach Towns to Visit (Southern Portugal)
Lagos
Easily one of the most popular beach towns in Portugal, Lagos deserves its sky-high reputation.
If you've seen photos of Portugal's incredible coastline, odds are that you've seen photos of Lagos.
Home to Ponta da Piedade, one of the most incredible viewpoints in Portugal, Lagos is a seaside town that delights from the moment you arrive.
While visiting Lagos, be sure to take a boat tour to appreciate the beauty of Ponta da Piedade from below (or if you prefer an active adventure, a kayaking tour).
Looking for a different kind of experience on the water?
Taking a dolphin-watching tour also ranks among the best things to do in this coastal town!
Other popular things to do in Lagos include stepping inside the memorable Igreja de Santo Antonio, touring the beachfront Fort Ponta da Bandeira, and of course, spending time on the beach.
Instagram-famous Praia do Camilo, spacious Meira Praia, and Praia dos Estudantes are some of the best beaches in Lagos to enjoy.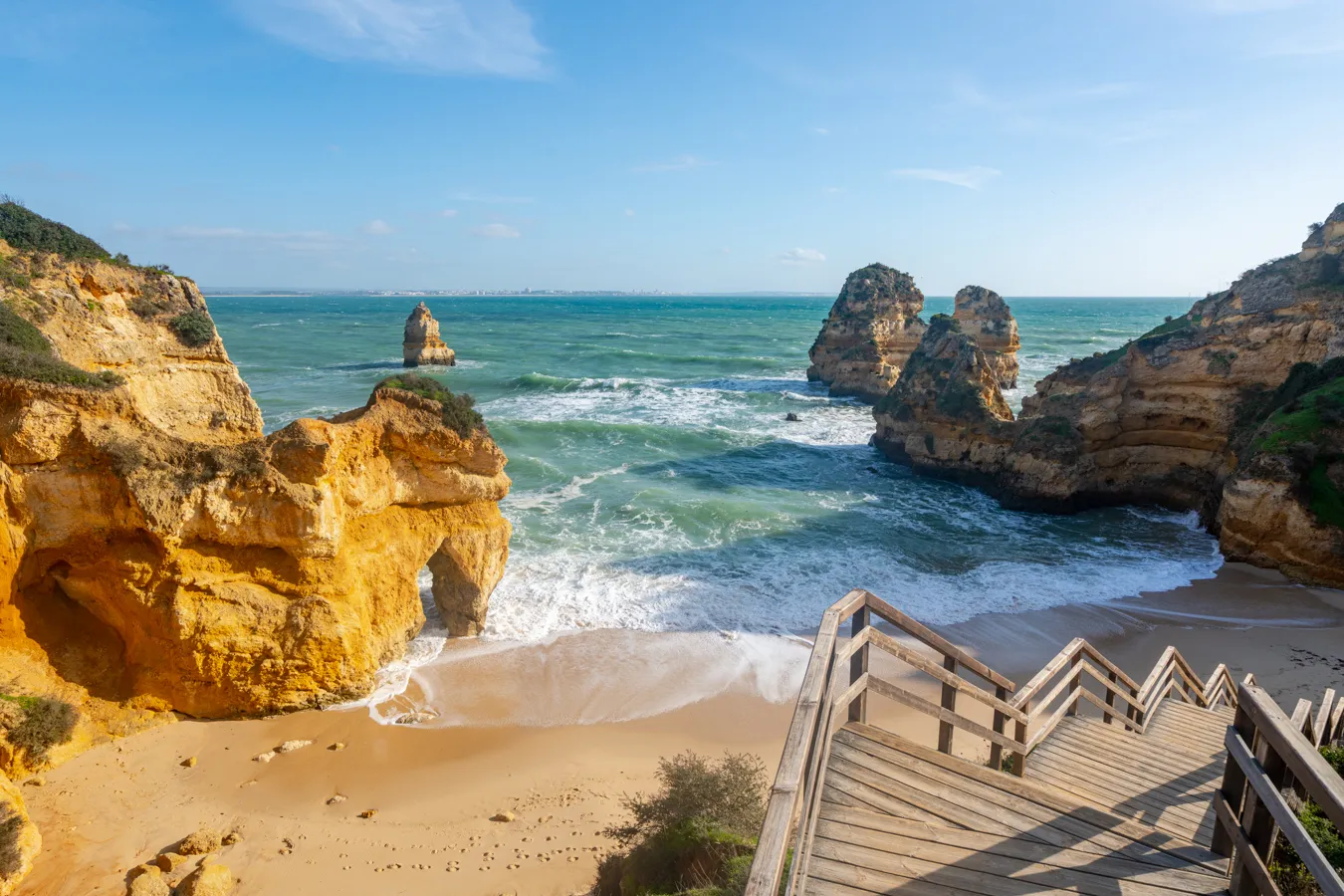 Carvoeiro
From Alya of Stingy Nomads
Best known for being the paddling-off point to the famous Benagil Cave, Carvoeiro is a charming beach town in the Algarve region of Portugal.
With beautiful beaches and rugged limestone cliffs. Carvoeiro is a perfect town for a family beach holiday or a romantic getaway.
The town has plenty of places to stay, restaurants, cafes, and shops. From Carvoeiro, you can easily take day trips to explore other places in the Algarve.
Despite the small size of the town, there are plenty of things to do in Carvoeiro.
Relaxing on the beach, of course, is one of the most central features of enjoying Carvoeiro.
Praia do Carvoeiro is the closest beach to the center of the town and the busiest one.
Other beaches that are within walking distance from the center are Praia do Paraiso, Praia do Vale de Centianes, and Praia de Vale Covo.
Hiking is another popular activity in Carvoeiro. There are a couple of walking routes from the town including the stunning Seven Hanging Valleys Trail.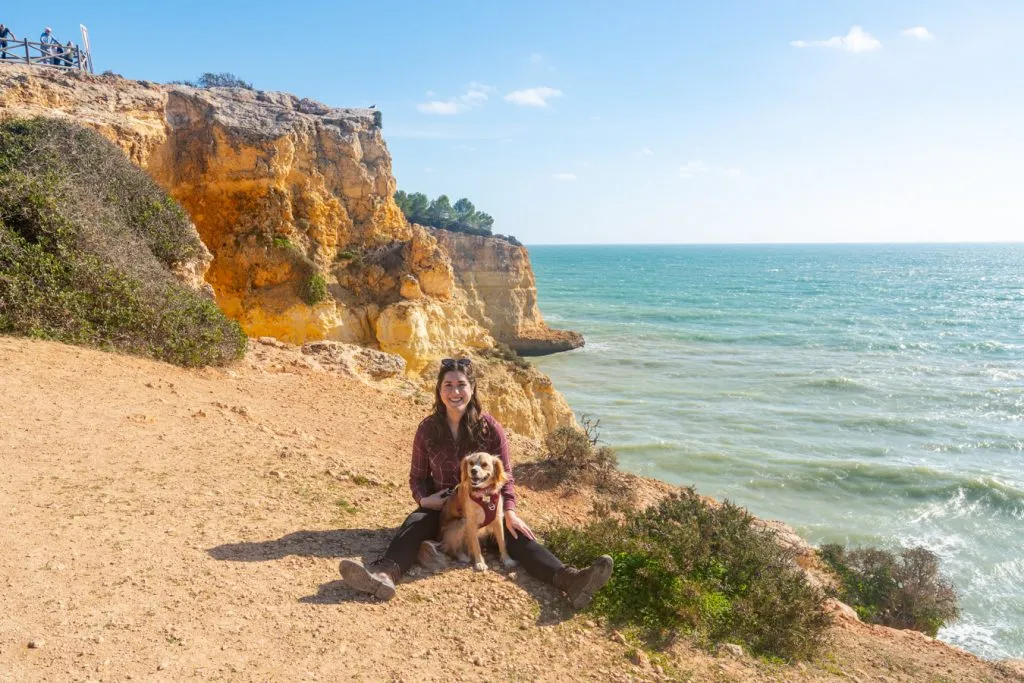 And, of course, you can visit the famous Benagil Cave with a kayak or a boat tour from Carvoeiro.
Carvoeiro boardwalk is perfect for an easy stroll with stunning views of the coast. Algar Seco and A Boneca Cave are also not-to-miss places in Carvoeiro.
Boneca Bar, a small open-air bar hidden between the cliffs of Carvoeiro, is a great place to come for a romantic dinner.
The easiest way of getting to Carvoeiro is flying to Faro International Airport and from there taking a bus.
And, for a memorable home base during your Portugal beach trip, Villa Welwitshia is one of the best places to stay in Carvoeiro.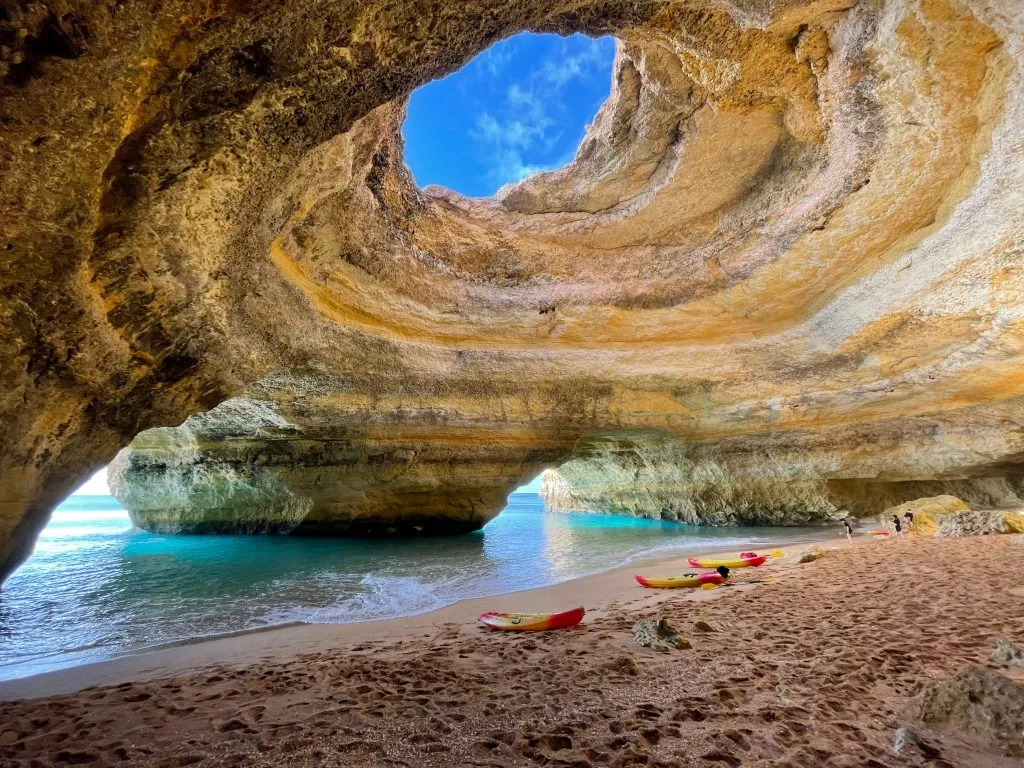 Tavira
From Linn of Amused By Algarve
One of the best coastal towns in Portugal is the quaint and underrated town of Tavira in the eastern Algarve.
While there is no beach directly from the town, Tavira Island is only a short ferry ride away and you can take the ferry directly from the town center to the mesmerizing Tavira Beach.
Tavira Island is also the only of Ria Formosa Natural Park's 5 barrier islands that you can walk to.
Across a footpath, you can either take a cute tourist train 1.3 kilometers to Barril Beach or you can walk on the path next to the train line.
There, you will also find the Anchor Cemetery, which features over 200 anchors placed on the dunes in front of the beach.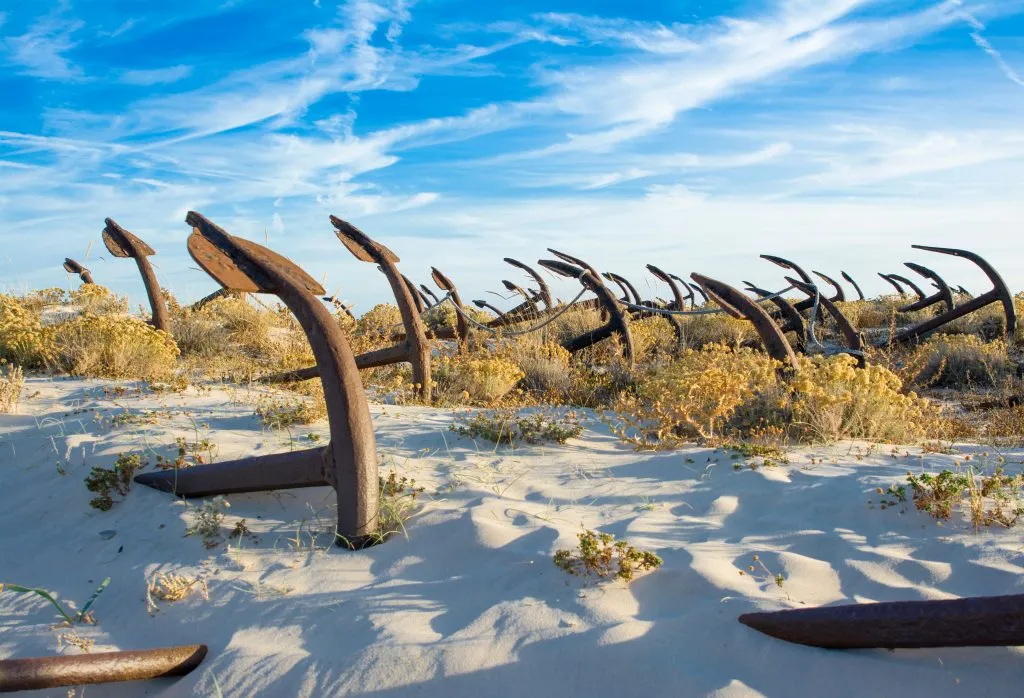 Both Tavira Beach and Barril Beach have sunbeds and shade for hire as well as cafes and restaurants to fill your tummy during your day at the beach.
If you are looking for more remote beaches, walk past Barril Beach and you will find beautiful deserted beaches with nothing but fine sand and glittering water.
However, there are many other things to do in Tavira other than visiting the beaches.
The quaint old town will keep you busy walking around chasing azulejos in the fisherman's quarter and climbing the walls of the castle ruins.
After dark, the Roman Bridge is a romantic place to cross the river and head out to one of the many cozy restaurants for a lovely dinner.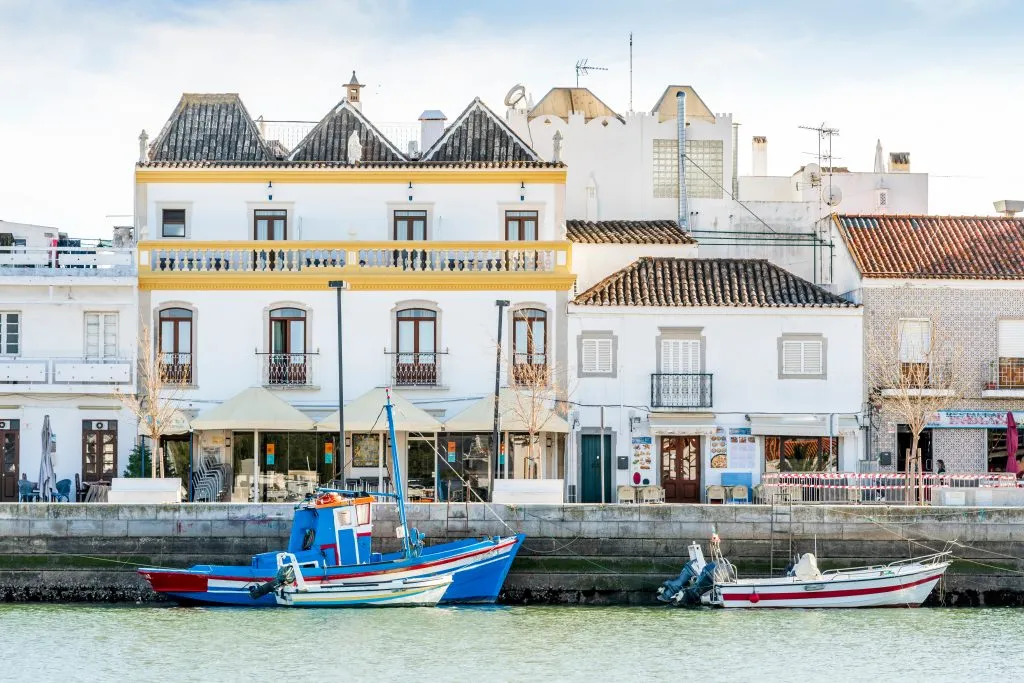 Sagres
Drive all the way to the southwestern point of Portugal, and you'll find the tiny town of Sagres.
A surfer's paradise at the end of the world, Sagres is simultaneously one of the best Portugal beach towns to visit and a place that brings words like "desolate" to mind.
Situated on a rocky outcrop at the far southwestern edge of Europe, Sagres is a place to go to get away from it all.
Some of the best things to do in Sagres include touring the Sagres Fortress (and appreciating the views), paying a visit to the Cabo de São Vicente Lighthouse, and of course, taking surfing lessons.
Praia do Tonel is one of the most popular beaches in Sagres and is the perfect place to take surfing lessons if you're ready to learn.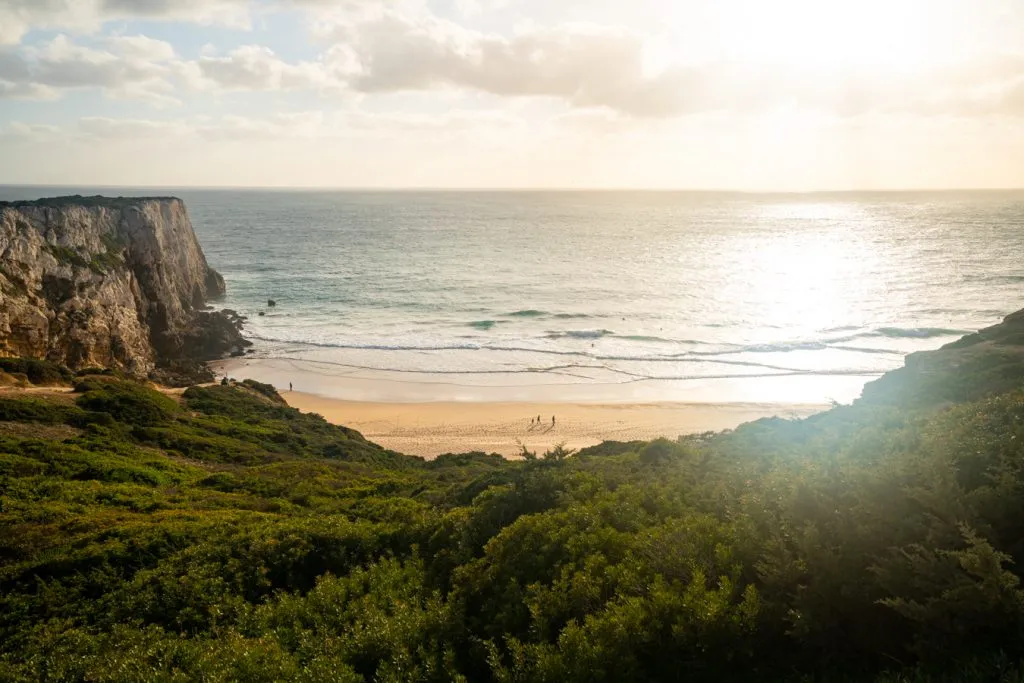 Odeceixe
From Mitch of Project Untethered
The beautiful Portuguese coastal town of Odeceixe is known for the famous horseshoe-shaped beach along the wild Vicentina coast.
It sits along the famous Rota Vicentina trek, a coastal trek packed with beaches and cliffs, and it's the starting (or ending) point of the traditional Fisherman's Trail hike.
The magic of Odeceixe lies in its rustic beauty, surrounding cliffs, and charming village vibes.
While many tourists beeline to popular beaches around Lagos, Odeceixe feels isolated from the world. It's a place to disconnect and recharge.
As far as accommodation goes, you have two main options.
You can stay in a small cluster of hotels overlooking Praia de Odeceixe, or you can stay in the actual town of Odeceixe.
Staying in town is more affordable, but it's a fair distance away from the beach.
This isn't a problem if you have a rental car.
But if you arrived by bus or via the Rota Vicentina hike, you're looking at an extra 40 minutes of walking along a curvy, hilly road with no sidewalks.
Other than hiking, surfing, eating seafood, and relaxing, there isn't much to do in Odeceixe, so if you're traveling with kids, don't forget to pack some beach gifts and games to stay entertained.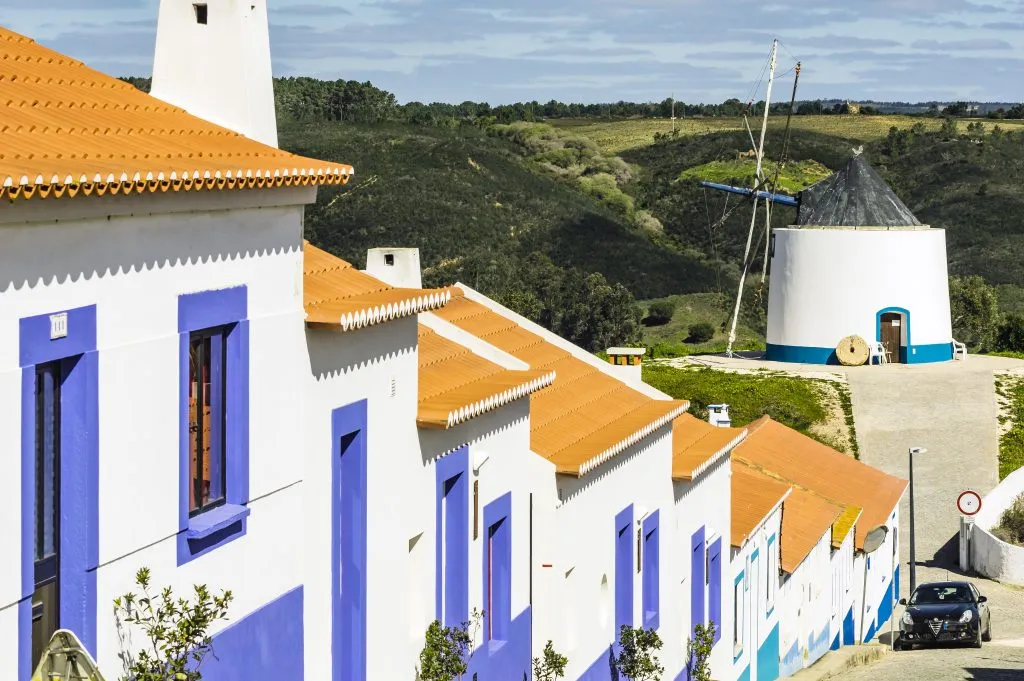 Albufeira
From Jacoba of Op Reis Met Co
Albufeira is one of the most famous beach towns in the Algarve. Why? It's a party town.
Albufeira has a bar strip where you can go out drinking and dancing every single night.
But there are certainly more things to do in Albufeira!
Make sure to explore Albufeira's old town, which is filled with white houses, narrow streets, and lovely churches.
Then there's also the brightly colored marina, which has several fun shops, bars, and restaurants. This is also the place to hop on a boat for a fun boat trip.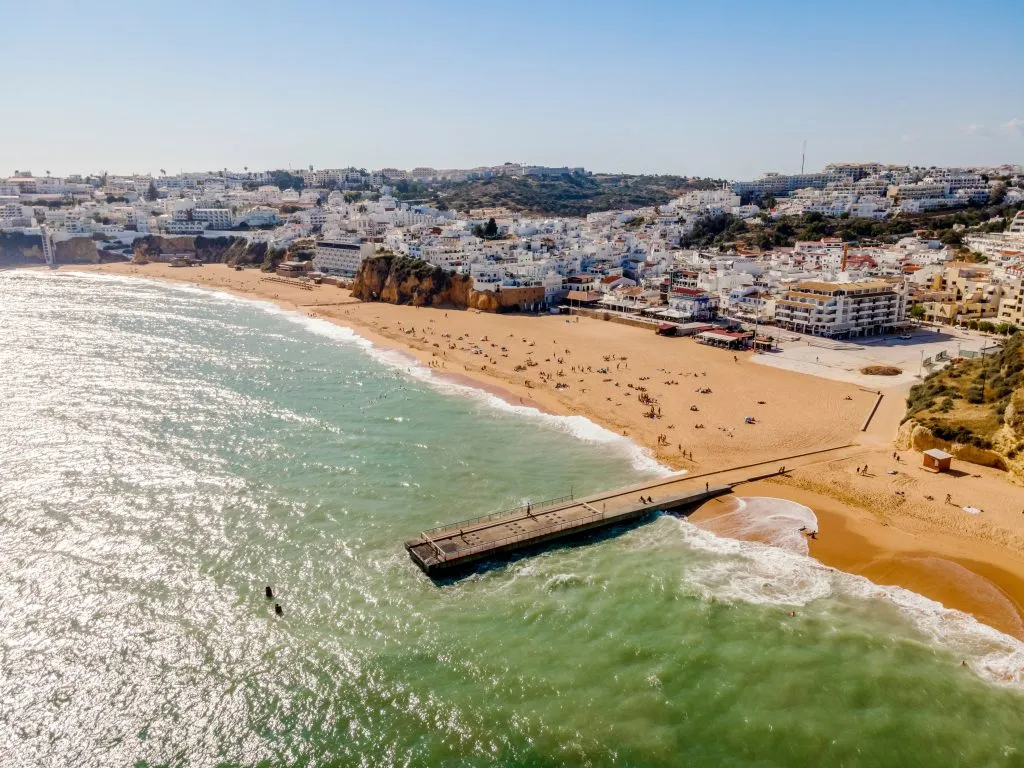 And of course, Albufeira is home to some of the best beaches in the Algarve.
Right next to Old Town you'll find Praia do Túnel and if you want to see the best sunset, you should go to Praia dos Alemães.
If you're looking for a more quiet beach, make sure to check out Praia de São Rafael. You'll also find some great hiking trails and viewpoints around this beach.
One of the best things about Albufeira is that it's very centrally located in the Algarve. It's easy to go on a day trip to Faro or Portimão, for example.
As you can see, Albufeira is a great place for both party animals and people who like a more relaxing vacation.
Praia da Luz
From Campell of The Algarve Family
Praia da Luz, also just known as Luz, is a delightful seaside town in Portugal located in the Western Algarve.
This picturesque village transformed from a little fishing town to a very popular tourist location.
The narrow streets, white-washed houses, and a long promenade running next to the beach result in a beautiful town with a fantastic tranquil vibe.
The extensive promenade is flanked by palm trees, open-air cafés, and restaurants with spectacular views over the ocean.
Luz has two wonderful beaches, Praia da Luz (or Luz Beach) and Praia Prainha.
Praia da Luz, the main beach, is a medium size sandy beach bordered by impressive cliffs. With soft sand and excellent facilities, Luz Beach is the perfect spot to spend the day on the beach.
Water sports are very popular in Luz. Summer is great for kayaking, stand-up paddling, or motorized sports such as wakeboarding, tubing, or driving a jet ski when the ocean is flat.
In winter the waves can be a bit bigger making for nice surfing. The nearby town of Lagos and Luz are linked by a nice hiking trail on the cliffs that form a part of the Fishermen's Trail, a popular multi-day hike.
This beautiful town is fantastic for family holidays with a nice atmosphere, safe beaches, and plenty of activities.
If you'd like to stay right on the beach, Luz Beach Apartments is a great option.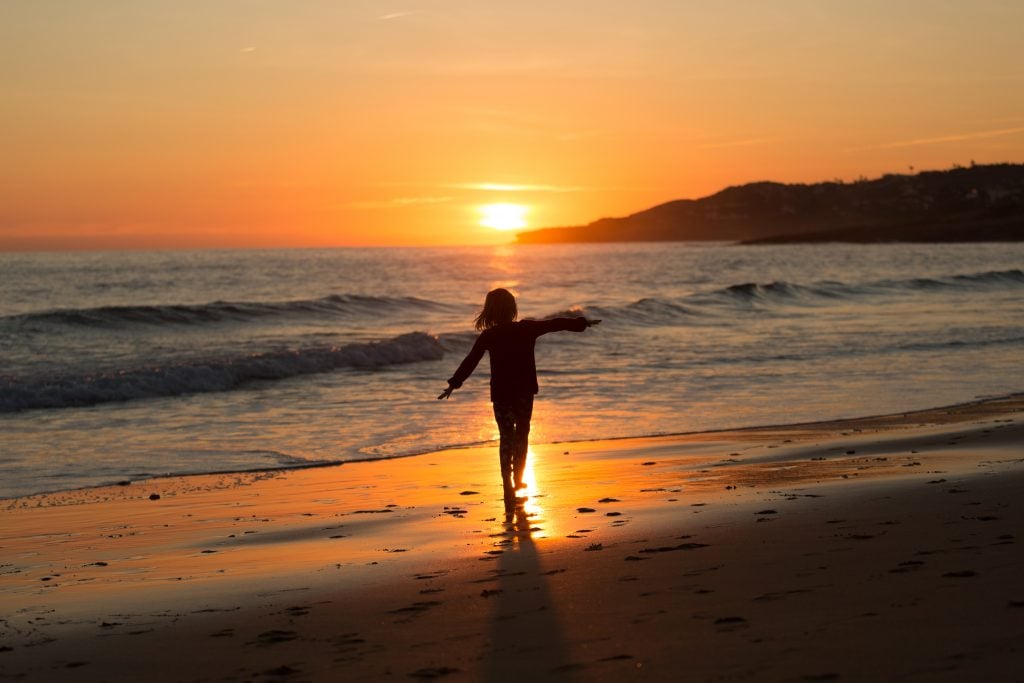 Olhão
From Paulina of Paulina on the Road
Olhão is one of the most underrated seaside villages in Portugal, situated right outside Faro.
It is a traditional and full-of-culture fishing town in the Algarve, with a beautiful waterfront in the town with a fishing harbor.
Olhão always has a lovely scent of fish wafts with the sea breezes and the wonderful seaside town is surrounded by white-washed buildings.

Olhão is among the most beautiful and peaceful coastal destinations in Portugal and there are many things to do.
On your arrival, take a road trip to Ria Formosa Natural Park. It is one of the best things to do in Olhão and it is no doubt that this will take you to the most beautiful island exploration.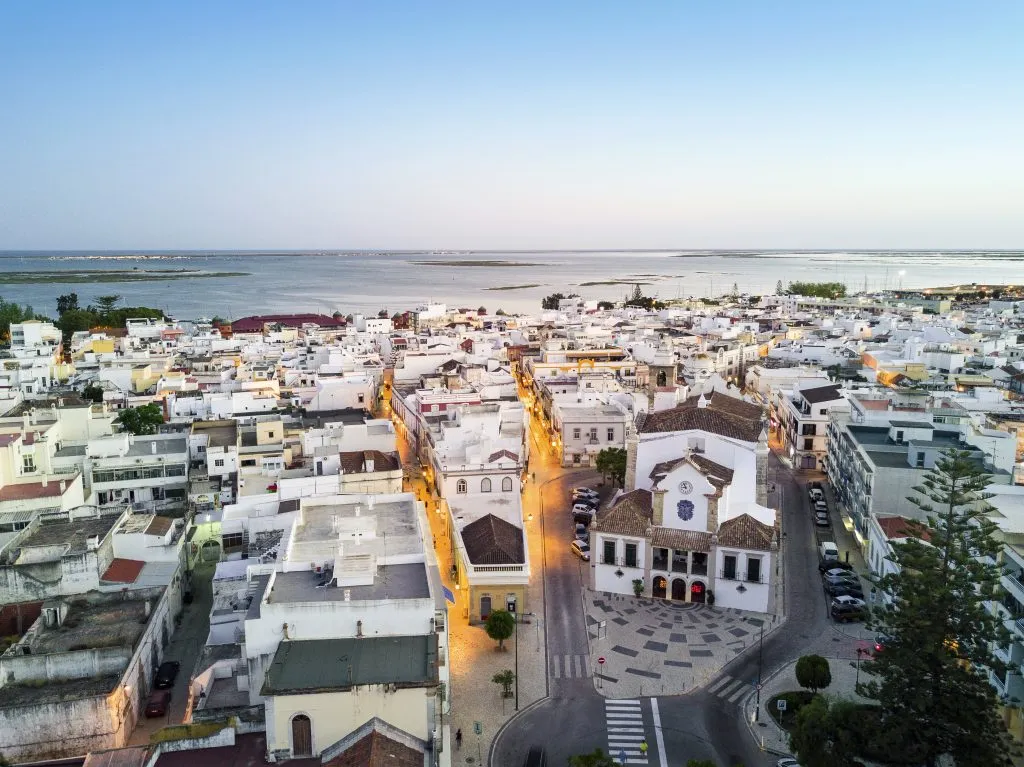 After that, make your way to Ilha da Culatra, which is Ria Formosa's beautiful barrier islands on the outside of Olhão. It is a must-visit if you are at Olhão.

After this, take yourself to Quinta de Marim which has an educational center. It is located less than 10 miles outside of Olhão city center.
Do not miss out on the in-town beaches like Praia da Ilha da Culatra, Praia da Armona, Praia do Ancão, and more.

If wondering where to stay in the Algarve, consider the popular Real Marina Hotel & Spa.
Vila do Bispo
From Alexander of Travel Your Memories
Vila do Bispo is a small village located in the Faro district of Portugal's famous Algarve region.
Vila do Bispo is still a truly original Portuguese village untouched by large groups of tourists.
It is a small village that is frequented by locals, and a great place to add to your wish list if you hope to visit Portugal on a budget.
The village has a supermarket, plenty of cute little shops, cafes and a lot of restaurants that are nice to visit. Thanks to the sea, fresh fish is often on the menu.
The local church in the village is also well worth a visit. It is known by several names, but the most famous is Igreja Matriz de Nossa Senhora da Conceição.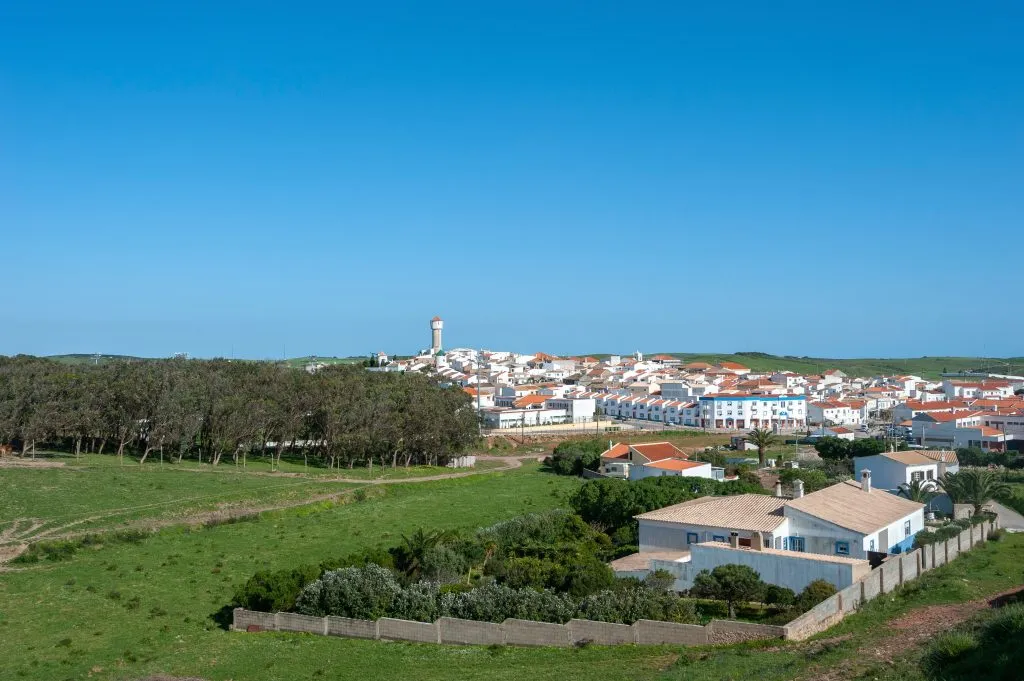 The church dates from the late sixteenth century and the interior is covered with the famous blue and white tiles.
Like so many churches in the Algarve, you would easily pass this church, not knowing what beauty is hidden inside.
Next to the church, one can visit the Museum of Sacred Art, where interesting pieces from the 16th century can be seen.
One of the other places of interest to visit in Vila do Bispo is Praija das Furnas Beach.
This is a quietly located beach that is also quite large and is ideal for a day of relaxation in one of the most charming seaside towns in Portugal.
Stunning Seaside Towns in Madeira, Portugal
Seixal
From Megan of Megan & Aram
If you're looking for a remote, yet gorgeous Portuguese beach town, look no further than Seixal on the northwestern coast of Madeira.
Seixal is small and has just over 650 residents and has been made famous as the premier surfing spot on Madeira for beginners.
One of the first places to head to in Seixal is Praia do Porto, the most famous beach in the town. This beach is made up of black sand and is known for its waves.
To sign up for a surfing lesson, you can get in touch with the Madeira Surf Center where they will schedule you for a lesson in Seixal or nearby Sao Vicente.
If you're looking for a calmer beach, check out Praia da Jamaica, which is made up of black pebbles and rocks instead of sand.
Another popular thing to do in Seixal is to take a dip in the natural pools around town.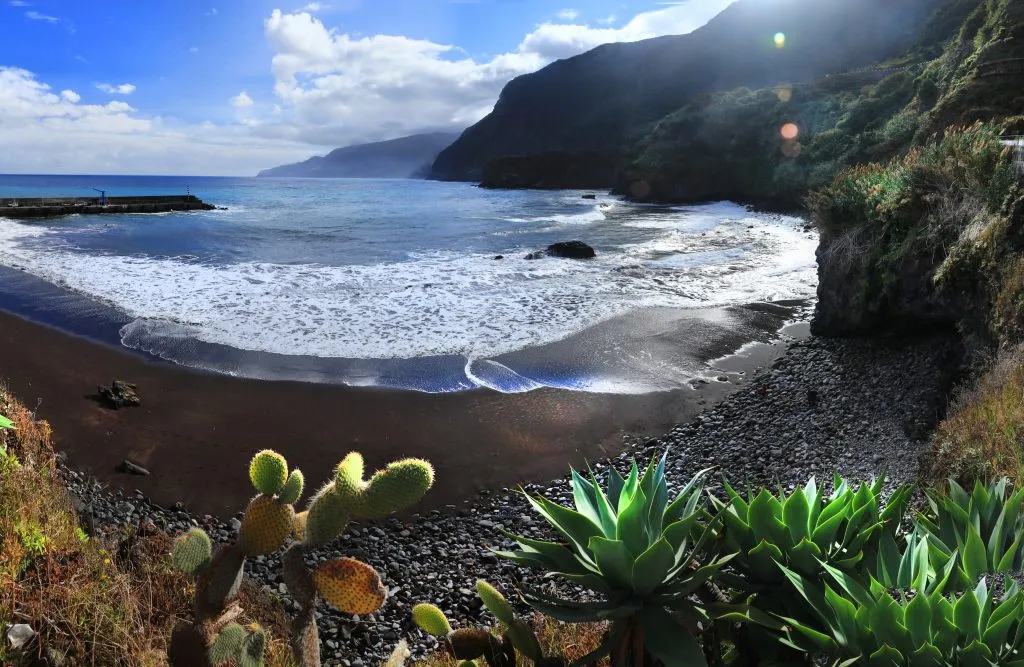 There are two located in town: one can be found right beside Praia do Porto and the other is a little bit down the road from there and is called Poca das Lesmas.
A little outside of town and on the way to Porto Moniz are some sea stacks on a secluded beach called Ribeira da Janela which is worth a stop.
For wine enthusiasts, a day trip to Barbusano Winery in nearby Sao Vicente is a must!
The winery has a showroom where you can taste and buy some local wines for your trip.
Also near Sao Vicente are the Sao Vicente Caves, a complex that showcases caves and lava tubes created by ancient eruptions with interactive displays that are exciting for kids.
It is one of the most popular things to do in Madeira!
Many travelers opt to stay in Porto Moniz or Sao Vicente for their trip, but if you're looking to stay in Seixal, Casa das Videiras is a top-rated, budget-friendly option!
Porto Moniz
From Abbey of Trips on Abbey Road
On the beautiful island of Madeira, you will find so many different little beach cities scattered around the coast.
That being said, the town of Porto Moniz stands out for its beautiful natural pools, making it one of the best beach towns in Portugal.
These natural pools were created over many years and were formed from lava cooling in the ocean. They are always filled with ocean salt water and are open all year long.
The natural pools are never heated, and they never add water to the pools, so you can expect the water to be the same temperature as the sea.
At the natural pools, it is so much fun to watch the waves crashing in and then spilling back out.
Even if you are not a big swimmer you should still head over just to see how lovely nature can be.
There are also plenty of restaurants in Porto Moniz. If you are looking for a quick bite then you will love the snacks at Conchinia.
If you wanted to sit down and watch the waves you could always head over to the Polo Norte, they have delicious Portuguese food there.
Once you have visited the natural pools you can always head over to Seixal Beach, or take a Levada walk there are plenty of those to do around the area.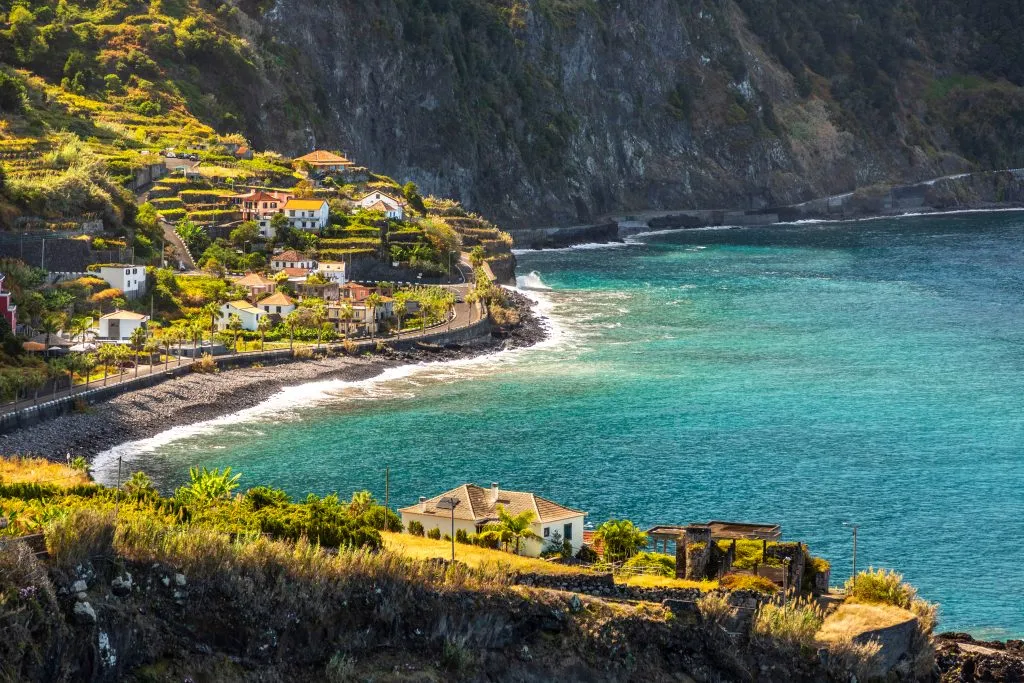 Charming Coastal Towns in the Azores
Angra do Heroísmo
From Greta of Greta's Travels
If you're looking for the best beach towns in Portugal, you have to add Angra do Heroísmo to your bucket list. Angra do Heroísmo is the capital of Terceira Island, in the Azores archipelago.
The Azores are volcanic islands located in the middle of the Atlantic Ocean, and have a very different climate and landscape compared to mainland Portugal.
Angra do Heroismo is a lovely town, with unique colourful colonial architecture.
There are a couple beaches in town, the most popular one being Praia de Angra do Heroísmo, as it's right next to the town centre, but the selling point of this town aren't the beaches.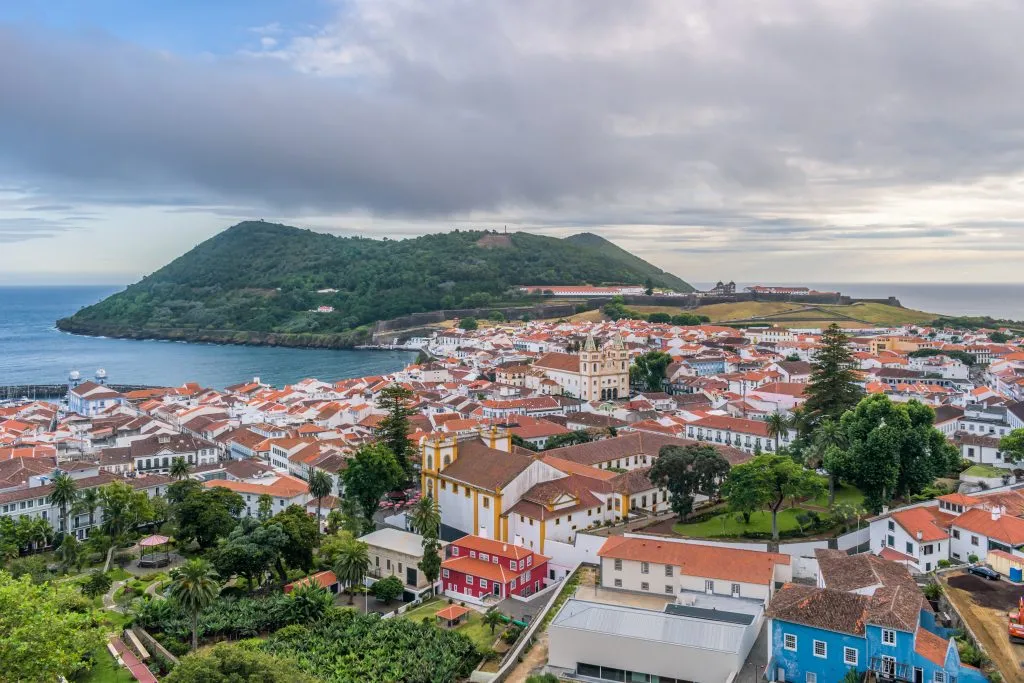 Terceira is a fairly small island, so you can easily get around it and explore it with Angra do Heroísmo as your base.
In Terceira you can hike through beautiful volcanic landscapes, discover a cave inside a volcano, go whale watching and indulge in the stunning views from the many miraduoros.
If you want to go for a swim in the sea, the most popular place to do so are the Piscinas Naturais Biscoitos.
These natural pools are famous for the contrast between the crystal clear water and the black lava rocks that surround them, and they're only a 30-minute drive from Angra do Heroísmo.
Map of the Best Beach Towns in Portugal (Mainland)
For ease of navigating this map, we've opted only to include the best beach towns in Portugal's mainland here.
Take This Map With You! Click each highlight to pull up the name of the destination. To save this map to "Your Places" on Google Maps, click the star to the right of the title. You'll then be able to find it under the Maps tab of your Google Maps account! To open the map in a new window, click the button on the top right of the map.