Ready to plan a 2 week Europe trip but not quite sure where to start?
We want to help!
Whether it's your first trip to Europe or your tenth, there's something simultaneously overwhelming and exhilarating about planning a trip through multiple countries that–for us and most of the readers of this blog post–lie across an ocean from home.
I'll never forget planning our first 2 week Europe itinerary: I pored over flight schedules, bucket lists, budgets, and maps for months, desperate to pull together the ultimate Europe trip.
There were many, many lists involved in planning that first trip, and after months of planning, I emerged with an eclectic but incredible itinerary that kicked our love of travel into high gear.
In the summer of 2015, Jeremy and I spent a little over 2 weeks in Europe exploring Krakow, Budapest, Plitvice Lakes National Park, Zadar, Dublin, and the Cliffs of Moher (I told you it was eclectic!).
We've now cumulatively spent years of our lives traveling in Europe, falling in love with world-famous cities and less iconic locations alike, and there's absolutely nothing we like better than helping people plan their own unforgettable adventures.
Over the years, we've explored the continent in almost every way possible, from backpacking Europe on a budget for 2 weeks to checking into luxury hotels to playing tour guide for family and friends to finally spending more than a year living in Lisbon, Portugal!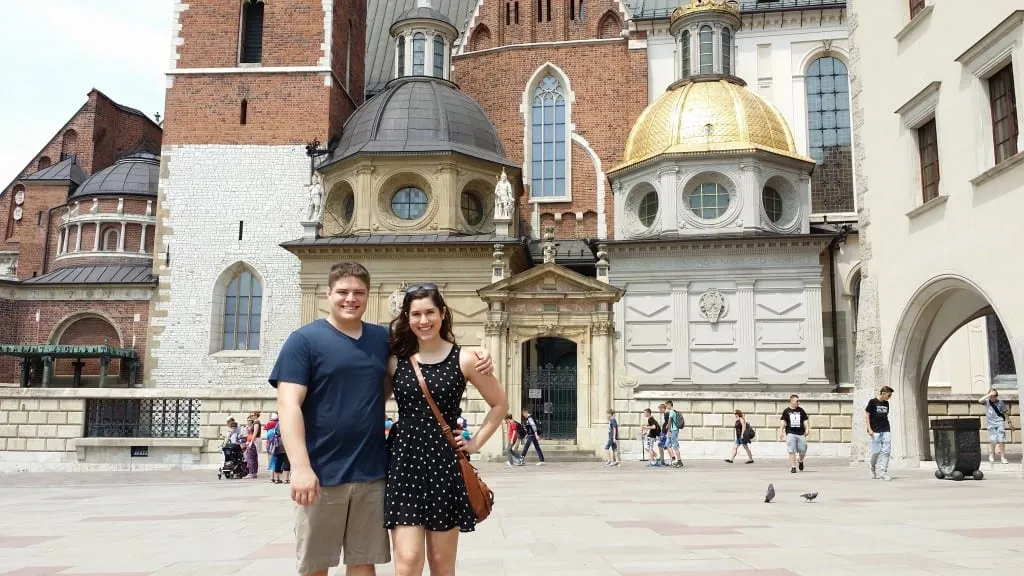 We've put together this 2 week Europe itinerary guide to help you plan your trip–here's what you need to know before you go.
(Also, yes–this is an incredibly long blog post! We recommend using the table of contents right below this paragraph to help you navigate to different sections depending on what you're hoping to read first.)
How to Use This 2 Week Europe Trip Guide
This 2 week Europe trip guide is designed for someone hoping to see the highlights of a few different European destinations, spread across multiple countries, in only a couple of weeks.
We've primarily written it for someone planning their first trip to Europe, but if this is your second trip, third trip, or beyond, hopefully, we have some interesting ideas and tips for you, too!
And, of course, given that Europe is home to more than 50 countries and is roughly the same size as the USA, no 2 weeks in Europe could hope to cover the entire continent or all of its numerous and distinct cultures, languages, and histories.
For ease of communication, we'll talk in general terms about traveling in Europe here, but once you pick your itinerary, of course, you'll want to follow up with further research on the specific locations you'll be visiting.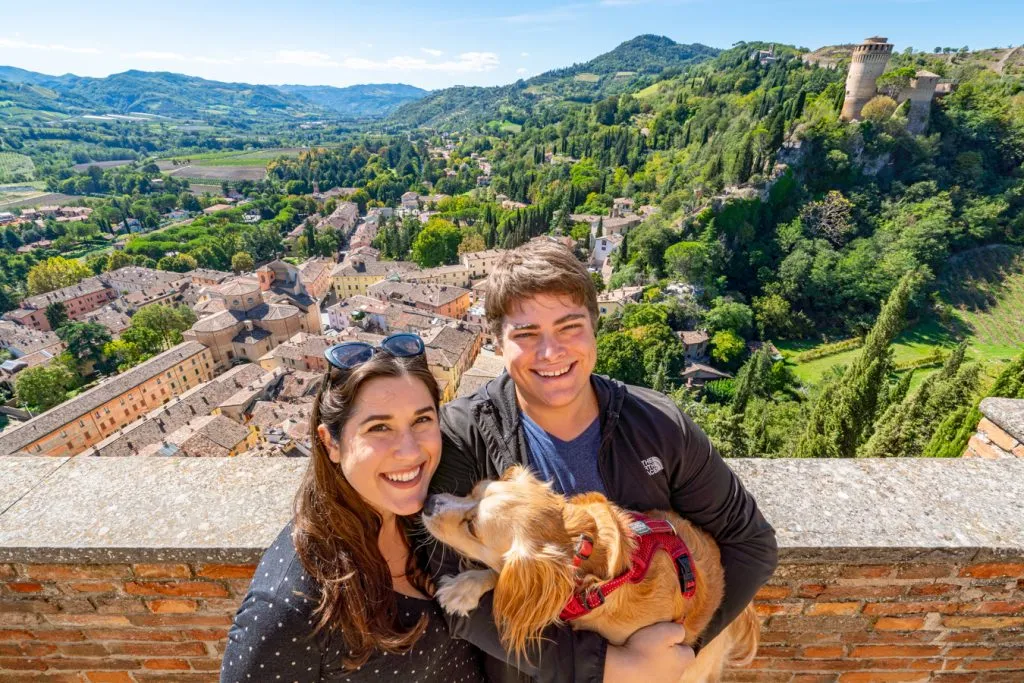 And, once you're further along in your planning process, we'd love to help you with some of that planning here on Our Escape Clause, too!
We'll link to relevant blog posts throughout this travel guide, but given the hundreds of posts we have on the site, we won't be able to link them all!
You can use our destinations page or the search bar on the top right of the page (on desktop) or at the top of the pop-out menu (on mobile) to find our content about various specific destinations across Europe or general travel tips.
For example, a few of our most popular guides that might come in handy next include our guide to traveling Europe by train, our 75 best Europe travel tips, and our (biased) guide to the best cities in Europe.
Exciting 2 Week Europe Itinerary Ideas
The number of possible 2 week Europe itinerary ideas is truly infinite–just look at the odd itinerary that I cobbled together for us in 2015 as an example.
However, the sample itineraries for Europe outlined below should give you a good idea of what you can accomplish with around 14 days in Europe!
I truly struggled to narrow down these ideas–I could name 10 more excellent 2 week Europe trips in an instant, and still feel like I was leaving so much on the table.
I aimed to keep these mostly focused on destinations that are popular for first-time visitors to Europe, with just a couple of slight curve balls thrown in.
The Classic: London, Paris, Rome
As three of the world's most beloved and celebrated cities, you can't go wrong with splitting your 2 weeks in Europe between London, Paris, and Rome.
London
As the capital of an English-speaking country and home to an enormous airport hub, London makes logistical sense for a first trip to Europe hailing from North America–and, of course, it's a truly fascinating city.
Visit Buckingham Palace and Hyde Park, stroll through Notting Hill, snap photos of Big Ben, check out the Tower Bridge and the Tower of London, visit the Wizarding World of Harry Potter, stop by Piccadilly Circus, ride the London Eye, and tour the British Museum.
… And that's just to get you started!
Paris
The City of Lights is one of our favorite cities in the world and was also the first place we visited on our very first trip to Europe (we spent a week there and then planned our 2 week Europe trip outlined in the introduction of this blog post the following year).
Since then, we haven't been able to stop going back, and believe that it's an excellent addition to any 2 week Europe itinerary!
While you're in Paris, visit the Eiffel Tower, marvel at the beauty of Sainte-Chapelle, tour the Louvre and the Musee d'Orsay, stroll the picturesque streets of Montmartre and the Latin Quarter, visit the Palais Garnier, discover hidden passages and tiny cafes, and soak up every minute of that Parisian charm.
Our full guide to planning your first trip to Paris can help you get started!
Rome
Ah, Rome–if Paris is the first European city we fell in love with, Rome is probably our deepest love on the continent.
From wonders of Ancient Rome like the Colosseum, Roman Forum, and Pantheon to more recent additions like the Vatican Museums, Trevi Fountain, and winding cobblestone streets of Trastevere, exploring Rome is a captivating, engaging experience that we can't recommend highly enough.
And, of course, you couldn't ask for a better cuisine to savor during your 2 weeks in Europe: Rome is home to some of the best pasta in all of Italy!
Southern Europe Charm: Madrid, Rome, Amalfi Coast
Want your 2 weeks in Europe to focus on a delightful combination of history, food, and sunshine?
Head directly to Spain and Italy!
Madrid
While Barcelona gets all the love (and a lot of the crowds), we're personally smitten with the Spanish capital of Madrid… and excellent flight deals from North America make it almost irresistible on a 2 week Europe itinerary.
In Madrid, you can admire world-class art in the Prado, soak in Spanish culture with a stroll through Retiro Park, eat all the tapas and churros con chocolate you can get your hands on, tour the Royal Palace, check out an Egyptian temple, and take day trips to fairytale towns like Toledo and Segovia.
Rome
I described Rome in the first Europe itinerary on this list, so I won't repeat myself here, but as I sit typing this Europe travel blog post out in a Rome apartment while dreaming of the carbonara I'll eat for dinner tonight, all I can say is: you won't regret coming to Rome (and scroll up for more details).
And, while I detailed some of Rome's highlights above, let me also say… don't forget to get off the beaten path in the Eternal City, either!
Amalfi Coast
The famed Amalfi Coast, with its dramatic cliffs, chic villages like Positano, delicious lemons, and jaw-droppingly beautiful hikes like the Path of the Gods, is a fabulous conclusion to any 2 week Europe trip–where better to relax than one of the most beautiful coastlines in the world?
While you're there, be sure to make room for plenty of day trips!
Iconic locations like Capri and Pompeii, as well as less-popular but equally amazing spots like Ischia, Herculaneum, and Procida, are all at your fingertips when staying on the Amalfi Coast.
(Also, if you like page-turning novels about friendship and Italy, I highly recommend reading Elena Ferrante's My Brilliant Friend series before coming or while visiting Europe).
Regal Central Europe: Prague, Vienna, Budapest
Sweeping boulevards, dramatic architecture, beautiful coffeehouses, and tasty comfort food: a trip to Central Europe is an absolute delight.
In my opinion, this region truly shines during the winter months when Christmas markets are in full swing and the hearty cuisine keeps you warm from the inside out.
I'll try to keep this section quite brief, as I've already written a detailed Central Europe itinerary here, but suffice it to say, we love it.
Prague
Known as the City of a Hundred Spires (and also for the fact that beer is cheaper than water here–true story), Prague is easily in the running for the most beautiful city in Europe.
The beauty of Prague Castle, St. Vitus Cathedral, the famed Charles Bridge, and Prague's well-known astronomical clock will all draw you in.
If you have enough time, consider adding a day trip to a smaller Czech town like gorgeous Český Krumlov as well!
Vienna
Regal and beautiful, full of spacious, wide avenues and ornate buildings, Austria's capital city is the perfect place to come to tour grand palaces (Schonbrunn is one of the most popular), see a show in one of the world's premier opera houses, and to enjoy European cafe culture at its finest.
We absolutely adore Vienna's coffee houses–be sure to try a slice (or several) of Esterhazy Cake while there, as well as Viennese hot chocolate.
The city's famed Spanish riding school and striking St. Stephen's Cathedral are also worth adding to your list!
Budapest
As our favorite city in central Europe and one of our top 10 cities in Europe overall, I really can't say enough about how beautiful Budapest is!
Th city is somehow, simultaneously, both grand and down-to-Earth, absolutely gorgeous while also remaining accessible, affordable, and fairly simple to visit and explore.
While in Budapest, go for a soak in the famous thermal baths, tour one of the most beautiful houses of Parliament in Europe, check out a castle, visit grand basilicas, take a boat ride down the Danube, and, if you're up for a bit of adventure, even go on a cave tour!
Be sure not to miss the great food, either–Budapest's hearty cuisine is a delight, and one of our all-time favorite wine tastings took place there!
Europe for Art Lovers: Paris, Florence, Venice
If you're an art buff at heart, you can't ask for a better sampling of some of the continent's most beloved artistic cities than the trifecta of Paris, Florence, and Venice (and it certainly helps that each city is practically an art museum in and of itself).
Paris
From the Louvre to the Musee d'Orsay to the Orangerie to the Musee Rodin to the Centre Pompidou, it would probably take a lifetime to enjoy all the art museums in Paris alone.
And of course, the city has so much more to offer once you need a break!
Florence
Nicknamed the Cradle of the Renaissance, Florence boasts the finest collection of Renaissance art on the planet–and claims many of its most famous artists as locals.
Michelangelo, DaVinci, Botticelli, and more all originally hailed from Florence, and their works are scattered about the city.
Perhaps most famously, Michelangelo's David is in the Galleria dell'Accademia and Botticelli's The Birth of Venus is in the Uffizi Gallery.
And of course, no art-focused trip to the Cradle of the Renaissance can overlook Florence's iconic Duomo, a masterpiece of the era!
Venice
Located an easy train ride away from Florence, Venice may be slightly less well-known for its art than the first two cities on this 2 week Europe itinerary, but there's no doubt that there's plenty to find!
From the utter masterpiece of St. Mark's Basilica (don't miss a chance to go in!) to the incredible Doge's Palace to the famous Galleria dell'Accademia (not to be confused with the one in Florence!) that focuses mostly on Venetian artists, Venice is an art lover's dream.
Mix it up by adding a visit to the Peggy Guggenheim Collection, which holds modern art, and a gondola ride.
After all, Venice itself is no doubt one of the best artistic masterpieces in the city, and it deserves to be seen from all its best angles.
The Incredible Iberian Peninsula: Lisbon, The Algarve, Andalucia
The Iberian Peninsula is dominated by Spain and Portugal, and while I might be biased after spending more than a year living in Lisbon, it makes for an unforgettable Eurotrip!
(The fact that there are often flight deals from the US to Lisbon and Madrid doesn't hurt, either).
There are infinite ways to craft southern Europe itineraries out of these two countries, but here's one great option…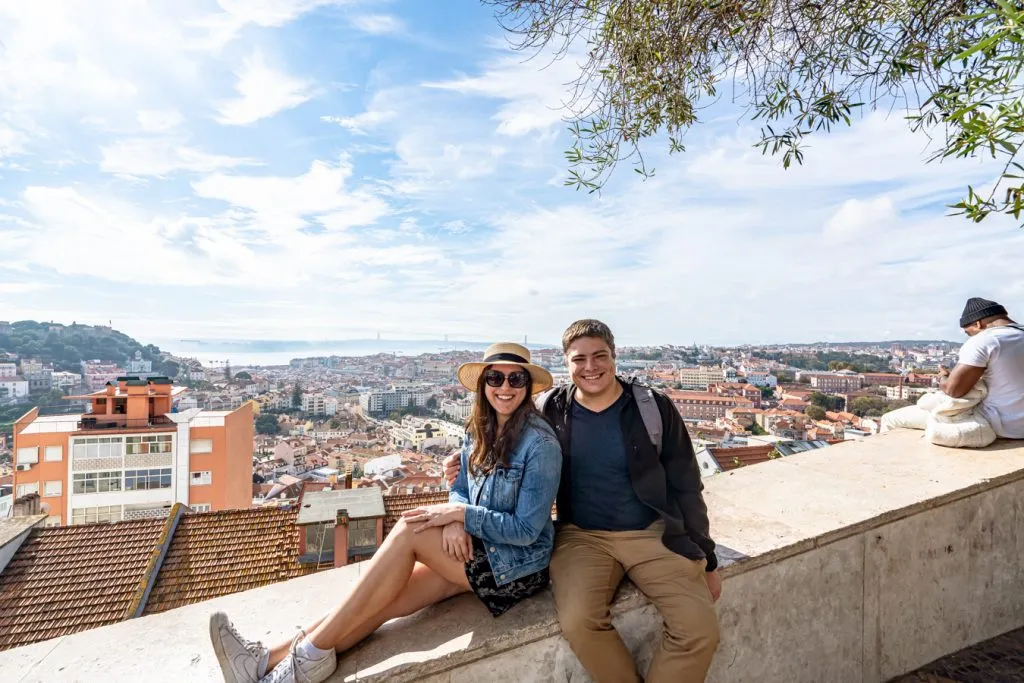 Lisbon
Start your trip with a few days in Lisbon, Portugal's trendy capital city, soaking up beautiful views from its many miradouros, sampling Portuguese food (starting with pastéis de nata), touring the incredible Jerónimos Monastery, and taking day trips from Lisbon to nearby gems like Sintra.
Be prepared to head up and down a lot of hills while you're there–but Lisbon is worth the climb.
If you're looking for neighborhoods to wander through, Alfama, Castelo, Chiado, and Bairro Alto are particularly picturesque–keep an eye out for trams, azulejos, and peacocks as you explore!
And, while Lisbon's top attractions are definitely worth a visit, seeking out some of the many hidden gems in Lisbon will add extra beauty to your trip.
The Algarve
After saying goodbye to Lisbon, head south of Portugal's Algarve for a dizzying array of whitewashed villages (you'll find many of the best beach towns in Portugal here) and a picturesque coastline.
Lagos is one of the most popular places to stay, and we can highly recommend it–don't miss the famous Ponta da Piedade, which photos can't do justice to.
Nearby attractions (ideally, you'll want to rent a car in the Algarve) include the famous Benagil Cave and the unmissable Seven Hanging Valleys Trail!
Andalucia
For the second week of your trip in Europe, cross the border into southern Spain (note: there's no direct train access for this journey, but there are buses).
Split your time between any two of Andalucia's incredible cities, taking nearby day trips from there.
Seville (with its Alcazar and famous Plaza de Espana), Granada (home of the Alhambra), and Cordoba (home of the Mosque-Cathedral, one of the most unique houses of worship in the world) are all wonderful inland options.
On the coast, options include Cadiz, Malaga, Marbella, Tarifa, and many more.
With a bit more than 2 weeks in Europe or an ambitious schedule, you may be able to squeeze in a day trip to Gibraltar and/or Tangier, Morocco while here!
Food + History: Athens, Santorini, Istanbul
Feel like heading further east–as far east as you can get during a Europe vacation?
Greece and Turkey pair very well for a 14 day European itinerary–here's what that might look like.
Athens
Start your trip in Athens, marveling at some of the world's most remarkable ruins, including the famous Acropolis complex and museum.
Be sure to make time to explore non-ancient aspects of Athens as well, including the trendy Plaka neighborhood, Monastiraki Square (and nearby flea market!), and Syntagma Square.
And of course, one of the absolute best things to do after you touch down in Athens is to dive into plate after plate of phenomenal Greek food–that alone is worth traveling to Greece for (our Athens food tour remains one of my favorites that we've taken in Europe).
Santorini
Truly, any one of Greece's amazing islands would fit nicely into this 2 week Europe itinerary, but where better to choose than Santorini, with its iconic blue-and-white color scheme, fantastic caldera views, and excellent flight connections?
While Santorini isn't best known for its beaches–you're better off heading to Crete for those–you sure can't beat the charming villages or stunning nature.
Istanbul
The city of two continents, where thousands of years of history blend together seamlessly with modern life, and where you can eat one of the best breakfasts you'll ever experience in your life: Istanbul tops bucket lists around the world, and there is nowhere quite like it.
Marvel at the Blue Mosque, step inside the Hagia Sophia, eat your weight in Turkish breakfast (seriously, I can't emphasize enough how tasty it is), admire the views of the Bosphorus, climb the Galata Tower, and shop your way through the Grand Bazaar.
Since this Europe travel blog post focuses on, well, Europe, I won't sketch out any other possibilities further east in Turkey in detail…
But, if you have time, you could easily add a visit to Cappadocia, complete with a sunrise hot air balloon ride, to your trip, or even a visit to the ruins of Ephesus.
Architecture + Culture: Cologne, Amsterdam, Belgium
With this small triangle of destinations, you can easily visit separate countries via train, with very little travel time between them!
And, if you were particularly motivated to add another, you could even squeeze in a day trip to Luxembourg.
If you're looking for a winter itinerary for Europe that focuses on cities, this is a fantastic option.
Cologne
Home to a stunning cathedral and what may just be the best Christmas markets on the planet, Cologne is a gorgeous German city that is a delight to explore on foot.
Don't miss its soaring Gothic Cathedral while you're there!
… Though honestly, that would be hard to do, considering you can see it right as you step outside the train station.
Amsterdam
As one of the most popular cities to visit in Europe, Amsterdam requires no introduction.
The city of canals, biking, and revelry is somehow even more beautiful in person than in the billions of photos of it.
While you're there, be sure to take a canal cruise, stroll the 9 Streets, and visit at least a couple of the city's museums (the Anne Frank House is incredibly moving).
If you visit during winter, you'll no doubt need to bundle up–but the lack of crowds in this often-packed city is also a treat to experience.
Belgium
Perhaps it may be slightly unfair to list Belgium entirely while the other destinations are split into cities… but considering Belgium's two most popular cities, Bruges and Ghent, are located less than an hour apart by train, you can cover quite a bit of the country in a few days!
With stunning architecture, canals, and carbs (bring on the waffles and frites), it's easy to have a blast in Belgium.
Winter in Belgium brings a lack of crowds and plenty of festivities during the Christmas season!
Alpine Escape: Bavaria, Switzerland's Jungfrau Region, Milan, and Lake Como
If your dream Europe trip involves plenty of Alpine views with a side of cities, this is the itinerary for Europe in 2 weeks for you.
Bavaria
Start your trip in Bavaria, the land of castles, beer, and outdoor delights.
City lovers will enjoy being based in Munich (don't miss the opulent Munich Residenz or view from St. Peter's Church and/or the Town Hall Tower while there).
From Munich, you can easily day trip to more mountainous areas, starting with Fussen, home to Germany's famous Neuschwanstein Castle.
If you get good weather and want see as many mountains as possible, a day trip to the Zugspite–the highest point in Germany–is also an option.
Really, though, if there's one thing to prioritize in Munich, it's to eat and drink all the sausage, pretzels, beer, and beyond you can get your hands on!
Switzerland's Jungfrau Region
I am convinced that Switzerland's Jungfrau region–located around (literally, above) Interlaken–is paradise on earth in the summer.
If you're dreaming of the Alps, check into a hotel in Wengen, Murren, or Grindelwald (for the best views) or Interlaken (for a bit more selection) or Lauterbrunnen (to be in the literal center of the action) and have the trip of your dreams.
Switzerland's legendarily efficient trains and gondolas mean that wherever you stay, the region is at your fingertips.
Hiking from Mannlichen to Kleine Scheidigg, riding the highest train in Europe to Jungfraujoch (aka the "Top of Europe"), eating daily fondue, walking from Murren to Gimmelwald, and riding a historic cogwheel train to Schynige Platte are just a few of the unforgettable experiences you'll find here.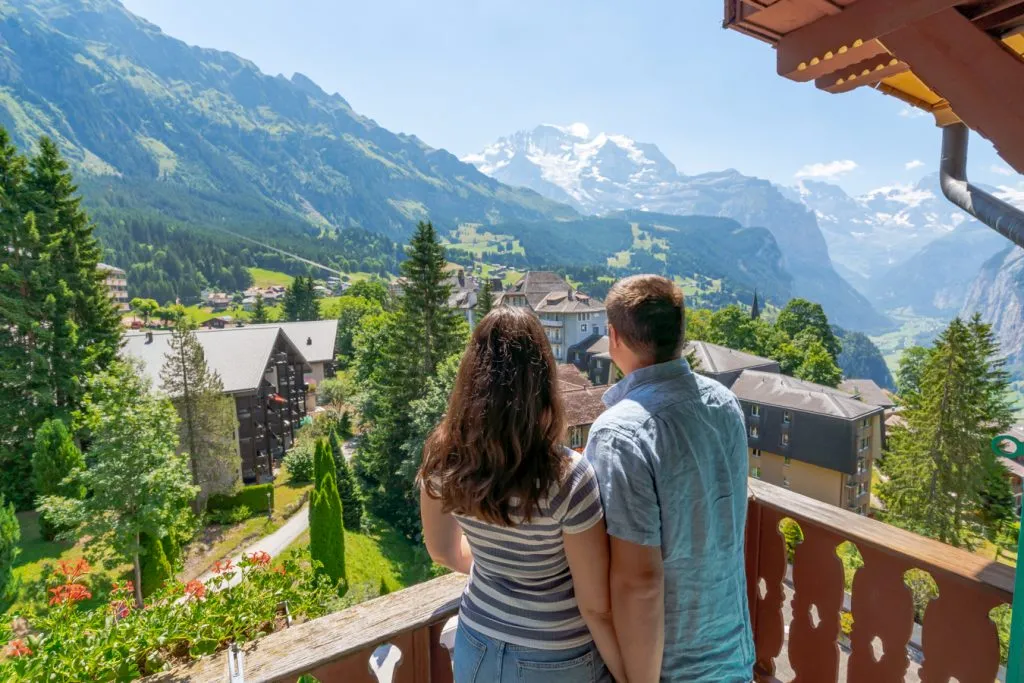 Milan + Lake Como
End your trip to Milan and Lake Como, two of the most popular destinations in northern Italy!
In Milan, be sure to visit its legendary Duomo, stroll through the Galleria Vittorio Emanuele II, visit Sforzesco Castle, and, if you can get tickets (plan ahead!) see Da Vinci's The Last Supper.
At Lake Como (just an hour north of Milan by train), take a boat tour around the lake and visit delightfully charming towns like Varenna and Bellagio while admiring magnificent Alpine views.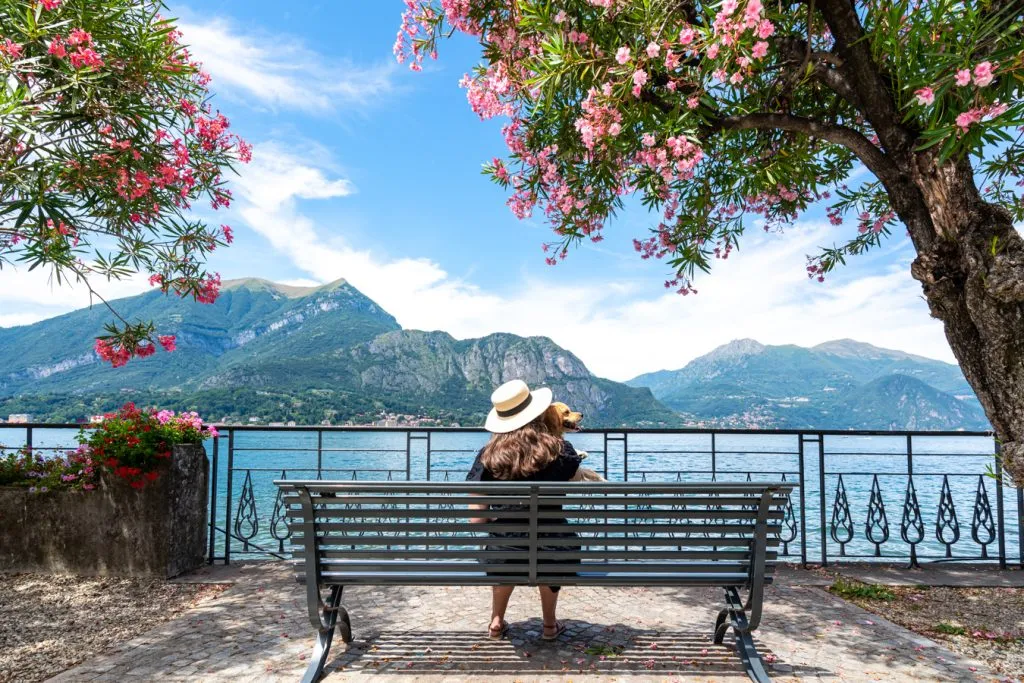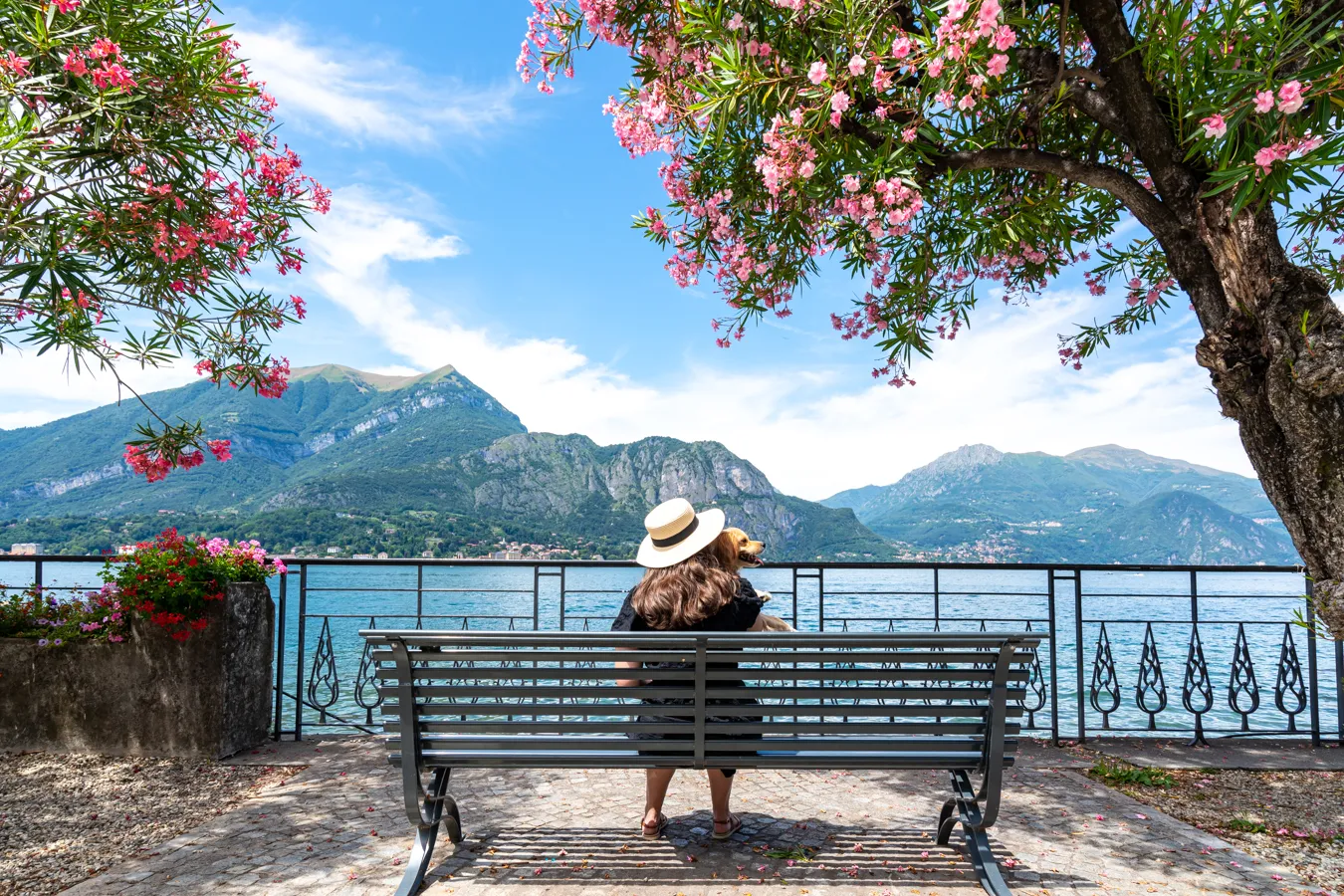 How to Get Around During 2 Weeks in Europe
Getting around in each individual city on your 2 week Europe itinerary is a question better suited to blog posts on that particular city (here's our guide to getting from Lisbon to Porto, for example), so this section is designed to address getting in between each destination during your 14 days in Europe.
We recommend checking several solutions for each destination, as you never know what will crop up!
Personally, our first 2 week Europe trip involved an overnight train, a budget plane ride, and a couple of rental cars.
Train
Train travel is our absolute favorite way to travel in Europe: it's much less stressful than traveling by plane, especially once you get the hang of it, far more comfortable, and for those of us hailing from North America, it's a travel experience in its own right!
We recommend using services like Omio to compare train prices across multiple countries.
It works more or less exactly like a car rental aggregate does, searching multiple companies and generating the best routes and prices for your dates.
Keep in mind that train travel is most useful in western and central Europe–once you head into eastern Europe and especially the Balkans, train travel becomes more limited and bus travel more common.
Bus
For those traveling on a budget or between two smaller destinations where rail travel isn't an option, buses can be a very affordable choice.
In addition to standard local buses, companies like Flixbus provide an easy-to-use service, and you can check their prices and availability directly or through Omio as well (that way you can compare train tickets at the same time).
Browse bus routes in Europe today!
Plane
With plenty of budget airlines and plenty of airports to choose from, if you plan wisely, it's possible to take flights in Europe that are so inexpensive you wonder how the company pays for the fuel.
Seriously: 10 Euro flights are possible, though we've never actually managed to pay that since we prefer to check our bags!
When looking for flights within Europe, we recommend using Google Flights in order to search the whole continent at once (you can simply put "Europe" in as the destination, and it'll pull up a map of prices).
With a little flexibility on destination (for example, maybe flying into nearby Bologna is cheaper than flying into Florence?) and even on dates if possible, you just might end up with an excellent flight deal or two during your trip to Europe.
Car
Personally, we recommend avoiding a car rental when possible during your 2 weeks in Europe, especially if you're following anything resembling a Europe itinerary like the ones I outlined above.
In large cities, rental cars are a hindrance and a liability, not an asset, and they add quite a bit to your bottom line.
That being said, if you're planning on visiting any rural areas or small towns, road trips in Europe can be a delight–you could consider renting a car for a couple of days in Tuscany, for example, or to visit the villages of Provence.
If you do choose to rent a car, we recommend searching for the best prices through Discover Cars, which will allow you to search multiple companies at once and come up with a great option.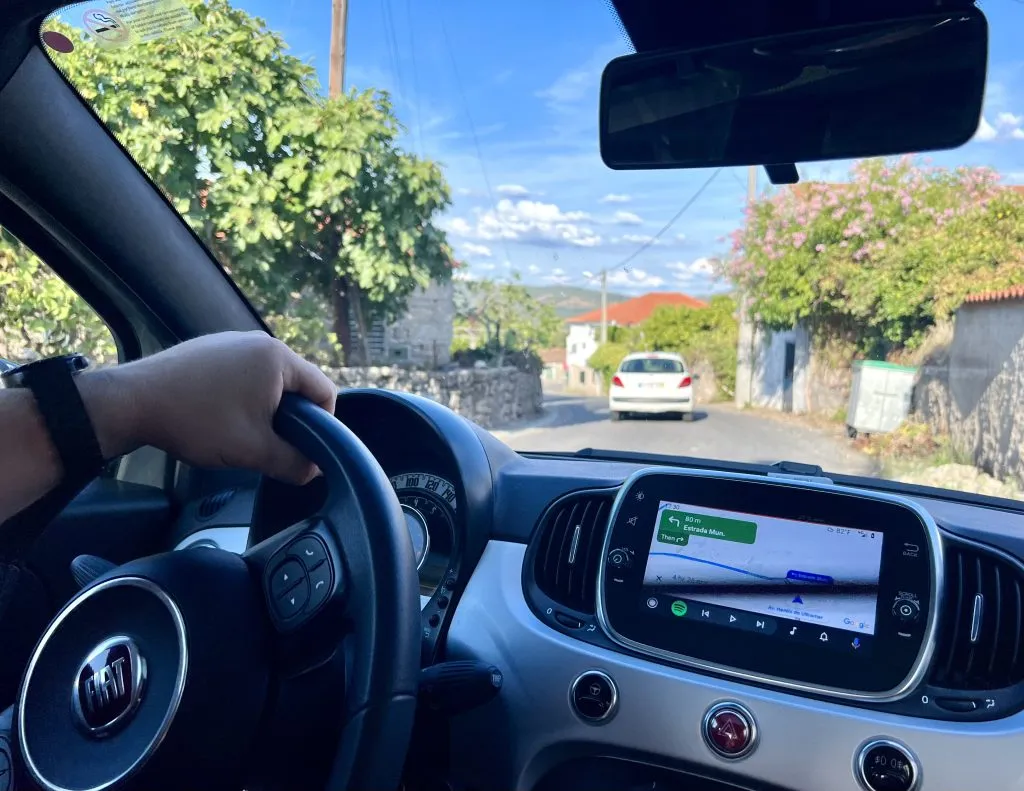 While major international carriers like Hertz and Enterprise are available in Europe, they're not always the best deal, and searching for a combination of local and international companies is best.
Personally, we have absolutely no loyalty to any one rental car company, and book with whoever is most affordable (and we always buy the extra insurance).
Ferries
Don't forget boats when it comes to planning a 2 week Europe itinerary, especially over the summer!
While ferries between or to/from islands are obviously the most popular (Dubrovnik to Hvar, for example, or Barcelona to Mallorca), there are longer ferry options as well!
Last summer, we took a ferry from Barcelona to Rome and loved the experience of drifting along the Mediterranean Sea for 24 hours!
Many ferry routes are seasonal, but not all.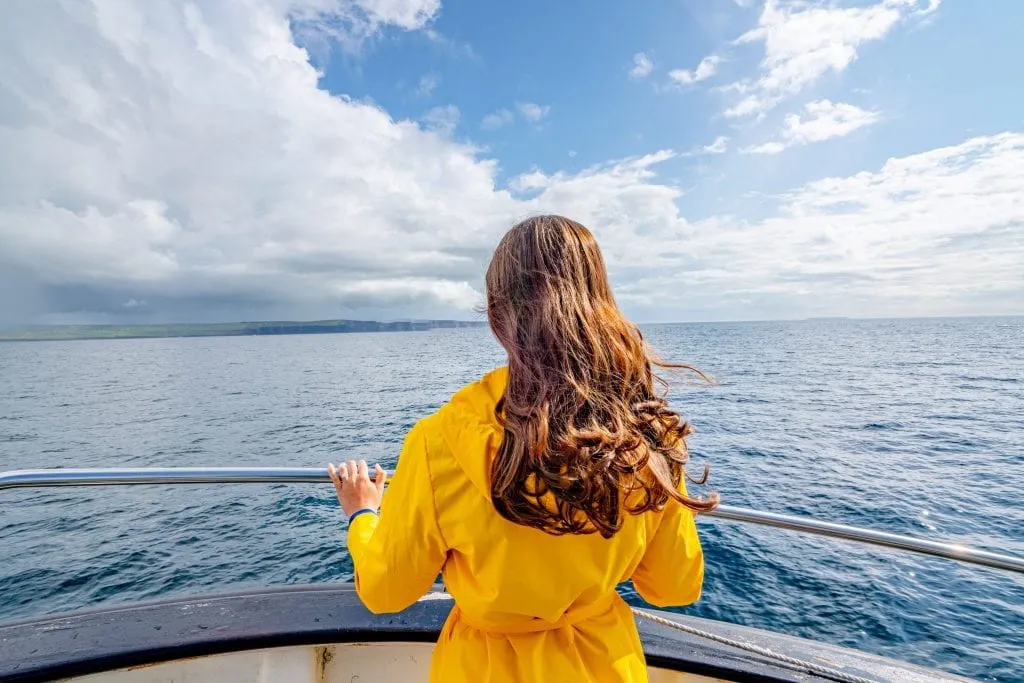 Important Tips for Planning a 2 Week Europe Trip
Don't plan to visit too many destinations.
With only around 14 days in Europe, I know it can be incredibly tempting to squeeze in as many destinations as possible (and I have many fevered outlines of ridiculously ambitious trips I planned in my college days to prove it), but your trip will go so much more smoothly if you can resist that temptation.
We recommend an absolute minimum of two full days per major city.
By full days, I mean with limited exceptions (like a red-eye flight that lands at 8:00 AM, the day you arrive and the day you depart don't count as a "day" in a given city–just as a travel day.
Three or four days per city is even better and will allow you to potentially squeeze in a day trip from that city to a smaller city or village if you want to mix things up.
Start and end in a major airport hub.
It doesn't necessarily have to be the same hub–more on that below–but there are definitely airports that are cheaper to fly into and out of for intercontinental flights than others.
Budapest may be affordable once you're there, for example, but flying from the US directly to Budapest can hurt the wallet!
For those of you coming from the USA, London, Dublin, Madrid, Paris, Lisbon, Frankfurt, Amsterdam, and Milan are a few places to check ticket prices for.
That's not an exhaustive list by any means, but there are often flight deals to and from these cities.
If you can, use an open-jaw ticket rather than a return ticket.
This will allow you to begin and end your 2 weeks in Europe in entirely different destinations, and let you avoid doubling back!
While one-way tickets can be pricier than round-trip ones, if you're flexible on your dates and destinations (so deciding which cities to start and end in partially based on price), you can usually find excellent deals
This is exactly how we ended up flying into Krakow and out of Dublin for our first 2 week Europe trip!
You will be exhausted at some point. Plan for it.
Two weeks in Europe may not seem like a ton, but if you're anything like us or virtually all of the travelers we have talked to, exhaustion will set in during your trip.
Sightseeing in Europe is fabulous, but it's also tiring.
Add in navigating cultural differences, language barriers, and moving countries every few days, and you're bound to need a break at some point.
We recommend planning a couple of laid-back days without museum visits, tours, or day trips so that you can catch your breath and avoid burnout.
Try to be flexible with where you go.
As you start pricing train, plane, and bus tickets for your trip to Europe, you'll likely notice dramatic shifts–is it 4x the money to get to London instead of Amsterdam?
Does traveling to Prague require a long flight and 2 layovers but Rome is a quick hop away?
If you can, be flexible when you come upon these challenges: we recommend having 1-2 "must visit" destinations and filling in the rest of your trip based on a combination of logistics and desire.
After all, there's no way you can see it all on a 2 week Europe trip anyway!
Don't underestimate the time and energy it takes to change destinations.
"Oh, it's only a 3-hour train ride away! That's nothing!"
I think we've all said that at some point when planning a multi-country trip, but be cautious.
Three hours on the train doesn't account for packing and unpacking, getting to and from the train station, checking out of and into a hotel… you get the picture.
If you're looking at a high-level schedule without picking a specific date or time, you may also come to find that sure, there's one direct 3-hour train between two cities… but it leaves at 10:00 PM or 6:00 AM, and the rest of the trains require layovers.
Or perhaps the direct train only runs 3 days a week.
Or maybe you're looking at a plane, in which case, be sure to add at least 4 hours to your transit time: getting to and from the airport and security/check-in beforehand.
Long story short, travel days between countries are virtually always more tiring and time-consuming than they look at first glance, so don't overcommit on those days when planning your ultimate Europe trip!
Big cities are more accessible than small towns and nature areas.
For the first trip to Europe especially, big cities are absolutely the easiest to plan your itinerary for Europe around.
They're generally easier and cheaper to get into and out of, and there's far more information available about them online to help plan your trips.
That's no reason not to visit other places too, of course–but keep in mind that the more rural the area, the more logistically challenging your trip will be.
Skip-the-line tickets are incredibly useful.
I'm sure it comes as absolutely no surprise that the world's most iconic monuments and museums tend to get a bit crowded… and that makes skip-the-line tickets absolutely invaluable, especially with only 2 weeks in Europe to squeeze in as much sightseeing as possible.
In some places (like the Arc de Triomphe) they're available without any additional fee, and in other places (like the Colosseum) they cost a bit extra.
Either way, though, it's 1000% worth the price and effort to get tickets online beforehand for popular spots, especially if you're traveling during the high season.
And, in 2023, it's worth pointing out that given ever-changing capacity limits, it's a better idea than ever to book in advance–and for some attractions, it's even required!
In the last few years, many of the most popular museums and monuments in Europe found that life was easier with reservations and online bookings, and have continued prioritizing that system over traditional lines-and-ticket-booths even as crowds returned to "normal".
We use skip-the-line tickets all over the continent and book them through Get Your Guide.
Book your hotels and major transportation in advance.
Before kicking off your 2 week Europe itinerary, we recommend having all of your hotels and major transportation (so travel between destinations) booked and ready to go.
This dramatically cuts down on stress levels, makes it easier to budget and plan out your days, and generally helps your trip run more smoothly.
These days, we book virtually all of our lodging (including apartments, farm stays, houses, and more) through Booking.com.
Smaller things, like metro passes or tickets for getting around cities, can be handled once you arrive.
If you can, we recommend taking at least one food tour during your 2 weeks in Europe.
Food tours are one of our favorite ways to get our bearings in a new city while learning about the culture, history, and neighborhood through something we can all appreciate: a tasty meal.
We've taken food tours in several countries around the world, including many in Europe, and have never walked away unsatisfied!
You do need to pay to use the restroom… sometimes.
Throughout Europe, public restrooms are generally available for a fee (typically either half a Euro or a Euro).
If you'd like to avoid those costs, be sure to take advantage of available restrooms in restaurants and museums as you sightsee!
Also, toilet paper is far from guaranteed in public toilets on the street.
We recommend carrying a small pack of tissues with you just in case.
FAQ For Spending 2 Weeks in Europe
Will I need an adaptor?
Most likely, yes!
Luckily, adaptors are cheap to buy and easy to carry–we recommend picking these up before you go.
Keep in mind that the UK and a few other countries (Ireland, Malta) use a separate plug from the bulk of the continent.
If you're heading to a place that uses UK plugs, you'll want these adaptors as well.
Is a money belt a good idea?
It depends, honestly.
We used a money belt for our first trip to Europe and for a couple after that.
We weren't used to life in bustling big cities, and though we knew that thieves knew about them (because they definitely do), Jeremy found them comfortable enough to wear and it was an easy way to keep our belongings a bit more secure.
Today, we just leave our valuables in our Pacsafe
and watch our pockets when out and about.
If you're not used to traveling in a big city or watching for pickpockets, I don't think it's a terrible idea to use one–this is the one we used and we had no complaints–but I also don't think it's necessary, especially if you're comfortable in large cities.
Is the water safe to drink?
Usually, yes.
We drink out of the tap just about anywhere in Europe.
In rare cases where the water is not safe to drink (usually in remote areas of southern and eastern Europe, or in very old buildings with iffy pipes), there will generally be large and obvious signs stating so.
If you're worried about it, though, you can always ask your hotel concierge or host about it!
Is it worth going to Europe for 2 weeks?
This is a pretty common question, and honestly, I get it: with long and expensive flights, it's easy to wonder if flying to Europe for "only" 2 weeks is worth it.
But yes, it absolutely is!
Two weeks in Europe is long enough that you'll have plenty of time to get past jetlag, visit several destinations, and have a wonderful trip packed with memories.
Now whether or not it's worth flying to Europe for just one week is a bit more controversial… but we love to travel Europe so much that we still say yes (for some people).
How extreme is the language barrier?
It varies significantly, of course, but generally, it's not nearly as difficult as first-time visitors to Europe worry before they arrive (ourselves included).
We recommend learning basic phrases in the language of the countries you are visiting during your 2 week Europe itinerary, but this is usually more for good manners than out of necessity.
While you can absolutely find monolingual Europeans in virtually any country, especially in smaller cities and towns, the people employed in customer service roles and in the tourism industry in major cities–in other words, where most or all of your 2 weeks in Europe will likely take place–generally speak some English.
How many European countries should you visit in 2 weeks?
For most travelers, we recommend roughly 3 "base" destinations for a 2 week Europe trip, plus a couple of day trips from there to mix things up.
These can all be in one country (for example, here's how we recommend spending 2 weeks in Italy), or they can be in 3 separate countries!
There are plenty of exceptions to this standard layout, of course, but it's a doable but exciting number of destinations to work with for most 14 day Europe itineraries.
When should I tip?
While this is very country and industry-dependent, generally speaking, tipping is not nearly as prominent in Europe as it is in the USA, and you'll virtually never need to tip over 10%.
In some countries, you may also tip 5-10% at restaurants, while in others, you might round up the bill or leave nothing at all.
Frequently, a "service charge" will be automatically supplied to the bill which serves the purpose of a tip.
For tour guides, a 10% tip is common.
What's the best month to visit Europe?
All of them, except August.
I kid–somewhat–but honestly, every single month in Europe has its perks!
For a concise answer, the late spring (April-May) and early fall (September-October) are considered ideal by most travelers.
August is specifically difficult because it's not only very hot in many of Europe's most popular destinations, but most Europeans take vacations then, so many places (especially in the mountains and on the coast) are at their priciest.
If we absolutely had to visit Europe only during one month for the rest of our lives, we'd pick September, though October is a very close second.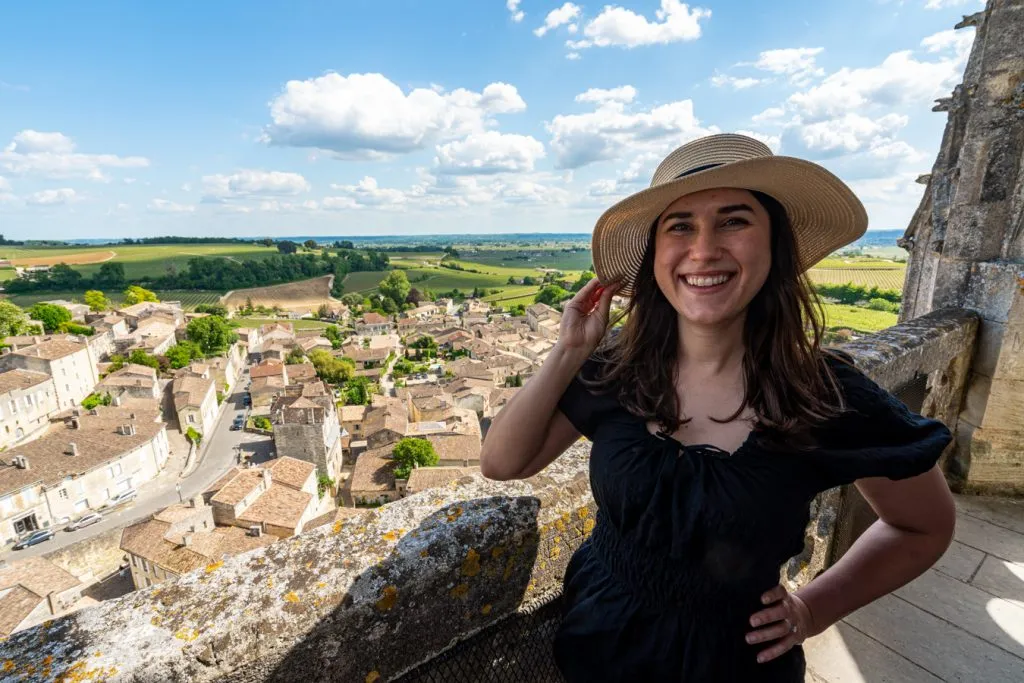 What's the cheapest month to visit Europe?
It depends–trying to spot the northern lights in Tromso would be one exception to this, for example–but for standard first time Europe itineraries like the ones I outlined in this blog post, January and February are often the cheapest months to visit.
When the Christmas markets are over and the gray weather settles in, you can score great deals on vacations in Europe (and have plenty of room to stretch out at iconic monuments).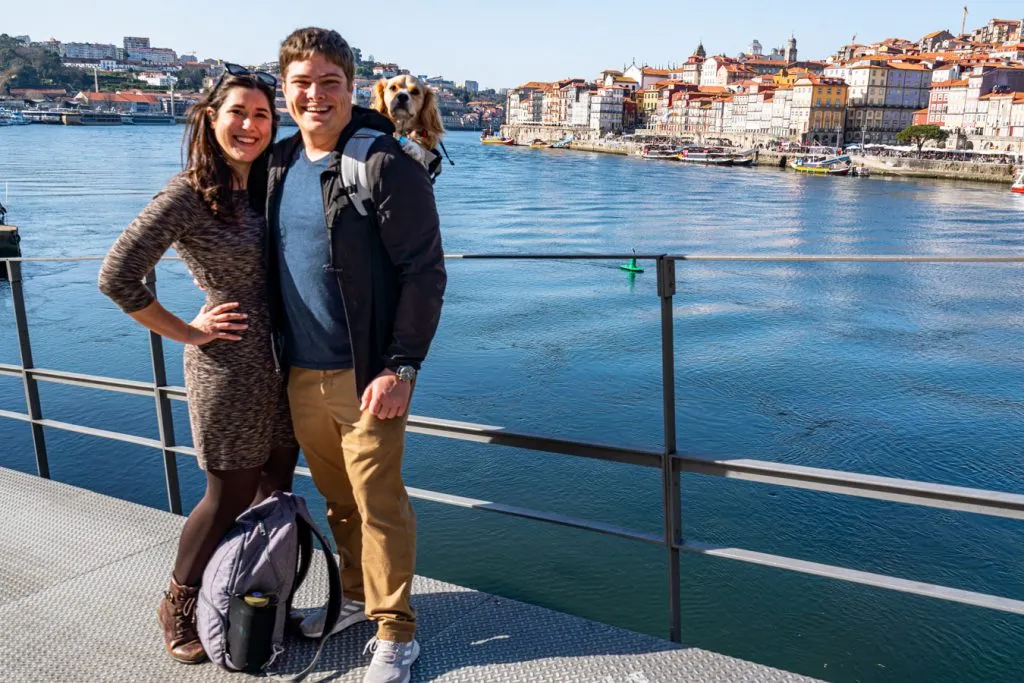 How far in advance should I book my trip?
For plane tickets, as soon as you can commit to dates!
Not only will this allow you to have more time to plan and budget with a bit of structure, but it will also spread out your costs a bit more.
During peak seasons, like coastal locations in the summer or popular destinations during the Christmas season in Europe, you'll want to book your hotels as far in advance as you can commit to them as well.
Can you do Europe for $100/day?
This depends a lot on the traveler, group size, etc, but my initial, instinctive answer is:
If you don't include plane tickets to and from Europe, yes, absolutely, without a doubt–we've done it many, many, many times (as a couple).
The key is to shop for deals, visit during the off-season, not shy away from less common destinations (especially in Eastern Europe and the Balkans), and travel slowly.
The fewer destinations you visit, the cheaper a trip generally is!
If you want to stick to Western Europe, southern Spain, southern Portugal, and southern Italy can all be bargains (as compared to places like Paris and London) as well.
Here's how we manage our travel budget.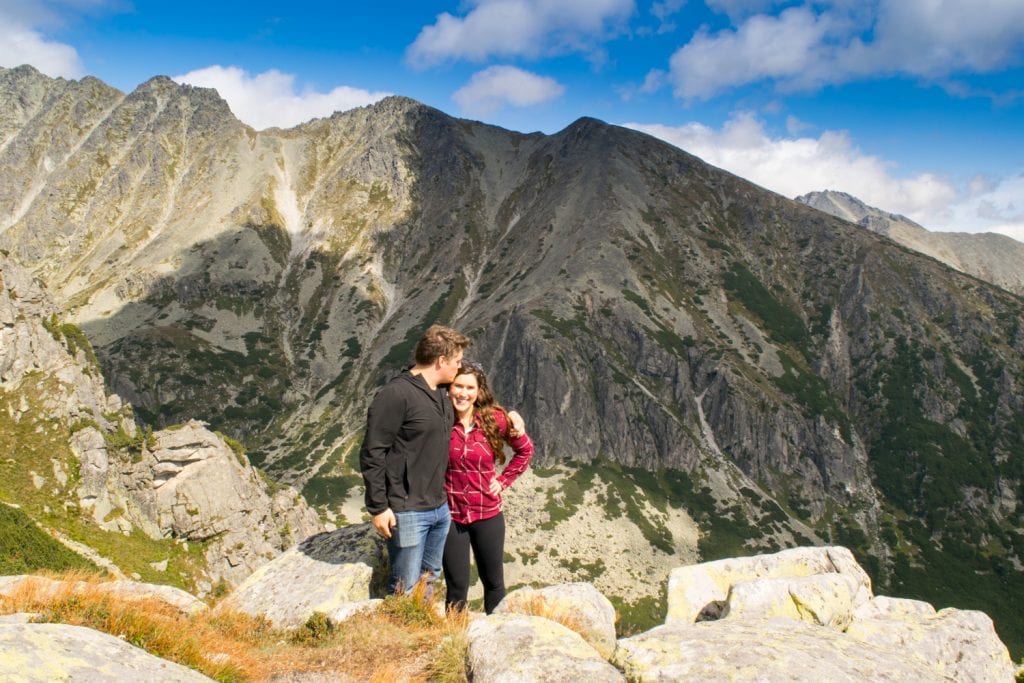 What to Pack for 2 Weeks in Europe
We've put together detailed packing lists for various seasons in Europe, so be sure to check out our complete suggestions for spring, summer, fall, and winter before you head off on your 2 weeks in Europe.
We go into far more detail on what to wear in Europe there!
To get you started, though, here are a few essentials that should definitely be at the top of your list.
Travel Insurance — We don't ever suggest traveling without travel insurance–anything can happen, and it's better to be safe than sorry during your 2 weeks in Europe.
Check travel insurance policy inclusions and prices for your trip here.
Pacsafe — We can't recommend our Pacsafe enough!
This travel safe is affordable, sturdy, easy to pack, and will help keep your valuables safe in your hotel room (not that you should need to worry much about theft from your hotel room during your trip to Europe, but it's better to be safe than sorry!).
Comfortable Day Bag — We currently use Pacsafe's sleek anti-theft backpack and love it, but if you don't want to shell out the cash for this trip, that's totally understandable.
Just aim for something comfortable to wear, not flashy, and medium-sized–we used a Northface Jester backpack for years and loved it as well.
Travel Adaptors for Europe — If you're coming from outside of Europe, you'll definitely need adaptors for your electronics.
Be sure to check the requirements for any particular countries you visit–the United Kingdom, for example, is well-known for using different plugs than most of the continent.
Portable USB Charger — Don't stress about your phone dying while you're sightseeing!
Add a portable charger to your 2 weeks in Europe packing list.
Hand Sanitizer — We carry this everywhere, and never been sorry to have it floating around in our day bag.
Travel Journal — If you want to keep a travel journal during your 2 week Europe trip but can't commit to a huge amount of writing each night, I can't recommend the One Line a Day Journal enough.
I've been using it for more than 5 years now (I'm on my second volume!) and I absolutely love it.
---