Laos' sleepy capital of Vientiane doesn't have the greatest reputation among tourists: browse online forums and you'll find descriptions like "dusty", "boring" and "not worth seeing". Jeremy and I had a different take–while we would never want to dedicate a huge amount of time to the city, we loved our one day in Vientiane–and we managed to see most of the best things to do in Vientiane while we were there.
Here's how to explore the best of Vientiane in one day!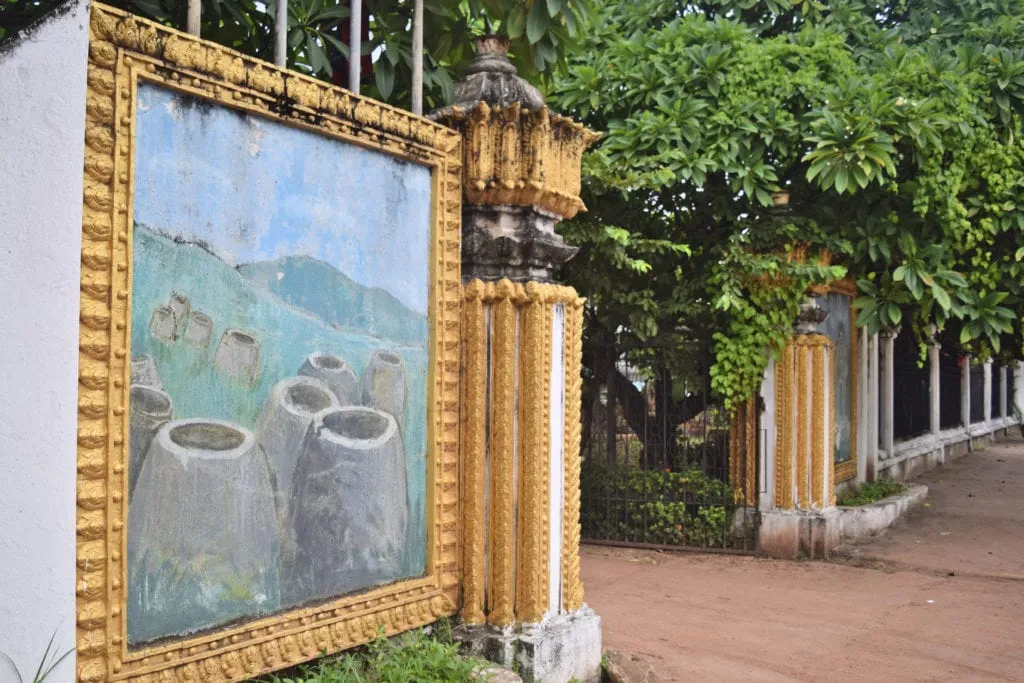 Some links in this post may be affiliate links. If you make a purchase through one of these links, we may earn a small commission at no extra cost to you. Please see our

disclosure policy

for more detail.
Visit the Laos National Museum.
This museum is unlike anything you would see in a major European or North American city: it is small, worn down (peeling paint, dirty displays), doesn't have air conditioning, and doesn't even pretend to be unbiased in the facts that they present.
While you'll never mistake it for the Louvre, I found myself fascinated by it: the museum presents an interesting insight into the way that the Lao government views history (American Imperialists bad, Communists good).
Even more so, it demonstrates how incredibly poor Laos is: I found myself thinking that I had been to local museums in small towns with more resources while in the West.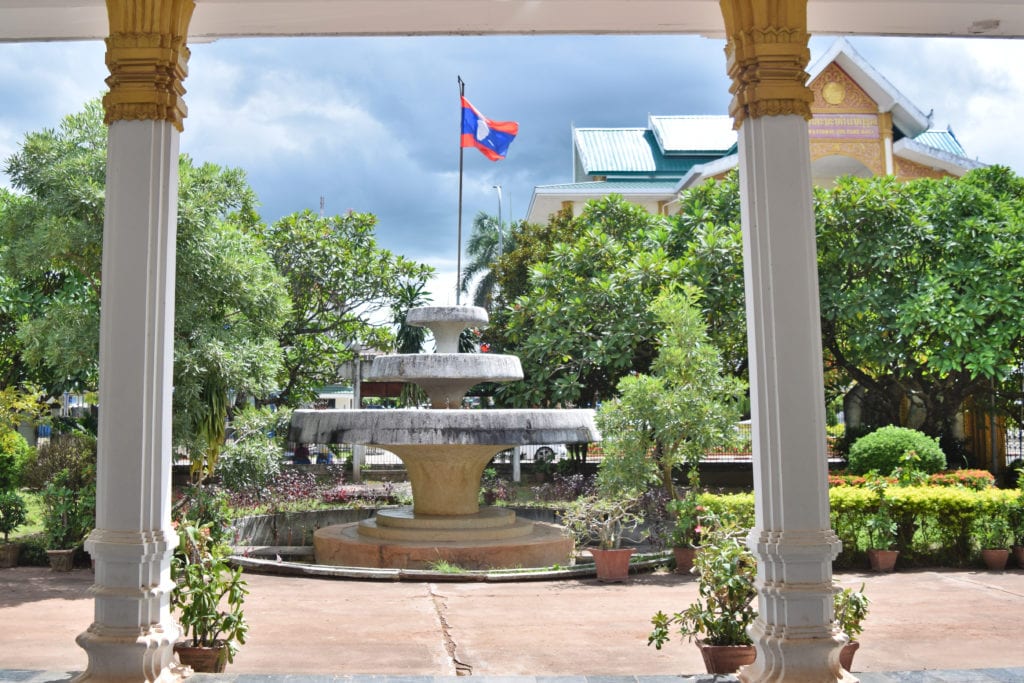 Visit a Wat.
Vientiane has a handful of beautiful Wats, but with only one day in Vientiane, there's no point in trying to squeeze them all in. Choose one, maybe two if you're someone who really likes Wats.
We visited Wat Si Saket, which is directly across the street from the presidential palace. It actually ended up being one of my favorite Wats of our time in Southeast Asia–I loved the walls of tiny Buddhas behind the larger Buddha statues.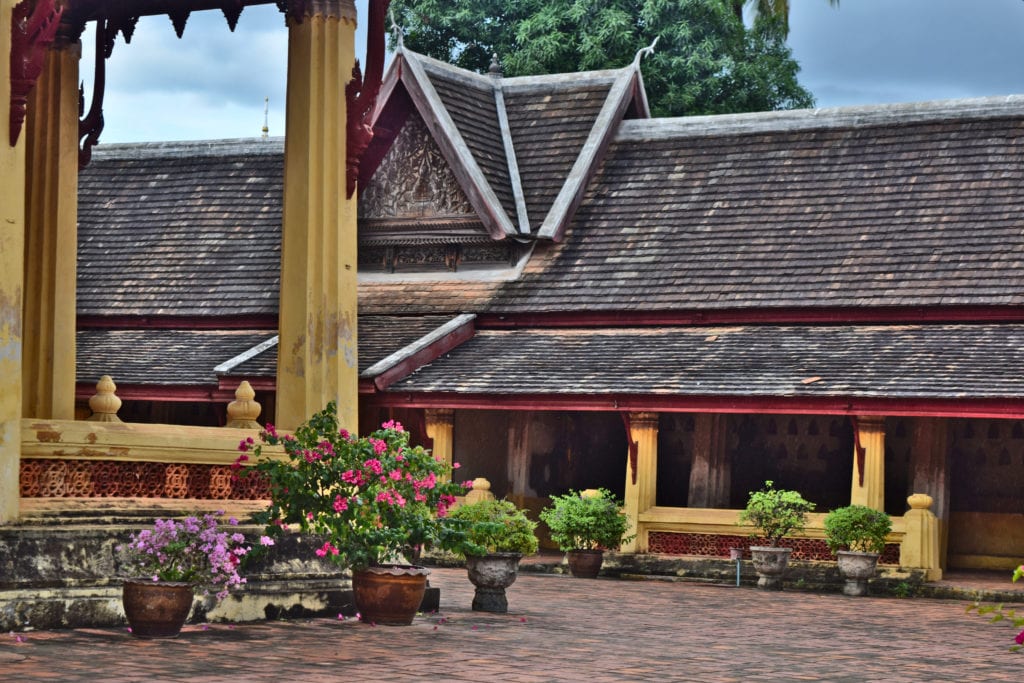 Climb Patuxai (Victory Gate).
Did you know that Vientiane has its own Arc de Triomphe?
There are a few differences, of course: Vientiane's version is slightly taller, made of concrete, and is more Laotian in design (though French influences are obvious). The concrete and funds were actually given to Laos by the United States to build a new airport, though the arch was built instead.
Unlike the more famous Arc de Triomphe in Paris, Patuxai is extremely inexpensive to climb ($0.37/person) and had no line at all while we are there. There are salespeople inside the arch on the way up, ready to sell any souvenir imaginable.
The views from the top are not to be missed–seeing the city from above is one of the best things to do in Vientiane.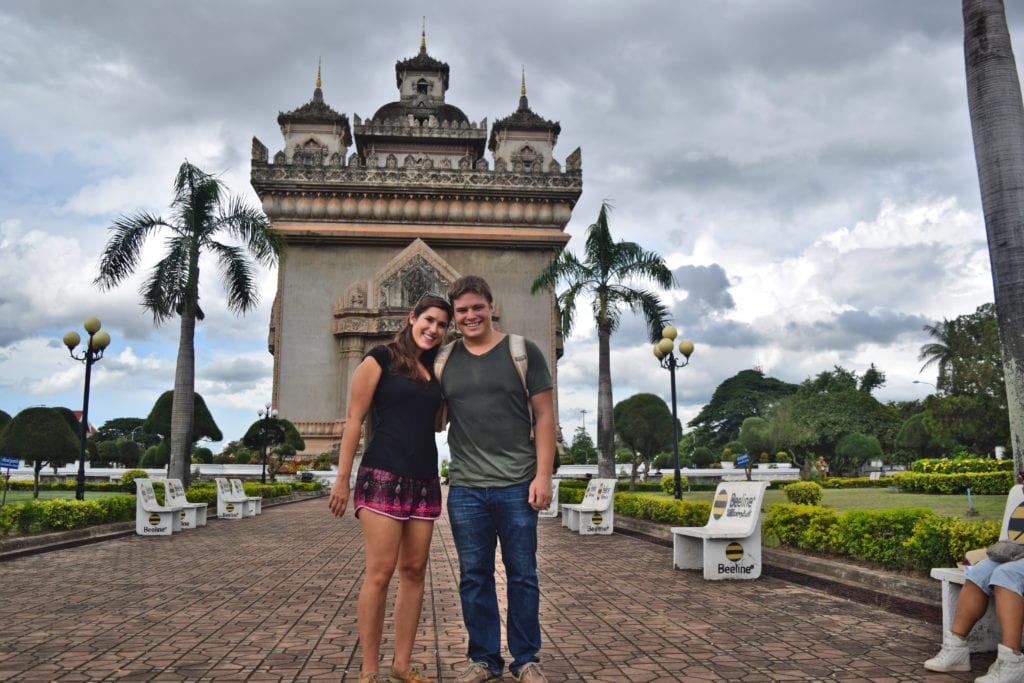 Visit the COPE Visitor Centre.
The COPE Visitor Centre was tough to see.
The Centre exists to provide prosthetic limbs, among other treatments, to victims of the cluster bombing that the US performed during to so-called "Secret War" from 1964 to 1973.
The sheer numbers are astounding–two million tons of ordnance were dropped on Laos during those nine years, making it the most heavily bombed country per capita in history.
As is the nature of cluster bombs, many of them did not deploy immediately–to this day, there are many areas of Laos that are unsafe to visit due to the possibility of happening on one of these bombs and it exploding.
The government is trying to clear the countryside of the bombs, but a mixture of inefficiency/corruption and lack of funds is making the task extremely difficult. As an added layer of nuance, the metal in them is valuable–there are Lao citizens who try to make money by collecting the ordnance themselves and selling the scrap metal, a clearly dangerous profession.
This was a hard piece of history to swallow–I had no familiarity with it before we visited Laos, which I think made it more difficult to hear about as an American–how could this not be covered by our history classes?
Knowing the Lao government's propensity for propaganda a la the Laos National Museum, the first thing I did after getting back to our hotel was to Google the Secret War–but while the Lao National Museum did not take other points of view into account, the COPE Visitor Centre didn't seem to need exaggeration to make their point about the human cost of war.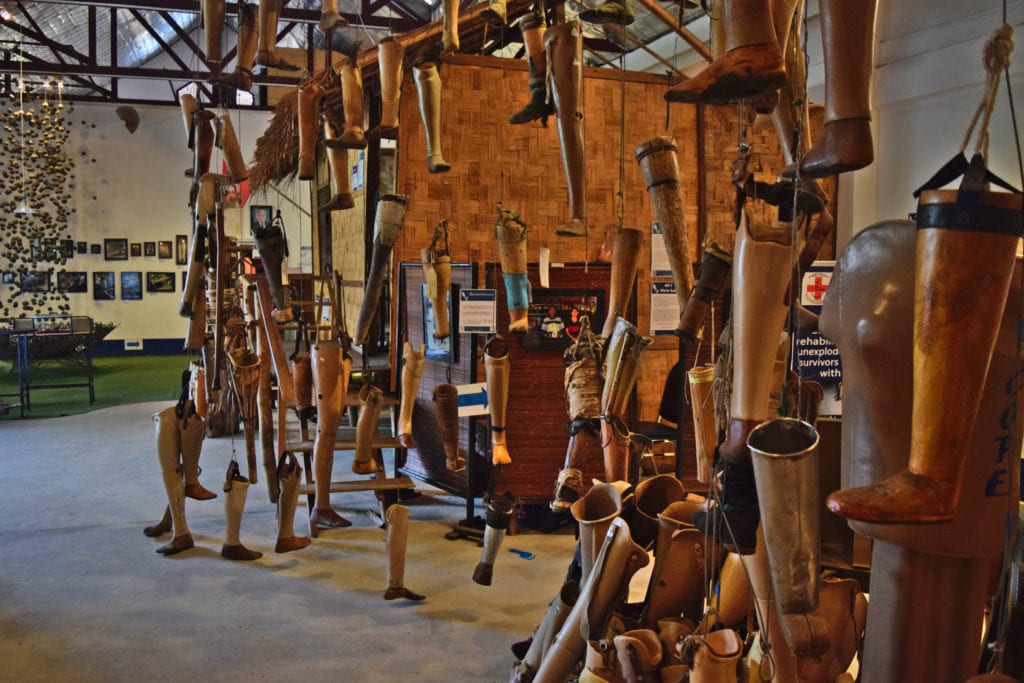 Finish at the Night Market.
I was underwhelmed by Vientiane's night market, possibly because it was nearly identical to Luang Prabang's night market and every other tourist-catering market that we saw in Southeast Asia. That being said, it's still one of the best places to visit in Vientiane at night.
It was, however, fun to walk through, easily accessed by finishing the circle through Vientiane that we made throughout the day, and in a location that we wanted to see–a park along the Mekong River.
We were able to get some views of the river itself, and also see the wide stretches of concrete where Vientiane citizens gather in the morning for group aerobics–if you're an early riser, feel free to join in!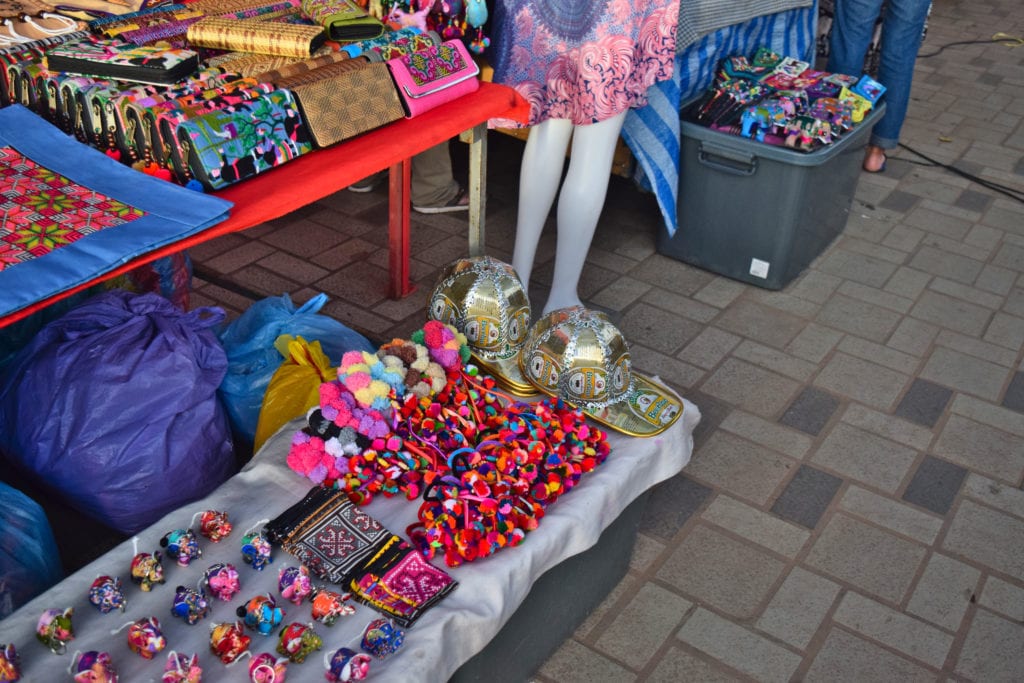 Consider visiting Buddha Park.
There is one major attraction in Vientiane that we are sad to have missed: Buddha Park, the eclectic park full of over 200 Buddhist and Hindu statues. None of them are particularly historic (the park started in 1958), but it is an interesting place.
If you can pull yourself out of bed earlier than we do on a day after a long van ride, go to Buddha Park. It's unexpected, it's bizarre, and it's one of the best things to do in Laos.
Unfortunately, it is about a 45-minute tuk-tuk ride each way from the part of town we were staying in, and we simply didn't have the time for it.
If you're going to add one more stop in Vientiane, Buddha Park should be it!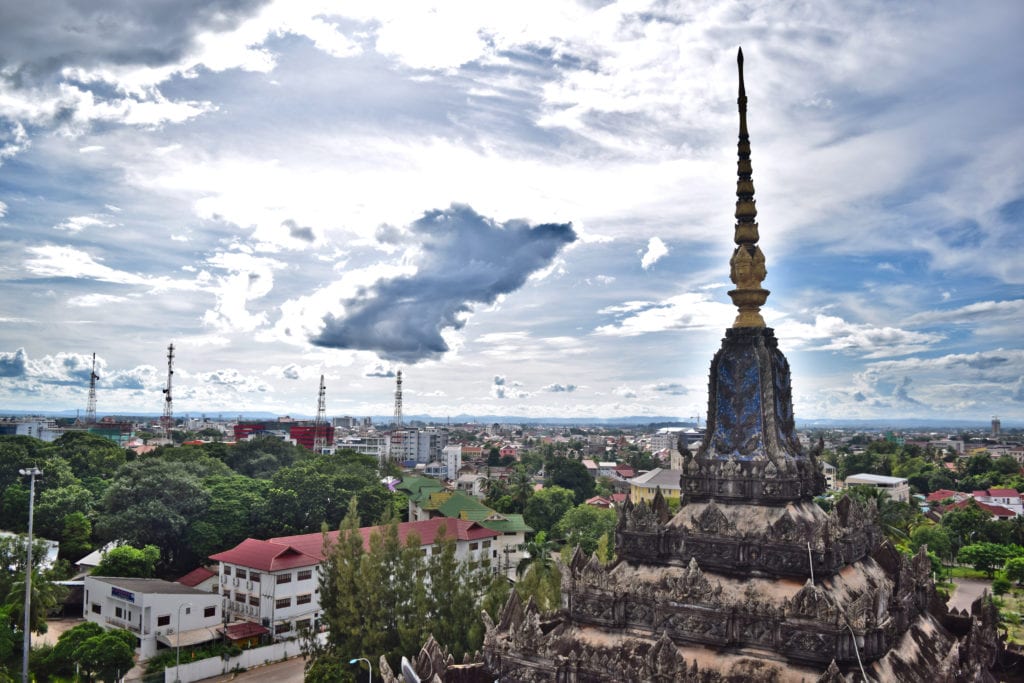 At the end of the day, is Vientiane going on our list of favorite cities? No. Do we ever feel the need to go back and spend several days exploring? No.
But, we are very glad that we saw it!
I would recommend spending one day in Vientiane while in Laos–it has some high points, it's extremely inexpensive, and, most importantly–Vientiane provides extremely valuable context for understanding Laos as a whole.