Magical desert sunsets, the sensation of velvety sand slipping underneath your toes, and a night sky so packed with stars that you can't stop marveling at it: if these experiences are on your Jordan bucket list, camping in Wadi Rum is a must during your trip!
With its majestic rock formations, seemingly never-ending stretches of sand, and popular attractions like Jeep/pickup truck tours and camel rides, it's no surprise that Wadi Rum (in English, Valley of the Moon) is widely considered one of the top places to visit in Jordan.
We had a fantastic experience camping in Wadi Rum, and highly recommend it to anyone planning a trip to Jordan.
That being said, there are some things we wish we would have known before we went!
If you're planning to spend a night in a Bedouin desert camp, these essential Wadi Rum camping tips will help you make the most of your experience sleeping in the Jordanian desert.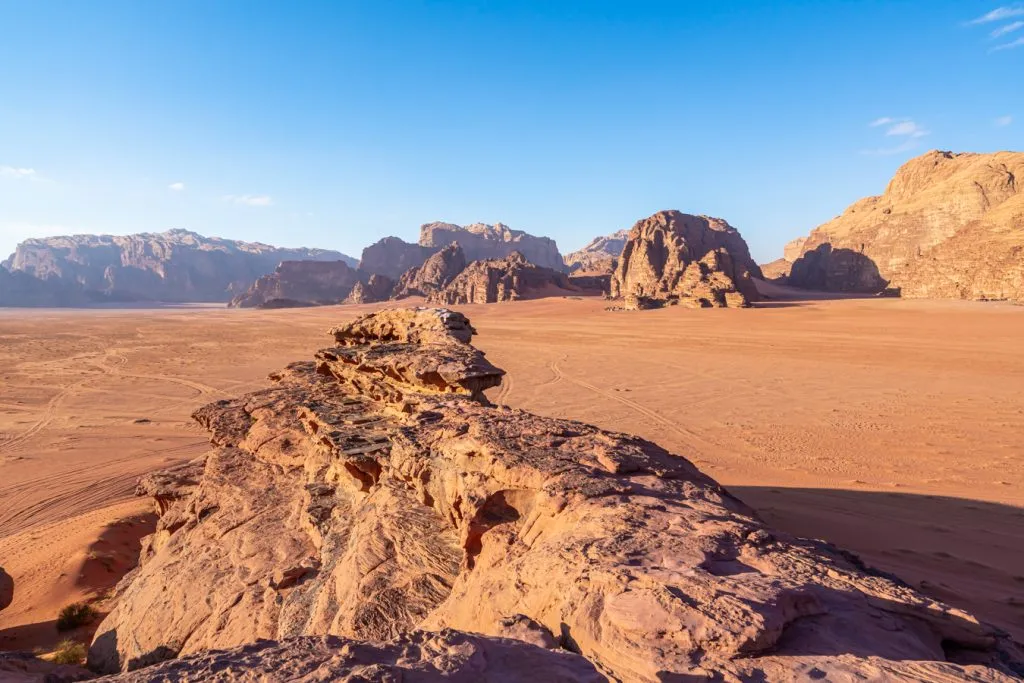 Some links in this post may be affiliate links. If you make a purchase through one of these links, we may earn a small commission at no extra cost to you. Please see our

disclosure policy

for more detail.
What's it Like to Camp in Wadi Rum?
Camping in Wadi Rum is a magical experience!
Typically, an overnight trip to Wadi Rum will feature a Jeep tour that will take you to the different highlights in the desert, a camel ride, and eating dinner and breakfast in the camp of your choice.
The tour and camel ride are optional, but they're the top things to do in Wadi Rum for a reason and absolutely worth including!
The views and experiences are incredibly memorable, and our time in Wadi Rum was easily one of the highlights of our Jordan vacation (which is extremely high praise considering how fantastic the trip was).
While camps in Wadi Rum vary dramatically in both quality and price (more on that below), generally speaking, they are permanent setups.
This isn't an overnight hike type situation, and no one will be constructing a tent.
Instead, you'll book a "tent"–generally, a semi-permanent structure hut of sorts–that includes a bed that, depending on the camp you choose, can vary from a basic cot to a complete hotel-style bed.
A typical Wadi Rum camping itinerary that includes one night in the desert would be to arrive in the afternoon, take a Jeep tour that ends at sunset, have dinner at camp, wake up early the next morning and have breakfast at camp, enjoy a camel ride, and then head off to your next Jordan destination.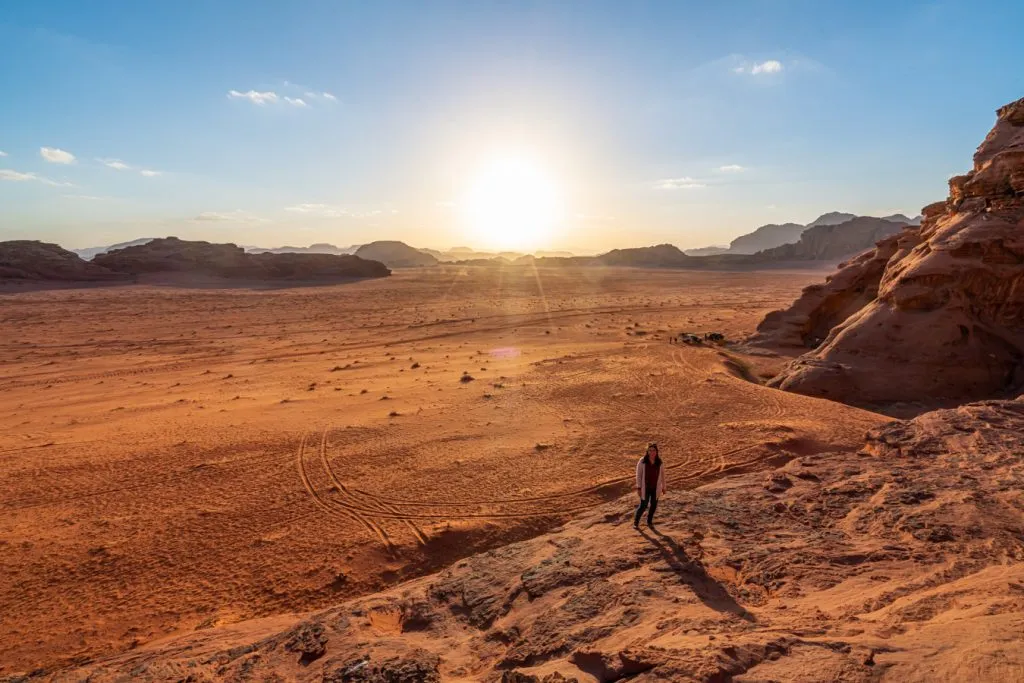 Essential Tips for Camping in Wadi Rum
Check pictures of your camp carefully.
The various camps in Wadi Rum are small family businesses, and they vary dramatically in size and price.
On the most basic end, you have popular camps like this that often go for as little as a few dollars a night, where budget travelers can enjoy a simple night in the desert.
On the most luxurious end, you have the famous Wadi Rum Bubble Luxotel.
And, in the middle, you have plenty of camps like Candles Camp, where we chose to stay.
At our camp (which we absolutely enjoyed), we had an actual bed in our tent, hot water, western-style toilets in the bathrooms, and both dinner and breakfast included in the price.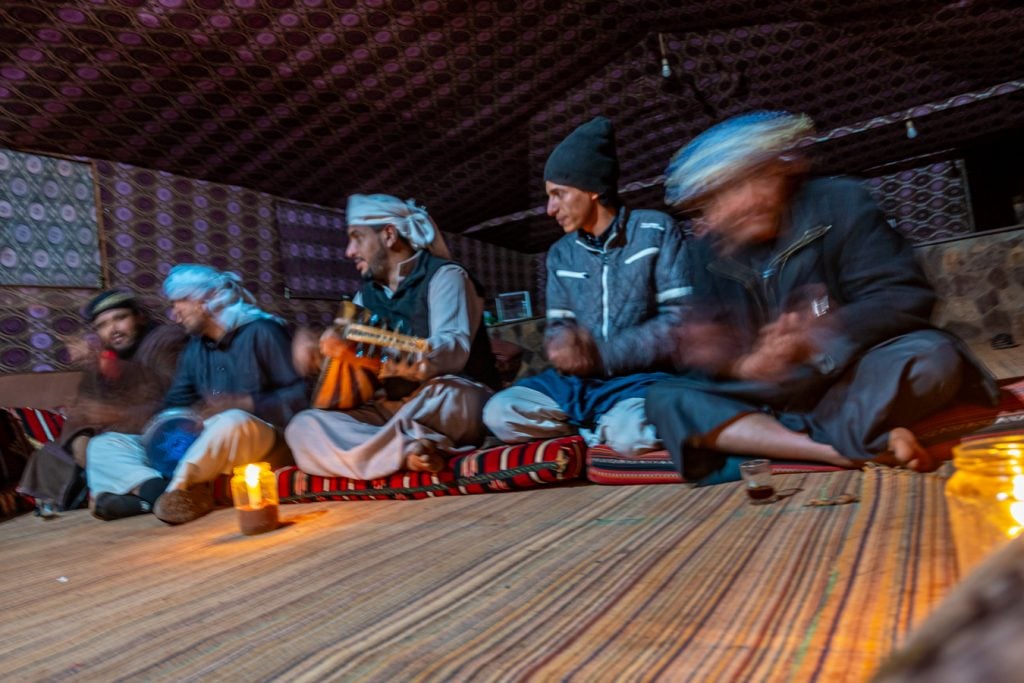 Make note of what features are included when you book your Wadi Rum camp.
Some camps include both dinner and breakfast, while some just include breakfast.
In some camps, you'll find full modern buildings housing bathrooms, and in others, you'll be roughing it a bit more.
There's no right or wrong level of camp to choose, but make sure what you're booking matches your expectations!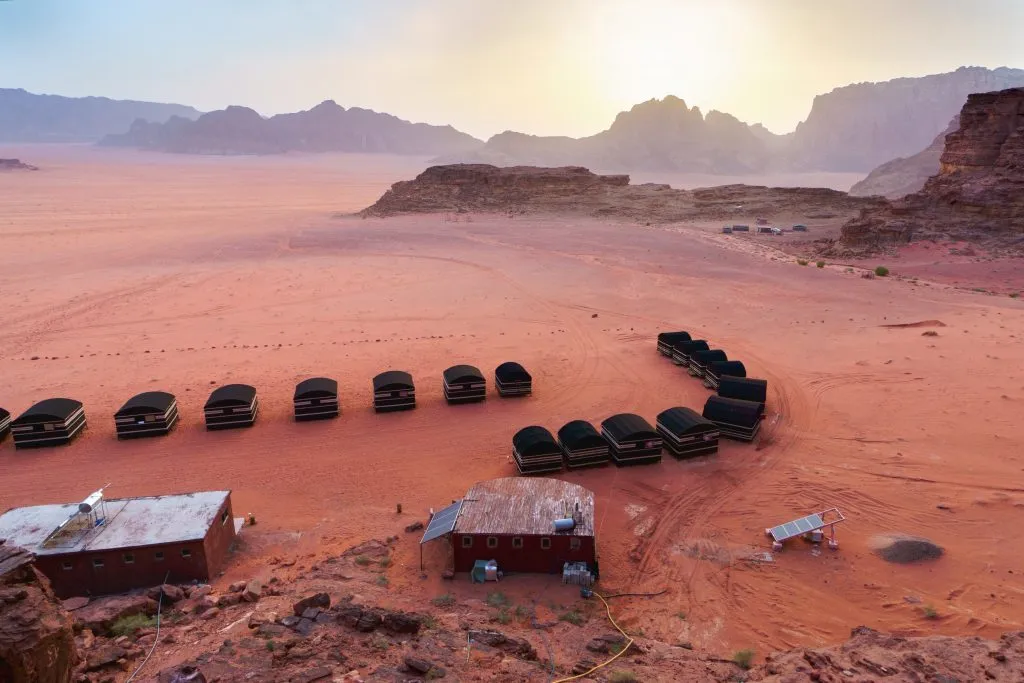 Having a Jordanian SIM card will make life much easier.
We communicated with our camp before arriving–including checking prices for tours–exclusively via Whatsapp.
Since the Bedouin guides who run the camps will need to come to town to meet you, it's essential to communicate before arriving.
Plus, you absolutely want to confirm the expected prices of tours you want to take before being out in the desert!
Jordanian SIM cards are very affordable and you can purchase them at the airport when arriving (we used Orange, one of the most prominent date companies in Jordan).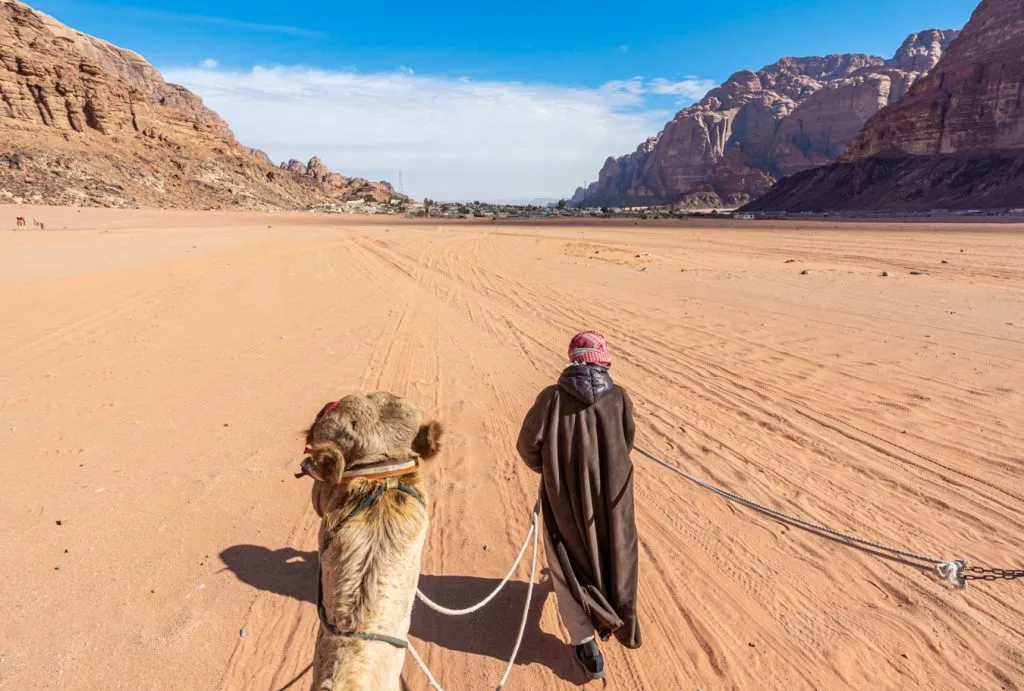 … But don't expect to have consistent signal in the desert.
Parts of Wadi Rum do receive cell signal, but not all.
We personally had signal for parts of our Jeep tour, but not at the camp.
Expect to book additional tours and experiences through your camp.
Part of the reason that camping in Wadi Rum is so affordable during the initial booking process is that the guides running the camps make a good chunk of their money selling Jeep tours and camel rides.
This is simply part of the process, and nothing to be worried about at all–but it helps to know what to expect.
Essentially, you'll book a camp (we use Booking.com), and a couple of days before arriving, you can expect a guide to reach out to you about your arrival time and what you want to do in Wadi Rum.
This is the perfect time to discuss attractions like Jeep tours and camel rides, get pricing, and arrange for an arrival time.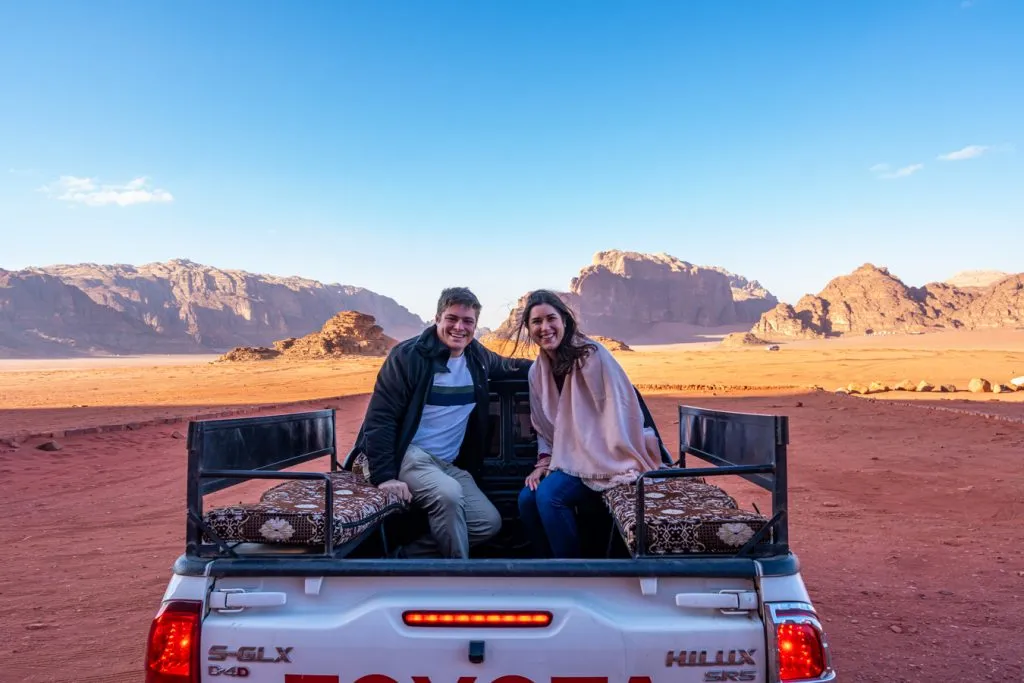 Bring a portable charger.
Jordan uses several types of plugs, and the style in our camp wasn't compatible with our devices.
This was the only place in Jordan we weren't able to charge our devices, but with the help of our portable phone charger and an extra camera battery, we didn't have to worry about not getting to document anything.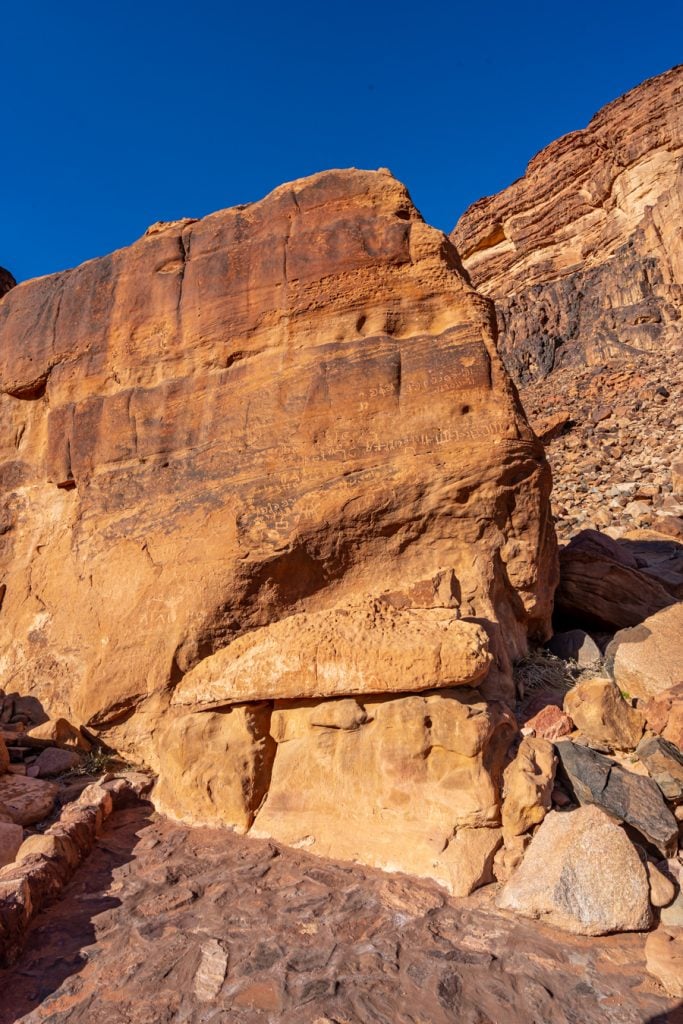 Be prepared to show your Jordan Pass to enter Wadi Rum.
The Jordan Pass is an excellent feature of traveling in Jordan, and you should absolutely buy one before arriving!
For one fee, you can buy a pass that allows access to around 40 attractions in Jordan, including Petra, your visa on arrival (if applicable), and Wadi Rum.
The pass is also structured in such a way that by the time you visit Petra and pay for your visa, the pass has already paid for itself–one of the best travel deals in the country.
You will need to present the pass on your phone at each included attraction, which includes Wadi Rum.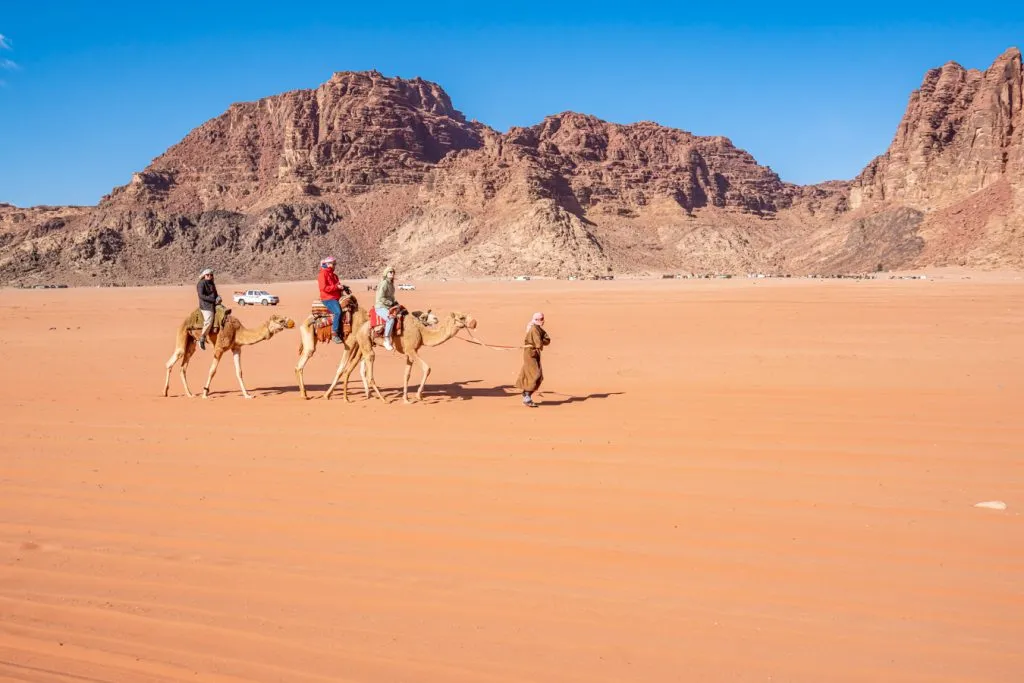 Bring snacks and water, but you may not need them.
Depending on your appetite, how long you're staying in the desert, and which camp you choose, you may not need any of your own snacks or water… but it's better to be safe than sorry!
Candles Camp, where we stayed, had easy and unlimited access to bottled water, but we were still glad to have several of our own bottles, as we didn't lay eyes on the camp until after our Jeep (in our case, pickup truck, but same result) tour.
There are a few small shops in Wadi Rum Village where you can buy basic snacks like chips, cookies, and drinks before heading into the desert.
Pack bug spray for visiting Wadi Rum.
Some areas of the desert do have mosquitos, which we realized only after I woke up the morning after our Jeep tour with several bites on my arm!
Wear lots of layers.
As is typical for deserts, the temperature in Wadi Rum drops dramatically after the sun sets.
And, since many Jeep tours end with a spectacular sunset view, that means you'll need to be prepared for the change.
We recommend packing several light layers when camping in Wadi Rum.
If you're visiting outside the summer months, keep in mind that the wind during the Jeep tour can also be brutal.
We visited Wadi Rum in March, and while temperatures were pleasant at the sights, we were quite chilly when the Jeep was going!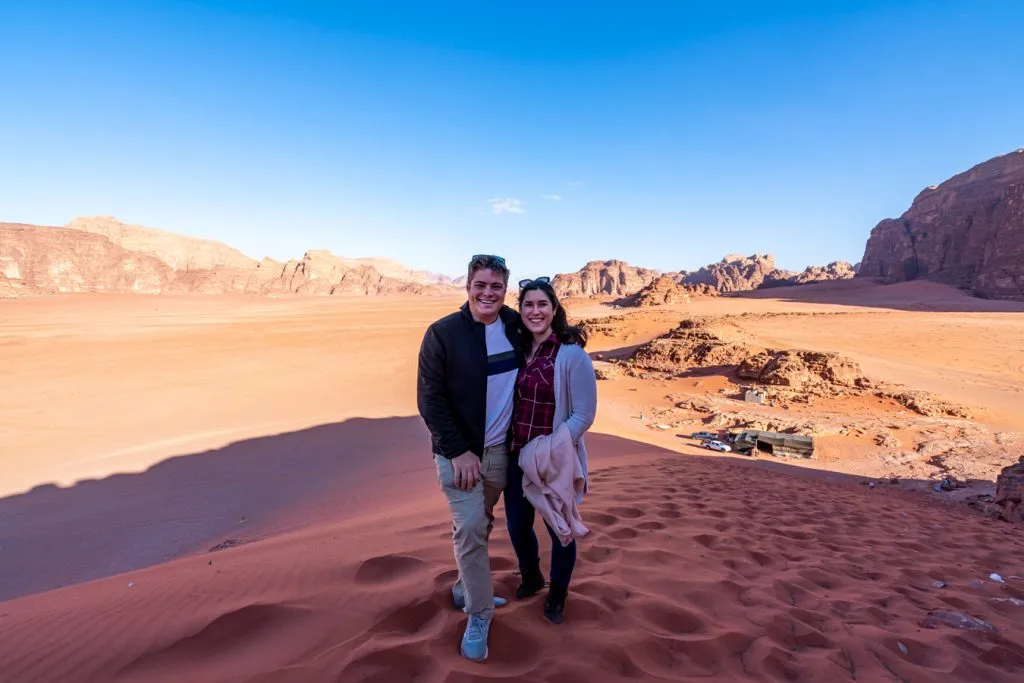 Pack plenty of cash.
Tours and any additional food you purchase (such as lunches if you stay more than one night at camp) generally need to be paid for in cash.
Some camps will also accept Paypal, but credit cards aren't typically used here.
Cash is king, and with no ATM in Wadi Rum Village, it's best to come prepared!
This is another reason that it's good to agree on prices for tours and plan out your Wadi Rum camping experience before arriving: you'll know what to budget and how much money to arrive with.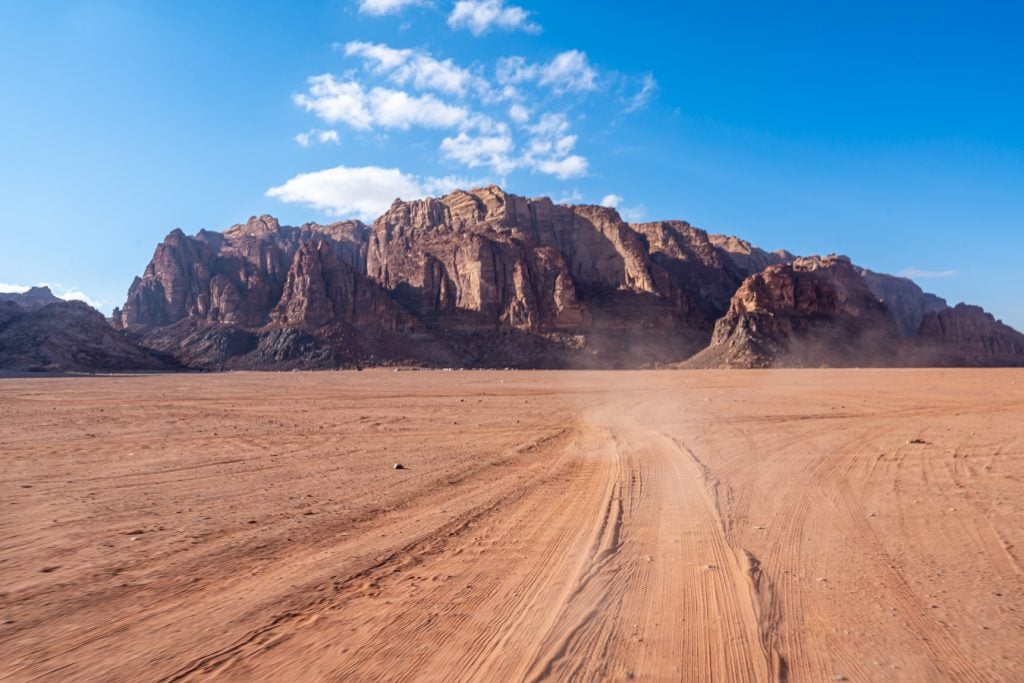 Not all Jeep tours are created equal.
Without a doubt, taking a Jeep tour to the top Wadi Rum attractions like Lawrence's Spring, Khazali Canyon, and the Burdah Rock Bridge is one of the best things to do in Wadi Rum.
It's also by far the simplest way to enjoy the desert's highlights!
Jeep tours vary dramatically, though, with some lasting 4 hours, others a half-day, others a full day, etc.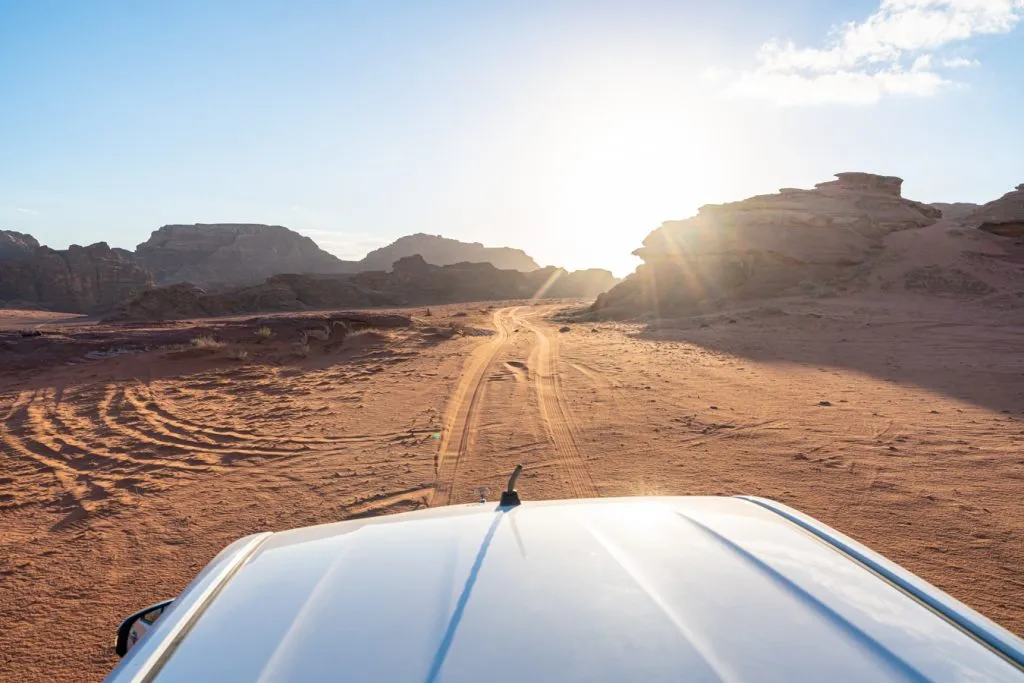 Generally, the longer the tour is that you book, the more time you'll spend away from the Jeep itself enjoying short hikes, activities like sandboarding, and more.
Be sure to confirm what's included on the Jeep tour you choose, and if there's any activity or sight in particular that you're set on seeing, let your guide know in advance.
Also, not that it matters, keep in mind that "Jeep" is a catch-all term for "vehicles big enough to drive in the desert".
Ours took place in a pickup truck!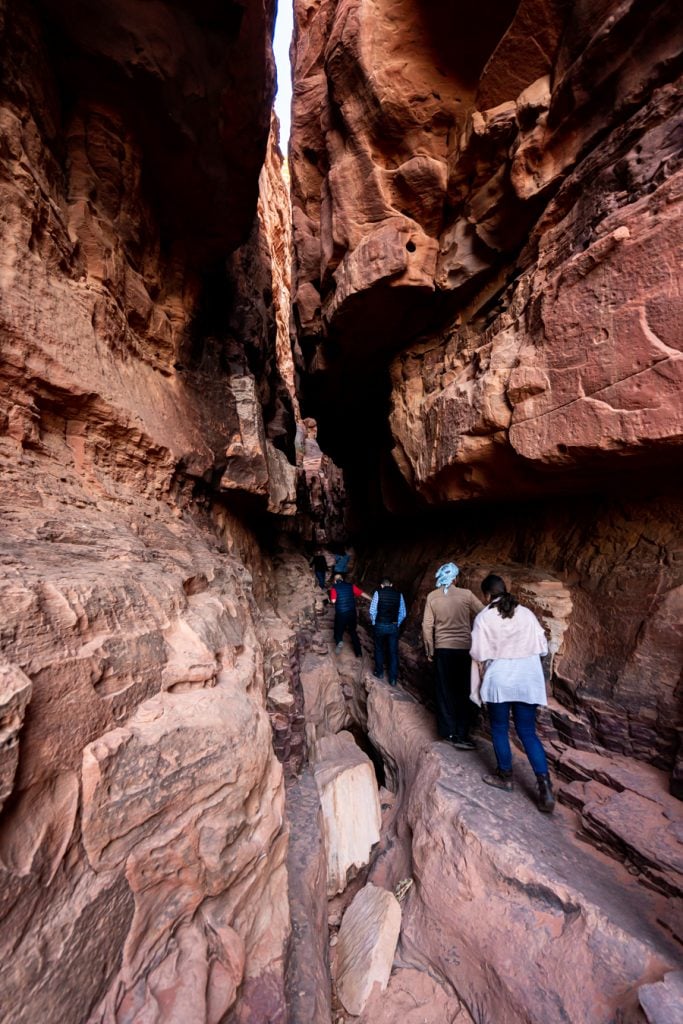 If you drive to Wadi Rum, you'll leave your car in Wadi Rum Village.
We parked ours in town where our guide suggested and then picked it up the next morning.
You don't need to worry about renting a car that can literally drive in the desert–that's what the trucks and Jeeps that the guides drive are for.
Camping in Wadi Rum is a casual environment.
Our biggest tip for making the most of your Wadi Rum camping experience is simply to go with the flow!
We found Wadi Rum a very casual and hospitable environment, with limited focus on schedules or timelines.
The Bedouins who work in tourism here know this desert like the back of their hand, and if you let your guide lead, you'll almost certainly end up with an extremely memorable time in Wadi Rum.
Times and schedules are fluid here–for example, we booked a camel tour for the "morning", no specific time noted–but if you relax and lean into the experience, you're in for a fantastic time.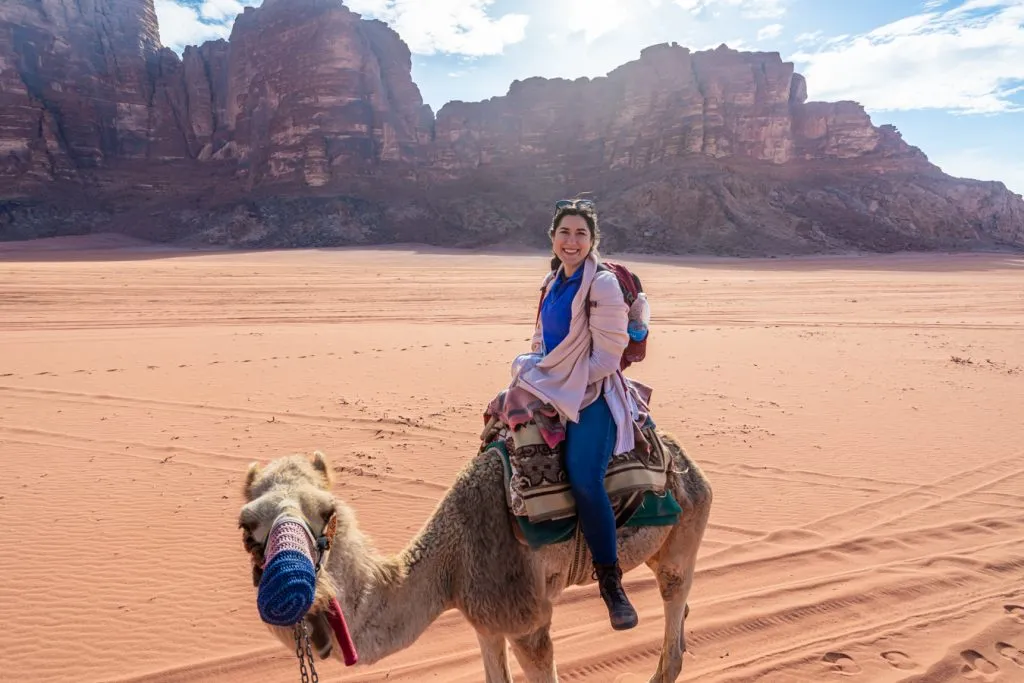 Want to book an all-in-one trip to Wadi Rum?
If you'd rather not handle choosing a camp, booking tours, and driving to Wadi Rum yourself, you can book all-in-one tours as well.
This popular 2-day tour, for example, will take you from Amman to camping overnight in Wadi Rum and back while hitting up other major highlights in Jordan (Petra, the Dead Sea) along the way.
A tour like this is undoubtedly compact, but if you're short on time or don't want to deal with logistics, it's a fun option that will allow you to experience camping in Wadi Rum with little to no stress!
Shop Wadi Rum tours today!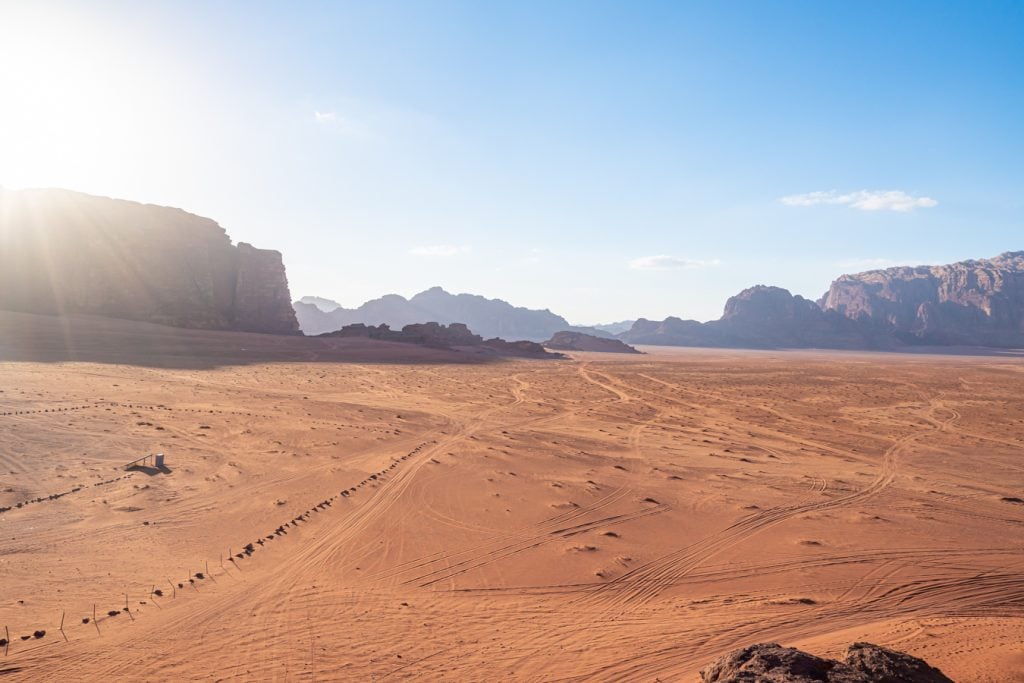 The Wadi Rum Camp We Enjoyed (Plus Other Options!)
We chose to stay in Candles Camp during our trip to Wadi Rum (and as usual for us, nothing was sponsored–we paid for our own stay).
Candles Camp is what we'd described as a mid-level camp, which is exactly what we were looking for.
The bathrooms were permanent, with Western-style toilets and hot showers.
The tents were semi-permanent, with comfortable beds.
Dinner and breakfast were both tasty, and we enjoyed getting to hang out with our fellow campers over meals.
If you're looking for something a bit simpler, Desert Nights Camp also gets great reviews.
Meanwhile, if you're looking for insta-famous, photogenic luxury, the famous Wadi Rum Bubble Luxotel is the iconic place to splash out!
Book your Wadi Rum camp today!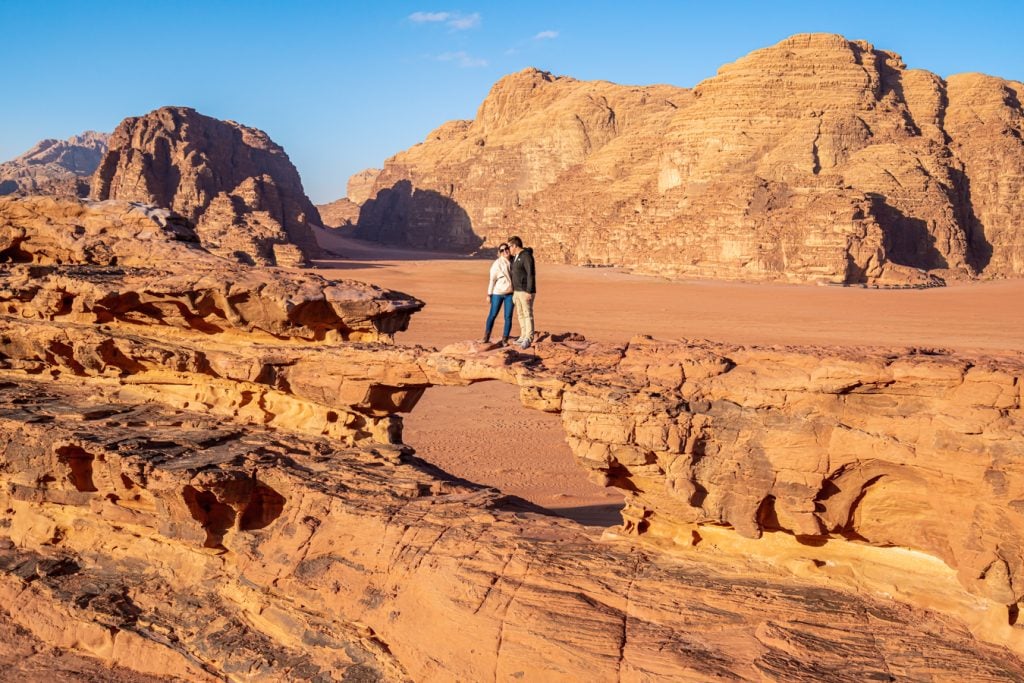 How Long to Stay in Wadi Rum, Jordan
You can stay in Wadi Rum for as little as a few hours for a Jeep tour, or for as long as you want to camp!
With limited time in Jordan, we felt that one night in Wadi Rum was the perfect amount of time.
With a one-night stay, we were able to appreciate the desert at all times of day and hit up all the big attractions.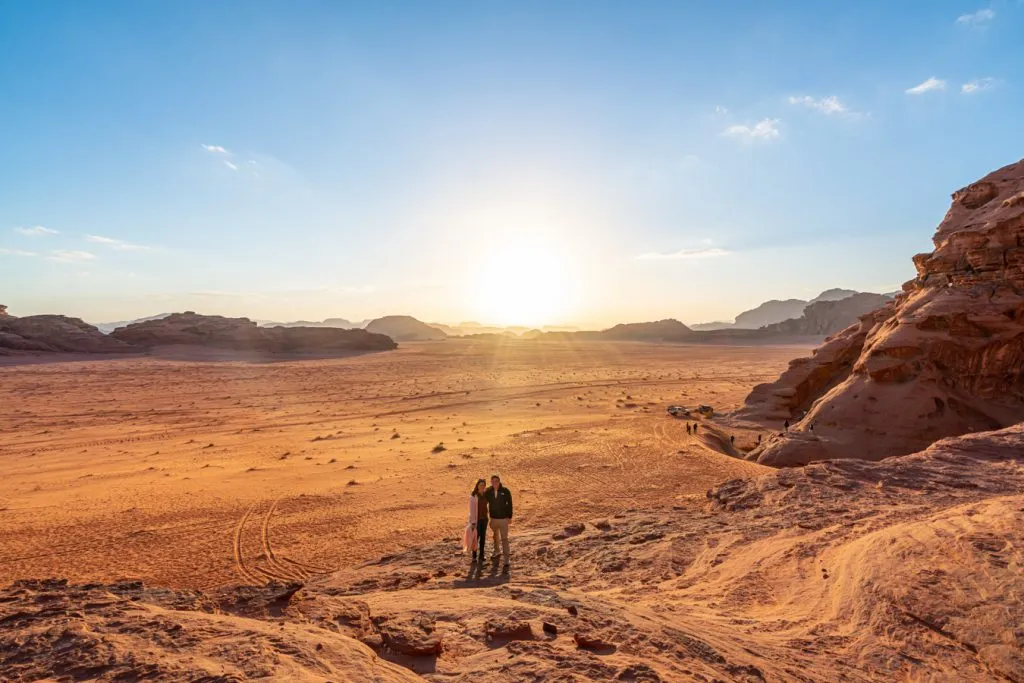 Travelers who have more time in Jordan may like to spend 2 nights in Wadi Rum, but plan on having some downtime if you do so.
With more time in Wadi Rum, you can also add in activities like rock climbing or a movie filming locations tour.
Personally, we highly recommend spending a minimum of one night camping in Wadi Rum.
Being in the desert at night is an enormous part of the experience, and an afternoon tour simply cannot capture it!